BOOKS
·
The Boy and The Bayonet by Paul Laurence Dunbar (Short story)
·
Koos Meinderts: De schelmenstreken van Reinaert de Vos
·
Ton van Reen: Het diepste blauw (086). Een roman als feuilleton
·
Gertrude Stein: A Poem About Waldberg
·
Christian Kunda Mutoki: Guy de Maupassant. Une certaine idée de l'homme dans Le Horla
·
The Race Question by Paul Laurence Dunbar (Short story)
·
Chronicles of a Liquid Society by Umberto Eco
·
Michel Houellebecq: Sérotonine. Roman
·
Saki: The Blind Spot (short story)
·
Ton van Reen: Het diepste blauw (085). Een roman als feuilleton
·
Deathwatch by Jean Genet
·
Yugoslavia: Peace, War, and Dissolution by Noam Chomsky
THE BOY AND THE BAYONET
It was June, and nearing the closing time of school. The air was full of the sound of bustle and preparation for the final exercises, field day, and drills. Drills especially, for nothing so gladdens the heart of the Washington mother, be she black or white, as seeing her boy in the blue cadet's uniform, marching proudly to the huzzas of an admiring crowd. Then she forgets the many nights when he has come in tired out and dusty from his practice drill, and feels only the pride and elation of the result.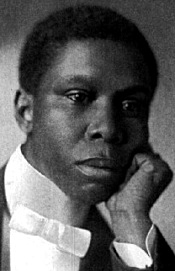 Although Tom did all he could outside of study hours, there were many days of hard work for Hannah Davis, when her son went into the High School. But she took it upon herself gladly, since it gave Bud the chance to learn, that she wanted him to have. When, however, he entered the Cadet Corps it seemed to her as if the first steps toward the fulfilment of all her hopes had been made. It was a hard pull to her, getting the uniform, but Bud himself helped manfully, and when his mother saw him rigged out in all his regimentals, she felt that she had not toiled in vain. And in fact it was worth all the trouble and expense just to see the joy and pride of "little sister," who adored Bud.
As the time for the competitive drill drew near there was an air of suppressed excitement about the little house on "D" Street, where the three lived. All day long "little sister," who was never very well and did not go to school, sat and looked out of the window on the uninteresting prospect of a dusty thoroughfare lined on either side with dull red brick houses, all of the same ugly pattern, interspersed with older, uglier, and viler frame shanties. In the evening Hannah hurried home to get supper against the time when Bud should return, hungry and tired from his drilling, and the chore work which followed hard upon its heels.
Things were all cheerful, however, for as they applied themselves to the supper, the boy, with glowing face, would tell just how his company "A" was getting on, and what they were going to do to companies "B" and "C." It was not boasting so much as the expression of a confidence, founded upon the hard work he was doing, and Hannah and the "little sister" shared that with him.
The child often, listening to her brother, would clap her hands or cry, "Oh, Bud, you're just splendid an' I know you'll beat 'em."
"If hard work'll beat 'em, we've got 'em beat," Bud would reply, and Hannah, to add an admonitory check to her own confidence, would break in with, "Now, don't you be too sho', son; dey ain't been no man so good dat dey wasn't somebody bettah." But all the while her face and manner were disputing what her words expressed.
The great day came, and it was a wonderful crowd of people that packed the great baseball grounds to overflowing. It seemed that all of Washington's coloured population was out, when there were really only about one-tenth of them there. It was an enthusiastic, banner-waving, shouting, hallooing crowd. Its component parts were strictly and frankly partisan, and so separated themselves into sections differentiated by the colours of the flags they carried and the ribbons they wore. Side yelled defiance at side, and party bantered party. Here the blue and white of Company "A" flaunted audaciously on the breeze beside the very seats over which the crimson and gray of "B" were flying, and these in their turn nodded defiance over the imaginary barrier between themselves and "C's" black and yellow.
The band was thundering out "Sousa's High School Cadet's March," the school officials, the judges, and reporters, and some with less purpose were bustling about, discussing and conferring. Altogether doing nothing much with beautiful unanimity. All was noise, hurry, gaiety, and turbulence. In the midst of it all, with blue and white rosettes pinned on their breasts, sat two spectators, tense and silent, while the breakers of movement and sound struck and broke around them. It meant too much to Hannah and "little sister" for them to laugh and shout. Bud was with Company "A," and so the whole programme was more like a religious ceremonial to them. The blare of the brass to them might have been the trumpet call to battle in old Judea, and the far-thrown tones of the megaphone the voice of a prophet proclaiming from the hill-top.
Hannah's face glowed with expectation, and "little sister" sat very still and held her mother's hand save when amid a burst of cheers Company "A" swept into the parade ground at a quick step, then she sprang up, crying shrilly, "There's Bud, there's Bud, I see him," and then settled back into her seat overcome with embarrassment. The mother's eyes danced as soon as the sister's had singled out their dear one from the midst of the blue-coated boys, and it was an effort for her to keep from following her little daughter's example even to echoing her words.
Company "A" came swinging down the field toward the judges in a manner that called for more enthusiastic huzzas that carried even the Freshman of other commands "off their feet." They were, indeed, a set of fine-looking young fellows, brisk, straight, and soldierly in bearing. Their captain was proud of them, and his very step showed it. He was like a skilled operator pressing the key of some great mechanism, and at his command they moved like clockwork. Seen from the side it was as if they were all bound together by inflexible iron bars, and as the end man moved all must move with him. The crowd was full of exclamations of praise and admiration, but a tense quiet enveloped them as Company "A" came from columns of four into line for volley firing. This was a real test; it meant not only grace and precision of movement, singleness of attention and steadiness, but quickness tempered by self-control. At the command the volley rang forth like a single shot. This was again the signal for wild cheering and the blue and white streamers kissed the sunlight with swift impulsive kisses. Hannah and Little Sister drew closer together and pressed hands.
The "A" adherents, however, were considerably cooled when the next volley came out, badly scattering, with one shot entirely apart and before the rest. Bud's mother did not entirely understand the sudden quieting of the adherents; they felt vaguely that all was not as it should be, and the chill of fear laid hold upon their hearts. What if Bud's company, (it was always Bud's company to them), what if his company should lose. But, of course, that couldn't be. Bud himself had said that they would win. Suppose, though, they didn't; and with these thoughts they were miserable until the cheering again told them that the company had redeemed itself.
Someone behind Hannah said, "They are doing splendidly, they'll win, they'll win yet in spite of the second volley."
Company "A," in columns of fours, had executed the right oblique in double time, and halted amid cheers; then formed left halt into line without halting. The next movement was one looked forward to with much anxiety on account of its difficulty. The order was marching by fours to fix or unfix bayonets. They were going at a quick step, but the boys' hands were steady—hope was bright in their hearts. They were doing it rapidly and freely, when suddenly from the ranks there was the bright gleam of steel lower down than it should have been. A gasp broke from the breasts of Company "A's" friends. The blue and white drooped disconsolately, while a few heartless ones who wore other colours attempted to hiss. Someone had dropped his bayonet. But with muscles unquivering, without a turned head, the company moved on as if nothing had happened, while one of the judges, an army officer, stepped into the wake of the boys and picked up the fallen steel.
No two eyes had seen half so quickly as Hannah and Little Sister's who the blunderer was. In the whole drill there had been but one figure for them, and that was Bud, Bud, and it was he who had dropped his bayonet. Anxious, nervous with the desire to please them, perhaps with a shade too much of thought of them looking on with their hearts in their eyes, he had fumbled, and lost all that he was striving for. His head went round and round and all seemed black before him.
He executed the movements in a dazed way. The applause, generous and sympathetic, as his company left the parade ground, came to him from afar off, and like a wounded animal he crept away from his comrades, not because their reproaches stung him, for he did not hear them, but because he wanted to think what his mother and "Little Sister" would say, but his misery was as nothing to that of the two who sat up there amid the ranks of the blue and white holding each other's hands with a despairing grip. To Bud all of the rest of the contest was a horrid nightmare; he hardly knew when the three companies were marched back to receive the judges' decision. The applause that greeted Company "B" when the blue ribbons were pinned on the members' coats meant nothing to his ears. He had disgraced himself and his company. What would his mother and his "Little Sister" say?
To Hannah and "Little Sister," as to Bud, all of the remainder of the drill was a misery. The one interest they had had in it failed, and not even the dropping of his gun by one of Company "E" when on the march, halting in line, could raise their spirits. The little girl tried to be brave, but when it was all over she was glad to hurry out before the crowd got started and to hasten away home. Once there and her tears flowed freely; she hid her face in her mother's dress, and sobbed as if her heart would break.
"Don't cry, Baby! don't cry, Lammie, dis ain't da las' time da wah goin' to be a drill. Bud'll have a chance anotha time and den he'll show 'em somethin'; bless you, I spec' he'll be a captain." But this consolation of philosophy was nothing to "Little Sister." It was so terrible to her, this failure of Bud's. She couldn't blame him, she couldn't blame anyone else, and she had not yet learned to lay all such unfathomed catastrophes at the door of fate. What to her was the thought of another day; what did it matter to her whether he was a captain or a private? She didn't even know the meaning of the words, but "Little Sister," from the time she knew Bud was a private, knew that that was much better than being captain or any of those other things with a long name, so that settled it.
Her mother finally set about getting the supper, while "Little Sister" drooped disconsolately in her own little splint-bottomed chair. She sat there weeping silently until she heard the sound of Bud's step, then she sprang up and ran away to hide. She didn't dare to face him with tears in her eyes. Bud came in without a word and sat down in the dark front room.
"Dat you, Bud?" asked his mother.
"Yassum."
"Bettah come now, supper's puty 'nigh ready."
"I don' want no supper."
"You bettah come on, Bud, I reckon you mighty tired."
He did not reply, but just then a pair of thin arms were put around his neck and a soft cheek was placed close to his own.
"Come on, Buddie," whispered "Little Sister," "Mammy an' me know you didn't mean to do it, an' we don' keer."
Bud threw his arms around his little sister and held her tightly.
"It's only you an' ma I care about," he said, "though I am sorry I spoiled the company's drill; they say "B" would have won anyway on account of our bad firing, but I did want you and ma to be proud."
"We is proud," she whispered, "we's mos' prouder dan if you'd won," and pretty soon she led him by the hand out to supper.
Hannah did all she could to cheer the boy and to encourage him to hope for next year, but he had little to say in reply, and went to bed early.
In the morning, though it neared school time, Bud lingered around and seemed in no disposition to get ready to go.
"Bettah git ready fer school," said Hannah cheerily to him.
"I don't believe I want to go any more," Bud replied.
"Not go any more? Why ain't you shamed to talk that way! O' cose you a goin' to school."
"I'm ashamed to show my face to the boys."
"What you say about de boys? De boys ain't a-goin' to give you no edgication when you need it."
"Oh, I don't want to go, ma; you don't know how I feel."
"I'm kinder sorry I let you go into dat company," said Hannah musingly; "'cause it was de teachin' I wanted you to git, not de prancin' and steppin'; but I did t'ink it would make mo' of a man of you, an' it ain't. Yo' pappy was a po' man, ha'd wo'kin', an' he wasn't high-toned neither, but from the time I first see him to the day of his death I nevah seen him back down because he was afeared of anything," and Hannah turned to her work.
"Little Sister" went up to Bud and slipped her hand in his. "You ain't a-goin' to back down, is you, Buddie?" she said.
"No," said Bud stoutly, as he braced his shoulders, "I'm a-goin'."
But no persuasion could make him wear his uniform.
The boys were a little cold to him, and some were brutal. But most of them recognised the fact that what had happened to Tom Harris might have happened to any one of them. Besides, since the percentage had been shown, it was found that "B" had outpointed them in many ways, and so their loss was not due to the one grave error. Bud's heart sank when he dropped into his seat in the Assembly Hall to find seated on the platform one of the blue-coated officers who had acted as judge the day before. After the opening exercises were over he was called upon to address the school. He spoke readily and pleasantly, laying especial stress upon the value of discipline; toward the end of his address he said: "I suppose Company 'A' is heaping accusations upon the head of the young man who dropped his bayonet yesterday." Tom could have died. "It was most regrettable," the officer continued, "but to me the most significant thing at the drill was the conduct of that cadet afterward. I saw the whole proceeding; I saw that he did not pause for an instant, that he did not even turn his head, and it appeared to me as one of the finest bits of self-control I had ever seen in any youth; had he forgotten himself for a moment and stopped, however quickly, to secure the weapon, the next line would have been interfered with and your whole movement thrown into confusion." There were a half hundred eyes glancing furtively at Bud, and the light began to dawn in his face. "This boy has shown what discipline means, and I for one want to shake hands with him, if he is here."
When he had concluded the Principal called Bud forward, and the boys, even his detractors, cheered as the officer took his hand.
"Why are you not in uniform, sir?" he asked.
"I was ashamed to wear it after yesterday," was the reply.
"Don't be ashamed to wear your uniform," the officer said to him, and Bud could have fallen on his knees and thanked him.
There were no more jeers from his comrades now, and when he related it all at home that evening there were two more happy hearts in that South Washington cottage.
"I told you we was more prouder dan if you'd won," said "Little Sister."
"An' what did I tell you 'bout backin' out?" asked his mother.
Bud was too happy and too busy to answer; he was brushing his uniform.
Paul Laurence Dunbar
(1872 – 1906)
The Boy and The Bayonet
From The Heart Of Happy Hollow, a collection of short stories reprinted in 1904 by Dodd, Mead and Company, New York.
Short Story
• fleursdumal.nl magazine
More in: Archive C-D, Archive C-D, Dunbar, Paul Laurence, Dunbar, Paul Laurence, Paul Laurence Dunbar
---
Terwijl Reinaert de Vos tijdens het monopoly-spelen met zijn kinderen stiekem een briefje van duizend uit de bank jatte en zich te goed deed aan een kipkluifje, verklaarde Koning Nobel in de paleistuin de jaarlijkse Hofdag voor geopend.
Met de opening van de Hofdag opent ook de fonkelende bewerking die Koos Meinderts maakte van het bekendste epos uit de Middelnederlandse literatuur: Van den Vos Reynaerde.
In achttien hoofdstukken verhaalt Meinderts over de belevenissen van de geslepen vos Reinaert en zijn beklagenswaardige tegenspelers, waaronder Tibeert de Kater, Bruun de Beer en Cuwaert de Haas. Elk hoofdstuk werd geïllustreerd door een vooraanstaand kinderboekillustrator.
Koos Meinderts:
De schelmenstreken van Reinaert de Vos
1e druk
EAN: 978 90 8967 273 5
NUR: 274
Verschenen 12-11-2018
Formaat: 23,5 x 27 cm
48 bladzijden
Gebondend
Bindwijze Hardcover
Genre Kinderboeken
Uitgever Hoogland & Van Klaveren, Uitgeverij
Taal Nederlands
Illustraties Charlotte Dematons e.a.
Prijs: € 17,50
# New books
Koos Meinderts
Reinaert de Vos
• fleursdumal.nl magazine
More in: - Book News, - Book Stories, Archive M-N, Archive Q-R, Archive Q-R, Art & Literature News, Grimm, Andersen e.o.: Fables, Fairy Tales & Stories
---
Een tik op zijn schouder. Hij trekt de plaid van zijn gezicht en opent zijn ogen. Het is Afke.
`Je was tegen iemand aan het praten.'
`Ik praatte met Tijger en Thija.'
`Over school?'
`Goh, dat ik zo duidelijk praat als ik droom.'
Ze helpt hem van het bed in zijn stoel. Ze helpt hem vaak. Tegenover haar voelt hij niet de gêne die hij wel voelt bij zijn vrouw en zijn dochter. Soms is ook Zhia erbij. Dan helpen ze hem als twee jonge verpleegsters.
Zijn vrouw haat het als de meisjes boven zijn, al weet hij niet waarom.
`Je bent nat van het zweet.'
`Dat komt door de medicijnen. Ik zweet nog als het vriest.'
Ze trekt zijn overhemd uit.
`De haren op je rug zijn nog zwart.' Ze droogt zijn rug en hals. `Had je vroeger zwart haar? Vonden de meisjes je knap?'
`Er waren hier niet zo veel meisjes. Het dorp was nog klein.'
`En die paar dan?'
`Thija vond me knap. Maar ik denk dat ze Tijger knapper vond.'
`En oma?'
`Toen zij een meisje was? Ze wilde me alleen hebben omdat ze jaloers was op Thija. Dat denk ik nu.'
`Vond jij haar knap?'
`Anders.'
`Je was toch wel verliefd op haar? Je bent toch met haar getrouwd?'
`Het liep nu eenmaal zo. Er waren hier maar een paar meisjes, dat zei ik toch. Kemp wilde haar ook.'
`Ben je met haar getrouwd omdat je haar niet aan Kemp gunde?'
`Ja.' Tegen haar kan hij alleen maar eerlijk zijn.
`Wel vreemd', zegt ze. `Nu heb ik precies zulke grootvaders zoals jij had.'
`Hoezo?'
`Jij zegt toch altijd dat ze elkaar niet mochten.'
Ze rijdt hem voor de wastafel.
`Moet ik je scheren?'
`Ik doe het zelf.'
Ze pakt het mes uit de la, haalt het uit de houder en pakt kwast en scheerzeep uit de kast.
`Scheerzeep ruikt lekker.'
`Het ruikt naar jongens.'
`Jongens! Was je gelukkig als kind?'
`Alleen toen Tijger en Thija er nog waren.'
`Er waren toch ook anderen die van je hielden.'
`Wie dan?'
`Je moeder.'
`Dat is ook zo.'
`Ik hou ook van je.'
Hij ziet haar oprechte gezicht in de spiegel.
`Het is waar', zegt hij. `Jij houdt net zo veel van mij als ik van jou. En je opa Kemp?'
`Van hem hou ik ook. Anders. Zal ik je inzepen?' Ze haalt de kwast door het schuim en zeept hem zorgvuldig in. `Ik kan je ook scheren. Laat mij het maar doen. Jij snijdt je te vaak.'
`Ik heb een zware baard. Een scheerapparaat werkt niet bij mij.'
`Voortaan scheer ik je wel.' Ze zet het mes aan. Protesteren helpt niet. Hij voelt hoe zacht het mes over zijn huid glijdt. In de spiegel ziet hij de inspanning op haar gezicht. Hij blijft muisstil zitten. Ze wil het beter doen dan hij.
Terwijl ze met hem bezig is, hoort hij een zacht gebrom, door de muur heen. Net alsof in het buurhuis een of ander apparaat aanstaat. Hij spant zich in om het geluid te kunnen traceren. Het kan ook een vliegtuig zijn, ver weg.
`Klaar', zegt ze triomfantelijk en ze bet zijn gezicht. `Geen bloed. Zie je dat ik het beter kan.'
`Mooi. Je moet verpleegster worden.'
`Later ga ik met dieren werken. In een circus. Of bij een dierenarts. Of in een asiel. Zhia wordt verpleegster. Of dokter. Ze wil naar Afrika. Of in een kindertehuis.'
`Dat jullie al zo goed weten wat je wilt! Toen ik twaalf was, wist ik nog niets.'
Hij hoort de voordeur dichtslaan.
`Kan ik boven komen?'
`Kom maar', roept Afke.
Zhia holt de trap op en komt de kamer binnen.
`Bij de silo is een ongeluk gebeurd', hijgt Zhia.
`Ernstig?' schrikt Mels.
`Een witte muis is van het dak gevallen. Recht in de bek van een buizerd.'
`Dat is dubbele pech', zegt Mels.
`Of dubbel geluk', zegt Zhia. `Misschien was de muis blij dat ze werd opgevreten en dat ze niet te pletter viel.'
`Van dat laatste had ze niets gevoeld', zegt Mels. `Maar zo'n roofvogel die je verslindt, dat is wel erg.'
`Het is niet waar', zegt Zhia. `Het was geen witte muis, het was een zwarte.'
Afke trekt hem een overhemd aan en maakt de knoopjes dicht.
`We moeten naar school. Na het avondeten kom ik weer, als je zin hebt in vertellen.'
`Daar heb ik altijd zin in.'
Hij hoort hen de trap af lopen. De deur valt dicht.
Ze hollen weg. Hij luistert tot hij niets meer hoort in de straat. Hij weet weer voor wie hij leeft.
Hij rolt naar de kast en pakt het boek. Elke dag kijkt hij er even in. Het boek dat Thija aan Tijger heeft gegeven toen hij twaalf werd, maar dat hij niet wilde. `Chine, pays inconnu.' `Les couleurs pastel de la Chine', leest hij onder een foto van een rivier van blauw krijt. De oevers zijn van pastelkleurig paars, de lucht is blauw en vet van de regen en gepokt met zwarte ganzen die zich op het water laten vallen. Boten met rieten daken, met naakte jongens voorop die met een stok de diepte peilen, drijven op het water.
De foto van een riviertje van blauw porselein, en een man in een bootje van bamboe, omringd door groenten met de kleur van gras. `Un homme transporte des légumes'.
Hij zet het boek terug, rolt naar het bureau en opent het album met de levenslopen van de directeuren van de fabriek. Hun levensbeschrijvingen, hun foto's en doodsprentjes. Hij is bezig ze te ordenen, er een lijn in te krijgen.
Een grote leugen is het doodsprentje van Frans-Joseph Hubben, waarop te lezen staat dat hij zijn leven lang gehoorzaam aan God is geweest en een goed en trouw echtgenoot en vader was. Mels weet beter. Meneer Frans-Joseph kwam zelden in de kerk. Vlak na de verkoop van de fabriek is hij in Zwitserland gestorven aan een hartaanval, naar men zegt nadat ze hem uit een café hadden gezet waar hij vrouwen lastigviel.
Ton van Reen: Het diepste blauw (086)
wordt vervolgd
• fleursdumal.nl magazine
More in: - Book News, - Het diepste blauw, Archive Q-R, Reen, Ton van
---
A Poem About Waldberg
What I am afraid of is that they will just attract an awful bombardment on themselves in which they will have to be supported.
Oh no they won't do that.
I don't think they will do that.
What I think is that I will have to reach the country before I ask myself the way to see the city.
I don't mean this as a joke.
I know very well that I know all about nurses. Who doesn't. And who would like to see children win. I love my boy very much. His mother feeds him. I can smile and think of it. We both laugh together. Altogether I have said to them keep still.
Curtains a japanese curtain.
Complete flowers.
I never use a pass.
Of course you wouldn't.
You wouldn't be careful enough. I don't mean that.
How can I hear him speak. You don't mean a victim. Eugene Paul. What is Walberg's name.
I don't care for him.
I am not sorry for her.
I do not have flowers here.
C A L I F O R N I A
Let me see. What do you say. They can take care of riches. Kiss my hand. Why. Because Russians are rich. All Russians are valuable. That is what I said.
I wish I could be as funny as he is.
Yes thank you I believe in Russia.
Gertrude Stein
(1874-1946)
A Poem About Waldberg
• fleursdumal.nl magazine
More in: Archive S-T, Archive S-T, Gertrude Stein, Stein, Gertrude
---
Christian Kunda Mutoki porte un nouveau regard sur Le Horla de Guy de Maupassant.
Il est précédé d'une préface et suivi d'une postface.
Il vient rafraîchir les problématiques qui touchent à la morale, à l'athéisme, à des amours tumultueuses et infidèles. . .
Le monde d'aujourd'hui diffère-t-il de celui décrit au XIXe siècle par l'écrivain français ? La science a-t-elle amélioré la condition existentielle de l'homme ?
Voici quelques questions majeures qui trouvent ici un regard neuf.
Christian Kunda Mutoki a préparé sa thèse de doctorat à l'Université Paul Verlaine, actuelle Université de la Lorraine (Metz, France). Il est écrivain et professeur de Littérature et civilisation françaises à l'Université de Lubumbashi, en RDC.
GUY DE MAUPASSANT
Une certaine idée de l'homme dans Le Horla
Christian Kunda Mutoki
Cahiers des sciences du langage
Langue Linguistique Littérature
Broché
Format : 15,5 x 24 cm
ISBN : 978-2-8066-3665-2
14 décembre 2018
70 pages
€ 11,5
# New books
Une certaine idée de l'homme dans Le Horla
de Guy de Maupassant
Christian Kunda Mutoki
• fleursdumal.nl magazine
More in: - Book News, - Bookstores, Archive M-N, Archive M-N, Art & Literature News, Guy de Maupassant, Maupassant, Guy de, Maupassant, Guy de
---
THE RACE QUESTION
Scene—Race track. Enter old coloured man, seating himself.
"Oomph, oomph. De work of de devil sho' do p'ospah. How 'do, suh? Des tol'able, thankee, suh. How you come on? Oh, I was des a-sayin' how de wo'k of de ol' boy do p'ospah. Doesn't I frequent the racetrack? No, suh; no, suh. I's Baptis' myse'f, an' I 'low hit's all devil's doin's. Wouldn't 'a' be'n hyeah to-day, but I got a boy named Jim dat's long gone in sin an' he gwine ride one dem hosses. Oomph, dat boy! I sut'ny has talked to him and labohed wid him night an' day, but it was allers in vain, an' I's feahed dat de day of his reckonin' is at han'.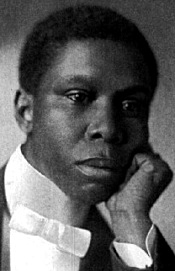 "Ain't I nevah been intrusted in racin'? Humph, you don't s'pose I been dead all my life, does you? What you laffin' at? Oh, scuse me, scuse me, you unnerstan' what I means. You don' give a ol' man time to splain hisse'f. What I means is dat dey has been days when I walked in de counsels of de on-gawdly and set in de seats of sinnahs; and long erbout dem times I did tek most ovahly strong to racin'.
"How long dat been? Oh, dat's way long back, 'fo' I got religion, mo'n thuty years ago, dough I got to own I has fell from grace several times sense.
"Yes, suh, I ust to ride. Ki-yi! I nevah furgit de day dat my ol' Mas' Jack put me on 'June Boy,' his black geldin', an' say to me, 'Si,' says he, 'if you don' ride de tail offen Cunnel Scott's mare, "No Quit," I's gwine to larrup you twell you cain't set in de saddle no mo'.' Hyah, hyah. My ol' Mas' was a mighty han' fu' a joke. I knowed he wan't gwine to do nuffin' to me.
"Did I win? Why, whut you spec' I's doin' hyeah ef I hadn' winned? W'y, ef I'd 'a' let dat Scott maih beat my 'June Boy' I'd 'a' drowned myse'f in Bull Skin Crick.
"Yes, suh, I winned; w'y, at de finish I come down dat track lak hit was de Jedgment Day an' I was de las' one up! Ef I didn't race dat maih's tail clean off, I 'low I made hit do a lot o' switchin'. An' aftah dat my wife Mandy she ma'ed me. Hyah, hyah, I ain't bin much on hol'in' de reins sence.
"Sh! dey comin' in to wa'm up. Dat Jim, dat Jim, dat my boy; you nasty putrid little rascal. Des a hundred an' eight, suh, des a hundred an' eight. Yas, suh, dat's my Jim; I don't know whaih he gits his dev'ment at.
"What's de mattah wid dat boy? Whyn't he hunch hisse'f up on dat saddle right? Jim, Jim, whyn't you limber up, boy; hunch yo'se'f up on dat hoss lak you belonged to him and knowed you was dah. What I done showed you? De black raskil, goin' out dah tryin' to disgrace his own daddy. Hyeah he come back. Dat's bettah, you scoun'ril.
"Dat's a right smaht-lookin' hoss he's a-ridin', but I ain't a-trustin' dat bay wid de white feet—dat is, not altogethah. She's a favourwright too; but dey's sumpin' else in dis worl' sides playin' favourwrights. Jim bettah had win dis race. His hoss ain't a five to one shot, but I spec's to go way fum hyeah wid money ernuff to mek a donation on de pa'sonage.
"Does I bet? Well, I don' des call hit bettin'; but I resks a little w'en I t'inks I kin he'p de cause. 'Tain't gamblin', o' co'se; I wouldn't gamble fu nothin', dough my ol' Mastah did ust to say dat a honest gamblah was ez good ez a hones' preachah an' mos' nigh ez skace.
"Look out dah, man, dey's off, dat nasty bay maih wid de white feet leadin' right fu'm 'de pos'. I knowed it! I knowed it! I had my eye on huh all de time. Oh, Jim, Jim, why didn't you git in bettah, way back dah fouf? Dah go de gong! I knowed dat wasn't no staht. Troop back dah, you raskils, hyah, hyah.
"I wush dat boy wouldn't do so much jummying erroun' wid dat hoss. Fust t'ing he know he ain't gwine to know whaih he's at.
"Dah, dah dey go ag'in. Hit's a sho' t'ing dis time. Bettah, Jim, bettah. Dey didn't leave you dis time. Hug dat bay mare, hug her close, boy. Don't press dat hoss yit. He holdin' back a lot o' t'ings.
"He's gainin'! doggone my cats, he's gainin'! an' dat hoss o' his'n gwine des ez stiddy ez a rockin'-chair. Jim allus was a good boy.
"Confound these spec's, I cain't see 'em skacely; huh, you say dey's neck an' neck; now I see 'em! now I see 'em! and Jimmy's a-ridin' like——Huh, huh, I laik to said sumpin'.
"De bay maih's done huh bes', she's done huh bes'! Dey's turned into the stretch an' still see-sawin'. Let him out, Jimmy, let him out! Dat boy done th'owed de reins away. Come on, Jimmy, come on! He's leadin' by a nose. Come on, I tell you, you black rapscallion, come on! Give 'em hell, Jimmy! give 'em hell! Under de wire an' a len'th ahead. Doggone my cats! wake me up w'en dat othah hoss comes in.
"No, suh, I ain't gwine stay no longah, I don't app'ove o' racin', I's gwine 'roun' an' see dis hyeah bookmakah an' den I's gwine dreckly home, suh, dreckly home. I's Baptis' myse'f, an' I don't app'ove o' no sich doin's!"
Paul Laurence Dunbar
(1872 – 1906)
The Race Question
From The Heart Of Happy Hollow, a collection of short stories reprinted in 1904 by Dodd, Mead and Company, New York.
Short story
• fleursdumal.nl magazine
More in: Archive C-D, Archive C-D, Dunbar, Paul Laurence, Dunbar, Paul Laurence, Paul Laurence Dunbar
---
The final book from one of Europe's cultural giants: an entertaining collection of essays about the modern world – from unbridled individualism to mobile phones.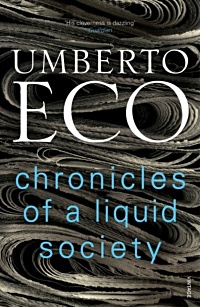 Umberto Eco was an international cultural superstar. A celebrated essayist as well as novelist, in this, his last collection, he explores many aspects of the modern world with irrepressible curiosity and wisdom written in his uniquely ironic voice.
Written by Eco as articles for his regular column in l'Espresso magazine, he brings his dazzling erudition, incisiveness and keen sense of the everyday to bear on topics such as popular culture and politics, unbridled individualism, conspiracies, the old and the young, mobile phones, mass media, racism, good manners and the crisis in ideological values.
It is a final gift to his readers – astute, witty and illuminating.
" A swan song from one of Europe's great intellectuals…Eco entertains with his intellect, humor, and insatiable curiosity…there's much here to enjoy and ponder ".  Tim Parks, Guardian
Chronicles of a Liquid Society
by Umberto Eco
Paperback
ISBN 9781784705206
Hardback
ISNB 9781911215318
2017/2018
Harvill Secker / Vintage
320 pages
Language & Literary Studies
# New books
Chronicles of a Liquid Society
by Umberto Eco
• fleursdumal.nl magazine
More in: - Book News, - Bookstores, Archive E-F, Art & Literature News, AUDIO, CINEMA, RADIO & TV, DICTIONARY OF IDEAS, MONTAIGNE, Museum of Literary Treasures, NONFICTION: ESSAYS & STORIES, Umberto Eco
---
«Mes croyances sont limitées, mais elles sont violentes. Je crois à la possibilité du royaume restreint. Je crois à l'amour» écrivait récemment Michel Houellebecq.
Le narrateur de Sérotonine approuverait sans réserve. Son récit traverse une France qui piétine ses traditions, banalise ses villes, détruit ses campagnes au bord de la révolte. Il raconte sa vie d'ingénieur agronome, son amitié pour un aristocrate agriculteur (un inoubliable personnage de roman – son double inversé), l'échec des idéaux de leur jeunesse, l'espoir peut-être insensé de retrouver une femme perdue.
Ce roman sur les ravages d'un monde sans bonté, sans solidarité, aux mutations devenues incontrôlables, est aussi un roman sur le remords et le regret.
Michel Houellebecq
Sérotonine
Littérature française
Flammarion
À paraître le 04/01/2019
352 pages
139 x 210 mm
Broché
EAN : 9782081471757
ISBN : 9782081471757
€ 22,00
# Nouveau roman
Michel Houellebecq
Sérotonine
•fleursdumal.nl magazine
More in: - Book News, - Bookstores, Archive G-H, Art & Literature News, Michel Houellebecq
---
The Blind Spot
"You've just come back from Adelaide's funeral, haven't you?" said Sir Lulworth to his nephew; "I suppose it was very like most other funerals?"
"I'll tell you all about it at lunch," said Egbert.
"You'll do nothing of the sort. It wouldn't be respectful either to your great-aunt's memory or to the lunch. We begin with Spanish olives, then a borshch, then more olives and a bird of some kind, and a rather enticing Rhenish wine, not at all expensive as wines go in this country, but still quite laudable in its way. Now there's absolutely nothing in that menu that harmonises in the least with the subject of your great-aunt Adelaide or her funeral. She was a charming woman, and quite as intelligent as she had any need to be, but somehow she always reminded me of an English cook's idea of a Madras curry."
"She used to say you were frivolous," said Egbert. Something in his tone suggested that he rather endorsed the verdict.
"I believe I once considerably scandalised her by declaring that clear soup was a more important factor in life than a clear conscience. She had very little sense of proportion. By the way, she made you her principal heir, didn't she?"
"Yes," said Egbert, "and executor as well. It's in that connection that I particularly want to speak to you."
"Business is not my strong point at any time," said Sir Lulworth, "and certainly not when we're on the immediate threshold of lunch."
"It isn't exactly business," explained Egbert, as he followed his uncle into the dining-room.
"It's something rather serious. Very serious."
"Then we can't possibly speak about it now," said Sir Lulworth; "no one could talk seriously during a borshch. A beautifully constructed borshch, such as you are going to experience presently, ought not only to banish conversation but almost to annihilate thought. Later on, when we arrive at the second stage of olives, I shall be quite ready to discuss that new book on Borrow, or, if you prefer it, the present situation in the Grand Duchy of Luxemburg. But I absolutely decline to talk anything approaching business till we have finished with the bird."
For the greater part of the meal Egbert sat in an abstracted silence, the silence of a man whose mind is focussed on one topic. When the coffee stage had been reached he launched himself suddenly athwart his uncle's reminiscences of the Court of Luxemburg.
"I think I told you that great-aunt Adelaide had made me her executor. There wasn't very much to be done in the way of legal matters, but I had to go through her papers."
"That would be a fairly heavy task in itself. I should imagine there were reams of family letters."
"Stacks of them, and most of them highly uninteresting. There was one packet, however, which I thought might repay a careful perusal. It was a bundle of correspondence from her brother Peter."
"The Canon of tragic memory," said Lulworth.
"Exactly, of tragic memory, as you say; a tragedy that has never been fathomed."
"Probably the simplest explanation was the correct one," said Sir Lulworth; "he slipped on the stone staircase and fractured his skull in falling."
Egbert shook his head. "The medical evidence all went to prove that the blow on the head was struck by some one coming up behind him. A wound caused by violent contact with the steps could not possibly have been inflicted at that angle of the skull. They experimented with a dummy figure falling in every conceivable position."
"But the motive?" exclaimed Sir Lulworth; "no one had any interest in doing away with him, and the number of people who destroy Canons of the Established Church for the mere fun of killing must be extremely limited. Of course there are individuals of weak mental balance who do that sort of thing, but they seldom conceal their handiwork; they are more generally inclined to parade it."
"His cook was under suspicion," said Egbert shortly.
"I know he was," said Sir Lulworth, "simply because he was about the only person on the premises at the time of the tragedy. But could anything be sillier than trying to fasten a charge of murder on to Sebastien? He had nothing to gain, in fact, a good deal to lose, from the death of his employer. The Canon was paying him quite as good wages as I was able to offer him when I took him over into my service. I have since raised them to something a little more in accordance with his real worth, but at the time he was glad to find a new place without troubling about an increase of wages. People were fighting rather shy of him, and he had no friends in this country. No; if anyone in the world was interested in the prolonged life and unimpaired digestion of the Canon it would certainly be Sebastien."
"People don't always weigh the consequences of their rash acts," said Egbert, "otherwise there would be very few murders committed. Sebastien is a man of hot temper."
"He is a southerner," admitted Sir Lulworth; "to be geographically exact I believe he hails from the French slopes of the Pyrenees. I took that into consideration when he nearly killed the gardener's boy the other day for bringing him a spurious substitute for sorrel. One must always make allowances for origin and locality and early environment; 'Tell me your longitude and I'll know what latitude to allow you,' is my motto."
"There, you see," said Egbert, "he nearly killed the gardener's boy."
"My dear Egbert, between nearly killing a gardener's boy and altogether killing a Canon there is a wide difference. No doubt you have often felt a temporary desire to kill a gardener's boy; you have never given way to it, and I respect you for your self-control. But I don't suppose you have ever wanted to kill an octogenarian Canon. Besides, as far as we know, there had never been any quarrel or disagreement between the two men. The evidence at the inquest brought that out very clearly."
"Ah!" said Egbert, with the air of a man coming at last into a deferred inheritance of conversational importance, "that is precisely what I want to speak to you about."
He pushed away his coffee cup and drew a pocket-book from his inner breast-pocket. From the depths of the pocket-book he produced an envelope, and from the envelope he extracted a letter, closely written in a small, neat handwriting.
"One of the Canon's numerous letters to Aunt Adelaide," he explained, "written a few days before his death. Her memory was already failing when she received it, and I daresay she forgot the contents as soon as she had read it; otherwise, in the light of what subsequently happened, we should have heard something of this letter before now. If it had been produced at the inquest I fancy it would have made some difference in the course of affairs. The evidence, as you remarked just now, choked off suspicion against Sebastien by disclosing an utter absence of anything that could be considered a motive or provocation for the crime, if crime there was."
"Oh, read the letter," said Sir Lulworth impatiently.
"It's a long rambling affair, like most of his letters in his later years," said Egbert. "I'll read the part that bears immediately on the mystery.
"'I very much fear I shall have to get rid of Sebastien. He cooks divinely, but he has the temper of a fiend or an anthropoid ape, and I am really in bodily fear of him. We had a dispute the other day as to the correct sort of lunch to be served on Ash Wednesday, and I got so irritated and annoyed at his conceit and obstinacy that at last I threw a cupful of coffee in his face and called him at the same time an impudent jackanapes. Very little of the coffee went actually in his face, but I have never seen a human being show such deplorable lack of self-control. I laughed at the threat of killing me that he spluttered out in his rage, and thought the whole thing would blow over, but I have several times since caught him scowling and muttering in a highly unpleasant fashion, and lately I have fancied that he was dogging my footsteps about the grounds, particularly when I walk of an evening in the Italian Garden.'
"It was on the steps in the Italian Garden that the body was found," commented Egbert, and resumed reading.
"'I daresay the danger is imaginary; but I shall feel more at ease when he has quitted my service.'"
Egbert paused for a moment at the conclusion of the extract; then, as his uncle made no remark, he added: "If lack of motive was the only factor that saved Sebastien from prosecution I fancy this letter will put a different complexion on matters."
"Have you shown it to anyone else?" asked Sir Lulworth, reaching out his hand for the incriminating piece of paper.
"No," said Egbert, handing it across the table, "I thought I would tell you about it first. Heavens, what are you doing?"
Egbert's voice rose almost to a scream. Sir Lulworth had flung the paper well and truly into the glowing centre of the grate. The small, neat handwriting shrivelled into black flaky nothingness.
"What on earth did you do that for?" gasped Egbert. "That letter was our one piece of evidence to connect Sebastien with the crime."
"That is why I destroyed it," said Sir Lulworth.
"But why should you want to shield him?" cried Egbert; "the man is a common murderer."
"A common murderer, possibly, but a very uncommon cook."
The Blind Spot
From 'Beasts and Super-Beasts'
by Saki (H. H. Munro)
(1870 – 1916)
• fleursdumal.nl magazine
More in: Archive S-T, Saki, Saki, The Art of Reading
---
`Als we China hebben gezien, zullen we pas begrijpen hoe nietig het hier allemaal is', zegt Tijger.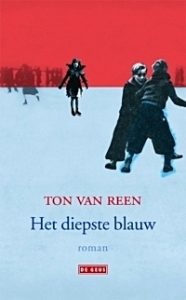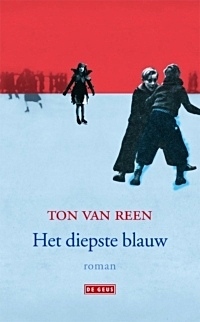 `Hoe klein het dorp is, hoe smal de beek, hoe de fabriek stinkt.'
`Jij hoeft helemaal niet op reis te gaan om dat te ontdekken', zegt Thija. `Jij weet het nu al.'
`Na de zomervakantie gaan we ieder naar een andere school', zegt Tijger.
`Het is ellendig', zegt Mels. `Ik wil helemaal niet naar een andere school. We moeten bij elkaar blijven.'
`We hebben er niets over te zeggen', zegt Tijger. `Het is allemaal al beslist.'
`Stom', zegt Thija. `Ik zal jullie maanden niet zien.'
`Dat is het ergst van alles,' zegt Mels, `dat jij naar kostschool moet.'
`Ik wil het niet. Mijn váder wil het.'
`Ons vragen ze niets', zegt Mels.
Ton van Reen: Het diepste blauw (085)
wordt vervolgd
fleursdumal.nl magazine
More in: - Book News, - Het diepste blauw, Archive Q-R, Reen, Ton van
---
Deathwatch, Jean Genet's earliest, shortest and most formally straightforward play, was first performed in Paris in 1949.
It retains an intense power and makes an excellent introduction to his later dramas – The Maids, The Balcony, The Blacks, The Screens. The French text of Deathwatch, published by Gallimard, was extensively altered by Genet during rehearsal; and Bernard Frechtman's translation is of the final 'performance' version, which supersedes the original published text.Three convicts share a cramped prison cell.
There is no question as to which of them is the dominant dog in the pack: Green Eyes (Yeux-Verts) has brutally murdered a woman and is to be executed.
Lefranc and the younger novice-like Maurice are inside for less grave crimes. But both of them covet Green Eyes' attention, baiting each other in the process, a duel that drives inexorably toward violence
Three young convicts share a cell. Locked into a world of dangerous rivalries, criminals Lefranc and Maurice compete for the attention of the charismatic condemned man, Green-Eyes.
Informed by his own experience in French prisons, Jean Genet's first play, Deathwatch is an explosive exploration of the inversion of moral order.
Genet was one of the most prominent and provocative writers of the twentieth century.
Jean Genet's Deathwatch premiered in this translation by David Rudkin with the Royal Shakespeare Company in 1987 and was revived at the Print Room, London, in April 2016.
Jean Genet was born in Paris in 1910. An illegitimate child who never knew his parents, he was abandoned to the Public Assistance Authorities. He was ten when he was sent to a reformatory for stealing; thereafter he spent time in the prisons of nearly every country he visited in thirty years of prowling through the European underworld. With ten convictions for theft in France to his credit he was, the eleventh time, condemned to life imprisonment. Eventually he was granted a pardon by President Auriol as a result of appeals from France's leading artists and writers led by Jean Cocteau. His first novel, Our Lady of the Flowers, was written while he was in prison, followed by Miracle of the Rose, the autobiographical The Thief's Journal, Querelle of Brest and Funeral Rites. He wrote six plays: The Balcony, The Blacks, The Screens, The Maids, Deathwatch and Splendid's (the manuscript of which was rediscovered only in 1993). Jean Genet died in 1986.
Deathwatch
by Jean Genet
English
Translated by David Rudkin
Play
Faber & Faber
Paperback
64 pages
2016
ISBN 9780571332618
£9.99

# more books
Deathwatch by Jean Genet
• fleursdumal.nl
More in: - Book Lovers, - Book Stories, Archive G-H, Art & Literature News, AUDIO, CINEMA, RADIO & TV, CRIME & PUNISHMENT, Jean Genet, THEATRE
---
The Balkans, in particular the turbulent ex-Yugoslav territory, have been among the most important world regions in Noam Chomsky's political reflections and activism for decades.

His articles, public talks, and correspondence have provided a critical voice on political and social issues crucial not only to the region but the entire international community, including "humanitarian intervention," the relevance of international law in today's politics, media manipulations, and economic crisis as a means of political control.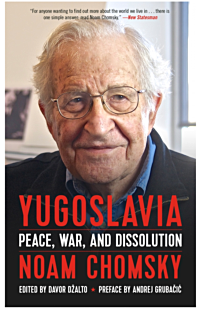 This volume provides a comprehensive survey of virtually all of Chomsky's texts and public talks that focus on the region of the former Yugoslavia, from the 1970s to the present. With numerous articles and interviews, this collection presents a wealth of materials appearing in book form for the first time along with reflections on events twenty-five years after the official end of communist Yugoslavia and the beginning of the war in Bosnia.
The book opens with a personal and wide-ranging preface by Andrej Grubačić that affirms the ongoing importance of Yugoslav history and identity, providing a context for understanding Yugoslavia as an experiment in self-management, antifascism, and mutlethnic coexistence.
Noam Chomsky (1928) is Institute Professor in the Department of Linguistics and Philosophy at the Massachusetts Institute of Technology, Boston. A member of the American Academy of Science, he has published widely in both linguistics and current affairs. His books include At War with Asia, Towards a New Cold War, Fateful Triangle: The U. S., Israel and the Palestinians, Necessary Illusions, Hegemony or Survival, Deterring Democracy, Failed States: The Abuse of Power and the Assault on Democracy and Manufacturing Consent: The Political Economy of the Mass Media.
Title: Yugoslavia: Peace, War, and Dissolution
Author: Noam Chomsky
Edited by Davor Džalto
Preface by Andrej Grubačić
Subjects: Politics / History-Europe
Publisher: PM Press
ISBN: 978-1-62963-442-5
Published: 04/2018
Language: English
Format: Paperback
Size: 6×9
240 pages
$15.63
# new books
Noam Chomsky
Yugoslavia: Peace, War, and Dissolution
• fleursdumal.nl magazine
More in: - Book News, - Book Stories, Archive C-D, AUDIO, CINEMA, RADIO & TV, MONTAIGNE, Noam Chomsky, WAR & PEACE
---
Older Entries »
Thank you for reading FLEURSDUMAL.NL - magazine for art & literature