Thomas Bernhard
·
Luigi Pirandello: One, No One, and One Hundred Thousand
·
Matthias Reiner: Thomas Bernhard. Sein Leben in Bildern und Texten
Luigi Pirandello's extraordinary final novel begins when Vitangelo Moscarda's wife remarks that Vitangelo's nose tilts to the right.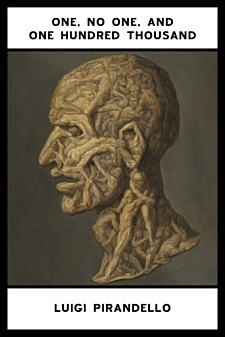 This commonplace interaction spurs the novel's unemployed, wealthy narrator to examine himself, the way he perceives others, and the ways that others perceive him.
At first he only notices small differences in how he sees himself and how others do; but his self-examination quickly becomes relentless, dizzying, leading to often darkly comic results as Vitangelo decides that he must demolish that version of himself that others see.
Pirandello said of his 1926 novel that it "deals with the disintegration of the personality. It arrives at the most extreme conclusions, the farthest consequences." Indeed, its unnerving humor and existential dissection of modern identity find counterparts in Samuel Beckett's Molloy trilogy and the works of Thomas Bernhard and Vladimir Nabokov.
Luigi Pirandello (1867-1936) was an Italian author, who was awarded the Nobel Prize for Literature in 1934 for his "bold and brilliant renovation of the drama and the stage." Pirandello's works include novels, hundreds of short stories, and plays. Pirandello's plays are often seen as forerunners for the theatre of the absurd.
One, No One, and One Hundred Thousand
Luigi Pirandello
Translated by William Weaver
Publisher Spurl Editions
Format Paperback
218 pages
ISBN-10 194367907X
ISBN-13 9781943679072
2018
$18.00
# new books
Title One, No One, and One Hundred Thousand
Author Luigi Pirandello
Translated by William Weaver
• fleursdumal.nl magazine
More in: - Book News, - Book Stories, Archive O-P, Archive O-P, Luigi Pirandello, Pirandello, Luigi, Pirandello, Luigi, Samuel Beckett, Thomas Bernhard, Vladimir Nabokov
---
Thomas Bernhard zählt zu den meistkommentierten deutschsprachigen Schriftstellern: Ob in Zeitungen, wissenschaftlichen Periodika, als Dissertation oder als Gesamtdarstellung, als biografische Versuche oder fotografische Teilansichten – unter allen Aspekten wird er Gegenstand mehr oder weniger kompetenter Analysen, und das weltweit.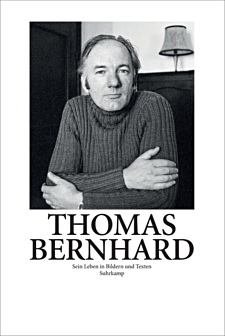 Die Monografie bietet in Bildern und Texten zum ersten Mal gleichermaßen verlässliche wie überraschende Einsichten in das Werk und dessen Entstehungsbedingungen, vermittelt völlig unbekannte Aufschlüsse über sein Leben sowie fundierte Aussagen zur nationalen und internationalen Rezeption. Die Dokumente und Erklärungen sind für jedermann nachvollziehbar, kommen ohne germanistisches Gerede und Stereotypen aus.
Dies ist möglich geworden, da den Herausgebern als bisher einzigen der gesamte Nachlass Thomas Bernhards zugänglich ist. Auf diese Weise sind spannende Einblicke in die Genese einzelner Werke möglich, der (nicht unbeträchtliche) Briefverkehr vermittelt Informationen über die Kontakte mit Kollegen, Kritikern und Freunden, wird die Mythisierung des Bernhard'schen Lebens durch den Autor wie durch sogenannte Zeitgenossen und Biografen durchleuchtet.
Die Bildmonografie löst sich von der strikten chronologischen Darstellung. Sie verfolgt vielmehr in zwölf Kapiteln bestimmte Komplexe des Oeuvres durch die drei Jahrzehnte des Bernhard'schen Schaffens.
Matthias Reiner, geboren 1961 in Köln, studierte Literaturwissenschaften und Kunstgeschichte in Frankfurt am Main und Florenz, arbeitet seit 1985 im Suhrkamp Verlag, leitet dort die Bildredaktion und die Werbeabteilung.
Raimund Fellinger, geboren 1951 im Saarland, arbeitet nach Studium von Germanistik, Linguistik und Politikwissenschaft seit 1979 als Lektor im Suhrkamp Verlag, seit 2006 als Cheflektor.
Thomas Bernhard: Sein Leben in Bildern und Texten
von Matthias Reiner und Raimund Fellinger (Herausgebern)
Suhrkamp Verlag AG
Buch, gebunden
300 Seiten
ISBN: 3518427792
EAN: 9783518427798
Sprache: Deutsch
Auflage: 1 (5. Januar 2019)
€ 68,00
# new books
Thomas Bernhard
fleursdumal.nl magazine
More in: #Biography Archives, - Book News, - Bookstores, Archive A-B, THEATRE, Thomas Bernhard
---
Thank you for reading FLEURSDUMAL.NL - magazine for art & literature