George Orwell
·
George Orwell: On a Ruined Farm near the His Master's Voice Gramophone Factory
·
George Orwell: A dressed man and a naked man
·
George Orwell: Ironic Poem about Prostitution
·
The longlist of The Orwell Prize for Books 2018
·
Homage to Catalonia by George Orwell
·
LA GRANDE LIBRAIRIE: LES 20 LIVRES QUI ONT CHANGÉ VOTRE VIE
·
George Orwell: The Lesser Evil
On a Ruined Farm near
the His Master's Voice
Gramophone Factory

As I stand at the lichened gate
With warring worlds on either hand –
To left the black and budless trees,
The empty sties, the barns that stand
Like tumbling skeletons – and to right
The factory-towers, white and clear
Like distant, glittering cities seen
From a ship's rail – as I stand here,
I feel, and with a sharper pang,
My mortal sickness; how I give
My heart to weak and stuffless ghosts,
And with the living cannot live.
The acid smoke has soured the fields,
And browned the few and windworn flowers;
But there, where steel and concrete soar
In dizzy, geometric towers –
There, where the tapering cranes sweep round,
And great wheels turn, and trains roar by
Like strong, low-headed brutes of steel –
There is my world, my home; yet why
So alien still? For I can neither
Dwell in that world, nor turn again
To scythe and spade, but only loiter
Among the trees the smoke has slain.
Yet when the trees were young, men still
Could choose their path – the winged soul,
Not cursed with double doubts, could fly,
Arrow-like to a foreseen goal;
And they who planned those soaring towers,
They too have set their spirit free;
To them their glittering world can bring
Faith, and accepted destiny;
But none to me as I stand here
Between two countries, both-ways torn,
And moveless still, like Buridan's donkey
Between the water and the corn.
George Orwell
(1903 – 1950)
The Adelphi Magazine, April 1934.
• fleursdumal.nl magazine
More in: Archive O-P, Archive O-P, George Orwell, Orwell, George
---
A dressed man
and a naked man

A dressed man and a naked man
Stood by the kip-house fire,
Watching the sooty cooking-pots
That bubble on the wire;
And bidding tanners up and down,
Bargaining for a deal,
Naked skin for empty skin,
Clothes against a meal.
'Ten bob it is,' the dressed man said,
'These boots cost near a pound,
This coat's a blanket of itself.
When you kip on the frosty ground.'
'One dollar,' said the naked man,
'And that's a hog too dear;
I've seen a man strip off his shirt
For a fag and a pot of beer.'
'Eight and a tanner,' the dressed man said,
'And my life-work is yours,
All I've earned at the end of a life
Knocking at farmers' doors;
Turnips, apples, hops and peas,
And the spike when times are slack,
Fifty years I've tobied it
For these clothes upon my back.'
'Take seven,' said the naked man,
'It's cold and the spikes are shut;
Better be naked here in kip
Than dressed in Lambeth Cut.'
'One tanner more,' the dressed man said,
'One tanner says the word,
Off comes my coat of ratcatcher
And my breeches of velvet cord;
Now pull my shirt over my head,
I'm naked sole to crown,
And that's the end of fifty years
Tobying up and down.'
A minute and they had changed about,
And each had his desire;
A dressed man and a naked man
Stood by the kip-house fire.
George Orwell
(1903 – 1950)
The Adelphi Magazine. October 1933
• fleursdumal.nl magazine
More in: Archive O-P, Archive O-P, George Orwell, Orwell, George
---
Ironic Poem
about Prostitution
When I was young and had no sense
In far-off Mandalay
I lost my heart to a Burmese girl
As lovely as the day.
Her skin was gold, her hair was jet,
Her teeth were ivory;
I said, "for twenty silver pieces,
Maiden, sleep with me".
She looked at me, so pure, so sad,
The loveliest thing alive,
And in her lisping, virgin voice,
Stood out for twenty-five.
George Orwell
(1903 – 1950)
• fleursdumal.nl magazine
More in: Archive O-P, Archive O-P, George Orwell, Orwell, George
---
The longlist of The Orwell Prize for Books 2018 features historical writing, fiction and for the first time a graphic novel.
The Islamic Enlightenment: The Modern Struggle Between Faith and Reason, Christopher de Bellaigue (Bodley Head). An absorbing account of the political and social reformations that transformed the lands of Islam in the nineteenth and early twentieth centuries)
Why I'm No Longer Talking to White People about Race, Reni Eddo-Lodge (Bloomsbury). A book on racial inequalities, exploring issues from eradicated black history to the political purpose of white dominance, whitewashed feminism to the inextricable link between class and race
Threads from the Refugee Crisis, Kate Evans (Verso). Combining the techniques of eyewitness reportage with the medium of comic-book storytelling, Evans has produced a compelling view into the life of asylum seekers living in Calais's 'Jungle'.
Testosterone Rex, Cordelia Fine (Icon Books). A book explaining why past and present sex roles are only serving suggestions for the future. It reveals a much more dynamic situation through an entertaining and well-documented exploration of the latest research that draws on evolutionary science, psychology, neuroscience, endocrinology, and philosophy.
The Road to Somewhere – The Populist Revolt and the Future of Politics, David Goodhart (Hurst Publishers). An exposition of how the political elites have failed their societies. This investigation into the new global politics reveals how the Somewhere backlash is a democratic response to the dominance of Anywhere interests, in everything from mass higher education to mass immigration.
What You Did Not Tell, Mark Mazower (Allen Lane). In the centenary of the Russian Revolution, What You Did Not Tell recounts a brand of socialism erased from memory – humanistic, impassioned, and broad-ranging in its sympathies. But it also explores the unexpected happiness that may await history's losers, the power of friendship, and the love of place.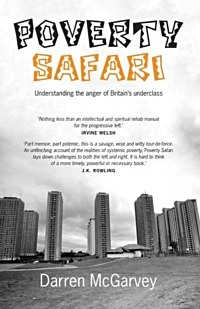 Poverty Safari, Darren McGarvey (Luath Press). People from deprived communities all across Britain feel misunderstood and unheard. Darren McGarvey, aka Loki, gives voice to their feelings and concerns, and anger that is spilling over.
Age of Anger: A History of the Present, Pankaj Mishra (Allen Lane). How can we explain the origins of the great wave of paranoid hatreds that seem inescapable in our close-knit world – from American 'shooters' and ISIS to Trump? Pankaj Mishra answers our bewilderment by casting his gaze back to the eighteenth century, before leading us to the present.
Bitch Doctrine, Laurie Penny (Bloomsbury) Bread for All:The Origins of the Welfare State, Chris Renwick (Allen Lane). This collection of Laurie Penny's writing covers everything from the shock of Donald Trump's election and the victories of the far right, to online harassment and the transgender rights movement. These darkly humorous articles provoke challenging conversations about the definitive social issues of today.
Winter, Ali Smith (Hamish Hamilton). In the second novel in her Seasonal cycle, Smith's shape-shifting quartet of novels casts a merry eye over a bleak post-truth era with a story rooted in history, memory and warmth, its taproot deep in the evergreens: art, love, laughter.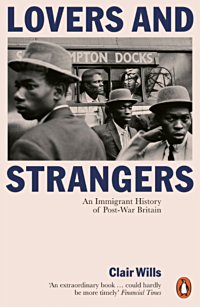 Lovers and Strangers: An Immigrant History of Post-War Britain, Clair Wills (Allen Lane). Clair Wills' book brings to life the incredible diversity and strangeness of the migrant experience. She introduces us to lovers, scroungers, dancers, homeowners, teaches, drinkers, carers and many more to show the opportunities and excitement as much as the humiliation and poverty that could be part of the new arrivals' experience.
The judges for the Orwell Prize for Books are politician, academic and journalist Andrew Adonis (Chair), Literary Journalist and Artistic Director of Words and Literature of the Bath Festival, Alex Clark, author Kit de Waal, and Lorien Kite, Deputy Life & Arts Editor for the Financial Times.
The shortlist for The Orwell Prize for Books will be announced at The Bath Festival on 18th May. The winner of the £3000 prize will be unveiled on 25th June 2018 at The RSA, together with the winner of The Orwell Prize for Journalismand The Orwell Prize for Exposing Britain's Social Evils.
Previous winners of the Orwell Prize for Books include John Bew for his biography of Clement Attlee (2017), Raja Shehadeh (2008), Alan Johnson (2014), and Andrea GiThe judges for the Orwell Prize for Booksllies (2010).
The Orwell Prize 2018 is for work published in the calendar year 2018. For more details and rules of entry please visit www.orwellfoundation.com
orwell-prize 2018
fleursdumal.nl magazine
More in: - Book Lovers, - Book News, Art & Literature News, Awards & Prizes, George Orwell, PRESS & PUBLISHING
---
A firsthand account of the brutal conditions of the Spanish Civil War.
Homage to Catalonia is Orwell's personal account of his observations in the Spanish Civil War. The book was first published in the United Kingdom in 1938.
In 1936, originally intending merely to report on the Spanish Civil War as a journalist, George Orwell found himself embroiled as a participant—as a member of the Workers' Party of Marxist Unity.
Fighting against the Fascists, he described in painfully vivid and occasionally comic detail life in the trenches—with a "democratic army" composed of men with no ranks, no titles, and often no weapons—and his near fatal wounding. As the politics became tangled, Orwell was pulled into a heartbreaking conflict between his own personal ideals and the complicated realities of political power struggles.
Considered one of the finest works by a man V. S. Pritchett called "the wintry conscience of a generation," Homage to Catalonia is both Orwell's memoir of his experiences at the front and his tribute to those who died in what he called a fight for common decency. This edition features a new foreword by Adam Hochschild placing the war in greater context and discussing the evolution of Orwell's views on the Spanish Civil War.
"One of Orwell's very best books and perhaps the best book that exists on the Spanish Civil War." — The New Yorker
George Orwell (1903-1950) served with the Imperial Police in Burma, fought with the Republicans during the Spanish Civil War, and was a member of the Home Guard and a writer for the BBC during World War II. He is the author of many works of non-fiction and fiction.
Homage to Catalonia
George Orwell
Penguin Classics
2013
256 Pages
£6.99
Paperback
ISBN10 0141393025
ISBN13 9780141393025
Homage to Catalonia by George Orwell
fleursdumal.nl magazine
More in: - Book News, - Book Stories, Archive O-P, Art & Literature News, George Orwell, MUSEUM OF PUBLIC PROTEST, REPRESSION OF WRITERS, JOURNALISTS & ARTISTS, WAR & PEACE
---
A l'occasion des 20 ans de France 5, l'émission "La grande librairie" a donne la parole: Un livre a-t-il changé votre vie ? Lequel ? Pourquoi ?
LES RESULTATS
LES 20 LIVRES QUI ONT CHANGÉ VOTRE VIE
Quels sont les livres qui ont changé votre vie ?
Voici le classement des 20 livres les plus cités à l'occasion de notre grand sondage auprès des téléspectateurs :
1   – "Le petit prince" – Antoine de Saint-Exupéry
2   – "L'étranger" – Albert Camus
3   – "Voyage au bout de la Nuit" – Louis-Ferdinand Céline
4   – "L'écume des jours" – Boris Vian
5   – "A la recherche du temps perdu" – Marcel Proust
6   – "Le Grand Meaulnes" – Alain Fournier
7   – "L'alchimiste" – Paulo Coelho
8   – "Belle du seigneur" – Albert Cohen
9   – "Cent ans de solitude" – Gabriel García Márquez
10 – "Les Fleurs du Mal" – Charles Baudelaire
11 – "La Peste" – Albert Camus
12 –  Harry Potter – J. K. Rowling
13 – "1984" – George Orwell
14 – "Le monde selon Garp" – John Irving
15 – "Crime et Châtiment" – Fiodor Dostoïevski
16 – "Le seigneur des Anneaux" – J.R.R. Tolkien
17 – "Le Parfum" – Patrick Süskind
18 – "Le journal d'Anne Frank" – Anne Frank
19 – "Madame Bovary" – Gustave Flaubert
20 – "Les Misérables" – Victor Hugo
LGL, décembre 2014
# INFO website LA GRANDE LIBRAIRIE
fleursdumal.nl magazine
More in: - Book Lovers, - Book Stories, Antoine de Saint-Exupéry, Art & Literature News, George Orwell
---
George Orwell
(1903-1950)
The Lesser Evil
Empty as death and slow as pain
The days went by on leaden feet;
And parson's week had come again
As I walked down the little street.
Without, the weary doves were calling,
The sun burned on the banks of mud;
Within, old maids were caterwauling
A dismal tale of thorns and blood.
I thought of all the church bells ringing
In towns that Christian folks were in;
I heard the godly maidens singing;
I turned into the house of sin.
The house of sin was dark and mean,
With dying flowers round the door;
They spat their betel juice between
The rotten bamboos of the floor.
Why did I come, the woman cried,
so seldom to her beds of ease?
When I was not, her spirit died,
And would I give her ten rupees.
The weeks went by, and many a day
That black-haired woman did implore
Me as I hurried on my way
To come more often than before.
The days went by like dead leaves falling
And parson's week came round again.
Once more devout old maids were bawling
Their ugly rhymes of death and pain.
The woman waited for me there
As down the little street I trod;
And musing upon her oily hair,
I turned into the house of God.
fleursdumal.nl magazine
More in: Archive O-P, Archive O-P, George Orwell, Orwell, George
---
Thank you for reading FLEURSDUMAL.NL - magazine for art & literature