Salman Rushdie
·
Everyman's Library edition of The Remains of the Day by Kazuo Ishiguro
·
The Golden House, new novel by Salman Rushdie
·
The Man Booker Prize 2017 Longlist announced
An elegant Everyman's Library hardcover edition of the universally acclaimed novel—winner of the Booker Prize, a bestseller and a perpetually strong backlist title, and the basis for an award-winning film—with full-cloth binding, a silk ribbon marker, a chronology, and an introduction by Salman Rushdie.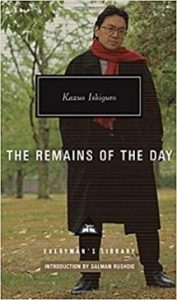 Here is Kazuo Ishiguro's profoundly compelling portrait of Stevens, the perfect butler, and of his fading, insular world in post-World War II England. Stevens, at the end of three decades of service at Darlington Hall, spending a day on a country drive, embarks as well on a journey through the past in an effort to reassure himself that he has served humanity by serving the "great gentleman," Lord Darlington.
But lurking in his memory are doubts about the true nature of Lord Darlington's "greatness," and much graver doubts about the nature of his own life.
Kazuo Ishiguro's books have won him wide renown and numerous honors. His work has been translated into more than 40 languages.
Both The Remains of the Day and Never Let Me Go have sold more than 1 million copies, and both were adapted into highly acclaimed films. Ishiguro's other work includes Nocturnes, A Pale View of the Hills, and An Artist of the Floating World.
Kazuo Ishiguro is awarded the Nobel Prize in Literature for 2017.
Kazuo Ishiguro
The Remains of the Day
Introduction by Salman Rushdie
Everyman's Library
Contemporary Classics Series
Hardcover, Deckle Edge,
2012, 248 Pages
978 1 84159 349 4
£ 10.99
# website everymanslibrary    
Kazuo Ishiguro:
The Remains of the Day
fleursdumal.nl magazine
More in: - Book News, - Bookstores, Archive I-J, Art & Literature News, Kazuo Ishiguro, Salman Rushdie, The Art of Reading
---
A modern American epic set against the panorama of contemporary politics and culture—a hurtling, page-turning mystery that is equal parts The Great Gatsby and The Bonfire of the Vanities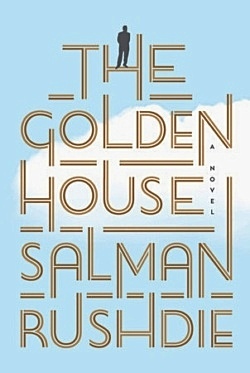 On the day of Barack Obama's inauguration, an enigmatic billionaire from foreign shores takes up residence in the architectural jewel of "the Gardens," a cloistered community in New York's Greenwich Village. The neighborhood is a bubble within a bubble, and the residents are immediately intrigued by the eccentric newcomer and his family. Along with his improbable name, untraceable accent, and unmistakable whiff of danger, Nero Golden has brought along his three adult sons: agoraphobic, alcoholic Petya, a brilliant recluse with a tortured mind; Apu, the flamboyant artist, sexually and spiritually omnivorous, famous on twenty blocks; and D, at twenty-two the baby of the family, harboring an explosive secret even from himself. There is no mother, no wife; at least not until Vasilisa, a sleek Russian expat, snags the septuagenarian Nero, becoming the queen to his king—a queen in want of an heir.
Our guide to the Goldens' world is their neighbor René, an ambitious young filmmaker. Researching a movie about the Goldens, he ingratiates himself into their household. Seduced by their mystique, he is inevitably implicated in their quarrels, their infidelities, and, indeed, their crimes. Meanwhile, like a bad joke, a certain comic-book villain embarks upon a crass presidential run that turns New York upside-down.
Set against the strange and exuberant backdrop of current American culture and politics, The Golden House also marks Salman Rushdie's triumphant and exciting return to realism. The result is a modern epic of love and terrorism, loss and reinvention—a powerful, timely story told with the daring and panache that make Salman Rushdie a force of light in our dark new age.
Salman Rushdie is the author of twelve novels—Grimus, Midnight's Children (for which he won the Booker Prize and the Best of the Booker), Shame, The Satanic Verses, Haroun and The Sea of Stories, The Moor's Last Sigh, The Ground Beneath Her Feet, Fury, Shalimar the Clown, The Enchantress of Florence, Luka and the Fire of Life, and Two Years Eight Months and Twenty-Eight Nights—and one collection of short stories: East, West. He has also published four works of nonfiction—Joseph Anton, The Jaguar Smile, Imaginary Homelands, and Step Across This Line—and co-edited two anthologies, Mirrorwork and Best American Short Stories 2008. He is a member of the American Academy of Arts and Letters and a Distinguished Writer in Residence at New York University. A former president of PEN American Center, Rushdie was knighted in 2007 for services to literature.
The Golden House
A Novel
By Salman Rushdie
Hardcover
$28.99
Published by Random House
Sep 05, 2017
400 Pages
6-1/8 x 9-1/4
ISBN 9780399592805
fleursdumal.nl magazine
More in: - Book News, - Bookstores, Archive S-T, Art & Literature News, Salman Rushdie
---
The longlist, or 'Man Booker Dozen', for the £50,000 Man Booker Prize is announced on 26 July.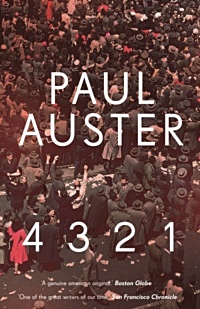 This year's longlist of 13 books was selected by a panel of five judges: Baroness Lola Young (Chair); literary critic, Lila Azam Zanganeh; Man Booker Prize shortlisted novelist, Sarah Hall; artist, Tom Phillips CBE RA; and travel writer, Colin Thubron CBE.
The list was chosen from 144 submissions published in the UK between 1 October 2016 and 30 September 2017.
The Man Booker Prize for Fiction, first awarded in 1969, is open to writers of any nationality, writing in English and published in the UK.
The 2017 longlist, or Man Booker 'Dozen', of 13 novels, is:
– 4 3 2 1 by Paul Auster (US) (Faber & Faber)
– Days Without End by Sebastian Barry (Ireland) (Faber & Faber)
– History of Wolves by Emily Fridlund (US) (Weidenfeld & Nicolson)
– Exit West by Mohsin Hamid (Pakistan-UK) (Hamish Hamilton)
– Solar Bones by Mike McCormack (Ireland) (Canongate)
– Reservoir 13 by Jon McGregor (UK) (4th Estate)
– Elmet by Fiona Mozley (UK) (JM Originals)
– The Ministry Of Utmost Happiness by Arundhati Roy (India) (Hamish Hamilton)
– Lincoln in the Bardo by George Saunders (US) (Bloomsbury)
– Home Fire by Kamila Shamsie (UK-Pakistan) (Bloomsbury)
– Autumn by Ali Smith (UK) (Hamish Hamilton)
– Swing Time by Zadie Smith (UK) (Hamish Hamilton)
– The Underground Railroad by Colson Whitehead (US) (Fleet)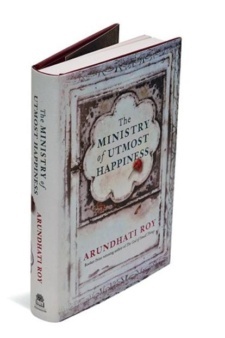 Chair of the 2017 judges, Baroness Lola Young, says: 'Only when we'd finally selected our 13 novels did we fully realise the huge energy, imagination and variety in them as a group. The longlist showcases a diverse spectrum — not only of voices and literary styles but of protagonists too, in their culture, age and gender. Nevertheless we found there was a spirit common to all these novels: though their subject matter might be turbulent, their power and range were life-affirming – a tonic for our times.
First awarded in 1969, the Man Booker Prize is recognised as the leading prize for literary fiction written in English. The list of former winners features many of the literary giants of the last four decades: from Iris Murdoch to Salman Rushdie, Ian McEwan to Hilary Mantel.
The rules of the prize were changed at the end of 2013 to embrace the English language 'in all its vigour, its vitality, its versatility and its glory', opening it up to writers beyond the UK and Commonwealth. The Man Booker Prize is sponsored by Man Group, an active investment management firm.
More information about the prize is available at: www.themanbookerprize.com
fleursdumal.nl magazine
More in: - Book News, - Bookstores, Art & Literature News, Awards & Prizes, FICTION & NONFICTION ARCHIVE, Literary Events, Paul Auster, Salman Rushdie
---
Thank you for reading FLEURSDUMAL.NL - magazine for art & literature