Vladimir Nabokov
·
Luigi Pirandello: One, No One, and One Hundred Thousand
·
Letters to Véra by Vladimir Nabokov
Luigi Pirandello's extraordinary final novel begins when Vitangelo Moscarda's wife remarks that Vitangelo's nose tilts to the right.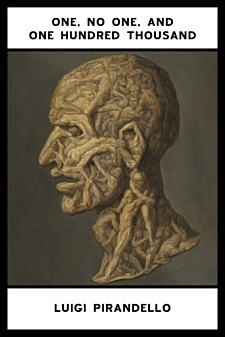 This commonplace interaction spurs the novel's unemployed, wealthy narrator to examine himself, the way he perceives others, and the ways that others perceive him.
At first he only notices small differences in how he sees himself and how others do; but his self-examination quickly becomes relentless, dizzying, leading to often darkly comic results as Vitangelo decides that he must demolish that version of himself that others see.
Pirandello said of his 1926 novel that it "deals with the disintegration of the personality. It arrives at the most extreme conclusions, the farthest consequences." Indeed, its unnerving humor and existential dissection of modern identity find counterparts in Samuel Beckett's Molloy trilogy and the works of Thomas Bernhard and Vladimir Nabokov.
Luigi Pirandello (1867-1936) was an Italian author, who was awarded the Nobel Prize for Literature in 1934 for his "bold and brilliant renovation of the drama and the stage." Pirandello's works include novels, hundreds of short stories, and plays. Pirandello's plays are often seen as forerunners for the theatre of the absurd.
One, No One, and One Hundred Thousand
Luigi Pirandello
Translated by William Weaver
Publisher Spurl Editions
Format Paperback
218 pages
ISBN-10 194367907X
ISBN-13 9781943679072
2018
$18.00
# new books
Title One, No One, and One Hundred Thousand
Author Luigi Pirandello
Translated by William Weaver
• fleursdumal.nl magazine
More in: - Book News, - Book Stories, Archive O-P, Archive O-P, Luigi Pirandello, Pirandello, Luigi, Pirandello, Luigi, Samuel Beckett, Thomas Bernhard, Vladimir Nabokov
---
The letters of the great writer to his wife—gathered here for the first time—chronicle a decades-long love story and document anew the creative energies of an artist who was always at work.
No marriage of a major twentieth-century writer is quite as beguiling as that of Vladimir Nabokov's to Véra Slonim. She shared his delight in life's trifles and literature's treasures, and he rated her as having the best and quickest sense of humor of any woman he had met. From their first encounter in 1923, Vladimir's letters to Véra form a narrative arc that tells a half-century-long love story, one that is playful, romantic, pithy and memorable. At the same time, the letters tell us much about the man and the writer. We see the infectious fascination with which Vladimir observed everything—animals, people, speech, the landscapes and cityscapes he encountered—and learn of the poems, plays, stories, novels, memoirs, screenplays and translations on which he worked ceaselessly. This delicious volume contains twenty-one photographs, as well as facsimiles of the letters themselves and the puzzles and doodles Vladimir often sent to Véra.
Vladimir Nabokov was born on April 23, 1899, in St. Petersburg, Russia. He wrote in both Russian and English, and his best works, including Lolita (1955), feature stylish, complex literary effects. A collection of Nabokov's missives to his wife was published as Letters to Véra. Nabokov died in Montreux, Switzerland, in 1977.
Letters to Véra
By Vladimir Nabokov
Part of Vintage International
Category: Arts & Entertainment Biographies & Memoirs – Literary Figure Biographies & Memoirs – Literary Collections
Published Dec 12, 2017
by Vintage
864 Pages
With 8 pages of photographs and 47 illustrations in text
Paperback – $20.00
ISBN 9780307476586
Language: English
fleursdumal.nl magazine
More in: - Book News, - Bookstores, Archive M-N, Art & Literature News, Vladimir Nabokov
---
Thank you for reading FLEURSDUMAL.NL - magazine for art & literature