Kazuo Ishiguro
·
My Twentieth Century Evening and Other Small Breakthroughs. The Nobel Lecture by Kazuo Ishiguro
·
Everyman's Library edition of The Remains of the Day by Kazuo Ishiguro
·
The Nobel Prize in Literature for 2017 is awarded to the English author Kazuo Ishiguro
The Nobel Lecture in Literature, delivered by Kazuo Ishiguro (The Remains of the Day and When We Were Orphans) at the Swedish Academy in Stockholm, Sweden, on December 7, 2017, in an elegant, clothbound edition.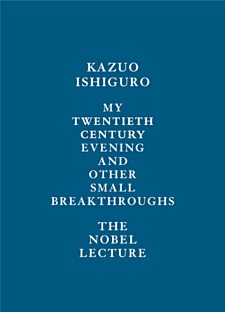 In their announcement of the 2017 Nobel Prize in Literature, the Swedish Academy recognized the emotional force of Kazuo Ishiguro's fiction and his mastery at uncovering our illusory sense of connection with the world. In the eloquent and candid lecture he delivered upon accepting the award, Ishiguro reflects on the way he was shaped by his upbringing, and on the turning points in his career—"small scruffy moments . . . quiet, private sparks of revelation"—that made him the writer he is today.
With the same generous humanity that has graced his novels, Ishiguro here looks beyond himself, to the world that new generations of writers are taking on, and what it will mean—what it will demand of us—to make certain that literature remains not just alive, but essential.
An enduring work on writing and becoming a writer, by one of the most accomplished novelists of our generation.
My Twentieth Century Evening and
Other Small Breakthroughs
The Nobel Lecture
By Kazuo Ishiguro
Hardcover
Dec 12, 2017
64 Pages
$16.95
Published by Knopf
64 Pages
ISBN 9780525654957
new books
fleursdumal.nl magzine
More in: - Book News, Archive I-J, Awards & Prizes, Kazuo Ishiguro, Literary Events
---
An elegant Everyman's Library hardcover edition of the universally acclaimed novel—winner of the Booker Prize, a bestseller and a perpetually strong backlist title, and the basis for an award-winning film—with full-cloth binding, a silk ribbon marker, a chronology, and an introduction by Salman Rushdie.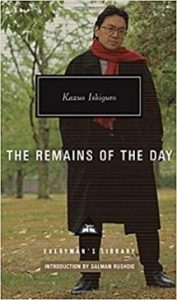 Here is Kazuo Ishiguro's profoundly compelling portrait of Stevens, the perfect butler, and of his fading, insular world in post-World War II England. Stevens, at the end of three decades of service at Darlington Hall, spending a day on a country drive, embarks as well on a journey through the past in an effort to reassure himself that he has served humanity by serving the "great gentleman," Lord Darlington.
But lurking in his memory are doubts about the true nature of Lord Darlington's "greatness," and much graver doubts about the nature of his own life.
Kazuo Ishiguro's books have won him wide renown and numerous honors. His work has been translated into more than 40 languages.
Both The Remains of the Day and Never Let Me Go have sold more than 1 million copies, and both were adapted into highly acclaimed films. Ishiguro's other work includes Nocturnes, A Pale View of the Hills, and An Artist of the Floating World.
Kazuo Ishiguro is awarded the Nobel Prize in Literature for 2017.
Kazuo Ishiguro
The Remains of the Day
Introduction by Salman Rushdie
Everyman's Library
Contemporary Classics Series
Hardcover, Deckle Edge,
2012, 248 Pages
978 1 84159 349 4
£ 10.99
# website everymanslibrary    
Kazuo Ishiguro:
The Remains of the Day
fleursdumal.nl magazine
More in: - Book News, - Bookstores, Archive I-J, Art & Literature News, Kazuo Ishiguro, Salman Rushdie, The Art of Reading
---
Kazuo Ishiguro was born on November 8, 1954 in Nagasaki, Japan.The family moved to the United Kingdom when he was five years old; he returned to visit his country of birth only as an adult.
In the late 1970s, Ishiguro graduated in English and Philosophy at the University of Kent, and then went on to study Creative Writing at the University of East Anglia.
Kazuo Ishiguro has been a full-time author ever since his first book, "A Pale View of Hills" (1982). Both his first novel and the subsequent one, "An Artist of the Floating World" (1986) take place in Nagasaki a few years after the Second World War. The themes Ishiguro is most associated with are already present here: memory, time, and self-delusion. This is particularly notable in his most renowned novel, "The Remains of the Day" (1989), which was turned into film with Anthony Hopkins acting as the duty-obsessed butler Stevens.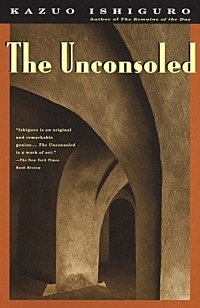 Ishiguro's writings are marked by a carefully restrained mode of expression, independent of whatever events are taking place. At the same time, his more recent fiction contains fantastic features. With the dystopian work "Never Let Me Go" (2005), Ishiguro introduced a cold undercurrent of science fiction into his work. In this novel, as in several others, we also find musical influences. A striking example is the collection of short stories titled "Nocturnes: Five Stories of Music and Nightfall" (2009), where music plays a pivotal role in depicting the characters' relationships. In his latest novel, "The Buried Giant" (2015), an elderly couple go on a road trip through an archaic English landscape, hoping to reunite with their adult son, whom they have not seen for years. This novel explores, in a moving manner, how memory relates to oblivion, history to the present, and fantasy to reality.
Apart from his eight books, Ishiguro has also written scripts for film and television.
# More info website Nobelprize
The Nobel Prize in Literature for 2017 to English author Kazuo Ishiguro
fleursdumal.nl magazine
More in: - Book Lovers, - Book News, Archive I-J, Art & Literature News, AUDIO, CINEMA, RADIO & TV, Awards & Prizes, Kazuo Ishiguro, The Art of Reading
---
Thank you for reading FLEURSDUMAL.NL - magazine for art & literature