Henning Mankell
·
QUICKSAND BY HENNING MANKELL
·
IN MEMORIAM WRITER HENNING MANKELL (1948 – 2015)
In January 2014 I was informed that I had cancer.
However, Quicksand is not a book about death and destruction, but about what it means to be human.
I have undertaken a journey from my childhood to the man I am today, writing about the key events in my life, and about the people who have given me new perspectives. About men and women I have never met, but wish I had.
I write about love and jealousy, about courage and fear. And about what it is like to live with a potentially fatal illness.
This book is also about why the cave painters 40,000 years ago chose the very darkest places for their fascinating pictures. And about the dreadful troll that we are trying to lock away inside the bedrock of a Swedish mountain for the next 100,000 years.
It is a book about how humanity has lived and continues to live, and about how I have lived and continue to live my own life.
And, not least, about the great zest for life, which came back when I managed to drag myself out of the Quicksand that threatened to suck me down into the abyss. –

Henning Mankell (1948 – 2015)

# "Potent and evocative" – Nick Rennison, The Sunday Times
# "Quicksand, Mankell's final book, is his most excoriating indictment of human folly… An extremely moving swansong." – Jake Kerridge, Sunday Telegraph
# "Quicksand, a hybrid of essay and memoir, reflects knowledgeably on art, religion, childhood and the "final insensibility" that is our dying. Rarely has a writer contemplated the mystery of the end of life with such a wide-ranging curiosity." – Ian Thomson, Evening Standard
Henning Mankell (1948-2015) became a worldwide phenomenon with his crime writing, gripping thrillers and atmospheric novels set in Africa. His prizewinning and critically acclaimed Inspector Wallander Mysteries continue to dominate bestseller lists all over the globe and his books have been translated into forty-five languages and made into numerous international film and television adaptations.
Henning Mankell
Quicksand
Paperback
Ed. Harvill Secker
Translated in English by Laurie Thompson
ISBN: 9781846559952
Henning Mankell:
Drijfzand.
Uit het Zweeds vert. Ceciel Verheij.
De Geus
ISBN: 9044534831
fleursdumal.nl magazine
More in: - Book News, Art & Literature News, Henning Mankell, Thrillers
---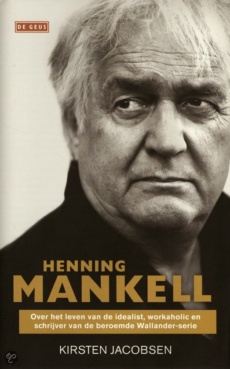 Henning Mankell is dead. He died in his sleep on october 5th early in the morning in Göteborg. He was 67 years old.
Henning Mankell was one of the great Swedish authors of our time, loved by readers in Sweden and all over the world. His work includes around forty novels and numerous plays. His books have sold more than forty million copies and are translated into more than forty languages. Solidarity with those in need run through his entire work and manifested itself in action until the very end.
In 2001, together with Dan Israel, he founded Leopard Förlag where his books are published. Henning Mankell divided his time between Sweden and Moçambique where he was the artistic leader of Teatro Avenida in Maputo.
He is mourned by his wife Eva Bergman and his son Jon Mankell and by many readers.
(Kurt) Walander books
Mördare utan ansikte (1991; English translation by Steven T. Murray: Faceless Killers, 1997)
Hundarna i Riga (1992; English translation by Laurie Thompson: The Dogs of Riga, 2001)
Den vita lejoninnan (1993; English translation by Laurie Thompson: The White Lioness, 1998)
Mannen som log (1994; English translation by Laurie Thompson: The Man Who Smiled, 2005)
Villospår (1995; English translation by Steven T. Murray: Sidetracked, 1999) Gold Dagger 2001
Fotografens död (1996)
Den femte kvinnan (1996; English translation by Steven T. Murray: The Fifth Woman, 2000)
Steget efter (1997; English translation by Ebba Segerberg: One Step Behind, 2002)
Brandvägg (1998; English translation by Ebba Segerberg: Firewall, 2002)
Pyramiden (1999; short stories; English translation by Ebba Segerberg with Laurie Thompson: The Pyramid, 2008)
Handen (2004; novella; originally published in Dutch (2004) as Het Graf (The Grave).[40] Published in Swedish, 2013. English translation by Laurie Thompson: An Event in Autumn, 2014)
Den orolige mannen (2009; English translation by Laurie Thompson: The Troubled Man, 2011)[41][42]
(Linda) Walander
Innan frosten (2002; English translation by Ebba Segerberg: Before the Frost, 2005)
Other books
Danslärarens återkomst (2000; English translation by Laurie Thompson: The Return of the Dancing Master, 2004)
Kennedys hjärna (2005; English translation by Laurie Thompson: Kennedy's Brain, 2007, U.S. release)
Kinesen (2007; English translation by Laurie Thompson: The Man from Beijing, 2010)
Vettvillingen (1977)
Fångvårdskolonin som försvann (1979)
Dödsbrickan (fi) (1980)
En seglares död (fi) (1981)
Daisy Sisters (1982)
Sagan om Isidor (sv) (1984)
Leopardens öga (1990); English translation by Steven T. Murray: The Eye of the Leopard, (2008)
Comédia infantil (1995); English translation by Tiina Nunnally: Chronicler of the Winds, (2006)
Vindens son (2000); English translation by Steven T. Murray: Daniel (2010)
Tea-Bag (2001) English translation by Ebba Segerberg: The Shadow Girls (2012)
Djup (2004); English translation by Laurie Thompson: Depths, (2006)
Italienska skor (2006); English translation by Laurie Thompson: Italian Shoes, (2009)
Minnet av en Smutsig Ängel (2011); English translation by Laurie Thompson: A Treacherous Paradise, (2013)
Childrens books
Secrets in the Fire – 2000 (Eldens hemlighet, 1995)
Playing with Fire – 2002 (Eldens gåta, 2001)
The Fury in the Fire – 2009 (Eldens vrede (sv), 2005)
The Cat Who Liked Rain – 2007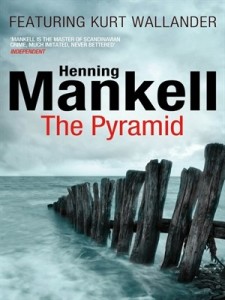 Plays
Älskade syster (1983) – Beloved Sister
Antiloperna
Apelsinträdet (1983) – The Orange Tree
Att Storma Himlen
Berättelser På Tidens Strand
Bergsprängaren (1973)
Butterfly Blues
Daisy Sisters (1982)
Darwins kapten (2010) – Darwin's Captain
Den Samvetslöse Mördaren Hasse Karlsson…
Dödsbrickan (1980)
Eldens gåta (2001) – Fire Riddle
En Gammal Man Som Dansar
En Höstkväll Innan Tystnaden
En seglares död (1981) – Death of a Sailor
Fångvårdskolonin som försvann (1979)
Gatlopp
Grävskopan
Hårbandet
I sand och i lera (1999) – In Sand and Mud
In Duisternis (2010) – Time of Darkness
Innan Gryningen
Italienska skor (2006) – Italian shoes
Jag dör, men minnet lever (2003) – I Die, but the Memory Lives
Kakelugnen På Myren
Katten som älskade regn (1992) The Cat that Loved Rain
Labyrinten (2000) – The Labyrinth
Lampedusa
Mannen Som Byggde Kojor
Mörkertid
Möte Om Eftermiddagen
Och Sanden Ropar…
Påläggskalven
Pojken som sov med snö i sin säng (1996) – The Boy Who Slept with Snow in His Bed
Politik (2010) – Politics
Resan till värdens ände (1998) – Journey to The End of the World
Sagan om Isidor (1984) Isidor's Saga
Sandmålaren (1974) – Sand painter
Svarte Petter
Tea-Bag (2001)
Tokfursten
Tyckte Jag Hörde Hundar[46][47]
Valpen
Vettvillingen (1977) – The Maniac
fleursdumal.nl magazine
More in: Archive M-N, Henning Mankell, In Memoriam
---
Thank you for reading FLEURSDUMAL.NL - magazine for art & literature