Herman Melville
·
Herman Melville: The Maldive Shark (Poem)
·
HERMAN MELVILLE: Gold
·
HERMAN MELVILLE: Pipe Song
·
HART CRANE: At Melville's Tomb
The Maldive Shark
About the Shark, phlegmatical one,
Pale sot of the Maldive sea,
The sleek little pilot-fish, azure and slim,
How alert in attendance be.
From his saw-pit of mouth, from his charnel of maw,
They have nothing of harm to dread,
But liquidly glide on his ghastly flank
Or before his Gorgonian head;
Or lurk in the port of serrated teeth
In white triple tiers of glittering gates,
And there find a haven when peril's abroad,
An asylum in jaws of the Fates!
They are friends; and friendly they guide him to prey,
Yet never partake of the treat —
Eyes and brains to the dotard lethargic and dull,
Pale ravener of horrible meat.
Herman Melville
(1819 – 1891)
The Maldive Shark
• fleursdumal.nl magazine
More in: Archive M-N, Archive M-N, Herman Melville, Natural history
---
Herman Melville
(1819 – 1891)
Gold
We rovers bold,
To the land of Gold,
Over the bowling billows are gliding:
Eager to toil,
For the golden spoil,
And every hardship biding.
See! See!
Before our prows' resistless dashes
The gold-fish fly in golden flashes!
'Neath a sun of gold,
We rovers bold,
On the golden land are gaining;
And every night,
We steer aright,
By golden stars unwaning!
All fires burn a golden glare:
No locks so bright as golden hair!
All orange groves have golden gushings;
All mornings dawn with golden flushings!
In a shower of gold, say fables old,
A maiden was won by the god of gold!
In golden goblets wine is beaming:
On golden couches kings are dreaming!
The Golden Rule dries many tears!
The Golden Number rules the spheres!
Gold, gold it is, that sways the nations:
Gold! gold! the center of all rotations!
On golden axles worlds are turning:
With phosphorescence seas are burning!
All fire-flies flame with golden gleamings!
Gold-hunters' hearts with golden dreamings!
With golden arrows kings are slain:
With gold we'll buy a freeman's name!
In toilsome trades, for scanty earnings,
At home we've slaved, with stifled yearnings:
No light! no hope! Oh, heavy woe!
When nights fled fast, and days dragged slow.
But joyful now, with eager eye,
Fast to the Promised Land we fly:
Where in deep mines,
The treasure shines;
Or down in beds of golden streams,
The gold-flakes glance in golden gleams!
How we long to sift,
That yellow drift!
Rivers! Rivers! cease your goings!
Sand-bars! rise, and stay the tide!
'Till we've gained the golden flowing;
And in the golden haven ride!
Herman Melville poetry
fleursdumal.nl magazine
More in: Archive M-N, Herman Melville
---
Herman Melville
(1819 – 1891)
Pipe Song
Care is all stuff:–
Puff! Puff!
To puff is enough:–
Puff! Puff
More musky than snuff,
And warm is a puff:–
Puff! Puff
Here we sit mid our puffs,
Like old lords in their ruffs,
Snug as bears in their muffs:–
Puff! Puff
Then puff, puff, puff,
For care is all stuff,
Puffed off in a puff–
Puff! Puff!
Herman Melville poetry
fleursdumal.nl magazine
More in: Archive M-N, Herman Melville
---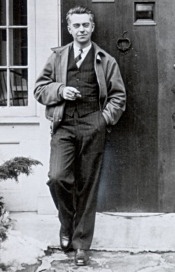 Hart Crane
(1889 – 1932)
At Melville's Tomb
Often beneath the wave, wide from this ledge
The dice of drowned men's bones he saw bequeath
An embassy. Their numbers as he watched,
Beat on the dusty shore and were obscured.
And wrecks passed without sound of bells,
The calyx of death's bounty giving back
A scattered chapter, livid hieroglyph,
The portent wound in corridors of shells.
Then in the circuit calm of one vast coil,
Its lashings charmed and malice reconciled,
Frosted eyes there were that lifted altars;
And silent answers crept across the stars.
Compass, quadrant and sextant contrive
No farther tides . . . High in the azure steeps
Monody shall not wake the mariner.
This fabulous shadow only the sea keeps.
Hart Crane poetry
fleursdumal.nl magazine
More in: Archive C-D, Crane, Hart, Herman Melville
---
Thank you for reading FLEURSDUMAL.NL - magazine for art & literature