WESTERN FICTION & NON-FICTION
·
Karl May: Ave Maria (Gedicht)
·
Bayard Taylor: The Eagle Hunter
·
Mary Gardiner Horsford: Madeline. A Legend Of The Mohawk
·
Mary Gardiner Horsford: The Phantom Bride. – Indian Legends
·
GOING DOWN GRAND: Poems from the Canyon
·
Weird Westerns. Race, Gender, Genre
·
Pierre-Brice-Edition "Über Nacht war ich Winnetou!" von Hella Brice
·
John Hay: The Prairie
·
Frank Behrendt: Die Winnetou-Strategie Werde zum Häuptling deines Lebens
·
KARL MAY: MEIN LIEBCHEN
·
KARL MAY: TROST
·
Bonnie Elizabeth Parker: The story of "Suicide Sal"
Ave Maria
Es will das Licht des Tages scheiden;
Nun bricht die stille Nacht herein.
Ach, könnte doch des Herzens Leiden
So, wie der Tag vergangen sein!
Ich leg' mein Flehen dir zu Füßen;
O, trag's empor zu Gottes Thron,
Und laß, Madonna, laß dich grüßen
Mit des Gebetes frommem Ton:
Ave, ave Maria!
Es will das Licht des Glaubens scheiden;
Nun bricht des Zweifels Nacht herein.
Das Gottvertrau'n der Jugendzeiten,
Es soll mir abgestohlen sein.
Erhalt', Madonna, mir im Alter
Der Kindheit frohe Zuversicht;
Schütz' meine Harfe, meinen Psalter;
Du bist mein Heil, du bist mein Licht!
Ave, ave Maria!
Es will das Licht des Lebens scheiden;
Nun bricht des Todes Nacht herein.
Die Seele will die Schwingen breiten;
Es muß, es muß gestorben sein.
Madonna, ach, in deine Hände
Leg' ich mein letztes, heißes Fleh'n:
Erbitte mir ein gläubig Ende
Und dann ein selig Aufersteh'n!
Ave, ave Maria!
Karl May
(1842-1912)
Ave Maria
• fleursdumal.nl magazine
More in: Archive M-N, Archive M-N, Karl May
---
The Eagle Hunter
On the mighty summit, heaten
By the wintry sleet, I wander,
For I seek the monarch eagle
In his eyrie of the rock;
And I shout in fierce exulting,
When his gray wing on the darkness
Of the cloud above me flashes,
Wheeling downward to the shock!
Nearer, with his keen eye burning,
And his hungry beak extended —
With a shriek of anger swooping
Comes the storm-defying bird :
Yet as steady and unswerving,
Upward flies the fatal arrow,
And his death-cry on the sweeping
Of the sounding winds is heard!
From his wing I rob the plumage,
And it crowns me like a chieftain.
And his talons stud my girdle
Like the scales of olden mail;
Never wears the wild ranchero
Such a trophy on the vega,
Or the fiery-eyed Navajo,
In the Colorado's vale!
Bayard Taylor
(1825 – 1878)
The Eagle Hunter
fleursdumal.nl magazine
More in: Archive S-T, Archive S-T, Department of Birds of Prey, Western Fiction
---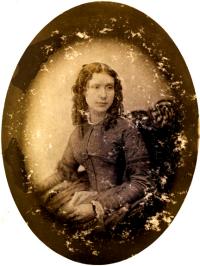 Madeline. A Legend Of The Mohawk
Where the waters of the Mohawk
Through a quiet valley glide,
From the brown church to her dwelling
She that morning passed a bride.
In the mild light of October
Beautiful the forest stood,
As the temple on Mount Zion
When God filled its solitude.
Very quietly the red leaves,
On the languid zephyr's breath,
Fluttered to the mossy hillocks
Where their sisters slept in death:
And the white mist of the Autumn
Hung o'er mountain-top and dale,
Soft and filmy, as the foldings
Of the passing bridal veil.
From the field of Saratoga
At the last night's eventide,
Rode the groom, – a gallant soldier
Flushed with victory and pride,
Seeking, as a priceless guerdon
From the dark-eyed Madeline,
Leave to lead her to the altar
When the morrow's sun should shine.
All the children of the village,
Decked with garland's white and red,
All the young men and the maidens,
Had been forth to see her wed;
And the aged people, seated
In the doorways 'neath the vine,
Thought of their own youth and blessed her,
As she left the house divine.
Pale she was, but very lovely,
With a brow so calm and fair,
When she passed, the benediction
Seemed still falling on the air.
Strangers whispered they had never
Seen who could with her compare,
And the maidens looked with envy
On her wealth of raven hair.
In the glen beside the river
In the shadow of the wood,
With wide-open doors for welcome
Gamble-roofed the cottage stood;
Where the festal board was waiting,
For the bridal guests prepared,
Laden with a feast, the humblest
In the little village shared.
Every hour was winged with gladness
While the sun went down the west,
Till the chiming of the church-bell
Told to all the hour for rest:
Then the merry guests departed,
Some a camp's rude couch to bide,
Some to bright homes, – each invoking
Blessings on the gentle bride.
Tranquilly the morning sunbeam
Over field and hamlet stole,
Wove a glory round each red leaf,
Then effaced the Frost-king's scroll:
Eyes responded to its greeting
As a lake's still waters shine,
Young hearts bounded, – and a gay group
Sought the home of Madeline.
Bird-like voices 'neath the casement
Chanted in the hazy air,
A sweet orison for wakening, –
Half thanksgiving and half prayer.
But no white hand drew the curtain
From the vine-clad panes before,
No light form, with buoyant footstep,
Hastened to fling wide the door.
Moments numbered hours in passing
'Mid that silence, till a fear
Of some unseen ill crept slowly
Through the trembling minstrels near,
Then with many a dark foreboding,
They, the threshold hastened o'er,
Paused not where a stain of crimson
Curdled on the oaken floor;
But sought out the bridal chamber.
God in Heaven! could it be
Madeline who knelt before them
In that trance of agony?
Cold, inanimate beside her,
By the ruthless Cow-boys slain
In the night-time whilst defenceless,
He she loved so well was lain;
O'er her bridal dress were scattered,
Stains of fearful, fearful dye,
And the soul's light beamed no longer
From her tearless, vacant eye.
Round her slight form hung the tresses
Braided oft with pride and care,
Silvered by that night of madness
With its anguish and despair.
She lived on to see the roses
Of another summer wane,
But the light of reason never
Shone in her sweet eyes again.
Once where blue and sparkling waters
Through a quiet valley run,
Fertilizing field and garden,
Wandered I at set of sun;
Twilight as a silver shadow
O'er the softened landscape lay,
When amid a straggling village
Paused I in my rambling way.
Plain and brown the church before me
In the little graveyard stood,
And the laborer's axe resounded
Faintly, from the neighboring wood.
Through the low, half-open wicket
Deeply worn, a pathway led:
Silently I paced its windings
Till I stood among the dead.
Passing by the grave memorials
Of departed worth and fame,
Long I paused before a record
That no pomp of words could claim:
Simple was the slab and lowly,
Shaded by a fragrant vine,
And the single name recorded,
Plainly writ, was "Madeline."
But beneath it through the clusters
Of the jessamine I read,
"Spes," engraved in bolder letters, –
This was all the marble said.
Mary Gardiner Horsford
(1824-1855)
Madeline. A Legend Of The Mohawk
•fleursdumal.nl magazine
More in: Archive G-H, Archive G-H, CLASSIC POETRY, Western Fiction
---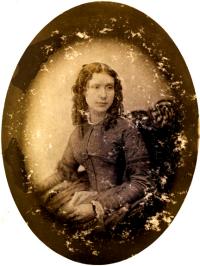 During the Revolutionary war, a young American lady was murdered, while dressed in her bridal robe, by a party of Indians, sent by her betrothed to conduct her to the village where he was encamped.
After the deed was done, they carried her long hair to her lover, who, urged by a frantic despair, hurried to the spot to assure himself of the truth of the tale, and shortly after threw himself, in battle, on the swords of his countrymen.
After this event, the Indians were never successful in their warfare, the spectre of their victim presenting itself continually between them and the enemy.
The Phantom Bride. – Indian Legends
The worn bird of Freedom had furled o'er our land
The shattered wings, pierced by the despot's rude hand,
And stout hearts were vowing, 'mid havoc and strife,
To Liberty, fortune, fame, honor, and life.
The red light of Morning had scarcely betrayed
The sweet summer blossoms that slept in the glade,
When a horseman rode forth from his camp in the wood,
And paused where a cottage in loneliness stood.
The ruthless marauder preceded him there,
For the green vines were torn from the trellis-work fair,
The flowers in the garden all hoof-trodden lay,
And the rafters were black with the smoke of the fray:
But the desolate building he heeded not long,
Was it echo, the wind, or the notes of a song?
One moment for doubt, and he stood by the side
Of the dark-eyed young maiden, his long-promised bride.
Few and short were their words, for the camp of the foe
Was but severed from them, by a stream's narrow flow,
And her fair cheek grew pale at the forest bird's start,
But he said, as he mounted his steed to depart,
"Nay, fear not, but trust to the chief for thy guide,
And the light of the morrow shall see thee my bride."
Why faltered the words ere the sentence was o'er?
Why trembled each heart like the surf on the shore?
In a marvellous legend of old it is said,
That the cross where the Holy One suffered and bled
Was built of the aspen, whose pale silver leaf,
Has ever more quivered with horror and grief;
And e'er since the hour, when thy pinion of light
Was sullied in Eden, and doomed, through a night
Of Sin and of Sorrow, to struggle above,
Hast thou been a trembler, O beautiful Love!
'T was the deep hush of midnight; the stars from the sky
Looked down with the glance of a seraph's bright eye,
When it cleaveth in vision from Deity's shrine
Through infinite space and creation divine,
As the maiden came forth for her bridal arrayed,
And was led by the red men through forest and shade,
Till they paused where a fountain gushed clear in its play,
And the tall pines rose dark and sublime o'er their way.
Alas for the visions that, joyous and pure,
Wove a vista of light through the Future's obscure!
Contention waxed fierce 'neath the evergreen boughs,
And the braves of the chieftain were false to his vows;
In vain knelt the Pale-Face to merciless wrath,
The tomahawk gleamed on her desolate path,
One prayer for her lover, one look towards the sky,
And the dark hand of Death closed the love-speaking eye.
They covered with dry leaves the cold corpse and fair,
And bore the long tresses of soft, golden hair,
In silence and fear, through the dense forest wide,
To the home that the lover had made for his bride.
He knew by their waving those tresses of gold,
Now damp with the life-blood that darkened each fold,
And, mounting his steed, pausing never for breath
Sought the spot where the huge trees stood sentries of Death;
Tore wildly the leaves from the loved form away,
And kissed the pale lips of inanimate clay.
But hark! through the green wood what sounded afar,
'T was the trumpet's loud peal–the alarum of war!
Again on his charger, through forest, o'er plain,
The soldier rode swift to his ranks 'mid the slain:
They faltered, they wavered, half turning to fly
As their leader dashed frantic and fearlessly by,
The damp turf grew crimson wherever he trod,
Where his sword was uplifted a soul went to God.
But that brave arm alone might not conquer in strife,
The madness of grief was conflicting with Life;
His steed fell beneath him, the death-shot whizzed by,
And he rushed on the swords of the victors to die.
'Neath the murmuring pine trees they laid side by side,
The gallant young soldier, the fair, murdered bride:
And never again from that traitorous night,
The red man dared stand in the battle's fierce storm,
For ever before him a phantom of light,
Rose up in the white maiden's beautiful form;
And when he would rush on the foe from his lair,
Those locks of pale gold floated past on the air.
Mary Gardiner Horsford
(1824-1855)
The Phantom Bride. – Indian Legends
• fleursdumal.nl magazine
More in: Archive G-H, Archive G-H, CLASSIC POETRY, Western Fiction
---
Going Down Grand, the first full-length anthology of Grand Canyon poetry, gathers the voices of cowboys, explorers, river-runners, hikers, artists, geologists, rangers, and others whose words bear witness to this complex and magnificent place.

For readers on the river, the trails, the rim, or beyond, the poems on these pages will make fine canyon company.
GOING DOWN GRAND, the first full length anthology of Grand Canyon poems, gathers the voices and thoughts of explorers, cowboys, river-runners, hikers, artists, geologists, rangers, and others whose words reveal and bear witness to this complex and magnificent place. For readers on the river, the trails, the rim, or beyond, the poems on these pages will make fine canyon company.
Co-editor Rick Kempa has been hiking in and writing about the Grand Canyon since 1974. He is also editor of the anthology ON FOOT: Grand Canyon Backpacking Stories (Vishnu Temple Press, 2014) and has authored two books of poems, Keeping the Quiet and Ten Thousand Voices.
Rick Kempa (M.F.A. U of Arizona) teaches writing and philosophy at Western Wyoming College. His work has appeared in Puerto del Sol, High Plains Literary Review, Teaching English in the Two-Year College and Tumblewords: Writers Reading the West (U of Nevada P, 1995).
Going Down Grand: Poems from the Canyon
Edited by Peter Anderson & Rick Kempa
2015
Publisher: Lithic Press
Product Number:9780988384651
ISBN0988384655
Binding: Paperback
Pages:148
Price: $ 17.00
# new books
Going Down Grand: Poems from the Canyon
Edited by Peter Anderson & Rick Kempa
• fleursdumal.nl magazine
More in: #More Poetry Archives, - Book News, Archive K-L, Cowboy Poetry, Natural history, Western Fiction, Western Non-Fiction
---
Weird Westerns is an exploration of the hybrid western genre—an increasingly popular and visible form that mixes western themes, iconography, settings, and conventions with elements drawn from other genres, such as science fiction, horror, and fantasy.
Despite frequent declarations of the western's death, the genre is now defined in part by its zombie-like ability to survive in American popular culture in weird, reanimated, and reassembled forms.
The essays in Weird Westerns analyze a wide range of texts, including those by Native American authors Stephen Graham Jones (Blackfeet) and William Sanders (Cherokee); the cult television series Firefly and The Walking Dead; the mainstream feature films Suicide Squad and Django Unchained; the avant-garde and bizarre fiction of Joe R. Lansdale; the tabletop roleplaying game Deadlands: The Weird West; and the comic book series Wynonna Earp.
The essays explore how these weird westerns challenge conventional representations by destabilizing or subverting the centrality of the heterosexual, white, male hero but also often surprisingly reinforce existing paradigms in their inability to imagine an existence outside of colonial frameworks.
Author Bio:
Kerry Fine is an instructor in the Department of English at Arizona State University. Michael K. Johnson is a professor of English at the University of Maine–Farmington. Rebecca M. Lush is an associate professor at California State University, San Marcos. Sara L. Spurgeon is a professor of American literature at Texas Tech University.
Postwestern Horizons:
Postwestern Horizons encourages scholarship which rethinks and reimagines traditional western scholarship by challenging predominant paradigms, including revisionist ones, and dislocating our sense of region. By moving past the West as a national place, process, and idea to more methodologically innovative, transnationally daring, and theoretically fertile horizons of scholarship, this series encourages new ways of conceiving cultural production and reception. Postwestern Horizons encompasses studies of visual culture, environmental studies, literature, history, film studies, and much more.
Weird Westerns
Race, Gender, Genre
Edited by Kerry Fine, Michael K. Johnson, Rebecca M. Lush, and Sara L. Spurgeon
Postwestern Horizons Series
468 pages
Index
Paperback
August 2020
978-1-4962-2178-0
$35.00
Hardcover
August 2020
978-1-4962-2116-2
$70.00
# new books
Weird Westerns.
Race, Gender, Genre
• fleursdumal.nl magazine
More in: - Book News, - Bookstores, Art & Literature News, AUDIO, CINEMA, RADIO & TV, NONFICTION: ESSAYS & STORIES, Western Non-Fiction
---
"Über Nacht war ich Winnetou!" ist für alle Filmfans ein wahrer Schatz: Drei Jahre nach dem Tod ihres Mannes Pierre Brice zeigt seine Frau Hella das über 50 Jahre lang behütete und zum Großteil unveröffentlichte private Fotomaterial des Winnetou-Schauspielers, entstanden am Rande der Dreharbeiten zu den Winnetou-Filmen.
Ergänzt werden diese Aufnahmen neben zahlreichen weiteren Fotos aus den Winnetou-Filmen unter anderem durch persönliche Briefe, Postkarten, Verträge und Vereinbarungen.
Persönliche Dokumente Pierre Brice' runden diese einzigartige Sammlung von Memorabilia über einen der beliebtesten und populärsten Schauspieler der letzten 55 Jahre ab.
 Pierre-Brice-Edition "Über Nacht war ich Winnetou!"
von Hella Brice
1960er Jahre – Dreharbeiten der Karl-May-Filme. 'Pierre Brice-Edition'.
Fans von Pierre Brice, Karl May oder Filmen allgemein
Buch (gebunden)
223 Seiten
ISBN: 3780231018
EAN: 9783780231017
21, 4 cm / 30, 2 cm / 2, 0 cm ( B/H/T ).
Karl-May-Verlag
12. Oktober 2018
€ 39,00
# new books
Karl-May-Filme
Pierre Brice-Edition
fleursdumal.nl magazine
More in: - Book News, - Bookstores, Archive A-B, Archive M-N, Art & Literature News, AUDIO, CINEMA, RADIO & TV, Cowboys and Indians, Karl May
---
The Prairie
The skies are blue above my head,
The prairie green below,
And flickering o'er the tufted grass
The shifting shadows go,
Vague-sailing, where the feathery clouds
Fleck white the tranquil skies,
Black javelins darting where aloft
The whirring pheasant flies.
A glimmering plain in drowsy trance
The dim horizon bounds,
Where all the air is resonant
With sleepy summer sounds,
The life that sings among the flowers,
The lisping of the breeze,
The hot cicala's sultry cry,
The murmurous dream of bees.
The butterfly a flying flower
Wheels swift in flashing rings,
And flutters round his quiet kin,
With brave flame-mottled wings.
The wild Pinks burst in crimson fire,
The Phlox' bright clusters shine,
And Prairie-Cups are swinging free
To spill their airy wine.
And lavishly beneath the sun,
In liberal splendor rolled,
The Fennel fills the dipping plain
With floods of flowery gold;
And widely weaves the Iron-Weed
A woof of purple dyes
Where Autumn's royal feet may tread
When bankrupt Summer flies.
In verdurous tumult far away
The prairie-billows gleam,
Upon their crests in blessing rests
The noontide's gracious beam.
Low quivering vapors steaming dim
The level splendors break
Where languid Lilies deck the rim
Of some land-circled lake.
Far in the East like low-hung clouds
The waving woodlands lie;
Far in the West the glowing plain
Melts warmly in the sky.
No accent wounds the reverent air,
No footprint dints the sod,-
Lone in the light the prairie lies,
Rapt in a dream of God.
Illinois, 1858
John Hay
(1838-1905)
The Prairie
fleursdumal.nl magazine
More in: Archive G-H, Archive G-H, Natural history, Western Fiction
---
"Führe dich selbst in eine gute Zukunft. Wie ein guter Häuptling seinen Stamm." (Frank Behrendt)
Frank Behrendt ist seit seiner Jugend leidenschaftlicher Winnetou-Fan – der »Guru der Gelassenheit« hat sich in vielen Lebenslagen von dem stolzen Apachen-Häuptling und anderen Figuren des Schriftstellers Karl May inspirieren lassen.
Auch von anderen Persönlichkeiten im echten Leben hat Frank Behrendt viel gelernt. Ihre Haltung, Klugheit und Weisheit hat er übernommen und für seinen eigenen Weg erfolgreich adaptiert. Selbstbestimmt und selbst-entschieden zu leben, tatsächlich Häuptling des eigenen Lebens zu sein, war immer sein Ziel.
In unterhaltsamen Geschichten erzählt Frank Behrendt an konkreten Beispielen, wie ihn die Helden seiner Kindheit nachhaltig beeinflusst haben. Eine Inspiration für jeden und ein flammender Appell an alle, Ausschau zu halten nach den Helden am Wegesrand – den fiktionalen und den realen.
Frank Behrendt, geb. 1963, ist seit gut 20 Jahren ausgewiesener PR- und Kommunikationsfachmann mit intensiven Kontakten zu Medien, Wirtschaft und Politik. Nach Stationen bei BILD, Dornier, Henkel, RTL Television und Universal Music war der Absolvent der Deutschen Journalistenschule in München Deutschland-Chef bei KetchumPleon, bevor er 2011 als Vorstand zur fischerAppelt AG wechselte. Seit Februar 2017 ist er in der Serviceplan-Gruppe tätig. Im März 2017 wurde er von der Deutschen Public Relations Gesellschaft (DPRG) als "PR-Kopf des Jahres" ausgezeichnet. Frank Behrendt lebt mit seiner Frau und seinen drei Kindern in Köln.
Frank Behrendt
Die Winnetou-Strategie Werde zum Häuptling deines Lebens
Seitenzahl: 221
Oktober 2017
Deutsch
Abmessung: 218mm x 139mm x 25mm
Gebundenes Buch mit Schutzumschlag
ISBN-13: 9783579086811
ISBN-10: 3579086812
Verlag: Gütersloher Verlagshaus
fleursdumal.nl magazine
More in: - Book News, - Bookstores, Archive A-B, Archive M-N, Archive W-X, Art & Literature News, Cowboys and Indians, Karl May
---
Karl May
(1842-1912)
Mein Liebchen
Wenn Sorge mich und Unmuth quälet,
Wenn mir's an Moos im Beutel fehlet,
Wenn mich ein schwerer Kummer drückt,
Das Schicksal mich mit Pech beglückt:
Was ist es dann, wonach ich greife?
I nun! Die liebe Tabakspfeife!
Bei meinen Freuden, meinen Scherzen,
Beim Austausch gleichgesinnter Herzen,
In all' den traulich frohen Stunden,
Die ich im Freundeskreis gefunden,
Bei meines Glück's so seltner Reife
Ist stets um mich die liebe Pfeife.
Auf all' den Reisen, die ich machte,
Wo die Natur mir freundlich lachte,
Auf all' den einsam trauten Wegen,
Im Waldesgrün, wo ich gelegen,
In Feld und Flur, die ich durchstreife,
Begleitet mich die treue Pfeife.
Sie bleibt mir Braut durch's ganze Leben;
Ja, sie in Adel zu erheben
Ist wohl ein Leichtes: Das Diplom
Schreibt sie sich selbst durch ihr Arom.
Sie heiße d'rum, ob man auch keife,
Von jetzt an: Edle von der Pfeife!
Karl May poetry
fleursdumal.nl magazine
More in: Archive M-N, Karl May
---
Karl May
(1842-1912)
Trost
Horch, klopfte es nicht an die Pforte?
Wer naht, von Himmelsduft umrauscht?
Woher des Trostes süße Worte,
Auf die mein Herz voll Andacht lauscht?
Wer neigt, wenn alle Sterne sanken,
Mit mildem Licht und stiller Huld
Sich zu dem Staub- und Erdenkranken?
Es ist der Engel der Geduld.
»O laß den Gram nicht mächtig werden,
Du tiefbetrübtes Menschenkind!
Wiß', daß die Leiden dieser Erden
Des Himmels beste Gaben sind
Und daß, wenn Sorgen Dich umwogen
Und Dich umhüllt des Zweifels Nacht,
Dort an dem glanzumfloss'nen Bogen
Ein treues Vaterauge wacht!«
»O laß Dir nicht zu Herzen steigen
Die langverhaltne Thränenfluth!
Wiß, daß grad in den schmerzensreichen
Geschicken tiefe Weisheit ruht,
Und daß, wenn sonst Dir Nichts verbliebe,
Die Hoffnung doch Dir immer lacht,
Da über Dich in ew'ger Liebe
Ein treues Vaterauge wacht!«
»O wolle nie Dich einsam fühlen!
Obgleich kein Aug' sie wandeln sah,
Die sorgenheiße Stirn zu kühlen
Sind Himmelsboten immer da.
Wer gern dem eignen Herzen glaubte,
Der kennt des Pulses heilige Macht.
Drum wiß, das über Deinem Haupte
Ein treues Vaterauge wacht!«
»Drum füge Dich in Gottes Walten
Und trag Dein Leid getrost und still.
Es muß im Dunkel sich gestalten,
Was er zum Lichte führen will.
Dann bringt der Glaube reichen Segen,
Ob ihn der Zweifler auch verlacht,
Daß über allen Deinen Wegen
Ein treues Vaterauge wacht!«
Karl May poetry
fleursdumal.nl magazine
More in: Archive M-N, Karl May
---
Bonnie Elizabeth Parker
(1910 – 1934)
The story of "Suicide Sal"
We each of us have a good "alibi"
For being down here in the "joint"
But few of them really are justified
If you get right down to the point.
You've heard of a woman's glory
Being spent on a "downright cur"
Still you can't always judge the story
As true, being told by her.
As long as I've stayed on this "island"
And heard "confidence tales" from each "gal"
Only one seemed interesting and truthful-
The story of "Suicide Sal".
Now "Sal" was a gal of rare beauty,
Though her features were coarse and tough;
She never once faltered from duty
To play on the "up and up".
"Sal" told me this tale on the evening
Before she was turned out "free"
And I'll do my best to relate it
Just as she told it to me:
I was born on a ranch in Wyoming;
Not treated like Helen of Troy,
I was taught that "rods were rulers"
And "ranked" as a greasy cowboy.
Then I left my old home for the city
To play in its mad dizzy whirl,
Not knowing how little of pity
It holds for a country girl.
There I fell for "the line" of a "henchman"
A "professional killer" from "Chi"
I couldn't help loving him madly,
For him even I would die.
One year we were desperately happy
Our "ill gotten gains" we spent free,
I was taught the ways of the "underworld"
Jack was just like a "god" to me.
I got on the "F.B.A." payroll
To get the "inside lay" of the "job"
The bank was "turning big money"!
It looked like a "cinch for the mob".
Eighty grand without even a "rumble"-
Jack was last with the "loot" in the door,
When the "teller" dead-aimed a revolver
From where they forced him to lie on the floor.
I knew I had only a moment-
He would surely get Jack as he ran,
So I "staged" a "big fade out" beside him
And knocked the forty-five out of his hand.
They "rapped me down big" at the station,
And informed me that I'd get the blame
For the "dramatic stunt" pulled on the "teller"
Looked to them, too much like a "game".
The "police" called it a "frame-up"
Said it was an "inside job"
But I steadily denied any knowledge
Or dealings with "underworld mobs".
The "gang" hired a couple of lawyers,
The best "fixers" in any mans town,
But it takes more than lawyers and money
When Uncle Sam starts "shaking you down".
I was charged as a "scion of gangland"
And tried for my wages of sin,
The "dirty dozen" found me guilty-
From five to fifty years in the pen.
I took the "rap" like good people,
And never one "squawk" did I make
Jack "dropped himself" on the promise
That we make a "sensational break".
Well, to shorten a sad lengthy story,
Five years have gone over my head
Without even so much as a letter-
At first I thought he was dead.
But not long ago I discovered;
From a gal in the joint named Lyle,
That Jack and his "moll" had "got over"
And were living in true "gangster style".
If he had returned to me sometime,
Though he hadn't a cent to give
I'd forget all the hell that he's caused me,
And love him as long as I lived.
But there's no chance of his ever coming,
For he and his moll have no fears
But that I will die in this prison,
Or "flatten" this fifty years.
Tommorow I'll be on the "outside"
And I'll "drop myself" on it today,
I'll "bump 'em if they give me the "hotsquat"
On this island out here in the bay…
The iron doors swung wide next morning
For a gruesome woman of waste,
Who at last had a chance to "fix it"
Murder showed in her cynical face.
Not long ago I read in the paper
That a gal on the East Side got "hot"
And when the smoke finally retreated,
Two of gangdom were found "on the spot".
It related the colorful story
Of a "jilted gangster gal"
Two days later, a "sub-gun" ended
The story of "Suicide Sal".
Bonnie Elizabeth Parker (October 1, 1910 – May 23, 1934) and Clyde Chestnut Barrow (March 24, 1909 – May 23, 1934) were well-known (as Bonnie & Clyde) American outlaws and bankrobbers. They were both killed in a police ambush on May 23, 1934.  Bonnie Parker wrote most of her poems, while in jail, in a little notebook she had obtained from The First National Bank of Burkburnett, Texas.
Bonnie Parker poetry
fleursdumal.nl magazine

More in: Archive O-P, Bonnie Parker, Western Fiction
---
Older Entries »
Thank you for reading FLEURSDUMAL.NL - magazine for art & literature