DRUGS & MEDICINE & LITERATURE
·
Francisca Stoecklin: Morphina (Gedicht)
·
Crosby, Stills, Nash and Young. The Wild, Definitive Saga of Rock's Greatest Supergroup by David Browne
·
Daniil Charms: Verzameld werk in Nederlandse vertaling
·
The Valedictorian of Being Dead: The True Story of Dying Ten Times to Live by Heather B. Armstrong
·
Régine Foloppe: Baudelaire et la vérité poétique
·
Oliver Sacks: Dankbaarheid. Essays
·
Jacques Vaché: Lettres de guerre (1914-1918)
·
François Audouy: Antonin Artaud le sur-vivant. Essai
·
Boris Cyrulnik & Patrick Lemoine: Histoire de la folie avant la psychiatrie
·
Rüdiger Görner: Georg Trakl. Dichter im Jahrzehnt der Extreme
·
Antonin Artaud: Anthology
·
Luigi Zoja: Paranoïa. La folie qui fait l'histoire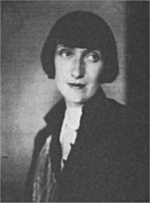 Morphina
Im Traume fand ich dich,
Mädchen, in mondener Nacht
Kamst du mir zögernd entgegen.
Auf deiner Stirne träumte ein Stern,
Deine kleinen Schritte klangen wie Glas,
Um deinen Mund ein überweltliches Lächeln.
Deine schmalen Schultern froren im Wind.
Ich umschlang dich, deinen eisigen Körper.
Schwester! wie lange bist du gestorben …
Wir sanken, wir fielen.
Mohn umblühte unser Sterben.
Francisca Stoecklin
(1894-1931)
Morphina
• fleursdumal.nl magazine
More in: Archive S-T, Archive S-T, Opium-Eaters, Stoecklin, Francisca, ·
---
The first and most complete narrative biography of Crosby, Stills, Nash and Young, by acclaimed music journalist and Rolling Stone senior writer David Browne.
Even in the larger-than-life world of rock and roll, it was hard to imagine four more different men.

David Crosby, the opinionated hippie guru. Stephen Stills, the perpetually driven musician. Graham Nash, the tactful pop craftsman. Neil Young, the creatively restless loner.

But together, few groups were as in sync with their times as Crosby, Stills, Nash and Young. Starting with the original trio's landmark 1969 debut album, the group embodied much about its era: communal musicmaking, protest songs that took on the establishment and Richard Nixon, and liberal attitudes toward partners and lifestyles. Their group or individual songs–"Wooden Ships," "Suite: Judy Blue Eyes," "After the Gold Rush," "For What It's Worth" (with Stills and Young's Buffalo Springfield), "Love the One You're With," "Long Time Gone," "Just a Song Before I Go," "Southern Cross"–became the soundtrack of a generation.
But their story would rarely be as harmonious as their legendary and influential vocal blend. In the years that followed, these four volatile men would continually break up, reunite, and disband again–all against a backdrop of social and musical change, recurring disagreements and jealousies, and self-destructive tendencies that threatened to cripple them both as a group and as individuals.
In Crosby, Stills, Nash and Young: The Wild, Definitive Saga of Rock's Greatest Supergroup, longtime music journalist and Rolling Stone writer David Browne presents the ultimate deep dive into rock and roll's most musical and turbulent brotherhood on the occasion of its 50th anniversary. Featuring exclusive interviews with David Crosby and Graham Nash along with band members, colleagues, fellow superstars, former managers, employees, and lovers-and with access to unreleased music and documents–Browne takes readers backstage and onstage, into the musicians' homes, recording studios, and psyches, to chronicle the creative and psychological ties that have bound these men together–and sometimes torn them apart.

This is the sweeping story of rock's longest-running, most dysfunctional, yet pre-eminent musical family, delivered with the epic feel their story rightly deserves.
Crosby, Stills, Nash and Young:
The Wild, Definitive Saga of Rock's Greatest Supergroup
by David Browne (Author)
Hardcover: 480 pages
Publisher: Da Capo Press;
1st Edition edition April 2, 2019
Language: English
ISBN-10: 0306903288
ISBN-13: 978-0306903281
April 2, 2019
Hardcover
$20.23
# more books
Crosby, Stills, Nash and Young:
The Wild, Definitive Saga of Rock's Greatest Supergroup
• fleursdumal.nl magazine
More in: # Music Archive, #Biography Archives, - Book News, - Book Stories, Archive A-B, AUDIO, CINEMA, RADIO & TV, Crosby, Stills, Nash and Young, Opium-Eaters
---
Het Russische absurdisme laat zich gemakkelijk terugbrengen tot één man: Daniil Charms. "Charms is kunst,' schreef een vriend over hem.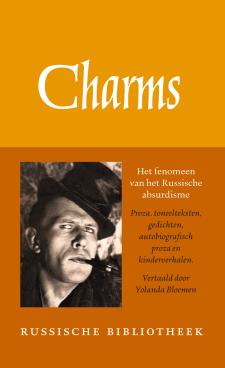 Met zijn opvallende verschijning, zijn excentriciteit, zijn creatieve tegendraadsheid was hij een fenomeen en groeide hij na zijn dood uit tot een wereldwijd bekende cultschrijver. "Mij interesseert alleen "onzin",' schreef hij ooit, "alleen dat wat geen enkele praktische zin heeft.'
Charms blinkt uit in het tonen van de onsamenhangendheid van het bestaan en de onvoorspelbaarheid van het lot. Hij zoekt naar een ongefilterde verbeelding van de chaos die wij voortbrengen, los van zingeving en in de hoop op nieuwe ervaringen en aha-erlebnissen. In zijn werk laat hij willekeur vergezeld gaan van een stevige dosis, vaak zwartgallige, humor.
Voor het eerst verschijnt een grote uitgave van Charms' werk in de Russische Bibliotheek, samengesteld uit proza, toneelteksten, gedichten, autobiografisch proza en kinderverhalen, en rijkelijk aangevuld met avantgardistische illustraties.
Auteur: Daniil Charms
Verzameld werk
Vertaald door Yolanda Bloemen
Russische Bibliotheek (RB)
Uitgeverij van Oorschot
Verschijningsdatum januari 2018
Taal Nederlands
1e druk
Bindwijze: Hardcover
Afmetingen 20,3 x 12,8 x 3,4 cm
736 pagina's
ISBN 9789028282353
€ 44,99
• fleursdumal.nl magazine
More in: *Concrete + Visual Poetry A-E, - Book News, - Bookstores, Archive C-D, Archive C-D, Art & Literature News, Expressionism, Kharms (Charms), Daniil, Psychiatric hospitals
---
From blogger Heather B. Armstrong (dooce), author of It Sucked and Then I Cried, comes The Valedictorian of Being Dead (Gallery), an irreverent new memoir – reminiscent of Brain on Fire – about her experience as one of only a few people to participate in an experimental treatment for depression involving 10 rounds of a chemically-induced coma approximating brain death.
For years, Heather Armstrong has alluded to her struggle with depression on her website, dooce. It's scattered throughout her archive, where it weaves its way through posts about pop culture, music, and motherhood. But in 2016, Heather found herself in the depths of a depression she just couldn't shake, an episode darker and longer than anything she had previously experienced. She had never felt so discouraged by the thought of waking up in the morning, and it threatened to destroy her life. So, for the sake of herself and her family, Heather decided to risk it all by participating in an experimental clinical trial involving a chemically induced coma approximating brain death.
Now, for the first time, Heather recalls the torturous eighteen months of suicidal depression she endured and the month-long experimental study in which doctors used propofol anesthesia to quiet all brain activity for a full fifteen minutes before bringing her back from a flatline. Ten times. The experience wasn't easy. Not for Heather or her family. But a switch was flipped, and Heather hasn't experienced a single moment of suicidal depression since.
Disarmingly honest, self-deprecating, and scientifically fascinating, The Valedictorian of Being Dead brings to light a groundbreaking new treatment for depression.
Author: Heather B. Armstrong
The Valedictorian of Being Dead:
The True Story of Dying Ten Times to Live
Binding: Hardcover
Publication date: 04/23/2019
Publisher: SIMON & SCHUSTER TRADE
Pages: 272
ISBN13: 9781501197048
ISBN10: 1501197045
List Price $26.00
# new books
Heather B. Armstrong
The Valedictorian of Being Dead
• fleursdumal.nl magazine
More in: - Book News, Archive A-B, DRUGS & MEDICINE & LITERATURE, MONTAIGNE, NONFICTION: ESSAYS & STORIES
---
Quelle force de vérité accorder à la poésie? Apparemment aucune selon Baudelaire.
C'est pourtant lui qui assure le passage décisif vers une poésie qui remet en question ses fondements, son devenir, sa nécessité, une poésie qui exige d'être sans cesse perception à valeur existentielle.
La réflexivité poétique qui s'exerce entre apparence et tréfonds de l'homme exacerbe le poétique et le menace. Où, quand, comment et vers quoi se joue le vrai du poème ?
Pourquoi cette oeuvre pose-t-elle les enjeux de la modernité ?
Se débattant contre tout Idéal absolu, la poétique baudelairienne désire la liberté incarnée et douloureuse de l'artiste, de l'humain.
Régine Foloppe, est l'auteur de plusieurs recueils poétiques, notamment : Tributaires du vent (Le Castor Astral, prix Max-Pol Fouchet) et Famines (Belin). Elle a publié des articles et des poèmes dans des revues (PO&SIE, Eidôlon, Friches, Diérèse…). Agrégée de lettres modernes, docteure en littérature française, elle enseigne à l'Université de Montpellier.
Baudelaire et la vérité poétique
Auteur: Régine Foloppe
Editeur : Editions L'Harmattan
Collection : La philosophie en commun
19 février 2019
Format : 15,5 x 24 cm
Broché
464 pages
Langue : Français
ISBN-10: 2343157642
ISBN-13: 978-2343157641
EUR 42,00
• fleursdumal.nl magazine
More in: - Book News, - Bookstores, Archive A-B, Archive A-B, Archive E-F, Art & Literature News, Baudelaire, Baudelaire, Charles
---
Oliver Sacks (1933 – 2015), befaamd neuroloog, wetenschapper en arts. Sacks studeerde medicijnen in Oxford, woonde sinds 1965 in New York en werkte als hoogleraar aan de NYU School of Medicine.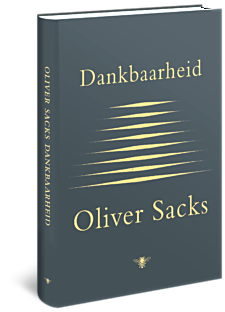 Oliver Sacks verwierf internationale roem met zijn populairwetenschappelijke boeken over de belevingswereld van zijn patiënten. Hij is de auteur van internationale bestsellers als Migraine, Ontwaken in verbijstering, De man die zijn vrouw voor een hoed hield, Stemmen zien, Een antropoloog op Mars, Musicofilia en Hallucinaties. In 2015 verscheen zijn autobiografie Onderweg. In augustus 2015 overleed hij in zijn woonplaats New York.
"Ik heb van mensen gehouden en zij hebben van mij gehouden, ik heb veel gekregen en ik heb iets teruggegeven, ik heb gelezen, gereisd, nagedacht en geschreven. Ik heb in contact gestaan met de wereld en de bijzondere uitwisselingen ervaren tussen een schrijver en zijn lezers. Maar in de eerste plaats ben ik op deze prachtige planeet een bewust denkend wezen geweest, een denkend dier, en dat alleen al was een enorm voorrecht en avontuur."
In februari 2015 maakte Oliver Sacks, in een aangrijpend stuk in The New York Times, bekend dat hij ongeneeslijk ziek was. Eind augustus overleed hij in New York, 82 jaar oud. Sinds het bericht van zijn ziekte werkte hij met grote gedrevenheid verder aan de boeken die hij nog wilde afmaken. Intussen publiceerde hij een reeks essays waarin hij probeerde grip te krijgen op het verloop van zijn ziekte en de betekenis van zijn naderende dood.
In Dankbaarheid zijn deze stukken bijeengebracht. Het is een boek dat getuigt van een grote veerkracht en menselijkheid: het laat zien hoe iemand die geconfronteerd wordt met het naderende einde toch het leven kan vieren en dankbaar kan zijn.
Auteur: Oliver Sacks
Titel: Dankbaarheid
Taal: Nederlands
Hardcover
2015
1e druk
80 pagina's
ISBN13 9789023497912
Uitgever De Bezige Bij
Vertaald door Luud Dorresteijn
€ 12,99
# new books
Oliver Sacks
Dankbaarheid. Essays
fleursdumal.nl magazine
More in: - Book News, - Book Stories, Archive S-T, AUDIO, CINEMA, RADIO & TV, Oliver Sacks, Psychiatric hospitals
---
Mort d'une surdose d'opium en 1919 à l'âge de vingt-trois ans, alors qu'il est encore sous l'uniforme, Jacques Vaché est reconnu comme celui par qui le surréalisme est arrivé.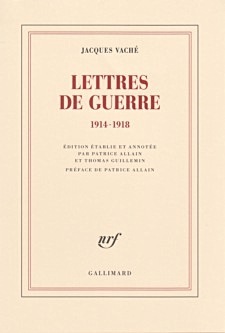 Du premier Manifeste à ses derniers Entretiens, André Breton aura toujours célébré celui qu'il appelait «l'homme que j'ai le plus aimé au monde».
Et quinze Lettres de guerre, envoyées depuis le front à son ami poète ainsi qu'à Théodore Fraenkel et Louis Aragon, auront suffi pour que Vaché devienne l'arme secrète de plusieurs générations.
Breton révélait en 1919 son «Umour» sans H, surgi au milieu des combats, l'expression poétique la plus pure de l'humour noir et de la «désertion intérieure».
Présenter pour la première fois l'intégralité des lettres écrites par Jacques Vaché à sa famille et à ses amis pendant la guerre (158 dont 23 totalement inédites) permet de marquer le point de départ d'une aventure moderne et de mettre en lumière le soldat en action, la vocation prometteuse du dessinateur et la singularité du «dandy des tranchées».
Jacques Vaché:
Lettres de guerre (1914-1918)
Édition de Patrice Allain et Thomas Guillemin.
Préface de Patrice Allain
Collection Blanche, Gallimard
Parution: 08-11-2018
480 pages,
ill.,
140 x 205 mm
Achevé d'imprimer: 01-10-2018
Genre : Correspondances
Prix: 24,00 €
# new books
Jacques Vaché:
Lettres de guerre (1914-1918)
fleursdumal.nl magazine
More in: #Biography Archives, *War Poetry Archive, - Book News, - Bookstores, Archive U-V, Archive U-V, Art & Literature News, Jacques Vaché, Opium-Eaters, Vaché, Jacques
---
Artaud, poète de la survie et de la sur-vie ?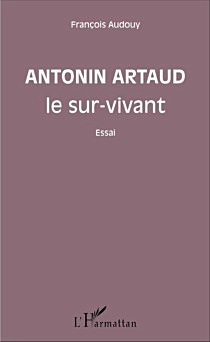 C'est l'angle d'approche de cet essai, qui revisite cet être hors-normes et haut en couleurs.
L'impatient patient Artaud se trouve ici confronté à ses foisonnantes références, religieuses et philosophiques, remis dans son contexte actuel, attaqué et fouillé au corps pour en extraire sa substantifique moelle : celle d'un nouveau-né éternel, d'un trompe-la-mort, d'un tueur de verbe. D'un sur-vivant.
Antonin Artaud, de son vrai nom Antoine Marie Joseph Artaud, est né à Marseille le 4 septembre 1896 et mort à Ivry-sur-Seine le 4 mars 1948. Poète, romancier, acteur, dessinateur, dramaturge et théoricien du théâtre. Dans son essai Le Théâtre et son double, Artaud invente le concept du "théâtre de la cruauté"
François Audouy
Antonin Artaud le sur-vivant.
Essai
Broché
Editions L'Harmattan Paris
Format : 13,5 x 21,5 cm
ISBN : 978-2-343-09048-1
2016
92 pages
€ 12,00
# new books
Antonin Artaud le sur-vivant
fleursdumal.nl magazine
More in: - Book Stories, Antonin Artaud, Archive A-B, Archive A-B, Artaud, Antonin, AUDIO, CINEMA, RADIO & TV, Psychiatric hospitals, THEATRE
---
Absurdités, dérives, abus et même maltraitances ont jalonné l'histoire de la folie.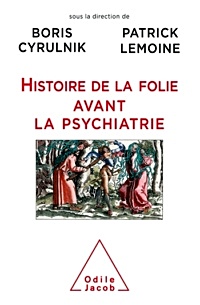 Comment comprendre autrement le succès de Mesmer et de son baquet ? Comment rendre compte de l'attribution à Saturne des troubles de l'humeur et au démon des tourments de l'âme ? Comment justifier l'enfermement psychiatrique des dissidents sous Staline ?
Entourés d'une dizaine d'experts – des psychiatres mais aussi une historienne, un interniste ou un neurologue – Patrick Lemoine et Boris Cyrulnik débattent du passé de la psychiatrie. Ils nous proposent de nous concentrer sur quelques questions très actuelles et pour le moins épineuses : quelle nécessité de fonder une nouvelle psychiatrie aujourd'hui, et quel avenir pour cette discipline, longtemps branche folle de la médecine ?
Boris Cyrulnik est neuropsychiatre et directeur d'enseignement à l'université de Toulon. Il est l'auteur de très nombreux ouvrages qui ont tous été des best-sellers, parmi lesquels, tout récemment, Psychothérapie de Dieu qui est un immense succès.
Patrick Lemoine est psychiatre. Spécialiste du sommeil, docteur en neurosciences, professeur associé à l'Université de Pékin, il a publié plus d'une trentaine d'ouvrages, parmi lesquels Le Mystère du placebo.
Avec Patrick Clervoy, Jean Furtos, Jacques Hochmann, Danielle Jacquart, Pierre Lamothe, Pierre Lemarquis, Stéphane Mouchabac, Gérard Ostermann.
Boris Cyrulnik & Patrick Lemoine
Histoire de la folie avant la psychiatrie
Édition brochée
12 septembre 2018
256 pages
EAN13 : 9782738145130
145 x 220 mm
Éditions Odile Jacob
€ 23.90
# new books
Boris Cyrulnik & Patrick Lemoine
fleursdumal.nl magazine
More in: - Book News, - Book Stories, Archive C-D, Archive K-L, Psychiatric hospitals
---
Auch hundert Jahre nach seinem Tod ein Geheimnis: Georg Trakl. Rüdiger Görner geht dem Mythos nach.
Kurz nach Ausbruch des Ersten Weltkriegs starb Georg Trakl in einem Militärspital an einer Überdosis Kokain. Ob der im Krieg traumatisierte Dichter Selbstmord beging, ist eines der Rätsel, die sein Leben und Werk umgeben.
Rüdiger Görner gelingt es, sich den biographischen Brüchen und Details über das Werk anzunähern. Er geht in der Auseinandersetzung mit den Gedichten der Todessehnsucht Trakls, der mehr als innigen Beziehung zu Schwester Margarethe und dem Aufwachsen in Salzburg nach. Und kommt zu faszinierenden Schlüssen: Dass sich die Extreme der Zeit – die Beschleunigung der Lebensverhältnisse, ihre rücksichtslose Technisierung – im Werk des Dichters nur bedingt spiegeln. Und dass die Gedichte – Trakls Ruhelosigkeit zum Trotz – oft geradezu ausgeruht klingen.
Rüdiger Görner, geboren 1957 in Rottweil, ist Professor für Neuere Deutsche und vergleichende Literatur an der Queen Mary University of London. Gründer des Ingeborg Bachmann Centre for Austrian Literature und Gründungsdirektor des Centre for Anglo-German Cultural Relations. Träger des Deutschen Sprachpreises, des Reimar Lüstpreises der Alexander von Humboldt-Stiftung und des Verdienstordens der Bundesrepublik Deutschland. Bei Zsolnay erschienen Rainer Maria Rilke. Im Herzwerk der Sprache (2004), Georg Trakl. Dichter im Jahrzehnt der Extreme (2014) und Oskar Kokoschka. Jahrhundertkünstler (2018).
Rüdiger Görner:
Georg Trakl.
Dichter im Jahrzehnt der Extreme
Deutscher Sprache
Fester Einband
352 Seiten
Zsolnay / Deuticke
Carl Hanser Verlag, München
ISBN 978-3-552-05697-8
2014
€ 24,90
# new books
Georg Trakl
fleursdumal.nl magazine
More in: - Book News, - Book Stories, Archive G-H, Archive S-T, Art & Literature News, Opium-Eaters, Trakl, Georg, Trakl, Georg
---
"I am the man," wrote Artaud, "who has best charted his inmost self." Antonin Artaud was a great poet who, like Poe, Holderlin, and Nerval, wanted to live in the infinite and asked that the human spirit burn in absolute freedom.
To society, he was a madman. Artaud, however, was not insane, but in luciferian pursuit of what society keeps hidden. The man who wrote Van Gogh the Man Suicided by Society raged against the insanity of social institutions with insight that proves more prescient with every passing year. Today, as Artaud's vatic thunder still crashes above the "larval confusion" he despised, what is most striking in his writings is an extravagant lucidity.
This collection gives us quintessential Artaud on the occult, magic, the theater, mind and body, the cosmos, rebellion, and revolution in its deepest sense.
Title Artaud Anthology
Author Antonin Artaud
Edited by Jack Hirschman
Publisher City Lights Publishers
Format: Paperback
Nb of pages 256 p.
First published 1963
ISBN-10 0872860000
ISBN-13 9780872860001
$15.95
# new books
Antonin Artaud
fleursdumal.nl magazine
More in: #Biography Archives, - Book Lovers, Antonin Artaud, Archive A-B, Archive A-B, Art & Literature News, Artaud, Antonin, AUDIO, CINEMA, RADIO & TV, Psychiatric hospitals, THEATRE
---
Le paranoïaque est souvent convaincant. Charismatique, même. La folie qui l'habite ne se manifeste pas au premier coup d'œil. Incapable de regarder en lui, il part de la certitude inébranlable que le mal vient toujours des autres.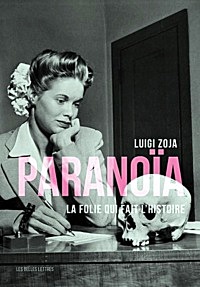 Un mécanisme insensé mais qui ne perd jamais l'apparence de la raison.
Une « folie lucide » dépourvue de toute dimension morale, qui représente un danger pour la société. Car la paranoïa atteint une intensité explosive dès qu'elle sort de la pathologie individuelle pour contaminer la masse. Elle peut alors marquer l'histoire de son empreinte, du massacre des Indiens d'Amérique à la Grande Guerre en passant par les pogroms, les totalitarismes monstrueux du XXe siècle et les guerres préventives des démocraties de notre temps. Il manquait une étude globale sur ce mal collectif, à cheval entre psychiatrie et histoire.
Pour la première fois, le psychanalyste Luigi Zoja explore la dynamique, la perversité, l'absurdité mais aussi la puissance de cette contamination psychique à grande échelle. De quoi nous faire regarder d'un autre œil des événements que nous pensions connaître. Des horreurs définitivement révolues ? Rien n'est moins sûr. La lumière de la conscience n'est jamais totale, ni définitive. La paranoïa peut encore affirmer à bon droit : « L'histoire, c'est moi. »
Luigi Zoja, intellectuel italien, sociologue et avant tout psychanalyste jungien, vit et travaille à Milan ; il a notamment été président de l'Association internationale de psychologie analytique (IAAP). Dans ses nombreux ouvrages, il analyse les travers collectifs des sociétés contemporaines, en les mettant en perspective dans la longue durée culturelle. Il a publié Le Père. Le geste d'Hector envers son fils. Histoire culturelle et psychologique de la paternité (coédition Les Belles Lettres / La Compagnie du Livre rouge, 2015).
Luigi Zoja
Paranoïa.
La folie qui fait l'histoire
Traduit de l'italien par Marc Lesage
Langue: Français
Société d'édition Les Belles Lettres Paris
540 pages
Bibliographie
Livre broché
15.1 x 21.6 cm
Parution : 15/06/2018
Langue : Français
ISBN-10: 2251448152
ISBN-13: 978-2251448152
CLIL : 3378
€25,90
new books
Luigi Zoja – Paranoïa
fleursdumal.nl magazine
More in: - Book News, - Bookstores, Archive Y-Z, Art & Literature News, DRUGS & MEDICINE & LITERATURE, Psychiatric hospitals
---
Older Entries »
Thank you for reading FLEURSDUMAL.NL - magazine for art & literature