Georges Perec
·
'De duistere winkel' – 124 dromen van Georges Perec
·
Georges PEREC: Poging tot uitputtende beschrijving van een plek in Parijs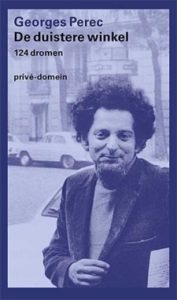 Georges Perec (1936-1982) was ernstig getraumatiseerd door het verdwijnen van zijn ouders tijdens de Tweede Wereldoorlog, en onderging diverse psychoanalytische behandelingen tijdens zijn leven.
Het verklaart iets van het belang dat hij hechtte aan zijn dromen, die hij tussen mei 1968 en augustus 1972 noteerde in zijn dagboek, ook om in het reine te komen met een stukgelopen liefde
Perec kwam al doende een nieuwe manier van schrijven op het spoor die een verontrustende intensiteit had. De gefragmenteerde grondstof van nachtelijke hersenspinsels vormt in De duistere winkel een compleet verhaal, gedrenkt in humor en overlopend van stilistische hoogstandjes.
Georges Perec geldt als een van de meest ingenieuze moderne Franse schrijvers. Hij legde zich bij het schrijven vaak bewust formele restricties op. In De dingen bijvoorbeeld wordt geen dialoog gebruikt, wat aan het verhaal een fascinerende, zuiver epische transparantie geeft. Hij liet zich erop voorstaan dat hij nooit twee eendere boeken had geschreven. Toch draagt elk van zijn boeken het onloochenbare stempel van zijn scheppend vernuft.
Van Perec verschenen voortreffelijke vertalingen van de hand van Edu Borger, o.a. Het leven een gebruiksaanwijzing en De dingen.
Georges Perec
De duistere winkel
124 dromen
vertaling Edu Borger
Privé-domein nr 293
Uitgeverij De Arbeiderspers, Amsterdam
ISBN 9789029507554
240 pag. – juni 2017
paperback € 24,99
fleursdumal.nl magazine
More in: - Book News, Archive O-P, Art & Literature News, Georges Perec, OULIPO (PATAFYSICA), Tales of Mystery & Imagination
---
Drie dagen lang, in oktober 1974, posteerde Georges Perec zich in het Café de la Mairie in Parijs, dat uitkijkt op de Place Saint-Sulpice. Hij stelde zich tot doel álles te noteren wat hij waarnam. Het resulteerde in Tentative d'épuisement d'un lieu parisien.
'Mijn bedoeling op de volgende pagina's was vooral al het andere te beschrijven: dat wat je gewoonlijk niet opmerkt, wat er niet toe doet: wat er gebeurt wanneer er niets gebeurt, behalve tijd, mensen, auto's en wolken.'
Georges Perec  (1936 – 1982) was een Franse schrijver, essayist en film- en documentairemaker. Hij was een vooraanstaand lid van de Oulipo-groep (Ouvroir de littérature potentielle), een los verband van Franstalige schrijvers en wiskundigen, dat als doel heeft literaire werken te maken die aan bepaalde voorwaarden of beperkingen onderhevig zijn: littérature sous contraintes. Het kan daarbij gaan om beperkingen inzake het gebruik van letters, woorden, klanken, stijlen, enz. Deze beperkingen zijn niet alleen bedoeld als woord- en taalspelletjes, maar ook om de inspiratie en het vakmanschap van de auteurs aan te scherpen.
De vader van Perec stierf vroeg in de Tweede Wereldoorlog, de moeder werd vermoord in de Holocaust. In veel werken van Perec komt dit terug in een thematiek omtrent afwezigheid, verlies en identiteit.
Georges Perec
Pogingen tot uitputtende beschrijving van een plek in Parijs
Vertaling: Kiki Coumans
Uitgeverij Vleugels, 2017
ISBN: 9789078627319
48 pagina's
Prijs: € 19,45
# meer info website uitgeverij vleugels
fleursdumal.nl magazine
More in: - Book News, Archive O-P, Georges Perec, OULIPO (PATAFYSICA)
---
Thank you for reading FLEURSDUMAL.NL - magazine for art & literature