Noam Chomsky
·
Yugoslavia: Peace, War, and Dissolution by Noam Chomsky
·
The Responsibility of Intellectuals by Noam Chomsky
·
Noam Chomsky and C.J. Polychroniou: Optimism over Despair
·
Noam Chomsky: Interviews with David Barsamian
The Balkans, in particular the turbulent ex-Yugoslav territory, have been among the most important world regions in Noam Chomsky's political reflections and activism for decades.

His articles, public talks, and correspondence have provided a critical voice on political and social issues crucial not only to the region but the entire international community, including "humanitarian intervention," the relevance of international law in today's politics, media manipulations, and economic crisis as a means of political control.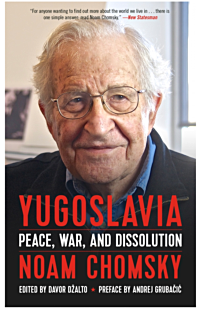 This volume provides a comprehensive survey of virtually all of Chomsky's texts and public talks that focus on the region of the former Yugoslavia, from the 1970s to the present. With numerous articles and interviews, this collection presents a wealth of materials appearing in book form for the first time along with reflections on events twenty-five years after the official end of communist Yugoslavia and the beginning of the war in Bosnia.
The book opens with a personal and wide-ranging preface by Andrej Grubačić that affirms the ongoing importance of Yugoslav history and identity, providing a context for understanding Yugoslavia as an experiment in self-management, antifascism, and mutlethnic coexistence.
Noam Chomsky (1928) is Institute Professor in the Department of Linguistics and Philosophy at the Massachusetts Institute of Technology, Boston. A member of the American Academy of Science, he has published widely in both linguistics and current affairs. His books include At War with Asia, Towards a New Cold War, Fateful Triangle: The U. S., Israel and the Palestinians, Necessary Illusions, Hegemony or Survival, Deterring Democracy, Failed States: The Abuse of Power and the Assault on Democracy and Manufacturing Consent: The Political Economy of the Mass Media.
Title: Yugoslavia: Peace, War, and Dissolution
Author: Noam Chomsky
Edited by Davor Džalto
Preface by Andrej Grubačić
Subjects: Politics / History-Europe
Publisher: PM Press
ISBN: 978-1-62963-442-5
Published: 04/2018
Language: English
Format: Paperback
Size: 6×9
240 pages
$15.63
# new books
Noam Chomsky
Yugoslavia: Peace, War, and Dissolution
• fleursdumal.nl magazine
More in: - Book News, - Book Stories, Archive C-D, AUDIO, CINEMA, RADIO & TV, MONTAIGNE, Noam Chomsky, WAR & PEACE
---
Fifty years after it first appeared, one of Noam Chomsky's greatest essays will be published for the first time as a timely stand-alone book, with a new preface by the author.
As a nineteen-year-old undergraduate in 1947, Noam Chomsky was deeply affected by articles about the responsibility of intellectuals written by Dwight Macdonald, an editor of Partisan Review and then of Politics. Twenty years later, as the Vietnam War was escalating, Chomsky turned to the question himself, noting that "intellectuals are in a position to expose the lies of governments" and to analyze their "often hidden intentions."
Originally published in the New York Review of Books, Chomsky's essay eviscerated the "hypocritical moralism of the past" (such as when Woodrow Wilson set out to teach Latin Americans "the art of good government") and exposed the shameful policies in Vietnam and the role of intellectuals in justifying it.
Also included in this volume is the brilliant The Responsibility of Intellectuals Redux, written on the tenth anniversary of 9/11, which makes the case for using privilege to challenge the state. As relevant in 2017 as it was in 1967, The Responsibility of Intellectuals reminds us that "privilege yields opportunity and opportunity confers responsibilities."
All of us have choices, even in desperate times.
Title The Responsibility of Intellectuals
Author Noam Chomsky
Publisher New Press, The
Format Hardcover
Nb of pages 112 p.
ISBN-10 162097343X
ISBN-13 9781620973431
Hardcover – $16.95
Publication Date 07 November 2017
fleursdumal.nl magazine
More in: - Book News, - Book Stories, Archive C-D, Art & Literature News, LITERARY MAGAZINES, MONTAIGNE, Noam Chomsky, PRESS & PUBLISHING
---
Wide-ranging interviews on war, power, and politics with Noam Chomsky, the world's leading critic of US foreign policy.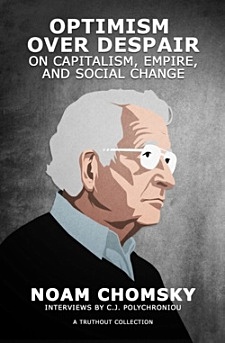 This volume offers readers a concise and accessible introduction to the ideas of Noam Chomsky, described by the New York Times as "arguably the most important intellectual alive."
In these recent, wide-ranging interviews, conducted for Truthout by C. J. Polychroniou, Chomsky discusses his views on the "war on terror" and the rise of neoliberalism, the refugee crisis and cracks in the European Union, prospects for a just peace in Israel/Palestine, the rise of the Black Lives Matter movement, the dysfunctional US electoral system, the grave danger posed to humanity by the climate crisis, and the hopes, prospects, and challenges of building a movement for radical change.
Noam Chomsky is Institute Professor (Emeritus) in the Department of Linguistics and Philosophy at MIT. His work is widely credited with having revolutionized the field of modern linguistics. He is the author of numerous best-selling political works, which have been translated into scores of languages worldwide.
C. J. Polychroniou is a regular contributor to Truthout as well as a member of Truthout's Public Intellectual Project. He has published several books and his articles have appeared in a variety of journals, magazines, newspapers, and popular news websites.
"This fascinating series of interviews convincingly covers an astonishing range of fundamental and urgent issues of societal concern, demonstrating anew that Noam Chomsky is the world's most humane, philosophically sophisticated, and knowledgeable public intellectual. I cannot imagine a better primer for anyone seeking a better, safer, fairer future." —Richard Falk, Professor of International Law Emeritus, Princeton University
Optimism over Despair
On Capitalism, Empire, and Social Change
by Noam Chomsky and C.J. Polychroniou
Paperback,
180 pages
Haymarket Books
ISBN: 9781608467990
August 2017
$16.95
new books
fleursdumal.nl magazine
More in: - Book News, - Book Stories, Archive C-D, Archive O-P, Art & Literature News, MONTAIGNE, Noam Chomsky
---
Global Discontents is a compelling set of interviews with Noam Chomsky, who identifies the "dry kindling" of discontent around the world that could soon catch fire.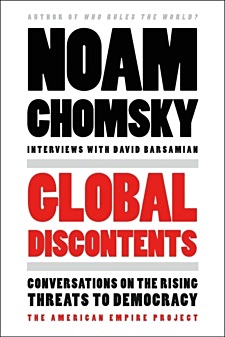 In wide-ranging interviews with David Barsamian, his longtime interlocutor, Noam Chomsky asks us to consider "the world we are leaving to our grandchildren": one imperiled by the escalation of climate change and the growing potential for nuclear war. If the current system is incapable of dealing with these threats, he argues, it's up to us to radically change it.
These ten interviews, conducted from 2013 to 2016, examine the latest developments around the globe: the devastation of Syria, the reach of state surveillance, growing anger over economic inequality, the place of religion in American political culture, and the bitterly contested 2016 U.S. presidential election. In accompanying personal reflections on his Philadelphia childhood and his eighty-seventh birthday, Chomsky also describes his own intellectual journey and the development of his uncompromising stance as America's premier dissident intellectual.
Noam Chomsky is the author of numerous bestselling political works, including Hegemony or Survival and Failed States. A professor emeritus of linguistics and philosophy at MIT, he is widely credited with having revolutionized modern linguistics. He lives outside Boston, Massachusetts.
David Barsamian, director of the award-winning and widely syndicated Alternative Radio, is a winner of the Lannan Foundation's Cultural Freedom Fellowship and the ACLU's Upton Sinclair Award for independent journalism. He lives in Boulder, Colorado.
Global Discontents
Conversations on the Rising Threats to Democracy
Noam Chomsky: Interviews with David Barsamian
Trade Paperback
$18.00
Metropolitan Books
Henry Holt and Co.
12/05/2017
ISBN: 9781250146182
240 Pages
new books
fleursdumal.nl magazine
More in: - Book News, - Book Stories, Archive A-B, Archive C-D, Art & Literature News, MONTAIGNE, Noam Chomsky
---
Thank you for reading FLEURSDUMAL.NL - magazine for art & literature