Bas Heijne
·
Writers Unlimited WINTERNACHTEN Festival Den Haag – 19 t/m 22 januari 2017
·
P.C. Hooft-prijs 2017 voor BAS HEIJNE
Winternachten Festival: rake woorden, diepzinnige waarnemingen en richtinggevende verbeelding
Van donderdag 19 tot en met zondag 22 januari 2017 brengt Winternachten schrijvers, journalisten, denkers, dichters en publiek samen in Theater aan het Spui en Filmhuis Den Haag. De 22e editie van het mooiste literatuurfestival van Nederland heeft als motto 'Is this the real life?' over wat er is maar verborgen blijft, en over fake – dat wat er niet is maar ons wordt voorgehouden.
Tijdens de grote festivalavonden Friday & Saturday Night Unlimited keert dit motto terug in debatten als This is Not America, IS: The Horror Show, Fictie in tijden van Fake en De verborgen stad.
Onder de tachtig gasten zijn topauteurs als Arnon Grunberg, Tommy Wieringa, Bas Heijne, Joke Hermsen en, uit het buitenland, Ian Buruma, Colson Whitehead, Michel Faber, Tomás Sedláček, Michaïl Sjisjkin en Salena Godden.
Op vrijdag- en zaterdagavond verzorgt Spoken Beat Night optredens waarin jazz, spoken word, wereldmuziek, voordracht, live animatie en funky beats zich vermengen. Tijdens het festival worden de Oxfam Novib PEN Awards (donderdag 19 januari) en de Jan Campert-prijzen (zondag 22 januari) uitgereikt.
Winternachten is een vierdaags festival dat inspireert met andere verhalen, nieuwe invalshoeken en actuele thema's. Internationale en Nederlandstalige schrijvers reflecteren in zaalgesprekken en debatten, rond filmvertoningen en muziekoptredens aan de hand van het motto 'Is this the real life?' op de grote en de alledaagse vragen waar Nederland en Europa mee worstelen.
Winternachten is er voor iedereen die stof tot nadenken zoekt, die romans, poëzie of non-fictie leest, die een ander perspectief op de actualiteit wil, die graag luistert naar of deelneemt aan het vertellen van verhalen van ver of dichtbij, die wil ontmoeten en kennismaken.
Reading the Bible with Sedlacek – World Storytelling in het Institute of Social Studies – Door het Noordeinde: verhalen van achter de façades – Wereldverhalen in Theater Dakota – NRC Leesclub Live: Louise O. Fresco – Saturday Night Unlimited – VPRO O.V.T. Live  – Schrijversfeest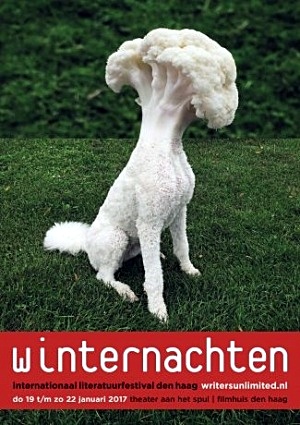 Arjan Peters – Arnon Grunberg – Baban Kirkuki – Balout Khazraei – Bas Heijne – Beri Shalmashi – Carolina Trujillo – Christine Otten – Colson Whitehead – Corina Duijndam – DJ Socrates – Damiaan Denys – Delphine Lecompte – Dieter van der Westen– Dominique De Groen – Dorit Rabinyan – Felix Rottenberg – Francis Broekhuijsen – Frank Westerman – Gerlinda Heywegen – Hanna Bervoets – Hannah van Binsbergen – Hassan Blasim – Hassnae Bouazza – Ian Buruma – Ilja Leonard Pfeijffer – Jeroen van Kan – Joke Hermsen – Lex Bohlmeijer – Maarten van der Graaff – Margriet Oostveen – Maria Vlaar – Marieke Rijneveld – Mehdi Arami – Michalis Cholevas – Michaïl Sjisjkin – Michel Faber – Mira Feticu – Mircea Cărtărescu – Obe Alkema – Ofran Badakhshani – Olga Grjasnowa – Omar Munie – Piotr Ibrahim Kalwas – Rodaan Al Galidi – Rodrigo Hasbún – Roos Laan – Salena Godden – Sana Valiulina – Simone Atangana Bekono – Simone van Saarloos – Spoken Beat Night – Stephan Sanders – Stine Jensen – Tom Dommisse – Tomas Sedlacek – Tommy Wieringa – Ton van 't Hof

Writers Unlimited Winternachten Festival Den Haag – 19 t/m 22 januari 2017
# Meer informatie op website Winternachten
fleursdumal.nl magazine
More in: - Book Lovers, Arnon Grunberg, Art & Literature News, Bas Heijne, Rijneveld, Marieke Lucas, Winternachten, Wintertuin Festival
---
Het bestuur van de Stichting P.C. Hooft-prijs voor Letterkunde heeft maandag 12 december besloten de P.C. Hooft-prijs 2017 toe te kennen aan Bas Heijne (Nijmegen, 1960).
Deze oeuvreprijs is dit jaar bestemd voor beschouwend proza en wordt uitgereikt op een feestelijke bijeenkomst in het Literatuurmuseum, op donderdag 18 mei 2017, 3 dagen vóór de sterfdag van de naamgever van de prijs, de dichter P.C. Hooft (1581-1647), onze grootste renaissancedichter.
De P.C. Hooft-prijs 2017 voor het gehele oeuvre van Bas Heijne is toegekend op voordracht van een jury bestaande uit Jacqueline Bel, Kees 't Hart, Kristien Hemmerechts, David Van Reybrouck (voorzitter) en Dirk van Weelden. Recente eerdere laureaten in het genre beschouwend proza waren Willem Jan Otten (2014), H.J.A. Hofland (2011) en Abram de Swaan (2008). Aan de prijs is een bedrag verbonden van € 60.000.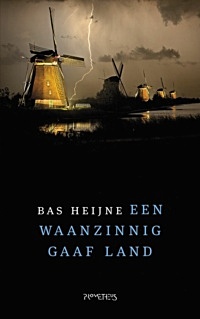 Uit het juryrapport: "Bas Heijne is een schrijver met een bijzondere positie als columnist en essayist, die over een enorme verscheidenheid aan actuele onderwerpen en kwesties schrijft. Hij volgt de hedendaagse cultuur op een geëngageerde manier. Hij schrijft over haatvloggers en De Ring van Wagner, over Hollywoodfilms en Couperus, over Europese referenda en de toekomst van de roman. Zijn werk geeft een vernieuwende impuls aan wat literatuur in maatschappelijke zin betekenen kan. […] Vooral de vorm waarin hij dat doet is bijzonder: hij schrijft als een denker én denkt als een lezer."
De P.C. Hooft-prijs voor Letterkunde behoort tot de belangrijke literatuurprijzen in het Nederlandse taalgebied. Hij wordt uitgereikt door de Stichting P.C. Hooft-prijs voor Letterkunde. Deze oeuvreprijs wordt jaarlijks afwisselend toegekend voor proza, essayistiek en poëzie. De P.C. Hooft-prijs is ingesteld in 1947. In dat jaar werd op 21 mei de 300ste sterfdag van Pieter Corneliszoon Hooft herdacht. De prijs wordt jaarlijks rond de sterfdag van P.C. Hooft uitgereikt en bedraagt € 60.000. Daarnaast looft de Stichting sinds 1988 de driejaarlijkse Theo Thijssen-prijs uit voor jeugdliteratuur. De prijs bedraagt € 60.000.
Vanaf september 2007 wordt de driejaarlijkse Max Velthuijs-prijs voor boekillustratoren uitgereikt. Ook deze prijs bedraagt € 60.000.'
# Meer informatie op website PC Hooftprijs
fleursdumal.nl magazine
More in: Archive G-H, Art & Literature News, Bas Heijne, NONFICTION: ESSAYS & STORIES, PRESS & PUBLISHING, The Art of Reading
---
Thank you for reading FLEURSDUMAL.NL - magazine for art & literature