LITERARY MAGAZINES
·
Verhalen van de zandloper van Guy Commerman
·
50th Poetry International Festival Rotterdam. Going for gold from 13 – 16 June 2019
·
World Press Freedom Day on May 3, 2019
·
Winternachten festival van 17 tot en met 20 januari 2019 in Den Haag
·
26ste editie Crossing Border festival Den Haag
·
Cyrille Offermans: Dagboeknotities. Een iets beschuttere plek misschien
·
Norah Lange: People in the Room. A novel
·
Lawrence Schwartzwald: The Art of Reading
·
Kunstenfestival Watou 2018 nog t/m 2 september
·
41ste editie Uitmarkt van 24 tot 26 augustus 2018 in Amsterdam
·
De Parelduiker voorjaar 2018/2
·
Harriet Monroe: Night In State Street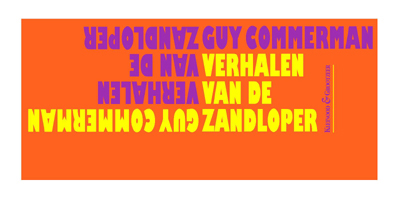 Guy Commerman, een hoog gewaardeerde auteur bij Uitgeverij Kleinood & Grootzeer is op 10 januari 2019 overleden.
Juist op dat moment was zijn nieuwe bundel: Verhalen van de zandloper, voltooid. De bundel bevat zijn laatste gedichten en is tevens een eerbetoon aan deze veelzijdige dichter en aimabel mens.
Guy Commerman (1938 – 2019)
Verhalen van de zandloper
De derde bundel van Guy Commerman bij Kleinood & Grootzeer
Eerste druk 100 genummerde en door de auteur gesigneerde exemplaren. Boekje, 62 pagina's,
gelijmd 21 x 10,5 cm.
ISBN/EAN 978-90-76644-93-6
€18,-
# Meer informatie bij Uitgeverij Kleinood & Grootzeer
• fleursdumal.nl magazine
More in: #Editors Choice Archiv, - Book News, - Bookstores, Archive C-D, Archive C-D, Art & Literature News, In Memoriam, LITERARY MAGAZINES
---
This year, the Poetry International Festival Rotterdam turns 50!
The milestone makes it the oldest festival in the city, and one of the oldest in the country, with a wealth of history and highlights. Nobel Prize-winning poets once stood on Poetry's stages as bright young talents, and the festival is both a shining example for, and founding parent of, poetry festivals worldwide.
Poetry International celebrates its golden anniversary with an extra festive edition at Concertgebouw De Doelen, which also hosted the debut festival back in 1970. Trailblazing poets will deliver transformative work thrumming with the now.
Unique fusions of poetry by engaging artists from the worlds of music, cinema, and dance amplify the power, the beauty, and the personal impact of poetry, here in the form of an intimate reading or workshop, there as a multidisciplinary theatrical poetry spectacle. Right in the heart of the city, inviting, challenging, unmissable.
What Happened to the Future? Since 1970, poetry luminaries from all over the world travel to Rotterdam for the annual Poetry International Festival. Thousands of poets have shared their work on the stages of De Doelen and the Schouwburg, but also in the city's squares, parks, and trams. A landmark anniversary like this is an invitation to look back and celebrate the past, but at the same time, Poetry International will be looking ahead. Under the title What Happened to the Future?, the 50th Poetry International Festival unites its rich history with the world's poems and poets of today and tomorrow.
The Metropole Orchestra – nominated for 18 Grammy Awards – will open the 50th Poetry International Festival with a literal bang. In this theatrical kick-off, the orchestra will perform unique duets with poets, including the legendary Last Poets, godfathers of hip hop and spoken word. Inspired by the festival's theme, "What Happened to the Future?", poets from the festival's rich past, such as Judith Herzberg, Antjie Krog, Rita Dove, Raúl Zurita, and Tom Lanoye, will perform side by side with poets of a more recent vintage, such as Marieke Lucas Rijneveld, Koleka Putuma, Patricia Lockwood, Lieke Marsman, Frank Báez, Sayaka Osaki, Ulrike Almut Sandig, and Galina Rymboe. Whether rooted in the past or inspired by the future, their readings will festively raise the curtains on this golden-anniversary edition.
From festival hub De Doelen, Poetry International will take you on a poetic walking tour through the heart of Rotterdam. Led by a guide from UrbanGuides, you will discover extraordinary art in public spaces and have surprising encounters with festival poets and spoken-word artists. Explore the city's hidden stories together!
Practical festival information
Following the Opening Night on 13 June the 50th Poetry International Festival will presents three days packed with readings, concerts, workshops, specials, poetic city walks, interviews, award ceremonies and book presentations. Check the changing starting times beforehand! Almost all programs take place or depart from De Doelen, in the heart of the city within a 5-minute walk of Rotterdam Central Station.
The 50th Poetry International Festival will kick-off on 13 June in the Main Auditorium of de Doelen. On 14, 15 and 16 June most events will take place in or around the Jurriaanse zaal. De Doelen is situated within walking distance of Rotterdam Central Station
# More information on website Poetry International Festival
• fleursdumal.nl magazine
More in: #Archive A-Z Sound Poetry, #More Poetry Archives, - Book News, Art & Literature News, AUDIO, CINEMA, RADIO & TV, LITERARY MAGAZINES, Marieke Lucas Rijneveld, MODERN POETRY, Poetry International, STREET POETRY, Tom Lanoye
---
Every year, 3 May is a date which celebrates the fundamental principles of press freedom, to evaluate press freedom around the world, to defend the media from attacks on their independence and to pay tribute to journalists who have lost their lives in the exercise of their profession.
World Press Freedom Day was proclaimed by the UN General Assembly in 1993 following a Recommendation adopted at the twenty-sixth session of UNESCO's General Conference in 1991. This in turn was a response to a call by African journalists who in 1991 produced the landmark Windhoek Declaration (link is external) on media pluralism and independence.
At the core of UNESCO's mandate is freedom of the press and freedom of expression. UNESCO believes that these freedoms allow for mutual understanding to build a sustainable peace.
It serves as an occasion to inform citizens of violations of press freedom – a reminder that in dozens of countries around the world, publications are censored, fined, suspended and closed down, while journalists, editors and publishers are harassed, attacked, detained and even murdered.
It is a date to encourage and develop initiatives in favour of press freedom, and to assess the state of press freedom worldwide.
3 May acts as a reminder to governments of the need to respect their commitment to press freedom and is also a day of reflection among media professionals about issues of press freedom and professional ethics. Just as importantly, World Press Freedom Day is a day of support for media which are targets for the restraint, or abolition, of press freedom. It is also a day of remembrance for those journalists who lost their lives in the pursuit of a story.
WORLD PRESS FREEDOM DAY
May 3, 2019
# more information website unesco
• fleursdumal.nl magazine
More in: - Book Stories, Art & Literature News, AUDIO, CINEMA, RADIO & TV, LITERARY MAGAZINES, Photography, PRESS & PUBLISHING, REPRESSION OF WRITERS, JOURNALISTS & ARTISTS
---
Winternachten festival geeft het woord aan schrijvers en dichters over brandende kwesties van nu.
Van 17 tot en met 20 januari 2019 presenteert het internationale literatuurfestival gesprekken, proza, poëzie, spoken word en films op twaalf Haagse podia. Ruim 80 binnen- en buitenlandse auteurs komen naar Den Haag. De 24e festivaleditie staat onder het motto Who Wants to Live Forever? in het teken van onze toekomst.
Winternachten internationaal literatuurfestival Den Haag inspireert met vertellen, lezen, luisteren en denken. Tijdens vier sfeervolle winterse dagen nodigen gesprekken, voordrachten en films uit tot nadenken over de grote vragen van onze tijd.
Sinds de start in 1995 is het festival uitgegroeid tot het belangrijkste internationale literaire evenement van Nederland waar schrijvers en dichters zich uitspreken over actuele thema's. Ook bezoekers – onder hen veel wijkbewoners, studenten en scholieren – dragen actief bij met eigen verhalen of gedichten.
'Who Wants to Live Forever?'
Ieder Winternachten festival krijgt een actueel thema mee. Deze 24e editie staat in het teken van het oeroude verlangen van de mens naar eeuwig leven in het licht van de technologie van nu. Onder het motto Who Wants to Live Forever? spreken auteurs onder meer over de relatie tussen mens en robot, over de impact van technologische innovatie en over hoop en vrees rond de politieke toekomst.
De 24e editie van het festival Winternachten staat met het motto 'Who Wants to Live Forever' in het teken van onze toekomst.
Gesprekken, voordachten, muziek en film over de verhouding tussen mens en robot, over nieuwe maakbaarheid door technologische innovatie, over hoop en vrees voor de politieke toekomst en over het terugkerend verlangen naar eeuwig leven.
Het festival verwelkomt uit het buitenland onder anderen schrijvers Jennifer Nansubuga Makumbi uit Oeganda, Leni Zumas uit de VS, Basma Abdelaziz uit Egypte, Jennifer Clement uit Mexico, Ayelet Gundar-Goshen uit Israël, Mark O'Connell uit Ierland, David Van Reybrouck uit België, Ramayana-expert Arshia Sattar uit India en de Zuid-Afrikaanse rapper, spoken word-artiest en schrijver HemelBesem, Adam Zagajewski (Polen), Jennifer Nansubuga Makumbi (Oeganda), Mark O'Connell (Ierland), Leni Zumas (VS) en Basma Abdelaziz (Egypte).
Uit Nederland nemen tientallen schrijvers, dichters, denkers en performers deel, zoals Akwasi, Elfie Tromp, Youp van 't Hek, Ian Buruma, Nelleke Noordervliet, Radna Fabias, Dimitri Verhulst, Aafke Romeijn, Damiaan Denys, Derek Otte, Luuk van Middelaar, Auke Hulst, Hanna Bervoets, Simone van Saarloos, Rodaan Al Galidi, ASKO/Schönberg, Lounar en Vamba Sherif.
De grote festivalavonden Friday Night Unlimited (vrijdag 18 januari) en Saturday Night Unlimited (zaterdag 19 januari) vormen de kern van het festival. De bezoeker kiest per avond uit vijfentwintig programma's op zes podia in Theater aan het Spui en Filmhuis Den Haag. Dit jaar is in samenwerking met Filmhuis Den Haag het filmprogramma uitgebreid.
Nieuw is ook de Winternachten-editie van het spoken-word programma 'Woorden worden Zinnen' in het popcentrum Paard. Daarnaast zijn er festivalprogramma's in Theater Dakota, de Speakers' Corner in de Haagse Hogeschool, de bibliotheken Schilderswijk en Nieuw Waldeck en het International Institute of Social Studies.
Graag tot ziens in Theater aan het Spui, Filmhuis Den Haag, Paard, Theater Dakota, International Institute of Social Studies en de andere festivallocaties van dit jaar!
   #  more informatie op website writersunlimited.nl   

Winternachten festival
17 tot en met 20 januari 2019
Den Haag
# fleursdumal.nl magazine
More in: # Music Archive, #Biography Archives, #More Poetry Archives, - Book Lovers, - Bookstores, Art & Literature News, AUDIO, CINEMA, RADIO & TV, LITERARY MAGAZINES, PRESS & PUBLISHING, STREET POETRY, THEATRE, Winternachten
---
Crossing Border heeft ook dit jaar weer vanuit de hele wereld een groot aantal vernieuwende auteurs en muzikanten uitgenodigd die een passie delen voor het gesproken woord, songteksten en taal.
Unieke optredens waar literatuur en muziek samenwerken én botsen. Dit jaar vindt de 26ste editie van het festival plaats.
Al sinds de eerste editie in 1993 zoekt Crossing Border de grenzen op van muziek en woord om er vervolgens een brug tussen te slaan. De afgelopen jaren is het festival uitgegroeid tot een van de meest progressieve internationale festivals op het gebied van literatuur en muziek in Europa.
Elk jaar komen meer dan 100 schrijvers, artiesten en muzikanten van over de hele wereld samen op het Crossing Border festival in Den Haag.
Grote namen en opkomend talent wisselen elkaar af. De 26ste editie beslaat een week, met zowel overdag als 's avonds programmering op meerdere podia in Theater aan het Spui, De Nieuwe Kerk, festivaltent Katrina, Filmhuis Den Haag en de Centrale Bibliotheek.
Michael Palin – Karrie Fransman – Murat Isik – Aminatta Forna – Sandro Veronesi – Sasha Marianna Salzmann – Oyinkan Braithwaite – Daniel Kehlmann – Tracyanne & Danny – St. Paul & the Broken Bones – Theo Loevendie – Joe Armon-Jones – Simone Atangana Bekono – Richard Powers – De Poezieboys – Patrick deWitt – Radna Fabias – Hannah Sullivan – Sharlene Teo – Radna Fabias – Cynan Jones – Rembrandt Frerichs Trio – Gary Grosby José Eduardo Agualusa – Xylouris White – Gavin Bryars – Ramón Esono Ebalé – Christian Vander- Moses Boyd-Exodus – Hossein Alizadeh – Alela Diane – Gavin Bryars – Melle Smets – Christian Vander – Benjamin Glorieux – Lewsberg- Pete Wu – Lana Lux – Alfred Birney – Daniel Blumberg – Eva Meijer – Byron Rich – Kris De Decker – Jack Underwood – Douglas Firs – Yonatan Gat – Bregje Hofstede – Rashif El Kaoui – Douglas Firs – Seward – Charlotte Mutsaers – Momtaza Mehri – Abdelkader Benali – The Addict – Sofie Lakmaker – Honey Harper – Paolo Giordano – Marente de Moor – Pitou – Fantastic Negrito- Ties Mellema – StringTing – Anthony Anaxagorou – Kees 't Hart – Maartje Wortel – Sarah Arnolds – Rachael Allen – Tommy Wieringa – Michael Fehr – Gabriel Royal – Steve Davis – Lina Wolff – Joost Pollmann – Kavus Torabi – Mauro Libertella – Michael Fehr – Saskia de Coster – Jeroen Janssen – Meg Baird en Mary Lattimore – Sabrina Mahfouz – Edoardo Albinati – Dean Bowen – Little Raven – Peter Buurman – Maarja Nuut & Ruum – Sunny Sjoerd – Johan Harstad- Emma-Jean Thackray – Skinny Pelembe
Theater aan het Spui
Bibliotheek Den Haag
Nieuwe Kerk
Festivaltent Katrina
Filmhuis Den Haag
26ste editie Crossing Border festival Den Haag
9 oct t/m 4 nov 2018
# meer informatie op website crossing border
fleursdumal.nl magazine
More in: # Music Archive, #Editors Choice Archiv, #More Poetry Archives, - Book Lovers, Art & Literature News, AUDIO, CINEMA, RADIO & TV, Literary Events, LITERARY MAGAZINES, STREET POETRY, The talk of the town, THEATRE
---
Heel 2017 schreef Cyrille Offermans aan wat je nog het beste zou kunnen omschrijven als een intellectueel journaal: een verzameling notities, beschouwingen, herinneringen, observaties en essayistische commentaren op gelezen boeken en gebeurtenissen in de wereld.
Dat de barre werkelijkheid voortdurend zijn plaats op de voorgrond opeist, zegt genoeg over onze tijd. Het boek (en dus het jaar) begint en eindigt met de doffe ellende in Syrië.
Daartussen presenteert zich een baaierd aan onderwerpen – van de Franse verkiezingen en de afnemende tekenvaardigheid van de schooljeugd tot en met uiteenzettingen over bibliomanie, de betekenis van carnaval, de eerste woordjes van een kleinkind of de ziekte van een vriendin.
Er is alles in de wereld. En er is alles in dit boek.
Cyrille Offermans (Geleen, 8 april 1945) is een Nederlandse schrijver, essayist en criticus. Hij publiceert met name in De Groene Amsterdammer, Vrij Nederland, De Standaard en Raster. Bij het laatste literair tijdschrift werkte hij tevens als redacteur. Hij publiceerde meer dan twintig boeken in uiteenlopende genres, vooral essayistiek in het grensgebied van literatuur, filosofie, cultuurgeschiedenis en politiek. Zijn werk werd diverse malen met prestigieuze prijzen bekroond.
Cyrille Offermans
Een iets beschuttere plek misschien
Dagboeknotities
Uitgeverij De Arbeiderspers
Privé-domein – Paperback
Publicatiedatum: 25-09-2018
ISBN: 9789029525794
NUR: 321
€ 25,99
# new books
cyrille offermans
fleursdumal.nl magazine
More in: - Book Lovers, - Book News, - Book Stories, Archive O-P, Art & Literature News, Art Criticism, AUDIO, CINEMA, RADIO & TV, LITERARY MAGAZINES, MONTAIGNE
---
A young woman in Buenos Aires spies three women in the house across the street from her family's home. Intrigued, she begins to watch them. She imagines them as accomplices to an unknown crime, as troubled spinsters contemplating suicide, or as players in an affair with dark and mysterious consequences.
Lange's imaginative excesses and almost hallucinatory images make this uncanny exploration of desire, domestic space, voyeurism and female isolation a twentieth century masterpiece. Too long viewed as Borges's muse, Lange is today recognized in the Spanish-speaking world as a great writer and is here translated into English for the first time, to be read alongside Virginia Woolf, Clarice Lispector and Marguerite Duras.
Born in 1905 to Norwegian parents in Buenos Aires, Norah Lange was a key figure in the Argentinean avant-garde of the early to mid-twentieth century. Though she began her career writing poetry in the ultraísta mode of urban modernism, her first major success came in 1937 with her memoir Notes from Childhood, followed by the companion memoir Before They Die, and the novels People in the Room and The Two Portraits.
She contributed to the magazines Proa and Martín Fierro, and was a friend to figures such as Jorge Luis Borges, Pablo Neruda, and Federico García Lorca. From her teenage years, when her family home became the site of many literary gatherings, Norah was a mainstay of the Buenos Aires literary scene, and was famous for the flamboyant speeches she gave at parties in celebration of her fellow writers. She traveled widely alone and with her husband, the poet Oliverio Girondo, always returning to Buenos Aires, where she wrote in the house they shared, and where they continued to host legendary literary gatherings. She died in 1972.
Charlotte Whittle has translated works by Silvia Goldman, Jorge Comensal, and Rafael Toriz, among others. Her translations, essays, and reviews have appeared in publications including Mantis, The Literary Review, The Los Angeles Times, Guernica, Electric Literature, BOMB, and the Northwest Review of Books. Originally from England and Utah, she has lived in Mexico, Peru, and Chile, and is now based in New York. She is an editor at Cardboard House Press, a bilingual publisher of Spanish and Latin American poetry.
"Deathly scenes from a wax museum come to life, in a closed, feminine world."  – César Aira
People in the Room
Author: Norah Lange
Translator: Charlotte Whittle
Introduced by César Aira
Language: English
Original language: Spanish
Publisher: And Other Stories
Format: paperback
Publication date: 9 August 2018
ISBN: 9781911508229
Availability: World
Number of pages: 176
Price: €11.09
new books
novel Norah Lange (1905 – 1972)
fleursdumal.nl magazine
More in: - Book News, - Bookstores, Archive K-L, Art & Literature News, Borges J.L., Garcia Lorca, Federico, Libraries in Literature, LITERARY MAGAZINES, Neruda, Pablo
---
The Art of Reading presents the first retrospective of Lawrence Schwartzwald's candid images of readers, made between 2001 and 2017.

Partly inspired by André Kertész's On Reading of 1971, Schwartzwald's subjects are mostly average New Yorkers—sunbathers, a bus driver, shoeshine men, subway passengers, denizens of bookshops and cafes—but also artists, most notably Amy Winehouse at Manhattan's now-closed all-night diner Florent.
In 2001 Schwartzwald's affectionate photo of a New York bookseller reading at his makeshift sidewalk stand on Columbus Avenue (and inadvertently exposing his generous buttock cleavage) caused a minor sensation: first published in the New York Post, it inspired a reporter for the New York Observer to interview the "portly peddler" in a humorous column titled "Wisecracking on Columbus Avenue" of 2001.
Since then Schwartzwald has sought out his readers of books on paper—mostly solitary and often incongruous, desperate or vulnerable—who fly in the face of the closure of traditional bookshops and the surge in e-books, dedicating themselves to what Schwartzwald sees as a vanishing art: the art of reading.
Lawrence Schwartzwald: Born in New York in 1953, Lawrence Schwartzwald studied literature at New York University. He worked as a freelance photographer for the New York Post for nearly two decades and in 1997 New York Magazine dubbed him the Post's "king of the streets." Books and literature have shaped several of his photo series including "Reading New York" and "Famous Poets," both self-published in 2017. Schwartzwald lives and works in Manhattan.
Lawrence Schwartzwald
The Art of Reading
published by Steidl
Hardback / Clothbound
22 x 23 cm
English
ISBN 978-3-95829-508-7
1. Edition 06/2018
€ 28.00
new books
fleursdumal.nl magazine
More in: - Book Lovers, - Book Stories, Archive S-T, Art & Literature News, LITERARY MAGAZINES, PRESS & PUBLISHING, The Art of Reading
---
Elke zomer opnieuw slaat het Kunstenfestival van Watou haar tenten op in het gelijknamige kunstdorpje aan de Franse grens.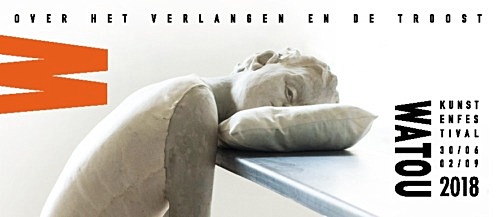 Dichters en beeldend kunstenaars, aanstormend talent en gevestigde waarden, kunstwerken uit binnen- en uit buitenland strijken er neer en vormen een bijzonder kunstenparcours. Het dorp is de setting en biedt een tiental karakteristieke locaties als tentoonstellingsruimte: een voormalig klooster, een oude boerderij of de kelder van een brouwerij. De wisselwerking tussen die verrassende, nostalgische ruimtes met hedendaagse beeldende kunst en poëzie zorgt telkens weer voor een unieke kunstbeleving. Zomeren in Watou is dan ook prikkelen en onthaasten tegelijk. Kleine momenten van gelukzaligheid.
Iedere editie van het Kunstenfestival kadert in een ander thema, waarrond intendant Jan Moeyaert en poëziecurator Willy Tibergien beeld en taal samenbrengen. Schrijvers, dichters en kunstenaars palmen gedurende een zomer het dorp in en bieden de bezoekers een caleidoscoop aan inzichten en perspectieven rond een bepaald onderwerp.
De afgelopen edities van Kunstenfestival Watou groeide er gestaag een nieuwe poëtische lijn in het dorp. Ook dit jaar selecteerde poëziecurator Willy Tibergien gedichten van gevestigde waarden in het Nederlandstalig poëzielandschap om hen een permanente plaats te geven in Watou.
Aan het werk van Eddy van Vliet, Paul Snoek, Remco Campert, Hugues C. Pernath, Jean-Claude Pirotte, Leo Vroman, Miriam Van hee, Stefan Hertmans, Gerrit Kouwenaar en Marc Insingel, Leonard Nolens, Christine D'Haen, Joost Zwagerman, Jotie T'Hooft, Charles Ducal en Luuk Gruwez worden dit jaar gedichten van Anna Enquist, Eva Gerlach en Frans Deschoemaeker toegevoegd.
STRING CARPET – GIDEON KIEFER – KUNSTENAARSGESPREK – ZONZO COMPAGNIE – ELS DEJONGHE – HET VLIEGEND TAPIJT – VRIJDAG VIERT FEEST – KRISTIN VERELLEN – POSTKANTOOR 00/00/00 – LIZE PEDE – BERNARD DEWULF – ALICJA GESCINSKA – DE TROOSTWINKEL – DOWN TIGER DOWN – SIEL EN LARISSA – NELLY AGASSI – IK ZIE MENSEN – POËZIE POËZIE POËZIE – DEREK & RENAUD – WIM CHIELENS – DE PLUIZENTUIN – WALLY DEDONCKER – ANT AND … – IK BEN WEER VELEN – STEPHANIE STRUIJK –  BERNARD DEWULF – MENNO WIGMAN – GRAHAM FAGEN – GERRIT KOUWENAAR – FRANS DESCHOEMAEKER – ANNA ENQUIST – EVA GERLACH – FRAUKE WILKEN – SAM DURANT – SIGRID VON LINTIG – PAUL SNOEK – MAUD BEKAERT -PETER VERHELST- DENIS VERCRUYSSE – MOHAMED EL BAZ – PARSE/ERROR – KATRIN DEKONINCK – ARPAÏS DU BOIS – GRZEGORZ GWIAZDA – SHIMABUKU – PETER DE MEYER – ROBINE CLIGNETT – ELS LESAGE – RADNA FABIAS – RY ROCKLEN – CHAIM VAN LUIT – SYLVIA EVERS – TORI WRÅNES – RONNY DELRUE – PETER MORRENS – HERVÉ MARTIJN – THÉ VANBERGEN – HANNE VAN ROMPAEY – STEFAN HERTMANS – TOM VAN DEEL – DANIELLE VAN ZADELHOFF – ANTON COTTELEER – SU-MEI TSE – POLIEN BOONS – JONAS VANSTEENKISTE – GURT SWANENBERG – ARANTHELL – GEERTJE VANGENECHTEN – MAARTEN VANDEN EYNDE – DOMINIQUE DE GROEN – JANI LEINONEN – JOSÉ COBO – TATJANA GERHARD – NADIA NAVEAU – HESTER KNIBBE – LUK VAN SOOM – JEROEN VAN KAN – CAROL ANN DUFFY – IRINA RATUSHINSKAYA – YEHUDA AMICHAI – NIDAA KHOURY – ZIYA MOHAVED – HANS OP DE BEECK- MASSIMO UBERTI -VAJIKO CHACHKHIANI – MOYA DE FEYTER – SHEILA HICKSEMMA VAN ROEY – BERNARDÍ ROIG -PETER THEUNYNCK – GIDEON KIEFER – EDITH DEKYNDT – THOMAS LEROOY – RANDALL CASAER- CHRISTINA MIGNOLET – GERD KANZ- GREET DESAL – HANNAH VAN BINSBERGEN – MELIK OHANIAN – JOHAN CLARYSSE – SOPHIE BOUVIER AUSLÄNDER – HANS DEFER- LUDOVIC LAFFINEUR – ARNE QUINZE – MARIJE LANGELAAR – TANYA SCHULTZ – ERLEND VAN LANDEGHEM – ROLAND JOORIS – LUKA FINEISEN – MEKHITAR GARABEDIAN – FRANZ SCHMIDT – CLARISSE BRUYNBROECK – FRANCIS PONGE – DAVID DE POOTER – RUTGER KOPLAND – JAN VANRIET – HUGO CLAUS – NELLY AGASSI – K. MICHEL – MICHAL MARTYCHOWIEC – PAUL DEMETS – STEPHAN MUIS – SAMMY BALOJI – TANG NANNAN – ADEL ABDESSEMED – LAURENS HAM – TODD ROBINSON – PANAMARENKO – GILLES BARBIER – HELEN DUNMORE – CASPER BRAAT – SYLVIE MARIE – CHANTAL POLLIER – EZRA VELDHUIS – HARLINDE DE MOL – ELEANOR CROOK – ANNO DIJKSTRA
Kunstenfestival Watou 2018 loopt nog tot en met 2 september
Open: woensdag tot zondag van 11u tot 19u – maandag en dinsdag gesloten, behalve op feestdagen
Adres:
Watouplein 12
8978 Watou
Poperinge (België)
De start van het Kunstenfestival is te vinden in het Festivalhuis (Watouplein 12), op het marktplein naast de Spar. Opg  elet! Voor alle weekend-events zijn de plaatsen beperkt. Een plaats reserveren kan enkel de dag zelf aan de kassa, bij aankoop van uw ticket.
# meer informatie op website kunstenfestival Watou
Kunstenfestival Watou 2018
fleursdumal.nl magazine
More in: # Music Archive, #Editors Choice Archiv, #More Poetry Archives, - Book Lovers, - Book Stories, Art & Literature News, Exhibition Archive, FDM Art Gallery, LITERARY MAGAZINES, PRESS & PUBLISHING, STREET POETRY, THEATRE, Watou Kunstenfestival
---
De Uitmarkt vindt evenals vorig jaar plaats rond het Oosterdok en het Marineterrein Amsterdam. Traditiegetrouw in het laatste weekend van augustus, dit jaar van vrijdag 24 tot en met zondag 26 augustus. Gedurende deze drie dagen zijn er op zo'n 25 podia circa 300 optredens te bewonderen, met op zondagavond de populaire Musical Sing a Long als afsluiter.

De Uitmarkt vormt de start van het culturele seizoen. Het laat bezoekers proeven van het diverse culturele aanbod dat Nederland te bieden heeft. Door het succes van de afgelopen editie heeft Stichting Uitmarkt ervoor gekozen om de Uitmarkt 2018 wederom op en rond het Oosterdok te laten plaatsvinden. Met toegang tot onder andere het Scheepvaartmuseum, NEMO Science Museum en het Marineterrein Amsterdam heeft deze locatie de bezoeker veel variatie te bieden.
Meer nog dan vorig jaar, door de uitbreiding met een extra stuk terrein. Het Scheepvaartmuseum vormt opnieuw het prachtige decor van het hoofdpodium.
'Bezoekers hebben vorig jaar enthousiast gereageerd op de nieuwe locatie. Dit in combinatie met de goede infrastructurele voorzieningen, was voor ons reden genoeg om dit gebied opnieuw in te richten voor de 41 ste editie van de Uitmarkt', zegt Jan de Rooij, voorzitter Stichting Uitmarkt.
Bezoekers van de Uitmarkt krijgen een gratis voorproefje van wat er in het seizoen 2018-2019 in de theaters, musea en concertzalen te beleven is. Artiesten vanuit het hele land en van verschillende genres zijn aanwezig. Naast de gevestigde orde is er ook volop ruimte voor nieuwkomers. Bijvoorbeeld in de Remix Area waar urban talent uit de verschillende Amsterdamse stadsdelen zich presenteren of de jonge theatermakers op het Fringe podium.
# Meer informatie over het programma op website www.uitmarkt.nl
41ste editie van de Uitmarkt – hét startsein van het Nederlandse culturele seizoen – vindt plaats rond het Oosterdok en op het Marineterrein Amsterdam van 24 tot 26 augustus 2018.
fleursdumal.nl magazine
More in: - Book News, - Bookstores, Art & Literature News, AUDIO, CINEMA, RADIO & TV, DANCE, Exhibition Archive, LITERARY MAGAZINES, MUSIC, STREET POETRY, THEATRE
---
Poëzie in Mickery
Halbo C. Kools poëzieavonden in 1966
Niels Bokhove
Literair Leeuwarden (I)
Schrijvers die sporen nalieten
Pieter de Groot
Big Brother heeft bestaan
Marco Daane
J. van Oudshoorn en een hongerkunstenaar
Jan Paul Hinrichs
'Puur pooierachtige diefstal'
Nico Keuning
Constantinopel-Scheveningen
Een uniek liefdadigheidsalbum van Philippe Zilcken
Jaap Versteegh
Berliner Beobachter
Deutschsprachige Gemeinschaft Belgiens
Hans Olink
Schoon & haaks
Jan Paul Hinrichs
De Laatste Pagina
Oscar Timmers (1931-2018)
Paul Arnoldusse
Literair Leeuwarden
In drie nummers besteedt De Parelduiker aandacht aan het feit dat Leeuwarden dit jaar Culturele hoofdstad van Europa is. Literair Leeuwarden wordt, steeds vanuit een andere invalshoek en door een andere auteur, onder de loep genomen. Om te beginnen met de negentiende eeuw: de gebroeders Halbertsma uit Grou, François HaverSchmidt, Pieter Jelles Troelstra, Nienke van Hichtum en, niet te vergeten, Trui Jentink, 'de pruttelende koffiekan van de Romkeslaan', feministe van het eerste uur. Het begin van een mooie Leeuwarder literatuurgeschiedenis in vogelvlucht.
Boudewijn de Groot en Lennaert Nijgh in Mickery Loenersloot
Dichter Halbo C. Kool, door tekstdichter Lennaert Nijgh als 'een wonderkind van 60' bezongen, probeerde het succes van Poëzie in Carré (1966) een vervolg te geven met zijn poëzieavonden in het pas geopende Mickery-theater van Ritsaert ten Cate in Loenersloot. Na het eerste optreden van Nina Simone in Nederland aldaar mochten Lennaert Nijgh en zanger Boudewijn de Groot optreden in Mickery met hun cyclus Voor de overlevenden, te midden van dichterscoryfeeën als Clara Eggink, Theun de Vries, Remco Campert, A. Roland Holst, Gerrit Kouwenaar en Fritzi Harmsen van Beek. Mede door de slechte bereikbaarheid – al reed er een speciale bus van het Leidse Bosje – werden de avonden geen succes.
De Parelduiker 2018/2
ISBN 9789059375161
€ 12,50
80 pagina's
geïllustreerd
# Website Uitgeverij Bas Lubberhuizen
Literair tijdschrift De Parelduiker
fleursdumal.nl magazine
More in: - Book Stories, Art & Literature News, LITERARY MAGAZINES, MONTAIGNE, PRESS & PUBLISHING
---
Night In State Street
Art thou he?—
The seer and sage, the hero and lover—yea,
The man of men, then away from the haughty day
Come with me!
Ho—ho! to the night—
The spangled night that would the noon outstare.
Her skirts are fringed with light,
She is girdled and crowned with gems of fire that flare.
The city is dizzy with the thrill of her—
Her shining eyes and shadowy floating hair;
And curious winds her nebulous garments blur,
Blowing her moon-white limbs and bosom bare.
She beckons me—
Down the deep street she goes to keep her tryst.
Come—come—oh follow! oh see
The many-windowed walls uprear so high
They dim and quiver and float away in mist
Tangling the earth and sky.
And the pale stars go by
Like spirits masterful and still and strong,
Dragging the heavy nets of life along.
Down in the deep
Lightly the nets enmesh us with the swarm
Of huddled human things that, soft and warm,
Beat out so close the pulses of their lives.
We crowd and creep,
We jostle and push out of our halls and hives,
We chatter and laugh and weep.
Ah, do you hear
The choral of voices, each the secret hiding?
Do you see the warren of souls, each one abiding
In separate solitude, remote, austere?
Here in the glare of the street we cling together
Against the warning darkness, the still height Of the awful night.
We blow like a feather
From hope to hope along the winds of fate
Importunate.
The lettered lights that twinkle in and out
Lure us and laugh at us, beckon and flout,
Flashing their slangy symbols in our eyes,
Blurting their gaudy lies.
The bold shop-windows flaunt their empty wares—
Jewelled or tinselled shows of things,
The fripperies and furnishings
Wherein stark life will stifle her shiverings
Ere forth in the dawn she fares.
Ah, tyranny perilous!
Vain shows that master us!
See the gay girls fluttering wistfully,
Where waxen dummies grin in gowns of lace.
Watch yonder woman in black, whose dimmed eyes see
Soft baby things folded with tender grace.
And look at the children crowding and shouting there
Where dancing dolls jiggle and jerk and stare.
They hover and cling
Possessed by signs and shadows of the thing.
They moor their bark
Close to the shore and fathom not the dark—
The dark that glooms afar
Beyond the invisible star,
Beyond faith's boundaries,
The plausible was and is.
Come, ye adventurous,
Open your hearts to us!
You tiny newsboy, calling extras there,
Pitiful burden-bearer, pale with blight,
What of the night?—
The sullen night that brings you, little one,
So heavy a load of care,
While happier children sleep from sun to sun?
And you, wan youth, haggard and spent,
By mad thirst driven and rent—
Thirst of the body, thirst of the soul—
To what dark goal
Does reeling night lead you, her listless prey,
To gorge you and slay,
And hide forever from the searching day?
And you, furtive and flaunting girl,
Whose heavy-lidded eyes unfurl
Red signal fires, the while, demure,
Your brooding lips deny their lure—
Ah, does the lewd night lash you to her cave,
And will you never her ribald rage out-brave,
And rise no more forlorn
To greet the morn?
The street grows insolent.
With cries of dark delight
And gestures impudent
It rends the robe of night.
Up to the silent sky
It shouts the human cry.
The crowds push in and out
By all the open ways,
Eager to stare and shout
At vaudeville waifs of plays.
They drop their coins and laugh
At the wheezy phonograph,
They hush for the noisy drone
Of the croaking megaphone.
That litters life with jest
They pause that they may not go
On life's eternal quest.
They stifle truth with speech,
They mimic love with lust,
For the glitter of gilt they reach
And cover the gold with dust.
They stoop to the din and glare
Who have the lofty night for comrade rare.
They grope along the ground
Whose stature like the night with stars is crowned.
Oh piteous!
Oh struggle vain!
Of puppets emulous,
We strive and strain
To forge for our limbs a chain.
Come, thou deep-hearted Night, so dark and bright !
Come, holy Night, come, lawless, dissolute Night!
Come, human Night, hushing thy dreams divine!
Give me thy dreams, O Night—they shall be mine!—
Mine and this beggar's, though we lie to thee!
Mine and this harlot's, though from thee we
flee! Mine and this worldling's, though with might and right
We hide them from our sight.
Thy shadowed eyes the truth behold, and we—
We too shall know the truth, and so be free!
Even now—yea, now
Through lies and vanities we pry and peer.
Even now we bow
At little shrines where pale fires flicker and fleer.
Hark! in the echoing street
The drums that bang and beat,
Where the curb-stone preachers tell
The way to heaven and hell.
Look! in yon window there
A man through a glass astare
At atoms and embryos,
The source whence all life flows.
Search the beginning and end.
We may not choose but follow—
Yes, you and I and these—
The fume of the noisome hollow,
The gleam of the Pleiades.
Wherever one goes in quest
With his quest we are cursed or blest.
And the street, with its blazing mockery of
noon, Leads on to the quiet stars, to the lofty moon.
The little lights go out now row on row,
The dim crowds glide away.
The shadowed street
Pillars the vaulted sky.
And Night, proud Night,
Rapt in her dreams, with stately tread and slow
Patrols the drowsy world. O friend complete,
How may we read her deep delight aright?
Art thou he—
The seer and sage, the hero and lover—yea,
The man of men, then even to the gates of day
Lead thou me!
Harriet Monroe
(1860 – 1936)
Night In State Street
fleursdumal.nl magazine
More in: Archive M-N, LITERARY MAGAZINES, Monroe, Harriet
---
Older Entries »
Thank you for reading FLEURSDUMAL.NL - magazine for art & literature