Saki
·
Saki: The Background (short story)
·
Saki: Sredni Vashtar (short story)
·
Saki: The She-Wolf (short story)
·
Saki: The Unrest-Cure (short story)
·
Saki: The Match-Maker (short story)
·
Saki: The Blind Spot (short story)
·
Saki: The Romancers (short story)
·
Saki: Dusk (short story)
·
Saki: Laura (short story)
·
Saki: The Music on the Hill (short story)
The Background
"That woman's art-jargon tires me," said Clovis to his journalist friend. "She's so fond of talking of certain pictures as 'growing on one,' as though they were a sort of fungus."
"That reminds me," said the journalist, "of the story of Henri Deplis. Have I ever told it you?"
Clovis shook his head.
"Henri Deplis was by birth a native of the Grand Duchy of Luxemburg. On maturer reflection he became a commercial traveller. His business activities frequently took him beyond the limits of the Grand Duchy, and he was stopping in a small town of Northern Italy when news reached him from home that a legacy from a distant and deceased relative had fallen to his share.
"It was not a large legacy, even from the modest standpoint of Henri Deplis, but it impelled him towards some seemingly harmless extravagances. In particular it led him to patronize local art as represented by the tattoo-needles of Signor Andreas Pincini. Signor Pincini was, perhaps, the most brilliant master of tattoo craft that Italy had ever known, but his circumstances were decidedly impoverished, and for the sum of six hundred francs he gladly undertook to cover his client's back, from the collar-bone down to the waistline, with a glowing representation of the Fall of Icarus. The design, when finally developed, was a slight disappointment to Monsieur Deplis, who had suspected Icarus of being a fortress taken by Wallenstein in the Thirty Years' War, but he was more than satisfied with the execution of the work, which was acclaimed by all who had the privilege of seeing it as Pincini's masterpiece.
"It was his greatest effort, and his last. Without even waiting to be paid, the illustrious craftsman departed this life, and was buried under an ornate tombstone, whose winged cherubs would have afforded singularly little scope for the exercise of his favourite art. There remained, however, the widow Pincini, to whom the six hundred francs were due. And thereupon arose the great crisis in the life of Henri Deplis, traveller of commerce. The legacy, under the stress of numerous little calls on its substance, had dwindled to very insignificant proportions, and when a pressing wine bill and sundry other current accounts had been paid, there remained little more than 430 francs to offer to the widow. The lady was properly indignant, not wholly, as she volubly explained, on account of the suggested writing-off of 170 francs, but also at the attempt to depreciate the value of her late husband's acknowledged masterpiece. In a week's time Deplis was obliged to reduce his offer to 405 francs, which circumstance fanned the widow's indignation into a fury. She cancelled the sale of the work of art, and a few days later Deplis learned with a sense of consternation that she had presented it to the municipality of Bergamo, which had gratefully accepted it. He left the neighbourhood as unobtrusively as possible, and was genuinely relieved when his business commands took him to Rome, where he hoped his identity and that of the famous picture might be lost sight of.
"But he bore on his back the burden of the dead man's genius. On presenting himself one day in the steaming corridor of a vapour bath, he was at once hustled back into his clothes by the proprietor, who was a North Italian, and who emphatically refused to allow the celebrated Fall of Icarus to be publicly on view without the permission of the municipality of Bergamo. Public interest and official vigilance increased as the matter became more widely known, and Deplis was unable to take a simple dip in the sea or river on the hottest afternoon unless clothed up to the collarbone in a substantial bathing garment. Later on the authorities of Bergamo, conceived the idea that salt water might be injurious to the masterpiece, and a perpetual injunction was obtained which debarred the muchly harassed commercial traveller from sea bathing under any circumstances. Altogether, he was fervently thankful when his firm of employers found him a new range of activities in the neighbourhood of Bordeaux. His thankfulness, however, ceased abruptly at the Franco–Italian frontier. An imposing array of official force barred his departure, and he was sternly reminded of the stringent law which forbids the exportation of Italian works of art.
"A diplomatic parley ensued between the Luxemburgian and Italian Governments, and at one time the European situation became overcast with the possibilities of trouble. But the Italian Government stood firm; it declined to concern itself in the least with the fortunes or even the existence of Henri Deplis, commercial traveller, but was immovable in its decision that the Fall of Icarus (by the late Pincini, Andreas) at present the property of the municipality of Bergamo, should not leave the country.
"The excitement died down in time, but the unfortunate Deplis, who was of a constitutionally retiring disposition, found himself a few months later, once more the storm-centre of a furious controversy. A certain German art expert, who had obtained from the municipality of Bergamo permission to inspect the famous masterpiece, declared it to be a spurious Pincini, probably the work of some pupil whom he had employed in his declining years. The evidence of Deplis on the subject was obviously worthless, as he had been under the influence of the customary narcotics during the long process of pricking in the design. The editor of an Italian art journal refuted the contentions of the German expert and undertook to prove that his private life did not conform to any modern standard of decency. The whole of Italy and Germany were drawn into the dispute, and the rest of Europe was soon involved in the quarrel. There were stormy scenes in the Spanish Parliament, and the University of Copenhagen bestowed a gold medal on the German expert (afterwards sending a commission to examine his proofs on the spot), while two Polish schoolboys in Paris committed suicide to show what THEY thought of the matter.
"Meanwhile, the unhappy human background fared no better than before, and it was not surprising that he drifted into the ranks of Italian anarchists. Four times at least he was escorted to the frontier as a dangerous and undesirable foreigner, but he was always brought back as the Fall of Icarus (attributed to Pincini, Andreas, early Twentieth Century). And then one day, at an anarchist congress at Genoa, a fellow-worker, in the heat of debate, broke a phial full of corrosive liquid over his back. The red shirt that he was wearing mitigated the effects, but the Icarus was ruined beyond recognition. His assailant was severely reprimanded for assaulting a fellow-anarchist and received seven years' imprisonment for defacing a national art treasure. As soon as he was able to leave the hospital Henri Deplis was put across the frontier as an undesirable alien.
"In the quieter streets of Paris, especially in the neighbourhood of the Ministry of Fine Arts, you may sometimes meet a depressed, anxious-looking man, who, if you pass him the time of day, will answer you with a slight Luxemburgian accent. He nurses the illusion that he is one of the lost arms of the Venus de Milo, and hopes that the French Government may be persuaded to buy him. On all other subjects I believe he is tolerably sane."
The Background
From 'The Chronicles of Clovis'
by Saki (H. H. Munro)
(1870 – 1916)
• fleursdumal.nl magazine
More in: Archive S-T, Saki, Saki, The Art of Reading
---
Sredni Vashtar
Conradin was ten years old, and the doctor had pronounced his professional opinion that the boy would not live another five years. The doctor was silky and effete, and counted for little, but his opinion was endorsed by Mrs. de Ropp, who counted for nearly everything. Mrs. De Ropp was Conradin's cousin and guardian, and in his eyes she represented those three-fifths of the world that are necessary and disagreeable and real; the other two-fifths, in perpetual antagonism to the foregoing, were summed up in himself and his imagination. One of these days Conradin supposed he would succumb to the mastering pressure of wearisome necessary things — such as illnesses and coddling restrictions and drawn-out dullness. Without his imagination, which was rampant under the spur of loneliness, he would have succumbed long ago.
Mrs. de Ropp would never, in her honestest moments, have confessed to herself that she disliked Conradin, though she might have been dimly aware that thwarting him "for his good" was a duty which she did not find particularly irksome. Conradin hated her with a desperate sincerity which he was perfectly able to mask. Such few pleasures as he could contrive for himself gained an added relish from the likelihood that they would be displeasing to his guardian, and from the realm of his imagination she was locked out — an unclean thing, which should find no entrance.
In the dull, cheerless garden, overlooked by so many windows that were ready to open with a message not to do this or that, or a reminder that medicines were due, he found little attraction. The few fruit-trees that it contained were set jealously apart from his plucking, as though they were rare specimens of their kind blooming in an arid waste; it would probably have been difficult to find a market-gardener who would have offered ten shillings for their entire yearly produce. In a forgotten corner, however, almost hidden behind a dismal shrubbery, was a disused tool-shed of respectable proportions, and within its walls Conradin found a haven, something that took on the varying aspects of a playroom and a cathedral. He had peopled it with a legion of familiar phantoms, evoked partly from fragments of history and partly from his own brain, but it also boasted two inmates of flesh and blood. In one corner lived a ragged-plumaged Houdan hen, on which the boy lavished an affection that had scarcely another outlet. Further back in the gloom stood a large hutch, divided into two compartments, one of which was fronted with close iron bars. This was the abode of a large polecat-ferret, which a friendly butcher-boy had once smuggled, cage and all, into its present quarters, in exchange for a long-secreted hoard of small silver. Conradin was dreadfully afraid of the lithe, sharp-fanged beast, but it was his most treasured possession. Its very presence in the tool-shed was a secret and fearful joy, to be kept scrupulously from the knowledge of the Woman, as he privately dubbed his cousin. And one day, out of Heaven knows what material, he spun the beast a wonderful name, and from that moment it grew into a god and a religion. The Woman indulged in religion once a week at a church near by, and took Conradin with her, but to him the church service was an alien rite in the House of Rimmon. Every Thursday, in the dim and musty silence of the tool-shed, he worshipped with mystic and elaborate ceremonial before the wooden hutch where dwelt Sredni Vashtar, the great ferret. Red flowers in their season and scarlet berries in the winter-time were offered at his shrine, for he was a god who laid some special stress on the fierce impatient side of things, as opposed to the Woman's religion, which, as far as Conradin could observe, went to great lengths in the contrary direction. And on great festivals powdered nutmeg was strewn in front of his hutch, an important feature of the offering being that the nutmeg had to be stolen. These festivals were of irregular occurrence, and were chiefly appointed to celebrate some passing event. On one occasion, when Mrs. de Ropp suffered from acute toothache for three days, Conradin kept up the festival during the entire three days, and almost succeeded in persuading himself that Sredni Vashtar was personally responsible for the toothache. If the malady had lasted for another day the supply of nutmeg would have given out.
The Houdan hen was never drawn into the cult of Sredni Vashtar. Conradin had long ago settled that she was an Anabaptist. He did not pretend to have the remotest knowledge as to what an Anabaptist was, but he privately hoped that it was dashing and not very respectable. Mrs. de Ropp was the ground plan on which he based and detested all respectability.
After a while Conradin's absorption in the tool-shed began to attract the notice of his guardian. "It is not good for him to be pottering down there in all weathers," she promptly decided, and at breakfast one morning she announced that the Houdan hen had been sold and taken away overnight. With her short-sighted eyes she peered at Conradin, waiting for an outbreak of rage and sorrow, which she was ready to rebuke with a flow of excellent precepts and reasoning. But Conradin said nothing: there was nothing to be said. Something perhaps in his white set face gave her a momentary qualm, for at tea that afternoon there was toast on the table, a delicacy which she usually banned on the ground that it was bad for him; also because the making of it "gave trouble," a deadly offence in the middle-class feminine eye.
"I thought you liked toast," she exclaimed, with an injured air, observing that he did not touch it.
"Sometimes," said Conradin.
In the shed that evening there was an innovation in the worship of the hutch-god. Conradin had been wont to chant his praises, to-night he asked a boon.
"Do one thing for me, Sredni Vashtar."
The thing was not specified. As Sredni Vashtar was a god he must be supposed to know. And choking back a sob as he looked at that other empty corner, Conradin went back to the world he so hated.
And every night, in the welcome darkness of his bedroom, and every evening in the dusk of the tool-shed, Conradin's bitter litany went up: "Do one thing for me, Sredni Vashtar."
Mrs. de Ropp noticed that the visits to the shed did not cease, and one day she made a further journey of inspection.
"What are you keeping in that locked hutch?" she asked. "I believe it's guinea-pigs. I'll have them all cleared away."
Conradin shut his lips tight, but the Woman ransacked his bedroom till she found the carefully hidden key, and forthwith marched down to the shed to complete her discovery. It was a cold afternoon, and Conradin had been bidden to keep to the house. From the furthest window of the dining-room the door of the shed could just be seen beyond the corner of the shrubbery, and there Conradin stationed himself. He saw the Woman enter, and then he imagined her opening the door of the sacred hutch and peering down with her short-sighted eyes into the thick straw bed where his god lay hidden. Perhaps she would prod at the straw in her clumsy impatience. And Conradin fervently breathed his prayer for the last time. But he knew as he prayed that he did not believe. He knew that the Woman would come out presently with that pursed smile he loathed so well on her face, and that in an hour or two the gardener would carry away his wonderful god, a god no longer, but a simple brown ferret in a hutch. And he knew that the Woman would triumph always as she triumphed now, and that he would grow ever more sickly under her pestering and domineering and superior wisdom, till one day nothing would matter much more with him, and the doctor would be proved right. And in the sting and misery of his defeat, he began to chant loudly and defiantly the hymn of his threatened idol:
Sredni Vashtar went forth,
His thoughts were red thoughts and his teeth were white.
His enemies called for peace, but he brought them death.
Sredni Vashtar the Beautiful.
And then of a sudden he stopped his chanting and drew closer to the window-pane. The door of the shed still stood ajar as it had been left, and the minutes were slipping by. They were long minutes, but they slipped by nevertheless. He watched the starlings running and flying in little parties across the lawn; he counted them over and over again, with one eye always on that swinging door. A sour-faced maid came in to lay the table for tea, and still Conradin stood and waited and watched. Hope had crept by inches into his heart, and now a look of triumph began to blaze in his eyes that had only known the wistful patience of defeat. Under his breath, with a furtive exultation, he began once again the paean of victory and devastation. And presently his eyes were rewarded: out through that doorway came a long, low, yellow-and-brown beast, with eyes a-blink at the waning daylight, and dark wet stains around the fur of jaws and throat. Conradin dropped on his knees. The great polecat-ferret made its way down to a small brook at the foot of the garden, drank for a moment, then crossed a little plank bridge and was lost to sight in the bushes. Such was the passing of Sredni Vashtar.
"Tea is ready," said the sour-faced maid; "where is the mistress?"
"She went down to the shed some time ago," said Conradin.
And while the maid went to summon her mistress to tea, Conradin fished a toasting-fork out of the sideboard drawer and proceeded to toast himself a piece of bread. And during the toasting of it and the buttering of it with much butter and the slow enjoyment of eating it, Conradin listened to the noises and silences which fell in quick spasms beyond the dining-room door. The loud foolish screaming of the maid, the answering chorus of wondering ejaculations from the kitchen region, the scuttering footsteps and hurried embassies for outside help, and then, after a lull, the scared sobbings and the shuffling tread of those who bore a heavy burden into the house.
"Whoever will break it to the poor child? I couldn't for the life of me!" exclaimed a shrill voice. And while they debated the matter among themselves, Conradin made himself another piece of toast.
Sredni Vashtar
From 'The Chronicles of Clovis'
by Saki (H. H. Munro)
(1870 – 1916)
• fleursdumal.nl magazine
More in: Archive S-T, Saki, Saki, The Art of Reading
---
The She-Wolf
Leonard Bilsiter was one of those people who have failed to find this world attractive or interesting, and who have sought compensation in an "unseen world" of their own experience or imagination — or invention.
Children do that sort of thing successfully, but children are content to convince themselves, and do not vulgarise their beliefs by trying to convince other people. Leonard Bilsiter's beliefs were for "the few," that is to say, anyone who would listen to him.
His dabblings in the unseen might not have carried him beyond the customary platitudes of the drawing-room visionary if accident had not reinforced his stock-intrade of mystical lore. In company with a friend, who was interested in a Ural mining concern, he had made a trip across Eastern Europe at a moment when the great Russian railway strike was developing from a threat to a reality; its outbreak caught him on the return journey, somewhere on the further side of Perm, and it was while waiting for a couple of days at a wayside station in a state of suspended locomotion that he made the acquaintance of a dealer in harness and metalware, who profitably whiled away the tedium of the long halt by initiating his English travelling companion in a fragmentary system of folk-lore that he had picked up from Trans–Baikal traders and natives.
Leonard returned to his home circle garrulous about his Russian strike experiences, but oppressively reticent about certain dark mysteries, which he alluded to under the resounding title of Siberian Magic. The reticence wore off in a week or two under the influence of an entire lack of general curiosity, and Leonard began to make more detailed allusions to the enormous powers which this new esoteric force, to use his own description of it, conferred on the initiated few who knew how to wield it. His aunt, Cecilia Hoops, who loved sensation perhaps rather better than she loved the truth, gave him as clamorous an advertisement as anyone could wish for by retailing an account of how he had turned a vegetable marrow into a wood pigeon before her very eyes. As a manifestation of the possession of supernatural powers, the story was discounted in some quarters by the respect accorded to Mrs. Hoops' powers of imagination.
However divided opinion might be on the question of Leonard's status as a wonderworker or a charlatan, he certainly arrived at Mary Hampton's house-party with a reputation for preeminence in one or other of those professions, and he was not disposed to shun such publicity as might fall to his share. Esoteric forces and unusual powers figured largely in whatever conversation he or his aunt had a share in, and his own performances, past and potential, were the subject of mysterious hints and dark avowals.
"I wish you would turn me into a wolf, Mr. Bilsiter," said his hostess at luncheon the day after his arrival.
"My dear Mary," said Colonel Hampton, "I never knew you had a craving in that direction."
"A she-wolf, of course," continued Mrs. Hampton; "it would be too confusing to change one's sex as well as one's species at a moment's notice."
"I don't think one should jest on these subjects," said Leonard.
"I'm not jesting, I'm quite serious, I assure you. Only don't do it today; we have only eight available bridge players, and it would break up one of our tables. To-morrow we shall be a larger party. To-morrow night, after dinner —"
"In our present imperfect understanding of these hidden forces I think one should approach them with humbleness rather than mockery," observed Leonard, with such severity that the subject was forthwith dropped.
Clovis Sangrail had sat unusually silent during the discussion on the possibilities of Siberian Magic; after lunch he side-tracked Lord Pabham into the comparative seclusion of the billiard-room and delivered himself of a searching question.
"Have you such a thing as a she-wolf in your collection of wild animals? A she-wolf of moderately good temper?"
Lord Pabham considered. "There is Loiusa," he said, "a rather fine specimen of the timber-wolf. I got her two years ago in exchange for some Arctic foxes. Most of my animals get to be fairly tame before they've been with me very long; I think I can say Louisa has an angelic temper, as she-wolves go. Why do you ask?"
"I was wondering whether you would lend her to me for tomorrow night," said Clovis, with the careless solicitude of one who borrows a collar stud or a tennis racquet.
"To-morrow night?"
"Yes, wolves are nocturnal animals, so the late hours won't hurt her," said Clovis, with the air of one who has taken everything into consideration; "one of your men could bring her over from Pabham Park after dusk, and with a little help he ought to be able to smuggle her into the conservatory at the same moment that Mary Hampton makes an unobtrusive exit."
Lord Pabham stared at Clovis for a moment in pardonable bewilderment; then his face broke into a wrinkled network of laughter.
"Oh, that's your game, is it? You are going to do a little Siberian Magic on your own account. And is Mrs. Hampton willing to be a fellow-conspirator?"
"Mary is pledged to see me through with it, if you will guarantee Louisa's temper."
"I'll answer for Louisa," said Lord Pabham.
By the following day the house-party had swollen to larger proportions, and Bilsiter's instinct for self-advertisement expanded duly under the stimulant of an increased audience. At dinner that evening he held forth at length on the subject of unseen forces and untested powers, and his flow of impressive eloquence continued unabated while coffee was being served in the drawing-room preparatory to a general migration to the card-room.
His aunt ensured a respectful hearing for his utterances, but her sensation-loving soul hankered after something more dramatic than mere vocal demonstration.
"Won't you do something to convince them of your powers, Leonard?" she pleaded; "change something into another shape. He can, you know, if he only chooses to," she informed the company.
"Oh, do," said Mavis Pellington earnestly, and her request was echoed by nearly everyone present. Even those who were not open to conviction were perfectly willing to be entertained by an exhibition of amateur conjuring.
Leonard felt that something tangible was expected of him.
"Has anyone present," he asked, "got a three-penny bit or some small object of no particular value —?"
"You're surely not going to make coins disappear, or something primitive of that sort?" said Clovis contemptuously.
"I think it very unkind of you not to carry out my suggestion of turning me into a wolf," said Mary Hampton, as she crossed over to the conservatory to give her macaws their usual tribute from the dessert dishes.
"I have already warned you of the danger of treating these powers in a mocking spirit," said Leonard solemnly.
"I don't believe you can do it," laughed Mary provocatively from the conservatory; "I dare you to do it if you can. I defy you to turn me into a wolf."
As she said this she was lost to view behind a clump of azaleas.
"Mrs. Hampton —" began Leonard with increased solemnity, but he got no further. A breath of chill air seemed to rush across the room, and at the same time the macaws broke forth into ear-splitting screams.
"What on earth is the matter with those confounded birds, Mary?" exclaimed Colonel Hampton; at the same moment an even more piercing scream from Mavis Pellington stampeded the entire company from their seats. In various attitudes of helpless horror or instinctive defence they confronted the evil-looking grey beast that was peering at them from amid a setting of fern and azalea.
Mrs. Hoops was the first to recover from the general chaos of fright and bewilderment.
"Leonard!" she screamed shrilly to her nephew, "turn it back into Mrs. Hampton at once! It may fly at us at any moment. Turn it back!"
"I— I don't know how to," faltered Leonard, who looked more scared and horrified than anyone.
"What!" shouted Colonel Hampton, "you've taken the abominable liberty of turning my wife into a wolf, and now you stand there calmly and say you can't turn her back again!"
To do strict justice to Leonard, calmness was not a distinguishing feature of his attitude at the moment.
"I assure you I didn't turn Mrs. Hampton into a wolf; nothing was farther from my intentions," he protested.
"Then where is she, and how came that animal into the conservatory?" demanded the Colonel.
"Of course we must accept your assurance that you didn't turn Mrs. Hampton into a wolf," said Clovis politely, "but you will agree that appearances are against you."
"Are we to have all these recriminations with that beast standing there ready to tear us to pieces?" wailed Mavis indignantly.
"Lord Pabham, you know a good deal about wild beasts —" suggested Colonel Hampton.
"The wild beasts that I have been accustomed to," said Lord Pabham, "have come with proper credentials from well-known dealers, or have been bred in my own menagerie. I've never before been confronted with an animal that walks unconcernedly out of an azalea bush, leaving a charming and popular hostess unaccounted for. As far as one can judge from outward characteristics," he continued, "it has the appearance of a well-grown female of the North American timber-wolf, a variety of the common species canis lupus."
"Oh, never mind its Latin name," screamed Mavis, as the beast came a step or two further into the room; "can't you entice it away with food, and shut it up where it can't do any harm?"
"If it is really Mrs. Hampton, who has just had a very good dinner, I don't suppose food will appeal to it very strongly," said Clovis.
"Leonard," beseeched Mrs. Hoops tearfully, "even if this is none of your doing can't you use your great powers to turn this dreadful beast into something harmless before it bites us all — a rabbit or something?"
"I don't suppose Colonel Hampton would care to have his wife turned into a succession of fancy animals as though we were playing a round game with her," interposed Clovis.
"I absolutely forbid it," thundered the Colonel.
"Most wolves that I've had anything to do with have been inordinately fond of sugar," said Lord Pabham; "if you like I'll try the effect on this one."
He took a piece of sugar from the saucer of his coffee cup and flung it to the expectant Louisa, who snapped it in mid-air. There was a sigh of relief from the company; a wolf that ate sugar when it might at the least have been employed in tearing macaws to pieces had already shed some of its terrors. The sigh deepened to a gasp of thanks-giving when Lord Pabham decoyed the animal out of the room by a pretended largesse of further sugar. There was an instant rush to the vacated conservatory. There was no trace of Mrs. Hampton except the plate containing the macaws' supper.
"The door is locked on the inside!" exclaimed Clovis, who had deftly turned the key as he affected to test it.
Everyone turned towards Bilsiter.
"If you haven't turned my wife into a wolf," said Colonel Hampton, "will you kindly explain where she has disappeared to, since she obviously could not have gone through a locked door? I will not press you for an explanation of how a North American timber-wolf suddenly appeared in the conservatory, but I think I have some right to inquire what has become of Mrs. Hampton."
Bilsiter's reiterated disclaimer was met with a general murmur of impatient disbelief.
"I refuse to stay another hour under this roof," declared Mavis Pellington.
"If our hostess has really vanished out of human form," said Mrs. Hoops, "none of the ladies of the party can very well remain. I absolutely decline to be chaperoned by a wolf!"
"It's a she-wolf," said Clovis soothingly.
The correct etiquette to be observed under the unusual circumstances received no further elucidation. The sudden entry of Mary Hampton deprived the discussion of its immediate interest.
"Some one has mesmerised me," she exclaimed crossly; "I found myself in the game larder, of all places, being fed with sugar by Lord Pabham. I hate being mesmerised, and the doctor has forbidden me to touch sugar."
The situation was explained to her, as far as it permitted of anything that could be called explanation.
"Then you really did turn me into a wolf, Mr. Bilsiter?" she exclaimed excitedly.
But Leonard had burned the boat in which he might now have embarked on a sea of glory. He could only shake his head feebly.
"It was I who took that liberty," said Clovis; "you see, I happen to have lived for a couple of years in North–Eastern Russia, and I have more than a tourist's acquaintance with the magic craft of that region. One does not care to speak about these strange powers, but once in a way, when one hears a lot of nonsense being talked about them, one is tempted to show what Siberian magic can accomplish in the hands of someone who really understands it. I yielded to that temptation. May I have some brandy? the effort has left me rather faint."
If Leonard Bilsiter could at that moment have transformed Clovis into a cockroach and then have stepped on him he would gladly have performed both operations.
The She-Wolf
From 'Beasts and Super-Beasts'
by Saki (H. H. Munro)
(1870 – 1916)
fleursdumal.nl magazine
More in: Archive S-T, Saki, Saki, The Art of Reading
---
The Unrest-Cure
On the rack in the railway carriage immediately opposite Clovis was a solidly wrought travelling-bag, with a carefully written label, on which was inscribed, "J. P. Huddle, The Warren, Tilfield, near Slowborough." Immediately below the rack sat the human embodiment of the label, a solid, sedate individual, sedately dressed, sedately conversational.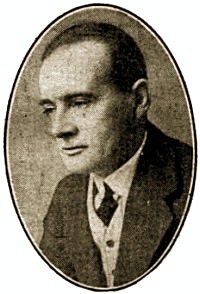 Even without his conversation (which was addressed to a friend seated by his side, and touched chiefly on such topics as the backwardness of Roman hyacinths and the prevalence of measles at the Rectory), one could have gauged fairly accurately the temperament and mental outlook of the travelling bag's owner. But he seemed unwilling to leave anything to the imagination of a casual observer, and his talk grew presently personal and introspective.
"I don't know how it is," he told his friend, "I'm not much over forty, but I seem to have settled down into a deep groove of elderly middle-age. My sister shows the same tendency. We like everything to be exactly in its accustomed place; we like things to happen exactly at their appointed times; we like everything to be usual, orderly, punctual, methodical, to a hair's breadth, to a minute. It distresses and upsets us if it is not so. For instance, to take a very trifling matter, a thrush has built its nest year after year in the catkin-tree on the lawn; this year, for no obvious reason, it is building in the ivy on the garden wall. We have said very little about it, but I think we both feel that the change is unnecessary, and just a little irritating."
"Perhaps," said the friend, "it is a different thrush."
"We have suspected that," said J. P. Huddle, "and I think it gives us even more cause for annoyance. We don't feel that we want a change of thrush at our time of life; and yet, as I have said, we have scarcely reached an age when these things should make themselves seriously felt."
"What you want," said the friend, "is an Unrest-cure."
"An Unrest-cure? I've never heard of such a thing."
"You've heard of Rest-cures for people who've broken down under stress of too much worry and strenuous living; well, you're suffering from overmuch repose and placidity, and you need the opposite kind of treatment."
"But where would one go for such a thing?"
"Well, you might stand as an Orange candidate for Kilkenny, or do a course of district visiting in one of the Apache quarters of Paris, or give lectures in Berlin to prove that most of Wagner's music was written by Gambetta; and there's always the interior of Morocco to travel in. But, to be really effective, the Unrest-cure ought to be tried in the home. How you would do it I haven't the faintest idea."
It was at this point in the conversation that Clovis became galvanized into alert attention. After all, his two days' visit to an elderly relative at Slowborough did not promise much excitement. Before the train had stopped he had decorated his sinister shirt-cuff with the inscription, "J. P. Huddle, The Warren, Tilfield, near Slowborough."
Two mornings later Mr. Huddle broke in on his sister's privacy as she sat reading Country Life in the morning room. It was her day and hour and place for reading Country Life, and the intrusion was absolutely irregular; but he bore in his hand a telegram, and in that household telegrams were recognized as happening by the hand of God. This particular telegram partook of the nature of a thunderbolt. "Bishop examining confirmation class in neighbourhood unable stay rectory on account measles invokes your hospitality sending secretary arrange."
"I scarcely know the Bishop; I've only spoken to him once," exclaimed J. P. Huddle, with the exculpating air of one who realizes too late the indiscretion of speaking to strange Bishops. Miss Huddle was the first to rally; she disliked thunderbolts as fervently as her brother did, but the womanly instinct in her told her that thunderbolts must be fed.
"We can curry the cold duck," she said. It was not the appointed day for curry, but the little orange envelope involved a certain departure from rule and custom. Her brother said nothing, but his eyes thanked her for being brave.
"A young gentleman to see you," announced the parlour-maid.
"The secretary!" murmured the Huddles in unison; they instantly stiffened into a demeanour which proclaimed that, though they held all strangers to be guilty, they were willing to hear anything they might have to say in their defence. The young gentleman, who came into the room with a certain elegant haughtiness, was not at all Huddle's idea of a bishop's secretary; he had not supposed that the episcopal establishment could have afforded such an expensively upholstered article when there were so many other claims on its resources. The face was fleetingly familiar; if he had bestowed more attention on the fellow-traveller sitting opposite him in the railway carriage two days before he might have recognized Clovis in his present visitor.
"You are the Bishop's secretary?" asked Huddle, becoming consciously deferential.
"His confidential secretary," answered Clovis. "You may call me Stanislaus; my other name doesn't matter. The Bishop and Colonel Alberti may be here to lunch. I shall be here in any case."
It sounded rather like the programme of a Royal visit.
"The Bishop is examining a confirmation class in the neighbourhood, isn't he?" asked Miss Huddle.
"Ostensibly," was the dark reply, followed by a request for a large-scale map of the locality.
Clovis was still immersed in a seemingly profound study of the map when another telegram arrived. It was addressed to "Prince Stanislaus, care of Huddle, The Warren, etc." Clovis glanced at the contents and announced: "The Bishop and Alberti won't be here till late in the afternoon." Then he returned to his scrutiny of the map.
The luncheon was not a very festive function. The princely secretary ate and drank with fair appetite, but severely discouraged conversation. At the finish of the meal he broke suddenly into a radiant smile, thanked his hostess for a charming repast, and kissed her hand with deferential rapture.
Miss Huddle was unable to decide in her mind whether the action savoured of Louis Quatorzian courtliness or the reprehensible Roman attitude towards the Sabine women. It was not her day for having a headache, but she felt that the circumstances excused her, and retired to her room to have as much headache as was possible before the Bishop's arrival. Clovis, having asked the way to the nearest telegraph office, disappeared presently down the carriage drive. Mr. Huddle met him in the hall some two hours later, and asked when the Bishop would arrive.
"He is in the library with Alberti," was the reply.
"But why wasn't I told? I never knew he had come!" exclaimed Huddle.
"No one knows he is here," said Clovis; "the quieter we can keep matters the better. And on no account disturb him in the library. Those are his orders."
"But what is all this mystery about? And who is Alberti? And isn't the Bishop going to have tea?"
"The Bishop is out for blood, not tea."
"Blood!" gasped Huddle, who did not find that the thunderbolt improved on acquaintance.
"To-night is going to be a great night in the history of Christendom," said Clovis. "We are going to massacre every Jew in the neighbourhood."
"To massacre the Jews!" said Huddle indignantly. "Do you mean to tell me there's a general rising against them?"
"No, it's the Bishop's own idea. He's in there arranging all the details now."
"But — the Bishop is such a tolerant, humane man."
"That is precisely what will heighten the effect of his action. The sensation will be enormous."
That at least Huddle could believe.
"He will be hanged!" he exclaimed with conviction.
"A motor is waiting to carry him to the coast, where a steam yacht is in readiness."
"But there aren't thirty Jews in the whole neighbourhood," protested Huddle, whose brain, under the repeated shocks of the day, was operating with the uncertainty of a telegraph wire during earthquake disturbances.
"We have twenty-six on our list," said Clovis, referring to a bundle of notes. "We shall be able to deal with them all the more thoroughly."
"Do you mean to tell me that you are meditating violence against a man like Sir Leon Birberry," stammered Huddle; "he's one of the most respected men in the country."
"He's down on our list," said Clovis carelessly; "after all, we've got men we can trust to do our job, so we shan't have to rely on local assistance. And we've got some Boy-scouts helping us as auxiliaries."
"Boy-scouts!"
"Yes; when they understood there was real killing to be done they were even keener than the men."
"This thing will be a blot on the Twentieth Century!"
"And your house will be the blotting-pad. Have you realized that half the papers of Europe and the United States will publish pictures of it? By the way, I've sent some photographs of you and your sister, that I found in the library, to the MATIN and DIE WOCHE; I hope you don't mind. Also a sketch of the staircase; most of the killing will probably be done on the staircase."
The emotions that were surging in J. P. Huddle's brain were almost too intense to be disclosed in speech, but he managed to gasp out: "There aren't any Jews in this house."
"Not at present," said Clovis.
"I shall go to the police," shouted Huddle with sudden energy.
"In the shrubbery," said Clovis, "are posted ten men who have orders to fire on anyone who leaves the house without my signal of permission. Another armed picquet is in ambush near the front gate. The Boy-scouts watch the back premises."
At this moment the cheerful hoot of a motor-horn was heard from the drive. Huddle rushed to the hall door with the feeling of a man half awakened from a nightmare, and beheld Sir Leon Birberry, who had driven himself over in his car. "I got your telegram," he said, "what's up?"
Telegram? It seemed to be a day of telegrams.
"Come here at once. Urgent. James Huddle," was the purport of the message displayed before Huddle's bewildered eyes.
"I see it all!" he exclaimed suddenly in a voice shaken with agitation, and with a look of agony in the direction of the shrubbery he hauled the astonished Birberry into the house. Tea had just been laid in the hall, but the now thoroughly panic-stricken Huddle dragged his protesting guest upstairs, and in a few minutes' time the entire household had been summoned to that region of momentary safety. Clovis alone graced the tea-table with his presence; the fanatics in the library were evidently too immersed in their monstrous machinations to dally with the solace of teacup and hot toast. Once the youth rose, in answer to the summons of the front-door bell, and admitted Mr. Paul Isaacs, shoemaker and parish councillor, who had also received a pressing invitation to The Warren. With an atrocious assumption of courtesy, which a Borgia could hardly have outdone, the secretary escorted this new captive of his net to the head of the stairway, where his involuntary host awaited him.
And then ensued a long ghastly vigil of watching and waiting. Once or twice Clovis left the house to stroll across to the shrubbery, returning always to the library, for the purpose evidently of making a brief report. Once he took in the letters from the evening postman, and brought them to the top of the stairs with punctilious politeness. After his next absence he came half-way up the stairs to make an announcement.
"The Boy-scouts mistook my signal, and have killed the postman. I've had very little practice in this sort of thing, you see. Another time I shall do better."
The housemaid, who was engaged to be married to the evening postman, gave way to clamorous grief.
"Remember that your mistress has a headache," said J. P. Huddle. (Miss Huddle's headache was worse.)
Clovis hastened downstairs, and after a short visit to the library returned with another message:
"The Bishop is sorry to hear that Miss Huddle has a headache. He is issuing orders that as far as possible no firearms shall be used near the house; any killing that is necessary on the premises will be done with cold steel. The Bishop does not see why a man should not be a gentleman as well as a Christian."
That was the last they saw of Clovis; it was nearly seven o'clock, and his elderly relative liked him to dress for dinner. But, though he had left them for ever, the lurking suggestion of his presence haunted the lower regions of the house during the long hours of the wakeful night, and every creak of the stairway, every rustle of wind through the shrubbery, was fraught with horrible meaning. At about seven next morning the gardener's boy and the early postman finally convinced the watchers that the Twentieth Century was still unblotted.
"I don't suppose," mused Clovis, as an early train bore him townwards, "that they will be in the least grateful for the Unrest-cure."
The Unrest-Cure
From 'The Chronicles of Clovis'
by Saki (H. H. Munro)
(1870 – 1916)
• fleursdumal.nl magazine
More in: Archive S-T, Saki, Saki, The Art of Reading
---
The Match-Maker
The grill-room clock struck eleven with the respectful unobtrusiveness of one whose mission in life is to be ignored. When the flight of time should really have rendered abstinence and migration imperative the lighting apparatus would signal the fact in the usual way.
Six minutes later Clovis approached the supper-table, in the blessed expectancy of one who has dined sketchily and long ago.
"I'm starving," he announced, making an effort to sit down gracefully and read the menu at the same time.
"So I gathered;" said his host, "from the fact that you were nearly punctual. I ought to have told you that I'm a Food Reformer. I've ordered two bowls of bread-and-milk and some health biscuits. I hope you don't mind."
Clovis pretended afterwards that he didn't go white above the collar-line for the fraction of a second.
"All the same," he said, "you ought not to joke about such things. There really are such people. I've known people who've met them. To think of all the adorable things there are to eat in the world, and then to go through life munching sawdust and being proud of it."
"They're like the Flagellants of the Middle Ages, who went about mortifying themselves."
"They had some excuse," said Clovis. "They did it to save their immortal souls, didn't they? You needn't tell me that a man who doesn't love oysters and asparagus and good wines has got a soul, or a stomach either. He's simply got the instinct for being unhappy highly developed."
Clovis relapsed for a few golden moments into tender intimacies with a succession of rapidly disappearing oysters.
"I think oysters are more beautiful than any religion," he resumed presently. "They not only forgive our unkindness to them; they justify it, they incite us to go on being perfectly horrid to them. Once they arrive at the supper-table they seem to enter thoroughly into the spirit of the thing. There's nothing in Christianity or Buddhism that quite matches the sympathetic unselfishness of an oyster. Do you like my new waistcoat? I'm wearing it for the first time to-night."
"It looks like a great many others you've had lately, only worse. New dinner waistcoats are becoming a habit with you."
"They say one always pays for the excesses of one's youth; mercifully that isn't true about one's clothes. My mother is thinking of getting married."
"Again!"
"It's the first time."
"Of course, you ought to know. I was under the impression that she'd been married once or twice at least."
"Three times, to be mathematically exact. I meant that it was the first time she'd thought about getting married; the other times she did it without thinking. As a matter of fact, it's really I who am doing the thinking for her in this case. You see, it's quite two years since her last husband died."
"You evidently think that brevity is the soul of widowhood."
"Well, it struck me that she was getting moped, and beginning to settle down, which wouldn't suit her a bit. The first symptom that I noticed was when she began to complain that we were living beyond our income. All decent people live beyond their incomes nowadays, and those who aren't respectable live beyond other peoples. A few gifted individuals manage to do both."
"It's hardly so much a gift as an industry."
"The crisis came," returned Clovis, "when she suddenly started the theory that late hours were bad for one, and wanted me to be in by one o'clock every night. Imagine that sort of thing for me, who was eighteen on my last birthday."
"On your last two birthdays, to be mathematically exact."
"Oh, well, that's not my fault. I'm not going to arrive at nineteen as long as my mother remains at thirty-seven. One must have some regard for appearances."
"Perhaps your mother would age a little in the process of settling down."
"That's the last thing she'd think of. Feminine reformations always start in on the failings of other people. That's why I was so keen on the husband idea."
"Did you go as far as to select the gentleman, or did you merely throw out a general idea, and trust to the force of suggestion?"
"If one wants a thing done in a hurry one must see to it oneself. I found a military Johnny hanging round on a loose end at the club, and took him home to lunch once or twice. He'd spent most of his life on the Indian frontier, building roads, and relieving famines and minimizing earthquakes, and all that sort of thing that one does do on frontiers. He could talk sense to a peevish cobra in fifteen native languages, and probably knew what to do if you found a rogue elephant on your croquet-lawn; but he was shy and diffident with women. I told my mother privately that he was an absolute woman-hater; so, of course, she laid herself out to flirt all she knew, which isn't a little."
"And was the gentleman responsive?"
"I hear he told some one at the club that he was looking out for a Colonial job, with plenty of hard work, for a young friend of his, so I gather that he has some idea of marrying into the family."
"You seem destined to be the victim of the reformation, after all."
Clovis wiped the trace of Turkish coffee and the beginnings of a smile from his lips, and slowly lowered his dexter eyelid. Which, being interpreted, probably meant, "I DON'T think!"
The Match-Maker
From 'The Chronicles of Clovis'
by Saki (H. H. Munro)
(1870 – 1916)
fleursdumal.nl magazine
More in: Archive S-T, Saki, Saki, The Art of Reading
---
The Blind Spot
"You've just come back from Adelaide's funeral, haven't you?" said Sir Lulworth to his nephew; "I suppose it was very like most other funerals?"
"I'll tell you all about it at lunch," said Egbert.
"You'll do nothing of the sort. It wouldn't be respectful either to your great-aunt's memory or to the lunch. We begin with Spanish olives, then a borshch, then more olives and a bird of some kind, and a rather enticing Rhenish wine, not at all expensive as wines go in this country, but still quite laudable in its way. Now there's absolutely nothing in that menu that harmonises in the least with the subject of your great-aunt Adelaide or her funeral. She was a charming woman, and quite as intelligent as she had any need to be, but somehow she always reminded me of an English cook's idea of a Madras curry."
"She used to say you were frivolous," said Egbert. Something in his tone suggested that he rather endorsed the verdict.
"I believe I once considerably scandalised her by declaring that clear soup was a more important factor in life than a clear conscience. She had very little sense of proportion. By the way, she made you her principal heir, didn't she?"
"Yes," said Egbert, "and executor as well. It's in that connection that I particularly want to speak to you."
"Business is not my strong point at any time," said Sir Lulworth, "and certainly not when we're on the immediate threshold of lunch."
"It isn't exactly business," explained Egbert, as he followed his uncle into the dining-room.
"It's something rather serious. Very serious."
"Then we can't possibly speak about it now," said Sir Lulworth; "no one could talk seriously during a borshch. A beautifully constructed borshch, such as you are going to experience presently, ought not only to banish conversation but almost to annihilate thought. Later on, when we arrive at the second stage of olives, I shall be quite ready to discuss that new book on Borrow, or, if you prefer it, the present situation in the Grand Duchy of Luxemburg. But I absolutely decline to talk anything approaching business till we have finished with the bird."
For the greater part of the meal Egbert sat in an abstracted silence, the silence of a man whose mind is focussed on one topic. When the coffee stage had been reached he launched himself suddenly athwart his uncle's reminiscences of the Court of Luxemburg.
"I think I told you that great-aunt Adelaide had made me her executor. There wasn't very much to be done in the way of legal matters, but I had to go through her papers."
"That would be a fairly heavy task in itself. I should imagine there were reams of family letters."
"Stacks of them, and most of them highly uninteresting. There was one packet, however, which I thought might repay a careful perusal. It was a bundle of correspondence from her brother Peter."
"The Canon of tragic memory," said Lulworth.
"Exactly, of tragic memory, as you say; a tragedy that has never been fathomed."
"Probably the simplest explanation was the correct one," said Sir Lulworth; "he slipped on the stone staircase and fractured his skull in falling."
Egbert shook his head. "The medical evidence all went to prove that the blow on the head was struck by some one coming up behind him. A wound caused by violent contact with the steps could not possibly have been inflicted at that angle of the skull. They experimented with a dummy figure falling in every conceivable position."
"But the motive?" exclaimed Sir Lulworth; "no one had any interest in doing away with him, and the number of people who destroy Canons of the Established Church for the mere fun of killing must be extremely limited. Of course there are individuals of weak mental balance who do that sort of thing, but they seldom conceal their handiwork; they are more generally inclined to parade it."
"His cook was under suspicion," said Egbert shortly.
"I know he was," said Sir Lulworth, "simply because he was about the only person on the premises at the time of the tragedy. But could anything be sillier than trying to fasten a charge of murder on to Sebastien? He had nothing to gain, in fact, a good deal to lose, from the death of his employer. The Canon was paying him quite as good wages as I was able to offer him when I took him over into my service. I have since raised them to something a little more in accordance with his real worth, but at the time he was glad to find a new place without troubling about an increase of wages. People were fighting rather shy of him, and he had no friends in this country. No; if anyone in the world was interested in the prolonged life and unimpaired digestion of the Canon it would certainly be Sebastien."
"People don't always weigh the consequences of their rash acts," said Egbert, "otherwise there would be very few murders committed. Sebastien is a man of hot temper."
"He is a southerner," admitted Sir Lulworth; "to be geographically exact I believe he hails from the French slopes of the Pyrenees. I took that into consideration when he nearly killed the gardener's boy the other day for bringing him a spurious substitute for sorrel. One must always make allowances for origin and locality and early environment; 'Tell me your longitude and I'll know what latitude to allow you,' is my motto."
"There, you see," said Egbert, "he nearly killed the gardener's boy."
"My dear Egbert, between nearly killing a gardener's boy and altogether killing a Canon there is a wide difference. No doubt you have often felt a temporary desire to kill a gardener's boy; you have never given way to it, and I respect you for your self-control. But I don't suppose you have ever wanted to kill an octogenarian Canon. Besides, as far as we know, there had never been any quarrel or disagreement between the two men. The evidence at the inquest brought that out very clearly."
"Ah!" said Egbert, with the air of a man coming at last into a deferred inheritance of conversational importance, "that is precisely what I want to speak to you about."
He pushed away his coffee cup and drew a pocket-book from his inner breast-pocket. From the depths of the pocket-book he produced an envelope, and from the envelope he extracted a letter, closely written in a small, neat handwriting.
"One of the Canon's numerous letters to Aunt Adelaide," he explained, "written a few days before his death. Her memory was already failing when she received it, and I daresay she forgot the contents as soon as she had read it; otherwise, in the light of what subsequently happened, we should have heard something of this letter before now. If it had been produced at the inquest I fancy it would have made some difference in the course of affairs. The evidence, as you remarked just now, choked off suspicion against Sebastien by disclosing an utter absence of anything that could be considered a motive or provocation for the crime, if crime there was."
"Oh, read the letter," said Sir Lulworth impatiently.
"It's a long rambling affair, like most of his letters in his later years," said Egbert. "I'll read the part that bears immediately on the mystery.
"'I very much fear I shall have to get rid of Sebastien. He cooks divinely, but he has the temper of a fiend or an anthropoid ape, and I am really in bodily fear of him. We had a dispute the other day as to the correct sort of lunch to be served on Ash Wednesday, and I got so irritated and annoyed at his conceit and obstinacy that at last I threw a cupful of coffee in his face and called him at the same time an impudent jackanapes. Very little of the coffee went actually in his face, but I have never seen a human being show such deplorable lack of self-control. I laughed at the threat of killing me that he spluttered out in his rage, and thought the whole thing would blow over, but I have several times since caught him scowling and muttering in a highly unpleasant fashion, and lately I have fancied that he was dogging my footsteps about the grounds, particularly when I walk of an evening in the Italian Garden.'
"It was on the steps in the Italian Garden that the body was found," commented Egbert, and resumed reading.
"'I daresay the danger is imaginary; but I shall feel more at ease when he has quitted my service.'"
Egbert paused for a moment at the conclusion of the extract; then, as his uncle made no remark, he added: "If lack of motive was the only factor that saved Sebastien from prosecution I fancy this letter will put a different complexion on matters."
"Have you shown it to anyone else?" asked Sir Lulworth, reaching out his hand for the incriminating piece of paper.
"No," said Egbert, handing it across the table, "I thought I would tell you about it first. Heavens, what are you doing?"
Egbert's voice rose almost to a scream. Sir Lulworth had flung the paper well and truly into the glowing centre of the grate. The small, neat handwriting shrivelled into black flaky nothingness.
"What on earth did you do that for?" gasped Egbert. "That letter was our one piece of evidence to connect Sebastien with the crime."
"That is why I destroyed it," said Sir Lulworth.
"But why should you want to shield him?" cried Egbert; "the man is a common murderer."
"A common murderer, possibly, but a very uncommon cook."
The Blind Spot
From 'Beasts and Super-Beasts'
by Saki (H. H. Munro)
(1870 – 1916)
• fleursdumal.nl magazine
More in: Archive S-T, Saki, Saki, The Art of Reading
---
The Romancers
It was autumn in London, that blessed season between the harshness of winter and the insincerities of summer; a trustful season when one buys bulbs and sees to the registration of one's vote, believing perpetually in spring and a change of Government.
Morton Crosby sat on a bench in a secluded corner of Hyde Park, lazily enjoying a cigarette and watching the slow grazing promenade of a pair of snow-geese, the male looking rather like an albino edition of the russet-hued female. Out of the corner of his eye Crosby also noted with some interest the hesitating hoverings of a human figure, which had passed and repassed his seat two or three times at shortening intervals, like a wary crow about to alight near some possibly edible morsel. Inevitably the figure came to an anchorage on the bench, within easy talking distance of its original occupant. The uncared-for clothes, the aggressive, grizzled beard, and the furtive, evasive eye of the new-comer bespoke the professional cadger, the man who would undergo hours of humiliating tale-spinning and rebuff rather than adventure on half a day's decent work.
For a while the new-comer fixed his eyes straight in front of him in a strenuous, unseeing gaze; then his voice broke out with the insinuating inflection of one who has a story to retail well worth any loiterer's while to listen to.
"It's a strange world," he said.
As the statement met with no response he altered it to the form of a question.
"I daresay you've found it to be a strange world, mister?"
"As far as I am concerned," said Crosby, "the strangeness has worn off in the course of thirty-six years."
"Ah," said the greybeard, "I could tell you things that you'd hardly believe. Marvellous things that have really happened to me."
"Nowadays there is no demand for marvellous things that have really happened," said Crosby discouragingly; "the professional writers of fiction turn these things out so much better. For instance, my neighbours tell me wonderful, incredible things that their Aberdeens and chows and borzois have done; I never listen to them. On the other hand, I have read 'The Hound of the Baskervilles' three times."
The greybeard moved uneasily in his seat; then he opened up new country.
"I take it that you are a professing Christian," he observed.
"I am a prominent and I think I may say an influential member of the Mussulman community of Eastern Persia," said Crosby, making an excursion himself into the realms of fiction.
The greybeard was obviously disconcerted at this new check to introductory conversation, but the defeat was only momentary.
"Persia. I should never have taken you for a Persian," he remarked, with a somewhat aggrieved air.
"I am not," said Crosby; "my father was an Afghan."
"An Afghan!" said the other, smitten into bewildered silence for a moment. Then he recovered himself and renewed his attack.
"Afghanistan. Ah! We've had some wars with that country; now, I daresay, instead of fighting it we might have learned something from it. A very wealthy country, I believe. No real poverty there."
He raised his voice on the word "poverty" with a suggestion of intense feeling. Crosby saw the opening and avoided it.
"It possesses, nevertheless, a number of highly talented and ingenious beggars," he said; "if I had not spoken so disparagingly of marvellous things that have really happened I would tell you the story of Ibrahim and the eleven camel-loads of blotting-paper. Also I have forgotten exactly how it ended."
"My own life-story is a curious one," said the stranger, apparently stifling all desire to hear the history of Ibrahim; "I was not always as you see me now."
"We are supposed to undergo complete change in the course of every seven years," said Crosby, as an explanation of the foregoing announcement.
"I mean I was not always in such distressing circumstances as I am at present," pursued the stranger doggedly.
"That sounds rather rude," said Crosby stiffly, "considering that you are at present talking to a man reputed to be one of the most gifted conversationalists of the Afghan border."
"I don't mean in that way," said the greybeard hastily; "I've been very much interested in your conversation. I was alluding to my unfortunate financial situation. You mayn't hardly believe it, but at the present moment I am absolutely without a farthing. Don't see any prospect of getting any money, either, for the next few days. I don't suppose you've ever found yourself in such a position," he added.
"In the town of Yom," said Crosby, "which is in Southern Afghanistan, and which also happens to be my birthplace, there was a Chinese philosopher who used to say that one of the three chiefest human blessings was to be absolutely without money. I forget what the other two were."
"Ah, I daresay," said the stranger, in a tone that betrayed no enthusiasm for the philosopher's memory; "and did he practise what he preached? That's the test."
"He lived happily with very little money or resources," said Crosby.
"Then I expect he had friends who would help him liberally whenever he was in difficulties, such as I am in at present."
"In Yom," said Crosby, "it is not necessary to have friends in order to obtain help. Any citizen of Yom would help a stranger as a matter of course."
The greybeard was now genuinely interested.
The conversation had at last taken a favourable turn.
"If someone, like me, for instance, who was in undeserved difficulties, asked a citizen of that town you speak of for a small loan to tide over a few days' impecuniosity — five shillings, or perhaps a rather larger sum — would it be given to him as a matter of course?"
"There would be a certain preliminary," said Crosby; "one would take him to a wine-shop and treat him to a measure of wine, and then, after a little high-flown conversation, one would put the desired sum in his hand and wish him good-day. It is a roundabout way of performing a simple transaction, but in the East all ways are roundabout."
The listener's eyes were glittering.
"Ah," he exclaimed, with a thin sneer ringing meaningly through his words, "I suppose you've given up all those generous customs since you left your town. Don't practise them now, I expect."
"No one who has lived in Yom," said Crosby fervently, "and remembers its green hills covered with apricot and almond trees, and the cold water that rushes down like a caress from the upland snows and dashes under the little wooden bridges, no one who remembers these things and treasures the memory of them would ever give up a single one of its unwritten laws and customs. To me they are as binding as though I still lived in that hallowed home of my youth."
"Then if I was to ask you for a small loan —" began the greybeard fawningly, edging nearer on the seat and hurriedly wondering how large he might safely make his request, "if I was to ask you for, say —"
"At any other time, certainly," said Crosby; "in the months of November and December, however, it is absolutely forbidden for anyone of our race to give or receive loans or gifts; in fact, one does not willingly speak of them. It is considered unlucky. We will therefore close this discussion."
"But it is still October!" exclaimed the adventurer with an eager, angry whine, as Crosby rose from his seat; "wants eight days to the end of the month!"
"The Afghan November began yesterday," said Crosby severely, and in another moment he was striding across the Park, leaving his recent companion scowling and muttering furiously on the seat.
"I don't believe a word of his story," he chattered to himself; "pack of nasty lies from beginning to end. Wish I'd told him so to his face. Calling himself an Afghan!"
The snorts and snarls that escaped from him for the next quarter of an hour went far to support the truth of the old saying that two of a trade never agree.
The Romancers
From 'Beasts and Super-Beasts'
by Saki (H. H. Munro)
(1870 – 1916)
fleursdumal.nl magazine
More in: Archive S-T, Saki, Saki, The Art of Reading
---
Dusk
Norman Gortsby sat on a bench in the Park, with his back to a strip of bush-planted sward, fenced by the park railings, and the Row fronting him across a wide stretch of carriage drive. Hyde Park Corner, with its rattle and hoot of traffic, lay immediately to his right. It was some thirty minutes past six on an early March evening, and dusk had fallen heavily over the scene, dusk mitigated by some faint moonlight and many street lamps. There was a wide emptiness over road and sidewalk, and yet there were many unconsidered figures moving silently through the half-light, or dotted unobtrusively on bench and chair, scarcely to be distinguished from the shadowed gloom in which they sat.
The scene pleased Gortsby and harmonised with his present mood. Dusk, to his mind, was the hour of the defeated. Men and women, who had fought and lost, who hid their fallen fortunes and dead hopes as far as possible from the scrutiny of the curious, came forth in this hour of gloaming, when their shabby clothes and bowed shoulders and unhappy eyes might pass unnoticed, or, at any rate, unrecognised.
A king that is conquered must see strange looks, So bitter a thing is the heart of man.
The wanderers in the dusk did not choose to have strange looks fasten on them, therefore they came out in this bat-fashion, taking their pleasure sadly in a pleasure-ground that had emptied of its rightful occupants. Beyond the sheltering screen of bushes and palings came a realm of brilliant lights and noisy, rushing traffic. A blazing, many-tiered stretch of windows shone through the dusk and almost dispersed it, marking the haunts of those other people, who held their own in life's struggle, or at any rate had not had to admit failure. So Gortsby's imagination pictured things as he sat on his bench in the almost deserted walk. He was in the mood to count himself among the defeated. Money troubles did not press on him; had he so wished he could have strolled into the thoroughfares of light and noise, and taken his place among the jostling ranks of those who enjoyed prosperity or struggled for it. He had failed in a more subtle ambition, and for the moment he was heartsore and disillusionised, and not disinclined to take a certain cynical pleasure in observing and labelling his fellow wanderers as they went their ways in the dark stretches between the lamp-lights.
On the bench by his side sat an elderly gentleman with a drooping air of defiance that was probably the remaining vestige of self-respect in an individual who had ceased to defy successfully anybody or anything. His clothes could scarcely be called shabby, at least they passed muster in the half-light, but one's imagination could not have pictured the wearer embarking on the purchase of a half-crown box of chocolates or laying out ninepence on a carnation buttonhole. He belonged unmistakably to that forlorn orchestra to whose piping no one dances; he was one of the world's lamenters who induce no responsive weeping. As he rose to go Gortsby imagined him returning to a home circle where he was snubbed and of no account, or to some bleak lodging where his ability to pay a weekly bill was the beginning and end of the interest he inspired. His retreating figure vanished slowly into the shadows, and his place on the bench was taken almost immediately by a young man, fairly well dressed but scarcely more cheerful of mien than his predecessor. As if to emphasise the fact that the world went badly with him the new-corner unburdened himself of an angry and very audible expletive as he flung himself into the seat.
"You don't seem in a very good temper," said Gortsby, judging that he was expected to take due notice of the demonstration.
The young man turned to him with a look of disarming frankness which put him instantly on his guard.
"You wouldn't be in a good temper if you were in the fix I'm in," he said; "I've done the silliest thing I've ever done in my life."
"Yes?" said Gortsby dispassionately.
"Came up this afternoon, meaning to stay at the Patagonian Hotel in Berkshire Square," continued the young man; "when I got there I found it had been pulled down some weeks ago and a cinema theatre run up on the site. The taxi driver recommended me to another hotel some way off and I went there. I just sent a letter to my people, giving them the address, and then I went out to buy some soap — I'd forgotten to pack any and I hate using hotel soap. Then I strolled about a bit, had a drink at a bar and looked at the shops, and when I came to turn my steps back to the hotel I suddenly realised that I didn't remember its name or even what street it was in. There's a nice predicament for a fellow who hasn't any friends or connections in London! Of course I can wire to my people for the address, but they won't have got my letter till tomorrow; meantime I'm without any money, came out with about a shilling on me, which went in buying the soap and getting the drink, and here I am, wandering about with twopence in my pocket and nowhere to go for the night."
There was an eloquent pause after the story had been told. "I suppose you think I've spun you rather an impossible yarn," said the young man presently, with a suggestion of resentment in his voice.
"Not at all impossible," said Gortsby judicially; "I remember doing exactly the same thing once in a foreign capital, and on that occasion there were two of us, which made it more remarkable. Luckily we remembered that the hotel was on a sort of canal, and when we struck the canal we were able to find our way back to the hotel."
The youth brightened at the reminiscence. "In a foreign city I wouldn't mind so much," he said; "one could go to one's Consul and get the requisite help from him. Here in one's own land one is far more derelict if one gets into a fix. Unless I can find some decent chap to swallow my story and lend me some money I seem likely to spend the night on the Embankment. I'm glad, anyhow, that you don't think the story outrageously improbable."
He threw a good deal of warmth into the last remark, as though perhaps to indicate his hope that Gortsby did not fall far short of the requisite decency.
"Of course," said Gortsby slowly, "the weak point of your story is that you can't produce the soap."
The young man sat forward hurriedly, felt rapidly in the pockets of his overcoat, and then jumped to his feet.
"I must have lost it," he muttered angrily.
"To lose an hotel and a cake of soap on one afternoon suggests wilful carelessness," said Gortsby, but the young man scarcely waited to hear the end of the remark. He flitted away down the path, his head held high, with an air of somewhat jaded jauntiness.
"It was a pity," mused Gortsby; "the going out to get one's own soap was the one convincing touch in the whole story, and yet it was just that little detail that brought him to grief. If he had had the brilliant forethought to provide himself with a cake of soap, wrapped and sealed with all the solicitude of the chemist's counter, he would have been a genius in his particular line. In his particular line genius certainly consists of an infinite capacity for taking precautions."
With that reflection Gortsby rose to go; as he did so an exclamation of concern escaped him. Lying on the ground by the side of the bench was a small oval packet, wrapped and sealed with the solicitude of a chemist's counter. It could be nothing else but a cake of soap, and it had evidently fallen out of the youth's overcoat pocket when he flung himself down on the seat. In another moment Gortsby was scudding along the dusk-shrouded path in anxious quest for a youthful figure in a light overcoat. He had nearly given up the search when he caught sight of the object of his pursuit standing irresolutely on the border of the carriage drive, evidently uncertain whether to strike across the Park or make for the bustling pavements of Knightsbridge. He turned round sharply with an air of defensive hostility when he found Gortsby hailing him.
"The important witness to the genuineness of your story has turned up," said Gortsby, holding out the cake of soap; "it must have slid out of your overcoat pocket when you sat down on the seat. I saw it on the ground after you left. You must excuse my disbelief, but appearances were really rather against you, and now, as I appealed to the testimony of the soap I think I ought to abide by its verdict. If the loan of a sovereign is any good to you —"
The young man hastily removed all doubt on the subject by pocketing the coin.
"Here is my card with my address," continued Gortsby; "any day this week will do for returning the money, and here is the soap — don't lose it again it's been a good friend to you."
"Lucky thing your finding it," said the youth, and then, with a catch in his voice, he blurted out a word or two of thanks and fled headlong in the direction of Knightsbridge.
"Poor boy, he as nearly as possible broke down," said Gortsby to himself. "I don't wonder either; the relief from his quandary must have been acute. It's a lesson to me not to be too clever in judging by circumstances."
As Gortsby retraced his steps past the seat where the little drama had taken place he saw an elderly gentleman poking and peering beneath it and on all sides of it, and recognised his earlier fellow occupant.
"Have you lost anything, sir?" he asked.
"Yes, sir, a cake of soap."
Dusk
From 'Beasts and Super-Beasts'
by Saki (H. H. Munro)
(1870 – 1916)
fleursdumal.nl magazine
More in: Archive S-T, Saki, Saki, The Art of Reading
---
Laura
"You are not really dying, are you?" asked Amanda.
"I have the doctor's permission to live till Tuesday," said Laura.
"But today is Saturday; this is serious!" gasped Amanda.
"I don't know about it being serious; it is certainly Saturday," said Laura.
"Death is always serious," said Amanda.
"I never said I was going to die. I am presumably going to leave off being Laura, but I shall go on being something. An animal of some kind, I suppose. You see, when one hasn't been very good in the life one has just lived, one reincarnates in some lower organism. And I haven't been very good, when one comes to think of it. I've been petty and mean and vindictive and all that sort of thing when circumstances have seemed to warrant it."
"Circumstances never warrant that sort of thing," said Amanda hastily.
"If you don't mind my saying so," observed Laura, "Egbert is a circumstance that would warrant any amount of that sort of thing. You're married to him — that's different; you've sworn to love, honour, and endure him: I haven't."
"I don't see what's wrong with Egbert," protested Amanda.
"Oh, I daresay the wrongness has been on my part," admitted Laura dispassionately; "he has merely been the extenuating circumstance. He made a thin, peevish kind of fuss, for instance, when I took the collie puppies from the farm out for a run the other day."
"They chased his young broods of speckled Sussex and drove two sitting hens off their nests, besides running all over the flower beds. You know how devoted he is to his poultry and garden."
"Anyhow, he needn't have gone on about it for the entire evening and then have said, 'Let's say no more about it' just when I was beginning to enjoy the discussion. That's where one of my petty vindictive revenges came in," added Laura with an unrepentant chuckle; "I turned the entire family of speckled Sussex into his seedling shed the day after the puppy episode."
"How could you?" exclaimed Amanda.
"It came quite easy," said Laura; "two of the hens pretended to be laying at the time, but I was firm."
"And we thought it was an accident!"
"You see," resumed Laura, "I really have some grounds for supposing that my next incarnation will be in a lower organism. I shall be an animal of some kind. On the other hand, I haven't been a bad sort in my way, so I think I may count on being a nice animal, something elegant and lively, with a love of fun. An otter, perhaps."
"I can't imagine you as an otter," said Amanda.
"Well, I don't suppose you can imagine me as an angel, if it comes to that," said Laura.
Amanda was silent. She couldn't.
"Personally I think an otter life would be rather enjoyable," continued Laura; "salmon to eat all the year round, and the satisfaction of being able to fetch the trout in their own homes without having to wait for hours till they condescend to rise to the fly you've been dangling before them; and an elegant svelte figure —"
"Think of the otter hounds," interposed Amanda; "how dreadful to be hunted and harried and finally worried to death!"
"Rather fun with half the neighbourhood looking on, and anyhow not worse than this Saturday-to-Tuesday business of dying by inches; and then I should go on into something else. If I had been a moderately good otter I suppose I should get back into human shape of some sort; probably something rather primitive — a little brown, unclothed Nubian boy, I should think."
"I wish you would be serious," sighed Amanda; "you really ought to be if you're only going to live till Tuesday."
As a matter of fact Laura died on Monday.
"So dreadfully upsetting," Amanda complained to her uncle-inlaw, Sir Lulworth Quayne. "I've asked quite a lot of people down for golf and fishing, and the rhododendrons are just looking their best."
"Laura always was inconsiderate," said Sir Lulworth; "she was born during Goodwood week, with an Ambassador staying in the house who hated babies."
"She had the maddest kind of ideas," said Amanda; "do you know if there was any insanity in her family?"
"Insanity? No, I never heard of any. Her father lives in West Kensington, but I believe he's sane on all other subjects."
"She had an idea that she was going to be reincarnated as an otter," said Amanda.
"One meets with those ideas of reincarnation so frequently, even in the West," said Sir Lulworth, "that one can hardly set them down as being mad. And Laura was such an unaccountable person in this life that I should not like to lay down definite rules as to what she might be doing in an after state."
"You think she really might have passed into some animal form?" asked Amanda. She was one of those who shape their opinions rather readily from the standpoint of those around them.
Just then Egbert entered the breakfast-room, wearing an air of bereavement that Laura's demise would have been insufficient, in itself, to account for.
"Four of my speckled Sussex have been killed," he exclaimed; "the very four that were to go to the show on Friday. One of them was dragged away and eaten right in the middle of that new carnation bed that I've been to such trouble and expense over. My best flower bed and my best fowls singled out for destruction; it almost seems as if the brute that did the deed had special knowledge how to be as devastating as possible in a short space of time."
"Was it a fox, do you think?" asked Amanda.
"Sounds more like a polecat," said Sir Lulworth.
"No," said Egbert, "there were marks of webbed feet all over the place, and we followed the tracks down to the stream at the bottom of the garden; evidently an otter."
Amanda looked quickly and furtively across at Sir Lulworth.
Egbert was too agitated to eat any breakfast, and went out to superintend the strengthening of the poultry yard defences.
"I think she might at least have waited till the funeral was over," said Amanda in a scandalised voice.
"It's her own funeral, you know," said Sir Lulworth; "it's a nice point in etiquette how far one ought to show respect to one's own mortal remains."
Disregard for mortuary convention was carried to further lengths next day; during the absence of the family at the funeral ceremony the remaining survivors of the speckled Sussex were massacred. The marauder's line of retreat seemed to have embraced most of the flower beds on the lawn, but the strawberry beds in the lower garden had also suffered.
"I shall get the otter hounds to come here at the earliest possible moment," said Egbert savagely.
"On no account! You can't dream of such a thing!" exclaimed Amanda. "I mean, it wouldn't do, so soon after a funeral in the house."
"It's a case of necessity," said Egbert; "once an otter takes to that sort of thing it won't stop."
"Perhaps it will go elsewhere now there are no more fowls left," suggested Amanda.
"One would think you wanted to shield the beast," said Egbert.
"There's been so little water in the stream lately," objected Amanda; "it seems hardly sporting to hunt an animal when it has so little chance of taking refuge anywhere."
"Good gracious!" fumed Egbert, "I'm not thinking about sport. I want to have the animal killed as soon as possible."
Even Amanda's opposition weakened when, during church time on the following Sunday, the otter made its way into the house, raided half a salmon from the larder and worried it into scaly fragments on the Persian rug in Egbert's studio.
"We shall have it hiding under our beds and biting pieces out of our feet before long," said Egbert, and from what Amanda knew of this particular otter she felt that the possibility was not a remote one.
On the evening preceding the day fixed for the hunt Amanda spent a solitary hour walking by the banks of the stream, making what she imagined to be hound noises. It was charitably supposed by those who overheard her performance, that she was practising for farmyard imitations at the forth-coming village entertainment.
It was her friend and neighbour, Aurora Burret, who brought her news of the day's sport.
"Pity you weren't out; we had quite a good day. We found at once, in the pool just below your garden."
"Did you — kill?" asked Amanda.
"Rather. A fine she-otter. Your husband got rather badly bitten in trying to 'tail it.' Poor beast, I felt quite sorry for it, it had such a human look in its eyes when it was killed. You'll call me silly, but do you know who the look reminded me of? My dear woman, what is the matter?"
When Amanda had recovered to a certain extent from her attack of nervous prostration Egbert took her to the Nile Valley to recuperate. Change of scene speedily brought about the desired recovery of health and mental balance. The escapades of an adventurous otter in search of a variation of diet were viewed in their proper light. Amanda's normally placid temperament reasserted itself. Even a hurricane of shouted curses, coming from her husband's dressing-room, in her husband's voice, but hardly in his usual vocabulary, failed to disturb her serenity as she made a leisurely toilet one evening in a Cairo hotel.
"What is the matter? What has happened?" she asked in amused curiosity.
"The little beast has thrown all my clean shirts into the bath! Wait till I catch you, you little —"
"What little beast?" asked Amanda, suppressing a desire to laugh; Egbert's language was so hopelessly inadequate to express his outraged feelings.
"A little beast of a naked brown Nubian boy," spluttered Egbert.
And now Amanda is seriously ill.
Laura
From 'Beasts and Super-Beasts'
by Saki (H. H. Munro)
(1870 – 1916)
fleursdumal.nl magazine
More in: Archive S-T, Saki, Saki, The Art of Reading
---
The Music on the Hill
Sylvia Seltoun ate her breakfast in the morning-room at Yessney with a pleasant sense of ultimate victory, such as a fervent Ironside might have permitted himself on the morrow of Worcester fight. She was scarcely pugnacious by temperament, but belonged to that more successful class of fighters who are pugnacious by circumstance.

Fate had willed that her life should be occupied with a series of small struggles, usually with the odds slightly against her, and usually she had just managed to come through winning. And now she felt that she had brought her hardest and certainly her most important struggle to a successful issue. To have married Mortimer Seltoun, "Dead Mortimer" as his more intimate enemies called him, in the teeth of the cold hostility of his family, and in spite of his unaffected indifference to women, was indeed an achievement that had needed some determination and adroitness to carry through; yesterday she had brought her victory to its concluding stage by wrenching her husband away from Town and its group of satellite watering-places and "settling him down," in the vocabulary of her kind, in this remote wood-girt manor farm which was his country house.
"You will never get Mortimer to go," his mother had said carpingly, "but if he once goes he'll stay; Yessney throws almost as much a spell over him as Town does. One can understand what holds him to Town, but Yessney —" and the dowager had shrugged her shoulders.
There was a sombre almost savage wildness about Yessney that was certainly not likely to appeal to town-bred tastes, and Sylvia, notwithstanding her name, was accustomed to nothing much more sylvan than "leafy Kensington." She looked on the country as something excellent and wholesome in its way, which was apt to become troublesome if you encouraged it overmuch. Distrust of town-life had been a new thing with her, born of her marriage with Mortimer, and she had watched with satisfaction the gradual fading of what she called "the Jermyn-street-look" in his eyes as the woods and heather of Yessney had closed in on them yesternight. Her will-power and strategy had prevailed; Mortimer would stay.
Outside the morning-room windows was a triangular slope of turf, which the indulgent might call a lawn, and beyond its low hedge of neglected fuchsia bushes a steeper slope of heather and bracken dropped down into cavernous combes overgrown with oak and yew. In its wild open savagery there seemed a stealthy linking of the joy of life with the terror of unseen things. Sylvia smiled complacently as she gazed with a School-of-Art appreciation at the landscape, and then of a sudden she almost shuddered.
"It is very wild," she said to Mortimer, who had joined her; "one could almost think that in such a place the worship of Pan had never quite died out."
"The worship of Pan never has died out," said Mortimer. "Other newer gods have drawn aside his votaries from time to time, but he is the Nature–God to whom all must come back at last. He has been called the Father of all the Gods, but most of his children have been stillborn."
Sylvia was religious in an honest vaguely devotional kind of way, and did not like to hear her beliefs spoken of as mere aftergrowths, but it was at least something new and hopeful to hear Dead Mortimer speak with such energy and conviction on any subject.
"You don't really believe in Pan?" she asked incredulously.
"I've been a fool in most things," said Mortimer quietly, "but I'm not such a fool as not to believe in Pan when I'm down here. And if you're wise you won't disbelieve in him too boastfully while you're in his country."
It was not till a week later, when Sylvia had exhausted the attractions of the woodland walks round Yessney, that she ventured on a tour of inspection of the farm buildings. A farmyard suggested in her mind a scene of cheerful bustle, with churns and flails and smiling dairymaids, and teams of horses drinking knee-deep in duck-crowded ponds. As she wandered among the gaunt grey buildings of Yessney manor farm her first impression was one of crushing stillness and desolation, as though she had happened on some lone deserted homestead long given over to owls and cobwebs; then came a sense of furtive watchful hostility, the same shadow of unseen things that seemed to lurk in the wooded combes and coppices. From behind heavy doors and shuttered windows came the restless stamp of hoof or rasp of chain halter, and at times a muffled bellow from some stalled beast. From a distant corner a shaggy dog watched her with intent unfriendly eyes; as she drew near it slipped quietly into its kennel, and slipped out again as noiselessly when she had passed by. A few hens, questing for food under a rick, stole away under a gate at her approach. Sylvia felt that if she had come across any human beings in this wilderness of barn and byre they would have fled wraith-like from her gaze. At last, turning a corner quickly, she came upon a living thing that did not fly from her. Astretch in a pool of mud was an enormous sow, gigantic beyond the town-woman's wildest computation of swine-flesh, and speedily alert to resent and if necessary repel the unwonted intrusion. It was Sylvia's turn to make an unobtrusive retreat. As she threaded her way past rickyards and cowsheds and long blank walls, she started suddenly at a strange sound — the echo of a boy's laughter, golden and equivocal. Jan, the only boy employed on the farm, a towheaded, wizen-faced yokel, was visibly at work on a potato clearing half-way up the nearest hill-side, and Mortimer, when questioned, knew of no other probable or possible begetter of the hidden mockery that had ambushed Sylvia's retreat. The memory of that untraceable echo was added to her other impressions of a furtive sinister "something" that hung around Yessney.
Of Mortimer she saw very little; farm and woods and trout-streams seemed to swallow him up from dawn till dusk. Once, following the direction she had seen him take in the morning, she came to an open space in a nut copse, further shut in by huge yew trees, in the centre of which stood a stone pedestal surmounted by a small bronze figure of a youthful Pan. It was a beautiful piece of workmanship, but her attention was chiefly held by the fact that a newly cut bunch of grapes had been placed as an offering at its feet. Grapes were none too plentiful at the manor house, and Sylvia snatched the bunch angrily from the pedestal. Contemptuous annoyance dominated her thoughts as she strolled slowly homeward, and then gave way to a sharp feeling of something that was very near fright; across a thick tangle of undergrowth a boy's face was scowling at her, brown and beautiful, with unutterably evil eyes. It was a lonely pathway, all pathways round Yessney were lonely for the matter of that, and she sped forward without waiting to give a closer scrutiny to this sudden apparition. It was not till she had reached the house that she discovered that she had dropped the bunch of grapes in her flight.
"I saw a youth in the wood today," she told Mortimer that evening, "brown-faced and rather handsome, but a scoundrel to look at. A gipsy lad, I suppose."
"A reasonable theory," said Mortimer, "only there aren't any gipsies in these parts at present."
"Then who was he?" asked Sylvia, and as Mortimer appeared to have no theory of his own, she passed on to recount her finding of the votive offering.
"I suppose it was your doing," she observed; "it's a harmless piece of lunacy, but people would think you dreadfully silly if they knew of it."
"Did you meddle with it in any way?" asked Mortimer.
"I— I threw the grapes away. It seemed so silly," said Sylvia, watching Mortimer's impassive face for a sign of annoyance.
"I don't think you were wise to do that," he said reflectively. "I've heard it said that the Wood Gods are rather horrible to those who molest them."
"Horrible perhaps to those that believe in them, but you see I don't," retorted Sylvia.
"All the same," said Mortimer in his even, dispassionate tone, "I should avoid the woods and orchards if I were you, and give a wide berth to the horned beasts on the farm."
It was all nonsense, of course, but in that lonely wood-girt spot nonsense seemed able to rear a bastard brood of uneasiness.
"Mortimer," said Sylvia suddenly, "I think we will go back to Town some time soon."
Her victory had not been so complete as she had supposed; it had carried her on to ground that she was already anxious to quit.
"I don't think you will ever go back to Town," said Mortimer. He seemed to be paraphrasing his mother's prediction as to himself.
Sylvia noted with dissatisfaction and some self-contempt that the course of her next afternoon's ramble took her instinctively clear of the network of woods. As to the horned cattle, Mortimer's warning was scarcely needed, for she had always regarded them as of doubtful neutrality at the best: her imagination unsexed the most matronly dairy cows and turned them into bulls liable to "see red" at any moment. The ram who fed in the narrow paddock below the orchards she had adjudged, after ample and cautious probation, to be of docile temper; today, however, she decided to leave his docility untested, for the usually tranquil beast was roaming with every sign of restlessness from corner to corner of his meadow. A low, fitful piping, as of some reedy flute, was coming from the depth of a neighbouring copse, and there seemed to be some subtle connection between the animal's restless pacing and the wild music from the wood. Sylvia turned her steps in an upward direction and climbed the heather-clad slopes that stretched in rolling shoulders high above Yessney. She had left the piping notes behind her, but across the wooded combes at her feet the wind brought her another kind of music, the straining bay of hounds in full chase. Yessney was just on the outskirts of the Devon-and-Somerset country, and the hunted deer sometimes came that way. Sylvia could presently see a dark body, breasting hill after hill, and sinking again and again out of sight as he crossed the combes, while behind him steadily swelled that relentless chorus, and she grew tense with the excited sympathy that one feels for any hunted thing in whose capture one is not directly interested. And at last he broke through the outermost line of oak scrub and fern and stood panting in the open, a fat September stag carrying a well-furnished head. His obvious course was to drop down to the brown pools of Undercombe, and thence make his way towards the red deer's favoured sanctuary, the sea. To Sylvia's surprise, however, he turned his head to the upland slope and came lumbering resolutely onward over the heather. "It will be dreadful," she thought, "the hounds will pull him down under my very eyes." But the music of the pack seemed to have died away for a moment, and in its place she heard again that wild piping, which rose now on this side, now on that, as though urging the failing stag to a final effort. Sylvia stood well aside from his path, half hidden in a thick growth of whortle bushes, and watched him swing stiffly upward, his flanks dark with sweat, the coarse hair on his neck showing light by contrast. The pipe music shrilled suddenly around her, seeming to come from the bushes at her very feet, and at the same moment the great beast slewed round and bore directly down upon her. In an instant her pity for the hunted animal was changed to wild terror at her own danger; the thick heather roots mocked her scrambling efforts at flight, and she looked frantically downward for a glimpse of oncoming hounds. The huge antler spikes were within a few yards of her, and in a flash of numbing fear she remembered Mortimer's warning, to beware of horned beasts on the farm. And then with a quick throb of joy she saw that she was not alone; a human figure stood a few paces aside, knee-deep in the whortle bushes.
"Drive it off!" she shrieked. But the figure made no answering movement.
The antlers drove straight at her breast, the acrid smell of the hunted animal was in her nostrils, but her eyes were filled with the horror of something she saw other than her oncoming death. And in her ears rang the echo of a boy's laughter, golden and equivocal.
The Music on the Hill
From 'The Chronicles of Clovis'
by Saki (H. H. Munro)
(1870 – 1916)
fleursdumal.nl magazine
More in: Archive S-T, Saki, Saki
---
Thank you for reading FLEURSDUMAL.NL - magazine for art & literature