Joni Mitchell
·
Arrangements in Blue by Amy Key
·
Morning Glory on the Vine. Early Songs and Drawings by Joni Mitchell
·
Joni Mitchell: New Critical Readings
·
Out now: Kerouac on Record. A Literary Soundtrack
·
Reckless Daughter. A Portrait of Joni Mitchell by David Yaffe
When poet Amy Key was growing up, she looked forward to a life shaped by romance, fuelled by desire, longing and the conventional markers of success that come when you share a life with another person.
But that didn't happen for her. Now in her forties, she sets out to explore the realities of a life lived in the absence of romantic love.
Using Joni Mitchell's seminal album Blue – an album that shaped Key's expectations of love – as her guide, she examines the unexpected life she has created for herself.
Building a home, travelling alone, choosing whether to be a mother, recognising her own milestones, learning the limits of self-care and the expansive potential of self-friendship, Key uncovers the many forms of connection and care that often go unnoticed.
With profound candour and intimacy, Arrangements in Blue explores the painful feelings we are usually too ashamed to discuss: loneliness, envy, grief and failure.
The result is a singular work – a beautifully-written and essential book about building a life on your own terms, which inspires us to live and love more honestly.
Arrangements in Blue
by Amy Key
Poetry
English
Vintage Publishing
(Ww Norton & Co)
6 April 2023
ISBN: 9781787333895
Hardback
224 pages
Price: 27,99 euro
•fleursdumal.nl magazine

More in: #Editors Choice Archiv, - Book News, - Bookstores, Archive K-L, Archive K-L, Joni Mitchell
---
Originally handcrafted in 1971 as a gift for friends, this edition of Joni Mitchell's best-loved poems, illustrations, watercolours and hand-lettered song lyrics is now publicly available for the first time. The perfect present for any Joni Mitchell fan.
Joni Mitchell is a Canadian singer-songwriter whose songs have helped define an era and a generation. She has received many accolades, including nine Grammy Awards, and has released 19 studio albums, including Blue in 1971. Mitchell, with roots in visual art, has designed most of her own album covers. Among her numerous honours, she was awarded a Grammy Lifetime Achievement Award in 2002 and was inducted into the Canadian Songwriters Hall of Fame in 2007.
The result was a handmade book, with only one hundred copies produced, filled with Joni's hand-written lyrics and reproductions of many of her stunning drawings — portraits, abstracts, random concertgoers, and more.
Each was given to a friend and, until now, the edition has remained private. Today, with Morning Glory on the Vine, Joni's long-ago personal Christmas present is a present to us all.
A gorgeous compendium of Joni Mitchell's handwritten lyrics and watercolor paintings, originally handcrafted as a gift for a select group of friends in 1971 and now available to the public for the first time.
In 1971, as her album Blue topped charts around the world, Joni Mitchell crafted one hundred copies of Morning Glory on the Vine as a holiday gift for her closest friends. For this stunningly beautiful book, Joni hand-wrote an exquisite selection of her own lyrics and poems and illustrated them with more than thirty of her original paintings and watercolors. Hand-crafted, signed, and numbered in Los Angeles, the existing copies of this labor of love have rarely been seen in the past half-century.
Now, as Joni celebrates her seventy-fifth birthday, Morning Glory on the Vine: Early Songs and Drawings is available widely for the first time. In this faithfully reproduced facsimile edition, Joni's best-loved lyrics and poems spill across the pages in her own elegant script. The lively, full-color watercolor paintings depict a superb array of landscapes, still-lifes, portraits of friends, self portraits, innovative abstractions, and more.
All the paintings from the original book are included, along with several additional works that Joni had intended to include for her friends in 1971. Finally, the refreshed volume features an original introduction written by Joni herself. Morning Glory on the Vine is a gorgeous and intimate keepsake and an invitation to explore anew the dazzling, visionary world of Joni Mitchell.
JONI MITCHELL is widely regarded as one of the greatest singer-songwriters of her generation. Her album Blue (1971) is often cited as one of the best albums of all time. Mitchell has won nine Grammys in various categories, including traditional pop, pop music and lifetime achievement. Born in Canada, she now lives in her longtime home of Los Angeles.
From the Publisher:
joni mitchell morning glory on the vine
"I sing my sorrow, and I paint my joy." – Joni Mitchell
In the early 1970s I used to carry a sketchbook around with me everywhere I went. I drew with colored pens. Once when I was sketching my audience in Central Park, they had to drag me onto the stage. After a while I had quite a collection of drawings. The drawings were becoming more important to me than the music at that time.
I had put the drawings into a ring binder accompanied by hand-written lyrics. Elliot Roberts, my manager, and David Geffen, my agent, took my binder of drawings and lyrics and had a limited edition of books made up.
It's been a long time coming in making this book public, but we're publishing it now. Work is meant to be seen, or heard, as the case may be.
–Joni Mitchell, 2019
Morning Glory on the Vine
Early Songs and Drawings
by Joni Mitchell
Hardcover: 136 pages
Publisher: Houghton Mifflin Harcourt
(October 22, 2019)
Language: English
ISBN-10: 0358181720
ISBN-13: 978-0358181729
Product Dimensions: 8.8 x 1.2 x 11 inches
£30.00
• fleursdumal.nl magazine
More in: # Music Archive, Art & Literature News, AUDIO, CINEMA, RADIO & TV, Joni Mitchell, MUSEUM OF PUBLIC PROTEST
---
Joni Mitchell: New Critical Readings recognizes the importance and innovativeness of the musician and artist Joni Mitchell and the need for a collection that theorizes her work as musician, composer, cultural commentator and antagonist.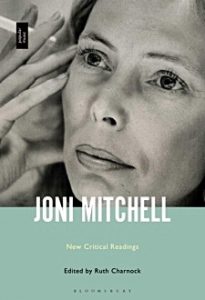 It showcases pieces by established and early career academics from the fields of popular music and literary studies on subjects such as Mitchell's guitar technique, the politics of aging in her work, and her fractious relationship with feminism.
The collection features close readings of specific songs, albums, and performances while also paying keen attention to Mitchell's wider cultural contributions and significance.
About the Author: Ruth Charnock is Senior Lecturer in English at the University of Lincoln, UK. She is the author of Anaïs Nin: Bad Sex, Shame and Contemporary Culture (forthcoming, 2019) and various articles and essays on Joni Mitchell, Marvin Gaye, Anaïs Nin, contemporary American literature, and popular culture.
Joni Mitchell
New Critical Readings
Editor: Ruth Charnock
Published: 24-01-2019
Format: Hardback
Edition: 1st
248 pages
Illustrations: 2 bw illus
Dimensions: 229 x 152 mm
Publisher: Bloomsbury Academic
Language: English
ISBN-10: 1501332090
ISBN-13: 978-1501332098
£86.40
# new books
joni mitchell
new critical readings
• fleursdumal.nl magazine
More in: - Book News, - Bookstores, Archive C-D, Archive M-N, Archive M-N, Art & Literature News, Joni Mitchell
---
Out now:
Kerouac on Record ◊ A Literary Soundtrack
Edited by Simon Warner and Jim Sampas

Co-edited by Jack Kerouac's nephew, including pieces written by Kerouac himself as well as interviews from major literary and musical figures including Allen Ginsberg, Lee Konitz and David Amram, Kerouac on Record gives a unique insight into how Kerouac brought his passion for jazz to his full creative output.
Kerouac on Record is the touchstone for the music of Kerouac – Kerouac's love for music, the depth of its influence on his work, and the influence that his work continues to extend to waves of contemporary musicians, from David Bowie and Janis Joplin to Sonic Youth. It is a book rife with the work of cultural icons, essential for any fan of the Beat Generation and popular music alike.
About Kerouac on Record
He was the leading light of the Beat Generation writers and the most dynamic author of his time, but Jack Kerouac also had a lifelong passion for music, particularly the mid-century jazz of New York City, the development of which he witnessed first-hand during the 1940s with Charlie Parker, Dizzy Gillespie and Thelonious Monk to the fore.
The novelist, most famous for his 1957 book On the Road, admired the sounds of bebop and attempted to bring something of their original energy to his own writing, a torrent of semi-autobiographical stories he published between 1950 and his early death in 1969.
Yet he was also drawn to American popular music of all kinds – from the blues to Broadway ballads – and when he came to record albums under his own name, he married his unique spoken word style with some of the most talented musicians on the scene.
Kerouac's musical legacy goes well beyond the studio recordings he made himself: his influence infused generations of music makers who followed in his work – from singer-songwriters to rock bands.
Some of the greatest transatlantic names – Bob Dylan and the Grateful Dead, Van Morrison and David Bowie, Janis Joplin and Tom Waits, Sonic Youth and Death Cab for Cutie, and many more – credited Kerouac's impact on their output.
In Kerouac on Record, we consider how the writer brought his passion for jazz to his prose and poetry, his own record releases, the ways his legacy has been sustained by numerous more recent talents, those rock tributes that have kept his memory alive and some of the scores that have featured in Hollywood adaptations of the adventures he brought to the printed page.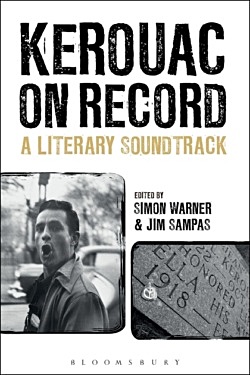 1. Jack Kerouac's Jazz Scene Jim Burns – 2. 2nd Chorus: Blues: Jack Kerouac Larry Beckett – 3. Duet for Saxophone and Pen: Lee Konitz and the Direct Influence of Jazz on the Development of Jack Kerouac's 'Spontaneous Prose' Style Marian Jago Interview 1: Lee Konitz Marian Jago – 4. Jack Kerouac Goes Vinyl: A Sonic Journey into Kerouac's Three LPs: Poetry for the Beat Generation; Blues and Haikus; and Readings by Jack Kerouac on the Beat Generation Jonah Raskin  – 5. Art Music: Listening to Kerouac's 'Mexico City Blues' A. Robert Lee Interview 2: David Amram Pat Thomas – 6. Beat Refrains: Music, Milieu and Identity in Jack Kerouac's The Subterraneans, the Metro-Goldwyn-Mayer Film Adaptation Michael Prince – 7. Bob Dylan's Beat Visions (Sonic Poetry) Michael Goldberg – 8. Carrying a Torch for Ti Jean Paul Marion Interview 3: Richard Meltzer Michael Goldberg – 9. The Grateful Dead: Jack Manifested as Music Brian Hassett – 10. Driver Mark Bliesener – 11. Jim Morrison/Angel of Fire Jay Jeff Jones – 12. Light is Faster than Sound: Texans, the Beats and the San Francisco Counterculture Holly George-Warren – 13. Hit the Road, Jack: Van Morrison and On the Road Peter Mills – 14. Detecting Jack Kerouac and Joni Mitchell: A Literary/Legal (Not Musicological) Investigation into the Search for Influence Nancy Grace – 15. Kerouac and Country Music Matt Theado – 16. 'Straight from the Mind to the Voice': Spectral Persistence in Jack Kerouac and Tom Waits Douglas Field Interview 4: Barney Hoskyns Simon Warner – 17. From Beat Bop Prosody to Punk Rock Poetry: Patti Smith and Jack Kerouac; Literature, Lineage, Legacy Ronna Johnson Poems: Marc Zegans  Interview 6: Allen Ginsberg Pat Thomas – 18. Tramps Like Them: Jack and Bruce and the Myth of the American Road Simon Morrison Interview 5: Graham Parker Pat Thomas – 19. Punk and New Wave James Sullivan – Interview 7: Jim DeRogatis on Lester Bangs James Sullivan – 20. The Tribute Recordings Jim Sampas and Simon Warner  –  Jack Kerouac Biography –  Jack Kerouac Discography Dave Moore  –  Tribute Discography –  Kerouac/Cassady Song List Dave Moore/Horst Spandler
Simon Warner
is a journalist, lecturer and broadcaster who teaches Popular Music Studies at the University of Leeds in the UK. He has, over a number of years, written live reviews and counterculture obituaries for The Guardian and The Independent, and has a particular interest in the relationship between the Beat Generation writers–Jack Kerouac, Allen Ginsberg, William Burroughs and others–and rock culture. His previous books include Rockspeak: The Language of Rock and Pop (1996) and Howl for Now: A Celebration of Allen Ginsberg's epic protest poem (2005). – Writes: Popular Music, North American Literature – Author of : Kerouac on Record, Text and Drugs and Rock 'n' Roll
Jim Sampas
is a music and film producer. His musical works often focuses on major cultural figures such Jack Kerouac (who is his Uncle), The Beatles, Bruce Springsteen, The Smiths, Bob Dylan, and The Rolling Stones. He has persuaded a galaxy of stars to partake of a unique aesthetic marriage, as vintage works are resurrected in contemporary arrangements in projects covered by such major news outlets as People Magazine, NPR, The New York Times, Entertainment Weekly, Rolling Stone, and many others. – Writes: Popular Music, North American Literature – Author of: Kerouac on Record
Following Text and Drugs and Rock 'n' Roll: The Beats and Rock Culture (2013), Simon Warner partners with Literary Executor of the Estate of Jack Kerouac, Jim Sampas, to go deeper into his exploration of the connections between the great figures of the Beat generation and the music of the so-called 'rock era.' Interspersed with exclusive interviews of the likes of Lee Konitz, Graham Parker, Lester Bangs, and Allen Ginsberg, the twenty chapters are signed by an impressive array of journalists, music industry professionals, rock critics, writers, film makers and academics from all over the world. Addressing such issues as the influence of jazz on Kerouac's 'spontaneous prose' style, the lineage between his 'Beat bop prosody' and Patti Smith's 'punk rock poetry,' or his inspiring 'the myth of the American road' in Bruce Springsteen's lyrics, they shed light on what appears to be a two-way relationship between popular music and the work of the author of On the Road. As Warner puts it: 'if, for Kerouac, it was jazz that would have the principal impact, then it was rock on which the writer would have the main effect.'" – Olivier Julien, Lecturer in the History and Musicology of Popular Music, Paris-Sorbonne University, France
Kerouac on Record
A Literary Soundtrack
By: Simon Warner, Jim Sampas
Published: 08-03-2018
Format: Hardback
Edition: 1st
Extent: 480
ISBN: 9781501323348
Imprint: Bloomsbury Academic
Dimensions: 229 x 152 mm
RRP: £28.00
Kerouac on Record
A Literary Soundtrack
fleursdumal.nl magazine
More in: # Music Archive, #Beat Generation Archives, - Book Stories, Archive G-H, Archive G-H, Archive K-L, Archive K-L, Art & Literature News, AUDIO, CINEMA, RADIO & TV, Bob Dylan, Dylan, Bob, Ginsberg, Allen, Jim Morrison, Joni Mitchell, Kerouac, Jack, Patti Smith
---
Joni Mitchell is a cultural touchstone for generations of Canadians.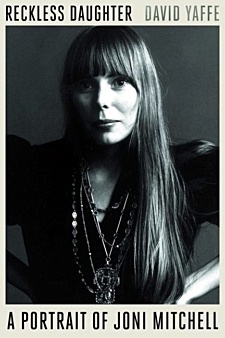 In her heyday she released ten experimental, challenging, and revealing albums; her lyrics captivated people with the beauty of their language and the rawness of their emotions, both deeply personal to Mitchell and universally relatable to her audience. In this intimate biography, composed of dozens of in-person interviews with Mitchell.
David Yaffe reveals the backstory behind the famous songs from her youth on the Canadian prairie, her pre-vaccine bout with polio at age nine, and her early marriage and the child she gave up for adoption, up through the quintessential albums and love affairs, and all the way to the present?and shows us why Mitchell has so enthralled her listeners, her lovers, and her friends.
Yaffe has had unprecedented access both to Mitchell and to those who know her, drawing on interviews with childhood friends and the cast of famous characters (Joan Baez, Judy Collins, Leonard Cohen, David Crosby, and more) with whom she has crossed paths and influenced, as well as insightful analyses of her famous lyrics, their imagery and style, and what they say about the woman herself.
Reckless Daughter tells the story of Mitchell and also of the fertile, exciting musical time of which she was an integral part, one that had a profound effect that can still be felt today on American music and the industry.
David Yaffe was born in Dallas, Texas, in 1973. He has written on numerous subjects (music, film, theater, dance, higher education) forThe Nation, New York, Slate, The New York Times, The New Republic, Harper's Magazine, and other publications. He is currently a professor of Humanities at Syracuse University, and is the author of Fascinating Rhythm: Reading Jazz in American Writing and Bob Dylan: Like a Complete Unknown.
Reckless Daughter.
A Portrait of Joni Mitchell
by David Yaffe
On Sale: 10/10/2017
Format: Hardcover
ISBN: 9781443444811
ISBN 10: 1443444812
HarperCollins Publishers
Pages: 448
new books
fleursdumal.nl magazine
More in: #Biography Archives, - Book News, - Book Stories, Archive M-N, Art & Literature News, Joni Mitchell
---
Thank you for reading Fleurs du Mal - magazine for art & literature