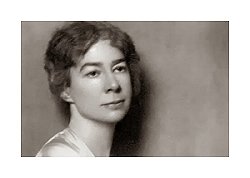 Sara Teasdale
(1884 – 1933)
The Unseen
Death went up the hall
Unseen by every one,
Trailing twilight robes
Past the nurse and the nun.
He paused at every door
And listened to the breath
Of those who did not know
How near they were to Death.
Death went up the hall
Unseen by nurse and nun;
He passed by many a door–
But he entered one.
Sara Teasdale poetry
fleursdumal.nl magazine 
More in: Archive S-T, Teasdale, Sara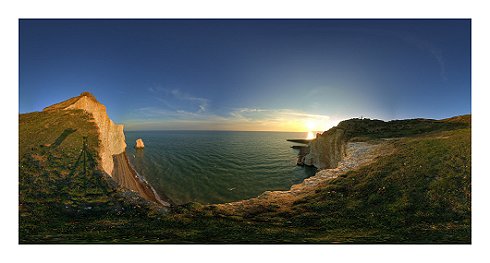 Hans Hermans © photos: History of  Britain
(Seven Sisters Country Park, Seaford 2014)
fleursdumal.nl magazine
More in: Hans Hermans Photos, History of Britain, Photography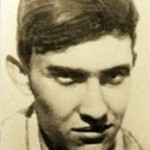 Raymond Radiguet
(1903-1923)
Bergerie
À Georges Auric
Marronniers, ainsi que l'yeuse
Quels arbres, ombrelles rieuses,
Ne se déploieraient pour fêter
Le retour du prodigue été !
L'un nous ogre un feu d'artifice
De plumes et de fleurs : orgie
Digne de Noël, tes bougies
Roses, d'autres fêtes complices,
L'encombrant cadeau, marronnier,
Pour ne point des neuves bergères
Troubler la candeur bocagère
Tu le voudrais plutôt nier.
Mais minuit allume la fête
D'où seront exclus les parents.
Un rideau de cheveux, fillette,
Fait mon désir moins apparent.
Dissimule-toi, feu des joues,
Sous la coiffure que dénoue
D'un pâtre la timide main
Feuille encor tremblante demain
Dans tes veines, bergère, un sang
Coule, mauve, avec nonchalance,
Celle des ruisseaux innocents
Chez qui le désir ne s'élance
Que lorsqu'on le leur a permis.
Tandis qu'à ton front se pâmaient
Plusieurs roses, une parmi
Ses soeurs, proche de ton oreille,
Murmure : C'est le mois de Mai,
Qui par sa bouche te conseille :
" Comme l'eau se prête à la rive
Donne ta douce peau craintive
Que quelque rayon indiscret
De lune, affirme tes ébats "
Parce que corne d'abondance
Aujourd'hui semble son croissant
La lune à qui ne suffit pas
De souligner baisers et danses,
Nous verse les plus beaux présents :
Sous des joyaux, sous des dentelles
Ensevelissant la pelouse
Qui frissonne, esclave jalouse.
Aurore ! l'herbe défrisée
Muette atteste que la belle
Usa de tout pour apaiser
La nuit dont la pâle défaite
Est soeur des lendemains de fête.
Raymond Radiguet poésie
fleursdumal.nl magazine
More in: Archive Q-R, Radiguet, Raymond
Stefan George
(1868-1933)
Das tier sieh das zurück mich zwang zu kommen
Das tier sieh das zurück mich zwang zu kommen.
Sei · grosser Weiser · mir dein schutz geliehen
Da drob mir puls und adern angstbeklommen.
Dir ist geboten andren weg zu ziehen ·
Gab er mir antwort da er sah mein weinen
Willst diesem wilden orte du entfliehen.
Denn jenes tier das deine klagen meinen
Lässt keinen weitergehn auf seiner strasse
Und bis es ihn getötet schaffts ihm peinen.
Bös ist es und verrucht in solchem maasse
Dass niemals ihm die süchtige gier ermattet
Und grösser wird sein hunger nach dem frasse.
Viel sind der tiere denen es sich gattet
Und mehr noch – bis der windhund es besiege
Der es mit wehevollem tod umschattet.
Er kommt dem nicht an land und schätzen liege ·
An weisheit nur an liebe und an tugend
Und zwischen filz und filz steht seine wiege.
Darum bedünket mich für dich das beste
Dass du mir folgst und ich sei der dich führe
Von hier dich leitend durch die ewige veste
Wo an dein ohr verzweifelt schreien rühre
Geister von ehmals du gewahrst die weinen
Flehend dass jeden zweiter tod umschnüre.
Und du wirst sehen die in feuers peinen
Doch frohgemut sind weil sie darauf bauen
Einst · wann es sei · den Seligen sich zu einen.
Wenn du dann aufwärts strebst zu deren gauen
Sei würdigere seele dir geleite:
Ihr will ich dich beim scheiden anvertrauen.
Stefan George Gedicht
fleursdumal.nl magazine
More in: Archive G-H, George, Stefan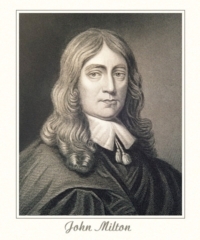 John Milton
(1608-1674)
Sonnet On his blindness
When I consider how my light is spent,
Ere half my days, in this dark world and wide,
And that one talent which is death to hide,
Lodged with me useless, though my soul more bent
To serve therewith my maker, and present
My true account, lest he returning chide,
Doth God exact day-labour, light denied?
I fondly ask; but Patience to prevent
That murmur, soon replies, God doth not need
Either man's work or his own gifts, who best
Bear his mild yoke, they serve him best, his state
Is kingly. Thousands at his bidding speed
And post o'er land and ocean without rest:
They also serve who only stand and wait.
John Milton poetry
fleursdumal.nl magazine
More in: Archive M-N, Milton, John
Ook de vier kaarters in de caféhof waren stil. Dat groepje dorstige mannen, de een wat grauwer dan de ander. Elke dag weer stonden ze tegenover elkaar in het strijdperk. De een met wat meer venijn dan de ander, de ander met verborgen kaarten in de hemdsmouwen. Ze waren op dit uur van de dag al zo dronken dat de kaarten als vanzelf tussen hun vingers weggleden.
Het spel stokte. Op hun stoelen bogen ze naar elkaar toe. Ze leken elkaar in de ogen te willen kijken, maar die waren al haast dicht. Alleen de pijpen hielden ze nog ferm in hun mond. Ze zogen eraan als kinderen aan de fles. Langzaam zakten hun hoofden op tafel. Naar elkaar toe, als jonge dieren in hun nest, die zich in hun slaap aan elkaar vasthielden. Nu het hele dorp leek te slapen, was Kaffa de laatste die wakker was. Hij had geen slaap. Hij gaf nooit aan slaap toe, enkel als hij het nodig vond. Dat was alleen 's nachts. Terwijl hij de laatste slok bier uit de fles dronk, zag hij dat de zon vormloos tegen een waterblauwe lucht stond. Hoekig. Alsof hij niet echt was, maar mooi was getekend door de kleine Irma Azurri, die hem zelf ook tegen de hemel had geplakt. De hitte werd ondraaglijk. Kaffa zweette hevig. Zijn huid jeukte, alsof hij onder de schurft zat. Hij kreeg de pest in. Tegen deze hitte kon hij zich niet verweren. Wat hem een machteloos gevoel gaf. Bovendien werkte dat hele slapende zootje op zijn zenuwen. Hij zag dit dorpsvolk te veel.
Nu ze allemaal sliepen, vond hij dat ze er nog beroerder uitzagen dan ze al waren. Nog eigenwijzer. Nog harder, met die verbeten trekken op hun gezichten. Hij stond op en liep een rondje om het plein. Zelfs de vogels hadden zich vanwege de hitte teruggetrokken. Kon je er anders tientallen tellen op het plein, nu was er niet één te zien. Terwijl Kaffa de schuur van Chile voorbijliep, zag hij de ezel van Elysee. Het dier stond in de volle zon, net of het er geen last van had. Van de waarzegger geen spoor. Had hij zich in zijn kamer teruggetrokken? Kaffa passeerde het bed. Zag de smalle handen van het kind, die zo blank als was op de beddensprei lagen. Het kind bewoog niet. Zo zag een stervende er dus uit, bleek en dun. De kraaien schoten op uit het gras en stelden zich afwerend op rond het bed. Ze bliezen woedend naar Kaffa, als opgewonden katten. Net of hij een besmettelijke ziekte had waartegen ze de jongen moesten beschermen.
Ton van Reen: Landverbeuren (40)
wordt vervolgd
fleursdumal.nl magazine
More in: - Landverbeuren, Reen, Ton van
Paul Klee
(1879-1940)
Wasser
Wasser
darauf Wellen,
darauf ein Boot,
darauf ein Weib,
darauf ein Mann.
Paul Klee poetry [1906]
fleursdumal.nl magazine
More in: Archive K-L, Expressionism, Klee, Paul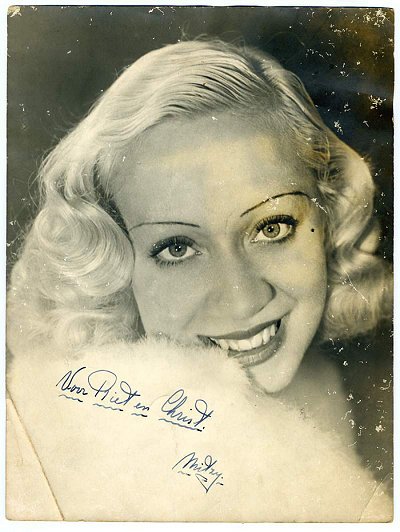 Mitzy
Opeens keken me twee heldere ogen aan. Vanaf de bodem van een kartonnen doos.
Mitzy heette ze. En ze was in het gezelschap van een oude opa, een stuurs kijkend echtpaar en een communicantje. Allemaal ingelijste portretten. Alleen Mitzy moest het zonder lijst en glas stellen. Misschien dat ze daarom een wat vuilige vlek bij haar linkeroog had gekregen. Ze keek er niet minder vrolijk om. 'Voor Riet en Christ' had ze op haar foto geschreven. En daaronder even vlot haar naam.
Maar wie was Mitzy? Zeker, een artieste. Maar verder? Zou het Mitzy Tieland kunnen zijn? Die naam kom ik tegen in de levensloop van de uit Tilburg afkomstige Louis Dusée (1930-1999). Met ene Mitzy Tieland vormde Dusée ooit een duo voordat hij in 1962 bij Sleeswijk's Snip en Snap Revue terecht kwam.
Maar was deze Mitzy niet al actief toen Louis nog in een korte broek rondliep? Haar haren en getekende wenkbrauwen doen in elk geval aan de jaren dertig denken. Of werd dat na de oorlog nog steeds mooi gevonden? In elk geval staat op de achterkant van de foto: Groningen October 1948.
Kunt u zich voorstellen dat ik Mitzy niet kon laten liggen in die kartonnen doos op de Tilburgse Meimarkt?
Joep Eijkens
PS De heer Mari Kant (www.theaterarchief.nl) meldde me nog dat Mitzy, in elk geval niet Mitzy Tieland is. 'Mitzy Tieland is toevallig een vriendin van mij en ook komt ze veel voor in de archieven van ons Theaterarchief', zo schreef hij. 'Ik denk dat het Mitzy Smeenks is, maar pin me er niet op vast'.
(eerder gepubliceerd op www.cubra.nl)
fleursdumal.nl magazine
More in: - Fotoalbum Joep Eijkens, - Objets Trouvés (Ready-Mades), Photography
Ernest Dowson
(1867-1900)
Chanson Sans Paroles
In the deep violet air,
Not a leaf is stirred;
There is no sound heard,
But afar, the rare
Trilled voice of a bird.
Is the wood's dim heart,
And the fragrant pine,
Incense, and a shrine
Of her coming? Apart,
I wait for a sign.
What the sudden hush said,
She will hear, and forsake,
Swift, for my sake,
Her green, grassy bed:
She will hear and awake!
She will hearken and glide,
From her place of deep rest,
Dove-eyed, with the breast
Of a dove, to my side:
The pines bow their crest.
I wait for a sign:
The leaves to be waved,
The tall tree-tops laved
In a flood of sunshine,
This world to be saved!
In the deep violet air,
Not a leaf is stirred;
There is no sound heard,
But afar, the rare
Trilled voice of a bird.
Ernest Dowson poetry
fleursdumal.nl magazine
More in: Archive C-D, Dowson, Ernest
Emanuel Geibel
(1815-1884)
Krokodilromanze
Ich bin ein altes Krokodil
Und sah schon die Osirisfeier;
Bei Tage sonn ich mich im Nil,
Bei Nacht am Strande leg ich Eier.
Ich weiß mit listgem Wehgekreisch
Mir stets die Mahlzeit zu erwürken;
Gewöhnlich freß ich Mohrenfleisch
Und sonntags manchmal einen Türken.
Und wenn im gelben Mondlicht rings
Der Strand liegt und die Felsenbrüche,
Tanz ich vor einer alten Sphinx,
Und lausch auf ihrer Weisheit Sprüche.
Die Klauen in den Sand gepflanzt,
Tiefsinnig spricht sie: Tochter Thebens,
Friß nur was du verdauen kannst!
Das ist das Rätsel deines Lebens.
Emanuel Geibel Gedicht
fleursdumal.nl magazine
More in: Archive G-H, CLASSIC POETRY
Lizette Woodworth Reese
(1856–1935)
Oh, Gray And Tender Is The Rain
Oh, gray and tender is the rain,
That drips, drips on the pane!
A hundred things come in the door,
The scent of herbs, the thought of yore.
I see the pool out in the grass,
A bit of broken glass;
The red flags running wet and straight,
Down to the little flapping gate.
Lombardy poplars tall and three,
Across the road I see;
There is no loveliness so plain
As a tall poplar in the rain.
But oh, the hundred things and more,
That come in at the door!—
The smack of mint, old joy, old pain,
Caught in the gray and tender rain.
Lizette Woodworth Reese poetry
fleursdumal.nl magazine
More in: Archive Q-R, CLASSIC POETRY
Wintertuin op Oerol met interactieve wandeling En Hier Is Lijf
Wegens het grote succes van vorig jaar is Literair Productiehuis Wintertuin opnieuw tien dagen op Oerol te vinden met de interactieve wandeling En Hier Is Lijf. Via koptelefoon, een app en gps luistert de bezoeker naar een verhaal over verlies en hoop dat zich aanpast aan de looproute.
En Hier Is Lijf is een wandeling door het verhaal van een verloren liefde. Het geprezen componistenduo Strijbos & Van Rijswijk ontwikkelde de innovatieve app Walk With Me. Bezoekers krijgen een tablet inclusief koptelefoon mee met daarop deze app. Al dwalend over het eiland houdt deze app met behulp van GPS de looproute precies bij. De bezoeker hoort teksten, muziek en geluiden die gekoppeld zijn aan zijn of haar huidige locatie. Iedere gekozen richting heeft een andere consequentie voor het verhaal. Zo stelt de bezoeker met zijn eigen route het verhaal samen.
Dit unieke hoorspel is deels tot stand gekomen op locatie. Zowel de teksten van toneelschrijver Jibbe Willems als de topografische composities van Strijbos & Van Rijswijk zijn gebaseerd op het Terschellingse landschap. De interactie tussen bezoeker, landschap, verhaal, geluid en muziek zorgt in combinatie met de vrijheid van de wandelaar om zijn eigen route te bepalen voor een speciale en vernieuwende ervaring.
"En Hier Is Lijf smijt je middenin het verhaal van een ongeëvenaarde liefde en de wanhoop die rest als ze plots is verdwenen." Vijf sterren in de Theaterkrant
"De muziek en de teksten zijn poëtisch en passen prachtig in de sfeer van het landschap waar ze bij horen." – Cultuurpodium Online
En Hier Is Lijf is een productie van Strijbos & Van Rijswijk en Literair Productiehuis Wintertuin i.s.m. theater- en dansproductiehuis Generale Oost en Oerol. Jibbe Willems en Strijbos & Van Rijswijk schreven en componeerden speciaal voor deze locatie de tekst en de muziek. Kijk voor meer op www.enhierislijf.nl.
MUZIKALE DWAALVERHALEN: EN HIER IS LIJF
Datum: 13 t/m 22 juni, tussen 10:00 en 22:00 uur
Locatie: Oerol, Terschelling, Hoornse bos
Kaarten: € 11 / € 9
Meer informatie: www.enhierislijf.nl
Kaarten: www.oerol.nl/festival/programma-a-z/
fleursdumal.nl magazine
More in: Art & Literature News, Oerol, STREET POETRY, THEATRE, Wintertuin Festival
Thank you for reading FLEURSDUMAL.NL - magazine for art & literature