– Objets Trouvés (Ready-Mades)
·
The Penguin Book of Oulipo: Queneau, Perec, Calvino and the Adventure of Form by Philip Terry (Editor)
·
Assemblages Wijnand van Lieshout # Tentoonstelling in Tilburg
·
ASSEMBLAGES WIJNAND VAN LIESHOUT IN 'METROPOLITAN MUSEUM – TILBURG'
·
The Great Nadar. The Man Behind the Camera by Adam Begley
·
Dražen Grubiic & Olinka Vitica: Das Museum der zerbrochenen Beziehungen
·
IN ALMOST EVERY PICTURE #7 – UPDATED – PHOTOS RIA VAN DIJK
·
JOEP EIJKENS: VROUWENTONGEN EVEN AAN DE KANT
·
JOEP EIJKENS: AARDAPPELNOOD
·
JOEP EIJKENS: MITZY
·
JOEP EIJKENS: VERLOREN ONSCHULD
·
JOEP EIJKENS: LENTEDANSJE
·
MARCEL DUCHAMP IN CENTRE POMPIDOU PARIS: LA PEINTURE, MÊME
Brought together for the first time, here are 100 pieces of 'Oulipo' writing, celebrating the literary group who revelled in maths problems, puzzles, trickery, wordplay and conundrums.
Featuring writers including Georges Perec, Raymond Queneau and Italo Calvino, it includes poems, short stories, word games and even recipes. Alongside these famous Oulipians, are 'anticipatory' wordsmiths who crafted language with unusual constraints and literary tricks, from Jonathan Swift to Lewis Carroll.
Philip Terry is a translator, and a writer of fiction and poetry. He has translated the work of Georges Perec, Stéphane Mallarmé and Raymond Queneau, and is the author of the novel tapestry, shortlisted for the Goldsmiths Prize.
His poetry volumes include Oulipoems, Shakespeare's Sonnets, Dante's Inferno (a Times Literary Supplement Book of the Year, London Review Bookshop Book of the Week, and recipient of a Society of Authors Travelling Scholarship Prize), Quennets, and Dictator, a version of the Epic of Gilgamesh in Globish.
He is currently translating  Ice Age signs from the caves at Lascaux.
• 'Philip Terry's collection is packed with fabulous, wide-ranging work that displays the full ingenuity, brio and originality of Oulipian ideals in action. An exhilarating feat of in-depth reading, and translating, it takes its place as the definitive anthology in English for decades to come.' – Marina Warner
• Philip Terry's playful selection will appeal to lovers of word games, puzzles and literary delights.
The Penguin Book of Oulipo
Queneau, Perec, Calvino and the Adventure of Form
Edited by Philip Terry
Imprint: Penguin Classics
Published: 31/10/2019
ISBN: 9780241378427
Hardcover
Length: 576 Pages
Dimensions: 240mm x 49mm x 162mm
RRP: £25.00
# new books
The Penguin Book of Oulipo
Queneau, Perec, Calvino and the Adventure of Form
Philip Terry (Edited by)
• fleursdumal.nl magazine
More in: #Archive Concrete & Visual Poetry, - Book Lovers, - Book News, - Objets Trouvés (Ready-Mades), Archive C-D, Archive O-P, Archive Q-R, Art & Literature News, AUDIO, CINEMA, RADIO & TV, Carroll, Lewis, Dadaïsme, Georges Perec, OULIPO (PATAFYSICA), Surrealisme, Swift, Jonathan
---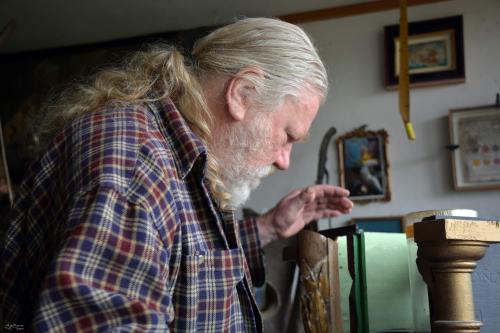 Assemblages Wijnand van Lieshout: Tentoonstelling 'Wagon-Lits-Expresse' in het 'Metropolitan Museum | Tilburg'
Wijnand van Lieshout, de nestor onder de Tilburgse kunstenaars, toont recent werk in de raamtentoonstellingen aan de Stedekestraat ('Metropolitan Museum | Tilburg'). Zijn tentoonstelling 'Wagon-Lits-Expresse' loopt nog tot en met vrijdag 30 november 2019 en is dag en nacht bereikbaar.
Wijnand van Lieshout maakt absurde assemblages van antieke rekwisieten, in onmin geraakte gebruiksvoorwerpen en geconserveerde delen van beesten, met name schaal- en schelpdieren. Hij gebruikt geteisterde objecten, zoals oude gereedschappen, afgedankte medische voorwerpen en ontluisterde meubelen. Wijnand van Lieshout is gefascineerd door het verval in al zijn hoedanigheden. Deze teloorgang wordt uitgedrukt door de dikke lagen stof die zijn kunstwerken sieren. Zijn werk is erotisch getint en uiterst theatraal, volgens de kunstenaar: 'Een wal van verpaupering treedt u tegemoet!'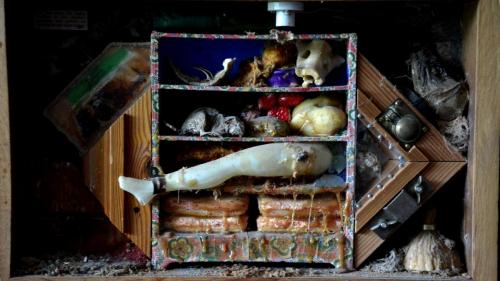 De tentoonstelling bestaat uit tien nieuwe werken. Eén werk is hier helemaal op zijn plaats, het is namelijk geïnspireerd door het leven van een novice achter slot en grendel in het voormalige Clarissenklooster om de hoek. Een ander werk, 'Vrouw van Neptunus', is een magistraal werk, waarin een zeenimf zich te goed doet aan een aangespoelde dildo. De overige werken zijn navenant, absurd, tragikomisch en wentelend in de onuitputtelijke fantasie van de oude meester kunstenaar.
Wijnand van Lieshout (1940) is een geboren en getogen Tilburger. Hij volgde hier zijn kunstopleiding aan de 'R.K. Leergangen' vanaf 1957, studeerde verder aan de 'Jan van Eijck Academie' in Maastricht en het 'Nationaal Hoger Instituut voor Schone Kunsten' in Antwerpen. In 1970 keerde hij terug naar zijn geboortestad, waar hij zich toelegde op geënsceneerde fotografie, installaties en assemblages. Van Lieshout exposeerde o.a. samen met Erwin Olof in Amsterdam, met Niko de Wit in Tilburg, in het 'Noordbrabants Museum' in Den Bosch en reizende tentoonstellingen in België, Duitsland en Japan. Nu te zien in het 'Metropolitan Museum – Tilburg' aan de Stedekestraat'. Belangstellenden zijn van harte welkom!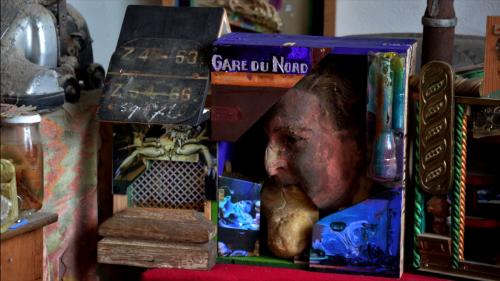 Praktische gegevens: gratis raamtentoonstelling 'Wagon-Lits-Expresse' van Wijnand van Lieshout, dagelijks 1 november t/m 30 november 2019 in het 'Metropolitan Museum | Tilburg', Stedekestraat 15 | 5041DM Tilburg, telefoon 013 5358041 | 06 20325030, mail post@metropolitanmuseum.nl, site www.metropolitanmuseum.nl
METROPOLITAN MUSEUM | TILBURG
15 Stedekestraat | 5041DM Tilburg | Netherlands
www.metropolitanmuseum.nl
# tentoonstelling 'Wagon- Lits-Expresse' nog tot en met vrijdag 30 november 2019, dag en nacht bereikbaar.
# photos – text – movie: Sjon Brands & Dorith van der Lee / Metropolitan Museum – Tilburg
• fleursdumal.nl magazine
More in: - Book News, - Objets Trouvés (Ready-Mades), Art & Literature News, AUDIO, CINEMA, RADIO & TV, DADA, Dadaïsme, Dutch Landscapes, Exhibition Archive, FDM Art Gallery, Photography, Sculpture, Sjon Brands, Theater van de Verloren Tijd, Wijnand van Lieshout
---
    ASSEMBLAGES WIJNAND VAN LIESHOUT
• Tentoonstelling 'Wagon-Lits-Expresse' in het 'Metropolitan Museum – Tilburg'
• Wijnand van Lieshout, de nestor onder de Tilburgse kunstenaars, toont recent werk in de raam-tentoonstellingen aan de Stedekestraat ('Metropolitan Museum – Tilburg').
• Zijn tentoonstelling 'Wagon-Lits-Expresse' loopt van vrijdag 1 t/m vrijdag 30 november 2019, dag en nacht bereikbaar.
• fleursdumal.nl magazine
More in: - Objets Trouvés (Ready-Mades), Dadaïsme, Exhibition Archive, FDM Art Gallery, Sculpture, Sjon Brands, Surrealisme, Theater van de Verloren Tijd, Wijnand van Lieshout
---
A dazzling, stylish biography of a fabled Parisian photographer, adventurer, and pioneer.
A recent French biography begins, Who doesn't know Nadar? In France, that's a rhetorical question. Of all of the legendary figures who thrived in mid-19th-century Paris—a cohort that includes Victor Hugo, Baudelaire, Gustave Courbet, and Alexandre Dumas—Nadar was perhaps the most innovative, the most restless, the most modern.
The first great portrait photographer, a pioneering balloonist, the first person to take an aerial photograph, and the prime mover behind the first airmail service, Nadar was one of the original celebrity artist-entrepreneurs. A kind of 19th-century Andy Warhol, he knew everyone worth knowing and photographed them all, conferring on posterity psychologically compelling portraits of Manet, Sarah Bernhardt, Delacroix, Daumier and countless others—a priceless panorama of Parisian celebrity.
Born Gaspard-Félix Tournachon, he adopted the pseudonym Nadar as a young bohemian, when he was a budding writer and cartoonist. Later he affixed the name Nadar to the façade of his opulent photographic studio in giant script, the illuminated letters ten feet tall, the whole sign fifty feet long, a garish red beacon on the boulevard. Nadar became known to all of Europe and even across the Atlantic when he launched "The Giant," a gas balloon the size of a twelve-story building, the largest of its time. With his daring exploits aboard his humongous balloon (including a catastrophic crash that made headlines around the world), he gave his friend Jules Verne the model for one of his most dynamic heroes.
The Great Nadar is a brilliant, lavishly illustrated biography of a larger-than-life figure, a visionary whose outsized talent and canny self-promotion put him way ahead of his time.
Adam Begley is the author of Updike. He was the books editor of The New York Observer for twelve years. He has been a Guggenheim fellow and a fellow at the Leon Levy Center for Biography. His writing has appeared in The New York Times, The Guardian, The Financial Times, The London Review of Books, and The Times Literary Supplement. He lives with his wife in Cambridgeshire.
"Irresistible. . . . A richly entertaining and thoughtful biography. . . . Begley seems wonderfully at home in the Second Empire, and shifts effortlessly between historical backgrounds, technical explanation, and close-up scenes, brilliantly recreating Nadar at work." —Richard Holmes, The New York Review of Books
The Great Nadar
The Man Behind the Camera
By Adam Begley
Arts & Entertainment
Biographies & Memoirs
History
Paperback
Jul 10, 2018
256 Pages
$16.00
Published by Tim Duggan Books
ISBN 9781101902622
new books
biographie Nadar
fleursdumal.nl magazine
More in: #Biography Archives, - Book News, - Book Stories, - Objets Trouvés (Ready-Mades), Art & Literature News, History of Britain, Photography
---
Das Museum der zerbrochenen Beziehungen: Was von der Liebe übrig bleibt – Geschichten und Bilder.
Olinka und Dražen waren mal ein Paar. Irgendwann waren sie es aber nicht mehr. Zum Liebeskummer gesellte sich bei ihnen eine unangenehme Frage: Wer kriegt was?
Es gab Sachen, die eine Art Souvenir ihrer Beziehung waren, und da wurde es schwierig. Man will ja nichts im Regal haben, das einen jeden Tag an das Scheitern erinnert. Wegschmeißen? Geht nicht. Behalten? Würde das nicht immer wieder wehtun?
Die beiden fanden eine Lösung: Sie machten ein Museum auf.
Das Museum of Broken Relationships in Zagreb ist inzwischen weltbekannt. Mittlerweile zeigt es auch in einer Wanderausstellung rund um den Globus und einer Filiale in Los Angeles Relikte vergangenen Glücks und erzählt die dazugehörigen Geschichten.
Unter den Exponaten sind keine getrockneten Rosen, kaum Briefe. Kein Ring. Was von einer Beziehung übrig Draen Grubiic, Olinka Vitica blieb, ist beispielsweise ein türkisblauer Aschenbecher voller Zigarettenstummel.
Dazu schreibt die Person aus Köln, die ihn abgegeben hat: «Häufig wurde ich nachts wach und er lag nicht neben mir. Mein Ex-Freund fand oft keinen Schlaf, saß er stundenlang im Dunkeln auf dem Balkon, hörte Musik und rauchte. Nach unserer Trennung habe ich es nie geschafft, den Aschenbecher ein letztes Mal zu leeren, geschweige denn, ihn vom Balkon zu verbannen. Ich rauche nicht.» Die Geschichten zu den Exponaten liest man mit dem Gefühl, heimlich in fremden Tagebüchern zu blättern, doch man spürt, wie sich Neugier in Mitgefühl verwandelt. – Ein Geschenkbuch und Coffee-Table-Book der nie dagewesenen Art, mit vierfarbigen Fotos und ganz viel Herz.
Olinka Vištica und Dražen Grubišić, beide geboren im Jahr 1972, sind heute mit neuen Partnern glücklich. Vištica ist Unternehmerin. Sie hat eine eigene Produktionsfirma für Dokumentar- und Animationsfilme. Grubišić ist Grafiker und Produktionsdesigner.
Olinka Vištica, Dražen Grubišic:
Das Museum der zerbrochenen Beziehungen
Was von der Liebe übrig bleibt –
Geschichten und Bilder
Verlag: Rowohlt
Erscheinungstermin: 24.01.2018
128 Seiten
ISBN: 978-3-498-07068-7
Aus dem Englischen von Marcus Gärtner
Die Originalausgabe erschien 2017 unter dem Titel
«The Museum of Broken Relationships» bei
Grand Central Publ. Book/Hachette Book Group Inc., New York.
Deutsche Erstausgabe
1. Auflage Februar 2018
Copyright © 2018 by Rowohlt Verlag GmbH,
Reinbek bei Hamburg
Copyright © 2017 by Olinka Vištica & Dražen Grubišicc
Innengestaltung Daniel Sauthoff
Satz Abril OTF (InDesign) im Verlag und bei
Pinkuin Satz und Datentechnik, Berlin
Lithografie Cleeves Reprotechnik, Hamburg
Druck und Bindung CPI books GmbH, Leck, Germany
Hardcover €15,00
new books
fleursdumal.nl magazine
More in: - Book News, - Book Stories, - Objets Trouvés (Ready-Mades), Archive G-H, Archive U-V, Exhibition Archive, FDM Art Gallery, Spurensicherung
---
Collected & edited
by Erik Kessels
and Joep Eijkens
Thanks to Ria van Dijk
For 80 years Ria has been bang on target. To mark this impressive milestone 'in almost every picture #7' is being re-released this year in the form of a special anniversary edition with eight new shots and an exhibition in Tilburg.
Ria van Dijk shot her first photo at the Tilburg fair in 1936 when she was 16 years old. It started at in Ria's hometown of Tilburg, but throughout the years she followed the fair from town to town. It became a tradition and Ria continued shooting (guns and photos) year after year. And the bullseye is that Ria kept every single photo as if they were her trophies.
In 2008 Erik Kessels and Joep Eijkens collected Ria's photographs in the book 'in almost every picture #7'. In 2016 Ria returns to the fair, she will shoot on July 22nd her 80th photo at the opening of the Tilburgse Kermis. For the occasion, KesselsKramer and City Marketing Tilburg publish this celebratory updated edition of In almost every picture #7.
Colour / black & white,
155 x 200 mm, 136 pages,
soft cover.
ISBN 978-90-704784-5-2
KesselsKramer Publishing,  24,95 Euro

# Website KesselsKramer Publishing
# Website Brabants Licht met foto's en artikel van Joep Eijkens
fleursdumal.nl magazine
More in: - Objets Trouvés (Ready-Mades), Art & Literature News, Joep Eijkens, Joep Eijkens Photos, Photography, PRESS & PUBLISHING, Spurensicherung
---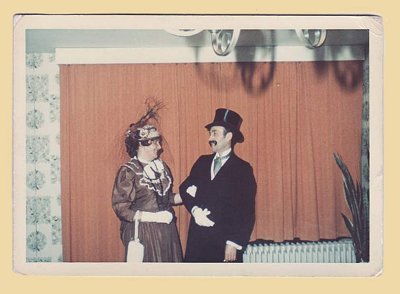 Vrouwentongen even aan de kant
Je kunt er donder op zeggen dat deze foto in België gemaakt is. Kijk maar eens naar de rechterkant, naar de spitse bladeren van de Sanseveria, beter bekend als Vrouwentongen. Vraag me niet waarom zoveel Vrouwentongen onderdak krijgen bij onze zuiderburen. De tamelijk naargeestige planten zullen op zeker moment wel in de mode zijn geraakt en zijn nog altijd in tel.
Maar hier op de foto zijn ze kennelijk tijdelijk opzij gezet om plaats te maken voor een toneelstukje. Het gordijn boven de verwarming mocht blijven hangen, het paste eigenlijk heel mooi, zo'n effen achtergrond. En je sloot meteen nieuwsgierige blikken buiten. Dit stukje was alleen maar voor de gasten van het feest, op de eerste plaats natuurlijk de jarige. En je zou het zo niet zeggen, maar er werd veel gelachen, ome Jef en tante Clémentine hadden succes. "Maar allee, het zijn ook schoon kleedjes die ge gemaakt hebt", vond Peetje. "En waar hedde dan die hoge hoed vandaan?"
Die hoge hoed deed later op de avond nog dienst tijdens een goochelact. Maar tegen die tijd was de fotograaf van het gezelschap allang door zijn filmrolletjes heen, helaas. En trouwens ook niet meer zo bekwaam om z'n toestel recht te houden.
Joep Eijkens
fleursdumal.nl digital magazine
More in: - Fotoalbum Joep Eijkens, - Objets Trouvés (Ready-Mades), Photography
---
Aardappelnood
Tilburger Kees Koster – ondermeer bekend van zijn pentekeningen van historische gebouwen en schilderachtige plekjes in Brabant en Zeeland. – zag in 1920 het eerste levenslicht in Rotterdam. Zijn vader verdiende de kost als koetsier van rijkelui in Wassenaar en werd de eerste chauffeur van de Rotterdamse reder Philippus van Ommeren. In die hoedanigheid was vader Koster soms dagen, zo niet weken lang van huis als zijn werkgever op reis ging.
Kees heeft nog diverse ansichtkaarten uit de jaren twintig bewaard die zijn vader dan naar zijn moeder schreef. Eén van die kaarten zien we hierboven. Hoe het met die twee hier gefotografeerde lieden zit, blijft vooralsnog de vraag. Of zou het komische tafereeltje – gezien de tekst – iets te maken hebben met minder vrolijk stemmende problemen van voedselgebrek en inflatie? Daar zal de heer Van Ommeren geen last van gehad hebben. En ook zijn chauffeur kreeg op tijd zijn natje en droogje. Die gebruikte de kaart enkel om zijn vrouw te melden dat ze weer gewisseld waren van hotel…
Joep Eijkens
PS Voor wie de tekst niet kan lezen, die luidt als volgt:
Zeg man, indien je nog hecht aan je leven,
Dan moet je me gauw je aardappeltjes geven.
In deez' tijden heeft geld voor ons geen waarde
Wij vragen nog slechts naar de vruchten der aarde.
(eerder gepubliceerd op www.cubra.nl)
fleursdumal.nl magazine
More in: - Fotoalbum Joep Eijkens, - Objets Trouvés (Ready-Mades), Photography
---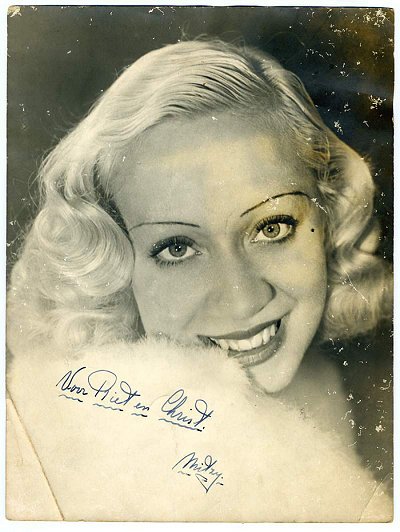 Mitzy
Opeens keken me twee heldere ogen aan. Vanaf de bodem van een kartonnen doos.
Mitzy heette ze. En ze was in het gezelschap van een oude opa, een stuurs kijkend echtpaar en een communicantje. Allemaal ingelijste portretten. Alleen Mitzy moest het zonder lijst en glas stellen. Misschien dat ze daarom een wat vuilige vlek bij haar linkeroog had gekregen. Ze keek er niet minder vrolijk om. 'Voor Riet en Christ' had ze op haar foto geschreven. En daaronder even vlot haar naam.
Maar wie was Mitzy? Zeker, een artieste. Maar verder? Zou het Mitzy Tieland kunnen zijn? Die naam kom ik tegen in de levensloop van de uit Tilburg afkomstige Louis Dusée (1930-1999). Met ene Mitzy Tieland vormde Dusée ooit een duo voordat hij in 1962 bij Sleeswijk's Snip en Snap Revue terecht kwam.
Maar was deze Mitzy niet al actief toen Louis nog in een korte broek rondliep? Haar haren en getekende wenkbrauwen doen in elk geval aan de jaren dertig denken. Of werd dat na de oorlog nog steeds mooi gevonden? In elk geval staat op de achterkant van de foto: Groningen October 1948.
Kunt u zich voorstellen dat ik Mitzy niet kon laten liggen in die kartonnen doos op de Tilburgse Meimarkt?
Joep Eijkens
PS De heer Mari Kant (www.theaterarchief.nl) meldde me nog dat Mitzy, in elk geval niet Mitzy Tieland is. 'Mitzy Tieland is toevallig een vriendin van mij en ook komt ze veel voor in de archieven van ons Theaterarchief', zo schreef hij. 'Ik denk dat het Mitzy Smeenks is, maar pin me er niet op vast'.
(eerder gepubliceerd op www.cubra.nl)
fleursdumal.nl magazine
More in: - Fotoalbum Joep Eijkens, - Objets Trouvés (Ready-Mades), Photography
---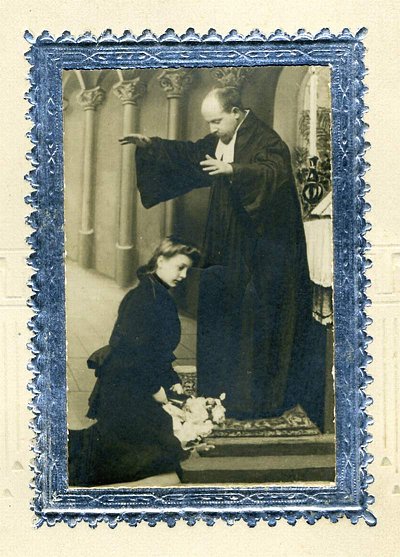 Verloren onschuld
Sommige foto's hebben voor mij hun onschuld verloren, misschien wel voorgoed. En meestal ten onrechte. Zo kan ik foto's van een misdienaar of een jongenskoor uit de jaren vijftig niet meer los zien van krantenartikelen over kindermisbruik in de katholieke kerk. En zo moest ik bij bijgaande, vooroorlogse foto al op het eerste gezicht denken aan Marietje Kessels, het Tilburgse meisje dat in 1900, elf jaar oud, verkracht en vermoord werd in de kerk van de Noordhoek.
Ik vond de foto onlangs op een boekenmarkt in Berlijn. Preciezer gezegd: het betrof een soort souvenirboekje met op de voorkant een met namaakzilver omlijst fotootje. Herzlichste Segenswünsche zur Konfirmation staat er onder, in eveneens zilverkleurige letters.
Aanvankelijk dacht ik dat 'Konfirmation' bij Duitse protestanten zoiets is als het Vormsel bij Nederlandse katholieken. Ik ben zelf ook gevormd, misschien nog wel door mgr. Bekkers. Een jaar of acht zal ik geweest zijn, maar ik kan me er niets meer van herinneren. Wel ken ik foto's uit familiealbums waarop te zien is hoe een bisschop het voorhoofd van een kind zalft. Van Dale omschrijft 'vormsel' (zonder hoofdletter) als volgt: '(r.k.) sacrament waarin de gedoopte door de oplegging van de handen van de bisschop, de zalving en de heilige woorden de kracht ontvangt om het geloof standvastig te belijden, zowel inwendig als in uiterlijke levenswandel'.
Maar 'Konfirmation' is bij nader inzien toch iets anders. Duitslandweb.nl heeft het over 'een bevestiging van het volwassen worden binnen de protestantse kerk' rond het veertiende levensjaar. En duitslandforum.nl spreekt van een 'Segnung' die 'den Übertritt ins kirchliche Erwachsenenalter (markiert)'.
Goed, terug naar onze foto. Waarschijnlijk ben ik bevooroordeeld maar Vormsel-foto's komen bij mij gemoedelijker over, het lijkt eerder op een onderonsje tussen bisschop en kind. Hier echter krijgen de handen van de predikant iets bezwerends. Als iemand me gezegd had dat het om duiveluitdrijving ging, had ik het misschien wel geloofd al zou ik het wel vreemd hebben gevonden dat het meisje er zo rustig bijzat. Misschien wordt die akelige associatie ook gevoed door de brede, omlaaghangende mouwen van de pastor – ze doen me aan vleermuizen denken.
Ik pak een vergrootglas. Nu zie ik dat het meisje een boekje vasthoudt, een gebedenboekje wellicht. En vlak voor haar ligt een boeket bloemen, vermoedelijk witte rozen.
Binnenin het souvenirboekje waarop de foto bevestigd is, staat het volgende gedicht:
Gott segne Dich, der Dich bisher geleitet,
Des Guten Hüll' und Füll' um Dich gebreitet,
So gnadenvoll, so mild, so väterlich,
Gott segne Dich!
Dan kijk ik weer naar de foto en richt mijn vergrootglas op het gezichtje van het meisje. En echt, ik kan niet anders denken dan aan Marietje Kessels.
Joep Eijkens
(eerder gepubliceerd op www.cubra.nl)
fleursdumal.nl magazine
More in: - Fotoalbum Joep Eijkens, - Objets Trouvés (Ready-Mades)
---
Lentedansje
Op een prachtige voorjaarsochtend na een strenge winter die ver achter ons ligt, ging in een sanatorium te D. de deur open van de afdeling waar TBC-patiënten hun dagen sleten. Het eerste wat men zag waren de bleke botjes van een hand die naar buiten werd gestoken en begon te zwaaien. En het eerste wat men hoorde was het geluid van lachende vrouwen. De deur ging verder open en nu kwamen twee verpleegsters te voorschijn die tussen hen in een menselijk skelet droegen. Ze liepen ermee de tuin in en bij de lichtpaars bloeiende tulpenboom gekomen begonnen de drie zowaar te dansen. "Eindelijk lente", zei dokter V. die vanaf zijn balkon mooi zicht had op het tafereeltje.
De afstand was te groot om een foto te nemen. Hij zou toch eens serieus werk moeten maken van een lens waarmee je stukken dichterbij je onderwerp kon komen. Maar kijk, ze liepen al weer terug en zuster P. zag hem nu ook op zijn balkon staan. "Leuk!", riep hij nu. "Als jullie even wachten kom ik zo een foto van jullie maken."
En hoewel de twee aanvankelijk licht protesteerden, stonden ze even later bereidwillig te poseren. "Alleen jammer van die uniformen", dacht dokter V. voor hij afdrukte.
Joep Eijkens
(eerder gepubliceerd op www.cubra.nl)
fleursdumal.nl magazine
More in: - Fotoalbum Joep Eijkens, - Objets Trouvés (Ready-Mades)
---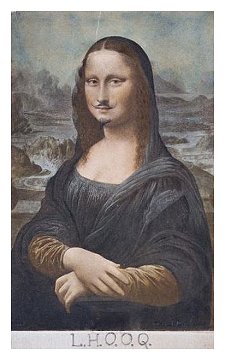 "I think that art is the only form of activity through which man shows himself to be a real individual. Through it alone, he can move beyond the animal stage because art opens onto regions dominated by neither time nor space."
Marcel Duchamp
"And yet I have drawn people's attention to the fact that art is a mirage. A mirage, just like the oasis that appears in the desert. It is very beautiful, until the moment when you die of thirst, obviously. But we do not die  of thirst in the field of art. The mirage has substance."
Marcel Duchamp, 1964
MARCEL DUCHAMP: PAINTING, EVEN
UNTIL 5 JANUARY 2015  CENTRE POMPIDOU PARIS
Through a 100-odd works brought together for the first time, the Centre Pompidou is devoting a monograph exhibition to the painted work of Marcel Duchamp. With a completely new and knowingly paradoxical approach, the exhibition is designed to show the paintings of the man who, in common modernist opinion, killed painting.
At the heart of this pictorial work and the discourse of the exhibition, visitors are invited to take a new look at the paintings and drawings that led Marcel Duchamp to create his masterpiece, known as Le Grand Verre, La mariée mise à nu par ses célibataires, même (The Bride Stripped Bare by her Suitors, Even (The Large Glass)), which was begun in 1910 and declared unfinished by the artist in 1923.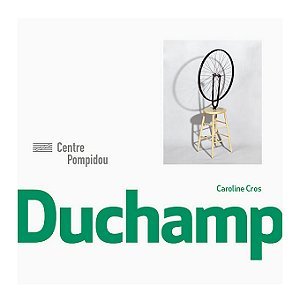 To situate this work in the context of a long and complex creative process, Duchamp conscientiously  gathered his paintings together in the hands of a small circle of collectors, and replicated them in his Boîte-en-Valise (Box in a Suitcase) for posterity and those he called «the viewers».
Little-known in Europe, these paintings (now mostly in the Philadelphia Museum of Art) have been reunited at the Centre Pompidou, surrounded by the pictorial, scientific and technical sources, as well those acquired from books, that Duchamp drew on during those crucial and fertile years. The exhibition thus provides new keys for more clearly interpreting and understanding a programmatic work that is also a manifesto.
From humorous drawings to the Nu descendant l'escalier, from mathematics to the theme of the «Bride», from works on perspective to the films of Etienne-Jules Marey and Georges Méliès, from Impressionism to Cubism, and from Cranach the Elder to Edouard Manet and Odilon Redon, by way of Francis Picabia and František Kupka, the circuit takes the public step by step through the construction of one of modern art's richest and most fascinating works, Le Grand Verre, with the aid of essential and unexpected references. The exhibition reveals Duchamp's pictorial studies, his Fauve period, the influence of Symbolism, his Cubist explorations, and the nonsense and humour that imbued his work, notably through the artist's original notes, now in the Centre Pompidou.
It highlights his interest in literature and words, as well as in the optical, physical and mechanical sciences.
With Marcel Duchamp. La peinture, même., the Centre Pompidou helps to write the history of the art of our times, providing a fresh look at the work of one of the most iconic figures in 20th century art.
MARCEL DUCHAMP
PAINTING, EVEN.
24 SEPTEMBER 2014 – 5 JANUARY 2015
CENTRE POMPIDOU PARIS
GALERIE 2, LEVEL 6
# More informatie website Centre Pompidou
fleursdumal.nl magazine
More in: - Objets Trouvés (Ready-Mades), Art & Literature News, Dada, FDM in Paris, Marcel Duchamp
---
Older Entries »
Thank you for reading FLEURSDUMAL.NL - magazine for art & literature