FICTION: SHORT STORIES
·
Ton van Reen: Het diepste blauw (075). Een roman als feuilleton
·
Ton van Reen: Het diepste blauw (074). Een roman als feuilleton
·
Saki: Laura (short story)
·
Ton van Reen: Het diepste blauw (073). Een roman als feuilleton
·
Saki: The Music on the Hill (short story)
·
Ton van Reen: Het diepste blauw (072). Een roman als feuilleton
·
Ton van Reen: Het diepste blauw (071). Een roman als feuilleton
·
Ton van Reen: Het diepste blauw (070). Een roman als feuilleton
·
Frankenstein: Annotated for Scientists, Engineers, and Creators of All Kinds
·
Ton van Reen: Het diepste blauw (069). Een roman als feuilleton
·
James Joyce: Be Not Sad
·
Ton van Reen: Het diepste blauw (068). Een roman als feuilleton
Voor ze naar binnen gaan, plukken ze dikke ijspegels van het afdakje boven de deur, om op te sabbelen.
Binnen maken ze een vuurtje van houtblokken. Als het een beetje warm is, trekken Mels en Tijger hun schoenen en sokken uit om ze bij het vuur te drogen. Hun tenen zijn zo wit als die van hun grootmoeder toen ze opgebaard lag en haar voeten net iets onder het laken uit staken. Mels had het niet kunnen laten om er even in te knijpen. Hij weet zeker dat ze even de ogen opende en dat ze heel zacht `au' had gezegd. Zijn grootmoeder hield van grapjes, daaraan kon de dood niets veranderen. Maar van zijn vader had hij een draai om zijn oren gekregen.

Daardoor weet Mels het nog. Veel meer dan dat voorval heeft hij niet van haar onthouden: hij was nog klein toen ze doodging. Ze kennen haar vooral uit de verhalen van grootvader Bernhard. En ze weten dat ze van paarse viooltjes hield, want hij zorgt ervoor dat haar graf altijd vol paarse viooltjes staat.
`Ik zal jullie voeten warmen', zegt Thija. Ze wrijft hun tenen warm met sneeuw, net zo lang tot ze gloeien als ijzer in smidsvuur. Ondertussen vertelt ze over de winter in China, waar het heel gewoon is dat de sneeuw zo hoog ligt dat de mensen er tunnels in aanleggen en de dorpen in de winter op vestingen lijken, met daken van ijs waar de zon doorheen schijnt.
`Er was eens een meisje in China dat in een gevangenis zat', begint Thija.
`Waarom?'
`Omdat haar moeder niet van haar hield. Ze zat niet in een echte gevangenis, voor haar gevoel was het zo. Om lief voor haar moeder te zijn, plukte ze bloemen. Maar toen ze de bloemen aan haar moeder gaf, vond die de kleur niet mooi. Toen bakte ze een taart voor haar moeder, maar die lustte de taart niet omdat ze in plaats van suiker per ongeluk zout had gebruikt. Een lieve moeder had tegen haar kind gezegd: "O, wat heb jij een lekkere taart gebakken. Geef me nog maar een stukje." Maar in haar zenuwachtigheid deed het meisje alles fout. Op een keer, toen haar moeder weer tegen haar schreeuwde, werd het meisje heel boos. Toen haar moeder sliep, pakte ze het taartmes en sneed haar het hoofd af. Ze stopte het in een taartdoos en stuurde het naar de keizer, omdat de keizer oud en alleen en blind en een beetje zielig was. Ze dacht: Als hij de doos opent en het haar van mijn moeder voelt, vindt hij er misschien troost in door het te strelen. Zo was haar moeder dan toch nog ergens goed voor. De rest van het lichaam sneed ze in stukken en gooide die in zee.'
`En toen?'
`Dit is alles.'
`Dit verhaal is niet af', zegt Mels. `Krijgt ze straf? Wordt die moeder weer heel en krijgt ze dan spijt?'
`Vertel jij het verhaal maar verder.'
`Goed. Op een dag toen de keizer het haar van de moeder zat te strelen, merkte hij dat het alleen een hoofd was. Dat deed hem verdriet. Hij wilde het hele lichaam van de vrouw kunnen strelen. Hij liet in het land omroepen dat wie hem het lichaam van de vrouw bracht, een beloning zou krijgen.
Op een dag vonden een paar vissers de stukken van het lichaam in hun netten. Ze brachten ze naar de keizer. Die was blij. Vurig wenste hij dat de vrouw weer tot leven kwam. Maar toen de keizerlijke dokters haar in elkaar aan het zetten waren, ontdekten ze dat ze geen hart had. Daarom gaven ze haar het hart van een slang. Ze begon weer te leven. De vrouw was verbaasd toen ze zichzelf in de armen van de keizer terugvond.'
`En toen?' vraagt Tijger.
`Dan is het verhaal afgelopen.'
`Dat kan niet. Ik weet hoe het verdergaat. De vrouw wil zich wreken op haar dochter. En ze is sluw omdat ze nu het hart heeft van een slang. Op een nacht glijdt ze, in de gedaante van een slang, het huis van haar dochter binnen en probeert haar te wurgen. Maar de dochter herkent haar aan haar ogen. Die zijn nog altijd even vals. Nu kan haar moeder haar slangengedaante niet meer afleggen, want wie in valse vermomming herkend wordt, moet voor altijd in die gedaante blijven huizen en kan nooit meer zichzelf worden. De moeder vlucht naar het bos. Daar woont ze nu nog, als een gevaarlijke slang. Alle kinderen die in het bos komen, eet ze op.'
Zo is het genoeg', zegt Thija. `Zwarte sprookjes eindigen altijd met opgegeten kinderen.'
De schoenen en sokken zijn weer droog. Het vuur is al bijna uit. Ze gooien een paar emmers sneeuw op de nog gloeiende as die sissend protesteert, alsof de duivel zelf zich in de resten van het vuur ligt te warmen.
Ze gaan naar de zolder. Het raampje van de molenzolder is wit van de sneeuw. De binnenkant van het glas is geëtst met ijsbloemen die lijken op het suikerwerk op een abrikozenvlaai.
Het is alsof ze onder een stolp zitten. Om elkaar te verstaan is fluisteren meer dan genoeg. Hun stemmen komen met wolkjes uit hun mond. De woorden bevriezen bijna op hun lippen, de letters vallen als spelden zo zacht op de vloer, maar maken toch nog genoeg geluid om elkaar onder deze stolp van stilte te kunnen verstaan.
Tijger blaast zijn handen warm. Het klinkt oorverdovend luid.
`Stil', zegt Thija. `We zijn hier om te luisteren naar de stilte.'
Ze durven bijna niet meer te ademen.
Plotseling horen ze een kreet. Ver weg. Het is net alsof hij over een enorme vlakte naar hen toe komt.
`Dat is iemand die bang is', zegt Thija.
`Het is die zigeunerjongen', zegt Mels. `Jacob.'
`Is hij dan nog niet dood?'
`Hij zit in die wagen om beter te worden. Hij roept zo hard omdat hij alleen is. Het is mijn schuld. Ik heb beloofd dat ik terugkwam.'
`Dan gaan we nu', zegt Thija.
Ze verlaten de stille stolp van de molen en lopen langs de Wijer het dorp uit.
Door het dikke zuigende pak sneeuw duurt de tocht eindeloos lang.
De woonwagens en de kleine keet staan nog steeds op dezelfde plaats, aan het eind van een bosweg.
Iemand tikt op het beslagen raam van het keetje. Ze moeten goed kijken. Het is Jacob.
`Ik dacht dat je me vergeten was', roept hij.
`We konden je tot in het dorp horen roepen', zegt Mels. `Als het koud is, draagt een stem heel ver.'
`Ik was even buiten', zegt de jongen. `Om door de sneeuw te lopen. Ik geloof niet dat ik beter word door in dit hok te blijven zitten. Daarom schreeuwde ik zo hard. Niet van kwaadheid, hoor. Van blijdschap omdat ik de sneeuw voelde.'
Jacobs moeder komt uit haar woonwagen naar buiten. Ze kennen haar goed. Mels' moeder heeft zeker al twintig vingerhoeden van haar gekocht, maar ze gebruikt er nooit een. Ze zien Jacobs vader achter de ruit zitten, zijn hoofd in de rook van een sigaret.
`Ik ben blij dat jullie Jacob opzoeken', zegt ze.
`Hoelang is hij al ziek?'
`Al heel lang. Kom even binnen, ik heb thee.'
In de wagen moeten ze zich voorzichtig bewegen om de porseleinen engelen en adelaars en de kristallen vazen niet om te stoten. De wagen staat propvol.
Ze drinken thee.
`Het gaat niet goed met Jacob', zegt zijn moeder. `Ik zeg het eerlijk, het is een wonder dat hij nog leeft. Hij wil niet dood. Misschien haalt hij de lente. Dan kan het nog lang duren.'
Jacobs vader zucht, inhaleert diep en blaast de rook uit in kringetjes.
`Als hij niet beter wordt, dan mag hij toch wel uit dat keetje?' vraagt Mels.
`Als we tegen hem zeggen dat hij eruit mag, weet hij dat het afgelopen is.'
`Dank u voor de thee', zegt Mels. `We willen nu graag naar Jacob.'
Jacobs vader dooft de sigaret, kijkt hen een voor een aan, lijkt iets te willen zeggen, slikt, alsof hij een brok in zijn keel heeft, zegt niets en rolt een nieuwe sigaret.
Door de sneeuw lopen ze terug naar de kleine wagen.
Jacob nodigt hen naar binnen. Dat mag nu dus ook.
In de wagen ruikt het naar schoonmaakmiddelen. Zijn het de medicijnen die zijn longen beter moeten maken?
Jacob zit op het bed. Zijn gezicht is wit als sneeuw.
`Zien zieke kinderen er allemaal zo uit als ik?' vraagt hij.
`Als je beter bent, krijg je net zo'n rode kleur van de kou als wij', zegt Mels. `Straks, als je weer naar school gaat.'
`Op scholen houden ze niet van zigeuners.'
`Bij ons wel', zegt Mels. `We hebben ook een meisje uit China in de klas.'
`Zij?' Jacob kijkt naar Thija.
`Als je van verhalen houdt, kun je vriend van ons worden', zegt Thija.
`Zigeuners kennen veel verhalen', zegt Jacob. Hij vertelt over hoe de zigeuners door de eeuwen heen door de Kaukasus trokken en door Europa en ten slotte hier zijn aangekomen. Hij heeft een boek over de lange reis. Het staat vol platen. Zigeuners op feesten. Dansende meisjes met wijde rokken. Kampvuren. Vrouwen die levende egels opblazen door ze een strootje in hun gat te steken, ze in klei rollen en ze levend in het vuur roosteren.
`Bah, dat jullie egels eten', zegt Mels.
Jacob zwijgt. Hij is moe. Ze staan op.
`Komen jullie weer terug?'
`Zeker', zegt Mels.
Zachtjes gaan ze naar buiten. De sneeuw lijkt nu nog witter. Hij knarst onder hun voeten.
Zwijgend lopen ze terug naar huis.
`Raar dat Jacob blauwe ogen heeft', zegt Thija. `En blond haar.'
`Zou het dan toch waar zijn dat zigeuners kinderen roven?' vraagt Tijger.
`Er zijn ook blonde Chinezen', zegt Thija.
`Bestaat niet.'
`Wel. Afstammelingen van gestrande scheepsbemanningen. En van Marco Polo. Die kreeg honderd vrouwen van de keizer.'
`Als je in de Middeleeuwen een zigeuner doodsloeg kreeg je een beloning', zegt Mels.
`Veel?' vraagt Tijger.
`Als je een gezin uitmoordde was je rijk. Dan kon je een kasteel kopen.'
`Jammer dat we niet in de Middeleeuwen leven', zegt Tijger. `Dan hadden we genoeg geld om naar China te vliegen.'
Thija kijkt hem verbijsterd aan.
`Natuurlijk hadden we hen dan doodgeslagen', zegt Tijger. `Als we toen hadden geleefd, hadden wij ook gedacht als middeleeuwers.'
Ton van Reen: Het diepste blauw (075)
wordt vervolgd
fleursdumal.nl magazine
More in: - Book News, - Het diepste blauw, Archive Q-R, Reen, Ton van
---
Mels herinnert zich nog goed dat meester Hajenius eindelijk was gestorven, aan de gele verf.

Buren die zijn vrouw hadden geholpen in de laatste weken dat hij ziek was, zeiden dat hij bijna oranje was, net als de eierdooiers van bruine kippen. De gele verf waarde rond in het dorp. Grootvader Bernhard had het er druk mee gehad. Drukker dan de dokters. Die hadden het makkelijk.

De mensen die plotseling stierven, kregen volgens hen een beslag, wat dat dan ook was. En niemand vroeg ernaar. Dood was dood. Dokters waren niet veel meer dan kwakzalvers. In die tijd zou Mels met zijn kwalen allang dood zijn geweest. Nu wordt zijn leven gerekt door nieuwe uitvindingen. Nieuwe medicijnen die een lijk tot leven kunnen brengen. Maar wat heeft hij eraan?

Hij leeft in een wereld die alleen de zijne is, maar waar niemand nog belangstelling voor heeft. Wat heeft het voor zin om de tijd te rekken als hij zijn verhalen aan niemand kwijt kan?
Ton van Reen: Het diepste blauw (074)
wordt vervolgd
fleursdumal.nl magazine
More in: - Book News, - Het diepste blauw, Archive Q-R, Reen, Ton van
---
Laura
"You are not really dying, are you?" asked Amanda.
"I have the doctor's permission to live till Tuesday," said Laura.
"But today is Saturday; this is serious!" gasped Amanda.
"I don't know about it being serious; it is certainly Saturday," said Laura.
"Death is always serious," said Amanda.
"I never said I was going to die. I am presumably going to leave off being Laura, but I shall go on being something. An animal of some kind, I suppose. You see, when one hasn't been very good in the life one has just lived, one reincarnates in some lower organism. And I haven't been very good, when one comes to think of it. I've been petty and mean and vindictive and all that sort of thing when circumstances have seemed to warrant it."
"Circumstances never warrant that sort of thing," said Amanda hastily.
"If you don't mind my saying so," observed Laura, "Egbert is a circumstance that would warrant any amount of that sort of thing. You're married to him — that's different; you've sworn to love, honour, and endure him: I haven't."
"I don't see what's wrong with Egbert," protested Amanda.
"Oh, I daresay the wrongness has been on my part," admitted Laura dispassionately; "he has merely been the extenuating circumstance. He made a thin, peevish kind of fuss, for instance, when I took the collie puppies from the farm out for a run the other day."
"They chased his young broods of speckled Sussex and drove two sitting hens off their nests, besides running all over the flower beds. You know how devoted he is to his poultry and garden."
"Anyhow, he needn't have gone on about it for the entire evening and then have said, 'Let's say no more about it' just when I was beginning to enjoy the discussion. That's where one of my petty vindictive revenges came in," added Laura with an unrepentant chuckle; "I turned the entire family of speckled Sussex into his seedling shed the day after the puppy episode."
"How could you?" exclaimed Amanda.
"It came quite easy," said Laura; "two of the hens pretended to be laying at the time, but I was firm."
"And we thought it was an accident!"
"You see," resumed Laura, "I really have some grounds for supposing that my next incarnation will be in a lower organism. I shall be an animal of some kind. On the other hand, I haven't been a bad sort in my way, so I think I may count on being a nice animal, something elegant and lively, with a love of fun. An otter, perhaps."
"I can't imagine you as an otter," said Amanda.
"Well, I don't suppose you can imagine me as an angel, if it comes to that," said Laura.
Amanda was silent. She couldn't.
"Personally I think an otter life would be rather enjoyable," continued Laura; "salmon to eat all the year round, and the satisfaction of being able to fetch the trout in their own homes without having to wait for hours till they condescend to rise to the fly you've been dangling before them; and an elegant svelte figure —"
"Think of the otter hounds," interposed Amanda; "how dreadful to be hunted and harried and finally worried to death!"
"Rather fun with half the neighbourhood looking on, and anyhow not worse than this Saturday-to-Tuesday business of dying by inches; and then I should go on into something else. If I had been a moderately good otter I suppose I should get back into human shape of some sort; probably something rather primitive — a little brown, unclothed Nubian boy, I should think."
"I wish you would be serious," sighed Amanda; "you really ought to be if you're only going to live till Tuesday."
As a matter of fact Laura died on Monday.
"So dreadfully upsetting," Amanda complained to her uncle-inlaw, Sir Lulworth Quayne. "I've asked quite a lot of people down for golf and fishing, and the rhododendrons are just looking their best."
"Laura always was inconsiderate," said Sir Lulworth; "she was born during Goodwood week, with an Ambassador staying in the house who hated babies."
"She had the maddest kind of ideas," said Amanda; "do you know if there was any insanity in her family?"
"Insanity? No, I never heard of any. Her father lives in West Kensington, but I believe he's sane on all other subjects."
"She had an idea that she was going to be reincarnated as an otter," said Amanda.
"One meets with those ideas of reincarnation so frequently, even in the West," said Sir Lulworth, "that one can hardly set them down as being mad. And Laura was such an unaccountable person in this life that I should not like to lay down definite rules as to what she might be doing in an after state."
"You think she really might have passed into some animal form?" asked Amanda. She was one of those who shape their opinions rather readily from the standpoint of those around them.
Just then Egbert entered the breakfast-room, wearing an air of bereavement that Laura's demise would have been insufficient, in itself, to account for.
"Four of my speckled Sussex have been killed," he exclaimed; "the very four that were to go to the show on Friday. One of them was dragged away and eaten right in the middle of that new carnation bed that I've been to such trouble and expense over. My best flower bed and my best fowls singled out for destruction; it almost seems as if the brute that did the deed had special knowledge how to be as devastating as possible in a short space of time."
"Was it a fox, do you think?" asked Amanda.
"Sounds more like a polecat," said Sir Lulworth.
"No," said Egbert, "there were marks of webbed feet all over the place, and we followed the tracks down to the stream at the bottom of the garden; evidently an otter."
Amanda looked quickly and furtively across at Sir Lulworth.
Egbert was too agitated to eat any breakfast, and went out to superintend the strengthening of the poultry yard defences.
"I think she might at least have waited till the funeral was over," said Amanda in a scandalised voice.
"It's her own funeral, you know," said Sir Lulworth; "it's a nice point in etiquette how far one ought to show respect to one's own mortal remains."
Disregard for mortuary convention was carried to further lengths next day; during the absence of the family at the funeral ceremony the remaining survivors of the speckled Sussex were massacred. The marauder's line of retreat seemed to have embraced most of the flower beds on the lawn, but the strawberry beds in the lower garden had also suffered.
"I shall get the otter hounds to come here at the earliest possible moment," said Egbert savagely.
"On no account! You can't dream of such a thing!" exclaimed Amanda. "I mean, it wouldn't do, so soon after a funeral in the house."
"It's a case of necessity," said Egbert; "once an otter takes to that sort of thing it won't stop."
"Perhaps it will go elsewhere now there are no more fowls left," suggested Amanda.
"One would think you wanted to shield the beast," said Egbert.
"There's been so little water in the stream lately," objected Amanda; "it seems hardly sporting to hunt an animal when it has so little chance of taking refuge anywhere."
"Good gracious!" fumed Egbert, "I'm not thinking about sport. I want to have the animal killed as soon as possible."
Even Amanda's opposition weakened when, during church time on the following Sunday, the otter made its way into the house, raided half a salmon from the larder and worried it into scaly fragments on the Persian rug in Egbert's studio.
"We shall have it hiding under our beds and biting pieces out of our feet before long," said Egbert, and from what Amanda knew of this particular otter she felt that the possibility was not a remote one.
On the evening preceding the day fixed for the hunt Amanda spent a solitary hour walking by the banks of the stream, making what she imagined to be hound noises. It was charitably supposed by those who overheard her performance, that she was practising for farmyard imitations at the forth-coming village entertainment.
It was her friend and neighbour, Aurora Burret, who brought her news of the day's sport.
"Pity you weren't out; we had quite a good day. We found at once, in the pool just below your garden."
"Did you — kill?" asked Amanda.
"Rather. A fine she-otter. Your husband got rather badly bitten in trying to 'tail it.' Poor beast, I felt quite sorry for it, it had such a human look in its eyes when it was killed. You'll call me silly, but do you know who the look reminded me of? My dear woman, what is the matter?"
When Amanda had recovered to a certain extent from her attack of nervous prostration Egbert took her to the Nile Valley to recuperate. Change of scene speedily brought about the desired recovery of health and mental balance. The escapades of an adventurous otter in search of a variation of diet were viewed in their proper light. Amanda's normally placid temperament reasserted itself. Even a hurricane of shouted curses, coming from her husband's dressing-room, in her husband's voice, but hardly in his usual vocabulary, failed to disturb her serenity as she made a leisurely toilet one evening in a Cairo hotel.
"What is the matter? What has happened?" she asked in amused curiosity.
"The little beast has thrown all my clean shirts into the bath! Wait till I catch you, you little —"
"What little beast?" asked Amanda, suppressing a desire to laugh; Egbert's language was so hopelessly inadequate to express his outraged feelings.
"A little beast of a naked brown Nubian boy," spluttered Egbert.
And now Amanda is seriously ill.
Laura
From 'Beasts and Super-Beasts'
by Saki (H. H. Munro)
(1870 – 1916)
fleursdumal.nl magazine
More in: Archive S-T, Saki, Saki, The Art of Reading
---
Mels wordt wakker. Verbaasd ziet hij dat er sneeuw op het matje voor zijn bed ligt. Hij vliegt het bed uit. De vensterbank is nat. De gesmolten sneeuw heeft zijn schoolschrift doorweekt. Het opstel dat hij gisteren heeft geschreven, is onleesbaar op het natte papier. Alle letters zijn uitgelopen. Ze zijn nog het best te lezen in het spiegelschrift aan de andere kant van de blaadjes.
Hij hangt het schrift te drogen op het wasrekje bij de kachel. Even later begint het papier te dampen. Het ruikt naar gesmolten boter.
Als hij zich heeft aangekleed en zijn boterham op heeft, is het schrift droog, maar de tekst blijft onleesbaar. Het is het schrift van een alchemist.
Thija en Tijger halen hem op. Hij laat hun het schrift zien.
`Het lijkt op Chinees', zegt Thija, de letters in spiegelschrift bekijkend. `Het is knap gedaan, maar toch krijg je een slecht cijfer.'
Vandaag zijn ze vrij. Al de hele week. Op school worden de houtkachels vervangen door oliehaarden.
Lange sporen trekkend door de sneeuw, schuiven ze over straat, op weg naar de winkel van juffrouw Fijnhout.
Nu ze niet meer achter haar toonbank kan staan, is de winkel alleen open als er mensen zijn om haar te helpen. Meestal is dat op zaterdagmiddag en door de week van vijf tot zes. Dan staan Mels en Tijger achter de toonbank en zorgt Thija voor juffrouw Fijnhout. Soms, als het druk is, helpen de moeders van Tijger en Mels.
Juffrouw Fijnhout is net uit bed. Haar haren staan uit als pieken, zoals ze op het kussen hebben gelegen. Ze haalt haar hand als een kam door het haar. Ze heeft nog niet ontbeten.
Thija maakt thee.
Juffrouw Fijnhout eet bijna niets meer. Ze drinkt wat thee en pakt er een mariakaakje bij. Ze wordt elke dag geler. Misschien komt het van te veel thee. Soms, als ze even opstaat, schuifelt ze door de keuken en herschikt ze de heiligenprentjes die ze achter de spiegel en de schilderijtjes heeft gestoken, net als de vergeelde rekeningen, briefjes met namen en telefoonnummers en de jarenoude palmtakjes tegen blikseminslag.
`Kun je me helpen een brief te schrijven?' vraagt ze aan Mels.
`Zeker.' Hij pakt het schrijfblok en de vulpen uit de bureaulade.
`Wij gaan de winkel poetsen', zegt Thija. Zij en Tijger verdwijnen met vegers en stofdoeken naar de winkel.
Juffrouw Fijnhout dicteert.
`Lieve nicht Jozefien.'
`Hebt u een nicht?'
Ze hoort zijn vraag niet.
`Ik moet je schrijven over mijn toestand. Ik val maar met de deur in huis: het gaat niet goed met mij. De dokter zegt dat ik kanker heb en dat hij niets voor me kan doen.'
`Kanker?' zegt Mels. `Ik dacht de gele verf.'
Ze hoort hem niet.
`Misschien kun je me komen opzoeken om mijn voorstel te bespreken. Ik weet dat je het vreemd zult vinden, maar ik denk dat mijn huis en mijn winkel wel wat voor jou zouden zijn. Het winkeltje heeft altijd goed gedraaid. Er komen steeds meer mensen in het dorp wonen, vooral nu de meelfabriek gaat uitbreiden. Ik wil graag dat alles blijft zoals het is, tenslotte was de zaak ook al van je grootouders en heeft jouw moeder, mijn zus Johanna zaliger, net zo veel rechten op het bezit als ik. Jij bezit haar rechten. Als jij de zaak wilt overnemen, is alles van jou, want mijn deel schenk ik je ook. Zie je ervan af, dan schenk ik alles aan de kerk. Ik hoop dat jij jouw deel dan ook aan de kerk laat.' Ze wacht even. `Heb je dat?'
`Heb je dat?' vraagt Mels. `Hoe, wat, heb je dat? Het staat er al.'
`Heb je dat allemaal opgeschreven?'
`Ja, alles. Alleen "heb je dat?" moet ik weer doorstrepen.'
`Geeft niet. En zet er maar onder, je liefhebbende tante Jozefien.'
`Jozefien?'
`Mijn nicht heet naar mij.' Ze zet haar handtekening onder de brief. Mels vouwt hem dicht, stopt hem in een envelop en plakt er een postzegel op.
`Erft Jozefien ook die soldaten op de slaapkamer?' Hij flapt het er zomaar uit.
Ze kijkt hem aan, met pretlichtjes in haar ogen.
`Je wilt weten hoe ik eraan kom?'
`Eigenlijk wel.'
`Toen ik jong was heb ik als naaister in een atelier voor legerkleding gewerkt. Tot de zaak failliet ging omdat uniformen in Duitsland voordeliger werden gemaakt. Daar waren grotere fabrieken. De jongens die elkaar later hebben afgemaakt, droegen kleren van hetzelfde fabrikaat. Wel droevig. Toen de zaak ophield te bestaan, mocht ik de paspoppen meenemen. Met die kerels in huis voelde ik me niet zo alleen.'
Juffrouw Fijnhout zakt wat verder onderuit op haar stoel en sluit haar ogen.
Mels gaat de anderen helpen in de winkel.
Nadat ze zo geruisloos mogelijk het werk in de winkel hebben gedaan, doen ze de deur achter zich dicht, met het bordje `gesloten' voor het glas.
Door de dikke laag verse sneeuw lopen ze langs de Wijer naar het molenhuis van grootvader Bernhard, waar ze bij regen of sneeuw vaak zitten te wachten tot het droog is.
Tussen de witte oevers is de Wijer zwart. Aan de kanten heeft ze zich versierd met randjes van bevroren kant. Ze kunnen de duiveltjes die in de beek wonen, van de kou horen kermen, maar ja, wie heeft er medelijden met die gemene opdondertjes? Niemand toch? Behalve Thija. Op een ochtend toen het zo koud was dat de lucht als een mes door je mond sneed, heeft ze een keteltje kokend water in de Wijer gegoten, zodat de duiveltjes zich tenminste eventjes konden warmen.
`Mijn voeten bevriezen', zegt Mels, die net als Tijger bij elke stap een schep sneeuw in zijn lage schoenen krijgt.
Grootvader is niet thuis, maar het huis is niet op slot. De deur is nooit op slot. Er hangt een briefje, waarop geschreven staat: ik ben naar het kerkhof.
Ton van Reen: Het diepste blauw (073)
wordt vervolgd
fleursdumal.nl magazine
More in: - Book News, - Het diepste blauw, Archive Q-R, Reen, Ton van
---
The Music on the Hill
Sylvia Seltoun ate her breakfast in the morning-room at Yessney with a pleasant sense of ultimate victory, such as a fervent Ironside might have permitted himself on the morrow of Worcester fight. She was scarcely pugnacious by temperament, but belonged to that more successful class of fighters who are pugnacious by circumstance.

Fate had willed that her life should be occupied with a series of small struggles, usually with the odds slightly against her, and usually she had just managed to come through winning. And now she felt that she had brought her hardest and certainly her most important struggle to a successful issue. To have married Mortimer Seltoun, "Dead Mortimer" as his more intimate enemies called him, in the teeth of the cold hostility of his family, and in spite of his unaffected indifference to women, was indeed an achievement that had needed some determination and adroitness to carry through; yesterday she had brought her victory to its concluding stage by wrenching her husband away from Town and its group of satellite watering-places and "settling him down," in the vocabulary of her kind, in this remote wood-girt manor farm which was his country house.
"You will never get Mortimer to go," his mother had said carpingly, "but if he once goes he'll stay; Yessney throws almost as much a spell over him as Town does. One can understand what holds him to Town, but Yessney —" and the dowager had shrugged her shoulders.
There was a sombre almost savage wildness about Yessney that was certainly not likely to appeal to town-bred tastes, and Sylvia, notwithstanding her name, was accustomed to nothing much more sylvan than "leafy Kensington." She looked on the country as something excellent and wholesome in its way, which was apt to become troublesome if you encouraged it overmuch. Distrust of town-life had been a new thing with her, born of her marriage with Mortimer, and she had watched with satisfaction the gradual fading of what she called "the Jermyn-street-look" in his eyes as the woods and heather of Yessney had closed in on them yesternight. Her will-power and strategy had prevailed; Mortimer would stay.
Outside the morning-room windows was a triangular slope of turf, which the indulgent might call a lawn, and beyond its low hedge of neglected fuchsia bushes a steeper slope of heather and bracken dropped down into cavernous combes overgrown with oak and yew. In its wild open savagery there seemed a stealthy linking of the joy of life with the terror of unseen things. Sylvia smiled complacently as she gazed with a School-of-Art appreciation at the landscape, and then of a sudden she almost shuddered.
"It is very wild," she said to Mortimer, who had joined her; "one could almost think that in such a place the worship of Pan had never quite died out."
"The worship of Pan never has died out," said Mortimer. "Other newer gods have drawn aside his votaries from time to time, but he is the Nature–God to whom all must come back at last. He has been called the Father of all the Gods, but most of his children have been stillborn."
Sylvia was religious in an honest vaguely devotional kind of way, and did not like to hear her beliefs spoken of as mere aftergrowths, but it was at least something new and hopeful to hear Dead Mortimer speak with such energy and conviction on any subject.
"You don't really believe in Pan?" she asked incredulously.
"I've been a fool in most things," said Mortimer quietly, "but I'm not such a fool as not to believe in Pan when I'm down here. And if you're wise you won't disbelieve in him too boastfully while you're in his country."
It was not till a week later, when Sylvia had exhausted the attractions of the woodland walks round Yessney, that she ventured on a tour of inspection of the farm buildings. A farmyard suggested in her mind a scene of cheerful bustle, with churns and flails and smiling dairymaids, and teams of horses drinking knee-deep in duck-crowded ponds. As she wandered among the gaunt grey buildings of Yessney manor farm her first impression was one of crushing stillness and desolation, as though she had happened on some lone deserted homestead long given over to owls and cobwebs; then came a sense of furtive watchful hostility, the same shadow of unseen things that seemed to lurk in the wooded combes and coppices. From behind heavy doors and shuttered windows came the restless stamp of hoof or rasp of chain halter, and at times a muffled bellow from some stalled beast. From a distant corner a shaggy dog watched her with intent unfriendly eyes; as she drew near it slipped quietly into its kennel, and slipped out again as noiselessly when she had passed by. A few hens, questing for food under a rick, stole away under a gate at her approach. Sylvia felt that if she had come across any human beings in this wilderness of barn and byre they would have fled wraith-like from her gaze. At last, turning a corner quickly, she came upon a living thing that did not fly from her. Astretch in a pool of mud was an enormous sow, gigantic beyond the town-woman's wildest computation of swine-flesh, and speedily alert to resent and if necessary repel the unwonted intrusion. It was Sylvia's turn to make an unobtrusive retreat. As she threaded her way past rickyards and cowsheds and long blank walls, she started suddenly at a strange sound — the echo of a boy's laughter, golden and equivocal. Jan, the only boy employed on the farm, a towheaded, wizen-faced yokel, was visibly at work on a potato clearing half-way up the nearest hill-side, and Mortimer, when questioned, knew of no other probable or possible begetter of the hidden mockery that had ambushed Sylvia's retreat. The memory of that untraceable echo was added to her other impressions of a furtive sinister "something" that hung around Yessney.
Of Mortimer she saw very little; farm and woods and trout-streams seemed to swallow him up from dawn till dusk. Once, following the direction she had seen him take in the morning, she came to an open space in a nut copse, further shut in by huge yew trees, in the centre of which stood a stone pedestal surmounted by a small bronze figure of a youthful Pan. It was a beautiful piece of workmanship, but her attention was chiefly held by the fact that a newly cut bunch of grapes had been placed as an offering at its feet. Grapes were none too plentiful at the manor house, and Sylvia snatched the bunch angrily from the pedestal. Contemptuous annoyance dominated her thoughts as she strolled slowly homeward, and then gave way to a sharp feeling of something that was very near fright; across a thick tangle of undergrowth a boy's face was scowling at her, brown and beautiful, with unutterably evil eyes. It was a lonely pathway, all pathways round Yessney were lonely for the matter of that, and she sped forward without waiting to give a closer scrutiny to this sudden apparition. It was not till she had reached the house that she discovered that she had dropped the bunch of grapes in her flight.
"I saw a youth in the wood today," she told Mortimer that evening, "brown-faced and rather handsome, but a scoundrel to look at. A gipsy lad, I suppose."
"A reasonable theory," said Mortimer, "only there aren't any gipsies in these parts at present."
"Then who was he?" asked Sylvia, and as Mortimer appeared to have no theory of his own, she passed on to recount her finding of the votive offering.
"I suppose it was your doing," she observed; "it's a harmless piece of lunacy, but people would think you dreadfully silly if they knew of it."
"Did you meddle with it in any way?" asked Mortimer.
"I— I threw the grapes away. It seemed so silly," said Sylvia, watching Mortimer's impassive face for a sign of annoyance.
"I don't think you were wise to do that," he said reflectively. "I've heard it said that the Wood Gods are rather horrible to those who molest them."
"Horrible perhaps to those that believe in them, but you see I don't," retorted Sylvia.
"All the same," said Mortimer in his even, dispassionate tone, "I should avoid the woods and orchards if I were you, and give a wide berth to the horned beasts on the farm."
It was all nonsense, of course, but in that lonely wood-girt spot nonsense seemed able to rear a bastard brood of uneasiness.
"Mortimer," said Sylvia suddenly, "I think we will go back to Town some time soon."
Her victory had not been so complete as she had supposed; it had carried her on to ground that she was already anxious to quit.
"I don't think you will ever go back to Town," said Mortimer. He seemed to be paraphrasing his mother's prediction as to himself.
Sylvia noted with dissatisfaction and some self-contempt that the course of her next afternoon's ramble took her instinctively clear of the network of woods. As to the horned cattle, Mortimer's warning was scarcely needed, for she had always regarded them as of doubtful neutrality at the best: her imagination unsexed the most matronly dairy cows and turned them into bulls liable to "see red" at any moment. The ram who fed in the narrow paddock below the orchards she had adjudged, after ample and cautious probation, to be of docile temper; today, however, she decided to leave his docility untested, for the usually tranquil beast was roaming with every sign of restlessness from corner to corner of his meadow. A low, fitful piping, as of some reedy flute, was coming from the depth of a neighbouring copse, and there seemed to be some subtle connection between the animal's restless pacing and the wild music from the wood. Sylvia turned her steps in an upward direction and climbed the heather-clad slopes that stretched in rolling shoulders high above Yessney. She had left the piping notes behind her, but across the wooded combes at her feet the wind brought her another kind of music, the straining bay of hounds in full chase. Yessney was just on the outskirts of the Devon-and-Somerset country, and the hunted deer sometimes came that way. Sylvia could presently see a dark body, breasting hill after hill, and sinking again and again out of sight as he crossed the combes, while behind him steadily swelled that relentless chorus, and she grew tense with the excited sympathy that one feels for any hunted thing in whose capture one is not directly interested. And at last he broke through the outermost line of oak scrub and fern and stood panting in the open, a fat September stag carrying a well-furnished head. His obvious course was to drop down to the brown pools of Undercombe, and thence make his way towards the red deer's favoured sanctuary, the sea. To Sylvia's surprise, however, he turned his head to the upland slope and came lumbering resolutely onward over the heather. "It will be dreadful," she thought, "the hounds will pull him down under my very eyes." But the music of the pack seemed to have died away for a moment, and in its place she heard again that wild piping, which rose now on this side, now on that, as though urging the failing stag to a final effort. Sylvia stood well aside from his path, half hidden in a thick growth of whortle bushes, and watched him swing stiffly upward, his flanks dark with sweat, the coarse hair on his neck showing light by contrast. The pipe music shrilled suddenly around her, seeming to come from the bushes at her very feet, and at the same moment the great beast slewed round and bore directly down upon her. In an instant her pity for the hunted animal was changed to wild terror at her own danger; the thick heather roots mocked her scrambling efforts at flight, and she looked frantically downward for a glimpse of oncoming hounds. The huge antler spikes were within a few yards of her, and in a flash of numbing fear she remembered Mortimer's warning, to beware of horned beasts on the farm. And then with a quick throb of joy she saw that she was not alone; a human figure stood a few paces aside, knee-deep in the whortle bushes.
"Drive it off!" she shrieked. But the figure made no answering movement.
The antlers drove straight at her breast, the acrid smell of the hunted animal was in her nostrils, but her eyes were filled with the horror of something she saw other than her oncoming death. And in her ears rang the echo of a boy's laughter, golden and equivocal.
The Music on the Hill
From 'The Chronicles of Clovis'
by Saki (H. H. Munro)
(1870 – 1916)
fleursdumal.nl magazine
More in: Archive S-T, Saki, Saki
---
Mels wordt verblind door de schittering van de zon op de Wijer.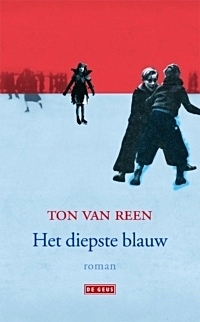 Het door het water gewitte zonlicht maakt alles wit. Het kleurt de weilanden rond het dorp wit.
De rode daken zijn wit. De blauwe daken zijn zilverwit. De lichtgroene bomen zijn blinkend wit als van parelmoer. De kinderen in de straat zijn wit, allemaal in het wit gekleed, met witte schoenen en met ijskoude witte gezichten.
Het witste wit zet de tijd stil. Wit van woede is hij. Omdat ze hem allemaal hebben laten barsten.
Een wolk schuift voor de zon en laat zijn woede verdampen. De kinderen krijgen hun kleur terug. Ze hebben rode kersentrosjes rond de oren en hinkelen zingend over de stoep.
Ton van Reen: Het diepste blauw (072)
wordt vervolgd
fleursdumal.nl magazine
More in: - Book News, - Het diepste blauw, Archive Q-R, Reen, Ton van
---
Mels zit op zijn knieën op een stoel en volgt de lijnen van het potlood dat over de kaart glijdt, zonder ze te raken.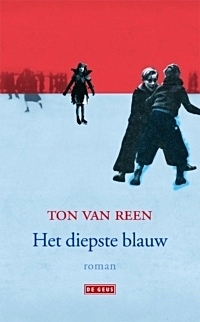 Steeds weer dezelfde berekende banen, tot grootvader het potlood even stilhoudt, een kleine krul tekent, een kleine verbetering aanbrengt en dan zijn weg boven de kaart vervolgt.
Zachtjes mompelt grootvader maten, cijfers en gewichten. Langzaam groeit de tekening van het molenwerk, soms slechts met een paar aantekeningen per dag, een enkele keer met een uitgewerkte hoek, plank, balk of hijskraan. De molen komt tot leven tot in de kleinste details, de kleinste tand aan een rad.
Het is spannend om te zien hoe het gebouw om hem heen in het klein herschapen wordt op het grote papier, schaal één op honderd, en hoe in klein schrift alle gegevens over waterkracht en maalvermogen in de marges van de tekening worden genoteerd. Zo vertelt de molen over zichzelf, zijn waterige bloedsomloop, zijn stalen zenuwen, zijn huid van lei en teerzeil.
Bij alle onderdelen staat vermeld welke soorten hout ervoor gebruikt worden. De as van het molenrad is gemaakt van eikenhout dat hard en zwaar als staal is. Maar het rad is van licht en toch keihard acaciahout, zodat het bij het draaien niet te veel kracht verliest door het meenemen van zijn eigen gewicht. Het water moet snel stromen. Het moet zo snel zijn dat het de kleur van ijzer heeft. Wit ijzer dat zwaar in de schoepen van het waterrad valt en het rad, steeds met nieuwe kleine schokjes, tot snelheid drijft. Snelheid is kracht.
Hoe witter het water uit het rad wordt gespuwd, hoe sneller de maalstenen het graan, dat in een gestage stroom naar de stenen wordt geleid, verpulveren. Als het rad op zijn snelst draait, schuimt het water als zeepsop. Het wast de hele beek schoon.
Ton van Reen: Het diepste blauw (071)
wordt vervolgd
fleursdumal.nl magazine
More in: - Book News, - Het diepste blauw, Archive Q-R, Reen, Ton van
---
Het beeld springt over naar de groep eskimo's. Voor het eerst herkent hij Kemp tussen hen. Kemp met zijn brutale grijns. Mevrouw Lecoeur staat op en loopt het zaaltje uit. Mels wisselt de film. Hij wacht, maar mevrouw Lecoeur komt niet terug. Hij hoort haar naar buiten lopen.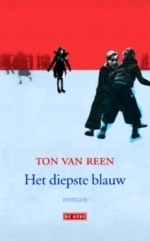 Dan draait hij de film maar voor zichzelf.
De aftiteling bestaat uit het logo van de meelfabriek. Mensen drommen samen in de hal van de Firma J.J. Hubben en Zonen. De pastoor zegent de nieuwe fabriek in. De mensen slaan een kruis.
De oud-directeur Frits, de zoon van de weduwe Hubben-Houba, voert het woord. Hij lijkt te vertellen over de fabriek en de mensen en dat ze één zijn en dat de fabriek bestaat voor de mensen en dat de mensen er zijn voor de fabriek. Mels kan het zich haast woordelijk herinneren. Bij elk feest zei hij hetzelfde. Hij komt niet goed uit zijn woorden, dat is te zien. Waarschijnlijk was hij dronken. Zijn beide zonen, Frans-Hubert en Frans-Joseph, luisteren niet en staan achter zijn rug te kletsen, vergetend dat ze worden gefilmd en voor altijd voor joker worden gezet.
Er zijn uitgebreide beelden van directeur Frits en zijn familie die champagne drinken. Ook aparte shots van de twee zonen die hem later hebben opgevolgd en als laatste daad het bedrijf hebben verkocht. Dan beelden van de werknemers en hun gezinsleden die op de broodjestafel aanvallen. Even later opnames van de lege schalen en de glunderende koppen van de eters. Dan nog een paar beelden van de fabriek. De maalderij met de zakkenvullers, nederig kijkend omdat de directeur bij hen staat, zijn arm om de schouder van een jonge inpakster. Later heeft hij bij dat meisje een kind verwekt. De jonge moeder heeft het direct na de geboorte af moeten staan voor adoptie. Om haar voor de schande in het dorp te behoeden, werd ze tewerkgesteld in de keuken van een klooster. Van de adoptie schijnt ook niets terecht te zijn gekomen. Men zegt dat de pastoor het kind heeft verkocht aan een zigeunerin die een kind wilde hebben om mee te bedelen.
De film is afgelopen. De tientallen verhalen die Mels aan het publiek had willen vertellen, zijn in zijn hoofd blijven steken. Het doet pijn. Op de tast zet hij de derde film op.
Iemand heeft geprobeerd de geschiedenis van het bedrijf te laten zien. De stem van meneer Zoetmulder, die lang de bedrijfsvoerder was in de fabriek. De man om wie het praktische werk had gedraaid. Zoetmulder repareerde alles zelf. Na zijn vertrek wist niemand nog hoe het bedrijf technisch functioneerde. Zoetmulder was werkelijk onmisbaar zodat na zijn afscheid de dingen vaak in de soep liepen. Met als grootste klap de explosie in de proefbakkerij waar veredelingsproducten door het meel werden gemengd, waarbij twee doden waren gevallen. Het luxe patentmeel voor fijn wittebrood, waaraan benzoylperoxide werd toegevoegd om het witter dan wit te maken, werd vanaf toen door het personeel buskruit genoemd.
Lange opnames van de watermolen en het maalwerk met de technische uitleg door Zoetmulder, pratend als een stomme kikker. Niet eens onderschriften. Foto's van de verhuizing naar de nieuwe fabriek, met een kletsende Zoetmulder, verdrinkend in details. Daarna vooral opnames van de directieleden in hun kantoor. Soms van hoog bezoek aan het bedrijf. Dan de ingebruikneming van de silo. De nieuwe hal. De rij vrachtwagens die van het bedrijf vertrekt, ingehuurd voor de promotiefilm, met uit hun raampjes wuivende chauffeurs. In werkelijkheid had de fabriek nooit meer dan één vrachtwagen gehad.
Nog steeds geen geluid. Mels mist het niet. Hij weet precies wat er in al die hoofden omging.
Hijzelf staat er nooit op. Als boekhouder zat hij in de kamer achter het kantoor van de directeuren, maar die deur was altijd dicht. Naast hem was het kantoor van Zoetmulder, dat lag vol gestapeld met motoren, aandrijfassen, tandraderen, membraanschijven, manometers, vloeistoffilters en potjes chemisch spul ter verbetering van de meelkwaliteit.
De film eindigt begin jaren tachtig. Weer nieuwe vrachtwagens, terwijl de firma al jaren het vervoer uitbesteedde. Een nieuw logo dat de watermolen moest vervangen. Een gestileerd rad dat de samenwerking van het personeel voorstelt, maar ook de groei van het bedrijf door de tijd heen.
De film is afgelopen.
`Licht aan!' roept Mels.
Hij pakt de films in. Rot dat niemand in zijn films is geïnteresseerd. Hij rijdt terug naar het café.
`Hier, de foto's.' Koen reikt hem de tas aan. `Zulke voorstellingen hoeven we hier dus niet meer te proberen', zegt hij. `Ik moet het in de toekomst vooral hebben van jongelui, dat is duidelijk.'
Mels mompelt wat en rijdt naar buiten. Hij stopt op de brug, om even bij te komen.
Hij begrijpt dat zijn boek er nooit zal komen. Wat moet hij doen met al die platen die hij van de oude molen heeft uitgetekend? Het molenwerk, het aandrijfwerk, hij heeft het allemaal klaarliggen. Jaren werk voor niets. Tekeningen zoals hij ze zich nog van vroeger voor de geest kan halen, als grootvader Bernhard zijn molenkaarten voor zich op tafel had uitgespreid. Jammer dat die verdwenen zijn. Dat zou hem veel werk hebben bespaard. Nu heeft hij alles moeten terughalen aan de hand van tekeningen van andere gerestaureerde molens.
Ton van Reen: Het diepste blauw (070)
wordt vervolgd
fleursdumal.nl magazine
More in: - Book Stories, - Het diepste blauw, Archive Q-R, Reen, Ton van
---
Mary Shelley's Frankenstein has endured in the popular imagination for two hundred years.
Begun as a ghost story by an intellectually and socially precocious eighteen-year-old author during a cold and rainy summer on the shores of Lake Geneva, the dramatic tale of Victor Frankenstein and his stitched-together creature can be read as the ultimate parable of scientific hubris. Victor, "the modern Prometheus," tried to do what he perhaps should have left to Nature: create life.
Although the novel is most often discussed in literary-historical terms―as a seminal example of romanticism or as a groundbreaking early work of science fiction―Mary Shelley was keenly aware of contemporary scientific developments and incorporated them into her story. In our era of synthetic biology, artificial intelligence, robotics, and climate engineering, this edition of Frankenstein will resonate forcefully for readers with a background or interest in science and engineering, and anyone intrigued by the fundamental questions of creativity and responsibility.
This edition of Frankenstein pairs the original 1818 version of the manuscript―meticulously line-edited and amended by Charles E. Robinson, one of the world's preeminent authorities on the text―with annotations and essays by leading scholars exploring the social and ethical aspects of scientific creativity raised by this remarkable story.
The result is a unique and accessible edition of one of the most thought-provoking and influential novels ever written.
Essays by Elizabeth Bear, Cory Doctorow, Heather E. Douglas, Josephine Johnston, Kate MacCord, Jane Maienschein, Anne K. Mellor, Alfred Nordmann
Frankenstein: Annotated for Scientists, Engineers, and Creators of All Kinds
by Mary Shelley (Author), David H. Guston (Editor), Ed Finn (Editor), Jason Scott Robert (Editor), & Charles E. Robinson (Introduction)
Paperback
320 pages
Publisher: The MIT Press;
Annotated edition
2017
Language: English
ISBN-10: 0262533286
ISBN-13: 978-0262533287
new books
fleursdumal.nl magazine
More in: - Book Lovers, - Book Stories, Archive S-T, Art & Literature News, Mary Shelley, Museum of Literary Treasures, Shelley, Mary, Tales of Mystery & Imagination
---
`Je ziet er echt uit als een Chinees', roept Thija en ze danst naar Tijger toe.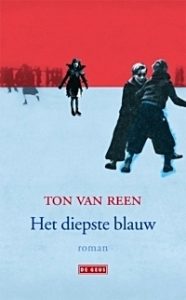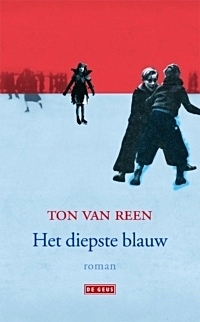 Ze struikelt over een touw waarmee de pagode is vastgezet en valt bijna van de wagen. Gelukkig weet Mels haar op te vangen.
`Ik had dood kunnen vallen', zegt ze, nog wit van schrik.
Mels straalt, maar hij is teleurgesteld als ze zijn armen wegduwt en doorloopt naar Tijger. Ze slaat een arm om hem heen.
`Kom erbij, Mels,' roept ze, `dan staan we met z'n drieën op de film.' Maar hij ziet dat het te laat is. De directeur heeft de camera al gericht op de groep eskimo's in witte lakens, die achter de auto lopen.
`Te laat!' roept hij. `Wij zijn allang uit beeld.'
Ton van Reen: Het diepste blauw (069)
wordt vervolgd
fleursdumal.nl magazine
More in: - Book News, - Het diepste blauw, Archive Q-R, Reen, Ton van
---
Be Not Sad
Be not sad because all men
Prefer a lying clamour before you:
Sweetheart, be at peace again — –
Can they dishonour you?
They are sadder than all tears;
Their lives ascend as a continual sigh.
Proudly answer to their tears:
As they deny, deny.
James Joyce
(1882-1941)
Be Not Sad
fleursdumal.nl magazine
More in: Archive I-J, Archive I-J, Joyce, James, Joyce, James
---
`De oorlog werd pas heftig toen hij afgelopen was', zegt Mels. `Toen die tommy's er waren. Jongens uit grote steden. Waar ze dochters hadden, hielden ze de deur op slot.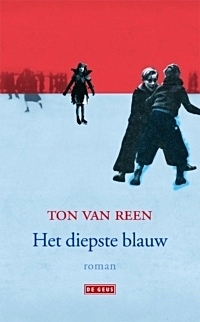 Maar de meiden tippelden op de Engelsen. Ze namen hen mee naar de bunker. Die soldaten zetten het dorp op zijn kop. Onze jongens vochten met ze. Geen meisje was nog in hen geïnteresseerd. Dat was pas echt oorlog.'
`Het verhaal over die liefdesbunker, dat moet je opschrijven', zegt Koen. `Dat is mooi voor toeristen. Als ik volk trek met jouw verhalen, deel je in de winst.'
Mels drinkt zijn koffie op. Hij laat zich niet overhalen om een hoop flauwekul bij elkaar te schrijven.
Mevrouw Lecoeur komt binnen, haar bontjas open. Haar wangen zijn wit en haar lippen rood. Ze ziet eruit als een hoerenmadam, maar ze speelt geen toneel, ze ís een hoerenmadam. Elke ochtend doet ze boodschappen en gaat ze naar het café.
`Denk jij dat zo'n appartement in de silo wat voor mij is?' vraagt ze aan Koen. `Denk je dat ik in het penthouse moet gaan wonen?'
`Uitzicht op de hemel doet jou zeker goed', zegt Koen. Hij schenkt witte wijn in een limonadeglas en zet het haar voor.
Mevrouw Lecoeur klopt Mels op de schouder. `Ik kom voor jouw première, jongen.'
`Ik ga de film erin zetten.' Wat gegeneerd rijdt Mels naar het zaaltje en zet de film op de spoel. Hij draait een stukje. De aftiteling. Het werkt. Hij spoelt de film terug naar het begin.
Hij wacht. Steeds kijkt hij op zijn horloge. Het is al tien minuten over tijd.
Mevrouw Lecoeur komt naast hem zitten, het glas in de hand.
`Zo, jongen, we zijn compleet. Je kunt starten.'
`Koen, doe jij het licht uit?' roept hij. `Kom jij niet kijken?'
`Ik heb nooit in die fabriek gewerkt', roept Koen. `Ik blijf bij de bar, voor als er toch nog mensen komen.'
Het wordt donker. De projector loopt.
`Dit is een film uit 1950′, vertelt Mels bij de beelden zonder geluid. `De kindsheidoptocht. Elk jaar trokken de kinderen verkleed als heidenen uit de missielanden door het dorp.'
Er trekt een stoet zwartgemaakte kinderen voorbij.
`Die hebben zich zwart gemaakt met roet', legt hij uit. `Ze dragen rokjes van riet over hun kleren. Zo dachten wij toen dat negers eruitzagen. We hadden er geen enkel idee van. In de cabine, kijk, de chauffeur die zwaait, dat is mijn grootvader Bernhard. Je ziet, de pagode is gebouwd op de vrachtwagen van de meelfabriek.'
Mels wacht op hét moment. Deze film heeft hij bijna stuk gedraaid, voor dat ene moment.
Dan is ze er opeens. Thija staat achter op de wagen. Ze draagt de ochtendjas van haar moeder en heeft een papieren hoedje op. Hij weet nog dat ze zich helemaal geel had gemaakt, zelfs haar benen, maar dat is op de zwartwitfilm niet te zien. Ze lijkt inwit. Ze wijst naar de filmer in het publiek. Hijzelf staat naast haar, in korte broek, ook met een Chinese punthoed. Hij kijkt met haar mee naar de filmer. Dat moet de toenmalige directeur Frits van de meelfabriek zijn geweest. Dan trilt de film wat. Een jongen kruipt uit een kleine pagode. Het is Tijger. Hij doet zijn mond open, om iets te zeggen of om te lachen, maar dat wordt niet duidelijk, want dan springt de film naar een groep kinderen die zich in witte lakens hebben gehuld en die eskimo's moeten voorstellen.
`Zag je die jongen in die korte broek?' vraagt Mels.
`Viel mij niet op', zegt mevrouw Lecoeur.
`Dat was ik.'
`Laat dan nog maar eens zien.'
Mels spoelt de film terug. Hij krijgt nooit genoeg van de beelden van Thija en Tijger. Dan is ze er weer. Thija staat weer achter op de wagen, in de ochtendjas van haar moeder, met een papieren hoedje op. Ze wijst naar iemand en Tijger kruipt weer uit de pagode van kippengaas naar buiten.
`Het ziet er bezopen uit', zegt mevrouw Lecoeur. `Ach, die tijd. Niemand wist hoe het echt in die missielanden was.'
Er volgen nog beelden van een prijsuitreiking door de pastoor, in lange zwarte soutane, en door de vrouw van de directeur van de meelfabriek. Het mens in een koninginnejurk zwaait uitvoerig naar iedereen en ziet niet dat niemand terugzwaait.
Ton van Reen: Het diepste blauw (068)
wordt vervolgd
fleursdumal.nl magazine
More in: - Book Stories, - Het diepste blauw, Archive Q-R, Reen, Ton van
---
Older Entries »
Thank you for reading FLEURSDUMAL.NL - magazine for art & literature