FICTION: SHORT STORIES
·
Ton van Reen: Het diepste blauw (058). Een roman als feuilleton
·
Ton van Reen: Het diepste blauw (057). Een roman als feuilleton
·
Ton van Reen: Het diepste blauw (056). Een roman als feuilleton
·
James Joyce: Lean Out of the Window
·
Ton van Reen: Het diepste blauw (055). Een roman als feuilleton
·
Ton van Reen: Het diepste blauw (054). Een roman als feuilleton
·
Edgar Allan Poe: The Cask of Amontillado
·
Ton van Reen: Het diepste blauw (053). Een roman als feuilleton
·
Ton van Reen: Het diepste blauw (052). Een roman als feuilleton
·
Joyce Carol Oates: Beautiful Days. Stories
·
Ton van Reen: Het diepste blauw (051). Een roman als feuilleton
·
Michelle Witen: James Joyce and Absolute Music
De chauffeur van de vliegende schotels stopt bij Mels.
`Ik zit hier toch wel goed?' roept hij. `Is hier komende zondag kermis?'
Mels knikt.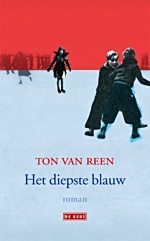 `Ik kom hier voor het eerst. Is het hier wat? Komt hier volk?'
`Veel kabaal en zatlappen', zegt Mels.
`En meiden?'
`Die komen uit de stad. Ze doen hier missiewerk.'
`Nonnen?' zegt de chauffeur verbaasd.
`Nee, net zulke meiden als in jouw vliegende schotels.'
`Dan zit ik hier goed', lacht de chauffeur.
Mels wijst hem de weg naar het weiland achter de molen, dat sinds een paar jaar dienstdoet als evenemententerrein. Een flink stuk wei is onlangs bestraat als parkeerterrein voor de bezoekers van de feesten en van de watermolen.
De kleine carrousel, waarin hij als kind zo veel plezier beleefde, is al in geen jaren meer geweest.
Ton van Reen: Het diepste blauw (058)
wordt vervolgd
fleursdumal.nl magazine
More in: - Book Stories, - Het diepste blauw, Archive Q-R, Reen, Ton van
---
Mels voelt zich te groot voor de draaimolen, maar hij kan er uren bij rondhangen. Hij is gek op orgelmuziek. Het is een mondharmonica in het groot.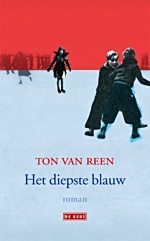 Soms mag hij helpen met het verwisselen van de banden, maar het zijn steeds dezelfde deuntjes. `Schneewälzer', `Holzackerbuben', `Klatsch' en `Muss i denn' zijn de favorieten van de baas, maar Mels weet er soms `Roseanne, hoog te paard' en `Er waren eens twee koningskinderen' tussen te krijgen.
's Ochtends, voordat het zeil wordt weggehaald, helpt hij met het schoonmaken.
Binnen in de gesloten draaimolen is het een andere wereld, met figuren die hier hun eigen leven leiden. Paarden uit duizend-en-een-nacht. Scheepjes teruggekeerd van verre zeeën. Olifanten en leeuwen uit het oerwoud.
Binnen heerst rust. Midden tussen de kinderen die hij om zich heen op het plein hoort spelen, is hij er alleen. Buiten lijkt ver weg. Dit geheimzinnige wereldje lijkt een beetje op die andere wereld waarover hij zo vaak droomt. Hier is hij al een beetje in China.
Soms wordt de droom verstoord door spiedende ogen die door gaten in het zeil naar binnen gluren.
Ton van Reen: Het diepste blauw (057)
wordt vervolgd
fleursdumal.nl magazine
More in: - Book Stories, - Het diepste blauw, Archive Q-R, Reen, Ton van
---
Een paar kermiswagens rijden richting watermolen. Stapvoets. Op een trailer staat de opbouw van een carrousel. Op de wanden van een andere vrachtwagen staan halfblote meiden in vliegende schotels die op enorme bromtollen lijken.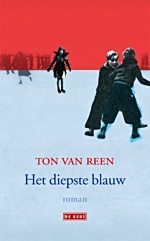 Elk jaar wordt de kermis groter. Het dorp groeit, en met het dorp groeit de kermis mee. Stonden er vroeger alleen een zweefmolen, een schommel, een carrousel, een schiettent en een viskraam, nu komen er elk jaar steeds nieuwe attracties bij, de een nog groter dan de ander. Met knallende muziek. Vorig jaar nog is hij er gaan kijken, vooral om te luisteren naar het orgel van de carrousel, maar het geluid verzoop in het lawaai.
Ton van Reen: Het diepste blauw (056)
wordt vervolgd
fleursdumal.nl magazine
More in: - Book Stories, - Het diepste blauw, Archive Q-R, Reen, Ton van
---
Lean Out of the Window
Lean out of the window,
Goldenhair,
I hear you singing
A merry air.
My book was closed,
I read no more,
Watching the fire dance
On the floor.
I have left my book,
I have left my room,
For I heard you singing
Through the gloom.
Singing and singing
A merry air,
Lean out of the window,
Goldenhair.
James Joyce
(1882-1941)
Lean Out of the Window
fleursdumal.nl magazine
More in: Archive I-J, Archive I-J, Joyce, James, Joyce, James
---
Mels ligt op zijn rug op de bodem van de boot en kijkt naar de lucht. De pluimen van het riet glijden voorbij en aaien hem over zijn wang. Vogels vliegen over. Als je op je rug ligt, lijkt de wijde ruimte van de hemel heel dichtbij. Hij voelt zich het middelpunt van de grote blauwe koepel boven zich.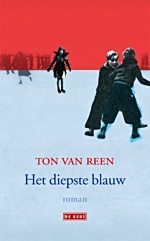 Het bootje haakt vast in het riet en ligt stil. De stroom ruist langs. Het water borrelt onder de boeg. Het lijkt op het rochelen van een man. Is er iemand in de buurt?
Hij gaat rechtop zitten. Er is niemand. Het borrelen komt uit een putje van de bunker die verscholen ligt in het riet op de oever. Voor de oorlog hebben er Nederlandse soldaten in gezeten, in de oorlog Duitse. Na de bevrijding kwamen de soldaten er naar de hoeren die er in waren getrokken bij gebrek aan betere behuizing. Volgens grootvader Rudolf waren het zwerfsters die hun ziel aan de duivel hadden verkocht. Ze waren er alleen 's nachts. Overdag sliepen ze in het hooi bij een boer die hen er flink voor liet betalen.
Mels legt de boot vast aan een tak, stapt uit en klimt door het mitrailleurgat in de bunker. Muizen vluchten alle kanten op.
Hij veegt de spinnenwebben weg. Op de vloer liggen een paar verrotte matrassen. Die hoeren moeten vuile wijven zijn geweest. Lang hebben ze hier niet gezeten. Ze zijn opgepakt en weggebracht naar een tehuis voor arme meisjes, waar nonnen hen probeerden op te voeden tot huishoudsters en pastoorsmeiden. Dat laatste was wat grootvader Bernhard erover vertelde, maar volgens grootvader Rudolf waren ze gewoon naar de gevangenis gebracht.
Smeerlappen hebben gore tekeningen op de muren gemaakt. Vrouwen met de benen wijd. Kerels met een pik van een meter. Mels begrijpt waarom kinderen hier niet mogen komen.
Hij loopt terug naar de boot en roeit tegen de stroom in terug naar het dorp.
Van ver af ziet hij de oude Amerikaanse legervrachtwagens waarop de geraamtes van de zweefmolen en de carrousel liggen opgestapeld, onder kleurig zeildoek. Hij roeit vlugger. Over een paar dagen is het kermis. Al een paar jaar mag hij meehelpen met het opbouwen van de attracties.
Ton van Reen: Het diepste blauw (055)
wordt vervolgd
fleursdumal.nl magazine
More in: - Book Stories, - Het diepste blauw, Archive Q-R, Reen, Ton van
---
Mels veegt het angstzweet uit zijn nek. Werktuiglijk klopt hij zijn schouders af. Hij kijkt naar de silo verderop. Er is geen vliegtuig tegenaan gevlogen. Hij zit in zijn rolstoel langs de Wijer. Hij is helemaal alleen.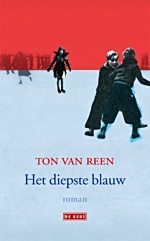 Hij kijkt in het water dat tegen de pilaren van de brug kolkt. Zijn ogen volgen blaadjes die mee glijden in de stroom. Tot ze plotseling worden aangezogen door een kolk en in de spiraal naar beneden worden gedrukt, gevangen in een trechter van water. Wat kan hij doen om ze te bevrijden?
Hij weet dat het door zijn eigen gevoel van gevangenschap komt. Zijn gebonden zijn doet hem meeleven met alles wat onvrij is. Wat zou hij graag, net als vroeger, in een bootje met de stroom mee drijven. Zomaar naar nergens. Net zo lang tot het bootje ergens vast komt te zitten in de begroeiing van de oever.
Zijn ogen volgen een stuk hout dat snel aan komt drijven. Te groot om te worden aangezogen, snelt het langs de kolken en duikt onder de brug door.
Ton van Reen: Het diepste blauw (054)
wordt vervolgd
fleursdumal.nl magazine
More in: - Book Stories, - Het diepste blauw, Archive Q-R, Reen, Ton van
---
Edgar Allan Poe
The Cask of Amontillado
The thousand injuries of Fortunato I had borne as I best could, but when he ventured upon insult I vowed revenge. You, who so well know the nature of my soul, will not suppose, however, that gave utterance to a threat. At length I would be avenged; this was a point definitely, settled but the very definitiveness with which it was resolved precluded the idea of risk. I must not only punish but punish with impunity. A wrong is unredressed when retribution overtakes its redresser. It is equally unredressed when the avenger fails to make himself felt as such to him who has done the wrong.
It must be understood that neither by word nor deed had I given Fortunato cause to doubt my good will. I continued, as was my in to smile in his face, and he did not perceive that my to smile now was at the thought of his immolation.
He had a weak point this Fortunato although in other regards he was a man to be respected and even feared. He prided himself on his connoisseurship in wine. Few Italians have the true virtuoso spirit. For the most part their enthusiasm is adopted to suit the time and opportunity, to practise imposture upon the British and Austrian millionaires. In painting and gemmary, Fortunato, like his countrymen, was a quack, but in the matter of old wines he was sincere. In this respect I did not differ from him materially; I was skilful in the Italian vintages myself, and bought largely whenever I could.
It was about dusk, one evening during the supreme madness of the carnival season, that I encountered my friend. He accosted me with excessive warmth, for he had been drinking much. The man wore motley. He had on a tight-fitting parti-striped dress, and his head was surmounted by the conical cap and bells. I was so pleased to see him that I thought I should never have done wringing his hand.
I said to him "My dear Fortunato, you are luckily met. How remarkably well you are looking to-day. But I have received a pipe of what passes for Amontillado, and I have my doubts."
"How?" said he. "Amontillado, A pipe? Impossible! And in the middle of the carnival!"
"I have my doubts," I replied; "and I was silly enough to pay the full Amontillado price without consulting you in the matter. You were not to be found, and I was fearful of losing a bargain."
"Amontillado!"
"I have my doubts."
"Amontillado!"
"And I must satisfy them."
"Amontillado!"
"As you are engaged, I am on my way to Luchresi. If any one has a critical turn it is he. He will tell me "
"Luchresi cannot tell Amontillado from Sherry."
"And yet some fools will have it that his taste is a match for your own.
"Come, let us go."
"Whither?"
"To your vaults."
"My friend, no; I will not impose upon your good nature. I perceive you have an engagement. Luchresi"
"I have no engagement; come."
"My friend, no. It is not the engagement, but the severe cold with which I perceive you are afflicted. The vaults are insufferably damp. They are encrusted with nitre."
"Let us go, nevertheless. The cold is merely nothing. Amontillado! You have been imposed upon. And as for Luchresi, he cannot distinguish Sherry from Amontillado."
Thus speaking, Fortunato possessed himself of my arm; and putting on a mask of black silk and drawing a roquelaire closely about my person, I suffered him to hurry me to my palazzo.
There were no attendants at home; they had absconded to make merry in honour of the time. I had told them that I should not return until the morning, and had given them explicit orders not to stir from the house. These orders were sufficient, I well knew, to insure their immediate disappearance, one and all, as soon as my back was turned.
I took from their sconces two flambeaux, and giving one to Fortunato, bowed him through several suites of rooms to the archway that led into the vaults. I passed down a long and winding staircase, requesting him to be cautious as he followed. We came at length to the foot of the descent, and stood together upon the damp ground of the catacombs of the Montresors.
The gait of my friend was unsteady, and the bells upon his cap jingled as he strode.
"The pipe," he said.
"It is farther on," said I; "but observe the white web-work which gleams from these cavern walls."
He turned towards me, and looked into my eves with two filmy orbs that distilled the rheum of intoxication.
"Nitre?" he asked, at length.
"Nitre," I replied. "How long have you had that cough?"
"Ugh! ugh! ugh! ugh! ugh! ugh! ugh! ugh! ugh! ugh! ugh! ugh! ugh! ugh! ugh!"
My poor friend found it impossible to reply for many minutes.
"It is nothing," he said, at last.
"Come," I said, with decision, "we will go back; your health is precious. You are rich, respected, admired, beloved; you are happy, as once I was. You are a man to be missed. For me it is no matter. We will go back; you will be ill, and I cannot be responsible. Besides, there is Luchresi "
"Enough," he said; "the cough's a mere nothing; it will not kill me. I shall not die of a cough."
"True true," I replied; "and, indeed, I had no intention of alarming you unnecessarily but you should use all proper caution. A draught of this Medoc will defend us from the damps.
Here I knocked off the neck of a bottle which I drew from a long row of its fellows that lay upon the mould.
"Drink," I said, presenting him the wine.
He raised it to his lips with a leer. He paused and nodded to me familiarly, while his bells jingled.
"I drink," he said, "to the buried that repose around us."
"And I to your long life."
He again took my arm, and we proceeded.
"These vaults," he said, "are extensive."
"The Montresors," I replied, "were a great and numerous family."
"I forget your arms."
"A huge human foot d'or, in a field azure; the foot crushes a serpent rampant whose fangs are imbedded in the heel."
"And the motto?"
"Nemo me impune lacessit."
"Good!" he said.
The wine sparkled in his eyes and the bells jingled. My own fancy grew warm with the Medoc. We had passed through long walls of piled skeletons, with casks and puncheons intermingling, into the inmost recesses of the catacombs. I paused again, and this time I made bold to seize Fortunato by an arm above the elbow.
"The nitre!" I said; "see, it increases. It hangs like moss upon the vaults. We are below the river's bed. The drops of moisture trickle among the bones. Come, we will go back ere it is too late. Your cough "
"It is nothing," he said; "let us go on. But first, another draught of the Medoc." I broke and reached him a flagon of De Grave. He emptied it at a breath. His eyes flashed with a fierce light. He laughed and threw the bottle upwards with a gesticulation I did not understand.  I looked at him in surprise. He repeated the movement a grotesque one.
"You do not comprehend?" he said.
"Not I," I replied.
"Then you are not of the brotherhood."
"How?"
"You are not of the masons."
"Yes, yes," I said; "yes, yes."
"You? Impossible! A mason?"
"A mason," I replied.
"A sign," he said, "a sign."
"It is this," I answered, producing from beneath the
folds of my roquelaire a trowel.
"You jest," he exclaimed, recoiling a few paces.
"But let us proceed to the Amontillado."
"Be it so," I said, replacing the tool beneath the cloak and again offering him my arm. He leaned upon it heavily. We continued our route in search of the Amontillado. We passed through a range of low arches, descended, passed on, and descending again, arrived at a deep crypt, in which the foulness of the air caused our flambeaux rather to glow than flame.
At the most remote end of the crypt there appeared another less spacious. Its walls had been lined with human remains, piled to the vault overhead, in the fashion of the great catacombs of Paris. Three sides of this interior crypt were still ornamented in this manner. From the fourth side the bones had been thrown down, and lay promiscuously upon the earth, forming at one point a mound of some size. Within the wall thus exposed by the displacing of the bones, we perceived a still interior crypt or recess, in depth about four feet, in width three, in height six or seven. It seemed to have been constructed for no especial use within itself, but formed merely the interval between two of the colossal supports of the roof of the catacombs, and was backed by one of their circumscribing walls of solid granite.
It was in vain that Fortunato, uplifting his dull torch, endeavoured to pry into the depth of the recess. Its termination the feeble light did not enable us to see.
"Proceed," I said; "herein is the Amontillado. As for Luchresi "
"He is an ignoramus," interrupted my friend, as he stepped unsteadily forward, while I followed immediately at his heels. In niche, and finding an instant he had reached the extremity of the niche, and finding his progress arrested by the rock, stood stupidly bewildered. A moment more and I had fettered him to the granite. In its surface were two iron staples, distant from each other about two feet, horizontally. From one of these depended a short chain, from the other a padlock. Throwing the links about his waist, it was but the work of a few seconds to secure it. He was too much astounded to resist. Withdrawing the key I stepped back from the recess.
"Pass your hand," I said, "over the wall; you cannot help feeling the nitre. Indeed, it is very damp. Once more let me implore you to return. No? Then I must positively leave you. But I must first render you all the little attentions in my power."
"The Amontillado!" ejaculated my friend, not yet recovered from his astonishment.
"True," I replied; "the Amontillado."
As I said these words I busied myself among the pile of bones of which I have before spoken. Throwing them aside, I soon uncovered a quantity of building stone and mortar. With these materials and with the aid of my trowel, I began vigorously to wall up the entrance of the niche.
I had scarcely laid the first tier of the masonry when I discovered that the intoxication of Fortunato had in a great measure worn off. The earliest indication I had of this was a low moaning cry from the depth of the recess. It was not the cry of a drunken man. There was then a long and obstinate silence. I laid the second tier, and the third, and the fourth; and then I heard the furious vibrations of the chain. The noise lasted for several minutes, during which, that I might hearken to it with the more satisfaction, I ceased my labours and sat down upon the bones. When at last the clanking subsided, I resumed the trowel, and finished without interruption the fifth, the sixth, and the seventh tier. The wall was now nearly upon a level with my breast. I again paused, and holding the flambeaux over the mason-work, threw a few feeble rays upon the figure within.
A succession of loud and shrill screams, bursting suddenly from the throat of the chained form, seemed to thrust me violently back. For a brief moment I hesitated, I trembled. Unsheathing my rapier, I began to grope with it about the recess; but the thought of an instant reassured me. I placed my hand upon the solid fabric of the catacombs, and felt satisfied. I reapproached the wall; I replied to the yells of him who clamoured. I re-echoed, I aided, I surpassed them in volume and in strength.
I did this, and the clamourer grew still. It was now midnight, and my task was drawing to a close. I had completed the eighth, the ninth and the tenth tier. I had finished a portion of the last and the eleventh; there remained but a single stone to be fitted and plastered in. I struggled with its weight; I placed it partially in its destined position. But now there came from out the niche a low laugh that erected the hairs upon my head. It was succeeded by a sad voice, which I had difficulty in recognizing as that of the noble Fortunato.
The voice said–
"Ha! ha! ha! he! he! he! a very good joke, indeed an excellent jest. We will have many a rich laugh about it at the palazzo he! he! he! over our wine he! he! he!"
"The Amontillado!" I said.
"He! he! he! he! he! he! yes, the Amontillado. But is it not getting late? Will not they be awaiting us at the palazzo, the Lady Fortunato and the rest? Let us be gone."
"Yes," I said, "let us be gone."
"For the love of God, Montresor!"
"Yes," I said, "for the love of God!"
But to these words I hearkened in vain for a reply.
I grew impatient. I called aloud
"Fortunato!"
No answer. I called again
"Fortunato!"
No answer still. I thrust a torch through the remaining aperture and let it fall within. There came forth in return only a jingling of the bells. My heart grew sick; it was the dampness of the catacombs that made it so. I hastened to make an end of my labour. I forced the last stone into its position; I plastered it up. Against the new masonry I re-erected the old rampart of bones. For the half of a century no mortal has disturbed them.
In pace requiescat!
Edgar Allan Poe (1809 – 1849)
The Cask of Amontillado
fleursdumal.nl magazine
More in: Edgar Allan Poe, Poe, Edgar Allan, Poe, Edgar Allan, Tales of Mystery & Imagination
---
`Hé, Mels! Kom je nog!' De stem van Thija.
Hij rent naar de Wijer.
Tijger en Thija zitten in de boot.
Tijger roeit. Thija zit op het bankje, een reistas op haar knieën.
`We gaan naar China', roept Tijger.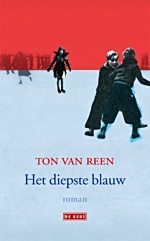 Mels springt in de boot en neemt de roeispanen over. Ze zakken de Wijer af, naar het hart van het dorp.
Mels ziet de mensen naar buiten komen. Zijn moeder, samen met tante Noortje, de roodharige heks en de moeder van Thija, die een glinsterende groene jurk draagt. Ze is nauwelijks groter dan Thija en net zo dun. Die twee lijken wel zussen.
`Waar gaan jullie heen?' roept Thija's moeder bezorgd.
`We reizen naar China', roept Thija.
`Hoelang blijven jullie weg?'
`Dat weten we nog niet.'
`Je moet je slaapjurk meenemen! En je tandenborstel!'
`We hebben niets nodig. In China slapen we in het paleis van de keizer.'
`Ik wil mee', roept Thija's moeder. `Ik wil graag terug!'
`Spring maar in de boot', roept Thija. `Ik vang je op!'
Te laat. De boot schiet onder de brug. Mels kijkt recht in het gezicht van Lizet, die over de reling hangt, altijd benieuwd naar wat die drie aan het doen zijn. Nog net ziet hij dat ze haar rechterbeen naar voren plaatst, zodat hij onder haar rok kijkt en de kousenband rond haar dij ziet. In dezelfde oogopslag ziet hij dat Thija ziet wat hij ziet. Hij vervloekt het. Hij kan er niets aan doen dat Lizet hem altijd zo uitdaagt.
Als de boot aan de andere kant onder de brug uit komt, is hij in een vliegtuig veranderd. Heel gewoon, zoals in dromen alles heel gewoon is. In een wijde boog vliegt de kleine pipercub omhoog.
Ze zwaaien naar hun moeders.
`Kijk uit!' roept Mels naar Tijger die aan de stuurknuppel zit, maar doordat hij naar zijn moeder zwaait, ziet hij niet dat ze recht op de silo afvliegen. Met een enorme knal spat het vliegtuig uit elkaar. Meel wolkt op.
Ton van Reen: Het diepste blauw (053)
wordt vervolgd
fleursdumal.nl magazine
More in: - Book Stories, - Het diepste blauw, Archive Q-R, Reen, Ton van
---
Over het pad rijdt hij terug naar de brug. Boos. Er is niets over van de molen die hij zich herinnert. Niets van de sprookjesachtige wereld van vroeger. De graanzolder waar zich bokkenrijders verscholen hadden. Het molenhuis waar de stenen over elkaar schuurden, een geluid dat leek op het kermen van gemartelde heksen. Was hij er maar niet naartoe gegaan. Wat hij gezien heeft tast zijn herinneringen aan.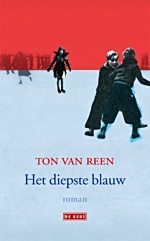 Had hij kunnen voorkomen dat de molen een uitspanning zou worden voor dagjesmensen? Na de dood van grootvader Bernhard was de molen opnieuw in verval geraakt. Een boer had er kalveren in ondergebracht. Later had er een autosloper in gezeten. Het weitje had zo vol hoog opgetast schroot gestaan dat de molen uit het zicht was verdwenen.
Veel te laat had hij beseft dat hijzelf de molen had moeten kopen. Voor een prikje had hij hem kunnen krijgen van de heren Hubben, die altijd eigenaren waren gebleven, maar er geen enkele belangstelling voor hadden. Nu beseft hij pas dat er geen mooiere plek was geweest om te wonen.
Toen de autosloper was verdwenen, was de molen uitgeroepen tot monument. Historisch erfgoed, dat behouden kon blijven door er een nuttig doel voor te zoeken. Dit was het dan geworden: een koek-en-zopie-tent in zuurtjeskleuren.
Waarom ergert hij zich zo aan de mensen die de molen veranderd hebben? Hij moet zichzelf verwijten maken.
Hij staat stil, vlak bij de beek. Langs de oever is een palissade geslagen, om afkalving te voorkomen. De waterlelies en lisdodden zijn verdwenen.
Ton van Reen: Het diepste blauw (052)
wordt vervolgd
fleursdumal.nl magazine
More in: - Book Stories, - Het diepste blauw, Archive Q-R, Reen, Ton van
---
A new collection of thirteen mesmerizing stories by American master Joyce Carol Oates, including the 2017 Pushcart Prize–winning "Undocumented Alien"
The diverse stories of Beautiful Days, Joyce Carol Oates explore the most secret, intimate, and unacknowledged interior lives of characters not unlike ourselves, who assert their independence in acts of bold and often irrevocable defiance.
"Fleuve Bleu" exemplifies the rich sensuousness of Oates's prose as lovers married to other persons vow to establish, in their intimacy, a ruthlessly honest, truth-telling authenticity missing elsewhere in their complicated lives, with unexpected results.
In "Big Burnt," set on lushly rendered Lake George, in the Adirondacks, a cunningly manipulative university professor exploits a too-trusting woman in a way she could never have anticipated. "The Nice Girl" depicts a young woman who has been, through her life, infuriatingly "nice," until she is forced to come to terms with the raw desperation of her deepest self. In a more experimental but no less intimate mode, "Les beaux jours" examines the ambiguities of an intensely erotic, exploitative relationship between a "master" artist and his adoring young female model. And the tragic "Undocumented Alien" depicts a young African student enrolled in an American university who is suddenly stripped of his student visa and forced to undergo a terrifying test of courage.
In these stories, as elsewhere in her fiction, Joyce Carol Oates exhibits her fascination with the social, psychological, and moral boundaries that govern our behavior—until the hour when they do not.
Title: Beautiful Days
Subtitle: Stories
Author: Joyce Carol Oates
Publisher: Ecco
Title First Published: 06 February 2018
Format: Hardcover
ISBN-10 0062795783
ISBN-13 9780062795786
Main content page count: 352
$26.99
new fiction
fleursdumal.nl magazine
More in: - Book Lovers, - Book Stories, -Short Stories Archive, Archive O-P, Art & Literature News
---
`Zo, jongens', zegt grootvader, die het altijd druk heeft met de restauratie van de molen. `De zon is zo rood als een radijs. Vandaag krijgen we veel gratis water. Dat belooft dat we een week lang kunnen malen.' Hij wrijft zich in de handen.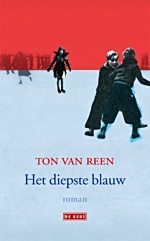 Hij geeft hun elk een bos frisse radijsjes.
`Weten jullie dat hier vroeger een kasteel stond, iets verderop langs de beek?'
`Waar is het gebleven?' vraagt Mels, bijtend op een radijsje dat zijn tong prikkelt.
`Een paar honderd jaar geleden is het verzonken, met bewoners en al. In één nacht was alles weg. Als een straf van God voor de bewoners. Ze leefden in zonde. Ze werkten niet.'
`Dat is toch geen zonde', zegt Thija. `Dat wil toch iedereen?'
`Verspilling van tijd was zonde. Feestvieren was toegeven aan de lusten van de duivel. De bewoners van het kasteel onderdrukten de mensen die grond en huizen van hen pachtten waar ze veel voor moesten betalen. Ze waren hoogmoedig. Op een kerstnacht moet het zijn gebeurd. In plaats van naar de kerk te gaan, vierden ze feest. Dat heeft God zo vertoornd dat hij hen met huid en haar naar de hel heeft gestuurd. Toen de mensen vroeg in de ochtend terugkwamen van de nachtmis, was alles weg. Van het slot was geen spoor meer te vinden. Maar soms kun je de klokken van het verdronken kasteel nog horen luiden.'
Ze lopen naar het weitje en gaan op de oever van de Wijer zitten, tussen madeliefjes en boterbloemen. Mels denkt na over het verhaal van grootvader. Hij kent het allang. De meester heeft het verteld, zijn moeder ook. Maar elke keer is het anders. In het verhaal van de meester was het de duivel aan wie de kasteelbewoners hun ziel hadden verkocht, Satan zelf die hen met hun hele hebben en houden naar de hel had gesleurd. In het verhaal van zijn moeder was het alleen een ridder die na dertig jaar thuiskwam van een kruisvaart en toen zijn vrouw aantrof met een andere man en een dozijn kinderen die ze van die ander had. In zijn woede had hij allen vermoord, maar net toen hij de hand aan zichzelf wilde slaan, zakte hij met kasteel en al weg in de grond, waar hij voor eeuwig zou blijven voortleven, jammerend over de moorden die hij had begaan.
Thija blaast de pluizen van een uitgebloeide paardenbloem. Wie alle pluizen in één keer wegblaast, mag een wens doen, maar je mag er niet over praten. Tegen niemand. Ook niet tegen vrienden. Mels moet op zijn tong bijten om er niet naar te vragen.
Hij trekt een pluim van het riet en steekt hem tussen de tanden. Hij buigt zich voorover en spiegelt zijn gezicht in een hoekje van de stroom waar het water stilstaat. Hij pakt zijn zakkammetje. Zijn haar is dik. De kam gaat er maar met moeite doorheen.
Hij hoort zijn moeder zingen, vlakbij, op haar veldje achter de tuin van grootvader Bernhard. Ze plukt onkruid dat ze altijd aan de kippen voert, zodat ze eieren met mooie donkergele dooiers leggen. Over het pad langs de Wijer loopt hij naar haar toe. In een opwelling laat hij haar de harmonica zien die hij al dagen in zijn zak heeft, zonder dat de anderen er iets van weten.
`Mooi.' Moeder is verwonderd. `Hoe kom je eraan?'
`Hij is voor Tijger.' Hij zegt het met een brok in zijn keel. `Maar nu ik hem heb gekocht, wil ik hem graag zelf houden.'
`Dan wordt het lastig.' Moeder bukt zich naar de jonge slaplantjes om ze op slakken na te kijken. Waar ze slakken vermoedt, strooit ze zout, waarvan ze smelten. `Hou je dat ding zelf, dan heb je geen cadeau. Een geschenk is pas een echt geschenk als je iets geeft wat je graag voor jezelf wilt houden.'
Mels wil daarover nadenken. Dat kan hij beter als hij alleen is.
Hij loopt terug naar de molen en klimt over de buitentrap naar de zolder. Het is een plek waar ze vaak komen. Soms is hij er alleen.
Hij gaat op de grote weegschaal zitten en kijkt door het raam naar buiten. Nu hij hier binnen is, valt hem ineens op dat de wereld buiten heel anders is dan wanneer hij buiten is. In de stilte van de zolder is dit een plek die onaards is. Het komt door de zon die de spinnenwebben die in lagen voor de ruitjes zijn geweven in tovergordijnen verandert.
Ton van Reen: Het diepste blauw (051)
wordt vervolgd
fleursdumal.nl magazine
More in: - Book Stories, - Het diepste blauw, Archive Q-R, Reen, Ton van
---
Drawing on draft manuscripts and other archival material, James Joyce and Absolute Music, explores Joyce's deep engagement with musical structure, and his participation in the growing modernist discourse surrounding 19th-century musical forms.
Michelle Witen examines Joyce's claim of having structured the "Sirens" episode of his masterpiece, Ulysses, as a fuga per canonem, and his changing musical project from his early works, such as Dubliners and A Portrait of the Artist as a Young Man.
Informed by a deep understanding of music theory and history, the book goes on to consider the "pure music" of Joyce's final work, Finnegans Wake.
Demonstrating the importance of music to Joyce, this ground-breaking study reveals new depths to this enduring body of work.
Towards a Modernist Condition of Absolute Music – Joyce's Early Use of Music – Joyce's fuga per canonem: A Case of Structure – Joyce's fuga per canonem: A Case of Effect – Voided Fugue in "Circe" – "It's Pure Music": Finnegans Wake
Michelle Witen is Postdoctoral Teaching and Research Fellow at the University of Basel, Switzerland.
Michelle Witen
James Joyce and Absolute Music
Published: 22-02-2018
Format: Hardback
Edition: 1st
Extent: 320 p.
ISBN: 9781350014220
Imprint: Bloomsbury Academic
Series: Historicizing Modernism
Illustrations: 9 bw illus
Dimensions: 234 x 156 mm
RRP: £85.00
literature and music
fleursdumal.nl magazine
More in: # Music Archive, Archive I-J, Archive I-J, Art & Literature News, Joyce, James, Joyce, James
---
Older Entries »
Thank you for reading FLEURSDUMAL.NL - magazine for art & literature