FICTION: SHORT STORIES
·
Franz KAFKA: Vom Scheintod
·
Oscar WILDE: The Disciple
·
W.W. JACOBS: The Monkey's Paw
·
Edgar Allan POE: The Tell Tale Heart
·
James JOYCE: Simples
·
Arthur Conan DOYLE: His Last Bow
·
Oscar WILDE: The Teacher of Wisdom
·
Arthur CONAN DOYLE: The Surgeon talks (Round the Red Lamp #15 – Last Chapter)
·
Oscar WILDE: Amor Intellectualis
·
Oscar WILDE: The House of Judgement
·
Franz KAFKA: Eine alltägliche Verwirrung
·
Arthur Conan DOYLE: The Doctors of Hoyland (Round the Red Lamp #14)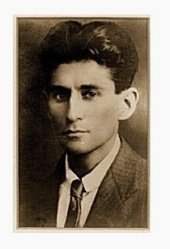 Franz Kafka
Vom Scheintod
Wer einmal scheintot gewesen ist, kann davon Schreckliches erzählen, aber wie es nach dem Tode ist, das kann er nicht sagen, er ist eigentlich nicht einmal dem Tode näher gewesen als ein anderer, er hat im Grunde nur etwas Besonderes ›erlebt‹ und das nicht besondere, das gewöhnliche Leben ist ihm dadurch wertvoller geworden. Ähnlich ist es mit jedem, der etwas Besonderes erlebt hat. Moses zum Beispiel hat auf dem Berge Sinai gewiß etwas ›Besonderes‹ erlebt, aber statt sich diesem Besonderen zu ergeben, etwa wie ein Scheintoter, der sich nicht meldet und im Sarg liegen bleibt, ist er den Berg hinunter geflüchtet und hatte natürlich Wertvolles zu erzählen und liebte die Menschen, zu denen er sich geflüchtet hatte, noch viel mehr als früher und hat dann sein Leben ihnen geopfert, man kann vielleicht sagen, zum Danke. Von beiden aber, vom zurückgekehrten Scheintoten und vom zurückgekehrten Moses kann man viel lernen, aber das Entscheidende kann man von ihnen nicht erfahren, denn sie selber haben [es] nicht erfahren. Und hätten sie es erfahren, so wären sie nicht mehr zurückgekommen. Aber wir wollen es auch gar nicht erfahren. Das läßt sich daran überprüfen, daß wir zum Beispiel gelegentlich den Wunsch haben können, das Erlebnis des Scheintoten oder das Erlebnis des Moses bei Sicherstellung der Rückkehr, ›bei freiem Geleit‹ zu erleben, ja daß wir sogar den Tod uns wünschen, aber nicht einmal in Gedanken wollten wir lebend und im Sarge ohne jede Möglichkeit der Wiederkehr oder auf dem Berge Sinai bleiben…
(Das hat nicht eigentlich etwas mit Todesangst zu tun. . .)
Franz Kafka
(1883-1924)
Vom Scheintod
fleursdumal.nl magazine
More in: Franz Kafka, Kafka, Franz, Kafka, Franz
---
Oscar Wilde
(1854 – 1900)
The Disciple
When Narcissus died the pool of his pleasure changed from a cup of sweet waters into a cup of salt tears, and the Oreads came weeping through the woodland that they might sing to the pool and give it comfort.
And when they saw that the pool had changed from a cup of sweet waters into a cup of salt tears, they loosened the green tresses of their hair and cried to the pool and said, 'We do not wonder that you should mourn in this manner for Narcissus, so beautiful was he.'
'But was Narcissus beautiful?' said the pool.
'Who should know that better than you?' answered the Oreads. 'Us did he ever pass by, but you he sought for, and would lie on your banks and look down at you, and in the mirror of your waters he would mirror his own beauty.'
And the pool answered, 'But I loved Narcissus because, as he lay on my banks and looked down at me, in the mirror of his eyes I saw ever my own beauty mirrored.'
Oscar Wilde 1894
fleursdumal.nl magazine
More in: Archive W-X, Wilde, Oscar, Wilde, Oscar
---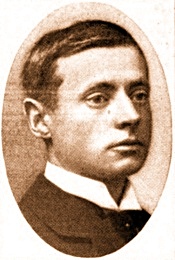 The Monkey's Paw
by W. W. Jacobs
Without, the night was cold and wet, but in the small parlor of Lakesnam Villa the blinds were drawn and the fire burned brightly. Father and son were at chess, the former, who possessed ideas about the game involving radical changes, putting his king into such sharp and unnecessary perils that it even provoked comment from the whitehaired old lady knitting placidly by the fire.
"Hark at the wind," said Mr. White, who, having seen a fatal mistake after it was too late, was amiably desirous of preventing his son from seeing it.
"I'm listening," said the latter, grimly surveying the board as he stretched out his hand. "Check."
"I should hardly think that he'd come tonight," said his father, with his hand poised over the board.
"Mate," replied the son.
"That's the worst of living so far out," bawled Mr. White, with sudden and unlooked-for violence; "of all the beastly, slushy, out-of-the-way places to live in, this is the worst. Pathway's a bog, and the road's a torrent. I don't know what people are thinking about. I suppose because only two houses on the road are let, they think it doesn't matter."
"Never mind, dear," said his wife soothingly; "perhaps you'll win the next one."
Mr. White looked up sharply, just in time to intercept a knowing glance between mother and son. The words died away on his lips, and he hid a guilty grin in his thin grey beard.
"There he is," said Herbert White, as the gate banged to loudly and heavy footsteps came toward the door.
The old man rose with hospitable haste, and opening the door, was heard condoling with the new arrival. The new arrival also condoled with himself, so that Mrs. White said, "Tut, tut!" and coughed gently as her husband entered the room, followed by a tall, burly man, beady of eye and rubicund of visage.
"Sergeant Major Morris," he said, introducing him.
The sergeant major shook hands, and taking the proffered seat by the fire, watched contentedly while his host got out whisky and tumblers and stood a small copper kettle on the fire.
At the third glass his eyes got brighter, and he began to talk, the little family circle regarding with eager interest this visitor from distant parts, as he squared his broad shoulders in the chair and spoke of strange scenes and doughty deeds, of wars and plagues and strange peoples.
"Twenty-one years of it," said Mr. White, nodding at his wife and son. "When he went away he was a slip of a youth in the warehouse. Now look at him."
"He don't look to have taken much harm," said Mrs. White politely. "I'd like to go to India myself," said the old man, "just to look round a bit, you know."
"Better where you are," said the sergeant major, shaking his head. He put down the empty glass, and sighing softly, shook it again.
"I should like to see those old temples and fakirs and jugglers," said the old man. "What was that you started telling me the other day about a monkey's paw or something, Morris?"
"Nothing," said the soldier hastily. "Leastways, nothing worth hearing."
"Monkey's paw?" said Mrs. White curiously.
"Well, it's just a bit of what you might call magic, perhaps," said the sergeant major offhandedly.
His three listeners leaned forward eagerly. The visitor absentmindedly put his empty glass to his lips and then set it down again. His host filled it for him.
"To look at," said the sergeant major, fumbling in his pocket, "it's just an ordinary little paw, dried to a mummy."
He took something out of his pocket and proffered it. Mrs. White drew back with a grimace, but her son, taking it, examined it curiously.
"And what is there special about it?" inquired Mr. White, as he took it from his son, and having examined it, placed it upon the table.
"It had a spell put on it by an old fakir," said the sergeant major, "a very holy man. He wanted to show that fate ruled people's lives, and that those who interfered with it did so to their sorrow. He put a spell on it so that three separate men could each have three wishes from it."
His manner was so impressive that his hearers were conscious that their light laughter jarred somewhat.
"Well, why don't you have three, sir?" said Herbert White cleverly.
The soldier regarded him in the way that middle age is wont to regard presumptuous youth. "I have," he said quietly, and his blotchy face whitened.
"And did you really have the three wishes granted?" asked Mrs. White.
"I did," said the sergeant major, and his glass tapped against his strong teeth.
"And has anybody else wished?" inquired the old lady.
"The first man had his three wishes, yes," was the reply. "I don't know what the first two were, but the third was for death. That's how I got the paw."
His tones were so grave that a hush fell upon the group.
"If you've had your three wishes, it's no good to you now, then, Morris," said the old man at last. "What do you keep it for?"
The soldier shook his head. "Fancy, I suppose," he said slowly. "I did have some idea of selling it, but I don't think I will. It has caused enough mischief already. Besides, people won't buy. They think it's a fairy tale, some of them, and those who do think anything of it want to try it first and pay me afterward."
"If you could have another three wishes," said the old man, eyeing him keenly, "would you have them?"
"I don't know," said the other. "I don't know."
He took the paw, and dangling it between his front finger and thumb, suddenly threw it upon the fire. White, with a slight cry, stooped down and snatched it off.
"Better let it burn," said the soldier solemnly.
"If you don't want it, Morris," said the old man, "give it to me."
"I won't," said his friend doggedly. "I threw it on the fire. If you keep it, don't blame me for what happens. Pitch it on the fire again, like a sensible man."
The other shook his head and examined his new possession closely. "How do you do it?" he inquired.
"Hold it up in your right hand and wish aloud," said the sergeant major, "but I warn you of the consequences."
"Sounds like the Arabian Nights," said Mrs. White, as she rose and began to set the supper. "Don't you think you might wish for four pairs of hands for me?"
Her husband drew the talisman from his pocket and then all three burst into laughter as the sergeant major, with a look of alarm on his face, caught him by the arm.
"If you must wish," he said gruffly, "wish for something sensible."
Mr. White dropped it back into his pocket, and placing chairs, motioned his friend to the table. In the business of supper the talisman was partly forgotten, and afterward the three sat listening in an enthralled fashion to a second installment of the soldier's adventures in India.
"If the tale about the monkey's paw is not more truthful than those he has been telling us," said Herbert, as the door closed behind their guest, just in time for him to catch the last train, "we shan't make much out of it."
"Did you give him anything for it, Father?" inquired Mrs. White, regarding her husband closely.
"A trifle," said he, coloring slightly. "He didn't want it, but I made him take it. And he pressed me again to throw it away."
"Likely," said Herbert, with pretended horror. "Why, we're going to be rich, and famous, and happy. Wish to be an emperor, Father, to begin with; then you can't be henpecked."
He darted around the table, pursued by the maligned Mrs. White armed with an antimacassar.
Mr. White took the paw from his pocket and eyed it dubiously. "I don't know what to wish for, and that's a fact," he said slowly. "It seems to me I've got all I want."
"If you only cleared the house, you'd be quite happy, wouldn't you?" said Herbert, with his hand on his shoulder. "Well, wish for two hundred pounds, then; that'll just do it."
His father, smiling shamefacedly at his own credulity, held up the talisman, as his son, with a solemn face somewhat marred by a wink at his mother, sat down at the piano and struck a few impressive chords.
"I wish for two hundred pounds," said the old man distinctly.
A fine crash from the piano greeted the words, interrupted by a shuddering cry from the old man. His wife and son ran toward him.
"It moved," he cried, with a glance of disgust at the object as it lay on the floor. "As I wished, it twisted in my hand like a snake."
"Well, I don't see the money," said his son, as he picked it up and placed it on the table, "and I bet I never shall."
"It must have been your fancy, Father," said his wife, regarding him anxiously.
He shook his head. "Never mind, though; there's no harm done, but it gave me a shock all the same."
They sat down by the fire again while the two men finished their pipes. Outside, the wind was higher than ever, and the old man started nervously at the sound of a door banging upstairs. A silence unusual and depressing settled upon all three, which lasted until the old couple rose to retire for the night.
"I expect you'll find the cash tied up in a big bag in the middle of your bed," said Herbert, as he bade them good night, "and something horrible squatting up on top of the wardrobe watching you as you pocket your ill-gotten gains."
. . .
In the brightness of the wintry sun next morning as it streamed over the breakfast table, Herbert laughed at his fears. There was an air of prosaic wholesomeness about the room which it had lacked on the previous night, and the dirty, shriveled little paw was pitched on the sideboard with a carelessness which betokened no great belief in its virtues.
"I suppose all old soldiers are the same," said Mrs. White. "The idea of our listening to such nonsense! How could wishes be granted in these days? And if they could, how could two hundred pounds hurt you, Father?"
"Might drop on his head from the sky," said the frivolous Herbert.
"Morris said the things happened so naturally," said his father, "that you might, if you so wished, attribute it to coincidence."
"Well, don't break into the money before I come back," said Herbert, as he rose from the table. "I'm afraid it'll turn you into a mean, avaricious man, and we shall have to disown you."
His mother laughed, and following him to the door, watched him down the road, and returning to the breakfast table, was very happy at the expense of her husband's credulity. All of which did not prevent her from scurrying to the door at the postman's knock, nor prevent her from referring somewhat shortly to retired sergeant majors of bibulous habits, when she found that the post brought a tailor's bill.
"Herbert will have some more of his funny remarks, I expect, when he comes home," she said, as they sat at dinner.
"I daresay," said Mr. White, pouring himself out some beer; "but for all that, the thing moved in my hand; that I'll swear to."
"You thought it did," said the old lady soothingly.
"I say it did," replied the other. "There was no thought about it; I had just– What's the matter?"
His wife made no reply. She was watching the mysterious movements of a man outside, who, peering in an undecided fashion at the house, appeared to be trying to make up his mind to enter. In mental connection with the two hundred pounds, she noticed that the stranger was well dressed and wore a silk hat of glossy newness. Three times he paused at the gate, and then walked on again. The fourth time he stood with his hand upon it, and then with sudden resolution flung it open and walked up the path. Mrs. White at the same moment placed her hands behind her, and hurriedly unfastening the strings of her apron, put that useful article of apparel beneath the cushion of her chair.
She brought the stranger, who seemed ill at ease, into the room. He gazed furtively at Mrs. White, and listened in a preoccupied fashion as the old lady apologized for the appearance of the room, and her husband's coat, a garment which he usually reserved for the garden. She then waited as patiently as her sex would permit for him to broach his business, but he was at first strangely silent.
"I–was asked to call," he said at last, and stooped and picked a piece of cotton from his trousers. "I come from Maw and Meggins."
The old lady started. "Is anything the matter?" she asked breathlessly. "Has anything happened to Herbert? What is it? What is it?"
Her husband interposed. "There, there, Mother," he said hastily. "Sit down, and don't jump to conclusions. You've not brought bad news, I'm sure, sir," and he eyed the other wistfully.
"I'm sorry–" began the visitor.
"Is he hurt?" demanded the mother.
The visitor bowed in assent. "Badly hurt," he said quietly, "but he is not in any pain."
"Oh, thank God!" said the old woman, clasping her hands. "Thank God for that! Thank–"
She broke off suddenly as the sinister meaning of the assurance dawned upon her and she saw the awful confirmation of her fears in the other's averted face. She caught her breath, and turning to her slower-witted husband, laid her trembling old hand upon his. There was a long silence.
"He was caught in the machinery," said the visitor at length, in a low voice.
"Caught in the machinery," repeated Mr. White, in a dazed fashion, "yes."
He sat staring blankly out at the window, and taking his wife's hand between his own, pressed it as he had been wont to do in their old courting days nearly forty years before.
"He was the only one left to us," he said, turning gently to the visitor. "It is hard."
The other coughed, and rising, walked slowly to the window. "The firm wished me to convey their sincere sympathy with you in your great loss," he said, without looking around. "I beg that you will understand I am only their servant and merely obeying orders."
There was no reply; the old woman's face was white, her eyes staring, and her breath inaudible; on the husband's face was a look such as his friend the sergeant might have carried into his first action.
"I was to say that Maw and Meggins disclaim all responsibility," continued the other. "They admit no liability at all, but in consideration of your son's services they wish to present you with a certain sum as compensation."
Mr. White dropped his wife's hand, and rising to his feet, gazed with a look of horror at his visitor. His dry lips shaped the words, "How much?"
"Two hundred pounds," was the answer.
Unconscious of his wife's shriek, the old man smiled faintly, put out his hands like a sightless man, and dropped, a senseless heap, to the floor.
. . .
In the huge new cemetery, some two miles distant, the old people buried their dead, and came back to a house steeped in shadow and silence. It was all over so quickly that at first they could hardly realize it, and remained in a state of expectation, as though of something else to happen–something else which was to lighten this load, too heavy for old hearts to bear. But the days passed, and expectation gave place to resignation–the hopeless resignation of the old, sometimes miscalled apathy. Sometimes they hardly exchanged a word, for now they had nothing to talk about, and their days were long to weariness.
It was about a week after that that the old man, waking suddenly in the night, stretched out his hand and found himself alone. The room was in darkness, and the sound of subdued weeping came from the window. He raised himself in bed and listened.
"Come back," he said tenderly. "You will be cold."
"It is colder for my son," said the old woman, and wept afresh.
The sound of her sobs died away on his ears. The bed was -warm, and his eyes heavy with sleep. He dozed fitfully, and then slept until a sudden cry from his wife awoke him with a start.
"The monkey's paw!" she cried wildly. "The monkey's paw!"
He started up in alarm. "Where? Where is it? What's the matter?" She came stumbling across the room toward him. "I want it," she said quietly. "You've not destroyed it?"
"It's in the parlor, on the bracket," he replied, marveling. "Why?"
She cried and laughed together, and bending over, kissed his cheek.
"I only just thought of it," she said hysterically. "Why didn't I think of it before? Why didn't you think of it?"
"Think of what?" he questioned.
"The other two wishes," she replied rapidly. "We've only had one."
"Was not that enough?" he demanded fiercely.
"No," she cried triumphantly; "we'll have one more. Go down and get it quickly, and wish our boy alive again."
The man sat up in bed and flung the bedclothes from his quaking limbs. "Good God, you are mad!" he cried, aghast.
"Get it," she panted; "get it quickly, and wish– Oh, my boy, my boy!"
Her husband struck a match and lit the candle. "Get back to bed," he said unsteadily. "You don't know what you are saying."
"We had the first wish granted," said the old woman feverishly; "why not the second?"
"A coincidence," stammered the old man.
"Go and get it and wish," cried the old woman, and dragged him toward the door.
He went down in the darkness, and felt his way to the parlor, and then to the mantelpiece.
The talisman was in its place, and a horrible fear that the unspoken wish might bring his mutilated son before him ere he could escape from the room seized upon him, and he caught his breath as he found that he had lost the direction of the door. His brow cold with sweat, he felt his way around the table, and groped along the wall until he found himself in the small passage with the unwholesome thing in his hand.
Even his wife's face seemed changed as he entered the room. It was white and expectant, and to his fears seemed to have an unnatural look upon it. He was afraid of her.
"Wish!" she cried, in a strong voice.
"It is foolish and wicked," he faltered.
"Wish!" repeated his wife.
He raised his hand. "I wish my son alive again."
The talisman fell to the floor, and he regarded it shudderingly. Then he sank trembling into a chair as the old woman, with burning eyes, walked to the window and raised the blind.
He sat until he was chilled with the cold, glancing occasionally at the figure of the old woman peering through the window. The candle end, which had burned below the rim of the china candlestick, was throwing pulsating shadows on the ceiling and walls, until, with a flicker larger than the rest, it expired. The old man, with an unspeakable sense of relief at the failure of the talisman, crept back to his bed, and a minute or two afterward the old woman came silently and apathetically beside him.
Neither spoke, but both lay silently listening to the ticking of the clock. A stair creaked, and a squeaky mouse scurried noisily through the wall. The darkness was oppressive, and after lying for some time screwing up his courage, the husband took the box of matches, and striking one, went downstairs for a candle.
At the foot of the stairs the match went out, and he paused to strike another, and at the same moment a knock, so quiet and stealthy as to be scarcely audible, sounded on the front door.
The matches fell from his hand. He stood motionless, his breath suspended until the knock was repeated. Then he turned and fled swiftly back to his room, and closed the door behind him. A third knock sounded through the house.
"What's that?" cried the old woman, starting up.
"A rat," said the old man, in shaking tones, "a rat. It passed me on the stairs."
His wife sat up in bed listening. A loud knock resounded through the house.
"It's Herbert!" she screamed. "It's Herbert!"
She ran to the door, but her husband was before her, and catching her by the arm, held her tightly.
"What are you going to do?" he whispered hoarsely.
"It's my boy; it's Herbert!" she cried, struggling mechanically. "I forgot it was two miles away. What are you holding me for? Let go. I must open the door."
"For God's sake don't let it in," cried the old man, trembling.
"You're afraid of your own son," she cried, struggling. "Let me go. I'm coming, Herbert; I'm coming."
There was another knock, and another. The old woman with a sudden wrench broke free and ran from the room. Her husband followed to the landing, and called after her appealingly as she hurried downstairs. He heard the chain rattle back and the bottom bolt drawn slowly and stiffly from the socket. Then the old woman's voice, strained and panting.
"The bolt," she cried loudly. "Come down. I can't reach it."
But her husband was on his hands and knees groping wildly on the floor in search of the paw. If he could only find it before the thing outside got in. A perfect fusillade of knocks reverberated through the house, and he heard the scraping of a chair as his wife put it down in the passage against the door. He heard the creaking of the bolt as it came slowly back, and at the same moment, he found the monkey's paw, and frantically breathed his third and last wish.
The knocking ceased suddenly, although the echoes of it were still in the house. He heard the chair drawn back and the door opened. A cold wind rushed up the staircase, and a long, loud wail of disappointment and misery from his wife gave him courage to run down to her side, and then to the gate beyond. The streetlamp flickering opposite shone on a quiet and deserted road.
W. W. Jacobs (1863-1943)
The Monkey's Paw
fleursdumal.nl magazine
More in: -Short Stories Archive, Archive I-J
---
Edgar Allan Poe
The Tell Tale Heart
Trua! nervous, very, very dreadfully nervous I had been and am; but why Will you say that I am mad? The disease had sharpened my senses, not destroyed, not dulled them. Above all was the sense of hearing acute. I heard all things in the heaven and in the earth. I heard many things in hell. How then am I mad? Hearken! and observe how healthily, how calmly, I can tell you the whole story.
It is impossible to say how first the idea entered my brain, but, once conceived, it haunted me day and night. Object there was none. Passion there was none. I loved the old man. He had never wronged me. He had never given me insult. For his gold I had no desire. I think it was his eye! Yes, it was this! One of his eyes resembled that of a vulture a pale blue eye with a film over it. Whenever it fell upon me my blood ran cold, and so by degrees, very gradually, I made up my mind to take the life of the old man, and thus rid myself of the eye for ever.
Now this is the point. You fancy me mad. Madmen know nothing. But you should have seen me. You should have seen how wisely I proceeded with what caution with what foresight, with what dissimulation, I went to work! I was never kinder to the old man than during the whole week before I killed him. And every night about midnight I turned the latch of his door and opened it oh, so gently! And then, when I had made an opening sufficient for my head, I put in a dark lantern all closed, closed so that no light shone out, and then I thrust in my head. Oh, you would have laughed to see how cunningly I thrust it in! I moved it slowly, very, very slowly, so that I might not disturb the old man's sleep. It took me an hour to place my whole head within the opening so far that I could see him as he lay upon his bed. Ha! would a madman have been so wise as this? And then when my head was well in the room I undid the lantern cautiously oh, so cautiously cautiously (for the hinges creaked), I undid it just so much that a single thin ray fell upon the vulture eye. And this I did for seven long nights, every night just at midnight, but I found the eye always closed, and so it was impossible to do the work, for it was not the old man who vexed me but his Evil Eye. And every morning, when the day broke, I went boldly into the chamber and spoke courageously to him, calling him by name in a hearty tone, and inquiring how he had passed the night. So you see he would have been a very profound old man, indeed , to suspect that every night, just at twelve, I looked in upon him while he slept.
Upon the eighth night I was more than usually cautious in opening the door. A watch's minute hand moves more quickly than did mine. Never before that night had I felt the extent of my own powers, of my sagacity. I could scarcely contain my feelings of triumph. To think that there I was opening the door little by little, and he not even to dream of my secret deeds or thoughts. I fairly chuckled at the idea, and perhaps he heard me, for he moved on the bed suddenly as if startled. Now you may think that I drew back — but no. His room was as black as pitch with the thick darkness (for the shutters were close fastened through fear of robbers), and so I knew that he could not see the opening of the door, and I kept pushing it on steadily, steadily.
I had my head in, and was about to open the lantern, when my thumb slipped upon the tin fastening , and the old man sprang up in the bed, crying out, "Who's there?"
I kept quite still and said nothing. For a whole hour I did not move a muscle, and in the meantime I did not hear him lie down. He was still sitting up in the bed, listening; just as I have done night after night hearkening to the death watches in the wall.
Presently, I heard a slight groan, and I knew it was the groan of mortal terror. It was not a groan of pain or of grief — oh, no! It was the low stifled sound that arises from the bottom of the soul when overcharged with awe. I knew the sound well. Many a night, just at midnight, when all the world slept, it has welled up from my own bosom, deepening, with its dreadful echo, the terrors that distracted me. I say I knew it well. I knew what the old man felt, and pitied him although I chuckled at heart. I knew that he had been lying awake ever since the first slight noise when he had turned in the bed. His fears had been ever since growing upon him. He had been trying to fancy them causeless, but could not. He had been saying to himself, "It is nothing but the wind in the chimney, it is only a mouse crossing the floor," or, "It is merely a cricket which has made a single chirp." Yes he has been trying to comfort himself with these suppositions ; but he had found all in vain. All in vain, because Death in approaching him had stalked with his black shadow before him and enveloped the victim. And it was the mournful influence of the unperceived shadow that caused him to feel, although he neither saw nor heard, to feel the presence of my head within the room.
When I had waited a long time very patiently without hearing him lie down, I resolved to open a little a very, very little crevice in the lantern. So I opened it you cannot imagine how stealthily, stealthily until at length a single dim ray like the thread of the spider shot out from the crevice and fell upon the vulture eye.
It was open, wide, wide open, and I grew furious as I gazed upon it. I saw it with perfect distinctness all a dull blue with a hideous veil over it that chilled the very marrow in my bones, but I could see nothing else of the old man's face or person, for I had directed the ray as if by instinct precisely upon the damned spot.
And now have I not told you that what you mistake for madness is but over-acuteness of the senses? now, I say, there came to my ears a low, dull, quick sound, such as a watch makes when enveloped in cotton. I knew that sound well too. It was the beating of the old man's heart. It increased my fury as the beating of a drum stimulates the soldier into courage.
But even yet I refrained and kept still. I scarcely breathed. I held the lantern motionless. I tried how steadily I could maintain the ray upon the eye. Meantime the hellish tattoo of the heart increased. It grew quicker and quicker, and louder and louder, every instant. The old man's terror must have been extreme! It grew louder, I say, louder every moment! do you mark me well? I have told you that I am nervous: so I am. And now at the dead hour of the night, amid the dreadful silence of that old house, so strange a noise as this excited me to uncontrollable terror. Yet, for some minutes longer I refrained and stood still. But the beating grew louder, louder! I thought the heart must burst. And now a new anxiety seized me the sound would be heard by a neighbour! The old man's hour had come! With a loud yell, I threw open the lantern and leaped into the room. He shrieked once once only. In an instant I dragged him to the floor, and pulled the heavy bed over him. I then smiled gaily, to find the deed so far done. But for many minutes the heart beat on with a muffled sound. This, however, did not vex me; it would not be heard through the wall. At length it ceased. The old man was dead. I removed the bed and examined the corpse. Yes, he was stone, stone dead. I placed my hand upon the heart and held it there many minutes. There was no pulsation. He was stone dead. His eye would trouble me no more.
If still you think me mad, you will think so no longer when I describe the wise precautions I took for the concealment of the body. The night waned, and I worked hastily, but in silence.
I took up three planks from the flooring of the chamber, and deposited all between the scantlings. I then replaced the boards so cleverly so cunningly, that no human eye not even his could have detected anything wrong. There was nothing to wash out no stain of any kind no blood-spot whatever. I had been too wary for that.
When I had made an end of these labours, it was four o'clock still dark as midnight. As the bell sounded the hour, there came a knocking at the street door. I went down to open it with a light heart, for what had I now to fear? There entered three men, who introduced themselves, with perfect suavity, as officers of the police. A shriek had been heard by a neighbour during the night; suspicion of foul play had been aroused; information had been lodged at the police office, and they (the officers) had been deputed to search the premises.
I smiled, for what had I to fear? I bade the gentlemen welcome. The shriek, I said, was my own in a dream. The old man, I mentioned, was absent in the country. I took my visitors all over the house. I bade them search search well. I led them, at length, to his chamber. I showed them his treasures, secure, undisturbed. In the enthusiasm of my confidence, I brought chairs into the room, and desired them here to rest from their fatigues, while I myself, in the wild audacity of my perfect triumph, placed my own seat upon the very spot beneath which reposed the corpse of the victim.
The officers were satisfied. My manner had convinced them. I was singularly at ease. They sat and while I answered cheerily, they chatted of familiar things. But, ere long, I felt myself getting pale and wished them gone. My head ached, and I fancied a ringing in my ears; but still they sat, and still chatted. The ringing became more distinct : I talked more freely to get rid of the feeling: but it continued and gained definitiveness until, at length, I found that the noise was not within my ears.
No doubt I now grew very pale; but I talked more fluently, and with a heightened voice. Yet the sound increased and what could I do? It was a low dull, quick sound much such a sound as a watch makes when enveloped in cotton. I gasped for breath, and yet the officers heard it not. I talked more quickly, more vehemently but the noise steadily increased. I arose and argued about trifles, in a high key and with violent gesticulations; but the noise steadily increased. Why would they not be gone? I paced the floor to and fro with heavy strides, as if excited to fury by the observations of the men, but the noise steadily increased. O God! what could I do? I foamed I raved I swore! I swung the chair upon which I had been sitting, and grated it upon the boards, but the noise arose over all and continually increased. It grew louder louder louder! And still the men chatted pleasantly , and smiled. Was it possible they heard not? Almighty God! no, no? They heard! they suspected! they knew! they were making a mockery of my horror! this I thought, and this I think. But anything was better than this agony! Anything was more tolerable than this derision! I could bear those hypocritical smiles no longer! I felt that I must scream or die! and now again hark! louder! louder! louder! Louder!
"Villains!" I shrieked, "dissemble no more! I admit the deed! tear up the planks! Here, here! It is the beating of his hideous heart!"
Edgar Allan Poe (1809 – 1849)
The Tell Tale Heart
fleursdumal.nl magazine
More in: Edgar Allan Poe, Poe, Edgar Allan, Poe, Edgar Allan
---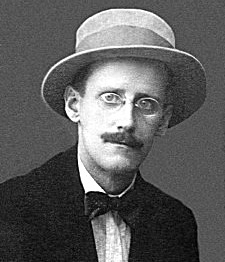 James Joyce
Simples
O bella bionda,
Sei come l'onda!
Of cool sweet dew and radiance mild
The moon a web of silence weaves
In the still garden where a child
Gathers the simple salad leaves.
A moondew stars her hanging hair
And moonlight kisses her young brow
And, gathering, she sings an air:
Fair as the wave is, fair, art thou!
Be mine, I pray, a waxen ear
To shield me from her childish croon
And mine a shielded heart for her
Who gathers simples of the moon.
James Joyce (1882 – 1941)
Simples
fleursdumal.nl magazine
More in: Archive I-J, Joyce, James, Joyce, James
---
His Last Bow
by Arthur Conan Doyle
In recording from time to time some of the curious experiences and interesting recollections which I associate with my long and intimate friendship with Mr. Sherlock Holmes, I have continually been faced by difficulties caused by his own aversion to publicity. To his sombre and cynical spirit all popular applause was always abhorrent, and nothing amused him more at the end of a successful case than to hand over the actual exposure to some orthodox official, and to listen with a mocking smile to the general chorus of misplaced congratulation. It was indeed this attitude upon the part of my friend and certainly not any lack of interesting material which has caused me of late years to lay very few of my records before the public. My participation in some of his adventures was always a privilege which entailed discretion and reticence upon me.
It was, then, with considerable surprise that I received a telegram from Holmes last Tuesday—he has never been known to write where a telegram would serve—in the following terms:
Why not tell them of the Cornish horror—strangest case I have handled.
I have no idea what backward sweep of memory had brought the matter fresh to his mind, or what freak had caused him to desire that I should recount it; but I hasten, before another cancelling telegram may arrive, to hunt out the notes which give me the exact details of the case and to lay the narrative before my readers.
It was, then, in the spring of the year 1897 that Holmes's iron constitution showed some symptoms of giving way in the face of constant hard work of a most exacting kind, aggravated, perhaps, by occasional indiscretions of his own. In March of that year Dr. Moore Agar, of Harley Street, whose dramatic introduction to Holmes I may some day recount, gave positive injunctions that the famous private agent lay aside all his cases and surrender himself to complete rest if he wished to avert an absolute breakdown. The state of his health was not a matter in which he himself took the faintest interest, for his mental detachment was absolute, but he was induced at last, on the threat of being permanently disqualified from work, to give himself a complete change of scene and air. Thus it was that in the early spring of that year we found ourselves together in a small cottage near Poldhu Bay, at the further extremity of the Cornish peninsula.
It was a singular spot, and one peculiarly well suited to the grim humour of my patient. From the windows of our little whitewashed house, which stood high upon a grassy headland, we looked down upon the whole sinister semicircle of Mounts Bay, that old death trap of sailing vessels, with its fringe of black cliffs and surge-swept reefs on which innumerable seamen have met their end. With a northerly breeze it lies placid and sheltered, inviting the storm-tossed craft to tack into it for rest and protection.
Then come the sudden swirl round of the wind, the blistering gale from the south-west, the dragging anchor, the lee shore, and the last battle in the creaming breakers. The wise mariner stands far out from that evil place.
On the land side our surroundings were as sombre as on the sea. It was a country of rolling moors, lonely and dun-colored, with an occasional church tower to mark the site of some old-world village. In every direction upon these moors there were traces of some vanished race which had passed utterly away, and left as its sole record strange monuments of stone, irregular mounds which contained the burned ashes of the dead, and curious earthworks which hinted at prehistoric strife. The glamour and mystery of the place, with its sinister atmosphere of forgotten nations, appealed to the imagination of my friend, and he spent much of his time in long walks and solitary meditations upon the moor. The ancient Cornish language had also arrested his attention, and he had, I remember, conceived the idea that it was akin to the Chaldean, and had been largely derived from the Phoenician traders in tin. He had received a consignment of books upon philology and was settling down to develop this thesis when suddenly, to my sorrow and to his unfeigned delight, we found ourselves, even in that land of dreams, plunged into a problem at our very doors which was more intense, more engrossing, and infinitely more mysterious than any of those which had driven us from London. Our simple life and peaceful, healthy routine were violently interrupted, and we were precipitated into the midst of a series of events which caused the utmost excitement not only in Cornwall but throughout the whole west of England. Many of my readers may retain some recollection of what was called at the time "The Cornish Horror," though a most imperfect account of the matter reached the London press. Now, after thirteen years, I will give the true details of this inconceivable affair to the public.
I have said that scattered towers marked the villages which dotted this part of Cornwall. The nearest of these was the hamlet of Tredannick Wollas, where the cottages of a couple of hundred inhabitants clustered round an ancient, moss-grown church. The vicar of the parish, Mr. Roundhay, was something of an archaeologist, and as such Holmes had made his acquaintance. He was a middle-aged man, portly and affable, with a considerable fund of local lore. At his invitation we had taken tea at the vicarage and had come to know, also, Mr. Mortimer Tregennis, an independent gentleman, who increased the clergyman's scanty resources by taking rooms in his large, straggling house. The vicar, being a bachelor, was glad to come to such an arrangement, though he had little in common with his lodger, who was a thin, dark, spectacled man, with a stoop which gave the impression of actual, physical deformity. I remember that during our short visit we found the vicar garrulous, but his lodger strangely reticent, a sad-faced, introspective man, sitting with averted eyes, brooding apparently upon his own affairs.
These were the two men who entered abruptly into our little sitting-room on Tuesday, March the 16th, shortly after our breakfast hour, as we were smoking together, preparatory to our daily excursion upon the moors.
"Mr. Holmes," said the vicar in an agitated voice, "the most extraordinary and tragic affair has occurred during the night. It is the most unheard-of business. We can only regard it as a special Providence that you should chance to be here at the time, for in all England you are the one man we need."
I glared at the intrusive vicar with no very friendly eyes; but Holmes took his pipe from his lips and sat up in his chair like an old hound who hears the view-halloa. He waved his hand to the sofa, and our palpitating visitor with his agitated companion sat side by side upon it. Mr. Mortimer Tregennis was more self-contained than the clergyman, but the twitching of his thin hands and the brightness of his dark eyes showed that they shared a common emotion.
"Shall I speak or you?" he asked of the vicar.
"Well, as you seem to have made the discovery, whatever it may be, and the vicar to have had it second-hand, perhaps you had better do the speaking," said Holmes.
I glanced at the hastily clad clergyman, with the formally dressed lodger seated beside him, and was amused at the surprise which Holmes's simple deduction had brought to their faces.
"Perhaps I had best say a few words first," said the vicar, "and then you can judge if you will listen to the details from Mr. Tregennis, or whether we should not hasten at once to the scene of this mysterious affair. I may explain, then, that our friend here spent last evening in the company of his two brothers, Owen and George, and of his sister Brenda, at their house of Tredannick Wartha, which is near the old stone cross upon the moor. He left them shortly after ten o'clock, playing cards round the dining-room table, in excellent health and spirits. This morning, being an early riser, he walked in that direction before breakfast and was overtaken by the carriage of Dr. Richards, who explained that he had just been sent for on a most urgent call to Tredannick Wartha. Mr. Mortimer Tregennis naturally went with him. When he arrived at Tredannick Wartha he found an extraordinary state of things. His two brothers and his sister were seated round the table exactly as he had left them, the cards still spread in front of them and the candles burned down to their sockets. The sister lay back stone-dead in her chair, while the two brothers sat on each side of her laughing, shouting, and singing, the senses stricken clean out of them. All three of them, the dead woman and the two demented men, retained upon their faces an expression of the utmost horror—a convulsion of terror which was dreadful to look upon. There was no sign of the presence of anyone in the house, except Mrs. Porter, the old cook and housekeeper, who declared that she had slept deeply and heard no sound during the night. Nothing had been stolen or disarranged, and there is absolutely no explanation of what the horror can be which has frightened a woman to death and two strong men out of their senses. There is the situation, Mr. Holmes, in a nutshell, and if you can help us to clear it up you will have done a great work."
I had hoped that in some way I could coax my companion back into the quiet which had been the object of our journey; but one glance at his intense face and contracted eyebrows told me how vain was now the expectation. He sat for some little time in silence, absorbed in the strange drama which had broken in upon our peace.
"I will look into this matter," he said at last. "On the face of it, it would appear to be a case of a very exceptional nature. Have you been there yourself, Mr. Roundhay?"
"No, Mr. Holmes. Mr. Tregennis brought back the account to the vicarage, and I at once hurried over with him to consult you."
"How far is it to the house where this singular tragedy occurred?"
"About a mile inland."
"Then we shall walk over together. But before we start I must ask you a few questions, Mr. Mortimer Tregennis."
The other had been silent all this time, but I had observed that his more controlled excitement was even greater than the obtrusive emotion of the clergyman. He sat with a pale, drawn face, his anxious gaze fixed upon Holmes, and his thin hands clasped convulsively together. His pale lips quivered as he listened to the dreadful experience which had befallen his family, and his dark eyes seemed to reflect something of the horror of the scene.
"Ask what you like, Mr. Holmes," said he eagerly. "It is a bad thing to speak of, but I will answer you the truth."
"Tell me about last night."
"Well, Mr. Holmes, I supped there, as the vicar has said, and my elder brother George proposed a game of whist afterwards. We sat down about nine o'clock. It was a quarter-past ten when I moved to go. I left them all round the table, as merry as could be."
"Who let you out?"
"Mrs. Porter had gone to bed, so I let myself out. I shut the hall door behind me. The window of the room in which they sat was closed, but the blind was not drawn down. There was no change in door or window this morning, or any reason to think that any stranger had been to the house. Yet there they sat, driven clean mad with terror, and Brenda lying dead of fright, with her head hanging over the arm of the chair. I'll never get the sight of that room out of my mind so long as I live."
"The facts, as you state them, are certainly most remarkable," said Holmes. "I take it that you have no theory yourself which can in any way account for them?"
"It's devilish, Mr. Holmes, devilish!" cried Mortimer Tregennis. "It is not of this world. Something has come into that room which has dashed the light of reason from their minds. What human contrivance could do that?"
"I fear," said Holmes, "that if the matter is beyond humanity it is certainly beyond me. Yet we must exhaust all natural explanations before we fall back upon such a theory as this. As to yourself, Mr. Tregennis, I take it you were divided in some way from your family, since they lived together and you had rooms apart?"
"That is so, Mr. Holmes, though the matter is past and done with. We were a family of tin-miners at Redruth, but we sold our venture to a company, and so retired with enough to keep us. I won't deny that there was some feeling about the division of the money and it stood between us for a time, but it was all forgiven and forgotten, and we were the best of friends together."
"Looking back at the evening which you spent together, does anything stand out in your memory as throwing any possible light upon the tragedy? Think carefully, Mr. Tregennis, for any clue which can help me."
"There is nothing at all, sir."
"Your people were in their usual spirits?"
"Never better."
"Were they nervous people? Did they ever show any apprehension of coming danger?"
"Nothing of the kind."
"You have nothing to add then, which could assist me?"
Mortimer Tregennis considered earnestly for a moment.
"There is one thing occurs to me," said he at last. "As we sat at the table my back was to the window, and my brother George, he being my partner at cards, was facing it. I saw him once look hard over my shoulder, so I turned round and looked also. The blind was up and the window shut, but I could just make out the bushes on the lawn, and it seemed to me for a moment that I saw something moving among them. I couldn't even say if it was man or animal, but I just thought there was something there. When I asked him what he was looking at, he told me that he had the same feeling. That is all that I can say."
"Did you not investigate?"
"No; the matter passed as unimportant."
"You left them, then, without any premonition of evil?"
"None at all."
"I am not clear how you came to hear the news so early this morning."
"I am an early riser and generally take a walk before breakfast. This morning I had hardly started when the doctor in his carriage overtook me. He told me that old Mrs. Porter had sent a boy down with an urgent message. I sprang in beside him and we drove on. When we got there we looked into that dreadful room. The candles and the fire must have burned out hours before, and they had been sitting there in the dark until dawn had broken. The doctor said Brenda must have been dead at least six hours. There were no signs of violence. She just lay across the arm of the chair with that look on her face. George and Owen were singing snatches of songs and gibbering like two great apes. Oh, it was awful to see! I couldn't stand it, and the doctor was as white as a sheet. Indeed, he fell into a chair in a sort of faint, and we nearly had him on our hands as well."
"Remarkable—most remarkable!" said Holmes, rising and taking his hat. "I think, perhaps, we had better go down to Tredannick Wartha without further delay. I confess that I have seldom known a case which at first sight presented a more singular problem."
Our proceedings of that first morning did little to advance the investigation. It was marked, however, at the outset by an incident which left the most sinister impression upon my mind. The approach to the spot at which the tragedy occurred is down a narrow, winding, country lane. While we made our way along it we heard the rattle of a carriage coming towards us and stood aside to let it pass. As it drove by us I caught a glimpse through the closed window of a horribly contorted, grinning face glaring out at us. Those staring eyes and gnashing teeth flashed past us like a dreadful vision.
"My brothers!" cried Mortimer Tregennis, white to his lips. "They are taking them to Helston."
We looked with horror after the black carriage, lumbering upon its way. Then we turned our steps towards this ill-omened house in which they had met their strange fate.
It was a large and bright dwelling, rather a villa than a cottage, with a considerable garden which was already, in that Cornish air, well filled with spring flowers. Towards this garden the window of the sitting-room fronted, and from it, according to Mortimer Tregennis, must have come that thing of evil which had by sheer horror in a single instant blasted their minds. Holmes walked slowly and thoughtfully among the flower-plots and along the path before we entered the porch. So absorbed was he in his thoughts, I remember, that he stumbled over the watering-pot, upset its contents, and deluged both our feet and the garden path. Inside the house we were met by the elderly Cornish housekeeper, Mrs. Porter, who, with the aid of a young girl, looked after the wants of the family. She readily answered all Holmes's questions. She had heard nothing in the night. Her employers had all been in excellent spirits lately, and she had never known them more cheerful and prosperous. She had fainted with horror upon entering the room in the morning and seeing that dreadful company round the table. She had, when she recovered, thrown open the window to let the morning air in, and had run down to the lane, whence she sent a farm-lad for the doctor. The lady was on her bed upstairs if we cared to see her. It took four strong men to get the brothers into the asylum carriage. She would not herself stay in the house another day and was starting that very afternoon to rejoin her family at St. Ives.
We ascended the stairs and viewed the body. Miss Brenda Tregennis had been a very beautiful girl, though now verging upon middle age. Her dark, clear-cut face was handsome, even in death, but there still lingered upon it something of that convulsion of horror which had been her last human emotion. From her bedroom we descended to the sitting-room, where this strange tragedy had actually occurred. The charred ashes of the overnight fire lay in the grate. On the table were the four guttered and burned-out candles, with the cards scattered over its surface. The chairs had been moved back against the walls, but all else was as it had been the night before. Holmes paced with light, swift steps about the room; he sat in the various chairs, drawing them up and reconstructing their positions. He tested how much of the garden was visible; he examined the floor, the ceiling, and the fireplace; but never once did I see that sudden brightening of his eyes and tightening of his lips which would have told me that he saw some gleam of light in this utter darkness.
"Why a fire?" he asked once. "Had they always a fire in this small room on a spring evening?"
Mortimer Tregennis explained that the night was cold and damp. For that reason, after his arrival, the fire was lit. "What are you going to do now, Mr. Holmes?" he asked.
My friend smiled and laid his hand upon my arm. "I think, Watson, that I shall resume that course of tobacco-poisoning which you have so often and so justly condemned," said he. "With your permission, gentlemen, we will now return to our cottage, for I am not aware that any new factor is likely to come to our notice here. I will turn the facts over in my mind, Mr, Tregennis, and should anything occur to me I will certainly communicate with you and the vicar. In the meantime I wish you both good-morning."
It was not until long after we were back in Poldhu Cottage that Holmes broke his complete and absorbed silence. He sat coiled in his armchair, his haggard and ascetic face hardly visible amid the blue swirl of his tobacco smoke, his black brows drawn down, his forehead contracted, his eyes vacant and far away. Finally he laid down his pipe and sprang to his feet.
"It won't do, Watson!" said he with a laugh. "Let us walk along the cliffs together and search for flint arrows. We are more likely to find them than clues to this problem. To let the brain work without sufficient material is like racing an engine. It racks itself to pieces. The sea air, sunshine, and patience, Watson—all else will come.
"Now, let us calmly define our position, Watson," he continued as we skirted the cliffs together. "Let us get a firm grip of the very little which we do know, so that when fresh facts arise we may be ready to fit them into their places. I take it, in the first place, that neither of us is prepared to admit diabolical intrusions into the affairs of men. Let us begin by ruling that entirely out of our minds. Very good. There remain three persons who have been grievously stricken by some conscious or unconscious human agency. That is firm ground. Now, when did this occur? Evidently, assuming his narrative to be true, it was immediately after Mr. Mortimer Tregennis had left the room. That is a very important point. The presumption is that it was within a few minutes afterwards. The cards still lay upon the table. It was already past their usual hour for bed. Yet they had not changed their position or pushed back their chairs. I repeat, then, that the occurrence was immediately after his departure, and not later than eleven o'clock last night.
"Our next obvious step is to check, so far as we can, the movements of Mortimer Tregennis after he left the room. In this there is no difficulty, and they seem to be above suspicion. Knowing my methods as you do, you were, of course, conscious of the somewhat clumsy water-pot expedient by which I obtained a clearer impress of his foot than might otherwise have been possible. The wet, sandy path took it admirably. Last night was also wet, you will remember, and it was not difficult—having obtained a sample print—to pick out his track among others and to follow his movements. He appears to have walked away swiftly in the direction of the vicarage.
"If, then, Mortimer Tregennis disappeared from the scene, and yet some outside person affected the card-players, how can we reconstruct that person, and how was such an impression of horror conveyed? Mrs. Porter may be eliminated. She is evidently harmless. Is there any evidence that someone crept up to the garden window and in some manner produced so terrific an effect that he drove those who saw it out of their senses? The only suggestion in this direction comes from Mortimer Tregennis himself, who says that his brother spoke about some movement in the garden. That is certainly remarkable, as the night was rainy, cloudy, and dark. Anyone who had the design to alarm these people would be compelled to place his very face against the glass before he could be seen. There is a three-foot flower-border outside this window, but no indication of a footmark. It is difficult to imagine, then, how an outsider could have made so terrible an impression upon the company, nor have we found any possible motive for so strange and elaborate an attempt. You perceive our difficulties, Watson?"
"They are only too clear," I answered with conviction.
"And yet, with a little more material, we may prove that they are not insurmountable," said Holmes. "I fancy that among your extensive archives, Watson, you may find some which were nearly as obscure. Meanwhile, we shall put the case aside until more accurate data are available, and devote the rest of our morning to the pursuit of neolithic man."
I may have commented upon my friend's power of mental detachment, but never have I wondered at it more than upon that spring morning in Cornwall when for two hours he discoursed upon celts, arrowheads, and shards, as lightly as if no sinister mystery were waiting for his solution. It was not until we had returned in the afternoon to our cottage that we found a visitor awaiting us, who soon brought our minds back to the matter in hand. Neither of us needed to be told who that visitor was. The huge body, the craggy and deeply seamed face with the fierce eyes and hawk-like nose, the grizzled hair which nearly brushed our cottage ceiling, the beard—golden at the fringes and white near the lips, save for the nicotine stain from his perpetual cigar—all these were as well known in London as in Africa, and could only be associated with the tremendous personality of Dr. Leon Sterndale, the great lion-hunter and explorer.
We had heard of his presence in the district and had once or twice caught sight of his tall figure upon the moorland paths. He made no advances to us, however, nor would we have dreamed of doing so to him, as it was well known that it was his love of seclusion which caused him to spend the greater part of the intervals between his journeys in a small bungalow buried in the lonely wood of Beauchamp Arriance. Here, amid his books and his maps, he lived an absolutely lonely life, attending to his own simple wants and paying little apparent heed to the affairs of his neighbours. It was a surprise to me, therefore, to hear him asking Holmes in an eager voice whether he had made any advance in his reconstruction of this mysterious episode. "The county police are utterly at fault," said he, "but perhaps your wider experience has suggested some conceivable explanation. My only claim to being taken into your confidence is that during my many residences here I have come to know this family of Tregennis very well—indeed, upon my Cornish mother's side I could call them cousins—and their strange fate has naturally been a great shock to me. I may tell you that I had got as far as Plymouth upon my way to Africa, but the news reached me this morning, and I came straight back again to help in the inquiry."
Holmes raised his eyebrows.
"Did you lose your boat through it?"
"I will take the next."
"Dear me! that is friendship indeed."
"I tell you they were relatives."
"Quite so—cousins of your mother. Was your baggage aboard the ship?"
"Some of it, but the main part at the hotel."
"I see. But surely this event could not have found its way into the Plymouth morning papers."
"No, sir; I had a telegram."
"Might I ask from whom?"
A shadow passed over the gaunt face of the explorer.
"You are very inquisitive, Mr. Holmes."
"It is my business."
With an effort Dr. Sterndale recovered his ruffled composure.
"I have no objection to telling you," he said. "It was Mr. Roundhay, the vicar, who sent me the telegram which recalled me."
"Thank you," said Holmes. "I may say in answer to your original question that I have not cleared my mind entirely on the subject of this case, but that I have every hope of reaching some conclusion. It would be premature to say more."
"Perhaps you would not mind telling me if your suspicions point in any particular direction?"
"No, I can hardly answer that."
"Then I have wasted my time and need not prolong my visit." The famous doctor strode out of our cottage in considerable ill-humour, and within five minutes Holmes had followed him. I saw him no more until the evening, when he returned with a slow step and haggard face which assured me that he had made no great progress with his investigation. He glanced at a telegram which awaited him and threw it into the grate.
"From the Plymouth hotel, Watson," he said. "I learned the name of it from the vicar, and I wired to make certain that Dr. Leon Sterndale's account was true. It appears that he did indeed spend last night there, and that he has actually allowed some of his baggage to go on to Africa, while he returned to be present at this investigation. What do you make of that, Watson?"
"He is deeply interested."
"Deeply interested—yes. There is a thread here which we had not yet grasped and which might lead us through the tangle. Cheer up, Watson, for I am very sure that our material has not yet all come to hand. When it does we may soon leave our difficulties behind us."
Little did I think how soon the words of Holmes would be realized, or how strange and sinister would be that new development which opened up an entirely fresh line of investigation. I was shaving at my window in the morning when I heard the rattle of hoofs and, looking up, saw a dog-cart coming at a gallop down the road. It pulled up at our door, and our friend, the vicar, sprang from it and rushed up our garden path. Holmes was already dressed, and we hastened down to meet him.
Our visitor was so excited that he could hardly articulate, but at last in gasps and bursts his tragic story came out of him.
"We are devil-ridden, Mr. Holmes! My poor parish is devil-ridden!" he cried. "Satan himself is loose in it! We are given over into his hands!" He danced about in his agitation, a ludicrous object if it were not for his ashy face and startled eyes. Finally he shot out his terrible news.
"Mr. Mortimer Tregennis died during the night, and with exactly the same symptoms as the rest of his family."
Holmes sprang to his feet, all energy in an instant.
"Can you fit us both into your dog-cart?"
"Yes, I can."
"Then, Watson, we will postpone our breakfast. Mr. Roundhay, we are entirely at your disposal. Hurry—hurry, before things get disarranged."
The lodger occupied two rooms at the vicarage, which were in an angle by themselves, the one above the other. Below was a large sitting-room; above, his bedroom. They looked out upon a croquet lawn which came up to the windows. We had arrived before the doctor or the police, so that everything was absolutely undisturbed. Let me describe exactly the scene as we saw it upon that misty March morning. It has left an impression which can never be effaced from my mind.
The atmosphere of the room was of a horrible and depressing stuffiness. The servant who had first entered had thrown up the window, or it would have been even more intolerable. This might partly be due to the fact that a lamp stood flaring and smoking on the centre table. Beside it sat the dead man, leaning back in his chair, his thin beard projecting, his spectacles pushed up on to his forehead, and his lean dark face turned towards the window and twisted into the same distortion of terror which had marked the features of his dead sister. His limbs were convulsed and his fingers contorted as though he had died in a very paroxysm of fear. He was fully clothed, though there were signs that his dressing had been done in a hurry. We had already learned that his bed had been slept in, and that the tragic end had come to him in the early morning.
One realized the red-hot energy which underlay Holmes's phlegmatic exterior when one saw the sudden change which came over him from the moment that he entered the fatal apartment. In an instant he was tense and alert, his eyes shining, his face set, his limbs quivering with eager activity. He was out on the lawn, in through the window, round the room, and up into the bedroom, for all the world like a dashing foxhound drawing a cover. In the bedroom he made a rapid cast around and ended by throwing open the window, which appeared to give him some fresh cause for excitement, for he leaned out of it with loud ejaculations of interest and delight. Then he rushed down the stair, out through the open window, threw himself upon his face on the lawn, sprang up and into the room once more, all with the energy of the hunter who is at the very heels of his quarry. The lamp, which was an ordinary standard, he examined with minute care, making certain measurements upon its bowl. He carefully scrutinized with his lens the talc shield which covered the top of the chimney and scraped off some ashes which adhered to its upper surface, putting some of them into an envelope, which he placed in his pocketbook. Finally, just as the doctor and the official police put in an appearance, he beckoned to the vicar and we all three went out upon the lawn.
"I am glad to say that my investigation has not been entirely barren," he remarked. "I cannot remain to discuss the matter with the police, but I should be exceedingly obliged, Mr. Roundhay, if you would give the inspector my compliments and direct his attention to the bedroom window and to the sitting-room lamp. Each is suggestive, and together they are almost conclusive. If the police would desire further information I shall be happy to see any of them at the cottage. And now, Watson, I think that, perhaps, we shall be better employed elsewhere."
It may be that the police resented the intrusion of an amateur, or that they imagined themselves to be upon some hopeful line of investigation; but it is certain that we heard nothing from them for the next two days. During this time Holmes spent some of his time smoking and dreaming in the cottage; but a greater portion in country walks which he undertook alone, returning after many hours without remark as to where he had been. One experiment served to show me the line of his investigation. He had bought a lamp which was the duplicate of the one which had burned in the room of Mortimer Tregennis on the morning of the tragedy. This he filled with the same oil as that used at the vicarage, and he carefully timed the period which it would take to be exhausted. Another experiment which he made was of a more unpleasant nature, and one which I am not likely ever to forget.
"You will remember, Watson," he remarked one afternoon, "that there is a single common point of resemblance in the varying reports which have reached us. This concerns the effect of the atmosphere of the room in each case upon those who had first entered it. You will recollect that Mortimer Tregennis, in describing the episode of his last visit to his brother's house, remarked that the doctor on entering the room fell into a chair? You had forgotten? Well I can answer for it that it was so. Now, you will remember also that Mrs. Porter, the housekeeper, told us that she herself fainted upon entering the room and had afterwards opened the window. In the second case—that of Mortimer Tregennis himself—you cannot have forgotten the horrible stuffiness of the room when we arrived, though the servant had thrown open the window. That servant, I found upon inquiry, was so ill that she had gone to her bed. You will admit, Watson, that these facts are very suggestive. In each case there is evidence of a poisonous atmosphere. In each case, also, there is combustion going on in the room—in the one case a fire, in the other a lamp. The fire was needed, but the lamp was lit—as a comparison of the oil consumed will show—long after it was broad daylight. Why? Surely because there is some connection between three things—the burning, the stuffy atmosphere, and, finally, the madness or death of those unfortunate people. That is clear, is it not?"
"It would appear so."
"At least we may accept it as a working hypothesis. We will suppose, then, that something was burned in each case which produced an atmosphere causing strange toxic effects. Very good. In the first instance—that of the Tregennis family—this substance was placed in the fire. Now the window was shut, but the fire would naturally carry fumes to some extent up the chimney. Hence one would expect the effects of the poison to be less than in the second case, where there was less escape for the vapour. The result seems to indicate that it was so, since in the first case only the woman, who had presumably the more sensitive organism, was killed, the others exhibiting that temporary or permanent lunacy which is evidently the first effect of the drug. In the second case the result was complete. The facts, therefore, seem to bear out the theory of a poison which worked by combustion.
"With this train of reasoning in my head I naturally looked about in Mortimer Tregennis's room to find some remains of this substance. The obvious place to look was the talc shelf or smoke-guard of the lamp. There, sure enough, I perceived a number of flaky ashes, and round the edges a fringe of brownish powder, which had not yet been consumed. Half of this I took, as you saw, and I placed it in an envelope."
"Why half, Holmes?"
"It is not for me, my dear Watson, to stand in the way of the official police force. I leave them all the evidence which I found. The poison still remained upon the talc had they the wit to find it. Now, Watson, we will light our lamp; we will, however, take the precaution to open our window to avoid the premature decease of two deserving members of society, and you will seat yourself near that open window in an armchair unless, like a sensible man, you determine to have nothing to do with the affair. Oh, you will see it out, will you? I thought I knew my Watson. This chair I will place opposite yours, so that we may be the same distance from the poison and face to face. The door we will leave ajar. Each is now in a position to watch the other and to bring the experiment to an end should the symptoms seem alarming. Is that all clear? Well, then, I take our powder—or what remains of it—from the envelope, and I lay it above the burning lamp. So! Now, Watson, let us sit down and await developments."
They were not long in coming. I had hardly settled in my chair before I was conscious of a thick, musky odour, subtle and nauseous. At the very first whiff of it my brain and my imagination were beyond all control. A thick, black cloud swirled before my eyes, and my mind told me that in this cloud, unseen as yet, but about to spring out upon my appalled senses, lurked all that was vaguely horrible, all that was monstrous and inconceivably wicked in the universe. Vague shapes swirled and swam amid the dark cloud-bank, each a menace and a warning of something coming, the advent of some unspeakable dweller upon the threshold, whose very shadow would blast my soul. A freezing horror took possession of me. I felt that my hair was rising, that my eyes were protruding, that my mouth was opened, and my tongue like leather. The turmoil within my brain was such that something must surely snap. I tried to scream and was vaguely aware of some hoarse croak which was my own voice, but distant and detached from myself. At the same moment, in some effort of escape, I broke through that cloud of despair and had a glimpse of Holmes's face, white, rigid, and drawn with horror—the very look which I had seen upon the features of the dead. It was that vision which gave me an instant of sanity and of strength. I dashed from my chair, threw my arms round Holmes, and together we lurched through the door, and an instant afterwards had thrown ourselves down upon the grass plot and were lying side by side, conscious only of the glorious sunshine which was bursting its way through the hellish cloud of terror which had girt us in. Slowly it rose from our souls like the mists from a landscape until peace and reason had returned, and we were sitting upon the grass, wiping our clammy foreheads, and looking with apprehension at each other to mark the last traces of that terrific experience which we had undergone.
"Upon my word, Watson!" said Holmes at last with an unsteady voice, "I owe you both my thanks and an apology. It was an unjustifiable experiment even for one's self, and doubly so for a friend. I am really very sorry."
"You know," I answered with some emotion, for I have never seen so much of Holmes's heart before, "that it is my greatest joy and privilege to help you."
He relapsed at once into the half-humorous, half-cynical vein which was his habitual attitude to those about him. "It would be superfluous to drive us mad, my dear Watson," said he. "A candid observer would certainly declare that we were so already before we embarked upon so wild an experiment. I confess that I never imagined that the effect could be so sudden and so severe." He dashed into the cottage, and, reappearing with the burning lamp held at full arm's length, he threw it among a bank of brambles. "We must give the room a little time to clear. I take it, Watson, that you have no longer a shadow of a doubt as to how these tragedies were produced?"
"None whatever."
"But the cause remains as obscure as before. Come into the arbour here and let us discuss it together. That villainous stuff seems still to linger round my throat. I think we must admit that all the evidence points to this man, Mortimer Tregennis, having been the criminal in the first tragedy, though he was the victim in the second one. We must remember, in the first place, that there is some story of a family quarrel, followed by a reconciliation. How bitter that quarrel may have been, or how hollow the reconciliation we cannot tell. When I think of Mortimer Tregennis, with the foxy face and the small shrewd, beady eyes behind the spectacles, he is not a man whom I should judge to be of a particularly forgiving disposition. Well, in the next place, you will remember that this idea of someone moving in the garden, which took our attention for a moment from the real cause of the tragedy, emanated from him. He had a motive in misleading us. Finally, if he did not throw the substance into the fire at the moment of leaving the room, who did do so? The affair happened immediately after his departure. Had anyone else come in, the family would certainly have risen from the table. Besides, in peaceful Cornwall, visitors did not arrive after ten o'clock at night. We may take it, then, that all the evidence points to Mortimer Tregennis as the culprit."
"Then his own death was suicide!"
"Well, Watson, it is on the face of it a not impossible supposition. The man who had the guilt upon his soul of having brought such a fate upon his own family might well be driven by remorse to inflict it upon himself. There are, however, some cogent reasons against it. Fortunately, there is one man in England who knows all about it, and I have made arrangements by which we shall hear the facts this afternoon from his own lips. Ah! he is a little before his time. Perhaps you would kindly step this way, Dr. Leon Sterndale. We have been conducing a chemical experiment indoors which has left our little room hardly fit for the reception of so distinguished a visitor."
I had heard the click of the garden gate, and now the majestic figure of the great African explorer appeared upon the path. He turned in some surprise towards the rustic arbour in which we sat.
"You sent for me, Mr. Holmes. I had your note about an hour ago, and I have come, though I really do not know why I should obey your summons."
"Perhaps we can clear the point up before we separate," said Holmes. "Meanwhile, I am much obliged to you for your courteous acquiescence. You will excuse this informal reception in the open air, but my friend Watson and I have nearly furnished an additional chapter to what the papers call the Cornish Horror, and we prefer a clear atmosphere for the present. Perhaps, since the matters which we have to discuss will affect you personally in a very intimate fashion, it is as well that we should talk where there can be no eavesdropping."
The explorer took his cigar from his lips and gazed sternly at my companion.
"I am at a loss to know, sir," he said, "what you can have to speak about which affects me personally in a very intimate fashion."
"The killing of Mortimer Tregennis," said Holmes.
For a moment I wished that I were armed. Sterndale's fierce face turned to a dusky red, his eyes glared, and the knotted, passionate veins started out in his forehead, while he sprang forward with clenched hands towards my companion. Then he stopped, and with a violent effort he resumed a cold, rigid calmness, which was, perhaps, more suggestive of danger than his hot-headed outburst.
"I have lived so long among savages and beyond the law," said he, "that I have got into the way of being a law to myself. You would do well, Mr. Holmes, not to forget it, for I have no desire to do you an injury."
"Nor have I any desire to do you an injury, Dr. Sterndale. Surely the clearest proof of it is that, knowing what I know, I have sent for you and not for the police."
Sterndale sat down with a gasp, overawed for, perhaps, the first time in his adventurous life. There was a calm assurance of power in Holmes's manner which could not be withstood. Our visitor stammered for a moment, his great hands opening and shutting in his agitation.
"What do you mean?" he asked at last. "If this is bluff upon your part, Mr. Holmes, you have chosen a bad man for your experiment. Let us have no more beating about the bush. What do you mean?"
"I will tell you," said Holmes, "and the reason why I tell you is that I hope frankness may beget frankness. What my next step may be will depend entirely upon the nature of your own defence."
"My defence?"
"Yes, sir."
"My defence against what?"
"Against the charge of killing Mortimer Tregennis."
Sterndale mopped his forehead with his handkerchief. "Upon my word, you are getting on," said he. "Do all your successes depend upon this prodigious power of bluff?"
"The bluff," said Holmes sternly, "is upon your side, Dr. Leon Sterndale, and not upon mine. As a proof I will tell you some of the facts upon which my conclusions are based. Of your return from Plymouth, allowing much of your property to go on to Africa, I will say nothing save that it first informed me that you were one of the factors which had to be taken into account in reconstructing this drama——"
"I came back——"
"I have heard your reasons and regard them as unconvincing and inadequate. We will pass that. You came down here to ask me whom I suspected. I refused to answer you. You then went to the vicarage, waited outside it for some time, and finally returned to your cottage."
"How do you know that?"
"I followed you."
"I saw no one."
"That is what you may expect to see when I follow you. You spent a restless night at your cottage, and you formed certain plans, which in the early morning you proceeded to put into execution. Leaving your door just as day was breaking, you filled your pocket with some reddish gravel that was lying heaped beside your gate."
Sterndale gave a violent start and looked at Holmes in amazement.
"You then walked swiftly for the mile which separated you from the vicarage. You were wearing, I may remark, the same pair of ribbed tennis shoes which are at the present moment upon your feet. At the vicarage you passed through the orchard and the side hedge, coming out under the window of the lodger Tregennis. It was now daylight, but the household was not yet stirring. You drew some of the gravel from your pocket, and you threw it up at the window above you."
Sterndale sprang to his feet.
"I believe that you are the devil himself!" he cried.
Holmes smiled at the compliment. "It took two, or possibly three, handfuls before the lodger came to the window. You beckoned him to come down. He dressed hurriedly and descended to his sitting-room. You entered by the window. There was an interview—a short one—during which you walked up and down the room. Then you passed out and closed the window, standing on the lawn outside smoking a cigar and watching what occurred. Finally, after the death of Tregennis, you withdrew as you had come. Now, Dr. Sterndale, how do you justify such conduct, and what were the motives for your actions? If you prevaricate or trifle with me, I give you my assurance that the matter will pass out of my hands forever."
Our visitor's face had turned ashen gray as he listened to the words of his accuser. Now he sat for some time in thought with his face sunk in his hands. Then with a sudden impulsive gesture he plucked a photograph from his breast-pocket and threw it on the rustic table before us.
"That is why I have done it," said he.
It showed the bust and face of a very beautiful woman. Holmes stooped over it.
"Brenda Tregennis," said he.
"Yes, Brenda Tregennis," repeated our visitor. "For years I have loved her. For years she has loved me. There is the secret of that Cornish seclusion which people have marvelled at. It has brought me close to the one thing on earth that was dear to me. I could not marry her, for I have a wife who has left me for years and yet whom, by the deplorable laws of England, I could not divorce. For years Brenda waited. For years I waited. And this is what we have waited for." A terrible sob shook his great frame, and he clutched his throat under his brindled beard. Then with an effort he mastered himself and spoke on:
"The vicar knew. He was in our confidence. He would tell you that she was an angel upon earth. That was why he telegraphed to me and I returned. What was my baggage or Africa to me when I learned that such a fate had come upon my darling? There you have the missing clue to my action, Mr. Holmes."
"Proceed," said my friend.
Dr. Sterndale drew from his pocket a paper packet and laid it upon the table. On the outside was written "Radix pedis diaboli" with a red poison label beneath it. He pushed it towards me. "I understand that you are a doctor, sir. Have you ever heard of this preparation?"
"Devil's-foot root! No, I have never heard of it."
"It is no reflection upon your professional knowledge," said he, "for I believe that, save for one sample in a laboratory at Buda, there is no other specimen in Europe. It has not yet found its way either into the pharmacopoeia or into the literature of toxicology. The root is shaped like a foot, half human, half goatlike; hence the fanciful name given by a botanical missionary. It is used as an ordeal poison by the medicine-men in certain districts of West Africa and is kept as a secret among them. This particular specimen I obtained under very extraordinary circumstances in the Ubangi country." He opened the paper as he spoke and disclosed a heap of reddish-brown, snuff-like powder.
"Well, sir?" asked Holmes sternly.
"I am about to tell you, Mr. Holmes, all that actually occurred, for you already know so much that it is clearly to my interest that you should know all. I have already explained the relationship in which I stood to the Tregennis family. For the sake of the sister I was friendly with the brothers. There was a family quarrel about money which estranged this man Mortimer, but it was supposed to be made up, and I afterwards met him as I did the others. He was a sly, subtle, scheming man, and several things arose which gave me a suspicion of him, but I had no cause for any positive quarrel.
"One day, only a couple of weeks ago, he came down to my cottage and I showed him some of my African curiosities. Among other things I exhibited this powder, and I told him of its strange properties, how it stimulates those brain centres which control the emotion of fear, and how either madness or death is the fate of the unhappy native who is subjected to the ordeal by the priest of his tribe. I told him also how powerless European science would be to detect it. How he took it I cannot say, for I never left the room, but there is no doubt that it was then, while I was opening cabinets and stooping to boxes, that he managed to abstract some of the devil's-foot root. I well remember how he plied me with questions as to the amount and the time that was needed for its effect, but I little dreamed that he could have a personal reason for asking.
"I thought no more of the matter until the vicar's telegram reached me at Plymouth. This villain had thought that I would be at sea before the news could reach me, and that I should be lost for years in Africa. But I returned at once. Of course, I could not listen to the details without feeling assured that my poison had been used. I came round to see you on the chance that some other explanation had suggested itself to you. But there could be none. I was convinced that Mortimer Tregennis was the murderer; that for the sake of money, and with the idea, perhaps, that if the other members of his family were all insane he would be the sole guardian of their joint property, he had used the devil's-foot powder upon them, driven two of them out of their senses, and killed his sister Brenda, the one human being whom I have ever loved or who has ever loved me. There was his crime; what was to be his punishment?
"Should I appeal to the law? Where were my proofs? I knew that the facts were true, but could I help to make a jury of countrymen believe so fantastic a story? I might or I might not. But I could not afford to fail. My soul cried out for revenge. I have said to you once before, Mr. Holmes, that I have spent much of my life outside the law, and that I have come at last to be a law to myself. So it was even now. I determined that the fate which he had given to others should be shared by himself. Either that or I would do justice upon him with my own hand. In all England there can be no man who sets less value upon his own life than I do at the present moment.
"Now I have told you all. You have yourself supplied the rest. I did, as you say, after a restless night, set off early from my cottage. I foresaw the difficulty of arousing him, so I gathered some gravel from the pile which you have mentioned, and I used it to throw up to his window. He came down and admitted me through the window of the sitting-room. I laid his offence before him. I told him that I had come both as judge and executioner. The wretch sank into a chair, paralyzed at the sight of my revolver. I lit the lamp, put the powder above it, and stood outside the window, ready to carry out my threat to shoot him should he try to leave the room. In five minutes he died. My God! how he died! But my heart was flint, for he endured nothing which my innocent darling had not felt before him. There is my story, Mr. Holmes. Perhaps, if you loved a woman, you would have done as much yourself. At any rate, I am in your hands. You can take what steps you like. As I have already said, there is no man living who can fear death less than I do."
Holmes sat for some little time in silence.
"What were your plans?" he asked at last.
"I had intended to bury myself in central Africa. My work there is but half finished."
"Go and do the other half," said Holmes. "I, at least, am not prepared to prevent you."
Dr. Sterndale raised his giant figure, bowed gravely, and walked from the arbour. Holmes lit his pipe and handed me his pouch.
"Some fumes which are not poisonous would be a welcome change," said he. "I think you must agree, Watson, that it is not a case in which we are called upon to interfere. Our investigation has been independent, and our action shall be so also. You would not denounce the man?"
"Certainly not," I answered.
"I have never loved, Watson, but if I did and if the woman I loved had met such an end, I might act even as our lawless lion-hunter has done. Who knows? Well, Watson, I will not offend your intelligence by explaining what is obvious. The gravel upon the window-sill was, of course, the starting-point of my research. It was unlike anything in the vicarage garden. Only when my attention had been drawn to Dr. Sterndale and his cottage did I find its counterpart. The lamp shining in broad daylight and the remains of powder upon the shield were successive links in a fairly obvious chain. And now, my dear Watson, I think we may dismiss the matter from our mind and go back with a clear conscience to the study of those Chaldean roots which are surely to be traced in the Cornish branch of the great Celtic speech."
Arthur Conan Doyle (1859 – 1930)
His Last Bow (from: The Adventure of the Devil's Foot)
fleursdumal.nl magazine
More in: Archive C-D, Arthur Conan Doyle, Doyle, Arthur Conan
---
Oscar Wilde
(1854 – 1900)
The Teacher of Wisdom
From his childhood he had been as one filled with the perfect knowledge of God, and even while he was yet but a lad many of the saints, as well as certain holy women who dwelt in the free city of his birth, had been stirred to much wonder by the grave wisdom of his answers.
And when his parents had given him the robe and the ring of manhood he kissed them, and left them and went out into the world, that he might speak to the world about God. For there were at that time many in the world who either knew not God at all, or had but an incomplete knowledge of Him, or worshipped the false gods who dwell in groves and have no care of their worshippers.
And he set his face to the sun and journeyed, walking without sandals, as he had seen the saints walk, and carrying at his girdle a leathern wallet and a little water-bottle of burnt clay.
And as he walked along the highway he was full of the joy that comes from the perfect knowledge of God, and he sang praises unto God without ceasing; and after a time he reached a strange land in which there were many cities.
And he passed through eleven cities. And some of these cities were in valleys, and others were by the banks of great rivers, and others were set on hills. And in each city he found a disciple who loved him and followed him, and a great multitude also of people followed him from each city, and the knowledge of God spread in the whole land, and many of the rulers were converted, and the priests of the temples in which there were idols found that half of their gain was gone, and when they beat upon their drums at noon none, or but a few, came with peacocks and with offerings of flesh as had been the custom of the land before his coming.
Yet the more the people followed him, and the greater the number of his disciples, the greater became his sorrow. And he knew not why his sorrow was so great. For he spake ever about God, and out of the fulness of that perfect knowledge of God which God had Himself given to him.
And one evening he passed out of the eleventh city, which was a city of Armenia, and his disciples and a great crowd of people followed after him; and he went up on to a mountain and sat down on a rock that was on the mountain, and his disciples stood round him, and the multitude knelt in the valley.
And he bowed his head on his hands and wept, and said to his Soul, 'Why is it that I am full of sorrow and fear, and that each of my disciples is as an enemy that walks in the noonday?'
And his Soul answered him and said, 'God filled thee with the perfect knowledge of Himself, and thou hast given this knowledge away to others. The pearl of great price thou hast divided, and the vesture without seam thou hast parted asunder. He who giveth away wisdom robbeth himself. He is as one who giveth his treasure to a robber. Is not God wiser than thou art? Who art thou to give away the secret that God hath told thee? I was rich once, and thou hast made me poor. Once I saw God, and now thou hast hidden Him from me.'
And he wept again, for he knew that his Soul spake truth to him, and that he had given to others the perfect knowledge of God, and that he was as one clinging to the skirts of God, and that his faith was leaving him by reason of the number of those who believed in him.
And he said to himself, 'I will talk no more about God. He who giveth away wisdom robbeth himself'
And after the space of some hours his disciples came near him and bowed themselves to the ground and said, 'Master, talk to us about God, for thou hast the perfect knowledge of God, and no man save thee hath this knowledge.'
And he answered them and said, 'I will talk to you about all other things that are in heaven and on earth, but about God I will not talk to you. Neither now, nor at any time, will I talk to you about God.'
And they were wroth with him and said to him, 'Thou hast led us into the desert that we might hearken to thee. Wilt thou send us away hungry, and the great multitude that thou hast made to follow thee?'
And he answered them and said, 'I will not talk to you about God.'
And the multitude murmured against him and said to him 'Thou hast led us into the desert, and hast given us no food to eat. Talk to us about God and it will suffice us.'
But he answered them not a word. For he knew that if he spake to them about God he would give away his treasure.
And his disciples went away sadly, and the multitude of people returned to their own homes. And many died on the way.
And when he was alone he rose up and set his face to the moon, and journeyed for seven moons, speaking to no man nor making any answer. And when the seventh moon had waned he reached that desert which is the desert of the Great River. And having found a cavern in which a Centaur had once dwelt, he took it for his place of dwelling, and made himself a mat of reeds on which to lie, and became a hermit. And every hour the Hermit praised God that He had suffered him to keep some knowledge of Him and of His wonderful greatness.
Now, one evening, as the Hermit was seated before the cavern in which he had made his place of dwelling, he beheld a young man of evil and beautiful face who passed by in mean apparel and with empty hands. Every evening with empty hands the young man passed by, and every morning he returned with his hands full of purple and pearls. For he was a Robber and robbed the caravans of the merchants.
And the Hermit looked at him and pitied him. But he spake not a word. For he knew that he who speaks a word loses his faith.
And one morning, as the young man returned with his hands full of purple and pearls, he stopped and frowned and stamped his foot upon the sand, and said to the Hermit: 'Why do you look at me ever in this manner as I pass by? What is it that I see in your eyes? For no man has looked at me before in this manner. And the thing is a thorn and a trouble to me.'
And the Hermit answered him and said, 'What you see in my eyes is pity. Pity is what looks out at you from my eyes.'
And the young man laughed with scorn, and cried to the Hermit in a bitter voice, and said to him, 'I have purple and pearls in my hands, and you have but a mat of reeds on which to lie. What pity should you have for me? And for what reason have you this pity?'
'I have pity for you,' said the Hermit, 'because you have no knowledge of God.'
'Is this knowledge of God a precious thing?' asked the young man, and he came close to the mouth of the cavern.
'It is more precious than all the purple and the pearls of the world,' answered the Hermit.
'And have you got it?' said the young Robber, and he came closer still.
'Once, indeed,' answered the Hermit, 'I possessed the perfect knowledge of God. But in my foolishness I parted with it, and divided it amongst others. Yet even now is such knowledge as remains to me more precious than purple or pearls.'
And when the young Robber heard this he threw away the purple and the pearls that he was bearing in his hands, and drawing a sharp sword of curved steel he said to the Hermit, 'Give me, forthwith, this knowledge of God that you possess, or I will surely slay you. Wherefore should I not slay him who has a treasure greater than my treasure?'
And the Hermit spread out his arms and said, 'Were it not better for me to go unto the uttermost courts of God and praise Him, than to live in the world and have no knowledge of Him? Slay me if that be your desire. But I will not give away my knowledge of God.'
And the young Robber knelt down and besought him, but the Hermit would not talk to him about God, nor give him his Treasure, and the young Robber rose up and said to the Hermit, 'Be it as you will. As for myself, I will go to the City of the Seven Sins, that is but three days' journey from this place, and for my purple they will give me pleasure, and for my pearls they will sell me joy.' And he took up the purple and the pearls and went swiftly away.
And the Hermit cried out and followed him and besought him. For the space of three days he followed the young Robber on the road and entreated him to return, nor to enter into the City of the Seven Sins.
And ever and anon the young Robber looked back at the Hermit and called to him, and said, 'Will you give me this knowledge of God which is more precious than purple and pearls? If you will give me that, I will not enter the city.'
And ever did the Hermit answer, 'All things that I have I will give thee, save that one thing only. For that thing it is not lawful for me to give away.
And in the twilight of the third day they came nigh to the great scarlet gates of the City of the Seven Sins. And from the city there came the sound of much laughter.
And the young Robber laughed in answer, and sought to knock at the gate. And as he did so the Hermit ran forward and caught him by the skirts of his raiment, and said to him: 'Stretch forth your hands, and set your arms around my neck, and put your ear close to my lips, and I will give you what remains to me of the knowledge of God.' And the young Robber stopped.
And when the Hermit had given away his knowledge of God, he fell upon the ground and wept, and a great darkness hid him from the city and the young Robber, so that he saw them no more.
And as he lay there weeping he was ware of One who was standing beside him; and He who was standing beside him had feet of brass and hair like fine wool. And He raised the Hermit up, and said to him: 'Before this time thou hadst the perfect knowledge of God. Now thou shalt have the perfect love of God. Wherefore art thou weeping?' And He kissed him.
Oscar Wilde, 1894
fleursdumal.nl magazine
More in: Archive W-X, Wilde, Oscar, Wilde, Oscar
---
The Surgeon Talks
by Arthur Conan Doyle
"Men die of the diseases which they have studied most," remarked the surgeon, snipping off the end of a cigar with all his professional neatness and finish. "It's as if the morbid condition was an evil creature which, when it found itself closely hunted, flew at the throat of its pursuer. If you worry the microbes too much they may worry you. I've seen cases of it, and not necessarily in microbic diseases either. There was, of course, the well-known instance of Liston and the aneurism; and a dozen others that I could mention. You couldn't have a clearer case than that of poor old Walker of St. Christopher's. Not heard of it? Well, of course, it was a little before your time, but I wonder that it should have been forgotten. You youngsters are so busy in keeping up to the day that you lose a good deal that is interesting of yesterday.
"Walker was one of the best men in Europe on nervous disease. You must have read his little book on sclerosis of the posterior columns. It's as interesting as a novel, and epoch-making in its way. He worked like a horse, did Walker—huge consulting practice—hours a day in the clinical wards—constant original investigations. And then he enjoyed himself also. 'De mortuis,' of course, but still it's an open secret among all who knew him. If he died at forty-five, he crammed eighty years into it. The marvel was that he could have held on so long at the pace at which he was going. But he took it beautifully when it came.
"I was his clinical assistant at the time. Walker was lecturing on locomotor ataxia to a wardful of youngsters. He was explaining that one of the early signs of the complaint was that the patient could not put his heels together with his eyes shut without staggering. As he spoke, he suited the action to the word. I don't suppose the boys noticed anything. I did, and so did he, though he finished his lecture without a sign.
"When it was over he came into my room and lit a cigarette.
"'Just run over my reflexes, Smith,' said he.
"There was hardly a trace of them left. I tapped away at his knee-tendon and might as well have tried to get a jerk out of that sofa-cushion. He stood with his eyes shut again, and he swayed like a bush in the wind.
"'So,' said he, 'it was not intercostal neuralgia after all.'
"Then I knew that he had had the lightning pains, and that the case was complete. There was nothing to say, so I sat looking at him while he puffed and puffed at his cigarette. Here he was, a man in the prime of life, one of the handsomest men in London, with money, fame, social success, everything at his feet, and now, without a moment's warning, he was told that inevitable death lay before him, a death accompanied by more refined and lingering tortures than if he were bound upon a Red Indian stake. He sat in the middle of the blue cigarette cloud with his eyes cast down, and the slightest little tightening of his lips. Then he rose with a motion of his arms, as one who throws off old thoughts and enters upon a new course.
"'Better put this thing straight at once,' said he. 'I must make some fresh arrangements. May I use your paper and envelopes?'
"He settled himself at my desk and he wrote half a dozen letters. It is not a breach of confidence to say that they were not addressed to his professional brothers. Walker was a single man, which means that he was not restricted to a single woman. When he had finished, he walked out of that little room of mine, leaving every hope and ambition of his life behind him. And he might have had another year of ignorance and peace if it had not been for the chance illustration in his lecture.
"It took five years to kill him, and he stood it well. If he had ever been a little irregular he atoned for it in that long martyrdom. He kept an admirable record of his own symptoms, and worked out the eye changes more fully than has ever been done. When the ptosis got very bad he would hold his eyelid up with one hand while he wrote. Then, when he could not co-ordinate his muscles to write, he dictated to his nurse. So died, in the odour of science, James Walker, aet. 45.
"Poor old Walker was very fond of experimental surgery, and he broke ground in several directions. Between ourselves, there may have been some more ground-breaking afterwards, but he did his best for his cases. You know M'Namara, don't you? He always wears his hair long. He lets it be understood that it comes from his artistic strain, but it is really to conceal the loss of one of his ears. Walker cut the other one off, but you must not tell Mac I said so.
"It was like this. Walker had a fad about the portio dura—the motor to the face, you know—and he thought paralysis of it came from a disturbance of the blood supply. Something else which counterbalanced that disturbance might, he thought, set it right again. We had a very obstinate case of Bell's paralysis in the wards, and had tried it with every conceivable thing, blistering, tonics, nerve-stretching, galvanism, needles, but all without result. Walker got it into his head that removal of the ear would increase the blood supply to the part, and he very soon gained the consent of the patient to the operation.
"Well, we did it at night. Walker, of course, felt that it was something of an experiment, and did not wish too much talk about it unless it proved successful. There were half-a-dozen of us there, M'Namara and I among the rest. The room was a small one, and in the centre was in the narrow table, with a macintosh over the pillow, and a blanket which extended almost to the floor on either side. Two candles, on a side-table near the pillow, supplied all the light. In came the patient, with one side of his face as smooth as a baby's, and the other all in a quiver with fright. He lay down, and the chloroform towel was placed over his face, while Walker threaded his needles in the candle light. The chloroformist stood at the head of the table, and M'Namara was stationed at the side to control the patient. The rest of us stood by to assist.
"Well, the man was about half over when he fell into one of those convulsive flurries which come with the semi-unconscious stage. He kicked and plunged and struck out with both hands. Over with a crash went the little table which held the candles, and in an instant we were left in total darkness. You can think what a rush and a scurry there was, one to pick up the table, one to find the matches, and some to restrain the patient who was still dashing himself about. He was held down by two dressers, the chloroform was pushed, and by the time the candles were relit, his incoherent, half-smothered shoutings had changed to a stertorous snore. His head was turned on the pillow and the towel was still kept over his face while the operation was carried through. Then the towel was withdrawn, and you can conceive our amazement when we looked upon the face of M'Namara.
"How did it happen? Why, simply enough. As the candles went over, the chloroformist had stopped for an instant and had tried to catch them. The patient, just as the light went out, had rolled off and under the table. Poor M'Namara, clinging frantically to him, had been dragged across it, and the chloroformist, feeling him there, had naturally claped the towel across his mouth and nose. The others had secured him, and the more he roared and kicked the more they drenched him with chloroform. Walker was very nice about it, and made the most handsome apologies. He offered to do a plastic on the spot, and make as good an ear as he could, but M'Namara had had enough of it. As to the patient, we found him sleeping placidly under the table, with the ends of the blanket screening him on both sides. Walker sent M'Namara round his ear next day in a jar of methylated spirit, but Mac's wife was very angry about it, and it led to a good deal of ill-feeling.
"Some people say that the more one has to do with human nature, and the closer one is brought in contact with it, the less one thinks of it. I don't believe that those who know most would uphold that view. My own experience is dead against it. I was brought up in the miserable-mortal-clay school of theology, and yet here I am, after thirty years of intimate acquaintance with humanity, filled with respect for it. The evil lies commonly upon the surface. The deeper strata are good. A hundred times I have seen folk condemned to death as suddenly as poor Walker was. Sometimes it was to blindness or to mutilations which are worse than death. Men and women, they almost all took it beautifully, and some with such lovely unselfishness, and with such complete absorption in the thought of how their fate would affect others, that the man about town, or the frivolously-dressed woman has seemed to change into an angel before my eyes. I have seen death-beds, too, of all ages and of all creeds and want of creeds. I never saw any of them shrink, save only one poor, imaginative young fellow, who had spent his blameless life in the strictest of sects. Of course, an exhausted frame is incapable of fear, as anyone can vouch who is told, in the midst of his sea-sickness, that the ship is going to the bottom. That is why I rate courage in the face of mutilation to be higher than courage when a wasting illness is fining away into death.
"Now, I'll take a case which I had in my own practice last Wednesday. A lady came in to consult me—the wife of a well-known sporting baronet. The husband had come with her, but remained, at her request, in the waiting-room. I need not go into details, but it proved to be a peculiarly malignant case of cancer. 'I knew it,' said she. 'How long have I to live?' 'I fear that it may exhaust your strength in a few months,' I answered. 'Poor old Jack!' said she. 'I'll tell him that it is not dangerous.' 'Why should you deceive him?' I asked. 'Well, he's very uneasy about it, and he is quaking now in the waiting-room. He has two old friends to dinner to-night, and I haven't the heart to spoil his evening. To-morrow will be time enough for him to learn the truth.' Out she walked, the brave little woman, and a moment later her husband, with his big, red face shining with joy came plunging into my room to shake me by the hand. No, I respected her wish and I did not undeceive him. I dare bet that evening was one of the brightest, and the next morning the darkest, of his life.
"It's wonderful how bravely and cheerily a woman can face a crushing blow. It is different with men. A man can stand it without complaining, but it knocks him dazed and silly all the same. But the woman does not lose her wits any more than she does her courage. Now, I had a case only a few weeks ago which would show you what I mean. A gentleman consulted me about his wife, a very beautiful woman. She had a small tubercular nodule upon her upper arm, according to him. He was sure that it was of no importance, but he wanted to know whether Devonshire or the Riviera would be the better for her. I examined her and found a frightful sarcoma of the bone, hardly showing upon the surface, but involving the shoulder-blade and clavicle as well as the humerus. A more malignant case I have never seen. I sent her out of the room and I told him the truth. What did he do? Why, he walked slowly round that room with his hands behind his back, looking with the greatest interest at the pictures. I can see him now, putting up his gold pince-nez and staring at them with perfectly vacant eyes, which told me that he saw neither them nor the wall behind them. 'Amputation of the arm?' he asked at last. 'And of the collar-bone and shoulder-blade,' said I. 'Quite so. The collar-bone and shoulder-blade,' he repeated, still staring about him with those lifeless eyes. It settled him. I don't believe he'll ever be the same man again. But the woman took it as bravely and brightly as could be, and she has done very well since. The mischief was so great that the arm snapped as we drew it from the night-dress. No, I don't think that there will be any return, and I have every hope of her recovery.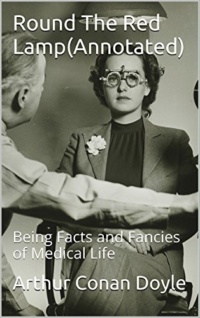 "The first patient is a thing which one remembers all one's life. Mine was commonplace, and the details are of no interest. I had a curious visitor, however, during the first few months after my plate went up. It was an elderly woman, richly dressed, with a wickerwork picnic basket in her hand. This she opened with the tears streaming down her face, and out there waddled the fattest, ugliest, and mangiest little pug dog that I have ever seen. 'I wish you to put him painlessly out of the world, doctor,' she cried. 'Quick, quick, or my resolution may give way.' She flung herself down, with hysterical sobs, upon the sofa. The less experienced a doctor is, the higher are his notions of professional dignity, as I need not remind you, my young friend, so I was about to refuse the commission with indignation, when I bethought me that, quite apart from medicine, we were gentleman and lady, and that she had asked me to do something for her which was evidently of the greatest possible importance in her eyes. I led off the poor little doggie, therefore, and with the help of a saucerful of milk and a few drops of prussic acid his exit was as speedy and painless as could be desired. 'Is it over?' she cried as I entered. It was really tragic to see how all the love which should have gone to husband and children had, in default of them, been centred upon this uncouth little animal. She left, quite broken down, in her carriage, and it was only after her departure that I saw an envelope sealed with a large red seal, and lying upon the blotting pad of my desk. Outside, in pencil, was written: 'I have no doubt that you would willingly have done this without a fee, but I insist upon your acceptance of the enclosed.' I opened it with some vague notions of an eccentric millionaire and a fifty-pound note, but all I found was a postal order for four and sixpence. The whole incident struck me as so whimsical that I laughed until I was tired. You'll find there's so much tragedy in a doctor's life, my boy, that he would not be able to stand it if it were not for the strain of comedy which comes every now and then to leaven it.
"And a doctor has very much to be thankful for also. Don't you ever forget it. It is such a pleasure to do a little good that a man should pay for the privilege instead of being paid for it. Still, of course, he has his home to keep up and his wife and children to support. But his patients are his friends—or they should be so. He goes from house to house, and his step and his voice are loved and welcomed in each. What could a man ask for more than that? And besides, he is forced to be a good man. It is impossible for him to be anything else. How can a man spend his whole life in seeing suffering bravely borne and yet remain a hard or a vicious man? It is a noble, generous, kindly profession, and you youngsters have got to see that it remains so."
Sir Arthur Conan Doyle (1859 – 1930)
Round the Red Lamp: Being Facts and Fancies of Medical Life
The Surgeon Talks (#15) – Last Chapter

Round the Red Lamp: Being Facts and Fancies of Medical Life
by Sir Arthur Conan Doyle
– Table of Contents
– The Preface
Behind the Times. (#01)
His First Operation. (#02)
A Straggler of '15. (#03)
The Third Generation. (#04)
A False Start. (#05)
The Curse of Eve. (#06)
Sweethearts. (#07)
A Physiologist's Wife. (#08)
The Case of Lady Sannox. (#09)
A Question of Diplomacy. (#10)
A Medical Document. (#11)
Lot No. 249. (#12)
The Los Amigos Fiasco. (#13)
The Doctors of Hoyland. (#14)
The Surgeon Talks. (#15)
fleursdumal.nl magazine
More in: Doyle, Arthur Conan, Doyle, Arthur Conan, DRUGS & MEDICINE & LITERATURE, Round the Red Lamp
---
Oscar Wilde
Amor Intellectualis
Oft have we trod the vales of Castaly
And heard sweet notes of sylvan music blown
From antique reeds to common folk unknown:
And often launched our bark upon that sea
Which the nine Muses hold in empery,
And ploughed free furrows through the wave and foam,
Nor spread reluctant sail for more safe home
Till we had freighted well our argosy.
Of which despoilèd treasures these remain,
Sordello's passion, and the honied line
Of young Endymion, lordly Tamburlaine
Driving his pampered jades, and more than these,
The seven-fold vision of the Florentine,
And grave-browed Milton's solemn harmonies.
Oscar Wilde (1854 – 1900)
Amor Intellectualis
fleursdumal.nl magazine
More in: Archive W-X, Wilde, Oscar, Wilde, Oscar
---
Oscar Wilde
(1854 – 1900)
The House of Judgement
And there was silence in the House of Judgment, and the Man came naked before God.
And God opened the Book of the Life of the Man.
And God said to the Man, 'Thy life hath been evil, and thou hast shown cruelty to those who were in need of succour, and to those who lacked help thou hast been bitter and hard of heart. The poor called to thee and thou didst not hearken, and thine ears were closed to the cry of My afflicted. The inheritance of the fatherless thou didst take unto thyself and thou didst send the foxes into the vineyard of thy neighbour's field. Thou didst take the bread of the children and give it to the dogs to eat, and My lepers who lived in the marshes, and were at peace and praised Me, thou didst drive forth on to the highways, and on Mine earth out of which I made thee thou didst spill innocent blood.'
And the Man made answer and said, 'Even so did I.'
And again God opened the Book of the Life of the Man.
And God said to the Man, 'Thy life hath been evil, and the Beauty I have shown thou hast sought for, and the Good I have hidden thou didst pass by. The walls of thy chamber were painted with images, and from the bed of thine abominations thou didst rise up to the sound of flutes. Thou didst build seven altars to the sins I have suffered, and didst eat of the thing that may not be eaten, and the purple of thy raiment was broidered with the three signs of shame. Thine idols were neither of gold nor of silver that endure, but of flesh that dieth. Thou didst stain their hair with perfumes and put pomegranates in their hands. Thou didst stain their feet with saffron and spread carpets before them. With antimony thou didst stain their eyelids and their bodies thou didst smear with myrrh. Thou didst bow thyself to the ground before them, and the thrones of thine idols were set in the sun. Thou didst show to the sun thy shame and to the moon thy madness.'
And the Man made answer and said, 'Even so did I.'
And a third time God opened the Book of the Life of the Man.
And God said to the Man, 'Evil hath been thy life, and with evil didst thou requite good, and with wrongdoing kindness. The hands that fed thee thou didst wound, and the breasts that gave thee suck thou didst despise. He who came to thee with water went away thirsting, and the outlawed men who hid thee in their tents at night thou didst betray before dawn. Thine enemy who spared thee thou didst snare in an ambush and the friend who walked with thee thou didst sell for a price, and to those who brought thee Love thou didst ever give Lust in thy turn.'
And the Man made answer and said, 'Even so did I.'
And God closed the Book of the Life of the Man, and said, 'Surely I will send thee into Hell. Even into Hell will I send thee.'
And the Man cried out, 'Thou canst not.'
And God said to the Man, 'Wherefore can I not send thee to Hell, and for what reason?'
'Because in Hell have I always lived,' answered the Man.
And there was silence in the House of Judgment.
And after a space God spake, and said to the Man, 'Seeing that I may not send thee into Hell, surely I will send thee unto Heaven. Even unto Heaven will I send thee.'
And the Man cried out, 'Thou canst not.'
And God said to the Man, 'Wherefore can I not send thee unto Heaven, and for what reason?'
'Because never, and in no place, have I been able to imagine it,' answered the Man.
And there was silence in the House of Judgment.
Oscar Wilde 1894
fleursdumal.nl magazine
More in: Archive W-X, Wilde, Oscar, Wilde, Oscar
---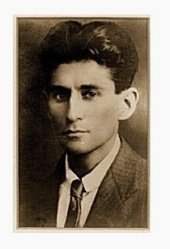 Franz Kafka
Eine alltägliche Verwirrung
Ein alltäglicher Vorfall: sein Ertragen eine alltägliche Verwirrung. A hat mit B aus H ein wichtiges Geschäft abzuschließen. Er geht zur Vorbesprechung nach H, legt den Hin- und Herweg in je zehn Minuten zurück und rühmt sich zu Hause dieser besonderen Schnelligkeit. Am nächsten Tag geht er wieder nach H, diesmal zum endgültigen Geschäftsabschluß. Da dieser voraussichtlich mehrere Stunden erfordern wird, geht A sehr früh morgens fort. Obwohl aber alle Nebenumstände, wenigstens nach A's Meinung, völlig die gleichen sind wie im Vortag, braucht er diesmal zum Weg nach H zehn Stunden. Als er dort ermüdet abends ankommt, sagt man ihm, daß B, ärgerlich wegen A's Ausbleiben, vor einer halben Stunden zu A in sein Dorf gegangen sei und sie sich eigentlich unterwegs hätten treffen müssen. Man rät A zu warten. A aber, in Angst wegen des Geschäftes, macht sich sofort auf und eilt nach Hause.
Diesmal legt er den Weg, ohne besonders darauf zu achten, geradezu in einem Augenblick zurück. Zu Hause erfährt er, B sei doch schon gleich früh gekommen – gleich nach dem Weggang A's; ja, er habe A im Haustor getroffen, ihn an das Geschäft erinnert, aber A habe gesagt, er hätte jetzt keine Zeit, er müsse jetzt eilig fort.
Trotz diesem unverständlichen Verhalten A's sei aber B doch hier geblieben, um auf A zu warten. Er habe zwar schon oft gefragt, ob A nicht schon wieder zurück sei, befinde sich aber noch oben in A's Zimmer. Glücklich darüber, B jetzt noch zu sprechen und ihm alles erklären zu können, läuft A die Treppe hinauf. Schon ist er fast oben, da stolpert er, erleidet eine Sehnenzerrung und fast ohnmächtig vor Schmerz, unfähig sogar zu schreien, nur winselnd im Dunkel hört er, wie B – undeutlich ob in großer Ferne oder knapp neben ihm – wütend die Treppe hinunterstampft und endgültig verschwindet.
Franz Kafka
(1883-1924)
Eine alltägliche Verwirrung
fleursdumal.nl magazine
More in: Franz Kafka, Kafka, Franz, Kafka, Franz
---
The Doctors of Hoyland
by Arthur Conan Doyle
Dr. James Ripley was always looked upon as an exceedingly lucky dog by all of the profession who knew him. His father had preceded him in a practice in the village of Hoyland, in the north of Hampshire, and all was ready for him on the very first day that the law allowed him to put his name at the foot of a prescription. In a few years the old gentleman retired, and settled on the South Coast, leaving his son in undisputed possession of the whole country side. Save for Dr. Horton, near Basingstoke, the young surgeon had a clear run of six miles in every direction, and took his fifteen hundred pounds a year, though, as is usual in country practices, the stable swallowed up most of what the consulting-room earned.
Dr. James Ripley was two-and-thirty years of age, reserved, learned, unmarried, with set, rather stern features, and a thinning of the dark hair upon the top of his head, which was worth quite a hundred a year to him. He was particularly happy in his management of ladies. He had caught the tone of bland sternness and decisive suavity which dominates without offending. Ladies, however, were not equally happy in their management of him. Professionally, he was always at their service. Socially, he was a drop of quicksilver. In vain the country mammas spread out their simple lures in front of him. Dances and picnics were not to his taste, and he preferred during his scanty leisure to shut himself up in his study, and to bury himself in Virchow's Archives and the professional journals.
Study was a passion with him, and he would have none of the rust which often gathers round a country practitioner. It was his ambition to keep his knowledge as fresh and bright as at the moment when he had stepped out of the examination hall. He prided himself on being able at a moment's notice to rattle off the seven ramifications of some obscure artery, or to give the exact percentage of any physiological compound. After a long day's work he would sit up half the night performing iridectomies and extractions upon the sheep's eyes sent in by the village butcher, to the horror of his housekeeper, who had to remove the debris next morning. His love for his work was the one fanaticism which found a place in his dry, precise nature.
It was the more to his credit that he should keep up to date in his knowledge, since he had no competition to force him to exertion. In the seven years during which he had practised in Hoyland three rivals had pitted themselves against him, two in the village itself and one in the neighbouring hamlet of Lower Hoyland. Of these one had sickened and wasted, being, as it was said, himself the only patient whom he had treated during his eighteen months of ruralising. A second had bought a fourth share of a Basingstoke practice, and had departed honourably, while a third had vanished one September night, leaving a gutted house and an unpaid drug bill behind him. Since then the district had become a monopoly, and no one had dared to measure himself against the established fame of the Hoyland doctor.
It was, then, with a feeling of some surprise and considerable curiosity that on driving through Lower Hoyland one morning he perceived that the new house at the end of the village was occupied, and that a virgin brass plate glistened upon the swinging gate which faced the high road. He pulled up his fifty guinea chestnut mare and took a good look at it. "Verrinder Smith, M. D.," was printed across it in very neat, small lettering. The last man had had letters half a foot long, with a lamp like a fire-station. Dr. James Ripley noted the difference, and deduced from it that the new-comer might possibly prove a more formidable opponent. He was convinced of it that evening when he came to consult the current medical directory. By it he learned that Dr. Verrinder Smith was the holder of superb degrees, that he had studied with distinction at Edinburgh, Paris, Berlin, and Vienna, and finally that he had been awarded a gold medal and the Lee Hopkins scholarship for original research, in recognition of an exhaustive inquiry into the functions of the anterior spinal nerve roots. Dr. Ripley passed his fingers through his thin hair in bewilderment as he read his rival's record. What on earth could so brilliant a man mean by putting up his plate in a little Hampshire hamlet.
But Dr. Ripley furnished himself with an explanation to the riddle. No doubt Dr. Verrinder Smith had simply come down there in order to pursue some scientific research in peace and quiet. The plate was up as an address rather than as an invitation to patients. Of course, that must be the true explanation. In that case the presence of this brilliant neighbour would be a splendid thing for his own studies. He had often longed for some kindred mind, some steel on which he might strike his flint. Chance had brought it to him, and he rejoiced exceedingly.
And this joy it was which led him to take a step which was quite at variance with his usual habits. It is the custom for a new-comer among medical men to call first upon the older, and the etiquette upon the subject is strict. Dr. Ripley was pedantically exact on such points, and yet he deliberately drove over next day and called upon Dr. Verrinder Smith. Such a waiving of ceremony was, he felt, a gracious act upon his part, and a fit prelude to the intimate relations which he hoped to establish with his neighbour.
The house was neat and well appointed, and Dr. Ripley was shown by a smart maid into a dapper little consulting room. As he passed in he noticed two or three parasols and a lady's sun bonnet hanging in the hall. It was a pity that his colleague should be a married man. It would put them upon a different footing, and interfere with those long evenings of high scientific talk which he had pictured to himself. On the other hand, there was much in the consulting room to please him. Elaborate instruments, seen more often in hospitals than in the houses of private practitioners, were scattered about. A sphygmograph stood upon the table and a gasometer-like engine, which was new to Dr. Ripley, in the corner. A book-case full of ponderous volumes in French and German, paper-covered for the most part, and varying in tint from the shell to the yoke of a duck's egg, caught his wandering eyes, and he was deeply absorbed in their titles when the door opened suddenly behind him. Turning round, he found himself facing a little woman, whose plain, palish face was remarkable only for a pair of shrewd, humorous eyes of a blue which had two shades too much green in it. She held a pince-nez in her left hand, and the doctor's card in her right.
"How do you do, Dr. Ripley?" said she.
"How do you do, madam?" returned the visitor. "Your husband is perhaps out?"
"I am not married," said she simply.
"Oh, I beg your pardon! I meant the doctor—Dr. Verrinder Smith."
"I am Dr. Verrinder Smith."
Dr. Ripley was so surprised that he dropped his hat and forgot to pick it up again.
"What!" he grasped, "the Lee Hopkins prizeman! You!"
He had never seen a woman doctor before, and his whole conservative soul rose up in revolt at the idea. He could not recall any Biblical injunction that the man should remain ever the doctor and the woman the nurse, and yet he felt as if a blasphemy had been committed. His face betrayed his feelings only too clearly.
"I am sorry to disappoint you," said the lady drily.
"You certainly have surprised me," he answered, picking up his hat.
"You are not among our champions, then?"
"I cannot say that the movement has my approval."
"And why?"
"I should much prefer not to discuss it."
"But I am sure you will answer a lady's question."
"Ladies are in danger of losing their privileges when they usurp the place of the other sex. They cannot claim both."
"Why should a woman not earn her bread by her brains?"
Dr. Ripley felt irritated by the quiet manner in which the lady cross-questioned him.
"I should much prefer not to be led into a discussion, Miss Smith."
"Dr. Smith," she interrupted.
"Well, Dr. Smith! But if you insist upon an answer, I must say that I do not think medicine a suitable profession for women and that I have a personal objection to masculine ladies."
It was an exceedingly rude speech, and he was ashamed of it the instant after he had made it. The lady, however, simply raised her eyebrows and smiled.
"It seems to me that you are begging the question," said she. "Of course, if it makes women masculine that WOULD be a considerable deterioration."
It was a neat little counter, and Dr. Ripley, like a pinked fencer, bowed his acknowledgment.
"I must go," said he.
"I am sorry that we cannot come to some more friendly conclusion since we are to be neighbours," she remarked.
He bowed again, and took a step towards the door.
"It was a singular coincidence," she continued, "that at the instant that you called I was reading your paper on 'Locomotor Ataxia,' in the Lancet."
"Indeed," said he drily.
"I thought it was a very able monograph."
"You are very good."
"But the views which you attribute to Professor Pitres, of Bordeaux, have been repudiated by him."
"I have his pamphlet of 1890," said Dr. Ripley angrily.
"Here is his pamphlet of 1891." She picked it from among a litter of periodicals. "If you have time to glance your eye down this passage——"
Dr. Ripley took it from her and shot rapidly through the paragraph which she indicated. There was no denying that it completely knocked the bottom out of his own article. He threw it down, and with another frigid bow he made for the door. As he took the reins from the groom he glanced round and saw that the lady was standing at her window, and it seemed to him that she was laughing heartily.
All day the memory of this interview haunted him. He felt that he had come very badly out of it. She had showed herself to be his superior on his own pet subject. She had been courteous while he had been rude, self-possessed when he had been angry. And then, above all, there was her presence, her monstrous intrusion to rankle in his mind. A woman doctor had been an abstract thing before, repugnant but distant. Now she was there in actual practice, with a brass plate up just like his own, competing for the same patients. Not that he feared competition, but he objected to this lowering of his ideal of womanhood. She could not be more than thirty, and had a bright, mobile face, too. He thought of her humorous eyes, and of her strong, well-turned chin. It revolted him the more to recall the details of her education. A man, of course, could come through such an ordeal with all his purity, but it was nothing short of shameless in a woman.
But it was not long before he learned that even her competition was a thing to be feared. The novelty of her presence had brought a few curious invalids into her consulting rooms, and, once there, they had been so impressed by the firmness of her manner and by the singular, new-fashioned instruments with which she tapped, and peered, and sounded, that it formed the core of their conversation for weeks afterwards. And soon there were tangible proofs of her powers upon the country side. Farmer Eyton, whose callous ulcer had been quietly spreading over his shin for years back under a gentle regime of zinc ointment, was painted round with blistering fluid, and found, after three blasphemous nights, that his sore was stimulated into healing. Mrs. Crowder, who had always regarded the birthmark upon her second daughter Eliza as a sign of the indignation of the Creator at a third helping of raspberry tart which she had partaken of during a critical period, learned that, with the help of two galvanic needles, the mischief was not irreparable. In a month Dr. Verrinder Smith was known, and in two she was famous.
Occasionally, Dr. Ripley met her as he drove upon his rounds. She had started a high dogcart, taking the reins herself, with a little tiger behind. When they met he invariably raised his hat with punctilious politeness, but the grim severity of his face showed how formal was the courtesy. In fact, his dislike was rapidly deepening into absolute detestation. "The unsexed woman," was the description of her which he permitted himself to give to those of his patients who still remained staunch. But, indeed, they were a rapidly-decreasing body, and every day his pride was galled by the news of some fresh defection. The lady had somehow impressed the country folk with almost superstitious belief in her power, and from far and near they flocked to her consulting room.
But what galled him most of all was, when she did something which he had pronounced to be impracticable. For all his knowledge he lacked nerve as an operator, and usually sent his worst cases up to London. The lady, however, had no weakness of the sort, and took everything that came in her way. It was agony to him to hear that she was about to straighten little Alec Turner's club foot, and right at the fringe of the rumour came a note from his mother, the rector's wife, asking him if he would be so good as to act as chloroformist. It would be inhumanity to refuse, as there was no other who could take the place, but it was gall and wormwood to his sensitive nature. Yet, in spite of his vexation, he could not but admire the dexterity with which the thing was done. She handled the little wax-like foot so gently, and held the tiny tenotomy knife as an artist holds his pencil. One straight insertion, one snick of a tendon, and it was all over without a stain upon the white towel which lay beneath. He had never seen anything more masterly, and he had the honesty to say so, though her skill increased his dislike of her. The operation spread her fame still further at his expense, and self-preservation was added to his other grounds for detesting her. And this very detestation it was which brought matters to a curious climax.
One winter's night, just as he was rising from his lonely dinner, a groom came riding down from Squire Faircastle's, the richest man in the district, to say that his daughter had scalded her hand, and that medical help was needed on the instant. The coachman had ridden for the lady doctor, for it mattered nothing to the Squire who came as long as it were speedily. Dr. Ripley rushed from his surgery with the determination that she should not effect an entrance into this stronghold of his if hard driving on his part could prevent it. He did not even wait to light his lamps, but sprang into his gig and flew off as fast as hoof could rattle. He lived rather nearer to the Squire's than she did, and was convinced that he could get there well before her.
And so he would but for that whimsical element of chance, which will for ever muddle up the affairs of this world and dumbfound the prophets. Whether it came from the want of his lights, or from his mind being full of the thoughts of his rival, he allowed too little by half a foot in taking the sharp turn upon the Basingstoke road. The empty trap and the frightened horse clattered away into the darkness, while the Squire's groom crawled out of the ditch into which he had been shot. He struck a match, looked down at his groaning companion, and then, after the fashion of rough, strong men when they see what they have not seen before, he was very sick.
The doctor raised himself a little on his elbow in the glint of the match. He caught a glimpse of something white and sharp bristling through his trouser leg half way down the shin.
"Compound!" he groaned. "A three months' job," and fainted.
When he came to himself the groom was gone, for he had scudded off to the Squire's house for help, but a small page was holding a gig-lamp in front of his injured leg, and a woman, with an open case of polished instruments gleaming in the yellow light, was deftly slitting up his trouser with a crooked pair of scissors.
"It's all right, doctor," said she soothingly. "I am so sorry about it. You can have Dr. Horton to-morrow, but I am sure you will allow me to help you to-night. I could hardly believe my eyes when I saw you by the roadside."
"The groom has gone for help," groaned the sufferer.
"When it comes we can move you into the gig. A little more light, John! So! Ah, dear, dear, we shall have laceration unless we reduce this before we move you. Allow me to give you a whiff of chloroform, and I have no doubt that I can secure it sufficiently to——"
Dr. Ripley never heard the end of that sentence. He tried to raise a hand and to murmur something in protest, but a sweet smell was in his nostrils, and a sense of rich peace and lethargy stole over his jangled nerves. Down he sank, through clear, cool water, ever down and down into the green shadows beneath, gently, without effort, while the pleasant chiming of a great belfry rose and fell in his ears. Then he rose again, up and up, and ever up, with a terrible tightness about his temples, until at last he shot out of those green shadows and was in the light once more. Two bright, shining, golden spots gleamed before his dazed eyes. He blinked and blinked before he could give a name to them. They were only the two brass balls at the end posts of his bed, and he was lying in his own little room, with a head like a cannon ball, and a leg like an iron bar. Turning his eyes, he saw the calm face of Dr. Verrinder Smith looking down at him.
"Ah, at last!" said she. "I kept you under all the way home, for I knew how painful the jolting would be. It is in good position now with a strong side splint. I have ordered a morphia draught for you. Shall I tell your groom to ride for Dr. Horton in the morning?"
"I should prefer that you should continue the case," said Dr. Ripley feebly, and then, with a half hysterical laugh,—"You have all the rest of the parish as patients, you know, so you may as well make the thing complete by having me also."
It was not a very gracious speech, but it was a look of pity and not of anger which shone in her eyes as she turned away from his bedside.
Dr. Ripley had a brother, William, who was assistant surgeon at a London hospital, and who was down in Hampshire within a few hours of his hearing of the accident. He raised his brows when he heard the details.
"What! You are pestered with one of those!" he cried.
"I don't know what I should have done without her."
"I've no doubt she's an excellent nurse."
"She knows her work as well as you or I."
"Speak for yourself, James," said the London man with a sniff. "But apart from that, you know that the principle of the thing is all wrong."
"You think there is nothing to be said on the other side?"
"Good heavens! do you?"
"Well, I don't know. It struck me during the night that we may have been a little narrow in our views."
"Nonsense, James. It's all very fine for women to win prizes in the lecture room, but you know as well as I do that they are no use in an emergency. Now I warrant that this woman was all nerves when she was setting your leg. That reminds me that I had better just take a look at it and see that it is all right."
"I would rather that you did not undo it," said the patient. "I have her assurance that it is all right."
Brother William was deeply shocked.
"Of course, if a woman's assurance is of more value than the opinion of the assistant surgeon of a London hospital, there is nothing more to be said," he remarked.
"I should prefer that you did not touch it," said the patient firmly, and Dr. William went back to London that evening in a huff.
The lady, who had heard of his coming, was much surprised on learning his departure.
"We had a difference upon a point of professional etiquette," said Dr. James, and it was all the explanation he would vouchsafe.
For two long months Dr. Ripley was brought in contact with his rival every day, and he learned many things which he had not known before. She was a charming companion, as well as a most assiduous doctor. Her short presence during the long, weary day was like a flower in a sand waste. What interested him was precisely what interested her, and she could meet him at every point upon equal terms. And yet under all her learning and her firmness ran a sweet, womanly nature, peeping out in her talk, shining in her greenish eyes, showing itself in a thousand subtle ways which the dullest of men could read. And he, though a bit of a prig and a pedant, was by no means dull, and had honesty enough to confess when he was in the wrong.
"I don't know how to apologise to you," he said in his shame-faced fashion one day, when he had progressed so far as to be able to sit in an arm-chair with his leg upon another one; "I feel that I have been quite in the wrong."
"Why, then?"
"Over this woman question. I used to think that a woman must inevitably lose something of her charm if she took up such studies."
"Oh, you don't think they are necessarily unsexed, then?" she cried, with a mischievous smile.
"Please don't recall my idiotic expression."
"I feel so pleased that I should have helped in changing your views. I think that it is the most sincere compliment that I have ever had paid me."
"At any rate, it is the truth," said he, and was happy all night at the remembrance of the flush of pleasure which made her pale face look quite comely for the instant.
For, indeed, he was already far past the stage when he would acknowledge her as the equal of any other woman. Already he could not disguise from himself that she had become the one woman. Her dainty skill, her gentle touch, her sweet presence, the community of their tastes, had all united to hopelessly upset his previous opinions. It was a dark day for him now when his convalescence allowed her to miss a visit, and darker still that other one which he saw approaching when all occasion for her visits would be at an end. It came round at last, however, and he felt that his whole life's fortune would hang upon the issue of that final interview. He was a direct man by nature, so he laid his hand upon hers as it felt for his pulse, and he asked her if she would be his wife.
"What, and unite the practices?" said she.
He started in pain and anger.
"Surely you do not attribute any such base motive to me!" he cried. "I love you as unselfishly as ever a woman was loved."
"No, I was wrong. It was a foolish speech," said she, moving her chair a little back, and tapping her stethoscope upon her knee. "Forget that I ever said it. I am so sorry to cause you any disappointment, and I appreciate most highly the honour which you do me, but what you ask is quite impossible."
With another woman he might have urged the point, but his instincts told him that it was quite useless with this one. Her tone of voice was conclusive. He said nothing, but leaned back in his chair a stricken man.
"I am so sorry," she said again. "If I had known what was passing in your mind I should have told you earlier that I intended to devote my life entirely to science. There are many women with a capacity for marriage, but few with a taste for biology. I will remain true to my own line, then. I came down here while waiting for an opening in the Paris Physiological Laboratory. I have just heard that there is a vacancy for me there, and so you will be troubled no more by my intrusion upon your practice. I have done you an injustice just as you did me one. I thought you narrow and pedantic, with no good quality. I have learned during your illness to appreciate you better, and the recollection of our friendship will always be a very pleasant one to me."
And so it came about that in a very few weeks there was only one doctor in Hoyland. But folks noticed that the one had aged many years in a few months, that a weary sadness lurked always in the depths of his blue eyes, and that he was less concerned than ever with the eligible young ladies whom chance, or their careful country mammas, placed in his way.
Sir Arthur Conan Doyle (1859 – 1930)
Round the Red Lamp: Being Facts and Fancies of Medical Life
The Doctors of Hoyland (#14)
fleursdumal.nl magazine
More in: Doyle, Arthur Conan, Doyle, Arthur Conan, DRUGS & MEDICINE & LITERATURE, Round the Red Lamp
---
Older Entries »
Thank you for reading FLEURSDUMAL.NL - magazine for art & literature