FICTION & NON-FICTION – books, booklovers, lit. history, biography, essays, translations, short stories, columns, literature: celtic, beat, travesty, war, dada & de stijl, drugs, dead poets
·
Vincent BERQUEZ: Vera Rich
·
Niels LANDSTRA: De Voedselbank (2)
·
Oscar WILDE: Her Voice
·
F. Scott FITZGERALD: Rain before dawn
·
Niels LANDSTRA: De Voedselbank (1)
·
Anders RYDELL: De grote boekenroof. Een zoektocht naar Europa's verdwenen bibliotheken
·
Museum De Fundatie: BOB DYLAN – Face value
·
POESIEFESTIVAL BERLIN: Ach, Europa
·
Samuel Taylor COLERIDGE: Love
·
Arthur Conan DOYLE: The Red-headed League
·
William WORDSWORTH: I wandered lonely as a cloud
·
Marcel van Ool: MONDRIAAN. Uit de natuur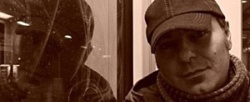 Vera Rich
She smelt of time
walking slowly
like a mountain.
She railed
heavily
and flowed internally
and cared profoundly
but slowly,
at her own pace.
She smelt the energy
of her people,
of their language
on her lips.
Like a mother river
she carried many
with her on a raft
towards themselves.
01.03.10
Vincent Berquez
Vincent Berquez is a London–based artist and poet
fleursdumal.nl magazine
More in: Archive A-B, Berquez, Vincent, Vincent Berquez
---
De Voedselbank (2)
Een week later toen ik de camper ging halen, was hij voorzien van een Belgische APK-keuring. Die was beter dan de Nederlandse, dus dat bood extra zekerheid, beweerde de autodealer met zijn zangerige Vlaams. Maar eerst moest ik met zijn echtgenote, een vlotte dame van rond de veertig, naar Brussel toe met de auto. Daar zou ik bij een transitloket een tijdelijke kentekenplaat en documenten ontvangen om het vehikel mee uit te voeren. Het was een rit van vijfenzestig kilometer.
Door een wegomleiding liepen we fikse vertraging op en arriveerden tegen het einde van de ochtend bij het transitkantoor. Mensen hingen er landerig op harde banken, de ambtenaren, waarvan er duidelijk te weinig waren, namen hun tijd, en ook de povere sfeer van stoffig ochtendlicht dat binnenviel op een versleten interieur waar een muffe geur van opsteeg, deed mij denken aan een gemeentekantoor in het voormalig Oostblok.
Ik was anderhalf uur later een paar honderd euro lichter door het afwikkelen van al die formaliteiten. Maar dat tastte mijn humeur niet aan, want toen ik in Namen het terrein af reed met mijn camper, begon mijn vrijheid.
Het was of mijn reis een blanco wegenkaart was. Ongeacht door welk land ik ging toeren, ik had geen plek die mij verplichtte te blijven, geen serene haven om in aan te spoelen, noch keerde ik terug naar die oorlogszone van haat en wrok, die zich samenbalde in negentig kilo vlees dat met enge hakken paradeerde op de houten vloer van de echtelijke woning.
Ik dacht niet langer in termen van een toekomst of schijnzekerheden, ik dacht in het hierna. Hierna zal het beter zijn.
Na een zwerftocht van een paar weken, bracht ik mijn camper naar een APK station. Mijn geïmporteerde huis op wielen zou de Nederlandse nationaliteit krijgen. Gele kentekenplaten die behoorden aan een jaartal dat ik nooit had kunnen betalen als het echt een nieuwe bolide betrof. Maar deze knappe Italiaan was twintig jaar oud.
De garagehouder, Norbert, inspecteerde de camper op de brug. Ondertussen versomberde zijn gezicht. De APK was ver uit beeld, deelde hij mee. Remmen, schokbrekers, gasinstallatie voor de boiler, de kachelmotor in het dashboard: het was allemaal aan vervanging toe. Hij wees mij op een sticker aan de buitenkant van de camper waaruit bleek dat het een verhuurcamper was geweest. Vandaar het hoge kilometrage op de teller. Van de tweehonderdduizend die erop stonden, was er naar schatting de laatste honderdduizend gedraaide kilometers niets aan onderhoud gedaan – dienden de distributieriem, V-snaar en oliekeringen ook te worden vernieuwd.
Norbert gebaarde dat ik achter hem aan moest lopen, de camper in. Hij liet mij de bodem van de douche zien en toonde mij de gaten waarlangs het water in het verleden naar beneden was gestroomd. Het hout daaronder was vochtig en vermolmd. Douchen vermeed ik maar beter, raadde hij mij aan. En de ijskast deed het alleen als de accu hem tijdens het rijden koelde. Maar als hij stil stond, vergeet het maar.
De deurbel ging. Sylvia, mijn hospita, lag boven te slapen. Ze had MS, was te pas en te onpas doodmoe. Ik wilde haar niet storen en deed open. Er stond een Marokkaan voor de deur. Mogelijk was hij van de post, maar toen hij zijn ID liet zien, begreep ik dat hij een Bijzonder OpsporingsAmbtenaar was. Met een rasperige stem en een Ali-B accent informeerde hij of hij met de heer Van Amerongen van doen had. Even ging er door me heen dat hij familie had in Marokko, die, als ze zouden vluchten uit dat land, niet werden teruggestuurd. Dacht ik aan die talloze vluchtelingen uit het Midden Oosten en Afrika die een huis kregen toegewezen en een leven lang een inkomen ontvingen tot hun god ze hier van het aardse kikkerlandparadijs kwam halen.
Of ik mijn camper weg wilde halen van de parkeerplaats, vroeg de ambtenaar. Het vehikel stond erg in de weg volgens de omwonenden die er slecht langs konden met hun rollators, omdat de achterkant zo uitstak. Maar het bedierf ook het straatbeeld, vonden ze.
De Marokkaan probeerde toegeeflijk te zijn. Ik vond dat heel ontwapenend. Vooral toen hij toelichtte dat het niet ging om een enkele klacht, maar een stortvloed aan klachten. Een onhoudbare situatie voor de gemeente. Dit opgeteld bij de verordening dat een kampeerauto maximaal drie dagen op de openbare weg geparkeerd mag staan, dwong hem een proces-verbaal uit te schrijven. Maar hij wilde het deze keer door de vingers zien, stelde de BOA, en opperde dat ik mijn Italiaanse vriend ergens zou kunnen stallen.
'Ja, goed idee, stallen!' zei ik enthousiast. 'Die 100 euro per maand heb ik nog liggen in de oude sok van mijn tante uit Hengelo.'
Handig, dacht ik, sociale controle. Onder die bejaarden in de serviceflat bevindt zich vast nog een handvol verzetsstrijders uit WO II die naar buiten stormen als een licht getinte boef met een bontkraagje in de buurt van mijn Fiat Ducato komt. Sluiten ze mij in de armen met een boksbeugel en een bebloede honkbalknuppel waarmee ze de onschuldige crimineel een kopje kleiner hebben gemaakt. Maar nee, rollators! Een ware klachtenregen!
Op de parkeerplaats startte ik de motor van de camper, die drie dagen niet had gedraaid. Terwijl de rookwolken boven mij optrokken, controleerde ik de banden door er demonstratief tegen aan te trappen. Ondertussen werd het een drukte van belang achter de ramen van het bejaardencomplex. Vriendelijk zwaaide ik naar de silhouetten van verstarde ergernis en opwinding en besloot het afscheid waardig te laten zijn. Met de ruitensproeier spoelde ik het stof van de voorruit en reed van de parkeerplaats af, traag als een slak in een donkere wolk van rook en stank.
Op de weemoedige klanken van een cd met Fado muziek, reed ik weg in de richting van de polder en parkeerde ter hoogte van een recreatieplas waar een bijna landelijke rust heerste. Ganzenkolonies vlogen af en aan, een aalscholver op een verweerde houten paal in het water strekte zijn vleugels ijdel uit. Een man met een hond appte op zijn telefoon, twee jochies met hun moeder achter de kinderwagen, joegen eenden op.
Door de open ramen kabbelde de stilte binnen op een bries, ging op in de muziek, in het bezongen leed van een fadista. Het deed me denken aan het wit tussen dichtregels. Dat het elkaar versterkt op een raadselachtige wijze. Toen ik Sylvia net ontmoet had, vreeën we dagen achtereen, en daartussen lag haar ademen, haar strelen, scheen onze fado geborgd in de stilte en bewaarde ik dat, ook als ik niet bij haar was.
Op den duur verdween die rust, die lafenis. Sylvia kreeg uit het niets paniekaanvallen of hysterische buien die plots kwamen opzetten en even vlug weer afzwakten. Allemaal de schuld van Judith, wist ze. Door de stress die mijn toekomstige ex opwekte, was haar ziekte versneld progressief geworden. Daar twijfelde Sylvia geen moment aan. Maar toen we onlangs bij de neuroloog waren, bleek dat het proces van haar geestelijk verval al vier maanden stil stond. Sommige littekens op haar hersens geslonken.
Ik startte de camper en wilde weg rijden. Maar de voorband draaide nodeloos in de rondte, zakte dieper weg in de modder. Ik stapte uit. Er viel niemand te bekennen om mij hulp te bieden. Dan bleef er nog maar een mogelijkheid over: de ANWB. Die hielpen altijd. De dame van deze organisatie die mij te woord stond aan de telefoon, legde uit dat er een onderscheid was. In het geval van vastraken in de modder restte het ANWB lid niets anders dan een particuliere sleepdienst te bellen. De ANWB was wel goed maar niet gek.
'Feitelijk heeft u pech,' besloot de dame, 'en ik vind het erg lastig voor u dat u uw reis niet kunt vervolgen, maar dit soort pech valt niet onder onze pechhulp.'
Een robuuste kerel met leren laarzen en een groene parka aan, wilde met zijn hond vertrekken in een SUV, maar toonde zich bereid mij eerst te helpen. Het bleek zinloos. De camper was bijna 3000 kilo zwaar en niet onder de indruk van de SUV met zijn sleepkabel.
Hoewel er een lichte onrust in mij ontstond, wandelde ik de polder in, waar ik ongetwijfeld een boer met een tractor zou tegenkomen, ware het niet dat een aantal jaren geleden de laatste boer in de polder was onteigend. Want als de nabij gelegen rivier buiten haar oevers dreigde te treden, moesten de sluizen open kunnen.
Kalm overzag ik de onmogelijkheid van mijn zoektocht, maar liep toch door, ging af op het verre geluid van een tractor.
Op een boerenerf was een jonge kerel met een lawaaierige minitractor balen veevoer aan het optassen. Tevergeefs zwaaide en riep ik naar hem – klom over het houten hek en liep de twintiger met zijn baseballpet op zijn hoofd tegemoet. Maar amper stond ik op het erf, of ik maakte alweer rechtsomkeert om te ontkomen aan een Mechelse herder die blaffend op mij af stormde. In een flits sprong ik over het hek met een lenigheid die me deugd deed en stelde tot mijn vreugde vast dat de jongeman door de waakzame hond mijn kant op keek.
Bij de camper schoot de jongen te binnen dat hij geen sleepkabel had. Een ijzeren stang, onderdeel van de vork aan de voorzijde van de tractor, bood een oplossing. Stevig met elkaar verbonden, trok de pittige landbouwmachine de camper aan zijn trekhaak uit de modder. Met een kleine bocht naar links, zou het plaveisel mijn huis op wielen uit zijn benarde positie bevrijden, maar de jonge boer maakte een stuurfout en de plastic bumper van mijn Fiat klapte vol op de voorkant van de tractor – frommelde in elkaar als een prop papier. Langzaam schoof het achterlicht omhoog, terwijl de bedrading uit de plastic behuizing stulpte.
De tractor was niet verzekerd, bekende de boer onthutst.
Mijn ontgoocheling week voor een mat soort verdriet. Dit was een van die momenten waarop je gewoon je verlies moest nemen. Ik had de camper voor 3000 euro laten repareren. Mijn geld was op.
Tijdens het inloopspreekuur van het Instituut voor Maatschappelijk Welzijn werd ik geholpen door Petra, een maatschappelijk werkster die dit jaar met pensioen ging. Ik legde haar uit dat ik als thuisloze geen recht had op een bijstandsuitkering en ik mijn tijdelijke kamer bij mijn hospita uit moest.
Petra telefoneerde met ene Maureen, een Engelse vrouw die inmiddels op leeftijd was. Vroeger bezorgde ze daklozen een onderkomen op haar boerderij. In principe was ze gestopt met die vorm van dienstverlening, liet de oude landlady aan Petra over de telefoon weten, maar met een camper lag het net even anders. Ze wilde onder voorbehoud met mij kennis maken.
Maureens' hoeve lag op de rand van een verlaten en waterrijk buitengebied met boerderijen en grazende koeien aan de einder. Maar de landelijke stilte verdween toen ik naderde; het lawaai op de aangrenzende A16 en de HSL richting Rotterdam, zwol aan tot een crescendo van verkeersgedruis.
Ik reed een zandpad op, dat om een kolossale vervallen schuur naar het erf slingerde.
De deurbel deed het niet – ik rammelde met de klepel op de voordeur. Na enig gestommel binnen, ging er een andere deur open. Maureen lachte haar bijna tandeloze mond naar mij bloot en stak ter begroeting een hand naar mij op. De ketting met edelstenen om haar hals, schitterde in het daglicht.
Ik volgde haar een schemerige gang in, die naar katten rook, terwijl een petroleumgeur ons tegemoet walmde. In de keuken pruttelde vlees boven een vuurtje en sprongen de katten van tafel.
Maureen staarde me aan. De oude vrouw met de nepedelstenen aan kettingen om haar hals, schoof haar wrong over een schouder – het wollen vest dat ze droeg was net zo grijs als haar haar.
Ik legde uit dat ik een staplek nodig had, omdat de verwarming op stroom en gas werkte. En dat was niet de enige reden: als de omwonenden merkten dat ik in mijn camper sliep, kreeg ik een boete van de gemeente.
'Geldt die regel nog steeds?' vroeg Maureen met een Engels accent. 'Word je er gewoon bij gelapt door een buurtbewoner.'
'En mijn vriendin heeft MS. Omdat we het risico lopen bekeurd te worden, is ze voortdurend gespannen en op haar hoede.'
'Was er ook iets dat speelde in haar jeugd?' vroeg de landlady.
'Ja, die verliep niet goed.'
'Dan heeft ze al chronische stress opgebouwd toen ze jong was. Als je dat op latere leeftijd nog hebt, wordt het van kwaad tot erger.'
Ik toonde een foto van Sylvia. Met gekruiste benen zat ze in een stoel, haar lijf gestoken in een zwarte jurk, weemoedig blikkend in de lens, haar lippen licht rood geverfd.
'Mooi is ze. Helemaal naturel,' zei Maureen en boog voorover om haar nog beter te kunnen zien. 'Ze is een engel. Jouw reddende engel.'
Buiten sloegen de honden aan. Er reed een tractor het erf op.
Niels Landstra: De Voedselbank (2)
wordt vervolgd
Niels Landstra (1966) is dichter, schrijver, schilder en muzikant.
De Voedselbank is een bewerkt fragment uit Niels Landstra's debuutroman: Monddood. Monddood verschijnt in de loop van 2017 bij uitgeverij Droomvallei.
fleursdumal.nl magazine
More in: Archive K-L, Landstra, Niels, Niels Landstra
---
Oscar Wilde
Her Voice
The wild bee reels from bough to bough
With his furry coat and his gauzy wing,
Now in a lily-cup, and now
Setting a jacinth bell a-swing,
In his wandering;
Sit closer love: it was here I trow
I made that vow,
Swore that two lives should be like one
As long as the sea-gull loved the sea,
As long as the sunflower sought the sun,-
It shall be, I said, for eternity
'Twixt you and me!
Dear friend, those times are over and done;
Love's web is spun.
Look upward where the poplar trees
Sway and sway in the summer air,
Here in the valley never a breeze
Scatters the thistledown, but there
Great winds blow fair
From the mighty murmuring mystical seas,
And the wave-lashed leas.
Look upward where the white gull screams,
What does it see that we do not see?
Is that a star? or the lamp that gleams
On some outward voyaging argosy,
Ah! can it be
We have lived our lives in a land of dreams!
How sad it seems.
Sweet, there is nothing left to say
But this, that love is never lost,
Keen winter stabs the breasts of May
Whose crimson roses burst his frost,
Ships tempest-tossed
Will find a harbour in some bay,
And so we may.
And there is nothing left to do
But to kiss once again, and part,
Nay, there is nothing we should rue,
I have my beauty,-you your Art,
Nay, do not start,
One world was not enough for two
Like me and you.
Oscar Wilde (1854 – 1900)
Her Voice
fleursdumal.nl magazine
More in: Archive W-X, Wilde, Oscar, Wilde, Oscar
---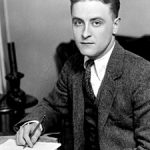 F. Scott Fitzgerald
Rain before dawn
The dull, faint patter in the drooping hours
Drifts in upon my sleep and fills my hair
With damp; the burden of the heavy air
Is strewn upon me where my tired soul cowers,
Shrinking like some lone queen in empty towers
Dying. Blind with unrest I grow aware:
The pounding of broad wings drifts down the stair
And sates me like the heavy scent of flowers.
I lie upon my heart. My eyes like hands
Grip at the soggy pillow. Now the dawn
Tears from her wetted breast the splattered blouse
Of night; lead-eyed and moist she straggles o'er the lawn,
Between the curtains brooding stares and stands
Like some drenched swimmer — Death's within the house!
F. Scott Fitzgerald (1896 – 1940)
Poem: Rain before dawn
fleursdumal.nl magazine
More in: Archive E-F, F. Scott Fitzgerald, Fitzgerald, F. Scott
---
De Voedselbank is een bewerkt fragment uit Niels Landstra's debuutroman: Monddood. Monddood verschijnt in de loop van 2017 bij uitgeverij Droomvallei.
De Voedselbank (1)
De Voedselbank bevond zich in een oud pand naast een kerk, de voormalige pastorie. De bel-etage was te bereiken via een stenen opgaande trap. Net toen ik aan wilde bellen, zwaaide de voordeur voor mij open, stierf een stem weg in een schemerige hal met donkerbruine lambrisering en witte afbladderende wanden. Bij een vestibule met twee deuren, deed een vertrek dienst als kantoor en de andere als ontvangstruimte; door de hoge ramen vielen repen zonlicht met warrelende stofdeeltjes.
Ik had een oploop bij de afhaal van de voormalige pastorie verwacht, een stroom mensen in kringloopkleren en tassen vol eten, rammelende boodschappenkratten en het gerinkel van flessen, maar hier klonk alleen het geroezemoes van een handvol mensen die aan een gemeenschappelijke tafel koffie dronken.
'Is dit de Voedselbank?' vroeg ik aan niemand in het bijzonder.
'Nou, niet helemaal,' antwoordde een oude vrouw die moeilijk sprak. Haar bovenlip toonde twee stompjes van tanden. 'Hoe komt u daar nou bij?'
'Een sociaal werker van de gemeente stuurde mij hier naar toe.'
'Alleen ongedocumenteerden kunnen hier eten mee krijgen.'
'O.'
'Dat zijn mensen zonder geldige identiteitspapieren.' Ze monsterde mij van top tot teen. 'Uit welk land komt u?' informeerde ze.
'Kopje koffie?' bood een hoogbejaarde struise dame aan. 'En gaat u even zitten. Er is een vergadering van de Straatraad.'
Aan een ovale tafel namen druppelsgewijs mannen plaats. Het waren er een stuk of tien, tussen de twintig en ongeveer veertig jaar oud. Omdat al die anderen die op straat leefden bij voorkeur onzichtbaar bleven of nog gelatener waren dan dit gezelschap – ver verwijderd van het aards bestaan alleen nog hoopten op overleving. Of niet.
De twee jongedames die de vergadering openden brachten namens hun maatschappelijke organisatie te berde dat armoede een gezicht moest krijgen. Binnenkort werden er scholen in de regio bezocht om kinderen te laten zien wat de maatschappij met je deed als je in verval was geraakt en je niet langer als 'volwaardig mens' werd beschouwd.
De mollige fotograaf van een provinciale krant, stond op met zijn camera in de aanslag. Hij maakte een kiekje van de dames die geposeerd in de lens gluurden.
Daarna fotografeerde hij Arie. Met zijn tweeënveertig jaar was hij de oudste van de aanwezige daklozen. In een slok leegde hij met zijn gehavende gebit een blik bier en schudde in een soort van wanstaltige ijdelheid zijn paardenstaart heen en weer.
Ronald, een treurig ogende donkerharige dertiger met een verpauperd gebit, deed alsof hij niets merkte van de camera en friemelde met zijn vingers. Hij trok rond op zijn fiets en bivakkeerde met zijn tent in het bos. Door een vechtscheiding was hij alles kwijt geraakt, zijn kinderen, geld, en een dak boven zijn hoofd.
Toen de camera op Frank werd gericht, schermde hij met een hand zijn gezicht af. De midden dertiger leefde al tien jaar op straat van de opbrengst uit prullenbakken. Hij zou zich dood schamen tegenover zijn vrienden van de Technische Universiteit als ze hem in deze hoedanigheid aanschouwden.
Arie was de enige die instemde om scholen af te gaan en zijn bestaan als voormalige dakloze over het voetlicht te brengen. Hij wilde alleen niet dat hij op de school van zijn kinderen een lezing moest geven. Als hij was afgekickt van de drank, zou hij overwegen het contact met hen op te pakken, eerder niet. Hij opende zijn tweede blikje Heineken en liep de tuin in om er te roken.
Onder een houten afdak scholen de daklozen voor de regen. Elke verschoppeling had er zijn verhaal. Ergens was het fout gegaan. Een faillissement. Een ziekte die de loopbaan verknalde. Alcoholisme, drugs, gokken. De onvermijdelijke echtscheiding. De vrouw die zonder enige waarheidsvinding toch altijd gelijk krijgt. En voor de man, haast kinderloos verklaard door instanties die altijd meeveren met de moeder van de kinderen, doet de wurggreep van rap oplopende schulden zich voor. Gaat alles voor hem verloren wat eerst heel en volwaardig was. Wie houdt het dan nog vol om niet aan lager wal te geraken?
Ronald gaf toe dat hij worstelde met zijn 'normale' bestaan. Toen hij nog volop verwikkeld was in de vechtscheiding, kreeg hij een woning toegewezen en een uitkering in de vorm van leenbijstand die hij later moest terugbetalen als zijn woning was verkocht.
Ronald liep gelijk averij op met het betalen van de huur en kosten voor water en licht, want de gemeente was traag in de afwikkeling van zijn dossier. Gedurende die periode van zes weken kreeg hij 50 euro per week voorgeschoten, maar dat broodgeld stond vaak laat op zijn bankrekening of helemaal niet, zodat hij, hoewel hij nu in een appartement woonde, nog steeds gedwongen was om prullenbakken af te struinen op zoek naar eten.
Maar het geluk leek aan zijn zijde te staan, toen hij een oude schoolvriendin tegen het lijf liep. Net als hij lag ze in echtscheiding, en, samen overgeleverd aan hetzelfde lot, vonden ze troost en warmte bij elkaar, met name in haar woning. Voor de vorm sliep hij enkele dagen in zijn appartement zonder meubels, tv, internet en telefoon, maar dat voorkwam niet dat de sociale recherche ze in de smiezen had en waarnemingen deden, zoals de ambtenaren dat noemden. Ze hielden hun huizen in de gaten, registreerden de tijden waarop hij bij haar was en hoe lang hij in zijn eigen woning verbleef. Het gevolg was dat ze werden gepakt voor bijstandsfraude. Als moeder van twee kleine kinderen raakte ze haar eenoudertoeslag kwijt, zijn uitkering werd gevorderd en hij kreeg een boete. Er volgden incassobureaus, deurwaardersexploten, en tenslotte een huisuitzetting, met politie erbij, wat de deurwaarder een doos met verroeste pannen en een krakkemikkige stoel opleverde.
Ronald kocht van zijn laatste geld een fiets en een tent en hij gooide de sleutel van de woning door de brievenbus: liever de vrijheid van de straat dan de heerszucht van het regime.
De dubbele tuindeur van de voormalige pastorie zwaaide open en een jonge vrouw verscheen buiten. Resoluut nam ze mij bij de arm mee naar het kantoor. Rakelings over de voeten gereden door een zwaarlijvige vrouw in een zoemende scootmobiel, deelde ze mee dat ik hier helemaal verkeerd zat. De officiële Voedselbank was in Noord. Ze vulde een formulier voor een noodvoedselpakket voor me in en meldde me aan. Dat was een beetje tegen de regels in, vertrouwde ze mij toe. Zonder de naam van een maatschappelijk werkster mocht ze dit niet doen. Maar nood breekt wetten, zei ze. Ondertussen pleegde ze een telefoontje voor een Zuid-Amerikaanse moeder en haar dochter die op haar schoot kraaide van plezier. Down syndroom.
Het kon altijd erger, besefte ik, terwijl mijn troosteres met haar handen achteloos over het glanzende haar van het meisje streek. Ze was begin dertig en geen rimpel tekende zich af in haar wasbleke gezicht.
Was zij nou een soort moeder Teresa wier maagdelijke lichaam later op hoge leeftijd ter aarde werd besteld?
In België ging ik kijken naar een camper die te koop stond bij de firma Used Cars in Namen. Tussen de exclusieve Italiaanse auto's op het terrein van de dealer, met name Ferrari's, stond de oude camper er als verloren bij.
Ik was op slag verliefd op de witte kampeerbus.
Alles was in goede staat, drukte de verkoper mij op het hart. De omstreeks zestigjarige man ging mij langs een metalen uitklapbaar trapje voor naar binnen toe. Hij toonde mij de badkamer met toilet en douche, die door het witte plastic en de blinkende spiegels een frisse aanblik bood.
Het was heerlijk om na een zomerse dag aan het strand te kunnen douchen in de camper, wist de verkoper, en hij zette de kraan aan waar geen druppel uit kwam.
'De watertank moet nog worden gevuld,' zei hij in West-Vlaams dialect, met het inslikken van de n, 'maar dan hebt ge ook meteen honderd liter bij u.'
De Belg liet mij de keuken van de Fiat Ducato zien. Omdat de ijskast zowel op de accu als op een gasfles werkte, had ik onderweg de beschikking over ijsklontjes en gekoelde dranken: ik zou me in een hotel op wielen wanen, grapte hij. En mochten er kinderen mee gaan, die sliepen prima achterin de camper. De bank was in een handomdraai omgetoverd tot tweepersoonsbed.
Ik zag het al voor me: dat Eva en Hanna met hun slaperige hoofden ontwaakten in een ander land en ik ze trakteerde op een uitgebreid ontbijt met koele glazen jus d'orange.
Op de bijrijdersstoel, met een sacherijnige autoverkoper naast me die de camper bestuurde, maakte ik een proefrit. De Fiat diesel maakte een licht schrapend geluid, alsof er in de motor iets aanliep, maar de verkoper, Giovanni, betoogde met een onvervalste Italiaanse tongval, dat de vorige eigenaren, een hoogbejaard stel, hun bezit had gekoesterd en perfect onderhouden.
Ik vergiste mij vast, dacht ik. Had ik een andere keuze, wie weet wat ik dan gedaan zou hebben, maar die had ik niet, ik moest thuis weg, en als ik dan ging, was dit de beste oplossing.
De psycholoog die ik voor mijn vertrek uit mijn oude huis raadpleegde, Ajeet Raya, was een man van Surinaams Hindoestaanse afkomst met een zonnig karakter. Hij vermaakte zich om mijn relaas over de kenau die ik gehuwd had, maar stelde na enige sessies vast dat mijn psychische problemen situatief waren: de oplossing lag in het loslaten van het oude. Want waarom stelde ik alles zo lang uit? En als ik, zoals ik mij toen had voorgenomen, een camper kocht, had ik weliswaar geen huis, maar toch een dak boven mijn hoofd. Geen enkele situatie is ideaal, besloot hij. Ergens moest ik opnieuw beginnen.
Ik hakte de knoop door.
Niels Landstra: De Voedselbank (1)
wordt vervolgd
Niels Landstra (Ridderkerk, 1966) debuteerde in 2004 in Meander met het kortverhaal 'Het portret'. Hierna volgden tientallen publicaties van korte verhalen, gedichten en interviews in literaire tijdschriften als De Brakke Hond, Deus ex machina, LAVA, en Op Ruwe Planken.
In 2012 verscheen zijn eerste gedichtenbundel: Waterval bij uitgeverij Oorsprong. In 2013 gevolgd door zijn bundel: Wreed het staren, en in 2014: Nader en Onverklaard. Zijn dichtbundel: Droef het zwieren uitgebracht, een bloemrijke reis, scherend langs momenten en passages vol weemoed, ontgoocheling en romantiek, opgetekend door de dichter tijdens een roerig, zwervend bestaan in een huis op vier wielen, verscheen in september 2016.
De dichter/schrijver/schilder/muzikant was een van de stadsdichters uit het Stadsdichterscollectief Breda, opgericht in 2014. In datzelfde jaar won hij een voorronde van de Poetry/Dobbelslam in Utrecht. In 2016 stond hij op de shortlist van Literairwerk.nl met zijn gedicht Retourbiljetten.
Landstra schildert daarnaast landschappen en stadsgezichten, die hij voorziet van gedichten. Deze zijn te vinden op ansichtkaarten van zijn werk en in zijn dichtbundels.
In 2017 verschijnt zijn debuutroman: Monddood bij uitgeverij Droomvallei. Het kortverhaal: De Voedselbank is daar een bewerkt fragment uit. Monddood is een rauwe, soms cynische roman, waarin de troosteloze absurditeit van het leven onmiskenbaar besloten ligt en haast schrijnend dichtbij komt. Door de elementen van tederheid, lyriek en melancholie die er zorgvuldig doorheen gecomponeerd zijn, ontstaat een modern drama dat balanceert op de wankele fundering van armoede, rouw en breekbare liefde.
Momenteel trekt Niels Landstra met zijn cabarateske theatershow Café De Puzzel door het land. Door zijn gedichten muzikaal te ondersteunen met gitaar en accordeon, en deze zelf te zingen en te declameren, dompelt hij het publiek onder in een stroom van taal en klanken. Niet in het minst doordat hij zijn voorstelling doorvlecht met het betere Nederlandstalige lied en tragikomische acts – ontstaat er een fascinerend geheel dat zich in een hoog tempo op de bühne afspeelt.
'Dichten zoals je hoopt dat dichters dichten, en beter nog, dat is hoe Niels Landstra dicht'
Wim Daniëls
fleursdumal.nl magazine
More in: Archive K-L, Landstra, Niels, Niels Landstra
---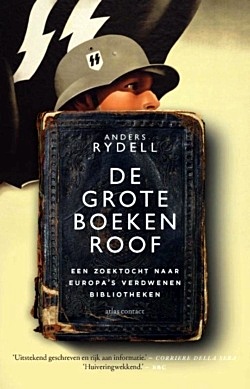 Op 10 mei 1933 staken nazi's op de Opernplatz in Berlijn, onder toeziend oog van 40.000 toeschouwers, zo'n 25.000 boeken in de fik.
Het was het startsein voor een reeks boekverbrandingen overal in Duitsland.

Over die gebeurtenis is veel geschreven, maar onbekend is het veel sinisterder plan dat de nazi's in heel Europa ten uitvoer brachten: het plunderen van bibliotheken en privébezit, met als doel de literatuur in te zetten als wapen in de vernietigingsmachinerie. 
Tegenstanders werden zo niet alleen van hun vrijheid beroofd maar ook van hun literatuur, hun verhalen, hun emotionele en intellectuele geschiedenis.

In De grote boekenroof volgt Anders Rydell het spoor van de boekenplunderaars door Europa. Hij reist onder meer naar Den Haag en Amsterdam, struint door de bibliotheken van Berlijn en Parijs en gaat op zoek naar de mysterieus verdwenen Joodse bibliotheek in Rome.
Zo vertelt Rydell het verhaal van een van de meest angstaanjagende nazi-ambities op het gebied van kunst, cultuur en onderwijs.
Anders Rydell
De grote boekenroof
Vertaling door Robert Starke
Afm. 26x210x135 mm
Verschijningsdatum:
april 2017
Paperback = 27,99
ISBN10 9045031914
ISBN13 9789045031910
Atlas Contact, Uitgeverij
fleursdumal.nl magazine
More in: - Book Stories, Archive Q-R, Art & Literature News, DICTIONARY OF IDEAS, The Art of Reading
---
From 24 May 2017, Museum de Fundatie in Zwolle will show 12 pastels by Bob Dylan (1941). The 2012 portrait series Face Value, on loan from The Bob and Jenny Ramsey Collection, is the first visual art by Dylan ever to be displayed in the Netherlands.
The drawings are as direct and unpolished as his music. The 'character studies', as Dylan describes them, are portraits of three women and nine men. They look directly at the viewer with a certain impertinence. Dylan uses sharp lines to pin down the personalities, that are an amalgam of characteristics taken from his environment, and memories and interests in people both real and imaginary. The titles of the works combine what Dylan wishes to express (Losing Face, Face Down or In Your Face), followed by the first and family name of the person. There are no clear indications whether he really refers to pianist Sylvia Renard or author Nigel Julian.
Dylan selected the Face Value series for a show in London's National Portrait Gallery in 2013. After London, the works were exhibited in Denmark, the United States and Germany, and can now be enjoyed in the Netherlands. The portraits have a unique place in his oeuvre. Ever since his youth, Dylan has made many sketches and drawings. He started working with oil paint in the sixties, but never before has he created such a comprehensive series of portraits. His use of colours in these pastels is also different: where he usually prefers a lot of expression and contrast, here he opts for four or five soft hues for the faces. Dylan works in layers; he starts by drawing the portraits in thin pencil lines, adds a soft pink or cream layer which he smooths out with his fingers and continues to develop the portrait with black or a dark brown. The drawings, like his songs, are expressions of an inventive imagination.
Dylan introduced his drawing talent to the public with something of a splash with his self-designed 1973 book Writings and Drawings, in which he combines lyrics with full-page ink drawings. He later published Drawn Blank (1989 and 1991-1992), to which he added a series of gouaches and watercolours 10 years ago.
In contrast to Dylan's art, the museum also presents a portrait series of the Craeyvanger family, created more than 350 years earlier. Gerard ter Borch, Zwolle's most internationally recognised artist, portrayed Willem Craeyvanger, Christine van der Wart and their eight children between 1651 and 1658. This comprehensive 17th century series of painted portraits of a single family is unique. Face Value is a continuation of previous exhibitions at Museum de Fundatie that focus on portraiture. The popularity of photo exhibition Dutch Identity (2016) and Look at Man! (finished January 2017) – displaying portraits by Bacon, Brancusi, Dumas and Richter – has proven that the 'old' genre of portraiture is certainly alive and well in the 21st century.
Bob Dylan was born in 1941 as Robert Allen Zimmerman. He signed his first record contract in 1961 and went on to become one of the most original and influential voices in the history of American folk and pop music. The 1963 release of his second album, The Freewheelin' Bob Dylan, ensured his international artistic breakthrough. Subsequent years brought many classic songs such as Blowing In The Wind, The Times They Are A-Changin', Subterranean Homesick Blues, Like A Rolling Stone, Knockin' On Heaven's Door and Hurricane. With an impressive back catalogue and a career spanning more than fifty years, Dylan still regularly tours the world. He was awarded the Nobel Prize for Literature on 13 October 2016, for "having created new poetic expressions within the great American song tradition". He is the first lyricist to be awarded the coveted prize. Bob Dylan will be playing live in AFAS Live in Amsterdam on 16, 17 and 18 April. For more information on this: www.mojo.nl/bobdylan
Bob Dylan: Face Value
Published by National Portrait Gallery
Introduction by John Elderfield
With over 500 songs, 46 albums and an astonishing 110 million record sales to his name, Bob Dylan (born 1941), now in his early seventies, is turning increasingly to another mode of artistic expression; one that has occupied him throughout his life, but for which he is much less well known. Although Dylan has sketched and drawn since childhood and painted since the late 1960s, only relatively recently has he begun to exhibit his artworks. The 12 works collected in this beautifully produced volume represent his latest foray into portraiture. In an illuminating essay and a rare Q&A with Dylan, curator and art historian John Elderfield explores the story behind these works. For Elderfield, Dylan's paintings, like his songs, are "products of the same extraordinary, inventive imagination, the same mind and eye, by the same story-telling artist, for whom showing and telling … are not easily separated."
BOB DYLAN – Face value
From 24 may until 20 august 2017
Museum de Fundatie
Blijmarkt 20
8011 NE Zwolle
  # Meer information on website De Fundatie  

fleursdumal.nl magazine
More in: - Book News, Art & Literature News, Bob Dylan, DICTIONARY OF IDEAS, Dylan, Bob, FDM Art Gallery
---
Das 18. poesiefestival berlin: Europa: Fata Morgana startet am 16. Juni 2017. Das Haus für Poesie erwartet rund 170 Dichterinnen und Dichter sowie Künstlerinnen und Künstler aus 42 Ländern. Wunsch, Fata Morgana oder Realität – die Europäische Union ist ins Wanken geraten und mit ihr europäische Werte wie Meinungs- und Kunstfreiheit, Vielfalt und Demokratie. Das neuntägige Festival präsentiert Innen- und Außenansichten auf die EU und Europa in poetischer Auseinandersetzung – in Lesungen, Konzerten, Performances und Ausstellungen in der Akademie der Künste. Zu den Höhepunkten gehören der große Auftakt mit Weltklang, einem Konzert aus Stimmen und Sprachen, drei D poesie mit mehreren Produktionen zwischen Text, Musik und Tanz sowie Auf ein Wort, Europa, das 22 internationale Dichterstimmen zu einer vielsprachigen Installation versammelt.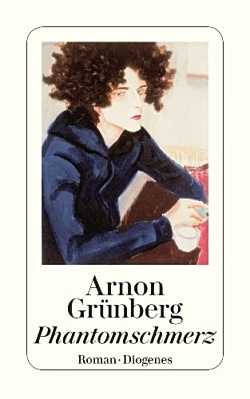 Weltklang – Nacht der Poesie
Freitag, 16.6., 19 Uhr
Das 18. poesiefestival berlin eröffnet mit Weltklang – Nacht der Poesie. Dichterinnen und Dichter aus verschiedenen Teilen der Welt lesen, performen und singen in ihrer Muttersprache. Eigens für diesen Abend erscheint eine Anthologie mit den deutschen Fassungen der Texte zum Mitlesen.
M. NourbeSe Philip aus Kanada, die ihre Wurzeln im karibischen Trinidad hat, trägt aus Zong! vor. Dem konzeptionellen Werk liegt ein juristischer Bericht über den Tod von 150 Afrikanern auf einem Sklavenschiff zugrunde. Die Gedichte des schottischen Autors John Burnside fangen "das Andersleben der Dinge ein". Die deutsche Lyrikerin Dagmara Kraus schöpft an diesem Abend aus dem Fundus antiker Trauerkultur und moderner Plansprachen. Yasuki Fukushima ist einer der expressivsten Gegenwartslyriker Japans. Seine "zekkyō tanka" (geschriene Tankas) trägt er zu Musik vor. Jan Wagner, der 2015 als erster Lyriker den Preis der Leipziger Buchmesse erhielt, verbindet höchste Formbeherrschung mit überraschenden Wendungen, ohne traditionalistisch zu sein.
Zudem lesen Arnon Grünberg (Niederlande), James Noël (Haiti), Mila Haugová (Slowakei), Sergio Raimondi (Argentinien) und Charlotte Van den Broeck (Belgien) beim diesjährigen Weltklang.
drei D poesie
Samstag, 17. Juni, 20 Uhr, Wiederholung: Sonntag, 18. Juni, 15 Uhr
Zwischen Musik, Tanz und Poesie bewegt sich drei D poesie. Auf dem 18. poesiefestival berlin spielen Künstlerinnen und Künstler mit den Möglichkeiten der drei Genres, loten die Grenzen aus und suchen nach Berührungspunkten. In der Performance Ingesture von
Lyriker Christian Hawkey, Komponist und Musiker Roy Carroll und Choreografin und Tänzerin Maya Matilda Carroll dreht es sich um die Schriften von Charlotte Wolff, eine jüdische, deutsch-britische Ärztin, Sexologin und Schriftstellerin des frühen 20. Jahrhunderts. Für n/achtfüssig verwenden die Choreografin und Tänzerin Anna Huber und der Komponist und Musiker Hubert Machnik unveröffentlichte, aus Printmedien ausgeschnittene und auf Postkarten arrangierte Gedichte von Herta Müller. In der dritten Produktion Schulter von α und anderen, fernen Ländern entwickeln der Komponist Markus Pesonen und der Choreograf und Tänzer Shang-Chi Sun zusammen mit dem KNM Quartett ihr Werk aus dem Text "die menschen von einst liebten den tanz" von Daniel Falb.
Auf ein Wort, Europa
Sonntag, 18.6., 20 Uhr
22 Dichterinnen und Dichter aus den Anrainerstaaten der Europäischen Union treffen auf dem 18. poesiefestival berlin für eine poetische Installation aufeinander; unter ihnen ist Abbas Beydoun (Libanon), ein Mitbegründer der zweiten arabischen Moderne, Monzer Masri (Syrien), der mit seiner "Gegendichtung" jenseits von formalen und inhaltlichen Erwartungen Debatten auslöst, und Sjón (Island), der für seine Texte für Björk in Lars von Triers "Dancer in the Dark" bekannt ist. Wie zeigt sich derzeit die europäische Idee außerhalb der europäischen Gemeinschaft? Die Lyrikerinnen und Lyriker präsentieren ihre poetischen Antworten auf das ins Wanken geratene Europa. Ihre Texte über Realitäten, Träume und Ängste zur EU tragen sie als polyglotte Soundcollage vor.
"Auf ein Wort, Europa" findet in Kooperation mit dem Forum Berlin der Friedrich-Ebert-Stiftung statt und wird gefördert vom Auswärtigen Amt.
VERSschmuggel kurdisch-deutsch
Dienstag, 20.6., 19.30 Uhr
Erstmals kommt kurdische Dichtung in Deutschland auf eine Festivalbühne. Mit ihrer langen mündlichen Tradition gehört das Kurdische trotz aller Repression zu den ältesten Sprachen der Welt. Die reiche kurdische Geschichte und Kultur spiegelt sich in vielen Dialekten und verschiedenen Schriftsystemen wider. Der kurdisch-deutsche VERSschmuggel bietet sechs kurdischen und sechs deutschen Dichterinnen und Dichtern Freiraum für ein Experiment: Paarweise übersetzen sie sich an drei Workshop-Tagen gegenseitig. Interlinearübersetzungen der Gedichte des jeweils anderen sind ihr Ausgangsmaterial, Dolmetscher übersetzen die Arbeitsgespräche. Die Ergebnisse dieser Zusammenarbeit werden auf dem 18. poesiefestival berlin präsentiert.
Es lesen Eskerê Boyîk (Armenien), Yildiz Çakar (Türkei), Kerîm Kurmanc (Iran), Fatma Savci (Türkei/Schweden), Anahîta Şêxê (Syrien) und Mueyed Teyîb (Irak) mit den deutschen Autorinnen und Autoren Mirko Bonné, Carolin Callies, Simone Kornappel, José Oliver, Ilma Rakusa und Tobias Roth.
"VERSschmuggel kurdisch-deutsch" wird gefördert vom Auswärtigen Amt und der Stiftung Preußische Seehandlung und findet statt in Kooperation mit Literature Across Frontiers/Literary Europe Live, gefördert durch das Programm Creativ Europe der Europäischen Union. Mit Dank an Övgü Gökçe Yaşa, Programmkoordinatorin bei Diyarbakır Sanat Merkezi.
Poesie und Propaganda
Freitag, 23.6., 19.30 Uhr
Was passiert heute in den analogen und digitalen Medien mit unserer Sprache? Wie wird Meinung gemacht, wie wird mit Worten politische Wirklichkeit hergestellt, und welche Rolle spielt dabei deren ästhetische Funktion, die verführt, verdammt und erfindet? Eine interdisziplinär besetzte Gesprächsrunde diskutiert auf dem 18. poesiefestival berlin das komplexe Wechselspiel von Lyrik, Rhetorik und Politik. Geformte Sprache als Mittel unterschiedlicher politischer Gruppierungen wird diskutiert, und die Dichtung im Dienste radikaler politischer Programme in der Literaturgeschichte und heute in den Blick genommen – mit aktuellen Beispielen wie den Propagandagedichten des IS und der sprachlichen Selbstinszenierung der neuen "Populisten".
Es diskutieren Paula Diehl, Politikwissenschaftlerin (Bielefeld), Ursula Krechel, Autorin (Berlin), Philippe Joseph Salazar, Philosoph und Professor für Rhetorik (Kapstadt) und Joseph Vogl, Kultur- und Literaturwissenschaftler (Berlin), moderiert von Eva Geulen, Zentrum für Literaturforschung (Berlin).
"Poesie und Propaganda" wird gefördert vom Zentrum für Literatur- und Kulturforschung Berlin.
18. poesiefestival berlin: Europa_ Fata Morgana
16.-24. Juni 2017
Akademie der Künste, Hanseatenweg 10, 10557 Berlin
Das poesiefestival berlin ist ein Projekt des Hauses für Poesie in Kooperation mit der Akademie der Künste. Es wird gefördert durch den Hauptstadtkulturfonds und das Auswärtige Amt.
  # website poesiefestival berlin  
fleursdumal.nl magazine
More in: Arnon Grunberg, Art & Literature News, FDM in Berlin, Literary Events, MODERN POETRY, POETRY ARCHIVE
---
Samuel Taylor Coleridge
Love
All thoughts, all passions, all delights,
Whatever stirs this mortal frame,
All are but ministers of Love,
And feed his sacred flame.
Oft in my waking dreams do I
Live o'er again that happy hour,
When midway on the mount I lay,
Beside the ruined tower.
The moonshine, stealing o'er the scene
Had blended with the lights of eve:
And she was there, my hope, my joy,
My own dear Genevieve!.
She leant against the arméd man,
The statue of the arméd knight:
She stood and listened to my lay,
Amid the lingering light.
Few sorrows hath she of her own,
My hope ! my joy ! my Genevieve !
She loves me best, whene'er I sing
The songs that make her grieve.
I played a soft and doleful air,
I sang an old and moving story-
An old rude song, that suited well
That ruin wild and hoary.
She listened with a flitting blush,
With downcast eyes and modest grace:
For well she know, I could not choose
But gaze upon her face.
I told her of the Knight that wore
Upon his shield a burning brand:
And that for ten long years he wooed
The Lady of the Land.
I told her how he pined : and ah!
The deep, the low, the pleading tone
With which I sang another's love,
Interpreted my own.
She listened with a flitting blush,
With downcast eyes, and modest grace:
And she forgave me, that I gazed
Too fondly on her face!.
But when I told the cruel scorn
That crazed that bold and lovely Knight,
And that he crossed the mountain-woods,
Nor rested day nor night:
That sometimes from the savage den,
And sometimes from the darksome shade,
And sometimes starting up at once
In green and sunny glade,-
There came and looked him in the face
An angel beautiful and bright:
And that he knew it was a Fiend,
This miserable Knight!.
And that unknowing what he did,
He leaped amid a murderous band,
And saved from outrage worse than death
The Lady of the Land!.
And how she wept, and clasped his knees:
And how she tended him in vain-
And ever strove to expiate
The scorn that crazed his brain ;-
And that she nursed him in a cave:
And how his madness went away,
When on the yellow forest-leaves
A dying man he lay ;-
His dying words -but when I reached
That tenderest strain of all the ditty,
My faultering voice and pausing harp
Disturbed her soul with pity!.
All impulses of soul and sense
Had thrilled my guileless Genevieve:
The music and the doleful tale,
The rich and balmy eve:
And hopes, and fears that kindle hope,
An undistinguishable throng,
And gentle wishes long subdued,
Subdued and cherished long!.
She wept with pity and delight,
She blushed with love, and virgin-shame:
And like the murmur of a dream,
I heard her breathe my name.
Her bosom heaved -she stepped aside,
As conscious of my look she stepped-
The suddenly, with timorous eye
She fled to me and wept.
She half enclosed me with her arms,
She pressed me with a meek embrace:
And bending back her head, looked up,
And gazed upon my face.
'Twas partly love, and partly fear,
And partly 'twas a bashful art,
That I might rather feel, than see,
The swelling of her heart.
I calmed her fears, and she was calm,
And told her love with virgin pride:
And so I won my Genevieve,
My bright and beauteous Bride.
Samuel Taylor Coleridge (1772 – 1834)
Love
fleursdumal.nl magazine
More in: Archive C-D, Coleridge, Coleridge, Samuel Taylor
---
The Red-headed League
by Arthur Conan Doyle
I had called upon my friend, Mr. Sherlock Holmes, one day in the autumn of last year, and found him in deep conversation with a very stout, florid-faced, elderly gentleman, with fiery red hair. With an apology for my intrusion, I was about to withdraw, when Holmes pulled me abruptly into the room, and closed the door behind me.
"You could not possibly have come at a better time, my dear Watson," he said cordially.
"I was afraid that you were engaged."
"So I am. Very much so."
"Then I can wait in the next room."
"Not at all. This gentleman, Mr. Wilson, has been my partner and helper in many of my most successful cases, and I have no doubt that he will be of the utmost use to me in yours also."
The stout gentleman half rose from his chair, and gave a bob of greeting, with a quick little questioning glance from his small, fat-encircled eyes.
"Try the settee," said Holmes, relapsing into his armchair, and putting his fingertips together, as was his custom when in judicial moods. "I know, my dear Watson, that you share my love of all that is bizarre and outside the conventions and humdrum routine of every-day life. You have shown your relish for it by the enthusiasm which has prompted you to chronicle, and, if you will excuse my saying so, somewhat to embellish so many of my own little adventures."
"Your cases have indeed been of the greatest interest to me," I observed.
"You will remember that I remarked the other day, just before we went into the very simple problem presented by Miss Mary Sutherland, that for strange effects and extraordinary combinations we must go to life itself, which is always far more daring than any effort of the imagination."
"A proposition which I took the liberty of doubting."
"You did, Doctor, but none the less you must come round to my view, for otherwise I shall keep on piling fact upon fact on you until your reason breaks down under them and acknowledges me to be right. Now, Mr. Jabez Wilson here has been good enough to call upon me this morning, and to begin a narrative which promises to be one of the most singular which I have listened to for some time. You have heard me remark that the strangest and most unique things are very often connected not with the larger but with the smaller crimes, and occasionally, indeed, where there is room for doubt whether any positive crime has been committed. As far as I have heard, it is impossible for me to say whether the present case is an instance of crime or not, but the course of events is certainly among the most singular that I have ever listened to. Perhaps, Mr. Wilson, you would have the great kindness to recommence your narrative. I ask you, not merely because my friend Dr. Watson has not heard the opening part, but also because the peculiar nature of the story makes me anxious to have every possible detail from your lips. As a rule, when I have heard some slight indication of the course of events, I am able to guide myself by the thousands of other similar cases which occur to my memory. In the present instance I am forced to admit that the facts are, to the best of my belief, unique."
The portly client puffed out his chest with an appearance of some little pride, and pulled a dirty and wrinkled newspaper from the inside pocket of his greatcoat. As he glanced down the advertisement column, with his head thrust forward, and the paper flattened out upon his knee, I took a good look at the man, and endeavoured, after the fashion of my companion, to read the indications which might be presented by his dress or appearance.
I did not gain very much, however, by my inspection. Our visitor bore every mark of being an average commonplace British tradesman, obese, pompous, and slow. He wore rather baggy gray shepherd's check trousers, a not overclean black frockcoat, unbuttoned in the front, and a drab waistcoat with a heavy brassy Albert chain, and a square pierced bit of metal dangling down as an ornament. A frayed top hat and a faded brown overcoat with a wrinkled velvet collar lay upon a chair beside him. Altogether, look as I would, there was nothing remarkable about the man save his blazing red head, and the expression of extreme chagrin and discontent upon his features.
Sherlock Holmes' quick eye took in my occupation, and he shook his head with a smile as he noticed my questioning glances. "Beyond the obvious facts that he has at some time done manual labour, that he takes snuff, that he is a Freemason, that he has been in China, and that he has done a considerable amount of writing lately, I can deduce nothing else."
Mr. Jabez Wilson started up in his chair, with his forefinger upon the paper, but his eyes upon my companion.
"How, in the name of good fortune, did you know all that, Mr. Holmes?" he asked. "How did you know, for example, that I did manual labour. It's as true as gospel, for I began as a ship's carpenter."
"Your hands, my dear sir. Your right hand is quite a size larger than your left. You have worked with it, and the muscles are more developed."
"Well, the snuff, then, and the Freemasonry?"
"I won't insult your intelligence by telling you how I read that, especially as, rather against the strict rules of your order, you use an arc and compass breastpin."
"Ah, of course, I forgot that. But the writing?"
"What else can be indicated by that right cuff so very shiny for five inches, and the left one with the smooth patch near the elbow where you rest it upon the desk."
"Well, but China?"
"The fish which you have tattooed immediately above your right wrist could only have been done in China. I have made a small study of tattoo marks, and have even contributed to the literature of the subject. That trick of staining the fishes' scales of a delicate pink is quite peculiar to China. When, in addition, I see a Chinese coin hanging from your watch-chain, the matter becomes even more simple."
Mr. Jabez Wilson laughed heavily. "Well, I never!" said he. "I thought at first that you had done something clever, but I see that there was nothing in it after all."
"I begin to think, Watson," said Holmes, "that I make a mistake in explaining. 'Omne ignotum pro magnifico,' you know, and my poor little reputation, such as it is, will suffer shipwreck if I am so candid. Can you not find the advertisement, Mr. Wilson?"
"Yes, I have got it now," he answered, with his thick, red finger planted half-way down the column. "Here it is. This is what began it all. You just read it for yourself, sir."
I took the paper from him, and read as follows:—
"To the Red-Headed League. On account of the bequest of the late Ezekiah Hopkins, of Lebanon, Penn., U.S.A., there is now another vacancy open which entitles a member of the League to a salary of four pounds a week for purely nominal services. All red-headed men who are sound in body and mind, and above the age of twenty-one years, are eligible. Apply in person on Monday, at eleven o'clock, to Duncan Ross, at the offices of the League, 7, Pope's-court, Fleet-street."
"What on earth does this mean?" I ejaculated, after I had twice read over the extraordinary announcement.
Holmes chuckled, and wriggled in his chair, as was his habit when in high spirits. "It is a little off the beaten track, isn't it?" said he. "And now, Mr. Wilson, off you go at scratch, and tell us all about yourself, your household, and the effect which this advertisement had upon your fortunes. You will first make a note, Doctor, of the paper and the date."
"It is The Morning Chronicle, of April 27, 1890. Just two months ago."
"Very good. Now, Mr. Wilson?"
"Well, it is just as I have been telling you, Mr. Sherlock Holmes," said Jabez Wilson, mopping his forehead, "I have a small pawnbroker's business at Coburg-square, near the City. It's not a very large affair, and of late years it has not done more than just give me a living. I used to be able to keep two assistants, but now I only keep one; and I would have a job to pay him, but that he is willing to come for half wages, so as to learn the business."
"What is the name of this obliging youth?" asked Sherlock Holmes.
"His name is Vincent Spaulding, and he's not such a youth either. It's hard to say his age. I should not wish a smarter assistant, Mr. Holmes; and I know very well that he could better himself, and earn twice what I am able to give him. But after all, if he is satisfied, why should I put ideas in his head?"
"Why, indeed? You seem most fortunate in having an employé who comes under the full market price. It is not a common experience among employers in this age. I don't know that your assistant is not as remarkable as your advertisement."
"Oh, he has his faults, too," said Mr. Wilson. "Never was such a fellow for photography. Snapping away with a camera when he ought to be improving his mind, and then diving down into the cellar like a rabbit into its hole to develop his pictures. That is his main fault; but, on the whole, he's a good worker. There's no vice in him."
"He is still with you, I presume?"
"Yes, sir. He and a girl of fourteen, who does a bit of simple cooking, and keeps the place clean—that's all I have in the house, for I am a widower, and never had any family. We live very quietly, sir, the three of us; and we keep a roof over our heads, and pay our debts, if we do nothing more.
"The first thing that put us out was that advertisement. Spaulding, he came down into the office just this day eight weeks with this very paper in his hand, and he says:—
"'I wish to the Lord, Mr. Wilson, that I was a red-headed man.'
"'Why that?' I asks.
"'Why,' says he, 'here's another vacancy on the League of the Red-headed Men. It's worth quite a little fortune to any man who gets it, and I understand that there are more vacancies than there are men, so that the trustees are at their wits' end what to do with the money. If my hair would only change colour, here's a nice little crib all ready for me to step into.'
"'Why, what is it, then?' I asked. You see, Mr. Holmes, I am a very stay-at-home man, and, as my business came to me instead of my having to go to it, I was often weeks on end without putting my foot over the door-mat. In that way I didn't know much of what was going on outside, and I was always glad of a bit of news.
"'Have you never heard of the League of the Red-headed Men?' he asked, with his eyes open.
"'Never.'
"'Why, I wonder at that, for you are eligible yourself for one of the vacancies.'
"'And what are they worth?' I asked.
"'Oh, merely a couple of hundred a year, but the work is slight, and it need not interfere very much with one's other occupations.'
"Well, you can easily think that that made me prick up my ears, for the business has not been over good for some years, and an extra couple of hundred would have been very handy.
"'Tell me all about it,' said I.
"'Well,' said he, showing me the advertisement, 'you can see for yourself that the League has a vacancy, and there is the address where you should apply for particulars. As far as I can make out, the League was founded by an American millionaire, Ezekiah Hopkins, who was very peculiar in his ways. He was himself red-headed, and he had a great sympathy for all red-headed men; so, when he died, it was found that he had left his enormous fortune in the hands of trustees, with instructions to apply the interest to the providing of easy berths to men whose hair is of that colour. From all I hear it is splendid pay, and very little to do.'
"'But,' said I, 'there would be millions of red-headed men who would apply.'
"'Not so many as you might think,' he answered. 'You see it is really confined to Londoners, and to grown men. This American had started from London when he was young, and he wanted to do the old town a good turn. Then, again, I have heard it is no use your applying if your hair is light red, or dark red, or anything but real, bright, blazing, fiery red. Now, if you cared to apply, Mr. Wilson, you would just walk in; but perhaps it would hardly be worth your while to put yourself out of the way for the sake of a few hundred pounds.'
"Now, it is a fact, gentlemen, as you may see for yourselves, that my hair is of a very full and rich tint, so that it seemed to me that, if there was to be any competition in the matter, I stood as good a chance as any man that I had ever met. Vincent Spaulding seemed to know so much about it that I thought he might prove useful, so I just ordered him to put up the shutters for the day, and to come right away with me. He was very willing to have a holiday, so we shut the business up, and started off for the address that was given us in the advertisement.
"I never hope to see such a sight as that again, Mr. Holmes. From north, south, east, and west every man who had a shade of red in his hair had tramped into the City to answer the advertisement. Fleet-street was choked with red-headed folk, and Pope's-court looked like a coster's orange barrow. I should not have thought there were so many in the whole country as were brought together by that single advertisement. Every shade of colour they were—straw, lemon, orange, brick, Irish-setter, liver, clay; but, as Spaulding said, there were not many who had the real vivid flame-coloured tint. When I saw how many were waiting, I would have given it up in despair; but Spaulding would not hear of it. How he did it I could not imagine, but he pushed and pulled and butted until he got me through the crowd, and right up to the steps which led to the office. There was a double stream upon the stair, some going up in hope, and some coming back dejected; but we wedged in as well as we could, and soon found ourselves in the office."
"Your experience has been a most entertaining one," remarked Holmes, as his client paused and refreshed his memory with a huge pinch of snuff. "Pray continue your very interesting statement."
"There was nothing in the office but a couple of wooden chairs and a deal table, behind which sat a small man, with a head that was even redder than mine. He said a few words to each candidate as he came up, and then he always managed to find some fault in them which would disqualify them. Getting a vacancy did not seem to be such a very easy matter after all. However, when our turn came, the little man was much more favourable to me than to any of the others, and he closed the door as we entered, so that he might have a private word with us.
"'This is Mr. Jabez Wilson,' said my assistant, 'and he is willing to fill a vacancy in the League.'
"'And he is admirably suited for it,' the other answered. 'He has every requirement. I cannot recall when I have seen anything so fine.' He took a step backwards, cocked his head on one side, and gazed at my hair until I felt quite bashful. Then suddenly he plunged forward, wrung my hand, and congratulated me warmly on my success.
"'It would be injustice to hesitate,' said he. 'You will, however, I am sure, excuse me for taking an obvious precaution.' With that he seized my hair in both his hands, and tugged until I yelled with the pain. 'There is water in your eyes,' said he, as he released me. 'I perceive that all is as it should be. But we have to be careful, for we have twice been deceived by wigs and once by paint. I could tell you tales of cobbler's wax which would disgust you with human nature.' He stepped over to the window, and shouted through it at the top of his voice that the vacancy was filled. A groan of disappointment came up from below, and the folk all trooped away in different directions, until there was not a red head to be seen except my own and that of the manager.
"'My name,' said he, 'is Mr. Duncan Ross, and I am myself one of the pensioners upon the fund left by our noble benefactor. Are you a married man, Mr. Wilson? Have you a family?'
"I answered that I had not.
"His face fell immediately.
"'Dear me!' he said, gravely, 'that is very serious indeed! I am sorry to hear you say that. The fund was, of course, for the propagation and spread of the red-heads as well as for their maintenance. It is exceedingly unfortunate that you should be a bachelor.'
"My face lengthened at this, Mr. Holmes, for I thought that I was not to have the vacancy after all; but, after thinking it over for a few minutes, he said that it would be all right.
"'In the case of another,' said he, 'the objection might be fatal, but we must stretch a point in favour of a man with such a head of hair as yours. When shall you be able to enter upon your new duties?'
"'Well, it is a little awkward, for I have a business already,' said I.
"'Oh, never mind about that, Mr. Wilson!' said Vincent Spaulding. 'I shall be able to look after that for you.'
"'What would be the hours?' I asked.
"'Ten to two.'
"Now a pawnbroker's business is mostly done of an evening, Mr. Holmes, especially Thursday and Friday evening, which is just before pay-day; so it would suit me very well to earn a little in the mornings. Besides, I knew that my assistant was a good man, and that he would see to anything that turned up.
"'That would suit me very well,' said I. 'And the pay?'
"'Is four pounds a week.'
"'And the work?'
"'Is purely nominal.'
"'What do you call purely nominal?'
"'Well, you have to be in the office, or at least in the building, the whole time. If you leave, you forfeit your whole position for ever. The will is very clear upon that point. You don't comply with the conditions if you budge from the office during that time.'
"'It's only four hours a day, and I should not think of leaving,' said I.
"'No excuse will avail,' said Mr. Duncan Ross, 'neither sickness, nor business, nor anything else. There you must stay, or you lose your billet.'
"'And the work?'
"'Is to copy out the "Encyclopædia Britannica." There is the first volume of it in that press. You must find your own ink, pens, and blotting-paper, but we provide this table and chair. Will you be ready to-morrow?'
"'Certainly,' I answered.
"'Then, good-bye, Mr. Jabez Wilson, and let me congratulate you once more on the important position which you have been fortunate enough to gain.' He bowed me out of the room, and I went home with my assistant, hardly knowing what to say or do, I was so pleased at my own good fortune.
"Well, I thought over the matter all day, and by evening I was in low spirits again; for I had quite persuaded myself that the whole affair must be some great hoax or fraud, though what its object might be I could not imagine. It seemed altogether past belief that anyone could make such a will, or that they would pay such a sum for doing anything so simple as copying out the 'Encyclopædia Britannica.' Vincent Spaulding did what he could to cheer me up, but by bedtime I had reasoned myself out of the whole thing. However, in the morning I determined to have a look at it anyhow, so I bought a penny bottle of ink, and with a quill pen, and seven sheets of foolscap paper, I started off for Pope's-court.
"Well, to my surprise and delight everything was as right as possible. The table was set out ready for me, and Mr. Duncan Ross was there to see that I got fairly to work. He started me off upon the letter A, and then he left me; but he would drop in from time to time to see that all was right with me. At two o'clock he bade me good-day, complimented me upon the amount that I had written, and locked the door of the office after me.
"This went on day after day, Mr. Holmes, and on Saturday the manager came in and planked down four golden sovereigns for my week's work. It was the same next week, and the same the week after. Every morning I was there at ten, and every afternoon I left at two. By degrees Mr. Duncan Ross took to coming in only once of a morning, and then, after a time, he did not come in at all. Still, of course, I never dared to leave the room for an instant, for I was not sure when he might come, and the billet was such a good one, and suited me so well, that I would not risk the loss of it.
"Eight weeks passed away like this, and I had written about Abbots, and Archery, and Armour, and Architecture, and Attica, and hoped with diligence that I might get on to the Bs before very long. It cost me something in foolscap, and I had pretty nearly filled a shelf with my writings. And then suddenly the whole business came to an end."
"To an end?"
"Yes, sir. And no later than this morning. I went to my work as usual at ten o'clock, but the door was shut and locked, with a little square of cardboard hammered on to the middle of the panel with a tack. Here it is, and you can read for yourself."
He held up a piece of white cardboard, about the size of a sheet of notepaper. It read in this fashion:—
"The Red-Headed League
is
Dissolved.
Oct. 9, 1890."
Sherlock Holmes and I surveyed this curt announcement and the rueful face behind it, until the comical side of the affair so completely overtopped every other consideration that we both burst out into a roar of laughter.
"I cannot see that there is anything very funny," cried our client, flushing up to the roots of his flaming head. "If you can do nothing better than laugh at me, I can go elsewhere."
"No, no," cried Holmes, shoving him back into the chair from which he had half risen. "I really wouldn't miss your case for the world. It is most refreshingly unusual. But there is, if you will excuse my saying so, something just a little funny about it. Pray what steps did you take when you found the card upon the door?"
"I was staggered, sir. I did not know what to do. Then I called at the offices round, but none of them seemed to know anything about it. Finally, I went to the landlord, who is an accountant living on the ground floor, and I asked him if he could tell me what had become of the Red-headed League. He said that he had never heard of any such body. Then I asked him who Mr. Duncan Ross was. He answered that the name was new to him.
"'Well,' said I, 'the gentleman at No. 4.'
"'What, the red-headed man?'
"'Yes.'
"'Oh,' said he, 'his name was William Morris. He was a solicitor, and was using my room as a temporary convenience until his new premises were ready. He moved out yesterday.'
"'Where could I find him?'
"'Oh, at his new offices. He did tell me the address. Yes, 17, King Edward-street, near St. Paul's.'
"I started off, Mr. Holmes, but when I got to that address it was a manufactory of artificial knee-caps, and no one in it had ever heard of either Mr. William Morris, or Mr. Duncan Ross."
"And what did you do then?" asked Holmes.
"I went home to Saxe-Coburg-square, and I took the advice of my assistant. But he could not help me in any way. He could only say that if I waited I should hear by post. But that was not quite good enough, Mr. Holmes. I did not wish to lose such a place without a struggle, so, as I had heard that you were good enough to give advice to poor folk who were in need of it, I came right away to you."
"And you did very wisely," said Holmes. "Your case is an exceedingly remarkable one, and I shall be happy to look into it. From what you have told me I think that it is possible that graver issues hang from it than might at first sight appear."
"Grave enough!" said Mr. Jabez Wilson. "Why, I have lost four pound a week."
"As far as you are personally concerned," remarked Holmes, "I do not see that you have any grievance against this extraordinary league. On the contrary, you are, as I understand, richer by some thirty pounds, to say nothing of the minute knowledge which you have gained on every subject which comes under the letter A. You have lost nothing by them."
"No, sir. But I want to find out about them, and who they are, and what their object was in playing this prank—if it was a prank—upon me. It was a pretty expensive joke for them, for it cost them two and thirty pounds."
"We shall endeavor to clear up these points for you. And, first, one or two questions, Mr. Wilson. This assistant of yours who first called your attention to the advertisement—how long had he been with you?"
"About a month then."
"How did he come?"
"In answer to an advertisement."
"Was he the only applicant?"
"No, I had a dozen."
"Why did you pick him?"
"Because he was handy, and would come cheap."
"At half wages, in fact."
"Yes."
"What is he like, this Vincent Spaulding?"
"Small, stout-built, very quick in his ways, no hair on his face, though he's not short of thirty. Has a white splash of acid upon his forehead."
Holmes sat up in his chair in considerable excitement. "I thought as much," said he. "Have you ever observed that his ears are pierced for earrings?"
"Yes, sir. He told me that a gypsy had done it for him when he was a lad."
"Hum!" said Holmes, sinking back in deep thought. "He is still with you?"
"Oh, yes, sir; I have only just left him."
"And has your business been attended to in your absence?"
"Nothing to complain of, sir. There's never very much to do of a morning."
"That will do, Mr. Wilson. I shall be happy to give you an opinion upon the subject in the course of a day or two. To-day is Saturday, and I hope that by Monday we may come to a conclusion."
"Well, Watson," said Holmes, when our visitor had left us, "what do you make of it all?"
"I make nothing of it," I answered, frankly. "It is a most mysterious business."
"As a rule," said Holmes, "the more bizarre a thing is the less mysterious it proves to be. It is your commonplace, featureless crimes which are really puzzling, just as a commonplace face is the most difficult to identify. But I must be prompt over this matter."
"What are you going to do then?" I asked.
"To smoke," he answered. "It is quite a three pipe problem, and I beg that you won't speak to me for fifty minutes." He curled himself up in his chair, with his thin knees drawn up to his hawk-like nose, and there he sat with his eyes closed and his black clay pipe thrusting out like the bill of some strange bird. I had come to the conclusion that he had dropped asleep, and indeed was nodding myself, when he suddenly sprang out of his chair withArthur Conan Doyle the gesture of a man who has made up his mind, and put his pipe down upon the mantelpiece.
"Sarasate plays at the St. James's Hall this afternoon," he remarked. "What do you think, Watson? Could your patients spare you for a few hours?"
"I have nothing to do to-day. My practice is never very absorbing."
"Then, put on your hat, and come. I am going through the City first, and we can have some lunch on the way. I observe that there is a good deal of German music on the programme, which is rather more to my taste than Italian or French. It is introspective, and I want to introspect. Come along!"
We travelled by the Underground as far as Aldersgate; and a short walk took us to Saxe-Coburg-square, the scene of the singular story which we had listened to in the morning. It was a poky, little, shabby-genteel place, where four lines of dingy two-storied brick houses looked out into a small railed-in enclosure, where a lawn of weedy grass, and a few clumps of faded laurel bushes made a hard fight against a smoke-laden and uncongenial atmosphere. Three gilt balls and a brown board with "Jabez Wilson" in white letters, upon a corner house, announced the place where our red-headed client carried on his business. Sherlock Holmes stopped in front of it with his head on one side, and looked it all over, with his eyes shining brightly between puckered lids. Then he walked slowly up the street, and then down again to the corner, still looking keenly at the houses. Finally he returned to the pawnbroker's, and, having thumped vigorously upon the pavement with his stick two or three times, he went up to the door and knocked. It was instantly opened by a bright-looking, clean-shaven young fellow, who asked him to step in.
"Thank you," said Holmes, "I only wished to ask you how you would go from here to the Strand."
"Third right, fourth left," answered the assistant promptly, closing the door.
"Smart fellow, that," observed Holmes, as we walked away. "He is, in my judgment, the fourth smartest man in London, and for daring I am not sure that he has not a claim to be third. I have known something of him before."
"Evidently," said I, "Mr. Wilson's assistant counts for a good deal in this mystery of the Red-headed League. I am sure that you inquired your way merely in order that you might see him."
"Not him."
"What then?"
"The knees of his trousers."
"And what did you see?"
"What I expected to see."
"Why did you beat the pavement?"
"My dear Doctor, this is a time for observation, not for talk. We are spies in an enemy's country. We know something of Saxe-Coburg-square. Let us now explore the parts which lie behind it."
The road in which we found ourselves as we turned round the corner from the retired Saxe-Coburg-square presented as great a contrast to it as the front of a picture does to the back. It was one of the main arteries which convey the traffic of the City to the north and west. The roadway was blocked with the immense stream of commerce flowing in a double tide inwards and outwards, while the footpaths were black with the hurrying swarm of pedestrians. It was difficult to realize as we looked at the line of fine shops and stately business premises that they really abutted on the other side upon the faded and stagnant square which we had just quitted.
"Let me see," said Holmes, standing at the corner, and glancing along the line, "I should like just to remember the order of the houses here. It is a hobby of mine to have an exact knowledge of London. There is Mortimer's, the tobacconist, the little newspaper shop, the Coburg branch of the City and Suburban Bank, the Vegetarian Restaurant, and McFarlane's carriage-building depôt. That carries us right on to the other block. And now, Doctor, we've done our work, so it's time we had some play. A sandwich, and a cup of coffee, and then off to violin-land, where all is sweetness, and delicacy, and harmony, and there are no red-headed clients to vex us with their conundrums."
My friend was an enthusiastic musician, being himself not only a very capable performer, but a composer of no ordinary merit. All the afternoon he sat in the stalls wrapped in the most perfect happiness, gently waving his long, thin fingers in time to the music, while his gently smiling face and his languid, dreamy eyes were as unlike those of Holmes the sleuth-hound; Holmes the relentless, keen-witted, ready-handed criminal agent, as it was possible to conceive. In his singular character the dual nature alternately asserted itself, and his extreme exactness and astuteness represented, as I have often thought, the reaction against the poetic and contemplative mood which occasionally predominated in him. The swing of his nature took him from extreme languor to devouring energy; and, as I knew well, he was never so truly formidable as when, for days on end, he had been lounging in his armchair amid his improvisations and his black-letter editions. Then it was that the lust of the chase would suddenly come upon him, and that his brilliant reasoning power would rise to the level of intuition, until those who were unacquainted with his methods would look askance at him as on a man whose knowledge was not that of other mortals. When I saw him that afternoon so enwrapped in the music at St. James's Hall I felt that an evil time might be coming upon those whom he had set himself to hunt down.
"You want to go home, no doubt, Doctor," he remarked, as we emerged.
"Yes, it would be as well."
"And I have some business to do which will take some hours. This business at Coburg-square is serious."
"Why serious?"
"A considerable crime is in contemplation. I have every reason to believe that we shall be in time to stop it. But to-day being Saturday rather complicates matters. I shall want your help to-night."
"At what time?"
"Ten will be early enough."
"I shall be at Baker-street at ten."
"Very well. And, I say, Doctor! there may be some little danger, so kindly put your army revolver in your pocket." He waved his hand, turned on his heel, and disappeared in an instant among the crowd.
I trust that I am not more dense than my neighbours, but I was always oppressed with a sense of my own stupidity in my dealings with Sherlock Holmes. Here I had heard what he had heard, I had seen what he had seen, and yet from his words it was evident that he saw clearly not only what had happened, but what was about to happen, while to me the whole business was still confused and grotesque. As I drove home to my house in Kensington I thought over it all, from the extraordinary story of the red-headed copier of the "Encyclopædia" down to the visit to Saxe-Coburg-square, and the ominous words with which he had parted from me. What was this nocturnal expedition, and why should I go armed? Where were we going, and what were we to do? I had the hint from Holmes that this smooth-faced pawnbroker's assistant was a formidable man—a man who might play a deep game. I tried to puzzle it out, but gave it up in despair, and set the matter aside until night should bring an explanation.
It was a quarter past nine when I started from home and made my way across the Park, and so through Oxford-street to Baker-street. Two hansoms were standing at the door, and, as I entered the passage, I heard the sound of voices from above. On entering his room, I found Holmes in animated conversation with two men, one of whom I recognized as Peter Jones, the official police agent; while the other was a long, thin, sad-faced man, with a very shiny hat and oppressively respectable frock-coat.
"Ha! our party is complete," said Holmes, buttoning up his pea-jacket, and taking his heavy hunting crop from the rack. "Watson, I think you know Mr. Jones, of Scotland-yard? Let me introduce you to Mr. Merryweather, who is to be our companion in to-night's adventure."
"We're hunting in couples again, Doctor, you see," said Jones, in his consequential way. "Our friend here is a wonderful man for starting a chase. All he wants is an old dog to help him to do the running down."
"I hope a wild goose may not prove to be the end of our chase," observed Mr. Merryweather, gloomily.
"You may place considerable confidence in Mr. Holmes, sir," said the police agent, loftily. "He has his own little methods, which are, if he won't mind my saying so, just a little too theoretical and fantastic, but he has the makings of a detective in him. It is not too much to say that once or twice, as in that business of the Sholto murder and the Agra treasure, he has been more nearly correct than the official force."
"Oh, if you say so, Mr. Jones, it is all right!" said the stranger, with deference. "Still, I confess that I miss my rubber. It is the first Saturday night for seven-and-twenty years that I have not had my rubber."
"I think you will find," said Sherlock Holmes, "that you will play for a higher stake to-night than you have ever done yet, and that the play will be more exciting. For you, Mr. Merryweather, the stake will be some thirty thousand pounds; and for you, Jones, it will be the man upon whom you wish to lay your hands."
"John Clay, the murderer, thief, smasher and forger. He's a young man, Mr. Merryweather, but he is at the head of his profession, and I would rather have my bracelets on him than on any criminal in London. He's a remarkable man, is young John Clay. His grandfather was a Royal Duke, and he himself has been to Eton and Oxford. His brain is as cunning as his fingers, and though we meet signs of him at every turn, we never know where to find the man himself. He'll crack a crib in Scotland one week, and be raising money to build an orphanage in Cornwall the next. I've been on his track for years, and have never set eyes on him yet."
"I hope that I may have the pleasure of introducing you to-night. I've had one or two little turns also with Mr. John Clay, and I agree with you that he is at the head of his profession. It is past ten, however, and quite time that we started. If you two will take the first hansom, Watson and I will follow in the second."
Sherlock Holmes was not very communicative during the long drive, and lay back in the cab humming the tunes which he had heard in the afternoon. We rattled through an endless labyrinth of gas-lit streets until we emerged into Farringdon-street.
"We are close there now," my friend remarked. "This fellow Merryweather is a bank director and personally interested in the matter. I thought it as well to have Jones with us also. He is not a bad fellow, though an absolute imbecile in his profession. He has one positive virtue. He is as brave as a bulldog, and as tenacious as a lobster if he gets his claws upon anyone. Here we are, and they are waiting for us."
We had reached the same crowded thoroughfare in which we had found ourselves in the morning. Our cabs were dismissed, and, following the guidance of Mr. Merryweather, we passed down a narrow passage, and through a side door, which he opened for us. Within there was a small corridor, which ended in a very massive iron gate. This also was opened, and led down a flight of winding stone steps, which terminated at another formidable gate. Mr. Merryweather stopped to light a lantern, and then conducted us down a dark, earth-smelling passage, and so, after opening a third door, into a huge vault or cellar, which was piled all round with crates and massive boxes.
"You are not very vulnerable from above," Holmes remarked, as he held up the lantern, and gazed about him.
"Nor from below," said Mr. Merryweather, striking his stick upon the flags which lined the floor. "Why, dear me, it sounds quite hollow!" he remarked, looking up in surprise.
"I must really ask you to be a little more quiet," said Holmes, severely. "You have already imperilled the whole success of our expedition. Might I beg that you would have the goodness to sit down upon one of those boxes, and not to interfere?"
The solemn Mr. Merryweather perched himself upon a crate, with a very injured expression upon his face, while Holmes fell upon his knees upon the floor, and, with the lantern and a magnifying lens, began to examine minutely the cracks between the stones. A few seconds sufficed to satisfy him, for he sprang to his feet again, and put his glass in his pocket.
"We have at least an hour before us," he remarked, "for they can hardly take any steps until the good pawnbroker is safely in bed. Then they will not lose a minute, for the sooner they do their work the longer time they will have for their escape. We are at present, Doctor—as no doubt you have divined—in the cellar of the City branch of one of the principal London banks. Mr. Merryweather is the chairman of directors, and he will explain to you that there are reasons why the more daring criminals of London should take a considerable interest in this cellar at present."
"It is our French gold," whispered the director. "We have had several warnings that an attempt might be made upon it."
"Your French gold?"
"Yes. We had occasion some months ago to strengthen our resources, and borrowed, for that purpose, thirty thousand napoleons from the Bank of France. It has become known that we have never had occasion to unpack the money, and that it is still lying in our cellar. The crate upon which I sit contains two thousand napoleons packed between layers of lead foil. Our reserve of bullion is much larger at present than is usually kept in a single branch office, and the directors have had misgivings upon the subject."
"Which were very well justified," observed Holmes. "And now it is time that we arranged our little plans. I expect that within an hour matters will come to a head. In the meantime, Mr. Merryweather, we must put the screen over that dark lantern."
"And sit in the dark?"
"I am afraid so. I had brought a pack of cards in my pocket, and I thought that, as we were a partie carrée, you might have your rubber after all. But I see that the enemy's preparations have gone so far that we cannot risk the presence of a light. And, first of all, we must choose our positions. These are daring men, and, though we shall take them at a disadvantage they may do us some harm, unless we are careful. I shall stand behind this crate, and do you conceal yourselves behind those. Then, when I flash a light upon them, close in swiftly. If they fire, Watson, have no compunction about shooting them down."
I placed my revolver, cocked, upon the top of the wooden case behind which I crouched. Holmes shot the slide across the front of his lantern, and left us in pitch darkness—such an absolute darkness as I have never before experienced. The smell of hot metal remained to assure us that the light was still there, ready to flash out at a moment's notice. To me, with my nerves worked up to a pitch of expectancy, there was something depressing and subduing in the sudden gloom, and in the cold, dank air of the vault.
"They have but one retreat," whispered Holmes. "That is back through the house into Saxe-Coburg-square. I hope that you have done what I asked you, Jones?"
"l have an inspector and two officers waiting at the front door."
"Then we have stopped all the holes. And now we must be silent and wait."
What a time it seemed! From comparing notes afterwards it was but an hour and a quarter, yet it appeared to me that the night must have almost gone, and the dawn be breaking above us. My limbs were weary and stiff, for I feared to change my position, yet my nerves were worked up to the highest pitch of tension, and my hearing was so acute that I could not only hear the gentle breathing of my companions, but I could distinguish the deeper, heavier in-breath of the bulky Jones from the thin, sighing note of the bank director. From my position I could look over the case in the direction of the floor. Suddenly my eyes caught the glint of a light.
At first it was but a lurid spark upon the stone pavement. Then it lengthened out until it became a yellow line, and then, without any warning or sound, a gash seemed to open and a hand appeared, a white, almost womanly hand, which felt about in the centre of the little area of light. For a minute or more the hand, with its writhing fingers, protruded out of the floor. Then it was withdrawn as suddenly as it appeared, and all was dark again save the single lurid spark, which marked a chink between the stones.
Its disappearance, however, was but momentary. With a rending, tearing sound, one of the broad, white stones turned over upon its side and left a square, gaping hole, through which streamed the light of a lantern. Over the edge there peeped a clean-cut, boyish face, which looked keenly about it, and then, with a hand on either side of the aperture, drew itself shoulder high and waist high, until one knee rested upon the edge. In another instant he stood at the side of the hole, and was hauling after him a companion, lithe and small like himself, with a pale face and a shock of very red hair.
"It's all clear," he whispered. "Have you the chisel and the bags. Great Scott! Jump, Archie, jump, and I'll swing for it!"
Sherlock Holmes had sprung out and seized the intruder by the collar. The other dived down the hole, and I heard the sound of rending cloth as Jones clutched at his skirts. The light flashed upon the barrel of a revolver, but Holmes's hunting crop came down on the man's wrist, and the pistol clinked upon the stone floor.
"It's no use, John Clay," said Holmes blandly, "You have no chance at all."
"So I see," the other answered, with the utmost coolness. "I fancy that my pal is all right, though I see you have got his coat-tails."
"There are three men waiting for him at the door," said Holmes.
"Oh, indeed. You seem to have done the thing very completely. I must compliment you."
"And I you," Holmes answered. "Your red-headed idea was very new and effective."
"You'll see your pal again presently," said Jones. "He's quicker at climbing down holes than I am. Just hold out while I fix the derbies."
"I beg that you will not touch me with your filthy hands," remarked our prisoner, as the handcuffs clattered upon his wrists. "You may not be aware that I have royal blood in my veins. Have the goodness also when you address me always to say 'sir' and 'please.'"
"All right," said Jones, with a stare and a snigger. "Well, would you please, sir, march upstairs, where we can get a cab to carry your highness to the police-station."
"That is better," said John Clay, serenely. He made a sweeping bow to the three of us, and walked quietly off in the custody of the detective.
"Really, Mr. Holmes," said Mr. Merryweather, as we followed them from the cellar, "I do not know how the bank can thank you or repay you. There is no doubt that you have detected and defeated in the most complete manner one of the most determined attempts at bank robbery that have ever come within my experience."
"I have had one or two little scores of my own to settle with Mr. John Clay," said Holmes, "I have been at some small expense over this matter, which I shall expect the bank to refund, but beyond that I am amply repaid by having had an experience which is in many ways unique, and by hearing the very remarkable narrative of the Red-headed League."
"You see, Watson," he explained, in the early hours of the morning, as we sat over a glass of whisky and soda in Baker-street, "it was perfectly obvious from the first that the only possible object of this rather fantastic business of the advertisement of the League, and the copying of the 'Encyclopædia,' must be to get this not over-bright pawnbroker out of the way for a number of hours every day. It was a curious way of managing it, but really it would be difficult to suggest a better. The method was no doubt suggested to Clay's ingenious mind by the colour of his accomplice's hair. The four pounds a week was a lure which must draw him, and what was it to them, who were playing for thousands? They put in the advertisement, one rogue has the temporary office, the other rogue incites the man to apply for it, and together they manage to secure his absence every morning in the week. From the time that I heard of the assistant having come for half wages, it was obvious to me that he had some strong motive for securing the situation."
"But how could you guess what the motive was?"
"Had there been women in the house, I should have suspected a mere vulgar intrigue. That, however, was out of the question. The man's business was a small one, and there was nothing in his house which could account for such elaborate preparations, and such an expenditure as they were at. It must then be something out of the house. What could it be? I thought of the assistant's fondness for photography, and his trick of vanishing into the cellar. The cellar! There was the end of this tangled clue. Then I made inquiries as to this mysterious assistant, and found that I had to deal with one of the coolest and most daring criminals in London. He was doing something in the cellar—something which took many hours a day for months on end. What could it be, once more? I could think of nothing save that he was running a tunnel to some other building.
"So far I had got when we went to visit the scene of action. I surprised you by beating upon the pavement with my stick. I was ascertaining whether the cellar stretched out in front or behind. It was not in front. Then I rang the bell, and, as I hoped, the assistant answered it. We have had some skirmishes, but we had never set eyes upon each other before. I hardly looked at his face. His knees were what I wished to see. You must yourself have remarked how worn, wrinkled, and stained they were. They spoke of those hours of burrowing. The only remaining point was what they were burrowing for. I walked round the corner, saw that the City and Suburban Bank abutted on our friend's premises, and felt that I had solved my problem. When you drove home after the concert I called upon Scotland Yard and upon the chairman of the bank directors, with the result that you have seen."
"And how could you tell that they would make their attempt to-night?" I asked.
"Well, when they closed their League offices that was a sign that they cared no longer about Mr. Jabez Wilson's presence, in other words, that they had completed their tunnel. But it was essential that they should use it soon, as it might be discovered, or the bullion might be removed. Saturday would suit them better than any other day, as it would give them two days for their escape. For all these reasons I expected them to come to-night."
"You reasoned it out beautifully," I exclaimed in unfeigned admiration. "It is so long a chain, and yet every link rings true."
"It saved me from ennui," he answered, yawning. "Alas! I already feel it closing in upon me. My life is spent in one long effort to escape from the commonplaces of existence. These little problems help me to do so."
"And you are a benefactor of the race," said I.
He shrugged his shoulders. "Well, perhaps, after all, it is of some little use," he remarked. "'L'homme c'est rien—l'œuvre c'est tout,' as Gustave Flaubert wrote to Georges Sand."[1]
Notes (not in the original source):
Flaubert actually wrote "L'homme n'est rien, l'œuvre tout!" ("The man is nothing, the work is everything!")
Arthur Conan Doyle (1859 – 1930)
The Red-headed League
(from: The Adventures of Sherlock Holmes)
fleursdumal.nl magazine
More in: Archive C-D, Arthur Conan Doyle, Doyle, Arthur Conan
---
William Wordsworth
I wandered lonely as a cloud
I wandered lonely as a cloud
That floats on high o'er vales and hills,
When all at once I saw a crowd,
A host, of golden daffodils;
Beside the lake, beneath the trees,
Fluttering and dancing in the breeze.
Continuous as the stars that shine
And twinkle on the milky way,
They stretched in never-ending line
Along the margin of a bay:
Ten thousand saw I at a glance,
Tossing their heads in sprightly dance.
The waves beside them danced, but they
Out-did the sparkling leaves in glee;
A poet could not be but gay,
In such a jocund company!
I gazed—and gazed—but little thought
What wealth the show to me had brought:
For oft, when on my couch I lie
In vacant or in pensive mood,
They flash upon that inward eye
Which is the bliss of solitude;
And then my heart with pleasure fills,
And dances with the daffodils.
William Wordsworth (1770 – 1850)
I wandered lonely as a cloud
fleursdumal.nl magazine
More in: Archive W-X, Wordsworth, Wordsworth, William
---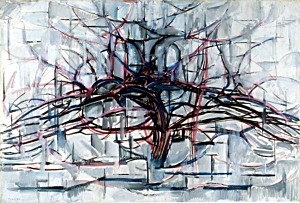 Mondriaan werd in 1872 geboren in Amersfoort. Toen hij in 1944 in New York stierf, was hij een van de beroemdste kunstenaars van de westerse wereld. Hij schonk ons schitterende beelden van het Nederlandse platteland. Hij werkte in Winterswijk, langs het Gein en de Amstel, in Domburg en in Laren en hij trok naar Brabant, Twente en Arnhem. Ook toen hij de natuur en de zichtbare werkelijkheid niet meer afbeeldde, bleef hij zich vernieuwen. Waardering voor de abstracte Mondriaan ontstond in Nederland moeizaam. Maar toen dat eenmaal gebeurde, was hij van ons. Zijn werk is net zo Hollands als de polder.
Kunsthistoricus Marcel van Ool, in dienst bij Staatsbosbeheer, neemt ons mee langs de plekken waar Mondriaan werkte. Hij ontdekte zijn spiritualiteit én de humor. Hij zocht ook naar de invloed van Mondriaan op het nieuwe Nederland: na de Tweede Wereldoorlog werd zeventig procent van ons land heringericht. Critici hadden het over de 'Mondrianisering van het landschap'. Wat betekent dat? En is dat terecht? Van Ool komt tot verrassende conclusies. En hij toont zijn gelijk aan de hand van vele prachtige werken van de grote schilder.
Marcel van Ool (1970) is kunsthistoricus en werkt bij Staatsbosbeheer. Hij was initiatiefnemer van de tentoonstelling WereldNatuurKunst (2005). Van Ool schreef in 2008 Het verlangen naar buiten, een geschiedenis van het Nederlandse buitenleven. Sinds 2012 houdt hij voor Staatsbosbeheer het blog BuitenPlaatsen bij, over alle terreinen waar kunst en natuur elkaar raken.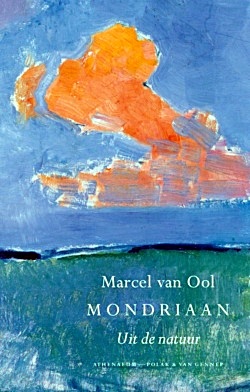 Marcel van Ool
Mondriaan.
Uit de natuur
Uitgever Athenaeum
non-fictie
beeldende kunst
Gebonden
Geïllustreerd
16 x 24 cm
272 pp.
€ 24,99
Omslag: Anneke Germers
ISBN 9789025307981
Verschijnt 02-06-2017

fleursdumal.nl magazine
More in: - Book News, Art & Literature News, De Stijl, FDM Art Gallery, Modernisme, Piet Mondriaan, Piet Mondriaan
---
Older Entries »
Thank you for reading FLEURSDUMAL.NL - magazine for art & literature