FICTION & NON-FICTION – books, booklovers, lit. history, biography, essays, translations, short stories, columns, literature: celtic, beat, travesty, war, dada & de stijl, drugs, dead poets
·
Nieuwe roman van Herman Brusselmans: Feest bij de familie Van de Velde
·
Bert Bevers gedicht: De laatste s
·
Ton van Reen: Het diepste blauw (032). Een roman als feuilleton
·
Charles Bukowski: The Bell Tolls for No One
·
Genomineerd voor E. du Perronprijs 2017: Alex Boogers, Margot Vanderstraeten & Tommy Wieringa
·
Gertrud Kolmar : Nächte
·
Robert Lowell, Setting the River on Fire. A Study of Genius, Mania, and Character by Kay Redfield Jamison
·
Dichter en schrijver F. Starik overleden
·
49e poetry international festival rotterdam – 29/05 – 03/06 2018
·
Ton van Reen: Het diepste blauw (031). Een roman als feuilleton
·
Patti Smith: The New Jerusalem (Nexus Bibliotheek – Tweetalige uitgave)
·
The Walter Scott Prize 2018 longlist is out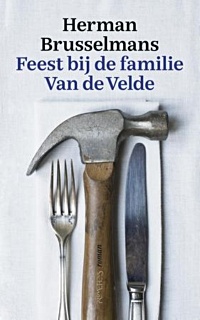 De oude Van de Velde wordt 85 jaar. Z'n vrouw organiseert een feest, waarvoor familieleden en enige vrienden zijn uitgenodigd.
Een andere invité is een verrassingsgast, een beroemde man van wie vader Van de Velde een groot bewonderaar is. Als deze gast arriveert in het midden van de niet al te best functionerende familie Van de Velde gaan de poppen pas echt aan het dansen.
Feest bij de familie Van de Velde is een typische Herman Brusselmans-roman, met een vermenging van tragiek en het komieke, gevuld met wijsheden en inzichten, en geschreven in een stijl die sinds 1982 uniek is in Vlaanderen en Nederland.
Herman Brusselmans
Feest bij de familie Van de Velde
Literaire roman, novelle
Verschenen 26-02-18
Druk 1
Paperback
ISBN 9789044636116
Uitgever Prometheus
Omvang 224 p.
€ 19,99
Feest bij de familie Van de Velde is een typische Herman Brusselmans-roman, met een vermenging van tragiek en het komieke, gevuld met wijsheden en inzichten, en geschreven in een stijl die sinds 1982 uniek is in Vlaanderen en Nederland. Herman Brusselmans (1957) publiceerde al vijfenzeventig romans. Hij wordt zowel verguisd als verafgood.
new books
fleursdumal.nl magazine
More in: - Book Lovers, - Book News, - Book Stories, Archive A-B, Herman Brusselmans
---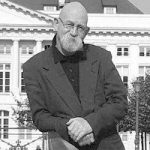 De laatste s
Het hart zij zuiver binnenin, niet meer door
dwaze trots verteerd, het lichaam matig,
afgekeerd van overdaad en rein van zin. Sint
pura cordis íntima, absístat et vecórdia: carnis
terat supérbiam potus cibíque párcitas. Hij houdt
van het doorsissen van de laatste s, van geloven
tegen de draad in. Hij ziet zijn mensen graag.
De hostie kleeft hen in de mond. Ze zijn zo zeker
dat ze niet meer weten van welke parochie ze zijn.
Bert Bevers
Gedicht: De laatste s
Uit Andere taal, Uitgeverij Litera Este, Borgerhout, 2010
Bert Bevers is a poet and writer who lives and works in Antwerp (Be)
fleursdumal.nl magazine
More in: Archive A-B, Archive A-B, Bevers, Bert
---
Mels herinnert zich het gevit van grootvader Bernhard op de rijkdom van de directeur. Hij kon niet verdragen dat de oude Frits op zijn gat zat en toch steeds meer geld op zijn bankrekening kon bijschrijven.
Later had ook Mels, die bijna veertig jaar boekhouder is geweest van de fabriek, met een rot gevoel de winsten bijgeschreven op de tegoeden van de heren Frans-Hubert en Frans-Joseph, de zonen van Frits, die samen de directie voerden maar meer in Zwitserland zaten dan in de fabriek. Ze hoefden zich ook nauwelijks in te spannen om hun product te verkopen. Er was altijd vraag naar brood. Meel was wit goud voor de heren, maar de arbeiders hadden altijd een karig loon gekregen. Als Mels op vrijdagmiddag de loonzakjes vulde, schaamde hij er zich voor dat er zo weinig van de winst werd uitgegeven aan de lonen. Als hij er soms iets van zei, verdedigden de heren Frans-Hubert en Frans-Joseph  (de oude Frits was toen al overleden) zich altijd met de woorden dat de arbeiders het goed hadden en dat ze nauwelijks eten hoefden te kopen. Ze hadden immers allemaal een volkstuin op een perceel grond van de fabriek dat lag ingeklemd tussen de Wijer en de dode trambaan waarvan de rails in de oorlog waren gebombardeerd.
Als afscheidscadeau heeft Mels van meneer Frans-Joseph een paar spullen uit het kantoor gekregen. Hij had ze bij hem laten bezorgen omdat Mels tijdens de sluiting van het bedrijf nog in het revalidatiecentrum zat. De lakstempels met het logo van de fabriek. De tikmachine waarop de letter F was afgebroken, maar die uit gierigheid van de directeuren nooit vervangen was, zodat Mels op alle brieven en facturen de grote en de kleine f met de pen had moeten aanvullen. Niets werd vervangen. Na het afscheid van grootvader Bernhard werd het transport van graan en meel door een vervoersbedrijf overgenomen en werd de vrachtwagen in een loods gezet. Daar had hij meer dan dertig jaar staan roesten.
Toen Mels als achttienjarige op het kantoor begon, had hij het idee gehad dat de fabriek er voor altijd zou zijn. Heel laat pas had hij begrepen dat de woorden van grootvader Bernhard uitkwamen. `De eerste generatie werkt zich te barsten, de tweede behoudt wat ze heeft, de derde weet niet meer hoe de voorgaande generaties geploeterd hebben en dat de welvaart haar in de schoot is geworpen. Zij verkwanselt wat ze in handen heeft.' Grootvader Bernhard heeft gelijk gekregen. Na het verscheiden van meneer Frits hadden zijn zonen er met de pet naar gegooid.
Ton van Reen: Het diepste blauw (032)
wordt vervolgd
fleursdumal.nl magazine
More in: - Book Stories, - Het diepste blauw, Archive Q-R, Reen, Ton van
---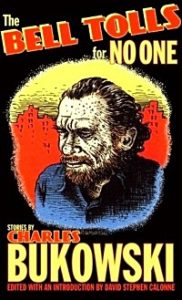 From the self-illustrated, unpublished work written in 1947 to hardboiled contributions to 1980s adult magazines, The Bells Tolls for No One presents the entire range of Bukowski's talent as a short story writer, from straight-up genre stories to postmodern blurring of fact and fiction.
An informative introduction by editor David Stephen Calonne provides historical context for these seemingly scandalous and chaotic tales, revealing the hidden hand of the master at the top of his form.
Born in Andernach, Germany, and raised in Los Angeles, Charles Bukowski published his first story when he was twenty-four and began writing poetry at the age of thirty-five. His first book of poetry was published in 1959; he would eventually publish more than forty-five books of poetry and prose. He died of leukemia in San Pedro, California on March 9, 1994.
David Stephen Calonne is the author of several books and has edited three previous collections of the uncollected work of Charles Bukowski for City Lights: Absence of the Hero, Portions from a Wine-Stained Notebook, and More Notes of a Dirty Old Man.
The Paris Review:
"Bukowski's The Bell Tolls for No One, recently released in a comic-book-like paperback, follows the hardboiled genre bent that reached its surreal apotheosis in his final novel, Pulp. The obvious influence is to Hemingway—see: the title—but perhaps more interestingly, the editor David Stephen Calonne notes Bukowski's debt to the crime writer James M. Cain, who had also, unbeknownst to me, shaped the style of Camus's The Stranger. The book includes some of Bukowski's roughly drawn illustrations, which fall somewhere close to pornographic Ziggy or adult-themed New Yorker cartoons. One features an asthmatic customer at an adult bookstore asking the cashier to inflate his blow-up doll for him; another shows an expressionistically drawn party girl surrounded by gawking men with the caption "God, a woman could get bored." The subject matter is a more amplified version of the usual Bukowski fare—stalwart, sleazebag protagonists; spectral, deathly women with emphatically described upper legs. As always, the most one can hope for in Bukowski's universe is "a grim yet comfortable isolation."—Casey Henry in The Paris Review
"He had a good wife. I remember one time they cleaned
up my face with cotton and some kind of sterilizer when
it was all smashed-in from a bad night out. They seemed
very tender and concerned and serious about my smashed-
in face, and it was a very odd feeling to me, that care.
Anyhow, the drinking got to Mick, and it gets to each
of us differently. With him, the body swelled up, doubled,
tripled in size in various places. He couldn't zip his pants
and had to cut slits in the pant legs. His story was that they
didn't have a bed for him in the vet's hospital. My feeling
was that he didn't want to go there. Anyhow, one day he
made a foolish move and tried the General Hospital.
After a couple of days he phoned me. "Jesus Christ,
they're killing me! I've never seen a place like this. No doc-
tors anywhere and nurses don't give a damn and just these
fruit orderlies running around like snobs and happy that
everybody's sick and dying. What the fuck is this place?
They're carrying the dead out by the dozens!"
-Charles Bukowski
Title: The Bell Tolls for No One
Author: Charles Bukowski
Edited by David Stephen Calonne
Publisher City Lights Publishers
Format Paperback
ISBN-10 0872866823
ISBN-13 9780872866829
Publication Date 14 July 2015
308 pages
Price $14.95
short story writer books
fleursdumal.nl magazine
More in: - Book News, Archive A-B, Archive A-B, Art & Literature News, Bukowski, Charles
---
De schrijvers Alex Boogers, Margot Vanderstraeten en Tommy Wieringa zijn genomineerd voor de E. du Perronprijs 2017.  De jury van de E. du Perronprijs  heeft de volgende drie boeken genomineerd, waarbij het schrijverschap van Du Perron als leidraad en inspiratie heeft gegolden. De uitreiking vindt plaats op woensdagavond 18 april bij bkkc brabants kenniscentrum voor kunst en cultuur in Tilburg. Marja Pruis, schrijver en redacteur van de Groene Amsterdammer, houdt dan de E. du Perronlezing over arrogantie.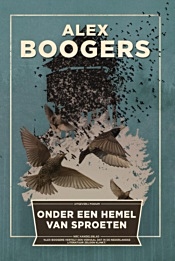 Onder een hemel van sproeten – Alex Boogers
Sproeten of sterren? Geleidelijk wordt de lezer dit verhaal ingetrokken en worden fascinerende personages voorgesteld: de zwarte onaangepaste Harvey, het getormenteerde maar getalenteerde buurmeisje Amy, de oude man Jacob met zijn hond Muis, de stratenmaker Angelo die Harvey van literaire boeken voorziet. Stuk voor stuk eenzame personages die anders zijn dan de mensen om hen heen, en die door Boogers op empathische wijze gepresenteerd worden. Dit is een roman over ongewone vriendschappen, ontwrichting en vergelding.
Mazzel tov. Mijn leven als werkstudente bij een orthodox-joodse familie – Margot Vanderstraeten
Dit boek biedt een fascinerend persoonlijk verslag van het leven als huiswerkbegeleider bij een orthodox-joodse familie in Antwerpen en geeft een unieke longitudinale blik op een besloten gemeenschap. Verschillen worden intelligent en integer besproken, en de lezer is getuige van de wederzijdse verwondering over anders-zijn. De respectvolle subjectieve toon wordt nooit onderbroken. Een empathisch maar ook informatief boek dat toont hoe je van elkaar kunt leren, zonder de scherpe randjes van intermenselijke relaties af te schaven.
De heilige Rita – Tommy Wieringa
Het bekende, provincialistische, kleine van een dorpsgemeenschap wordt op een natuurlijke manier geconfronteerd met het exotische, onbekende, en vreemde. Het fictieve maar onmiskenbaar Twentse Mariënveen is een dorp waar de horeca is overgenomen door Chinezen. Slavische talen klinken in het dorpscafé. Achterhaalde kruidenierswaren (waaronder pakjes Saroma) liggen te verstoffen en verkleuren in de winkel van Pietje Piep. En moederlijke Rita in Club Pancha biedt betaalde troost. Wieringa's roman evoceert hoe Nederland veranderde, juist in een krimpregio aan de grens met Duitsland.
E. du Perronprijs

De E. du Perronprijs is een initiatief van de gemeente Tilburg, de School of Humanities and Digital Sciences van Tilburg University en brabants kenniscentrum voor kunst en cultuur (bkkc). De prijs is bedoeld voor personen of instellingen die, net als Du Perron in zijn tijd, grenzen signaleren en doorbreken die wederzijds begrip tussen verschillende bevolkingsgroepen in de weg staan. De prijs bestaat uit een geldbedrag van €2500 euro en een textiel object, ontworpen door studio 'by aaaa' (Moyra Besjes en Natasja Lauwers) en vervaardigd bij het TextielMuseum in Tilburg. Vorig jaar won Stefan Hertmans de prijs voor zijn roman De Bekeerlinge. Andere laureaten waren onder meer Ilja Leonard Pfeijffer (2015), Mohammed Benzakour (2013), Koen Peeters (2012), Ramsey Nasr (2011) en Alice Boot & Rob Woortman (2010).
Marja Pruis houdt de achtste E. du Perronlezing.
De E. du Perronprijs 2017 wordt op woensdagavond 18 april 2018 uitgereikt tijdens de avond dat ook de E. du Perronlezing wordt gehouden bij het brabants kenniscentrum voor kunst en cultuur (bkkc) aan de Spoorlaan 21 i-k. Voor tijden en programma zie www.bkkc.nl/eduperron. Meer informatie over de prijs vindt u op: www.tilburguniversity.edu/duperronprijs.
Voor het bijwonen van de uitreiking kunnen belangstellenden en genodigden zich aanmelden via www.bkkc.nl/eduperron.
fleursdumal.nl magazine
More in: - Book Lovers, Archive A-B, Archive C-D, Archive U-V, Archive W-X, Awards & Prizes, Eddy du Perron, Literary Events
---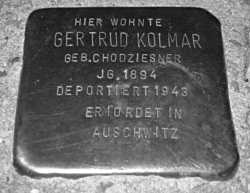 Nächte
Deine Hände keimen in Finsternissen,
Und ich seh nicht, wie sie blühn,
Atmend aus dem Schnee der Kissen.
Meeresgrün,
Wogengrau verglitzern deine Augen;
Meine Wange leckt ihr Schaum.
Nelkenrote Quallen saugen . . .
Süßes Harz von weißem Birkenbaum
Tropft die Stille goldbraun nieder . . .
O breiter Flügel, zuckender Schulter entstiegen !
O bleicher Schwanenflügel, der mich beschattet!
O Nacken, flaumige Brust, o Leib, den ein Wiegen
Verschilfter Bucht umschläfert, zärtlich ermattet !
Libellensirrendes Wispern . . .
Gertrud Kolmar
(1894-1943)
gedicht: Nächte
fleursdumal.nl magazine
More in: Archive K-L, Archive K-L, Kolmar, Gertrud
---
In this magisterial study of the relationship between illness and art, the best-selling author of An Unquiet Mind, Kay Redfield Jamison, brings an entirely fresh understanding to the work and life of Robert Lowell (1917-1977), whose intense, complex, and personal verse left a lasting mark on the English language and changed the public discourse about private matters.
In his Pulitzer Prize-winning poetry, Robert Lowell put his manic-depressive illness (now known as bipolar disorder) into the public domain, creating a language for madness that was new and arresting. As Dr. Jamison brings her expertise in mood disorders to bear on Lowell's story, she illuminates not only the relationships among mania, depression, and creativity but also the details of Lowell's treatment and how illness and treatment influenced the great work that he produced (and often became its subject).
Lowell's New England roots, early breakdowns, marriages to three eminent writers, friendships with other poets such as Elizabeth Bishop, his many hospitalizations, his vivid presence as both a teacher and a maker of poems—Jamison gives us the poet's life through a lens that focuses our understanding of his intense discipline, courage, and commitment to his art. Jamison had unprecedented access to Lowell's medical records, as well as to previously unpublished drafts and fragments of poems, and she is the first biographer to have spoken with his daughter, Harriet Lowell. With this new material and a psychologist's deep insight, Jamison delivers a bold, sympathetic account of a poet who was—both despite and because of mental illness—a passionate, original observer of the human condition.
Kay Redfield Jamison is the Dalio Family Professor in Mood Disorders and a professor of psychiatry at the Johns Hopkins University School of Medicine, as well as an honorary professor of English at the University of St. Andrews in Scotland. She is the author of the national best sellers An Unquiet Mind, Night Falls Fast, and Touched with Fire, and is the coauthor of the standard medical text on bipolar disorder, Manic-Depressive Illness: Bipolar Disorders and Recurrent Depression. Dr. Jamison is a Fellow of the American Academy of Arts and Sciences and the Royal Society of Edinburgh and is a recipient of the Lewis Thomas Prize, the Sarnat International Prize in Mental Health from the National Academy of Medicine, and a John D. and Catherine T. MacArthur Fellowship. She is married to Thomas Traill, a cardiologist at the Johns Hopkins School of Medicine.
Robert Lowell, Setting the River on Fire
A Study of Genius, Mania, and Character
By Kay Redfield Jamison
Literary Figure Biographies & Memoirs
Paperback
Feb 06, 2018
560 Pages
$18.95
Published by Vintage
ISBN 9780307744616
new books
fleursdumal.nl magazine
More in: - Book News, Archive I-J, Archive K-L, Archive K-L, BIOGRAPHY, DRUGS & MEDICINE & LITERATURE, Robert Lowell
---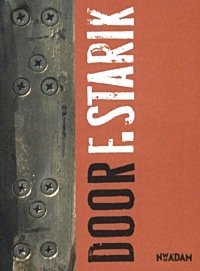 De Amsterdamse schrijver en dichter F.Starik (pseudoniem van Frank von der Möhlen) is vorige week vrijdag (16 maart 2018) overleden aan een hartstilstand. Hij was 59 jaar oud.
Starik schreef tien dichtbundels en was een van de dichters die bij toerbeurt in Amsterdam een speciaal geschreven gedicht voorlazen bij de uitvaart van eenzaam gestorven mensen.
Hij trad regelmatig op, op festivals als Oerol en Lowlands en literaire evenementen als De Nacht van de Poëzie en Crossing Border. Afgelopen zondag was zijn laatste optreden, op het internationale dichtersfestival StAnza, in Schotland.
F. Starik was stadsdichter van Amsterdam van 2010 tot 2012. Bij zijn afscheid als stadsdichter ontving hij van burgemeester Van der Laan het Ereteken van Verdienste.
# meer informatie over Starik is te vinden op de website van zijn uitgeverij Nieuw Amsterdam
fleursdumal.nl magazine
More in: Archive S-T, Archive S-T, Art & Literature News, Galerie des Morts, In Memoriam
---
49e Poetry International Festival Rotterdam
Het jaarlijkse feest van de internationale poëzie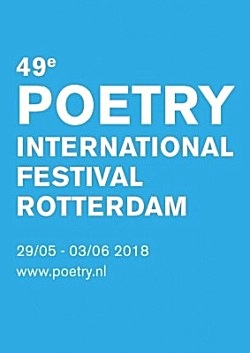 Op dinsdag 29 mei opent het 49e Poetry International Festival in Theater Rotterdam. Tot en met zondag 3 juni hoor je voor de 49e keer de mooiste gedichten uit alle windstreken en in vele talen, eerst in de Schouwburg, aansluitend in en om Locatie Witte de With.
Naast poëzievoordrachten brengt het festival films, muziek, interviews, lezingen, themabijeenkomsten en masterclasses. Een kermis van verlangen, kritiek, avontuur en troost, met de kunst van het woord als brandstof. Iedereen is uitgenodigd op het jaarlijkse feest van de poëzie.
Kom alvast in de stemming en vertaal zelf de poëzie van de festivaldichters tijdens het vertaalproject Met Andere Woorden. Vanaf 1 maart staan de eerste gedichten online. Kies je favoriete taal en dichter en ga aan de slag (zie verder de website van p.i.).

Opening POETRY+ART Gallerytour
zondag 27 mei in de Kunsthal
Opening 49e Poetry International Festival
dinsdag 29 mei in Theater Rotterdam Schouwburg
Festival tot en met 3 juni in Theater Rotterdam Witte de With
49e poetry international festival rotterdam
29/05 – 03/06 2018
# meer informatie op website poetry international
fleursdumal.nl magazine
More in: - Book Lovers, Art & Literature News, Literary Events, Poetry International, REPRESSION OF WRITERS, JOURNALISTS & ARTISTS, STREET POETRY, TRANSLATION ARCHIVE
---
Ze rijden door een tussen de heuvels liggend dorp, met een kasteel en een kerk die een toren heeft in de vorm van een ui.
Met z'n drieën moeten ze de zitplaats voor de bijrijder delen. Thija zit bij de jongens op schoot, een bil op elk paar knieën.
`In dit gat zijn de mensen nog heel braaf', zegt grootvader. Terwijl hij praat, dampt de rook van zijn sigaret uit zijn neus en mond. `De mensen hier hebben altijd onder de knoet gezeten van de kasteelheren. Ze kijken nog altijd op tegen heren. De meelfabriek profiteert daarvan. Meneer Frits biedt ze veel te lage prijzen voor hun graan en zij durven niet om meer te vragen. Als ik hun koren kom laden, klagen ze erover bij mij, maar vooral bij jouw vader, Mels. Als inkoper van de fabriek is hij de kop van Jut.'
`Haten de boeren hem?'
`Niet hem persoonlijk. Ze weten wel dat hij zelf niets over de prijs te zeggen heeft. Hij is een boodschappenjongen. Hij moet het koren op opbrengst schatten als het nog op het veld staat, maar hij biedt altijd te weinig.'
`Het is ook niet eerlijk', zegt Mels. Een bot in de bil van Thija drukt op zijn knie, maar hij geeft geen kik.
`In de handel is niets eerlijk', zegt grootvader, terwijl hij naar een non zwaait die als een zwart spook bij een bushalte staat. `Soms neem ik dat mens mee, maar nu laat ik haar staan. Twee meiden op schoot lijkt me wat veel voor jongens die nog niet groter zijn dan garnalen.'
Ze stoppen bij een boerderij. Een paar honderd zakken graan liggen klaar op een vlonder. Met een kraan zet grootvader de zakken op de wagen, stuk voor stuk. Dat duurt een uurtje. Ze hebben tijd wat rond te kijken in de varkensstallen en de kippenhokken. Van de boerin krijgen ze elk een windei waarin ze een gaatje prikken om het leeg te drinken. Mels voelt hoe de zachte schaal van het ei tussen zijn vingers in elkaar schrompelt. Het krimpende omhulsel voelt aan als de huid van een pad.
Bij de volgende boerderij, waar grootvader een kleine silo leegzuigt naar de bulkbak op de vrachtwagen, mogen ze proberen een koe te melken. Hoe ze ook aan de spenen trekken, er komt geen druppel uit. Pas als ze merken dat iedereen hen staat uit te lachen, begrijpen ze dat ze proberen een koe te melken die nog nooit heeft gekalfd.
Laat in de middag komen ze terug in het dorp, met een vrachtwagen die zo vol is dat hij bijna door zijn veren zakt.
`We brengen goud binnen', zegt grootvader tevreden als hij het fabrieksterrein oprijdt. `Van honderd graankorrels bak je een brood. We hebben zeker tienduizend broden op de wagen. Elke dag. Snappen jullie nu waarom meneer Frits Hubben en zijn zonen zo rijk zijn?'
Ton van Reen: Het diepste blauw (031)
wordt vervolgd
fleursdumal.nl magazine
More in: - Book Stories, - Het diepste blauw, Archive Q-R, Reen, Ton van
---
Het besluit van president Trump de Amerikaanse ambassade in Israël naar Jeruzalem te verhuizen inspireerde Patti Smith tot het schrijven van een gedicht, The New Jerusalem.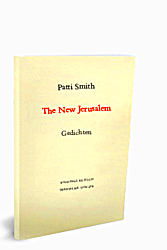 Dit nieuwe, nog ongepubliceerde werk van de beroemde punkpoëet verschijnt exclusief bij Nexus als tweetalige uitgave in de Nexus Bibliotheek. Naast The New Jerusalem zal deze uitgave ook een drietal eerdere gedichten bevatten. De vertaling van de gedichten wordt verzorgd door Onno Kosters. The New Jerusalem wordt gepresenteerd bij het Nexus-symposium 'An Education in Counterculture', 26 mei in Amsterdam.
. . .these things we saw written on the immense screen once known as sky. And these things we heard as prophecy's lullaby. The mountain is the mountain. The Lord is the Lord. The holy city belongs to none. The mountains of Judah belong to none. The yielding seed belongs to none. And we are the new Jerusalem.
Patti Smith, USA 1946, is zangeres en dichteres. Als 'Godmother of Punk' protesteerde zij met krachtige, controversiële muziek tegen de gevestigde orde en wezenloze fabrieksarbeid in de vercommercialiseerde wereld. Ze groeide op met de muziek van Bob Dylan, leefde samen met fotograaf Robert Mapplethorpe en werd een bekend gezicht in de turbulente New Yorkse kunstscene.
In 1974 begon Smith op te treden met gitarist Lenny Kaye, met wie ze nog steeds de kern van de band The Patti Smith Group vormt. Haar debuutalbum Horses (1975) wordt gezien als een van de invloedrijkste albums in de geschiedenis van de rockmuziek. Samen met Bruce Springsteen schreef ze Because the Night, haar grootste hit. Naast vele albums schreef Smith ook dichtbundels en boeken, waaronder Just Kids (2010), haar bekroonde autobiografie over het leven in New York in de jaren zeventig en haar relatie met Mapplethorpe.
Nexus Bibliotheek
Patti Smith:
The New Jerusalem (mei 2018)
Nexus Bibliotheek deel XII,
tweetalige,
gebonden editie
Patti Smith
Spreker bij:
An Education in Counterculture
Nexus-symposium
26 mei 2018
13.30 – 17.30
DeLaMar Theater Amsterdam
fleursdumal.nl magazine
More in: - Book Lovers, Archive S-T, Archive S-T, Art & Literature News, Bob Dylan, Literary Events, LITERARY MAGAZINES, Nexus Instituut, Patti Smith, Smith, Patti
---
The judges of the Walter Scott Prize 2018 announced a longlist of thirteen books:
The books are:
# The Clocks In This House All Tell Different Times by Xan Brooks
# Birdcage Walk by Helen Dunmore
# Manhattan Beach by Jennifer Egan
# The Last Man In Europe by Dennis Glover
# Sugar Money by Jane Harris
# Prussian Blue by Philip Kerr
# The Draughtsman by Robert Lautner
# Grace by Paul Lynch
# The Wardrobe Mistress by Patrick McGrath
# Miss Boston and Miss Hargreaves by Rachel Malik
# The Gallows Pole by Benjamin Myers
# The Horseman by Tim Pears
# The Bedlam Stacks by Natasha Pulley
The Judges said:
"This year our Prize has attracted a record number of entries, and historical fiction continues to ride a wave of publishing success. As a result, we have been able to make our selection from a body of remarkable and varied novels. In our longlist, we have attempted to represent different styles – from lyrical to experimental, and from epic to intimate.
"All human life is here, from outlaws making a living forging coins in Yorkshire's badlands, to post-war London theatre society. We hope that in representing such a richness of styles and diversity of settings, the Walter Scott Prize can bring to public attention new work, while at the same time rewarding writers at the top of their game. We're looking forward to bringing the best of these forward to shortlist in April."
# end March 2018: Academy Recommends list announced
# April 2018: Shortlist announced
# 14th-17th June 2018: Baillie Gifford Borders Book Festival, Melrose – Winner of Walter Scott Prize 2018 announced and presented
# more information on the website of the Walter Scott Prize
fleursdumal.nl magazine
More in: - Book Lovers, Archive S-T, Art & Literature News, Awards & Prizes, Literary Events, Sir Walter Scott, The Art of Reading
---
Older Entries »
Thank you for reading FLEURSDUMAL.NL - magazine for art & literature