FICTION & NON-FICTION – books, booklovers, lit. history, biography, essays, translations, short stories, columns, literature: celtic, beat, travesty, war, dada & de stijl, drugs, dead poets
·
Clemens J. Setz: Der Trost runder Dinge (Erzählungen)
·
Brabantse schrijver Jan Naaijkens (1919 – 2019) overleden
·
Majella Cullinane: Whisper of a Crow's Wing (Poetry)
·
Victor Hugo: Chanson de grand-père (Poème)
·
Antoine de Latour : Notre-Dame de Paris (Poème)
·
Arcana. A Stephen Jonas Reader
·
Ton van Reen: Het diepste blauw (097). Een roman als feuilleton
·
Hera Lindsay Bird: Pamper Me to Hell & Back (Poetry)
·
Marcel Schwob: Singeries (Poème)
·
Bas Kwakman: In poëzie en oorlog. Vijftig jaar Poetry International
·
One Hundred Lyrics and a Poem by Neil Tennant (Pet Shop Boys)
·
Victor Hugo: Il fait froid (Poème)
Ein elsässischer Soldat im Ersten Weltkrieg entdeckt am Nachthimmel das Sternbild des Großen Burschen, das so schauderhaft ist, dass er niemandem davon erzählen kann.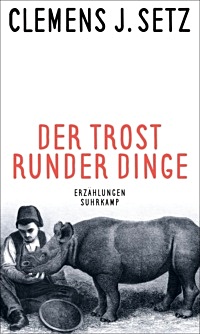 Ein junger Mann, der sich in die blinde Anja verliebt hat, muss feststellen, dass ihr Apartment von oben bis unten mit Beschimpfungen bekritzelt ist. Marcel, sechzehn Jahre alt, hinterlässt auf der Toilettenwand eines Erotiklokals seine Handynummer und den Namen Suzy.
Familie Scheuch bekommt eines Tages Besuch von einem Herrn Ulrichsdorfer, der vorgibt, in ihrem Haus aufgewachsen zu sein, und einen Elektroschocker unter seinem geliehenen Anzugjackett verbirgt.
Das ganz und gar Unerwartete bricht in das Leben von Clemens J. Setz' Figuren ein. Ihr Schöpfer erzählt davon einfühlsam, fast zärtlich. Durch Falltüren gestattet er uns Blicke auf rätselhafte Erscheinungen und in geheimnisvolle Abgründe des Alltags, man stößt auf Wiedergänger und auf Sätze, die einen mit der Zunge schnalzen lassen.
Der Trost runder Dinge ist ein Buch voller Irrlichter und doppelter Böden – radikal erzählt und aufregend bis ins Detail.
Clemens J. Setz wurde 1982 in Graz geboren, wo er Mathematik sowie Germanistik studierte und heute als Übersetzer und freier Schriftsteller lebt. 2011 wurde er für seinen Erzählband Die Liebe zur Zeit des Mahlstädter Kindes mit dem Preis der Leipziger Buchmesse ausgezeichnet. Sein Roman Indigo stand auf der Shortlist des Deutschen Buchpreises 2012 und wurde mit dem Literaturpreis des Kulturkreises der deutschen Wirtschaft 2013 ausgezeichnet. 2014 erschien sein erster Gedichtband Die Vogelstraußtrompete. Für seinen Roman Die Stunde zwischen Frau und Gitarre erhielt Setz den Wilhelm Raabe-Literaturpreis 2015.
Clemens J. Setz
Der Trost runder Dinge
Erzählungen
Erschienen: 11.02.2019
Gebunden
320 Seiten
ISBN: 978-3-518-42852-8
Suhrkamp Verlag AG
Mit Abbildungen
€ 24,00
# new books
Der Trost runder Dinge
Erzählungen
Clemens J. Setz
• fleursdumal.nl magazine
More in: #Short Stories Archive, - Book News, - Book Stories, Archive S-T, Art & Literature News, WAR & PEACE
---
Jan Naaijkens was bekend als schrijver van proza, toneel, gedichten en liedjes.
Daarnaast was hij een onderwijzer in hart en nieren. En niet te vergeten: radiopresentator, acteur, verzetsheld, én vader van 12 kinderen.
Jan Naaijkens heeft veel betekend voor de culturele emancipatie van Brabant in de periode na de Tweede Wereldoorlog.
Hij werd in februari 100 jaar oud. Op 17 april overleed Jan Naaijkens in zijn slaap.
Jan Naaijkens
(Hilvarenbeek, 10 februari 1919 – 17 april 2019)
# Meer over Jan Naaijkens in fleursdumal.nl magazine via deze link
# Link Jan Naaijkens op Wikipedia
• fleursdumal.nl magazine
More in: - Book Stories, Archive M-N, Archive M-N, Art & Literature News, AUDIO, CINEMA, RADIO & TV, Brabantia Nostra, FDM Art Gallery, In Memoriam, Jan Naaijkens, THEATRE
---
Originally from Limerick, Ireland, Majella Cullinane has lived in New Zealand since 2008.
With an MLitt in Creative Writing from St. Andrew's University, Scotland, in 2011, she published her first poetry collection, Guarding The Flame, with Salmon Poetry.

Her poems and short stories have been published in Ireland, the UK and New Zealand.
In 2014 she was awarded the Robert Burns Fellowship at Otago University, and in 2017 was the Sir James Wallace Trust/Otago University Writer in Residence at the Pah Homestead in Auckland.
She won the 2017 Caselberg International Prize for Poetry, and has been shortlisted for the Strokestown and Bridport International Poetry Prizes.
Better to consider
the small shapes in the gorgeous chaos of the world:
a snowflake flitting through the air,
swathes of blue and orange entangling the sky in their warm shawl,
glances to be tucked away like stones run smooth by rivers,
the shadows of our hands like wings, playing with the light.
Whisper of a Crow's Wing
Author: Majella Cullinane
Language: English
Poetry
Paperback
100 pages
ISBN: 9781912561360
Publisher: Salmon Publishing
1 Dec. 2018
£10.00
# more poetry
Majella Cullinane
Whisper of a Crow's Wing
• fleursdumal.nl magazine
More in: - Book News, Archive C-D, Archive C-D, Art & Literature News, Department of Ravens & Crows
---
Chanson de grand-père
Dansez, les petites filles,
Toutes en rond.
En vous voyant si gentilles,
Les bois riront.
Dansez, les petites reines,
Toutes en rond.
Les amoureux sous les frênes
S'embrasseront.
Dansez, les petites folles,
Toutes en rond.
Les bouquins dans les écoles
Bougonneront.
Dansez, les petites belles,
Toutes en rond.
Les oiseaux avec leurs ailes
Applaudiront.
Dansez, les petites fées,
Toutes en rond.
Dansez, de bleuets coiffées,
L'aurore au front.
Dansez, les petites femmes,
Toutes en rond.
Les messieurs diront aux dames
Ce qu'ils voudront.
Victor Hugo
(1802-1885)
Chanson de grand-père
(Poème)
• fleursdumal.nl magazine
More in: Archive G-H, Archive G-H, Hugo, Victor, Victor Hugo
---
La cathédrale Notre-Dame ravagée par les flammes
Le feu a pris dans les combles du monument le plus visité d'Europe un peu avant 19 heures.
Le Monde, 15 Avril 2019 à 19h50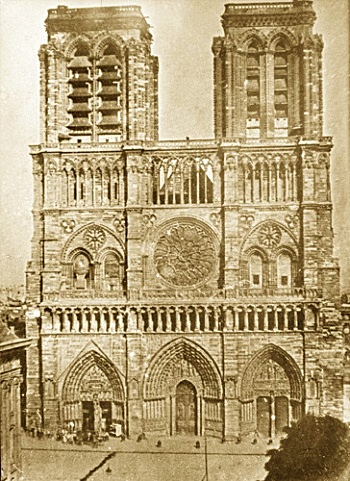 Notre-Dame de Paris
Ce poème vivant, seconde Notre-Dame,
Qui doit se voir encore debout à l'horizon,
Quand l'autre qui l'inspire et dont il prend le nom,
Aura dans la poussière exhalé sa grande âme ;
Ce colosse qu'un soir de son rêve de flamme
L'artiste a vu sortir, fait d'or et de limon,
Ce chant aux mille échos, où l'ange et le démon
Mêlent le cri du tigre au soupir de la femme ;
Ce livre de l'enfer et du ciel, le voici :
Lisez, mais si vers vous un pauvre enfant transi
Tend la main pour sa sœur qui danse sur la place,
Donnez, ne comptez pas, c'est Dieu qui comptera ;
Donnez, que votre cœur, en voyant l'humble tasse,
Se rappelle toujours la brune Esméralda.
Antoine de Latour
(1808-1881)
Poème: Notre-Dame de Paris (1835)
• fleursdumal.nl magazine
More in: #More Poetry Archives, Archive K-L, CATHEDRALS, FDM in Paris, The talk of the town
---
Arcana: A Stephen Jonas Reader is the first selection of his work to appear in 25 years.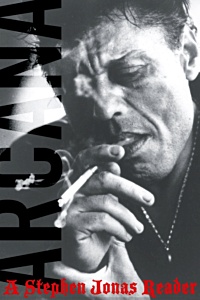 With a biographical introduction and a postscript delving into recent discoveries concerning the poet's birthplace and background, Arcana is a crucial corrective to our understanding of post-war American poetry, restoring Jonas to his rightful place among the period's vanguard.

Featuring previously uncollected and unpublished work, a section of never-before-seen facsimiles from notebooks, and a generous selection from his innovative serial poem Exercises for Ear (1968), Arcana is a much-needed retrieval of an overlooked American poet, as well as a valuable contribution to African American and Queer literature.
Beginning in the 1950s until his untimely death at age 49, Stephen Jonas (1921-1970) was an influential if underground figure of the New American Poetry. A gay, African-American poet of self-obscured origins, heavily influenced by Ezra Pound and Charles Olson, the Boston-based Jonas was a pioneer of the serial poem and an erudite mentor to such acknowledged masters as Jack Spicer and John Wieners, even as he lived a shadowy existence among drug addicts, thieves, and hustlers.

Major publications include Love, the Poem, the Sea & Other Pieces Examined by Me (1957), Exerces for Ear (1968), and Selected Poems (1994).
"A true poet of modern classic culture in mid-twentieth century U.S.A."—Allen Ginsberg
Title: Arcana
Subtitle: A Stephen Jonas Reader
Author: Stephen Jonas
Edited by Garrett Caples, Derek Fenner, David Rich, Joseph Torra
Introduction by Joseph Torra
Afterword by David Rich
Publisher: City Lights Publishers
African American poetry
Format Paperback
ISBN-10 0872867919
ISBN-13 9780872867918
Publication Date: 16 April 2019
Main content page count 264
List Price $21.95
# new books
Arcana
A Stephen Jonas Reader
• fleursdumal.nl magazine
More in: - Book News, Archive I-J, Archive I-J, Art & Literature News
---
`Zullen we doen wie het eerst bij de kerk is?' vraagt Tijger.
`Goed', zegt Mels. `Maar ik wil twintig meter voorsprong. Mijn fiets is niet zo goed als die van jou.'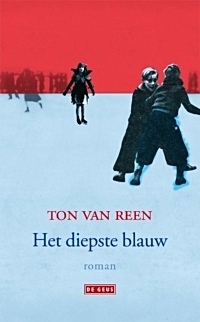 `Jij mag mijn fiets.'
`Dan starten we gelijk.'
`Jullie wachten maar op me bij de kerk', zegt Thija.
`Ik tel tot drie', roept Tijger.
Bij `drie' vliegen ze ervandoor. De betere fiets helpt Mels niet. Tijger gaat op kop. Maar Mels geeft zich nog niet gewonnen.
Ze naderen het dorp. In volle vaart schiet Tijger van het pad, zoeft rakelings langs de Wijer en vindt het pad terug. Bijna had Mels hem ingehaald.
De kerk is al dichtbij. Het pad wordt breder. Op het laatste stuk van het pad, vanaf het kerkhof tot de kerk, ligt grind. Daar kunnen ze nog harder.
Tijger zoeft de straat op. Een paar tellen later gevolgd door Mels.
Hij hoort een klap. Roepen. Schelden.
Tijger ligt bewegingloos op straat. De fiets ligt verwrongen onder het wiel van de tractor. Mensen schieten te hulp. Vrouwen met handdoeken en verband. Mannen stropen in paniek hun mouwen op.
De boer probeert de fiets onder het tractorwiel vandaan te trekken.
Mels wil naar zijn vriend, maar de mensen duwen hem aan de kant. Hij ziet hoe een straaltje bloed uit het oor van Tijger loopt.
Thija slaat een arm om Mels heen. Hij ziet haar grote ogen waar de tranen uit stromen.
`Hij is dood', horen ze de man zeggen die zijn oor aan Tijgers borst houdt.
`Hij is dood', zegt de man tegen Tijgers moeder.
`Hij is dood', fluistert Mels.
Thija's tranen vloeien langs haar hals en vormen een donkere vlek op haar lichtgroene blouse.
Een politieman stuurt alle kinderen weg. Het helpt niet als ze zeggen dat Tijger hun vriend is.
`Jullie moeten weg', zegt de agent. `En hij heet geen Tijger. Hij heet Bart.'
Ze gaan op de bank voor de kerk zitten en zien hoe een ambulance voorrijdt, hoe Tijger op een brancard wordt gelegd en hoe hij het dorp uit wordt gereden.
De moeder van Mels komt naar hem en Thija toe, gaat bij hen zitten en legt een arm om hen heen. Samen zitten ze op de bank, totdat het donker wordt. En dan blijven ze ook nog zitten, omdat ze weer moeten huilen als ze steeds opnieuw het ijselijke gillen van Tijgers moeder horen. De dokter is bij haar, en de pastoor, maar geen pillen en geen gebeden krijgen haar stil.
Dan komt ook de moeder van Thija bij hen zitten. Zo zitten ze daar uren, in het almaar killer wordende maanlicht. En opeens begint Thija's moeder te vertellen in haar wonderlijke taal die een mengeling is van Engels, Nederlands, Chinees en gebarentaal. Haar woorden verdoven de pijn. Ze vertelt dat ze als meisje leerde zwemmen in de Jangtsekiang. Dat ze als kind met haar ouders uit China is gevlucht, en dat ze het niet erg vindt om niet in China te wonen, maar dat ze zo dolgraag dat plekje aan de Gele Rivier terug zou willen zien.
Pas als beide wijzers van de kerkklok op twaalf staan, gaan ze naar huis.
Als Thija wegloopt, ziet Mels weer hoe dun ze is. Ze is niet meer dan vel over been.
De volgende ochtend wordt er op school over Tijger gesproken. De juf vertelt verhalen over de overstap van het leven naar de dood. En dan moeten ze allemaal huilen. De juf kan zo goed vertellen dat zelfs de meisjes die een hekel hadden aan Tijger moeten huilen.
Ze maken een rouwkrans en leggen die op Tijgers bank. Daar zal hij de rest van het schooljaar blijven liggen.
Na school gaan Mels en Thija naar het molenhuis van grootvader Bernhard.
Ze klimmen naar de doodstille zolder.
`Hoe gaat het in China als kinderen doodgaan?' vraagt Mels.
`Vraag je dat aan mij?'
`Jij was er toch? Tenminste, jouw moeder.'
`Kinderen begraven ze in glazen kisten.'
`Net als Sneeuwwitje?'
`Soms worden ze verbrand, zodat de ziel van de overledene terug kan keren in een ander lichaam.'
`Kan Tijger dat ook?'
`Hij zal wel moeten', zegt Thija. `We kunnen niet zonder hem.'
Mels ziet dat er tranen in haar ogen staan en daarom moeten ze opeens weer allebei huilen.
`Hij moet terugkomen', zegt Mels.
`Misschien is hij al terug.' Thija wijst op de grote vlinder die op de ruit gaat zitten en met zijn grote gekleurde vleugels naar hen wuift.
`Zo'n grote kapel heb ik hier nog nooit gezien', zegt Mels. `Kapellen zijn heel zeldzaam. Denk je écht dat hij het is?'
`Ik denk het wel', zegt Thija. `In China leven de zielen van gestorven kinderen ook voort in vlinders. En dan vliegen ze wuivend door het dorp. Je ziet toch dat hij naar ons wuift! Ik vind het echt iets voor Tijger.'
Bij de begrafenis loopt Thija aan de hand van haar moeder. Mels loopt ingehaakt in de arm van zijn moeder, die zachtjes huilt, maar toch zo hard dat iedereen het hoort. Ze kan er niets aan doen.
Mels huilt niet. En ook Thija huilt niet meer. Het meer achter haar ogen is leeg. Maar haar ogen staan schuiner dan ooit, alsof ze bij de begrafenis van Tijger extra mooi wil zijn.
De kist van Tijger wordt gedragen door mannen uit de buurt.
Het hele dorp loopt van de kerk naar het kerkhof. Ook de boer die Tijger doodgereden heeft. Hij heeft een vreemd bleek voorhoofd, precies waar zijn pet gewoonlijk staat, de rest van zijn gezicht is bruingebrand door de zon. Hij houdt de pet in de hand en knijpt hem bijna fijn.
De mannen laten Tijgers kist in het graf zakken. Mels probeert naar zichzelf te luisteren, maar zo stil is het in zijn hoofd nog nooit geweest.
Thija fluistert iets. Haar mond gaat open. Ze wijst. Dan pas ziet hij de kapel met grote gekleurde vleugels die over het kerkhof vliegt en tussen de bomen verdwijnt. Tijger is voorgoed vertrokken.
Ton van Reen: Het diepste blauw (097)
wordt vervolgd
• fleursdumal.nl magazine
More in: - Book News, - Het diepste blauw, Archive Q-R, Reen, Ton van
---
Love, death, Bruce Willis, public urination, being a woman, love, The Nanny, love.

This pamphlet of poetry by Hera Lindsay Bird is a startling departure from her bestselling debut Hera Lindsay Bird by defying convention and remaining exactly the same, only worse. This collection, which focuses on love, childish behaviours, 90's celebrity references and being a woman, is sure to confirm all your worst suspicions and prejudices.
Selected in 2018 by Carol Ann Duffy as part of the Laureate's Choice Collection.  Carol Ann Duffy: "Without doubt the most arresting and original new young poet – on page and in performance – to arrive." 
Hera Lindsay Bird was born in Thames, NZ, in 1987 and lives in Wellington. Her debut book of verse, blithely titled Hera Lindsay Bird, was published in 2016 to immediate and vast acclaim, and won best first book of poetry at the 2017 Ockham New Zealand Book Awards.
Pamper Me to Hell & Back
Author: Hera Lindsay Bird
Published by Smith/Doorstop
(The Poetry Business)
Language: English
ISBN-10: 1910367842
ISBN-13: 978-1910367841
Paperback
30 pages
2018
£7.50
# new poetry
Hera Lindsay Bird
Pamper Me to Hell & Back
• fleursdumal.nl magazine
More in: - Book News, - Bookstores, Archive A-B, Archive A-B, Art & Literature News
---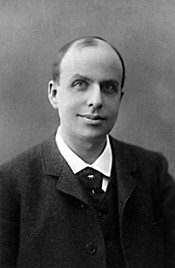 Singeries
Quand je te vois penché, mon mignon, tout en nage,
Sur le croûton de pain qui te sert de joujou,
Je me repens, mon Dieu, d'avoir pris pour un page
Ce qui n'était pourtant qu'un affreux sapajou.
C'est un maki mordant ses dix doigts avec rage,
Ce faune gentillet, taillé comme un bijou,
Un ouistiti grimpant aux barreaux de sa cage,
Un macaque à poil ras, un singe en acajou.
Ton masque enluminé, sillonné de grimaces,
Semble servir d'album à croquis aux limaces
Pour crayonner l'argent de leurs chemins crochus.
Et les casques noircis qui couronnent tes ongles,
Piqués dans tes cheveux brouillés comme des jungles,
Font penser que tu dois avoir les pieds fourchus.
Marcel Schwob
(1867-1905)
Singeries
Juin 1888
• fleursdumal.nl magazine
More in: #Editors Choice Archiv, Archive S-T, Archive S-T, Marcel Schwob
---
In In poëzie en oorlog onthult directeur Bas Kwakman van Poetry International op verrassende en soms ontluisterende wijze de wereld van de poëzie.

Daarbij ontziet de schrijver niets en niemand, ook zichzelf niet. In poëzie en oorlog is alles geoorloofd.
Leidraad is de geschiedenis van het Poetry International Festival in Rotterdam, dat in 1970 in anarchie werd geboren en inmiddels wereldwijd een van de belangrijkste ontmoetingsplaatsen voor dichters en poëzieliefhebbers is geworden.
Gedreven door de liefde voor poëzie en een gezonde argwaan jegens het menselijke bedrijf daarachter beschrijft Kwakman met warmte, humor, kennis en verbazing zijn unieke ervaringen in de bijzondere wereld tussen de versregels.
Auteur: Bas Kwakman
In poëzie en oorlog.
Vijftig jaar Poetry International
Uitgeverij: De Arbeiderspers
NUR: 320
Paperback
ISBN: 9789029525602
Taal: Nederlands
Bladzijden: 400 pp.
Paperback
Literaire non-fictie
Prijs: € 24,99
Publicatiedatum: 21-05-2019
# new books
In poëzie en oorlog.
Vijftig jaar Poetry International
Bas Kwakman
• fleursdumal.nl magazine
More in: #More Poetry Archives, - Book Lovers, - Book News, Archive K-L, Art & Literature News, MODERN POETRY, Poetry International
---
Over a career that spans four decades and thirteen studio albums with Pet Shop Boys, Neil Tennant has consistently proved himself to be one of the most elegant and stylish of contemporary lyricists.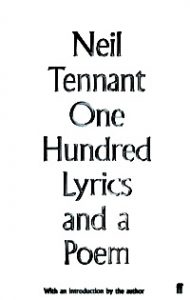 Arranged alphabetically, One Hundred Lyrics and a Poem presents an overview of his considerable achievement as a chronicler of modern life: the romance, the break-ups, the aspirations, the changing attitudes, the history, the politics, the pain.
The landscape of Tennant's lyrics is recognisably British in character – restrained and preoccupied with the mundane, occasionally satirical, yet also yearning for escape and theatrical release.
Often surprisingly revealing, this volume is contextualised by a personal commentary on each lyric and an introduction by the author which gives a fascinating insight into the process and genesis of writing.
Flamboyant, understated, celebratory and elegiac, Neil Tennant's lyrics are a document of our times.
Everything I've ever done
Everything I ever do
Every place I've ever been
Everywhere I'm going to
One Hundred Lyrics and a Poem
Neil Tennant
Hardback
272 pages
English
Poetry
Published 01/11/2018
ISBN13 9780571348909
Publisher Faber & Faber Inc.
18,99 euro
# new books
One Hundred Lyrics and a Poem
Neil Tennant
• fleursdumal.nl magazine
More in: Archive S-T, Archive S-T, Art & Literature News, AUDIO, CINEMA, RADIO & TV, Pet Shop Boys
---
Il fait froid
L'hiver blanchit le dur chemin
Tes jours aux méchants sont en proie.
La bise mord ta douce main ;
La haine souffle sur ta joie.
La neige emplit le noir sillon.
La lumière est diminuée…
Ferme ta porte à l'aquilon !
Ferme ta vitre à la nuée !
Et puis laisse ton coeur ouvert !
Le coeur, c'est la sainte fenêtre.
Le soleil de brume est couvert ;
Mais Dieu va rayonner peut-être !
Doute du bonheur, fruit mortel ;
Doute de l'homme plein d'envie ;
Doute du prêtre et de l'autel ;
Mais crois à l'amour, ô ma vie !
Crois à l'amour, toujours entier,
Toujours brillant sous tous les voiles !
A l'amour, tison du foyer !
A l'amour, rayon des étoiles !
Aime, et ne désespère pas.
Dans ton âme, où parfois je passe,
Où mes vers chuchotent tout bas,
Laisse chaque chose à sa place.
La fidélité sans ennui,
La paix des vertus élevées,
Et l'indulgence pour autrui,
Eponge des fautes lavées.
Dans ta pensée où tout est beau,
Que rien ne tombe ou ne recule.
Fais de ton amour ton flambeau.
On s'éclaire de ce qui brûle.
A ces démons d'inimitié
Oppose ta douceur sereine,
Et reverse leur en pitié
Tout ce qu'ils t'ont vomi de haine.
La haine, c'est l'hiver du coeur.
Plains-les ! mais garde ton courage.
Garde ton sourire vainqueur ;
Bel arc-en-ciel, sors de l'orage !
Garde ton amour éternel.
L'hiver, l'astre éteint-il sa flamme ?
Dieu ne retire rien du ciel ;
Ne retire rien de ton âme !
Victor Hugo
(1802-1885)
Il fait froid
(Poème)
• fleursdumal.nl magazine
More in: Archive G-H, Archive G-H, Hugo, Victor, Victor Hugo
---
Older Entries »
Thank you for reading FLEURSDUMAL.NL - magazine for art & literature