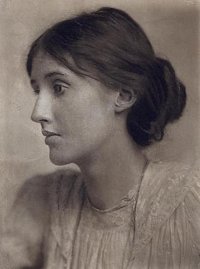 Virginia Woolf: Monday or Tuesday
Table of Contents
1 A Haunted House
2 A Society
3 Monday or Tuesday
4 An Unwritten Novel
5 The String Quartet
6 Blue & Green
7 Kew Gardens
8 The Mark on the Wall
Virginia Woolf
(1882-1941)
1. A Haunted House
(from: Monday or Tuesday)
Whatever hour you woke there was a door shutting. From room to room they went, hand in hand, lifting here, opening there, making sure — a ghostly couple.
"Here we left it," she said. And he added, "Oh, but here too!" "It's upstairs," she murmured. "And in the garden," he whispered "Quietly," they said, "or we shall wake them."
But it wasn't that you woke us. Oh, no. "They're looking for it; they're drawing the curtain," one might say, and so read on a page or two. "Now they've found it," one would be certain, stopping the pencil on the margin. And then, tired of reading, one might rise and see for oneself, the house all empty, the doors standing open, only the wood pigeons bubbling with content and the hum of the threshing machine sounding from the farm. "What did I come in here for? What did I want to find?" My hands were empty. "Perhaps it's upstairs then?" The apples were in the loft. And so down again, the garden still as ever, only the book had slipped into the grass.
But they had found it in the drawing room. Not that one could ever see them. The window panes reflected apples, reflected roses; all the leaves were green in the glass. If they moved in the drawing room, the apple only turned its yellow side. Yet, the moment after, if the door was opened, spread about the floor, hung upon the walls, pendant from the ceiling — what? My hands were empty. The shadow of a thrush crossed the carpet; from the deepest wells of silence the wood pigeon drew its bubble of sound. "Safe, safe, safe," the pulse of the house beat softly. "The treasure buried; the room . . . " the pulse stopped short. Oh, was that the buried treasure?
A moment later the light had faded. Out in the garden then? But the trees spun darkness for a wandering beam of sun. So fine, so rare, coolly sunk beneath the surface the beam I sought always burnt behind the glass. Death was the glass; death was between us; coming to the woman first, hundreds of years ago, leaving the house, sealing all the windows; the rooms were darkened. He left it, left her, went North, went East, saw the stars turned in the Southern sky; sought the house, found it dropped beneath the Downs. "Safe, safe, safe," the pulse of the house beat gladly. "The Treasure yours."
The wind roars up the avenue. Trees stoop and bend this way and that. Moonbeams splash and spill wildly in the rain. But the beam of the lamp falls straight from the window. The candle burns stiff and still. Wandering through the house, opening the windows, whispering not to wake us, the ghostly couple seek their joy.
"Here we slept," she says. And he adds, "Kisses without number." "Waking in the morning —" "Silver between the trees —" "Upstairs —" "In the garden —" "When summer came —" "In winter snowtime —" The doors go shutting far in the distance, gently knocking like the pulse of a heart.
Nearer they come; cease at the doorway. The wind falls, the rain slides silver down the glass. Our eyes darken; we hear no steps beside us; we see no lady spread her ghostly cloak. His hands shield the lantern. "Look," he breathes. "Sound asleep. Love upon their lips."
Stooping, holding their silver lamp above us, long they look and deeply. Long they pause. The wind drives straightly; the flame stoops slightly. Wild beams of moonlight cross both floor and wall, and, meeting, stain the faces bent; the faces pondering; the faces that search the sleepers and seek their hidden joy.
"Safe, safe, safe," the heart of the house beats proudly. "Long years —" he sighs. "Again you found me." "Here," she murmurs, "sleeping; in the garden reading; laughing, rolling apples in the loft. Here we left our treasure —" Stooping, their light lifts the lids upon my eyes. "Safe! safe! safe!" the pulse of the house beats wildly. Waking, I cry "Oh, is this your buried treasure? The light in the heart."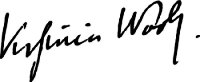 Monday or Tuesday, by Virginia Woolf
1. A Haunted House
fleursdumal.nl magazine
More in: - Monday or Tuesday, Archive W-X, Woolf, Virginia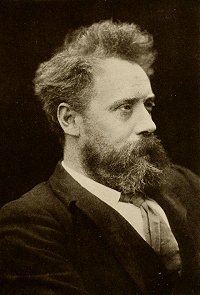 William Ernest Henley
(1849-1903)
Out Of The Night That Covers Me
(Invictus)
Out of the night that covers me,
Black as the pit from pole to pole,
I thank whatever gods may be
For my unconquerable soul.
In the fell clutch of circumstance
I have not winced nor cried aloud.
Under the bludgeonings of chance
My head is bloody, but unbowed.
Beyond this place of wrath and tears
Looms but the Horror of the shade,
And yet the menace of the years
Finds, and shall find, me unafraid.
It matters not how strait the gate,
How charged with punishments the scroll,
I am the master of my fate:
I am the captain of my soul.
William Ernest Henley poetry
fleursdumal.nl magazine
More in: Archive G-H, CLASSIC POETRY
Arthur Rimbaud
(1854-1891)
Démocratie
« Le drapeau va au paysage immonde, et notre patois étouffe le tambour.
« Aux centres nous alimenterons la plus cynique prostitution. Nous massacrerons les révoltes logiques.
« Aux pays poivrés et détrempés ! — au service des plus monstrueuses exploitations industrielles ou militaires.
« Au revoir ici, n'importe où. Conscrits du bon vouloir, nous aurons la philosophie féroce ; ignorants pour la science, roués pour le confort ; la crevaison pour le monde qui va. C'est la vraie marche. En avant, route ! »
Arthur Rimbaud poetry
fleursdumal.nl magazine
More in: Archive Q-R, Rimbaud, Arthur, Rimbaud, Arthur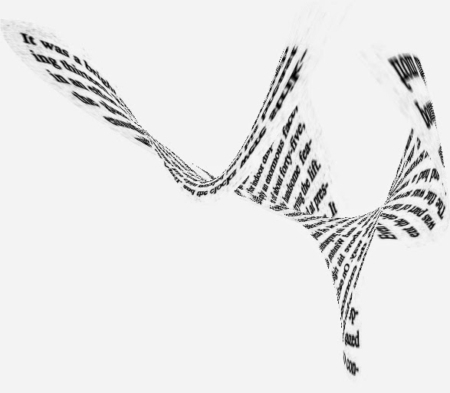 Mathias Jansson ©: From the series Impossible Literature Universe: 1984 by Orwell.
Mathias Jansson is a Swedish art critic and poet. He has contributed to visual poetry to magazines as Lex-ICON, Anatematiskpress, Quarter After #4 and Maintenant 8: A Journal of Contemporary Dada. He also published a chapbook with visual poetry and contributed with erasure poetry to anthologies from Silver Birch Press.
fleursdumal.nl magazine
More in: Jansson, Mathias, Mathias Jansson, Mathias Jansson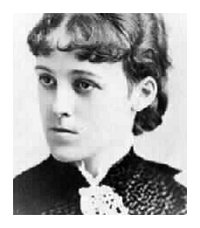 Edith Wharton
(1862-1937)
Mona Lisa
Yon strange blue city crowns a scarped steep
No mortal foot hath bloodlessly essayed:
Dreams and illusions beacon from its keep.
But at the gate an Angel bares his blade;
And tales are told of those who thought to gain
At dawn its ramparts; but when evening fell
Far off they saw each fading pinnacle
Lit with wild lightnings from the heaven of pain;
Yet there two souls, whom life's perversities
Had mocked with want in plenty, tears in mirth,
Might meet in dreams, ungarmented of earth,
And drain Joy's awful chalice to the lees.
Edith Wharton poetry
fleursdumal.nl magazine
More in: Archive W-X, CLASSIC POETRY
Karl May
(1842-1912)
Trost
Horch, klopfte es nicht an die Pforte?
Wer naht, von Himmelsduft umrauscht?
Woher des Trostes süße Worte,
Auf die mein Herz voll Andacht lauscht?
Wer neigt, wenn alle Sterne sanken,
Mit mildem Licht und stiller Huld
Sich zu dem Staub- und Erdenkranken?
Es ist der Engel der Geduld.
»O laß den Gram nicht mächtig werden,
Du tiefbetrübtes Menschenkind!
Wiß', daß die Leiden dieser Erden
Des Himmels beste Gaben sind
Und daß, wenn Sorgen Dich umwogen
Und Dich umhüllt des Zweifels Nacht,
Dort an dem glanzumfloss'nen Bogen
Ein treues Vaterauge wacht!«
»O laß Dir nicht zu Herzen steigen
Die langverhaltne Thränenfluth!
Wiß, daß grad in den schmerzensreichen
Geschicken tiefe Weisheit ruht,
Und daß, wenn sonst Dir Nichts verbliebe,
Die Hoffnung doch Dir immer lacht,
Da über Dich in ew'ger Liebe
Ein treues Vaterauge wacht!«
»O wolle nie Dich einsam fühlen!
Obgleich kein Aug' sie wandeln sah,
Die sorgenheiße Stirn zu kühlen
Sind Himmelsboten immer da.
Wer gern dem eignen Herzen glaubte,
Der kennt des Pulses heilige Macht.
Drum wiß, das über Deinem Haupte
Ein treues Vaterauge wacht!«
»Drum füge Dich in Gottes Walten
Und trag Dein Leid getrost und still.
Es muß im Dunkel sich gestalten,
Was er zum Lichte führen will.
Dann bringt der Glaube reichen Segen,
Ob ihn der Zweifler auch verlacht,
Daß über allen Deinen Wegen
Ein treues Vaterauge wacht!«
Karl May poetry
fleursdumal.nl magazine
More in: Archive M-N, Karl May

Buiten hoorde Angela het roepen van Josanna. Met slimme vragen probeerde de heks de anderen uit te dagen, zodat ze een geluid zouden maken waardoor ze zich zouden verraden. Céleste begreep dat Josanna hen uit de tent wilde lokken.
Hoewel ze een hand voor de mond van Irma hield toen de heks het kleine kind op stang joeg met venijnige praatjes, ontsnapte het kind toch een kreet, waarna Josanna de twee gemakkelijk kon vinden. Terwijl de heks omzichtig op haar tenen tot voorbij de pompbak sloop, kwam Margarita uit de ligusters tevoorschijn en kon aftikken. Wat de heks een aanval van woede bezorgde, vooral omdat ze geen spoor van Angela vond. Nadat ze tot vervelens toe plein en omgeving had afgezocht, begreep ze dat haar zusje zich ergens in Chiles Plaats verborgen moest houden. Zo hard ze kon riep ze dat Angela een geluid moest laten horen. Angela wilde dat ook wel maar durfde niet. Ten einde raad besloot de heks in de gebouwen van Chile te gaan zoeken. Ze durfde er echter niet alleen heen en vroeg Céleste met haar mee te gaan. Hand in hand liepen ze de schuur in. Angela zag hen binnenkomen. Ze hield de adem in. Elysee schrok wakker door het lawaai van de klapperende deur. Hij opende de ogen en zag de meisjes. Kwamen ze voor hem? Langzaam liet hij zijn opgetrokken been een eind zakken. `Pas op!' gilde Angela. De meisjes schrokken. Nu pas zagen ze de man die in het halfdonker stond, tussen hen en Angela in. Net een vogelverschrikker die in de schuur was opgeborgen. Angela holde naar Céleste toe. Elysee kon zich wel voor zijn kop slaan dat hij had geslapen. Als hij wakker was geweest, had hij die mooie dochter van de slager een beurt kunnen geven. Zo'n lekker groen bloempje mocht hij wel. Voordat iemand haar zou missen, had hij al lang en breed het dorp uit kunnen zijn. `Waarom schreeuw je zo? Ik doe je toch niks', meesmuilde hij. `Waarom zou je bang zijn voor een arme invalide man?' `Je had je hier nooit mogen verbergen', zei Céleste verwijtend tegen Angela. `Je weet toch dat het in Chiles Plaats gevaarlijk is.' `Bij mij is iedereen veilig', viel de waarzegger uit. Céleste reageerde niet. Ze wilde de schuur verlaten. `Hé meid, moet je wat over je toekomst weten?' riep Elysee haar na, het zwevende been langzaam op de grond plantend. De cafémeid bleef ver van hem vandaan staan. `Je hoeft niet bang te zijn', grinnikte hij. `Een mens is maar een mens', zei hij nog, maar het woord `mens' kwam zo gorgelend uit zijn keel dat hij ook pens of lens had kunnen zeggen. Céleste kende hem te goed. Ze had wel degelijk angst voor hem. `Ik doe je niks', zei hij, hoewel hij nog steeds de enige was die gesproken had. `Vogeltjes doe ik niks.'
Het was duidelijk dat hij loog. Als hij op dit moment een vogeltje in zijn handen had gehad, zou hij het zeker de nek hebben omgedraaid, getuige het venijnige lachje rond zijn mond. `Ik wil je hand wel eens zien', zei hij tegen Céleste. `Ik wil wel eens zien wat er van jou terecht moet komen.' Hij zei het zo geringschattend dat Céleste kwaad leek te worden. Ze zag hoe hij lachte. Zijn kraanvogelbek ging open en dicht, een beetje vals. God weet kon hij er ook niets aan doen en lachte hij alleen maar zo omdat hij met dat lachje om zijn bek was geboren. `Aan de lijnen in je hand kan ik zien wat je te wachten staat. Meestal is dat niet veel goeds, maar je weet nooit', zei hij. Céleste vond hem hinderlijk. Zo was hij altijd. Hij schoot haar vaker aan om haar de toekomst te voorspellen. Steeds had ze gedaan of ze hem niet hoorde of zag. Om van het gedonder af te zijn besloot ze hem haar hand te laten zien. Ze stak haar arm uit. Elysee greep haar ruw vast. Hij zag er weerzinwekkend uit. Werd plotseling ernstig en streelde de palm van haar hand aandachtig, met langzame bewegingen. Ze voelde zijn nagels over haar huid krassen en huiverde. `Laat je hand maar zakken', zei hij plotseling kil. `Ik heb het al gezien.' Hij wendde zich lomp van haar af, liep naar buiten en riep zijn ezel. Het dier kwam aandraven, bleef even voor de schuurdeur staan en kwam toen binnen, de kop laag hangend, alsof hij het ergste verwachtte. Elysee verkocht de ezel een trap onder zijn reet, zodat het beest een sprong zijwaarts maakte en als een scheef gespeeld hobbelpaard op en neer bleef hinken. Om het dier stil te laten staan schopte hij hem nog eens in het kruis, alsof de ezel schuld aan alles had. `En?' vroeg Céleste, omdat de waarzegger zijn mond verder dichthield.
Ton van Reen: Landverbeuren (28)
wordt vervolgd
fleursdumal.nl magazine
More in: - Landverbeuren, Reen, Ton van
esther
porcelijn
Man verdronken
Borislav de Pool is te water geraakt.
Hij had teveel gedronken maar had toch nog dorst.
Piet, de havenmeester, heeft hem nog geprobeerd te helpen, maar tevergeefs.
Misschien was hij ongelukkig,
Misschien was hij verward,
Misschien wist hij niet wat onder was of boven
Misschien was hij de gelukkigste man op aarde
Water inademen kan wel, maar je gaat er zo dood van.
Het schijnt fijn te voelen.
Elk hoekje van je longen gevuld, het is dikker dan lucht
Eindelijk adem je eens echt goed in. Een, twee, drie, klaar.
Ineens was hij verdwenen.
Wat zou hij op het laatst hebben gedacht?
Zou hij zijn familie in Polen hebben gemist? Aan zijn vrouw gedacht die hem op straat had gezet? Aan zijn dochtertje dat hij een pony had beloofd?
Wat is het waard om de leegte te verdrinken als er niets na komt?
Drinken drinken drinken, een groot rietje nodig voor deze haven.
Hij is aangelegd, voorgoed verlost en nooit meer dorstig.
Zijn moeder heeft hem gekregen in het water
En daar is hij nu naar teruggekeerd
Esther Porcelijn, 2014
fleursdumal.nl magazine
More in: Porcelijn, Esther, Porcelijn, Esther
Hans Hermans © photos: History of  Britain
( Exmoor National Park, Woody Bay 2014)
fleursdumal.nl magazine
More in: Hans Hermans Photos, History of Britain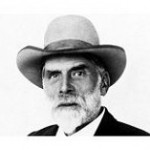 Robert Bridges
(1844 – 1930)
Wooing
I know not how I came,
New on my knightly journey,
To win the fairest dame
That graced my maiden tourney.
Chivalry's lovely prize
With all men's gaze upon her,
Why did she free her eyes
On me, to do me honour?
Ah! ne'er had I my mind
With such high hope delighted,
Had she not first inclined,
And with her eyes invited.
But never doubt I knew,
Having their glance to cheer me,
Until the day joy grew
Too great, too sure, too near me.
When hope a fear became,
And passion, grown too tender,
Now trembled at the shame
Of a despised surrender;
And where my love at first
Saw kindness in her smiling,
I read her pride, and cursed
The arts of her beguiling.
Till winning less than won,
And liker wooed than wooing,
Too late I turned undone
Away from my undoing;
And stood beside the door,
Whereto she followed, making
My hard leave-taking more
Hard by her sweet leave-taking.
Her speech would have betrayed
Her thought, had mine been colder:
Her eyes' distress had made
A lesser lover bolder.
But no! Fond heart, distrust,
Cried Wisdom, and consider:
Go free, since go thou must:–
And so farewell I bid her.
And brisk upon my way
I smote the stroke to sever,
And should have lost that day
My life's delight for ever:
But when I saw her start
And turn aside and tremble;–
Ah! she was true, her heart
I knew did not dissemble.
Robert Bridges poetry
fleursdumal.nl magazine
More in: Archive A-B, Bridges, Robert
"Toen de bleke, felle bliksems kwamen die hun
harpoenen plantten in jouw hart en vier takken
woedend versplinterden, sapstromen dempten
die opstijgen wilden na de winter, wachtte,
grote beuk, achter je de kuil (doodkalm kraken
slaapt in het veld) slechts voor jou daar gegraven."
(uit: 'Laaglandse hymnen', 2002)
Vannacht is de dichter H.H. ter Balkt in zijn woonplaats Nijmegen overleden. Ter Balkt (Usselo, 17 september 1938 – Nijmegen, 9 maart 2015) begon zijn carrière in 1969 onder het pseudoniem Habakuk II de Balker, met de bundel Boerengedichten.
Hij ontving vele prijzen, waar onder de P.C. Hooft-prijs en de Constantijn Huygens-prijs. De meeste van de ruim dertig dichtbundels die Ter Balkt publiceerde, verschenen bij Uitgeverij De Bezige Bij.
Bibliografie
1969 – Boerengedichten ofwel Met de boerenbijl
1970 – Uier van het Oosten
1972 – De gloeilampen, De varkens
1973 – Groenboek
1973 – Zwijg (roman, onder het pseudoniem Foel Aos of Habakuk II)[1]
1974 – Ikonen
1975 – Oud gereedschap mensheid moe
1976 – De vliegen dragen de zomer
1977 – Helgeel landjuweel
1978 – Joseph Beuys
1979 – Waar de burchten stonden en de snoek zwom

1982 – Machines!: maai ons niet, maai de rogge
1983 – Hemellichten
1984 – How to Start a Wine Cellar, selected poems 1969-1984 (Engelse bloemlezing uit het werk)
1986 – Verkeerde raadhuizen
1987 – Aardes deuren
1990 – Het Strand van Amsterdam
1990 – In de kalkbranderij van het absolute
1991 – Laaglandse hymnen
1992 – Ode aan de grote kiezelwal en andere gedichten
1993 – Het bonenstro
1998 – Tegen de bijlen: oden en anti-oden
2000 – In de waterwingebieden (gedichten 1953-1999)
2002 – Laaglandse hymnen II
2003 – Anti-canto's
2003 – Laaglandse hymnen I – III
2004 – Anti-canto's en De Astatica
2007 – Zwijg / De gedenatureerde delta (roman uit 1973 en verzamelde kritieken)
2008 – Vuur
2010 – Onder de bladerkronen
2011 – Vliegtuigmagneet
2014 – Hee hoor mij ho simultaan op de brandtorens (verzamelde gedichten)
fleursdumal.nl magazine
More in: Archive A-B, Balkt, H.H. ter, In Memoriam
Raymond Radiguet
(1903-1923)
Bouquet de flammes . . .
Bouquet de flammes (que délie
Des faveurs l'innocent larcin)
Où se noyer en compagnie
Des colombes de la Saint Jean.
De l'eau qui ne peut en son lit
Obtenir la tranquillité,
Et des feux oisifs qui s'ennuient
Loin des lieux par Vénus hantés,
Roucoulent les vagues, singeant
Dans leur adorable colère
Un sein qui se gonfle de lait.
Ou de désir ? Plutôt cela.
Raymond Radiguet poésie
fleursdumal.nl magazine
More in: Archive Q-R, Radiguet, Raymond
Thank you for reading FLEURSDUMAL.NL - magazine for art & literature