Anton Eijkens
Vademecum van een liefhebber (08)
In de marge van de menukaart
Poulet de grain Rôti
Een kip die als een engel vliegen wil,
vergist zich evenzeer
als engelen die zich wagen in
het culinair verkeer.
Want ieder past de eigen plaats
die hem gegeven wordt:
de engelen in hoger sfeer,
de kippen op ons bord.
Gratin de Fruits
Zoals dit kostelijk fruit
het kil seizoen trotseert,
wens ik U vriendschap toe
die tijdeloos floreert.
Polonaise aux cérises
Soms maken wij elkander
een Poolse landdag klaar,
waar elk zijn eigen kersen
roemt als de beste waar.
Hetgeen tot droef gevolg heeft
dat niemands woord beklijft
en 't mensdom met de peren
(gebakken) zitten blijft.
Moka – Liqueurs
Men keert naar huis met weemoed
om 't voorbijgaan van de dingen,
maar ergens in een donkere boom
gaat al een vogel zingen
en wekt een nieuwe droom.
Anton Eijkens: Vademecum van een liefhebber (08)
wordt vervolgd
kempis.nl poetry magazine
More in: Eijkens, Anton
William Shakespeare
(1564-1616)
THE SONNETS
98
From you have I been absent in the spring,
When proud-pied April (dressed in all his trim)
Hath put a spirit of youth in every thing:
That heavy Saturn laughed and leaped with him.
Yet nor the lays of birds, nor the sweet smell
Of different flowers in odour and in hue,
Could make me any summer's story tell:
Or from their proud lap pluck them where they grew:
Nor did I wonder at the lily's white,
Nor praise the deep vermilion in the rose,
They were but sweet, but figures of delight:
Drawn after you, you pattern of all those.
Yet seemed it winter still, and you away,
As with your shadow I with these did play.

kempis.nl poetry magazine
More in: -Shakespeare Sonnets
Poëzietegelproject in Gilze-Rijen
In november komen er in het Wilhelminaplein in Rijen drie grote tegels te liggen met daarin uitgehakte gedichten. Dat is een project van de gemeentelijke Kunstcommissie. Die ziet dat als een mooi vervolg op de gevelgedichten die inmiddels op verschillende plaatsen in de gemeente zijn aangebracht. Op de tegels komen gedichten van Judith Herzberg, H. Marsman en Bert Schierbeek. De gedichten zijn vormgegeven door Monique Beljaars, Karel Mol en Aleid van Kooten. Zij zullen ook het 'hakwerk' voor hun rekening nemen en worden daarbij begeleid door de Rijense beeldhouwer Adriaan Seelen.
Op zaterdag 24 september 2011 gaan zij in het atelier van Adriaan Seelen met de tegelgedichten aan de slag. Het atelier is die dag open voor bezoekers van 9.30 uur tot 17.00 uur. Het adres is Heistraat 3 in Rijen.
VLAM
Schuimende morgen
en mijn vuren lach
drinkt uit ontzaggelijke schalen
van lucht en aarde
den opalen dag
H. Marsman
fleursdumal.nl magazine
More in: Archive M-N, Marsman, Hendrik, Street Art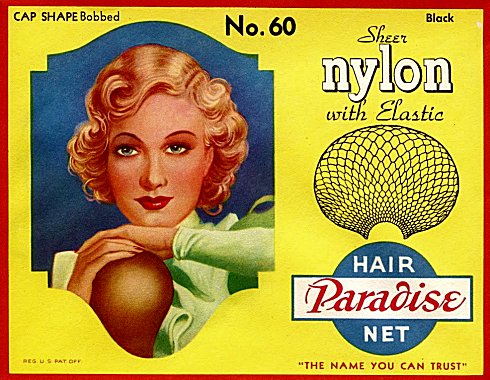 Paradise hair net
Ready-mades – kempis.nl poetry magazine
More in: - Objets Trouvés (Ready-Mades)
Prinses Máxima nam
Alle gedichten van Borges
in ontvangst
Op 21 september heeft Hare Koninklijke Hoogheid Prinses Máxima der Nederlanden het eerste exemplaar van Alle gedichten van de Argentijnse dichter Jorge Luis Borges in ontvangst genomen, uit handen van de vertalers Maarten Steenmeijer en Barber van de Pol. De overhandiging vond plaats in het woonhuis van Prinses Máxima, De Eikenhorst.
Jorge Luis Borges (Buenos Aires, 1899 – 1986) verwierf vooral wereldfaam met zijn verhalen, verzameld in De Aleph en andere verhalen. Hij geldt als de belangrijkste Zuid-Amerikaanse prozaschrijver van de twintigste eeuw.
Toch zag hij zichzelf in de eerste plaats als dichter. Met name in de laatste dertig jaar van zijn leven schreef hij graag poëzie. Vanaf de jaren veertig raakte hij langzamerhand blind. Hierdoor was hij tijdens het schrijven niet alleen veel meer aangewezen op zijn geheugen en op kortere geschriften, ook gaf poëzie hem de mogelijkheid persoonlijker te zijn dan proza.
Een groot deel van zijn poëzie is nooit in Nederlandse vertaling verschenen. In Alle gedichten is voor het eerst al zijn poëzie opgenomen, in het Nederlands en in het Spaans, ongeveer vijfhonderd gedichten in totaal. Vertalers Barber van de Pol en Maarten Steenmeijer werkten enkele jaren intensief met elkaar samen om deze vertaling tot stand te brengen.
Jorge Luis Borges verwierf pas wereldfaam toen hij al 61 jaar oud was. Op die leeftijd, in 1961, werd hem, samen met Samuel Beckett, de Prix Formentor toegekend, en vanaf die tijd verschenen zijn verhalen in vertaling overal ter wereld, ook in Nederland.
Hij werd een van de boegbeelden van uitgeverij De Bezige Bij, die zijn beroemdste verhalenbundel, De Aleph, vele malen herdrukte. Het paradoxale is dat Borges zichzelf niet in de eerste plaats als prozaschrijver zag, en ook niet als essayist (hij schreef schitterende essays, waarvan er ook vele in het Nederlands zijn uitgegeven), maar als dichter. Vooral in de laatste dertig jaren van zijn leven schreef hij graag poëzie, niet alleen omdat hij langzaam blind werd en tijdens zijn schrijven veel meer op zijn geheugen en dus op kortere geschriften aangewezen was, maar ook omdat gedichten hem de mogelijkheid gaven persoonlijker te zijn dan hij zich in zijn proza meende te kunnen veroorloven.
Slechts een klein deel van zijn poëzie werd tot nu toe in het Nederlands vertaald. In Alle gedichten zijn voor het eerst al zijn gedichten in Nederlandse vertaling bijeengebracht – een mijlpaal.
Jorge Luis Borges – Alle gedichten
Uitgeverij De Bezige Bij, september 2011
gebonden met leeslint en stofomslag, 1246 pagina's, 21,5 x 13 cm
ISBN 9789023464617, verkoopprijs € 59,90
De Nederlandse vertaling is van Barber van de Pol en Maarten Steenmeijer
fleursdumal.nl magazine
More in: Archive A-B, Borges J.L., Jorge Luis Borges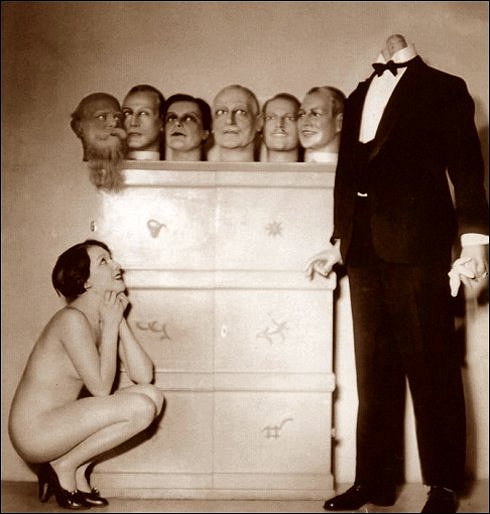 Camera obscura: Head
fleursdumal.nl magazine
More in: Camera Obscura
Emily Dickinson
(1830-1886)
Death Is a Dialogue
Death is a dialogue between
The spirit and the dust.
"Dissolve," says Death. The Spirit, "Sir,
I have another trust."
Death doubts it, argues from the ground.
The Spirit turns away,
Just laying off, for evidence,
An overcoat of clay.
Emily Dickinson poetry
kempis.nl poetry magazine
More in: Archive C-D, Dickinson, Emily

Anton Eijkens
Vademecum van een liefhebber (07)
In de marge van de menukaart
Houtsnep met compôte
Al klinkt het in uw oor
als een misplaatste grap,
van het Latijn naar 't Frans:
compost, compôte
is maar één stap.
Niet anders is 't gesteld
met houtsnep en houtsnip,
nochtans proeft zelfs een kind
het klankverschil
op tong en lip.
En hebt ge er moeite mee,
zo moet gij maar bedenken
bij houtsnip drinkt men thee,
houtsnep verplicht
een mooie wijn te schenken.
Tournedos Rossini
Zweert gij bij opera
of geeft ge haar kado?
Vergeet Rossini voor mijn part
maar niet zijn Tournedos.
Filet de Mignon de Boeuf aux champignons
In runderhaas vertrapt het rund
uw droom analfabetisch
maar in filet mignon vermomd
stemt het u zeer poëtisch.
Misschien kunt gij in Vieilles Voûtes
het rund als een mooi meisje groeten.
Anton Eijkens: Vademecum van een liefhebber (07)
wordt vervolgd
kempis.nl poetry magazine
More in: Eijkens, Anton

Museum De Pont
David Claerbout
nog te zien tot 2 oktober 2011
Sunrise 2009
Single channel video installatie, kleur, geluid
17 min. 54 sec. ed. 1/5
2009.DC.03
recente aanwinst, eerste presentatie
Sunrise (2009), een 18 minuten durende video installatie, dompelt de kijker onder in vrijwel volledige duisternis en het duurt even voordat de ogen in staat zijn de in het ochtendgloren opgenomen filmbeelden te zien. Een huishoudelijke hulp is aan het werk in een modernistische villa. Ze ruimt op, veegt het terras en zet het ontbijt klaar. Haar zorgvuldige, haast elegante bewegingen passen wonderwel bij de strakke geometrie van het huis. Als de vrouw klaar is met haar werk fietst ze weg en maakt de duisternis plaats voor een de plotseling opkomende stralende zon, die de kijker even verblindt terwijl muziek aanzwelt (Rachmaninov's Vocalise). De balans slaat in deze laatste minuten van de film om en stille perfectie verandert in een golf van emotie. Het einde is gefilmd als een klassieke afsluiting, maar voelt eerder als een nieuw begin.
fleursdumal.nl magazine
More in: Exhibition Archive, FDM Art Gallery
 Mothers, don't give your babies injurious drugs
 ready mades – kempis.nl poetry magazine
More in: - Objets Trouvés (Ready-Mades), DRUGS & MEDICINE & LITERATURE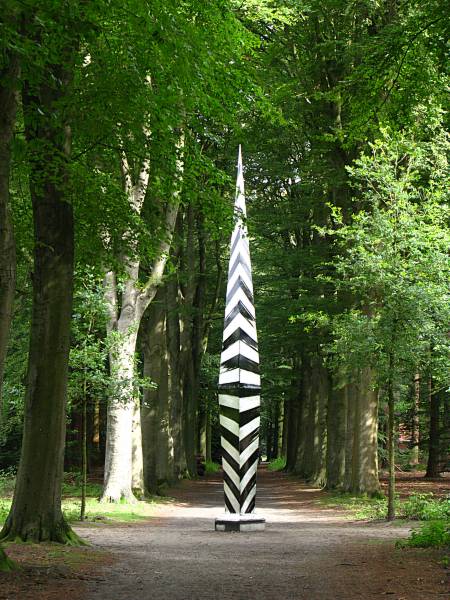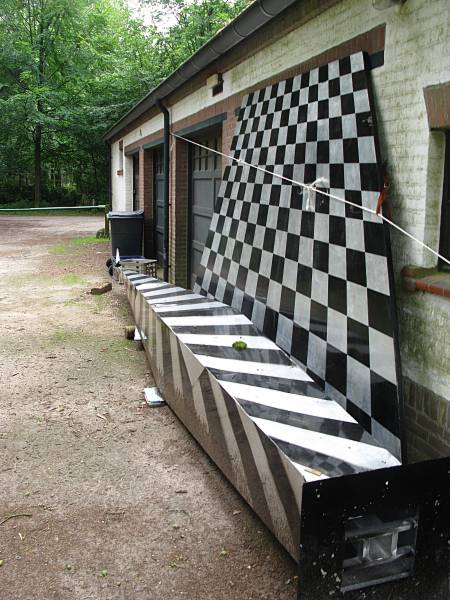 Lustwarande 2011 – Oude Warande Tilburg
Status September: Michael Aerts' sculpture was victim of vandalism and Urs Fischer successfully illustrates the ephemerality of nature (and art). And more pictures of sculptures by Huma Bhabha, David Jablonowski, Mark Manders, Sterling Ruby and Rebecca Warren. Through 9 October.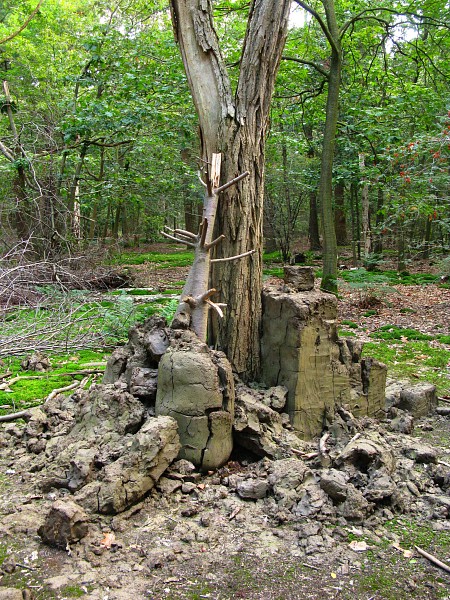 Lustwarande 2011 until october 9, 2011
Deelnemende kunstenaars:  Michaël Aerts (B), Huma Bhabha (PK), Peter Buggenhout (B), Aaron Curry (USA), Lara Favaretto (I), Urs Fischer (CH), Thomas Houseago (GB), Takahiro Iwasaki (J), David Jablonowski (D), Jitish Kallat , (IND), Idris Khan (GB), Sandra Kranich (D), Jim Lambie (GB), Mark Manders (NL), John McCracken (USA) *, Christian Philipp Müller (CH), Rupert Norfolk (GB), Navid Nuur (IR/NL), Anselm Reyle (D), Sterling Ruby (USA), Sandro Setola (NL), Conrad Shawcross (GB), Camila Sposati (BR), Moniek Toebosch (NL) *, Tatiana Trouvé (F), Vibskov & Emenius (DK/S), Banks Violette (USA), Rebecca Warren (GB), Sofi Zezmer (PL/D), Callum Morton (AUS) – Grotto (2009).  Curator: Chris Driessen, artistiek leider Fundament Foundation
photos anton K.
fleursdumal.nl magazine
More in: Anton K. Photos & Observations, Dutch Landscapes, Fundament - Lustwarande, Sculpture
Paul Boldt
(1885-1921)
AUF DER CHAISELONGUE
Wir haben nicht der Sonne Sympathien.
Und man verspricht sich zwecklos in Gebeten.
Die Negerin, das Pferd und den Ästheten
Frißt Erde auf. Sie können nicht entfliehn.
Gott ist der Freund der Bäume und der Sterne.
Im Hochgebirge wilde Tannen schreien.
Orion hängt über dem All im Freien.
Monumental. Maßlos. In tauber Ferne.
Im Hirn Gelächter. Ich sprach: die Freiheit!! –
Das Weib ist populär. Der Koitus.
Das wadenwarme Bett. Man friert und freit. –
Gefüllt mit Zähnen ist zuletzt der Kuß. –
Komm du doch, Freund, verkürze mir die Zeit,
Mein fröhlich lärmender Revolverschuß.
MONOGAMIE
Fleisch. Es bewegt sich mit Blutschatten,
Und es versickert in zehn Tropfen Zehen.
Laß dich von meinen Seelenaugen sehen!
Sag etwas! Gattin, nenn mich deinen Gatten.
Die Küsse schlagen mich! Etwas Allmacht
Ist doch in den Anhäufungen von Armen.
Wie Kameraden liegen wir im warmen
Biwak der Herzen diese Fleischesnacht.
Wenn mir der Morgen in die Haare saust,
Schläfst du bei mir vom Mund bis an die Zehen.
Wir sind gottlos. Nur unser Herz verehrend.
Ein Löwenpaar, das unter Sternen haust.
Einer des andern große Stärke mehrend.
Wir sterben nicht. Das kann uns nicht geschehen.
Paul Boldt poetry
fleursdumal.nl magazine
More in: Archive A-B, Boldt, Paul, Expressionism
Thank you for reading FLEURSDUMAL.NL - magazine for art & literature