TRANSLATION ARCHIVE
·
Alice Zeniter: De kunst van het verliezen
·
Vladimir Majakovski nieuwe uitgave van Verzamelde gedichten
·
Jo Nesbø: Macbeth. Blut wird mit Blut bezahlt (Thriller)
·
Voronezh Notebooks by Osip Mandelstam
·
William Blake: Verzen van Onschuld en van Ervaring – vertaling van Dr. Cornelis W. Schoneveld
·
Poetry International Festival Rotterdam (29/5-3/6-2018) – Live Streams
·
Poetry International Festival Rotterdam 2018
·
Ivory Pearl by Jean-Patrick Manchette
·
49e poetry international festival rotterdam – 29/05 – 03/06 2018
·
Lecture & rencontre: Kate Tempest à Paris – Écoute la ville tomber
·
'Riskante relaties', nieuwe vertaling van Martin de Haan van Les Liaisons dangereuses van Pierre Ambroise Choderlos de Laclos
·
Nomineer een pionier voor de Pé Hawinkels Prijs
Het land van herkomst van haar familie – Algerije – was voor Naïma lange tijd een gegeven zonder veel belang.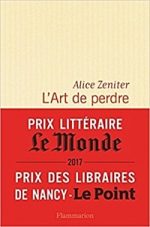 Maar in een tijd waarin identiteitskwesties elk debat domineren lijkt alles haar op haar wortels te willen wijzen. Hoe kan ze een band hebben met een familiegeschiedenis die haar nooit verteld is?
Haar grootvader, een Berber uit de bergen, was al overleden voordat ze hem had kunnen vragen waarom de geschiedenis hem tot een harki (een collaborateur van de Fransen tijdens de Algerijnse Oorlog) had bestempeld.
Sinds haar vader in 1962 in een Frans doorgangskamp arriveerde spreekt hij niet meer over het land van zijn kindertijd. Hoe wek je een doodgezwegen land tot leven? Alice Zeniter doet het in een even vrijgevochten als gedurfd, hartveroverend epos van een familie die generaties lang de gevangene is van een onwrikbaar verleden.
Een grootse grootse roman over de last van een ongekende erfenis.
De kunst van het verliezen
Auteur: Alice Zeniter
Vertaling door Martine Woudt
Originele Titel: L'art de perdre
Taal: Nederlands
Bindwijze: Paperback
Verschijningsdatum: oktober 2018
1e druk – 504 pagina's
ISBN13 9789029525701
Uitgever De Arbeiderspers
Literaire roman –  24,99 euro
# new novel / translation
fleursdumal.nl magazine
More in: - Book News, - Bookstores, Archive Y-Z, Art & Literature News, TRANSLATION ARCHIVE
---
Sinds de vertaling van Marko Fondse van Majakovski's werken uitkwam, vijfentwintig jaar geleden, is diens poëzie niet meer weg te denken uit de Nederlandse boekhandel. De ongeëvenaarde lenigheid van de taal die Fondse wist aan te boren zette de dichter hier voorgoed op de kaart.
Met de ge-update versie van de poëzie van Majakovski zijn zijn beroemde poèma's en andere gedichten nu weer beschikbaar. Het bekende Een wolk in broek en Mens, die dateren van voor de revolutie van 1917, laten de gepassioneerde (liefdes)dichter in optima forma zien. De grote gedichten Ik heb lief en Daarover, van na de revolutie, zijn twee positieve uitzonderingen op de socialistische poëzie waaraan Majakovski zijn dichterschap ten slotte offerde: daarin keert de bravoure van zijn vroege lyriek even terug.
Deze uitgave van Majakovski's poëzie is voor de gelegenheid aangevuld met een grote hoeveelheid gedichten uit zijn enorme oeuvre. Vele daarvan verschenen niet eerder in Nederlandse vertaling. De herziening en uitbreiding zijn in handen van Majakovski-vertaler Yolanda Bloemen.
Alles waarvoor de dichter Vladimir Majakovski (1893–1930) hartstochtelijk leefde en werkte, de revolutie en de opbouw van het socialisme, is een eeuw na zijn geboorte grondig in diskrediet geraakt en ineengestort. Naar Majakovski's socialistische poëzie kijkt bijna geen mens meer om. Wel wordt zijn voorrevolutionaire werk nog gelezen: de gedichten van Een wolk in broek tot en met Mens, een ding, met hun unieke mixtuur van lyrische, epische en dramatische kwaliteiten. Na 1917 wist Majakovski zich nog twee maal van zijn socialistische preoccupaties los te maken in de twee grote poëma's Ik heb lief en Daarover (1921-1923).
Auteur: Vladimir Majakovski
Titel: Verzamelde gedichten
Vertalingen: Marko Fondse, Yolanda Bloemen e.a.
Taal: Nederlands
Uitgever: Uitgeverij van Oorschot
Bindwijze: Paperback
Verschijningsdatum: september 2018
Druk: 1e druk
Afmetingen: 21 x 13 x 2,9 cm
Aantal pagina's: 480
ISBN-13 9789028280915
ISBN-10 902828091X
€ 29,99
# new poetry translations
Vladimir Majakovski
fleursdumal.nl magazine
More in: - Book Lovers, - Book News, Archive M-N, Archive M-N, Art & Literature News, Constructivism, Constuctivisme, Majakovsky, Vladimir, TRANSLATION ARCHIVE
---
Er kennt seine Feinde nur allzu gut. Inspector Macbeth ist der taffste Cop in einer maroden Industriestadt im Norden.
Einen Deal nach dem anderen lässt er hochgehen, die Drogenbosse beißen sich an ihm die Zähne aus. Doch irgendwann wird die Verlockung zu groß: Geld, Respekt, Macht. Schnell aber wird ihm klar, dass einer wie er, der schon in der Gosse war, niemals ganz nach oben kommen wird. Außer – er tötet.
Angestachelt von seiner Geliebten, schafft er sich einen Konkurrenten nach dem anderen vom Hals. In seinem Blutrausch merkt er nicht, dass er längst jenen dunklen Kräften verfallen ist, denen er einst den Kampf angesagt hat.
Jo Nesbø, 1960 geboren, ist Ökonom, Journalist, Musiker und zählt zu den renommiertesten und innovativsten Krimiautoren seiner Generation. Seine Bücher sind in über 50 Sprachen übersetzt, werden verfilmt, und von seinen Harry-Hole-Thrillern wurden allein im deutschsprachigen Raum über 5 Millionen Exemplare verkauft. »Macbeth« ist sein neuester Thriller, der u.a. in Skandinavien, Großbritannien und den USA auf der Bestsellerliste stand. Jo Nesbø lebt in Oslo.
André Mumot (Übersetzer): André Mumot ist promovierter Kulturwissenschaftler, Journalist, Autor und Literaturübersetzer. Seit 2008 übersetzt er Autoren wie Neil Gaiman, Raquel J. Palacio, Nick Harkaway und Aleksandar Hemon. Er lebt in Berlin.
Jo Nesbø
Macbeth
Blut wird mit Blut bezahlt.
Thriller
Internationaler Bestseller
Originaltitel: Macbeth
Originalverlag: Hogarth
Aus dem Englischen von André Mumot
Gebundenes Buch mit Schutzumschlag
624 Seiten
13,5 x 21,5 cm
ISBN: 978-3-328-60017-6
€ 24,00 [D]
Verlag: Penguin
Erscheinungstermin: 27. August 2018
# new novel
Jo Nesbø – Macbeth
fleursdumal.nl magazine
More in: - Book News, - Bookstores, Archive M-N, Art & Literature News, Tales of Mystery & Imagination, Thrillers, TRANSLATION ARCHIVE
---
Osip Mandelstam is one of the greatest of twentieth-century poets and Voronezh Notebooks, a sequence of poems composed between 1935 and 1937 when he was living in internal exile in the Soviet city of Voronezh, is his last and most exploratory work.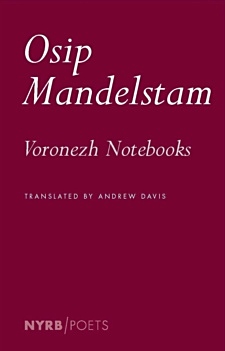 Meditating on death and survival, on power and poetry, on marriage, madness, friendship, and memory, challenging Stalin between lines that are full of the sights and sounds of the steppes, blue sky and black earth, the roads, winter breath, spring with its birds and flowers and bees, the notebooks are a continual improvisation and an unapologetic affirmation of poetry as life.
Russia's greatest poet in this century. — Joseph Brodsky
Mandelstam was a tragic figure. Even while in exile in Voronej, he wrote works of untold beauty and power. And he had no poetic forerunners… In all of world poetry, I know of no other such case. We know the sources of Pushkin and Blok, but who will tell us from where that new, divine harmony, Mandelstam's poetry, came from? — Anna Akhmatova
Voronezh Notebooks by Osip Mandelstam,
translated from the Russian and with an introduction by Andrew Davis
ISBN: 9781590179109
Pages: 128
Publication Date: January 5, 2016
Series: NYRB Poets
The New York Review of Books
Paperback
Books That Everyone Should Read
fleursdumal.nl magazine
More in: - Book Lovers, - Book Stories, Achmatova, Anna, Archive M-N, Brodsky, Joseph, Mandelstam, Osip, REPRESSION OF WRITERS, JOURNALISTS & ARTISTS, TRANSLATION ARCHIVE
---
DE ENGEL
Ik had een Droom, die uitleg vraagt!
'k Was een Prinses en was een maagd,
Door een Engel mild bewaakt:
Dwaas verdriet werd nooit gelaakt!
En ik huilde dag en nacht,
En mijn wee werd steeds verzacht,
En ik huilde nacht en dag
En verborg mijn blijde lach.
Dus hij vluchtte op wieken heen;
Toen de dag met blos verscheen
Stelde ik mij, traan droog, te weer
Duizendvoud met schild en speer.
En mijn Engel keerde weer,
Maar mijn wapen sloeg hem neer;
Want mijn jeugdtijd was voorbij,
En grijs hoofdhaar tooide mij
William Blake
vertaald door: Dr. Cornelis W. Schoneveld
THE ANGEL
I Dreamt a Dream! what can it mean?
And that I was a maiden Queen:
Guarded by an Angel mild;
Witless woe, was neer beguil'd!
And I wept both night and day
And he wip'd my tears away
And I wept both day and night
And hid from him my hearts delight
So he took his wings and fled:
Then the morn blush'd rosy red:
I dried my tears & armd my fears,
With ten thousand shields and spears.
Soon my Angel came again;
I was arm'd, he came in vain:
For the time of youth was fled
And grey hairs were on my head
William Blake (1757 – 1827)
Poem: The Angel
Vertaling uit:
Verzen van Onschuld en van Ervaring
William Blake
vertaald door: Dr. Cornelis W. Schoneveld
paperback
gebrocheerd
€ 20,00
ISBN: 978-90-824288-1-0
geïllustreerd
116 blz.
mei 2017
Uitgeverij De Wilde Tomaat
new translations
fleursdumal.nl magazine
More in: - Book Stories, Archive A-B, Blake, Blake, William, TRANSLATION ARCHIVE
---

More in: Poetry International, STREET POETRY, THEATRE, TRANSLATION ARCHIVE
---
More in: Art & Literature News, Poetry International, TRANSLATION ARCHIVE
---
Set in Cuba's Sierra Maestra in the 1950s, in the days leading up to the Revolution–Manchette's unfinished masterpiece with a fearless female protagonist.
Out of the wreckage of World War II swaggers Ivory Pearl, so named (rhymes with girl) by some British soldiers who made her their mascot, a mere kid, orphaned, survivor of God knows what, but fluent in French, English, smoking, and drinking. In Berlin, Ivy meets Samuel Farakhan, a rich closeted intelligence officer. Farakhan proposes to adopt her and help her to become the photographer she wants to be; his relationship to her will provide a certain cover for him. And she is an asset. The deal is struck…
1956: Ivy has seen every conflict the postwar world has on offer, from Vietnam to East Berlin, and has published her photographs in slick periodicals, but she is sick to death of death and bored with life and love. It's time for a break. Ivy heads to Cuba, the Sierra Maestra.
History, however, doesn't take vacations.
Ivory Pearl was Jean-Patrick Manchette's last book, representing a new turn in his writing. It was to be the first of a series of ambitious historical thrillers about the "wrong times" we live in. Though left unfinished when Manchette died, the book, whose full plot has been filled in here from the author's notes, is a masterpiece of bold suspense and black comedy: chilling, caustic, and perfectly choreographed.
Jean-Patrick Manchette (1942–1995) was a genre-redefining French crime novelist, screenwriter, critic, and translator. Born in Marseille to a family of relatively modest means, Manchette grew up in a southwestern suburb of Paris, where he wrote from an early age. While a student of English literature at the Sorbonne, he contributed articles to the newspaper La Voie communiste and became active in the national students' union.
In 1961 he married, and with his wife Mélissa began translating American crime fiction—he would go on to translate the works of such writers as Donald Westlake, Ross Thomas, and Margaret Millar, often for Gallimard's Série noire.  Throughout the 1960s Manchette supported himself with various jobs writing television scripts, screenplays, young-adult books, and film novelizations. In 1971 he published his first novel, a collaboration with Jean-Pierre Bastid, and embarked on his literary career in earnest, producing ten subsequent works over the course of the next two decades and establishing a new genre of French novel, the néo-polar (distinguished from traditional detective novel, or polar, by its political engagement and social radicalism). During the 1980s, Manchette published celebrated translations of Alan Moore's Watchmen graphic novels for a bande-dessinée publishing house co-founded by his son, Doug Headline. In addition to Fatale (also available as an NYRB Classic), Manchette's novels Three to Kill and The Prone Gunman, as well as Jacques Tardi's graphic-novel adaptations of them (titled West Coast Blues and Like a Sniper Lining Up His Shot, respectively), are available in English.
Ivory Pearl
by Jean-Patrick Manchette,
translated from the French by Donald Nicholson-Smith,
introduction by Doug Headline,
with an afterword by Gary Indiana
Paperback – $14.95
Published by NYRB
An NYRB Classics Original
Publication Date: May 1, 2018
208 Pages
ISBN 9781681372105
French Literature
Literary Fiction
new translations
fleursdumal.nl magazine
More in: - Book News, - Book Stories, Archive M-N, Thrillers, TRANSLATION ARCHIVE
---
49e Poetry International Festival Rotterdam
Het jaarlijkse feest van de internationale poëzie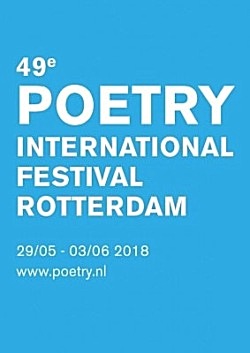 Op dinsdag 29 mei opent het 49e Poetry International Festival in Theater Rotterdam. Tot en met zondag 3 juni hoor je voor de 49e keer de mooiste gedichten uit alle windstreken en in vele talen, eerst in de Schouwburg, aansluitend in en om Locatie Witte de With.
Naast poëzievoordrachten brengt het festival films, muziek, interviews, lezingen, themabijeenkomsten en masterclasses. Een kermis van verlangen, kritiek, avontuur en troost, met de kunst van het woord als brandstof. Iedereen is uitgenodigd op het jaarlijkse feest van de poëzie.
Kom alvast in de stemming en vertaal zelf de poëzie van de festivaldichters tijdens het vertaalproject Met Andere Woorden. Vanaf 1 maart staan de eerste gedichten online. Kies je favoriete taal en dichter en ga aan de slag (zie verder de website van p.i.).

Opening POETRY+ART Gallerytour
zondag 27 mei in de Kunsthal
Opening 49e Poetry International Festival
dinsdag 29 mei in Theater Rotterdam Schouwburg
Festival tot en met 3 juni in Theater Rotterdam Witte de With
49e poetry international festival rotterdam
29/05 – 03/06 2018
# meer informatie op website poetry international
fleursdumal.nl magazine
More in: - Book Lovers, Art & Literature News, Literary Events, Poetry International, REPRESSION OF WRITERS, JOURNALISTS & ARTISTS, STREET POETRY, TRANSLATION ARCHIVE
---
Mercr. 17/01-2018 – 20h
Lecture & rencontre
Kate Tempest
Écoute la ville tomber
Rencontre animée par Clémentine Goldszal
Interprète : Marguerite Capelle
tarif : 5 € / adhérent : 0 € RÉSERVER
Maison de la Poésie
Passage Molière
157 rue Saint-Martin
75003 Paris
www.maisondelapoesieparis.com
Becky, Harry, Leon, Pete. Quatre jeunes gens dans le Londres d'aujourd'hui. Ils ont des rêves, des aspirations, que la ville nourrit puis feint d'encourager pour mieux les broyer. Écoute la ville tomber est le roman d'une génération abîmée par le cynisme mais qui refuse d'abandonner l'utopie. Kate Tempest attrape le lecteur à chaque phrase, avec la furieuse envie de montrer le monde tel qu'il est. Sorti en 2016 en Angleterre, le roman est resté plusieurs semaines dans la liste des best-sellers du Sunday Times, atteignant les 100 000 exemplaires.
Poétesse, musicienne et performeuse mêlant rap, slam, rock & spoken word, Kate Tempest est, à 30 ans à peine, une artiste majeure du temps présent. Comparée à Zadie Smith ou à Virginie Despentes, cette jeune prodige surprend et impressionne, elle cristallise toutes les révoltes qui animent nos temps troubles.
À lire – Kate Tempest, Écoute la ville tomber, traduit de l'anglais par Madeleine Nasalik, Rivages, 2018. Les Nouveaux anciens, trad. de l'anglais par D' de Kabal et Louise Bartlett, L'Arche, 2017.
À écouter – Kate Tempest, Let Them Eat Chaos, Fiction Records, 2016.
Les nouveaux anciens
Kate Tempest 
Paru le 18 octobre 2017
Poésie, broché
Editeur Arche
Nombre de pages 72
Traduit de l'anglais par D' de Kabal et Louise Bartlett
ISBN : 978-2-85181-928-4 – €12
Dans ce poème épique urbain, Kate Tempest revisite par les mythes nos vies modernes désenchantées. Selon elle, les dieux de l'Antiquité resurgissent dans le monde contemporain à travers nos actes quotidiens de violence, de bravoure, de sacrifice ou d'amour. Nous sommes toujours mythiques, nous sommes toujours divins. Elle dépeint ainsi une traversée des âges, de la naissance à la mort de l'être humain, sans occulter ses failles, ses erreurs ni ses regrets. Célébrant l'humain trop humain des supermarchés, des rues, des bars et des open-space, elle s'inscrit dans la tradition d'un hip hop old-school, entre poésie, rap et poésie parlée. Une écriture dramatique puissamment cadencée, avec une rythmique très musicale et un « flow » à couper le souffle.
Ecoute la ville tomber
Kate Tempest
Madeleine Nasalik (Traducteur)
Traduit de l'anglais
Collection: Littérature étrangère Rivages
ISBN: 978-2-7436-4199-3
EAN: 9782743641993
Parution: janvier, 2018
400 pages
Format : 14.0 x 20.5
Prix: €22,50
Becky, Harry, Leon. Ils sont jeunes, hésitent entre le cynisme et le besoin éperdu d'utopie. Chacun a des rêves, des aspirations, que la ville nourrit et feint d'encourager pour mieux les broyer. Ce roman résonne des bruits et du rythme de notre époque, dans la prose incandescente de Kate Tempest, star du hip-hop, poétesse et artiste déjà légendaire à 30 ans à peine, admirée par Virginie Despentes, Lola Lafon ou Don DeLillo. Best-seller international, ce livre impose la jeune Anglaise comme une voix majeure de la scène littéraire d'aujourd'hui.
Kate Tempest
Lecture & rencontre
Mercr. 17/01-2018 – 20h
Maison de la Poésie
75003 Paris
fleursdumal.nl magazine
More in: #Editors Choice Archiv, Archive S-T, Archive S-T, Art & Literature News, Kate Tempest, Literary Events, Maison de la Poésie, Tempest, Kate, TRANSLATION ARCHIVE
---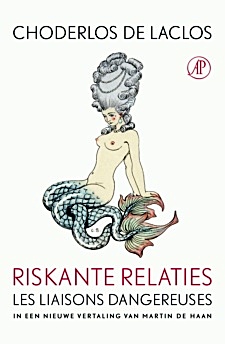 'Wie zou er niet huiveren bij de gedachte aan alle ellende die één riskante relatie kan veroorzaken?'
Vicomte de Valmont, een geduchte libertijn, heeft net het plan opgevat om de kuise, vrome présidente de Tourvel te verleiden. Maar dan stelt marquise de Merteuil, zijn bondgenote in het kwaad, hem een ander doelwit voor: de piepjonge Cécile Volanges, met wier aanstaande echtgenoot beiden een appeltje te schillen hebben. Dat loopt niet goed af.
Pierre Ambroise Choderlos de Laclos
Choderlos de Laclos was een geboren avonturier. Hij koos voor een militaire loopbaan, maar die bracht hem slechts een saai garnizoensleven. In zijn vrije tijd schreef hij, onder meer poëzie en libretto's. Het succes kwam in 1782, met de verschijning van Les liaisons dangereuses.
Auteur: Pierre Ambroise Choderlos de Laclos
Les Liaisons dangereuses
Riskante relaties
Vertaler: Martin de Haan
Uitgeverij: De Arbeiderspers
Hardcover
Nederlands
470 pagina's
ISBN-13 9789029588874
ISBN-10 902958887X
Prijs: € 34,99
Publicatiedatum: 28-11-2017
fleursdumal.nl magazine
More in: - Book Lovers, - Book Stories, Archive K-L, Art & Literature News, Erotic literature, TRANSLATION ARCHIVE
---
De Pé Hawinkels Prijs is een nieuwe prijs voor makers en instanties die met creatieve initiatieven de grenzen van de literatuur oprekken.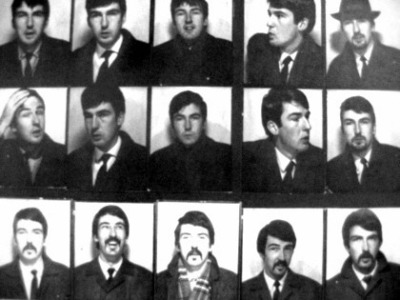 Hawinkels (1942-1977) was iemand die zich niet in een hokje liet stoppen. Hij zorgde voor verbreding van de literatuur door zich bezig te houden met proza, poëzie, columns, jazzrecensies, vertalingen en zelfs songteksten (voor Herman Brood).
Welke schrijver, dichter, vertaler, journalist, filmmaker, uitgever, boekhandelaar droeg de afgelopen tijd met een bijzonder initiatief bij aan de verbreding van de literatuur? Dit kan zowel inhoudelijk als in vorm zijn, met bijvoorbeeld een app voor lezers, een politiek pamflet, een publiciteitsstunt of een project ten behoeve van verspreiding van boeken.
Vanaf nu kunt u een literair pionier nomineren. DAT KAN VIA DE WEBSITE VAN HET WINTERTUINFESTIVAL. Een vakkundige jury buigt zich over de genomineerden en kiest een winnaar. De prijs wordt op 25 november tijdens het Wintertuinfestival uitgereikt.
De Herfst van Hawinkels
De uitreiking van de Pé Hawinkels Prijs is een onderdeel van De Herfst van Hawinkels. In 2017 is het 40 jaar geleden dat Hawinkels overleed, hij zou anders dit jaar 75 zijn geworden. Dit najaar wordt het leven en werk van Hawinkels gevierd, onder meer met een expositie, een werkconferentie en een programma met jazz en voordrachten.
Wintertuin/De Nieuwe Oost is initiatiefnemer van de Pé Hawinkels Prijs en richt zich als productiehuis nadrukkelijk op ontwikkeling binnen het vakgebied. Met deze prijs wordt vernieuwing in de literatuur beloond en onder de aandacht gebracht.
   # Meer info website wintertuinfestival  
Nomineer een pionier voor de Pé Hawinkels Prijs
fleursdumal.nl magazine
More in: - Book News, Archive G-H, Archive G-H, Art & Literature News, Hawinkels, Pé, TRANSLATION ARCHIVE, Wintertuin Festival
---
Older Entries »
Thank you for reading FLEURSDUMAL.NL - magazine for art & literature