PEN Actions
·
LET FREEDOM READ – During Banned Books Week 2023! – October 1 – 7, 2023
·
Banned Books Week: Defend free expression, support persecuted writers, and promote literary culture
·
Support PEN Belarus
BANNED BOOKS WEEK
LET FREEDOM READ
During Banned Books Week 2023!
October 1 – 7, 2023
The American Library Association has announced the theme for Banned Books Week 2023: "Let Freedom Read!" Banned Books Week will take place October 1 – 7, 2023.
This annual event highlights current and historical attempts to censor books in libraries and schools and the value of free and open access to information.
Banning books restricts information and discourages freedom of thought. It undermines one of the primary functions of education: teaching students how to think for themselves.
The 2023 Banned Books Week theme – 'Let Freedom Read' – captures what's at stake for our democracy: that the safety of our right to speak and think freely is directly in proportion to our right to read.
LET FREEDOM READ
During Banned Books Week 2023!
BANNED BOOKS WEEK 2023
October 1 – 7, 2023
More on website: https://bannedbooksweek.org/
www.fleursdumal.nl
magazine for art & literature
More in: - Book Lovers, - Book News, - Bookstores, AUDIO, CINEMA, RADIO & TV, Banned Books, PEN Actions
---
BANNED BOOKS WEEK
September 26 – October 2 for the 2021
celebration of the right to read!

Across the United States, divisive book bans and censorious threats have taken hold in schools, academia, and the public square, particularly in regards to books that center racism, history, and diversity. This has raised questions: Who is allowed to be heard? Who decides? This year, as we celebrate Banned Books Week, PEN America uplifts the books, authors, teachers, and writers who insist on telling stories and examining history with truth, honesty, and complexity.
In an effort to unpack these current challenges, PEN America is hosting a series of virtual and in-person events. These events will offer a clear-eyed view of the current assaults on the freedom to express, the freedom to read, and the freedom to learn.
Join PEN America Today
Defend free expression, support persecuted writers, and promote literary culture.
Read more about what PEN America is doing to fight back against book bans during 2021 Banned Books Week.
BANNED BOOKS WEEK
September 26 – October 2 for the 2021
celebration of the right to read!
Banned Books Week is the annual celebration of the freedom to read. The event is sponsored by a coalition of organizations dedicated to free expression, including American Booksellers Association; American Library Association; American Society of Journalists and Authors; Association of University Presses; Authors Guild; Comic Book Legal Defense Fund; Foundation for Individual Rights in Education (FIRE); Freedom to Read Foundation; Index on Censorship; National Coalition Against Censorship; National Council of Teachers of English; PEN America; People For the American Way Foundation; and Project Censored. It is endorsed by the Center for the Book in the Library of Congress. Banned Books Week also receives generous support from DKT Liberty Project and Penguin Random House.
Read more about the 2021 Banned Books Week.
→   https://bannedbooksweek.org/
• fleursdumal.nl magazine
More in: - Bookstores, Art & Literature News, Banned Books, DICTIONARY OF IDEAS, Literary Events, PEN Actions, PRESS & PUBLISHING, Racism, REPRESSION OF WRITERS, JOURNALISTS & ARTISTS
---
This week, the Ministry of Justice in Belarus sent a letter indicating they are seeking to liquidate our sister organization PEN Belarus, which for years has supported writers and free expression in the country. It comes as the country's authoritarian leader Aleksandr Lukashenka continues to crack down on all those who dissent. Show our colleagues and friends at PEN Belarus that they are not alone—and that we rally to support the freedom to write wherever and whenever it comes under threat.
Please join us and take action
Click here:
https://actionnetwork.org/petitions/i-support-pen-belarus?source=email&
Show your support for PEN Belarus.
Thank You!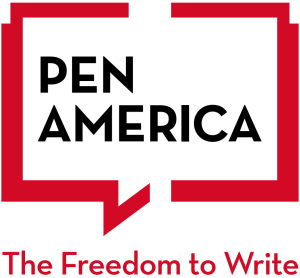 PEN America stands at the intersection of literature and human rights to protect free expression in the United States and worldwide. They champion the freedom to write, recognizing the power of the word to transform the world. Their mission is to unite writers and their allies to celebrate creative expression and defend the liberties that make it possible.
Founded in 1922, PEN America is the largest of the more than 100 centers worldwide that make up the PEN International network. PEN America works to ensure that people everywhere have the freedom to create literature, to convey information and ideas, to express their views, and to access the views, ideas, and literatures of others.
More information on PEN America, click here

• fleursdumal.nl magazine
More in: AUDIO, CINEMA, RADIO & TV, MONTAIGNE, MUSEUM OF PUBLIC PROTEST, PEN Actions, PRESS & PUBLISHING, REPRESSION OF WRITERS, JOURNALISTS & ARTISTS
---
Thank you for reading Fleurs du Mal - magazine for art & literature