FICTION & NON-FICTION – books, booklovers, lit. history, biography, essays, translations, short stories, columns, literature: celtic, beat, travesty, war, dada & de stijl, drugs, dead poets
«« Previous page
·
Old Angel Midnight by Jack Kerouac
·
Lydia Maria Child: The New England Boy's Song About Thanksgiving Day
·
Expositie Charlotte Salomon in Joods Historisch Museum Amsterdam
·
Het diepste blauw (022). Een roman van Ton van Reen
·
Adam Haslett: Stellt euch vor, ich bin fort
·
James Whitcomb Riley: The Bat
·
Afterland. Poems by Mai Der Vang
·
Kim Addonizio: 'Mortal Trash' & 'Bukowski in a Sundress'
·
James Joyce: O Cool Is The Valley Now
·
Het diepste blauw (021). Een roman van Ton van Reen
·
Antti Tuomainen: Die letzten Meter bis zum Friedhof
·
Paul Bezembinder: Gestolen tijd
Old Angel Midnight is a treasure trove of Kerouac's experiments with automatic writing, a method he practiced constantly to sharpen his imaginative reflexes.
Recorded in a series of notebooks between 1956-1959, what Kerouac called his "endless automatic writing piece" began while he shared a cabin with poet Gary Snyder.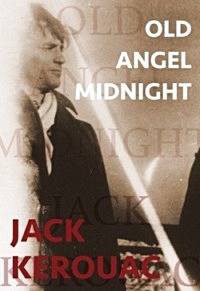 Kerouac tried to emulate Snyder's daily Buddhist meditation discipline, using the technique of "letting go" to free his mind for pure spontaneous writing, annotating the stream of words flowing through his consciousness in response to auditory stimuli and his own mental images.
Kerouac continued his exercise in spontaneous composition over the next three years, including a period spent with William Burroughs in Tangiers. He made no revisions to the automatic writing entries in his notebooks, which were collected and transcribed for publication as originally written.
Old Angel Midnight attests to the success of Kerouac's experiment and bears witness to his commitment to his craft, and to the pleasure he takes in writing: "I like the bliss of mind."
"Kerouac's ambition to capture the living moment (crucially for him, recapitulating memory) developed poetic form in 1954 with his collection San Francisco Blues, and it reached greater fulfilment with the sixty-seven free-association passages of Old Angel Midnight. This new edition from City Light Books adds one more, found among Kerouac's papers by John Sampas, concluding 'Eyes of Ray Charles see Me here realize O Holy.' Mostly written during April 1956 when Kerouac shared a shack with Gary Snyder in rural Mill Valley, outside San Francisco, Old Angel Midnight was likely facilitated by the 'letting go' technique he observed from Snyder's Buddhist meditation." – Jules Smith – The Times Literary Supplement
"Tried to warn all of you, essence of stuff wont do
— God why did you make the world?
Answer: –Because I gwt pokla renamash ta va in
ming the atss are you forever with it?
I like the bliss of mind.
Awright I'll call up all the fuckin Gods, right now!
Parya! Arrive! Ya damn hogfuckin lick lip twillerin
fishmonger! Kiss my purple royal ass baboon! Poota!
Whore! You and yr retinues of chariots & fucks! Devadatta!
Angel of Mercy! Prick! Lover! Mush! Run on
ya dog eared kiss willying nilly Dexter Michigan ass—
warlerin ratpole! The rat in my cellar's an old canuck who
wasnt fooled by rebirth but b God gotta admit I was born for
the same reason I bring this glass to my lip — ?
Rut! Old God whore, the key to ecstasy is forevermore
furthermore blind! Potanyaka! God of Mercy!"
Excerpt from 'Old Angel Midnight' by Jack Kerouac
Old Angel Midnight
Jack Kerouac
Preface by Ann Charters, Michael McClure
Collection City Lights/Grey Fox
Publisher City Lights Publishers
Paperback, $13.95
Pages 94
Publication 2016
ISBN-10 087286703X
ISBN-13 9780872867031
fleursdumal.nl magazine
More in: - Book Lovers, - Book Stories, Archive K-L, Art & Literature News, Automatic writing, Kerouac, Jack, Opium-Eaters
---
The New England Boy's Song
About Thanksgiving Day
Over the river, and through the wood,
To grandfather's house we go;
The horse knows the way,
To carry the sleigh,
Through the white and drifted snow .
Over the river, and through the wood,
To grandfather's house away !
We would not stop
For doll or top,
For 't is Thaksgiving day .
Over the river, and through the wood,
Oh, how the wind does blow !
It stings the toes,
And bites the nose,
As over the ground we go .
Over the river, and through the wood,
With a clear blue winter sky,
The dogs do bark,
And children hark,
As we go jingling by .
Over the river, and through the wood,
To have a first-rate play—
Hear the bells ring
Ting a ling ding,
Hurra for Thanksgiving day !
Over the river, and through the wood—
No matter for winds that blow;
Or if we get
The sleigh upset,
Into a bank of snow .
Over the river, and through the wood,
To see little John and Ann;
We will kiss them all,
And play snow-ball
And stay as long as we can .
Over the river, and through the wood,
Trot fast, my dapple grey !
Spring over the ground,
Like a hunting hound,
For 't is Thanksgiving day !
Over the river, and through the wood,
And straight through the barn-yard gate;
We seem to go
Extremely slow,
It is so hard to wait .
Over the river, and through the wood—
Old Jowler hears our bells;
He shakes his pow,
With a loud bow wow,
And thus the news he tells .
Over the river, and through the wood—
When grandmother sees us come,
She will say, Oh dear,
The children are here,
Bring a pie for every one .
Over the river, and through the wood—
Now grandmother's cap I spy !
Hurra for the fun !
Is the pudding done ?
Hurra for the pumpkin pie !
Lydia Maria Child
(1802-1880)
The New England Boy's Song About Thanksgiving Day
fleursdumal.nl magazine
More in: Archive C-D, Archive C-D, CLASSIC POETRY
---
Het Joods Historisch Museum markeert het honderdste geboortejaar van kunstenares Charlotte Salomon (1917-1943) met een bijzondere tentoonstelling gewijd aan haar artistieke nalatenschap: het kunstwerk Leven? of Theater?
Charlotte Salomon was 22 jaar toen ze in december 1938 vanuit Berlijn als vluchteling bij haar grootouders in Zuid-Frankrijk aankwam. Toen bij het uitbreken van de Tweede Wereldoorlog haar grootmoeder zelfmoord pleegde, begon Charlotte aan een 'totaal waanzinnig project' om mentaal te overleven. In vele honderden gouaches herschiep ze haar leven als een geschilderd theaterstuk. Charlotte Salomon werd in 1943 in Auschwitz vermoord.
Na de Tweede Wereldoorlog vonden haar vader en zijn vrouw Leven? of Theater? in Zuid-Frankrijk. Zij schonken het in 1971 aan het Joods Historisch Museum. De afgelopen decennia reisden delen van het werk langs musea wereldwijd. Salomons levenswerk heeft altijd intense reacties opgeroepen bij het publiek en inspireerde kunstenaars, filmers, schrijvers en choreografen tot eigen creaties. Het Joods Historisch Museum toont nu voor het eerst het werk in zijn totaal – ruim 800 gouaches.
Charlotte Salomon;
Leven? of theater?
Nog t/m 25 maart 2018
Joods Historisch Museum en JHM Kindermuseum
Nieuwe Amstelstraat 1
1011 PL Amsterdam
# meer info op website joods historisch museum
fleursdumal.nl magazine
More in: - Book Stories, Art & Literature News, Charlotte Salomon, FDM Art Gallery, Galerie des Morts, REPRESSION OF WRITERS, JOURNALISTS & ARTISTS, HOLOCAUST, WAR, WAR & PEACE
---
De eeuwige twijfel heeft hem verlamd. Daardoor is hij nooit uit het dorp weggekomen. Hij had weg moeten gaan toen het nog kon.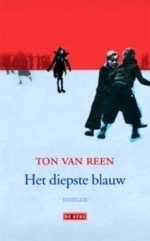 Zou hij ergens anders gelukkiger zijn geworden? Of zou hij hebben terugverlangd naar het dorp met de Wijer en de meelfabriek? Waarschijnlijk wel.
Zijn ontevredenheid is ongegrond. Het dorp gaf hem zijn bestaansrecht. En ook zijn onvrede over thuis moet hij van zich afzetten. Hij moet er juist blij om zijn dat hij verzorgd wordt door zijn vrouw en zijn dochter en dat ze hem niet in zijn eigen vuil laten stikken. Of is dat wat ze voor hem doen alleen maar plicht? Je kunt je man en je vader niet laten verkommeren, dat hoort niet in een dorp als dit.
Hier helpen de kinderen hun ouders tot aan het graf. `Zo men doet, zo men ontmoet', is een spreuk die in alle huizen hangt. Kinderen zijn de verzekering voor de oude dag. De garantie dat je iemand hebt die je uit bed hijst, je rolstoel duwt en je graf verzorgt.
Ton van Reen: Het diepste blauw (022)
wordt vervolgd
fleursdumal.nl magazine
More in: - Book Stories, - Het diepste blauw, Archive Q-R, Reen, Ton van
---
"Stellt euch vor, ich bin fort" wurde in der englischsprachigen Presse «atemraubend» genannt, «überwältigend und herzzerreißend», wurde als «Literatur höchsten Ranges» gefeiert und für den Pulitzer Preis, den National Book Award und den National Book Critics Circle Award nominiert. Ein moderner Familienroman in der Tradition einer welthaltigen und weltläufigen US-Literatur.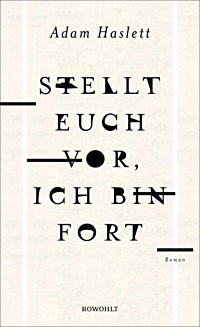 Alles beginnt mit einem Unglück auf einer Landpartie in Maine. Nein, früher: Es beginnt in den 1960er Jahren in London, als die junge Amerikanerin Margaret erfährt, dass John, ihr Verlobter, nicht einfach verschwunden, sondern manisch-depressiv in eine psychiatrische Klinik eingewiesen worden ist. Vor die Wahl gestellt, entscheidet sie sich für ein Leben an seiner Seite, ein Leben mit seiner Krankheit. Was daraus folgt, ist die Geschichte einer Familie über zwei Generationen, die Geschichte einer erblichen bipolaren Störung, einer mal glanzvollen und häufiger noch prekären Existenz, durchzogen von den Spuren eines großen Verlusts.
Adam Haslett erzählt von Mutterliebe und Geschwisterbanden mit derselben Glaubwürdigkeit und Präzision wie vom Hummerfischen, von Clonazepam oder Funk, Techno und House. "Stellt euch vor, ich bin fort" ist ein Meisterwerk des psychologischen Realismus, genauso einfühlsam wie einfallsreich, ein Roman, der unseren Blick auf die Menschen, die uns am wichtigsten sind, dauerhaft verändern kann.
Adam Haslett, geboren 1970, studierte Literatur und Jura in Yale, Swarthmore und an der University of Iowa. Seine Bücher wurden in achtzehn Sprachen übersetzt und unter anderem mit dem PEN/Malamud-Award ausgezeichnet. Der Erzählungsband "Hingabe" gelangte nicht nur auf die Shortlist des Pulitzer Preises, sondern auch auf die des National Book Award. Für den Roman "Union Atlantic" erhielt Adam Haslett den Lambda Literary Award. "Stellt euch vor, ich bin fort", sein zweiter Roman, wurde für den Pulitzer Preis, den National Book Award und den National Book Critics Circle Award nomininiert. Adam Haslett lebt in New York City.
Autor: Adam Haslett
Titel: Stellt euch vor, ich bin fort
Roman.
Originaltitel: Imagine Me Gone.
Übersetzt von Dirk van Gunsteren
Rowohlt Verlag GmbH
12. Januar 2018
gebunden
460 Seiten
€ 22,95
ISBN: 3498030280
EAN: 9783498030285
new books
fleursdumal.nl magazine
More in: - Book News, - Book Stories, Archive G-H, Art & Literature News
---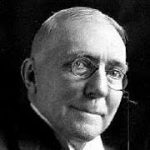 The Bat
I
Thou dread, uncanny thing,
With fuzzy breast and leathern wing,
In mad, zigzagging flight,
Notching the dusk, and buffeting
The black cheeks of the night,
With grim delight!
II
What witch's hand unhasps
Thy keen claw-cornered wings
From under the barn roof, and flings
Thee forth, with chattering gasps,
To scud the air,
And nip the ladybug, and tear
Her children's hearts out unaware?
III
The glowworm's glimmer, and the bright,
Sad pulsings of the firefly's light,
Are banquet lights to thee.
O less than bird, and worse than beast,
Thou Devil's self, or brat, at least,
Grate not thy teeth at me!
James Whitcomb Riley
(1849-1916)
The Bat
fleursdumal.nl magazine
More in: Archive Q-R, Archive Q-R, CLASSIC POETRY, Natural history
---
*Walt Whitman Award Winner 2016
*One of The New Yorker's Poetry I Was Grateful For in 2017, selected by Dan Chiasson
*One of The Brooklyn Rail's Best Books of 2017
"[Afterland] reminds us what a distinctive instrument the human imagination is, no matter what tune it plays. There is a story in this book, and an important one. . . . Vang writes strikingly, often chillingly visual poems, their images projected one at a time, like slides in a lecture, or perhaps in a trial. . . . Afterland works its wonders with an intentionally rationed vocabulary, its counters combined and recombined in poem after poem: stars, water, hair, bones, fire. . . . The style creates an atmosphere of impending marvels, and many of Vang's poems perform, in words, the transformations that they describe . . . . [Afterland] is among the most satisfying débuts by an American poet in some time."  — The New Yorker
"When I make the crossing, you must not be taken no matter what the current gives. When we reach the camp,
there will be thousands like us.?
If I make it onto the plane, you must follow me to the roads and waiting pastures of America.
We will not ride the water today on the shoulders of buffalo as we used to many years ago, nor will we forage?  for the sweetest mangoes.
I am refugee. You are too. Cry, but do not weep."  — from "Transmigration"
"Afterland has haunted me. I keep returning to read these poems aloud, hearing in them a language at once atavistic, contemporary, and profoundly spiritual. Mai Der Vang confronts the Secret War in Laos, the flight of the Hmong people, and their survival as refugees. That a poet could absorb and transform these experiences in a single generation—incising the page with the personal and collective utterances of both the living and the dead, in luminous imagery and a surprising diction that turns both cathedral and widow into verbs, offering both land and body as swidden (slashed and burned)—is nothing short of astonishing.Here is deep attention, prismatic intelligence, and fearless truth."  — Carolyn Forché, judge's statement for the Walt Whitman Award
Mai Der Vang
Afterland. Poems
Pages: 104
Pub Date: April 4, 2017
Poetry
Paperback, $16.00
ISBN: 978-1-55597-770-2
2016 Walt Whitman Award winner
new books
fleursdumal.nl magazine
More in: - Book News, - Book Stories, Archive U-V, Archive U-V, Art & Literature News, EDITOR'S CHOICE
---
Passionate and irreverent, Mortal Trash transports the readers into a world of wit, lament, and desire.
In a section called "Over the Bright and Darkened Lands," canonical poems are torqued into new shapes. "Except Thou Ravish Me," reimagines John Donne's famous "Batter my heart, Three-person'd God" as told from the perspective of a victim of domestic violence.
Like Pablo Neruda, Addonizio hears "a swarm of objects that call without being answered": hospital crash carts, lawn gnomes, Evian bottles, wind-up Christmas creches, edible panties, cracked mirrors.
Whether comic, elegiac, or ironic, the poems in Mortal Trash remind us of the beauty and absurdity of our time on earth.
From "Scrapbook":
We believe in the one-ton rose
and the displaced toilet equally. Our blues
assume you understand
not much, and try to be alive, just as we do,
and that it may be helpful to hold the hand
of someone as lost as you.
Title: Mortal Trash
Subtitle: Poems
Author: Kim Addonizio
Publisher: W. W. Norton
Published 28 June 2017
ISBN-10 0393354342
ISBN-13 9780393354348
112 pages
Paperback – $15.95
More from Kim Addonizio
Bukowski in a Sundress
Confessions from a Writing Life
by Kim Addonizio
Behold the memoir of sex-positive rebel Kim Addonizio! This book moves from gritty/funny/sexy, to emotionally raw, in swift seamless strokes.

By the end, you will feel that Kim is an old friend whom you know far too well, but who you think the world of because she's way cooler than you are.
Bukowski in a Sundress:
Confessions from a Writing Life
by Kim Addonizio (Author)
Paperback, 2016
Biography & Memoir
Publisher: Penguin Group USA
ISBN: 9780143128465
224 pages
$26.99
new books
fleursdumal.nl magazine
More in: - Book News, - Book Stories, Archive A-B, Archive A-B, Art & Literature News, Bukowski, Charles
---
O Cool Is The Valley Now
O cool is the valley now
And there, love, will we go
For many a choir is singing now
Where Love did sometime go.
And hear you not the thrushes calling,
Calling us away?
O cool and pleasant is the valley
And there, love, will we stay.
James Joyce
(1882-1941)
O Cool Is The Valley Now
fleursdumal.nl magazine
More in: Archive I-J, Archive I-J, Joyce, James, Joyce, James
---
`We moeten zo vlug mogelijk weg.' Met een takje krast Tijger een tekening in de leemachtige oever.
`Liefst vandaag nog', valt Thija hem bij.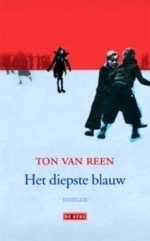 `Hoelang is het vliegen? Jij weet dat toch?' Het takje schiet uit en krast dwars door het getekende vliegtuigje. Het voorspelt niet veel goeds. `Een dag of vier', zegt Thija. `Misschien een week. We moeten zeker tien keer tanken. In Rome. In Bagdad. In Bangkok. Alles is daar heel anders. Weet je dat ze in India hun doden verbranden? Zomaar, langs de rivier, in de openlucht. En dan vieren ze feest.'
Tijger veegt de tekening uit en begint opnieuw, met fermere strepen.
`In India hebben we weinig geld nodig', zegt Thija, die de kas beheert. `Als je honger hebt, geeft iedereen je te eten. Uit dank hoeven we alleen maar voor de mensen te bidden.'
`Maar de dertien gulden die we hebben, is niks', zegt Tijger. `Retour Peking kost vijfhonderd gulden. Per persoon. Zoveel geld krijgen we nooit bij elkaar. We moeten een bank overvallen.' Hij praat te veel, waardoor zijn tweede vliegtuig een plomp ding wordt dat zeker nooit zal kunnen opstijgen. Het waarschuwt hen voor een ramp.
Mels voelt de zon op zijn huid, zo warm alsof een heet strijkijzer bij zijn vel wordt gehouden. Hij is niet alleen warm van de zon, maar ook van Thija, die vlak naast hem ligt, met haar kleine melkwitte borsten. Is dit de bekoring waarover de pastoor vaak praat in de godsdienstles?
Hij schopt zijn schoenen uit, stroopt zijn broek af, neemt een aanloop en duikt over het riet heen de beek in. Het water sist, alsof er een duivel in een wijwatervat valt.
Hij zwemt een stukje de stroom af, en dan weer terug. Als hij op de oever stapt, ziet hij dat Thija haar ogen heeft gesloten. Het lijkt of ze slaapt. In haar slaap heeft ze een arm op Tijgers borst gelegd.
Stilletjes pakt Mels zijn kleren bij elkaar en kleedt zich aan, verscholen achter het riet.
Hij kijkt uit over de Wijer, net zo lang tot het licht op het water pijn doet aan zijn ogen. Hij wacht tot ze hem missen en hem zullen roepen. Maar hoelang hij ook wacht, het blijft stil.
Zijn hart bonkt van de stilte. Of is het de pijn van de jaloezie, die soms als een spijker in zijn hoofd zit? Soms barst hij van de afgunst op Tijger, terwijl hij hem toch juist alles gunt.
Eindelijk, als hij denkt dat ze hem echt vergeten zijn, en de zon de bossen aan de horizon in brand zet en de rook in vette witte wolken naar het noorden drijft en er een kleine vogel voorbij ritselt, alleen om zijn eenzaamheid te benadrukken, hoort hij Tijger roepen.
`Mels, Mels! Kom je! We gaan varen!'
`Ik kom!' Blij rent hij naar hen toe.
Thija en Tijger wachten al in de boot. Tijger staat op de plecht. Mels springt in het schuitje en grijpt de riemen. Thija zit tegenover hem, op haar schoot de reistas die haar rood met wit gespikkelde zomerrok wat optrekt, tot net over haar knieën. Haar albasten benen zijn net zo blauwwit als de handen en het gezicht van de Maria in de crypte. Thija lijkt wel gebeeldhouwd, zo glad is haar huid.
Het litteken op haar knie zit er nog. Het is net een kleine mond. Ze heeft het overgehouden van het ongeluk met de fiets, een jaar geleden. Ze zat bij hem achterop. Toen hij van het pad raakte en viel, sloeg ze met haar knie op de grond. Hij voelt zich nog steeds een beetje schuldig, maar toch vindt hij het litteken ook mooi. Telkens als ze het ziet, zal ze aan hem moeten denken.
`Kijk niet zo. Jouw spullen zitten ook in de tas, hoor. We vergeten je niet.'
`Dat dacht ik ook niet', zegt Mels, maar hij dacht het juist wel.
`Als we in China zijn, gaan we over de Chinese Muur lopen. Die is net zo hoog als de Alpen en helemaal van kristal.'
`Koud', zegt Tijger, die de boot met een stok van de oever weghoudt. `Nemen we winterkleren mee?'
`In China schijnt altijd de zon, ook in de winter.'
`En na die wandeling?'
`Het is meer dan duizend kilometer, dat is een maand lopen.'
`Daarna gaan we op bezoek bij de keizer, om uit te rusten', zegt Tijger.
`Ze hebben allang geen keizer meer', zegt Thija. `De communisten hebben de hele keizerlijke kliek in mootjes gehakt en aan de vissen in de Jangtsekiang gevoerd.'
`Als het waar is, is het gruwelijk', zegt Tijger.
`Het ís waar. Nu eet geen mens meer vis uit die rivier omdat de vissen als mensen kunnen praten.'
`Lijkt me leuk, een pratende vis', zegt Mels.
`Stel je voor, een vis die opeens tegen je begint te praten en om zijn leven smeekt. Wat zou je doen?'
`Teruggooien.'
`Forellen weten niet wat pijn is', zegt Tijger. `Als je ze de kop afsnijdt, knipperen ze niet eens met de ogen.'
`Dat ze de keizer hebben vermoord, was zijn verdiende loon', zegt Thija. `Hij was bijzonder wreed. De Chinezen die niet van hem hielden, liet hij onthoofden.'
`Kun je van iemand houden omdat het moet?'
`Dat kan.'
`Van wie hou jij dan?'
`Zoiets vraag je niet.'
Mels kan zijn tong wel afbijten. Soms is zijn tong vlugger dan zijn verstand.
Hij spuwt in zijn handen, om meer grip te hebben op de gladde handgrepen. Hij heeft meer eelt dan Tijger, want die roeit nooit. Mels is niet zo watervlug als Tijger, maar sterker. Zijn armspieren zijn zo hard als kabels. Eens zal hij alles terugwinnen.
Ton van Reen: Het diepste blauw (021)
wordt vervolgd
fleursdumal.nl magazine
More in: - Book Stories, - Het diepste blauw, Archive Q-R, Reen, Ton van
---
Jaako ist 37, als sein Arzt ihm eröffnet, dass er keine Grippe hat, sondern sterben wird, und zwar sehr bald: Jemand hat ihn über längere Zeit hinweg vergiftet.
Das an sich ist schon geeignet, einem Mann so richtig den Tag zu verderben. Leider wird Jaako bei der Rückkehr nach Hause außerdem noch Zeuge, wie ihn seine Frau mit Petri betrügt, dem jungen, knackigen Angestellten ihrer gemeinsamen Firma. Der Firma, die in jüngster Zeit gefährlich Konkurrenz bekommen hat.
Jaako beschließt herauszufinden, wer ihn um die Ecke bringen will. Und er wird sein Unternehmen für die Zeit nach seinem Tod fit machen. Der Handel mit den in Japan zu Höchstpreisen gehandelten Matsutake-Pilzen läuft nämlich ausgezeichnet, und in Finnlands Wäldern wachsen nun einmal die besten. Doch das neue Konkurrenzunternehmen kämpft wirklich mit harten Bandagen.
Ist es da Jaakos Schuld, wenn es zu Toten kommt? Und hat er überhaupt Zeit für anderer Leute Sorgen? Denn so viel ist klar: Mit dem Tod vor Augen geht alles leichter, gilt es doch jede Minute zu genießen.
«Die letzten Meter bis zum Friedhof» ist nicht einfach ein Kriminalroman, sondern ein besonderes Buch: lustig und tragisch, berührend und skurril, lebensklug und nachdenklich, ein Roman, der trotz seines makabren Themas die Lebensgeister weckt, und eine schräge Lektüre, bei der man sich fühlt, als befände man sich in einem Film von Aki Kaurismäki.
Antti Tuomainen, Jahrgang 1971, ist einer der angesehensten und erfolgreichsten finnischen Schriftsteller. Er wurde u.a. mit dem Clue Award, dem Finnischen Krimipreis ausgezeichnet, seine Romane erscheinen in über 25 Ländern. Antti Tuomainen lebt mit seiner Frau in Helsinki.
Antti Tuomainen
Die letzten Meter bis zum Friedhof
Erscheinungstermin: 24.01.2018
384 Seiten
Hardcover
€19,95
Übersetzt von: Niina Wagner; Jan Costin Wagner
Verlag: Rowohlt
ISBN: 978-3-498-06552-2
new books
fleursdumal.nl magazine
More in: - Book Lovers, - Book Stories, Archive S-T, Art & Literature News, CRIME & PUNISHMENT, Tales of Mystery & Imagination
---
Gestolen tijd
Zij was zijn lief en op een dag brak zij
zijn hart. Hij dook weg in een theorie
van scherven en geluk. Zo hoefde hij
nog niet te wennen aan een wereld die
de trekken hebben zou van haar gezicht.
Hij zocht haar jaren later pas weer op.
Zij brak zijn hart opnieuw. Zijn theorie,
hoe stevig ook, was nog volstrekt niet
opgewassen tegen de ravage die de
tijd in haar gezicht had aangericht.
Paul Bezembinder
gedicht: Gestolen tijd
Paul Bezembinder studeerde theoretische natuurkunde in Nijmegen. In zijn poëzie zoekt hij in vooral klassieke versvormen en thema's naar de balans tussen serieuze poëzie, pastiche en smartlap. Zijn gedichten (Nederlands) en vertalingen (Russisch-Nederlands) verschenen in verschillende (online) literaire tijdschriften. Voor­beelden van zijn werk zijn te vinden op zijn website, www.paulbezembinder.nl
fleursdumal.nl magazine
More in: Archive A-B, Archive A-B, Art & Literature News, Bezembinder, Paul, POETRY IN TRANSLATION: BEZEMBINDER
---
Older Entries »
« Newer Entries
Thank you for reading FLEURSDUMAL.NL - magazine for art & literature