FICTION & NON-FICTION – books, booklovers, lit. history, biography, essays, translations, short stories, columns, literature: celtic, beat, travesty, war, dada & de stijl, drugs, dead poets
«« Previous page
·
Michel Houellebecq: Sérotonine. Roman
·
Emily Dickinson: Wild nights – Wild nights!
·
Sophie Albrecht: Sehnsucht (Gedicht)
·
Saki: The Blind Spot (short story)
·
Ton van Reen: Het diepste blauw (085). Een roman als feuilleton
·
Antonin Artaud: Qui suis-je ? (Poème)
·
Bert Bevers: Boodschapper (gedicht)
·
Deathwatch by Jean Genet
·
Yugoslavia: Peace, War, and Dissolution by Noam Chomsky
·
David Lynch: Someone is in my House. Retrospectief in Bonnefantenmuseum
·
Martin Rowson: Pastrami Faced Racist
·
Sara Teasdale: The Look
«Mes croyances sont limitées, mais elles sont violentes. Je crois à la possibilité du royaume restreint. Je crois à l'amour» écrivait récemment Michel Houellebecq.
Le narrateur de Sérotonine approuverait sans réserve. Son récit traverse une France qui piétine ses traditions, banalise ses villes, détruit ses campagnes au bord de la révolte. Il raconte sa vie d'ingénieur agronome, son amitié pour un aristocrate agriculteur (un inoubliable personnage de roman – son double inversé), l'échec des idéaux de leur jeunesse, l'espoir peut-être insensé de retrouver une femme perdue.
Ce roman sur les ravages d'un monde sans bonté, sans solidarité, aux mutations devenues incontrôlables, est aussi un roman sur le remords et le regret.
Michel Houellebecq
Sérotonine
Littérature française
Flammarion
À paraître le 04/01/2019
352 pages
139 x 210 mm
Broché
EAN : 9782081471757
ISBN : 9782081471757
€ 22,00
# Nouveau roman
Michel Houellebecq
Sérotonine
•fleursdumal.nl magazine
More in: - Book News, - Bookstores, Archive G-H, Art & Literature News, Michel Houellebecq
---
Wild nights – Wild nights!
Wild nights – Wild nights!
Were I with thee
Wild nights should be
Our luxury!
Futile – the winds –
To a Heart in port –
Done with the Compass –
Done with the Chart!
Rowing in Eden –
Ah – the Sea!
Might I but moor – tonight –
In thee!
Emily Dickinson
(1830-1886)
Wild nights – Wild nights!
• fleursdumal.nl magazine
More in: Archive C-D, Archive C-D, Dickinson, Emily
---
Sehnsucht
Entfernter Freund!
Um den auf immer
Im stillen Zimmer
Mein Auge weint;
Dann, wenn die Sterne
Am Himmel blinken,
Und Liebe winken,
Denk ich der Ferne
In der du, ach!
Jetzt um mich leidest,
Und Freuden meidest,
Mit Thränen nach.
Und wenn mein Freund
Im Stralenkleide,
Zu meinem Leide
Mitleidig scheint;
Da werf ich mich,
Mit stummen Sehnen
Und tausend Thränen –
O! sähst du mich!
An jene Flüsse
Zur Erde nieder,
Die unsre Lieder
Und unsere Küsse
Beym Sternenschein
So oft belauschten,
und sanfter rauschten
Durch diesen Hayn –
Ach! keine Lieder
Und keine Küsse,
Ihr – Hayn – und Flüsse!
Belauscht ihr wieder –
Und denk an dich,
An jene Zeiten,
So voller Freuden
Für mich und dich;
Dann ruf ich dich
Durch alle Wälder,
Durch Thal und Felder
Als hört'st du mich.
Und wüst und schaurig
Ist Hayn – und Trifte,
Wie Todtengrüfte,
So bang und traurig.
O! Mond und Sterne,
Blickt tausend Küsse
Und tausend Grüsse
Dem in der Ferne,
Ihr könnt' ihn finden!
So ruf und weine
Ich oft alleine
In öden Gründen.
So lächelt dir
Der Mond oft Küsse
So traurig süsse
Mein Freund von mir.
Sophie Albrecht
(1757-1840)
Gedicht
Im Junius 1783
• fleursdumal.nl magazine
More in: Archive A-B, Archive A-B, CLASSIC POETRY, Galerie Deutschland
---
The Blind Spot
"You've just come back from Adelaide's funeral, haven't you?" said Sir Lulworth to his nephew; "I suppose it was very like most other funerals?"
"I'll tell you all about it at lunch," said Egbert.
"You'll do nothing of the sort. It wouldn't be respectful either to your great-aunt's memory or to the lunch. We begin with Spanish olives, then a borshch, then more olives and a bird of some kind, and a rather enticing Rhenish wine, not at all expensive as wines go in this country, but still quite laudable in its way. Now there's absolutely nothing in that menu that harmonises in the least with the subject of your great-aunt Adelaide or her funeral. She was a charming woman, and quite as intelligent as she had any need to be, but somehow she always reminded me of an English cook's idea of a Madras curry."
"She used to say you were frivolous," said Egbert. Something in his tone suggested that he rather endorsed the verdict.
"I believe I once considerably scandalised her by declaring that clear soup was a more important factor in life than a clear conscience. She had very little sense of proportion. By the way, she made you her principal heir, didn't she?"
"Yes," said Egbert, "and executor as well. It's in that connection that I particularly want to speak to you."
"Business is not my strong point at any time," said Sir Lulworth, "and certainly not when we're on the immediate threshold of lunch."
"It isn't exactly business," explained Egbert, as he followed his uncle into the dining-room.
"It's something rather serious. Very serious."
"Then we can't possibly speak about it now," said Sir Lulworth; "no one could talk seriously during a borshch. A beautifully constructed borshch, such as you are going to experience presently, ought not only to banish conversation but almost to annihilate thought. Later on, when we arrive at the second stage of olives, I shall be quite ready to discuss that new book on Borrow, or, if you prefer it, the present situation in the Grand Duchy of Luxemburg. But I absolutely decline to talk anything approaching business till we have finished with the bird."
For the greater part of the meal Egbert sat in an abstracted silence, the silence of a man whose mind is focussed on one topic. When the coffee stage had been reached he launched himself suddenly athwart his uncle's reminiscences of the Court of Luxemburg.
"I think I told you that great-aunt Adelaide had made me her executor. There wasn't very much to be done in the way of legal matters, but I had to go through her papers."
"That would be a fairly heavy task in itself. I should imagine there were reams of family letters."
"Stacks of them, and most of them highly uninteresting. There was one packet, however, which I thought might repay a careful perusal. It was a bundle of correspondence from her brother Peter."
"The Canon of tragic memory," said Lulworth.
"Exactly, of tragic memory, as you say; a tragedy that has never been fathomed."
"Probably the simplest explanation was the correct one," said Sir Lulworth; "he slipped on the stone staircase and fractured his skull in falling."
Egbert shook his head. "The medical evidence all went to prove that the blow on the head was struck by some one coming up behind him. A wound caused by violent contact with the steps could not possibly have been inflicted at that angle of the skull. They experimented with a dummy figure falling in every conceivable position."
"But the motive?" exclaimed Sir Lulworth; "no one had any interest in doing away with him, and the number of people who destroy Canons of the Established Church for the mere fun of killing must be extremely limited. Of course there are individuals of weak mental balance who do that sort of thing, but they seldom conceal their handiwork; they are more generally inclined to parade it."
"His cook was under suspicion," said Egbert shortly.
"I know he was," said Sir Lulworth, "simply because he was about the only person on the premises at the time of the tragedy. But could anything be sillier than trying to fasten a charge of murder on to Sebastien? He had nothing to gain, in fact, a good deal to lose, from the death of his employer. The Canon was paying him quite as good wages as I was able to offer him when I took him over into my service. I have since raised them to something a little more in accordance with his real worth, but at the time he was glad to find a new place without troubling about an increase of wages. People were fighting rather shy of him, and he had no friends in this country. No; if anyone in the world was interested in the prolonged life and unimpaired digestion of the Canon it would certainly be Sebastien."
"People don't always weigh the consequences of their rash acts," said Egbert, "otherwise there would be very few murders committed. Sebastien is a man of hot temper."
"He is a southerner," admitted Sir Lulworth; "to be geographically exact I believe he hails from the French slopes of the Pyrenees. I took that into consideration when he nearly killed the gardener's boy the other day for bringing him a spurious substitute for sorrel. One must always make allowances for origin and locality and early environment; 'Tell me your longitude and I'll know what latitude to allow you,' is my motto."
"There, you see," said Egbert, "he nearly killed the gardener's boy."
"My dear Egbert, between nearly killing a gardener's boy and altogether killing a Canon there is a wide difference. No doubt you have often felt a temporary desire to kill a gardener's boy; you have never given way to it, and I respect you for your self-control. But I don't suppose you have ever wanted to kill an octogenarian Canon. Besides, as far as we know, there had never been any quarrel or disagreement between the two men. The evidence at the inquest brought that out very clearly."
"Ah!" said Egbert, with the air of a man coming at last into a deferred inheritance of conversational importance, "that is precisely what I want to speak to you about."
He pushed away his coffee cup and drew a pocket-book from his inner breast-pocket. From the depths of the pocket-book he produced an envelope, and from the envelope he extracted a letter, closely written in a small, neat handwriting.
"One of the Canon's numerous letters to Aunt Adelaide," he explained, "written a few days before his death. Her memory was already failing when she received it, and I daresay she forgot the contents as soon as she had read it; otherwise, in the light of what subsequently happened, we should have heard something of this letter before now. If it had been produced at the inquest I fancy it would have made some difference in the course of affairs. The evidence, as you remarked just now, choked off suspicion against Sebastien by disclosing an utter absence of anything that could be considered a motive or provocation for the crime, if crime there was."
"Oh, read the letter," said Sir Lulworth impatiently.
"It's a long rambling affair, like most of his letters in his later years," said Egbert. "I'll read the part that bears immediately on the mystery.
"'I very much fear I shall have to get rid of Sebastien. He cooks divinely, but he has the temper of a fiend or an anthropoid ape, and I am really in bodily fear of him. We had a dispute the other day as to the correct sort of lunch to be served on Ash Wednesday, and I got so irritated and annoyed at his conceit and obstinacy that at last I threw a cupful of coffee in his face and called him at the same time an impudent jackanapes. Very little of the coffee went actually in his face, but I have never seen a human being show such deplorable lack of self-control. I laughed at the threat of killing me that he spluttered out in his rage, and thought the whole thing would blow over, but I have several times since caught him scowling and muttering in a highly unpleasant fashion, and lately I have fancied that he was dogging my footsteps about the grounds, particularly when I walk of an evening in the Italian Garden.'
"It was on the steps in the Italian Garden that the body was found," commented Egbert, and resumed reading.
"'I daresay the danger is imaginary; but I shall feel more at ease when he has quitted my service.'"
Egbert paused for a moment at the conclusion of the extract; then, as his uncle made no remark, he added: "If lack of motive was the only factor that saved Sebastien from prosecution I fancy this letter will put a different complexion on matters."
"Have you shown it to anyone else?" asked Sir Lulworth, reaching out his hand for the incriminating piece of paper.
"No," said Egbert, handing it across the table, "I thought I would tell you about it first. Heavens, what are you doing?"
Egbert's voice rose almost to a scream. Sir Lulworth had flung the paper well and truly into the glowing centre of the grate. The small, neat handwriting shrivelled into black flaky nothingness.
"What on earth did you do that for?" gasped Egbert. "That letter was our one piece of evidence to connect Sebastien with the crime."
"That is why I destroyed it," said Sir Lulworth.
"But why should you want to shield him?" cried Egbert; "the man is a common murderer."
"A common murderer, possibly, but a very uncommon cook."
The Blind Spot
From 'Beasts and Super-Beasts'
by Saki (H. H. Munro)
(1870 – 1916)
• fleursdumal.nl magazine
More in: Archive S-T, Saki, Saki, The Art of Reading
---
`Als we China hebben gezien, zullen we pas begrijpen hoe nietig het hier allemaal is', zegt Tijger.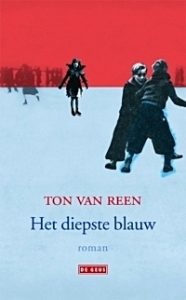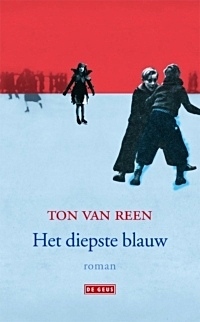 `Hoe klein het dorp is, hoe smal de beek, hoe de fabriek stinkt.'
`Jij hoeft helemaal niet op reis te gaan om dat te ontdekken', zegt Thija. `Jij weet het nu al.'
`Na de zomervakantie gaan we ieder naar een andere school', zegt Tijger.
`Het is ellendig', zegt Mels. `Ik wil helemaal niet naar een andere school. We moeten bij elkaar blijven.'
`We hebben er niets over te zeggen', zegt Tijger. `Het is allemaal al beslist.'
`Stom', zegt Thija. `Ik zal jullie maanden niet zien.'
`Dat is het ergst van alles,' zegt Mels, `dat jij naar kostschool moet.'
`Ik wil het niet. Mijn váder wil het.'
`Ons vragen ze niets', zegt Mels.
Ton van Reen: Het diepste blauw (085)
wordt vervolgd
fleursdumal.nl magazine
More in: - Book News, - Het diepste blauw, Archive Q-R, Reen, Ton van
---
Qui suis-je ?
Qui suis-je ?
D'où je viens ?
Je suis Antonin Artaud
et que je le dise
comme je sais le dire
immédiatement
vous verrez mon corps actuel
voler en éclats
et se ramasser
sous dix mille aspects
notoires
un corps neuf
où vous ne pourrez
plus jamais
m'oublier.
Antonin Artaud
Poème
Qui suis-je ?
(1896 – 1948)
• fleursdumal.nl magazine
More in: Archive A-B, Archive A-B, Artaud, Antonin
---
Boodschapper
Ze wegen door, die tafelen. Hij
sjouwt wat op en neer met
boodschappen en lijstjes met
benodigdheden: acaciahout,
gelooide huiden, getwijnd lijnwaad
en geitenhaar, onyxstenen, roodgeverfde
ramsvellen, zalfolie en o ja natuurlijk
brons en zilver niet te vergeten.
Want een beetje ark.
Groeiend tabernakel.
Nader niet te dicht,
bandeloos volk:
wacht tot de hoorn schalt.
Geloof
niet in goud
Bert Bevers
Gedicht: Boodschapper
Niet eerder verschenen
Bert Bevers is a poet and writer who lives and works in Antwerp (Be)
• fleursdumal.nl magazine
More in: Archive A-B, Archive A-B, Bevers, Bert
---
Deathwatch, Jean Genet's earliest, shortest and most formally straightforward play, was first performed in Paris in 1949.
It retains an intense power and makes an excellent introduction to his later dramas – The Maids, The Balcony, The Blacks, The Screens. The French text of Deathwatch, published by Gallimard, was extensively altered by Genet during rehearsal; and Bernard Frechtman's translation is of the final 'performance' version, which supersedes the original published text.Three convicts share a cramped prison cell.
There is no question as to which of them is the dominant dog in the pack: Green Eyes (Yeux-Verts) has brutally murdered a woman and is to be executed.
Lefranc and the younger novice-like Maurice are inside for less grave crimes. But both of them covet Green Eyes' attention, baiting each other in the process, a duel that drives inexorably toward violence
Three young convicts share a cell. Locked into a world of dangerous rivalries, criminals Lefranc and Maurice compete for the attention of the charismatic condemned man, Green-Eyes.
Informed by his own experience in French prisons, Jean Genet's first play, Deathwatch is an explosive exploration of the inversion of moral order.
Genet was one of the most prominent and provocative writers of the twentieth century.
Jean Genet's Deathwatch premiered in this translation by David Rudkin with the Royal Shakespeare Company in 1987 and was revived at the Print Room, London, in April 2016.
Jean Genet was born in Paris in 1910. An illegitimate child who never knew his parents, he was abandoned to the Public Assistance Authorities. He was ten when he was sent to a reformatory for stealing; thereafter he spent time in the prisons of nearly every country he visited in thirty years of prowling through the European underworld. With ten convictions for theft in France to his credit he was, the eleventh time, condemned to life imprisonment. Eventually he was granted a pardon by President Auriol as a result of appeals from France's leading artists and writers led by Jean Cocteau. His first novel, Our Lady of the Flowers, was written while he was in prison, followed by Miracle of the Rose, the autobiographical The Thief's Journal, Querelle of Brest and Funeral Rites. He wrote six plays: The Balcony, The Blacks, The Screens, The Maids, Deathwatch and Splendid's (the manuscript of which was rediscovered only in 1993). Jean Genet died in 1986.
Deathwatch
by Jean Genet
English
Translated by David Rudkin
Play
Faber & Faber
Paperback
64 pages
2016
ISBN 9780571332618
£9.99

# more books
Deathwatch by Jean Genet
• fleursdumal.nl
More in: - Book Lovers, - Book Stories, Archive G-H, Art & Literature News, AUDIO, CINEMA, RADIO & TV, CRIME & PUNISHMENT, Jean Genet, THEATRE
---
The Balkans, in particular the turbulent ex-Yugoslav territory, have been among the most important world regions in Noam Chomsky's political reflections and activism for decades.

His articles, public talks, and correspondence have provided a critical voice on political and social issues crucial not only to the region but the entire international community, including "humanitarian intervention," the relevance of international law in today's politics, media manipulations, and economic crisis as a means of political control.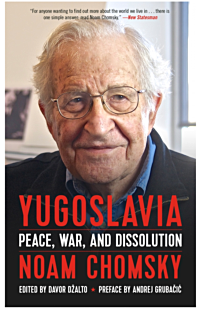 This volume provides a comprehensive survey of virtually all of Chomsky's texts and public talks that focus on the region of the former Yugoslavia, from the 1970s to the present. With numerous articles and interviews, this collection presents a wealth of materials appearing in book form for the first time along with reflections on events twenty-five years after the official end of communist Yugoslavia and the beginning of the war in Bosnia.
The book opens with a personal and wide-ranging preface by Andrej Grubačić that affirms the ongoing importance of Yugoslav history and identity, providing a context for understanding Yugoslavia as an experiment in self-management, antifascism, and mutlethnic coexistence.
Noam Chomsky (1928) is Institute Professor in the Department of Linguistics and Philosophy at the Massachusetts Institute of Technology, Boston. A member of the American Academy of Science, he has published widely in both linguistics and current affairs. His books include At War with Asia, Towards a New Cold War, Fateful Triangle: The U. S., Israel and the Palestinians, Necessary Illusions, Hegemony or Survival, Deterring Democracy, Failed States: The Abuse of Power and the Assault on Democracy and Manufacturing Consent: The Political Economy of the Mass Media.
Title: Yugoslavia: Peace, War, and Dissolution
Author: Noam Chomsky
Edited by Davor Džalto
Preface by Andrej Grubačić
Subjects: Politics / History-Europe
Publisher: PM Press
ISBN: 978-1-62963-442-5
Published: 04/2018
Language: English
Format: Paperback
Size: 6×9
240 pages
$15.63
# new books
Noam Chomsky
Yugoslavia: Peace, War, and Dissolution
• fleursdumal.nl magazine
More in: - Book News, - Book Stories, Archive C-D, AUDIO, CINEMA, RADIO & TV, MONTAIGNE, Noam Chomsky, WAR & PEACE
---
Vanaf 30 november 2018 tot 28 april 2019 presenteert het Bonnefantenmuseum het omvangrijke retrospectief Someone is in my House van de Amerikaanse kunstenaar David Lynch.
Hoewel David Lynch onmiskenbaar een spilfiguur is in de internationale film- en tv-wereld, is zijn werk als beeldend kunstenaar veel minder bekend. Dat is op zijn minst vreemd, aangezien Lynch zelf altijd heeft bena­drukt dat hij zichzelf vóór alles ziet als beeldend kunste­naar.
Een beeldend kunstenaar die tijdens zijn studie aan de kunstacademie toevallig in aanraking kwam met het medium film, waarmee de basis gelegd werd voor zijn carrière als filmregisseur.
Naast zijn werk als regisseur is Lynch altijd actief gebleven als beeldend kunstenaar en heeft hij in de afgelopen decennia een grenzeloos oeuvre gecreëerd van onder andere schilderijen, tekeningen, litho's, foto's, lampsculpturen, muziek en installaties.
Een oeuvre dat tot nu toe nog maar zelden is belicht en in musea werd getoond. Met ruim 500 werken brengt het Bonnefantenmuseum niet alleen de eerste Nederlandse museumpresentatie van Lynch' beeldend oeuvre, maar ook de grootste overzichtstentoonstelling ooit.
David Lynch: Someone is in my House
30.11.2018 – 28.04.2019
David Lynch, beeldend kunstenaar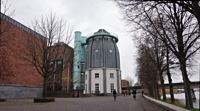 Anders dan het werk van Lynch (1946, Missoula, Montana, VS), vol duister geweld en seksua­liteit, doet vermoeden, is de kindertijd van de kunstenaar en filmmaker ge­lukkig en liefdevol.
Lynch groeit op met reislustige ouders en leidt op jonge leeftijd een nomadenbestaan, een voor hem idyllische en veilige omgeving. Van jongs af aan aangemoedigd om zich creatief te ontplooien – kleurboeken waren uit den boze, eigen verbeelding gebruiken was het credo – komt hij uiteindelijk op de Pennsylvania Academy of the Fine Arts in Philadelphia terecht om schilderkunst te studeren.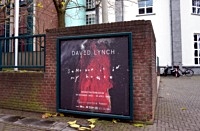 Hier ontwikkelt Lynch zijn artistieke vocabulaire en thema's die blijvend aanwezig zullen zijn in zijn werk. En hier ligt de voedingsbodem voor zijn eerste mixed-media installatie met stop-motion film Six Men Getting Sick (Six Times) (1967), die een opmaat vormde naar zijn eerste speelfilm, Eraserhead (1977). De rest is (film)geschiedenis en inmiddels zijn Lynch' films moderne klassiekers.
Lynch' kunstenaarschap loopt als een rode draad door zijn leven en films. Hij is gedurende zijn vijftigjarige carrière altijd blijven tekenen en schilde­ren, ook als er vanwege zijn werk als filmregisseur weinig tijd was om in het atelier door te brengen.
"I miss painting when I'm not painting", zegt Lynch zelf in de recente biografie Room to Dream. * David Lynch en Kristine McKenna. Room to Dream. Edinburgh, Canongate Books, 2018, p. 301
In samenwerking met David Lynch toont het Bonnefanten een indrukwekkend artistiek overzicht van het veelzijdige kunstenaarschap van Lynch.
De tentoonstelling omvat schilderijen, foto's, tekeningen, litho's en aquarellen uit de jaren 60 tot heden, unieke tekeningen op luciferboekjes uit de jaren 70, schetsboektekeningen uit de jaren 60/70/80, zwart-wit foto's uit verschillende periodes, waaronder de befaamde Snow Men-fotoserie (1993), cartoons uit de serie The Angriest Dog in the World (1982-1993), audiowerken én een aantal kortfilms uit 1968-2015.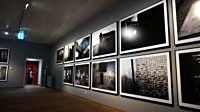 Voor het eerst sinds het ontstaan in 1967, zal ook het allesbepalende academiewerk Six Men Getting Sick (Six Times) in een museumtentoonstelling te zien zijn.
Publicatie
Bij de tentoonstelling verschijnt een rijk geïllustreerde monografie met tekstbijdragen van curator Stijn Huijts (artistiek directeur Bonnefantenmuseum), Kristine McKenna (journalist en curator, Verenigde Staten), Petra Giloy-Hirtz (schrijver en curator, Duitsland) en Michael Chabon (schrijver, Verenigde Staten). De publicatie is verkrijgbaar in het Nederlands, Engels en Frans en wordt uitgegeven door Uitgeverij Hannibal in samenwerking met Prestel.
Tentoonstellingsteaser
In aanloop naar zijn omvangrijke retrospectief Someone is in my House, maakte Lynch speciaal voor het Bonnefanten een unieke tentoonstellingsteaser. In deze typisch Lynchiaanse kortfilm, met in de hoofdrol naast Lynch zelf de 'White Monkey' – een personage dat eerder opdook in Lynch' Weird daily weather report – nodigt hij de kijker uit om naar het Bonnefanten te komen.
Flankerend programma
Parallel aan de tentoonstelling is er in samenwerking met Lumière Cinema in Maastricht een compleet filmretrospectief gewijd aan de films en het leven van David Lynch met filmvertoningen, documentaires en lezingen over de filmmaker.
Daarnaast brengt EYE filmmuseum drie digitaal gerestaureerde films opnieuw uit in de filmtheaters in heel het land. Voor meer informatie: https://www.eyefilm.nl/themas/gerestaureerde-david-lynch-klassiekers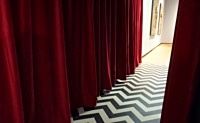 De philharmonie zuidnederland werkte met de Poolse componist Marek Zebrowski aan een compositie en uitvoering van Music for David, een strijkkwartet dat Zebrowski in 2015 componeerde als een hommage aan Lynch, die op zijn beurt de korte animatie film Pożar (Fire) maakte bij Zebrowski's compositie. Het muziekstuk zal een aantal keren live (op zaal) bij de film ten gehore worden gebracht.
# meer informatie op website Bonnefantenmuseum
# Expositie & publicatie
David Lynch: Someone is in my House
30.11.2018 – 28.04.2019

• photos: jef van kempen
• fleursdumal.nl magazine
More in: #Archive A-Z Sound Poetry, *Concrete + Visual Poetry K-O, - Book News, - Bookstores, Archive K-L, Art & Literature News, AUDIO, CINEMA, RADIO & TV, David Lynch, Exhibition Archive, FDM Art Gallery, Jef van Kempen Photos & Drawings, Museum of Literary Treasures, Photography, Tales of Mystery & Imagination, THEATRE
---
Undeterred by the embarrassing success of his ridiculous four-volume verse epic The Limerickiad, award-winning cartoonist Martin Rowson continues to lower the tone with a series of metrical rants and cautionary tales about contemporary political and literary life.
Accompanied by the ghosts of Chesterton, Shelley, Burns and Browning, Rowson casts his gaze across the satirical spectrum from governments, gammon-faced racists, class war, nationalism and the harsh realities of child rearing to the world of literary festivals, international book fairs, best-sellers, book-launches, holiday reading lists, bottom lines, liggers, bloggers, blaggers, book-signings and book-burnings.
Martin Rowson is an award-winning cartoonist whose work appears regularly in The Guardian, The Independent on Sunday, The Daily Mirror, The Morning Star and many other publications.
His books include graphic adaptations of The Waste Land, Tristram Shandy and Gulliver's Travels. Among his other books are Snatches, The Dog Allusion, Fuck, Stuff (long-listed for the Samuel Johnson Prize) and four volumes of The Limerickiad. His most recent book is The Communist Manifesto: A Graphic Novel.
Martin Rowson
Pastrami Faced Racist
Published by Smokestack Books
Release date: 01 Nov. 2018
Language: English
Paperback
84 pages
ISBN-10: 1999827686
ISBN-13: 978-1999827687
£8.99
# new books
Martin Rowson
Pastrami Faced Racist
• fleursdumal.nl magazine
More in: - Book News, - Book Stories, Archive Q-R, Archive Q-R, Art & Literature News, Illustrators, Illustration
---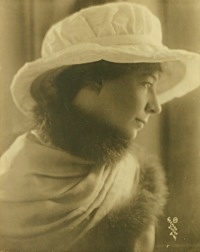 The Look
Strephon kissed me in the spring,
Robin in the fall,
But Colin only looked at me
And never kissed at all.
Strephon's kiss was lost in jest,
Robin's lost in play,
But the kiss in Colin's eyes
Haunts me night and day.
Sara Teasdale
(1884-1933)
The Look
• fleursdumal.nl magazine
More in: Archive S-T, Archive S-T, Teasdale, Sara
---
Older Entries »
« Newer Entries
Thank you for reading FLEURSDUMAL.NL - magazine for art & literature