Galerie Deutschland
·
Sophie Albrecht: Sehnsucht (Gedicht)
·
Armistice of 11 November 1918/2018 – Wilfred Owen: Dulce et Decorum Est (Poem)
·
Ellebogen van Fatma Aydemir. Een roman als een mokerslag
·
Bettina Röhl: "Die RAF hat euch lieb". Die Bundesrepublik im Rausch von 68 – Eine Familie im Zentrum der Bewegung
·
Johannes Theodor Baargeld: Typische Vertikalklitterung als Darstellung des Dada Baargeld
·
Karl Marx 1818 – 2018
·
Roswitha Mair: Käthe Kollwitz. Ein Leben gegen jede Konvention
·
Ick kieke, staune, wundre mir: Berlinerische Gedichte von 1830 bis heute
·
Stefan Zweig: Erasmus von Rotterdam & Montaigne. Zwei biographische Essays
·
Johannes Theodor Baargeld: Venus beim Spiel der Könige
·
German Neo-Expressionist painter and sculptor A.R. PENCK (1939–2017) has died in Zürich
·
The BAUHAUS #itsalldesign in Art & Design Atomium Museum (ADAM) Brussel
Sehnsucht
Entfernter Freund!
Um den auf immer
Im stillen Zimmer
Mein Auge weint;
Dann, wenn die Sterne
Am Himmel blinken,
Und Liebe winken,
Denk ich der Ferne
In der du, ach!
Jetzt um mich leidest,
Und Freuden meidest,
Mit Thränen nach.
Und wenn mein Freund
Im Stralenkleide,
Zu meinem Leide
Mitleidig scheint;
Da werf ich mich,
Mit stummen Sehnen
Und tausend Thränen –
O! sähst du mich!
An jene Flüsse
Zur Erde nieder,
Die unsre Lieder
Und unsere Küsse
Beym Sternenschein
So oft belauschten,
und sanfter rauschten
Durch diesen Hayn –
Ach! keine Lieder
Und keine Küsse,
Ihr – Hayn – und Flüsse!
Belauscht ihr wieder –
Und denk an dich,
An jene Zeiten,
So voller Freuden
Für mich und dich;
Dann ruf ich dich
Durch alle Wälder,
Durch Thal und Felder
Als hört'st du mich.
Und wüst und schaurig
Ist Hayn – und Trifte,
Wie Todtengrüfte,
So bang und traurig.
O! Mond und Sterne,
Blickt tausend Küsse
Und tausend Grüsse
Dem in der Ferne,
Ihr könnt' ihn finden!
So ruf und weine
Ich oft alleine
In öden Gründen.
So lächelt dir
Der Mond oft Küsse
So traurig süsse
Mein Freund von mir.
Sophie Albrecht
(1757-1840)
Gedicht
Im Junius 1783
• fleursdumal.nl magazine
More in: Archive A-B, Archive A-B, CLASSIC POETRY, Galerie Deutschland
---
Dulce et Decorum Est
Bent double, like old beggars under sacks,
Knock-kneed, coughing like hags, we cursed through sludge,
Till on the haunting flares we turned our backs,
And towards our distant rest began to trudge.
Men marched asleep. Many had lost their boots,
But limped on, blood-shod. All went lame; all blind;
Drunk with fatigue; deaf even to the hoots
Of gas-shells dropping softly behind.
Gas! GAS! Quick, boys!—An ecstasy of fumbling
Fitting the clumsy helmets just in time,
But someone still was yelling out and stumbling
And flound'ring like a man in fire or lime.—
Dim through the misty panes and thick green light,
As under a green sea, I saw him drowning.
In all my dreams before my helpless sight,
He plunges at me, guttering, choking, drowning.
If in some smothering dreams, you too could pace
Behind the wagon that we flung him in,
And watch the white eyes writhing in his face,
His hanging face, like a devil's sick of sin;
If you could hear, at every jolt, the blood
Come gargling from the froth-corrupted lungs,
Obscene as cancer, bitter as the cud
Of vile, incurable sores on innocent tongues,—
My friend, you would not tell with such high zest
To children ardent for some desperate glory,
The old Lie: Dulce et decorum est
Pro patria mori.
Wilfred Owen
(1893 – 1918)
Dulce et Decorum Est (Poem)
# Armistice of 11 November 1918 – 2018

fleursdumal.nl magazine
More in: Archive O-P, Archive O-P, Galerie des Morts, Galerie Deutschland, Histoire de France, Historia Belgica, History of Britain, Owen, Wilfred, WAR & PEACE
---
Een jonge Turks-Duitse duwt een Duitser voor de metro. Hij sterft, zij voelt geen berouw. Warm en vurig vertelt Fatma Aydemir over diegenen die tussen culturen en landen leven en hun plaats op de wereld zoeken.

Ze is zeventien. Ze is in Berlijn geboren. Ze heet Hazal Akgündüz. Er werd haar beloofd dat ze alles kon worden wat ze maar wou. Maar steeds opnieuw moet ze opboksen tegen vooroordelen en discriminatie.
Tot ze op een nacht te veel gedronken heeft en een Duitse student die haar uitdaagt, voor de metro duwt. Als de politie haar achterna zit vlucht Hazal naar Istanbul, waar ze nooit eerder is geweest. Ze ziet op krantenfoto's de grijns op haar gezicht terwijl ze de jongen aanvalt maar voelt geen berouw.
Ellebogen is een urgent, gewaagd en onverzoenlijk verhaal over de woede van een migrantendochter in een Europa waar ze zich nooit helemaal thuis voelde.
Fatma Aydemir (1986) is de dochter van Turkse gastarbeiders. Ze heeft Duits en Amerikanistiek gestudeerd en werkt als redacteur voor de krant Taz. Haar controversiële debuutroman Ellebogen werd meteen een fenomeen in Duitsland. Op 11 maart 2017 kopte de Volkskrant al: 'Over dit debuut schrijven alle Duitse kwaliteitskranten'. Aydemir neemt met regelmaat deel aan het publieke debat over integratie in Duitsland.
"'Ellebogen is een stomp in de maag. Of beter gezegd, twee. Eén voor de misogyne Turkse gemeenschap. En één voor de huichelarij van onze o zo liberale samenleving.'" – Süddeutsche Zeitung
Titel: Ellebogen
Auteur: Fatma Aydemir
Vertaler(s): Marcel Misset
240 pagina's
€ 19,99
Uitgever: Signatuur
2017
ISBN: 978-90-5672-590-7
NUR: 302
new books
fleursdumal.nl magazine
More in: - Book News, - Bookstores, Archive A-B, Art & Literature News, Galerie Deutschland
---
Bettina Röhl über ihre letzten gemeinsamen Jahre mit ihrer Mutter Ulrike Meinhof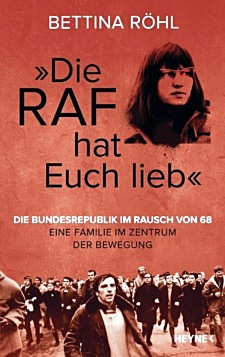 Brauchte die Bundesrepublik die Revolte von 68? Ist 68 gar das Jahr einer "Neugründung" der heutigen Bundesrepublik? Die APO-Bewegung – und ihre "Speerspitze", die RAF – ist das wohl meist beschriebene Thema der neueren politischen Geschichte des Landes. Mit bisher unbekannten Fakten und den Stimmen neuer Zeitzeugen unterlegt, liefert Bettina Röhl, die als Kind die Gründung der RAF hautnah miterlebte, eine spannende Analyse und erzählt die scheinbar bekannte Geschichte neu. Bei ihren Recherchen fand Bettina Röhl zahlreiche bisher unveröffentlichte Briefe, Dokumente und Fotos, die den Leser die damalige Zeit hautnah miterleben und nachvollziehen lassen.
Bettina Röhl wurde 1962 in Hamburg geboren, wo sie 1982 Abitur machte. 1986 begann sie neben ihrem Studium der Geschichte und Germanistik ihr Volontariat bei der Zeitschrift TEMPO. Sie arbeitete für Spiegel TV, Welt online, Cicero, Wirtschaftswoche und viele andere Medien und veröffentlichte zahlreiche Buchbeiträge. 2001 wurde sie mit ihren Veröffentlichungen zu Joschka Fischers Gewaltvergangenheit in stern und BILD bekannt. Nach "So macht Kommunismus Spaß" ist "Die RAF hat euch lieb" ihr zweites historisch-biographisches Buch über die linke Geschichte der Bundesrepublik.
Bettina Röhl
"Die RAF hat euch lieb"
Die Bundesrepublik im Rausch von 68
Eine Familie im Zentrum der Bewegung
Gebundenes Buch mit Schutzumschlag,
640 Seiten,
13,5 x 21,5 cm mit 16 S. Bildteil
ISBN: 978-3-453-20150-7
€ 24,00
Verlag: Heyne Verlag
Erschienen: 10.04.2018
Sprache: Deutsch
new books
fleursdumal.nl magazine
More in: - Book News, - Book Stories, Archive Q-R, Art & Literature News, BIOGRAPHY, Galerie Deutschland, Protests of MAY 1968, Spurensicherung
---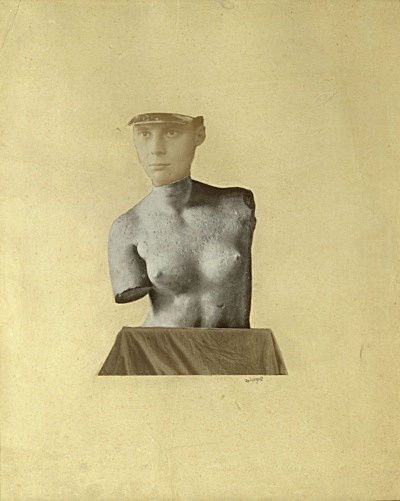 Johannes Theodor Baargeld (1892-1927)
Typische Vertikalklitterung als Darstellung des Dada Baargeld (Typical Vertical Mess as Depiction of the Dada Baargeld – Typique amalgame vertical en tant que représentation du Dada Baargeld)), 1920, collage
fleursdumal.nl magazine
More in: Baargeld, Johannes Theodor, Dada, DADA, Dadaïsme, Galerie Deutschland
---
The 5th of May 2018 marks the bicentennial of the birth of Karl Marx, the eminent 19th-century thinker. This is the first time that a historic-cultural exhibition is dedicated to his life, his important works and multifaceted activities in the context of his time. Sponsored by the Federal State of Rhineland-Palatinate and the City of Trier, the state exhibition KARL MARX 1818-1883. LIFE. WORK. TIME. will be on display in the Rheinisches Landesmuseum Trier and in the City Museum Simeonstift Trier from 5 May to 21 October 2018.
fleursdumal.nl magazine
More in: Archive M-N, Galerie Deutschland, Karl Marx, MONTAIGNE
---
Sie gilt als Künstlerin des sozialen Elends und der schmerzlichen Tragik des Krieges – Käthe Kollwitz.
Fröhlich, unkonventionell, sinnlich, neugierig – all das ist sie Zeit ihres Lebens. Immer wieder bricht Kollwitz mit gängigen Konventionen. So reist die Mutter von zwei Kindern etwa 1904 alleine nach Paris – eigentlich undenkbar zu dieser Zeit -, um die Kunst des plastischen Gestaltens zu lernen. Dort trifft sie u.a. auf Rodin.
Als zu Beginn des Ersten Weltkrieges ihr Sohn ums Leben kommt, beherrscht dieses Trauma über viele Jahre ihr Leben wie auch ihre Kunst.1919 wird sie als erste Frau Professorin an der Preußischen Akademie der Künste, bis nach Hitlers Machtergreifung ein dunkler Schatten über das Land zieht und sich auch auf ihr Leben legt.
Eine tiefgründige Romanbiografie, die das außergewöhnliche Leben dieser beeindruckenden Künstlerin facettenreich einfängt.
Roswitha Mair, Dr. phil., ist Kunsthistorikerin und lebt in Innsbruck. Zahlreiche Veröffentlichungen und Beiträge zur Kunst des 20. Jahrhunderts sowie Organisation und Konzeption von Kunstausstellungen.
Roswitha Mair :
Käthe Kollwitz.
Ein Leben gegen jede Konvention.
Romanbiografie
'Herder Spektrum Taschenbücher'
Herder Verlag GmbH
Juni 2017
231 Seiten
Kartoniert – Broschiert
Sprache: Deutsch
€16,00
EAN: 9783451069734
ISBN: 3451069733
new books
fleursdumal.nl magazine
More in: - Book News, Archive K-L, Archive M-N, Art & Literature News, Galerie Deutschland, Käthe Kollwitz, Sculpture, WAR & PEACE
---
Schon immer war Berlin von Zuwanderung geprägt. Die zur Metropole wachsende Stadt hat sich aller Sprachen bedient und ihre Mundart ausgeprägt: die »Berliner Schnauze«.
Von der Straße, aus den Dienstmädchenkammern und Hinterhöfen fand das Berlinerische seinen Weg auf die Bühnen der Schmalzstullentheater und bald auch in die Schreibstuben der Dichter.
Was mit Adolf Glaßbrenners Eckensteher anfing, wurde von Theodor Fontane, Erich Mühsam und Max Herrmann-Neiße aufgegriffen. Kurt Tucholsky entpuppte sich als Meister des mundsprachlichen Gelegenheitsgedichtes und Erich Weinert berlinerte noch aus dem Exil gegen die Nationalsozialisten an. Eine Mundart wurde hoffähig und manchmal auch frech und obszön.
Diese erste dokumentarische Anthologie, die sich der berlinerischen volksnahen Sprache widmet, umfasst über 250 Gedichte – von 1830 bis heute. Entstanden ist eine Berliner Kulturgeschichte »von unten«, die fast wie nebenbei auch die deutsche Geschichte der letzten zweihundert Jahre nachzeichnet – vom preußischen Selbstbewusstsein über den kaiserstädtischen Größenwahn, den Klassenkampf der Goldenen Zwanziger, den Jahren im Krieg, in denen vielen Autoren allein die Mundart als Stück Heimat blieb, bis hin zur Rückbesinnung in den Jahren deutsch-deutscher Teilung und deren Überwindung.
Ick kieke, staune, wundre mir
Berlinerische Gedichte von 1830 bis heute
Gesammelt und ediert von Thilo Bock, Wilfried Ihrig & Ulrich Janetzki, mit einem Vorwort von Hans Christoph Buch
Die Andere Bibliothek, Berlin
Erschienen: 05.2017
Seitenanzahl: 472
Extradrucke
Bandnummer: 387
Extradruck, gebunden,
farbiges Vorsatzpapier,
mit Lesebändchen,
Gestaltung: Susanne Bax, Berlin.
ISBN: 9783847720188
24,00 EUR
# Website Die Andere Bibliothek
new books
fleursdumal.nl magazine
More in: - Book Lovers, - Book News, - Book Stories, Art & Literature News, FDM in Berlin, Galerie Deutschland, LIGHT VERSE, POETRY ARCHIVE
---
Die »Sternstunden der Menschheit« sind das berühmteste Beispiel von Stefan Zweigs historischer Essaykunst. Erasmus von Rotterdam und Michel de Montaigne waren ihm wesentliche Bezugsgrößen des eigenen Schreibens.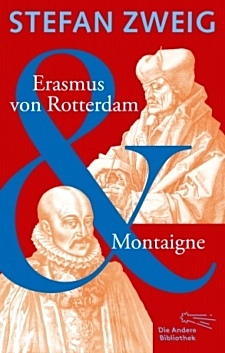 »Erasmus von Rotterdam, einstmals der größte und leuchtendste Ruhm seines Jahrhunderts, ist heute, leugnen wir es nicht, kaum mehr als ein Name.« Der Humanist und Wegbereiter der Reformation ist für Stefan Zweig der »erste bewusste Europäer«, in dem er einen frühen Geistesverwandten erkannte. Michel de Monhttps://www.die-andere-bibliothek.de/taigne widmete Stefan Zweig seinen letzten, unvollendet gebliebenen biographischen Essay. »Am hilfreichsten wird sein freies und unbeirrbares Denken einer Generation, die, wie etwa die unsere, vom Schicksal in einen kataraktischen Aufruhr der Welt geworfen wurde.«
Beide Essays – Triumph und Tragik des Erasmus von Rotterdam (1934) und Montaigne (1942) – behandeln die großen Fragen nach der Möglichkeit von Freiheit und Gerechtigkeit und werden deshalb in einem Band zusammengefasst. Die Werke von Michel de Montaigne – die Essais und das Tagebuch der Reise nach Italien – hat die Andere Bibliothek in den gerühmten Neuübersetzungen von Hans Stilett veröffentlicht. Montaigne zählt zu den Ikonen unserer Bibliothek – wie selbstverständlich gehört auch Stefan Zweigs Blick auf ihn in unser Repertoire.
Stefan Zweig
Erasmus von Rotterdam & Montaigne
Zwei biographische Essays
Die Andere Bibliothek, Berlin
Großes Buch im kleinen Format
Erscheint: 09.2017
Seitenanzahl: 288
Extradrucke
Umschlaggestaltung: Angelika Richter, Heidesheim.
Besonders feines bedrucktes Leinen.
Farbenprächtiges Vor- und Nachsatzpapier,
Lesebändchen
ISBN: 9783847740339
16,00 EUR
# Website Die Andere Bibliothek
new books
fleursdumal.nl magazine
More in: - Book Lovers, - Book News, - Book Stories, Archive Y-Z, Art & Literature News, Desiderius Erasmus, Galerie Deutschland, MONTAIGNE, Stefan Zweig, Zweig, Stefan
---
Johannes Theodor Baargeld (1892-1927)
Venus beim Spiel der Könige, 1920, photomontage
fleursdumal.nl magazine
More in: Baargeld, Johannes Theodor, Dada, DADA, Dadaïsme, Galerie Deutschland
---
German Neo-Expressionist painter, sculptor and jazz drummer A.R. Penck has died in Zürich at the age of seventy seven. His German gallerist said the cause of his death was complications of a stroke.
Ralf Winkler, alias A. R. Penck, was born in Dresden, Germany. After failing admission to the fine-arts academies in Dresden and East Berlin, Penck worked for several years in a lot of jobs.
In the early 1970s he met with a group of neo-expressionist painters in Dresden. Penck became later one of the exponents of the new figuration alongside with Jörg Immendorff, Georg Baselitz and Markus Lüpertz. In the late 1970s he was shown in West Berlin and was seen as an exponent of free speech in the East. In the 1980s Penck's work was shown by major museums and galleries in the western world.
Ralf Winkler, alias A. R. Penck, Mike Hammer, T. M., Mickey Spilane, Theodor Marx, "a. Y." or just "Y" died last week in Zürich.
In Memoriam A. R. Penck (1939–2017)
fleursdumal.nl magazine
More in: Art & Literature News, Exhibition Archive, Expressionisme, Galerie Deutschland, In Memoriam, REPRESSION OF WRITERS, JOURNALISTS & ARTISTS
---
The Bauhaus #itsalldesign
Art & Design Atomium Museum (ADAM)
16 maart – 11 juni 2017
Met The Bauhaus #itsalldesign is het Art & Design Atomium Museum [ADAM] verheugd om voor het eerst in haar jonge geschiedenis een tentoonstelling van het Vitra Design Museum te mogen verwelkomen. Deze retrospectieve biedt een complete kijk op het design van de Bauhaus-beweging. De tentoonstelling omvat tal van werken waarvan de meesten nooit eerder getoond werden, uit verschillende domeinen zoals design, architectuur, kunst, film en fotografie. Tegelijkertijd maakt ze ook een parallel tussen het design van het Bauhaus en de huidige tendensen en creaties op het vlak van design, kunst en architectuur. The Bauhaus #itsalldesign toont op die manier hoe actueel deze legendarische culturele instelling nog altijd is. De belangrijke figuren van het Bauhaus worden tentoongesteld zoals Marianne Brandt, Marcel Breuer, Lyonel Feininger, Walter Gropius en Wassily Kandinsky. De hedendaagse bijdrages komen onder andere van Olaf Nicolai, Adrian Sauer, Enzo Mari, Lord Norman Foster, Opendesk, Konstantin Grcic, Hella Jongerius, Alberto Meda en Jerszy Seymour.
Het doel van het "Staatliches Bauhaus", dat in 1919 in Weimar werd opgericht door Walter Gropius, was een nieuw soort designers op te leiden. Studenten aan het Bauhaus moesten de ambachtelijke en artistieke grondbeginselen kennen, maar net zo goed de menselijke psyche, het perceptieproces, de ergonomie en de techniek – een beroepsprofiel waaraan designers vandaag nog altijd beantwoorden. Volgens het Bauhaus is de ontwerper belast met een zeer ruime, complete missie: hij is niet alleen verantwoordelijk voor het ontwerp van objecten die tegemoet komen aan de behoeften van het dagelijks leven, hij dient ook actief deel te nemen aan de transformatie van de maatschappij. Op die manier tekende het Bauhaus een allesomvattende visie op design uit, die vandaag opnieuw volop omarmd wordt. Termen als Social Design, Open Design of "design thinking" getuigen van een hernieuwde discussie over de vraag hoe ontwerpers hun werken opnieuw in een grotere context kunnen integreren en de maatschappij kunnen helpen heruitvinden.
Vanuit deze zeer actuele invalshoek toont de tentoonstelling het Bauhaus als een complexe, rijkgelaagde beweging, als een "labo van modernisme" dat nog altijd zeer aanwezig is in de designtendensen. De tentoonstelling bestaat uit vier delen met elk een aparte thematiek en begint met een overzicht van de historische en sociale context van het Bauhaus. Het tweede deel toont iconische werken van de beweging, maar ook miskende designobjecten en verkent het creatieproces – tussen kunst, ambacht, techniek en industrie. De thematiek van de ruimte komt aan bod in het derde deel en onderstreept het aantal kunstenaars dat zich aansloot bij de manier waarop het Bauhaus design formuleerde. Dit gold voor theatermakers, architecten die een reflectie rond minimalistische woningen voorstelden en kunstenaars die kleurtheorieën en ruimtelijke modellen ontwikkelden. Het Bauhaus komt hier naar voren als de eerste "totaalervaring" op het vlak van het artistieke modernisme, dat het design wil betrekken bij alle aspecten van het leven. Het vierde deel van de tentoonstelling focust op de communicatiestrategie van het Bauhaus, gaande van de typografie over de tentoonstellingen tot de experimentele artistieke foto's en films. Hierbij wordt ook ingegaan op de vaak systematische manier waarop werd gewerkt aan de vorming van een mythe en een imago die vandaag nog altijd met de beweging worden geassocieerd.
In de hele expositie worden de actualiteit en de hedendaagse verankering van het Bauhaus onderstreept door historische werken van de periode van het Bauhaus parallel te tonen met die van hedendaagse designers. Zo worden de per computer vervaardigde meubelen van Minale Maede en Front voorgesteld, evenals het Hartz IV-Möbel van Van Bo Le-Mentzel, maar ook manifesten van designers als Hella Jongerius en Opendesk, interviews met ontwerpers als Lord Norman Foster, Enzo Mari, Sauerbruch Hutton en Jason Wu artistiek directeur van Boss Womanswear- of hommages aan het Bauhaus van designers zoals Mike Meiré, Studio Miro en Dokter and Misses. De reikwijdte van de invloed van het Bauhaus is duidelijk zichtbaar, van de auto-ontwerpen van Mercedes-Benz tot de meubelserie Pipe (2009) van Konstantin Grcic voor Muji en Thonet, geïnspireerd door Marcel Breuer. Opmerkelijk zijn ook de vier projecten die speciaal voor de tentoonstelling werden gemaakt door Adrian Sauer, kunstenaar uit Leipzig, Olaf Nicolai, conceptueel kunstenaar, evenals de kunstenaars en auteurs Joseph Grima en Philipp Oswalt.
De confrontatie tussen historische en hedendaagse werken werpt een nieuw licht op het design van de Bauhaus- beweging. Ze spreekt het cliché tegen dat wat men "Bauhaus-design" noemt vooral minimalistisch, koud en geometrisch is en toont daarentegen hoe de ontwerpers afkomstig van deze beweging een grote interesse hadden voor de sociale context, voor experimenten en voor het productieproces. Enerzijds wordt duidelijk dat tal van hedendaagse debatten op een verrassende manier aansluiten bij die van het Bauhaus, of het nu gaat om de mogelijkheden die worden geboden door de nieuwe productiemiddelen en materialen, de rol van de designer in de samenleving of de voordelen van multidisciplinair werk. Anderzijds blijkt dat het Bauhaus, door het uitbreiden van het begrip design, er mee voor gezorgd heeft dat het design zo alomtegenwoordig is in onze hedendaagse samenleving, een fenomeen dat al aangegeven wordt door de ondertitel van de tentoonstelling: The Bauhaus #itsalldesign.
In het kader van The Bauhaus #itsalldesign wordt een catalogus van meer dan 400 pagina's uitgegeven, bestaande uit een gedetailleerd, rijkelijk geïllustreerd gedeelte evenals essays van gerenommeerde auteurs, met name Arthur Rüegg en Jan Boelen, en een glossarium met de belangrijkste begrippen van het Bauhaus-design. De hedendaagse visie van het Bauhaus wordt benadrukt door talrijke artikels van vermaarde designers, kunstenaars en architecten uit de hele wereld, onder wie Lord Norman Foster, Tobias Rehberger, Arik Levy en Hella Jongerius, die ideeën, projecten en thesissen voorstellen waaruit blijkt hoe actueel het Bauhaus wel is.
The Bauhaus #itsalldesign is een tentoonstelling van het Vitra Design Museum en de Kunst- und Ausstellungshalle der Bundesrepublik Deutschland (Bundeskunsthalle).
The Bauhaus #itsalldesign
van 16 maart tot en met 11 juni 2017 in het
Art & Design Atomium Museum – ADAM.
Belgiëplein 1, 1020 Brussel (Laken)
Het Art & Design Atomium Museum bevindt zich in het noordelijke deel van de stad Brussel, op 5 minuten wandelen van het metrostation Heizel/Heysel (lijn 6) en recht tegenover Paleis 5 van de Heizel, op 100m van het Atomium.
Van 16 maart tot en met 11 juni 2017 in het Art & Design Atomium Museum – ADAM.
# meer info op website Art & Design Atomium Museum (ADAM)
fleursdumal.nl magazine
More in: Art & Literature News, Bauhaus, Bauhaus, Constuctivisme, DANCE, De Stijl, Design, DICTIONARY OF IDEAS, Exhibition Archive, Fashion, FDM in Berlin, Galerie Deutschland, Kubisme, Modernisme, Photography, Theo van Doesburg
---
Older Entries »
Thank you for reading FLEURSDUMAL.NL - magazine for art & literature