BOOKS. The final chapter?
·
Christopher de Hamel: Meetings with Remarkable Manuscripts
·
Detlef Siegfried: 1968. Protest, Revolte, Gegenkultur
·
Ton van Reen: Het diepste blauw (041). Een roman als feuilleton
·
Ivory Pearl by Jean-Patrick Manchette
·
Ton van Reen: Het diepste blauw (040). Een roman als feuilleton
·
The longlist of The Orwell Prize for Books 2018
·
Ton van Reen: Het diepste blauw (039). Een roman als feuilleton
·
Ton van Reen: Het diepste blauw (038). Een roman als feuilleton
·
Fabrice Luchini: Comédie française. Ça a débuté comme ça
·
Charles Bukowski: The Mathematics of the Breath and the Way. On Writers and Writing
·
Ton van Reen: Het diepste blauw (037). Een roman als feuilleton
·
Catherine Millet: Aimer Lawrence
An extraordinary exploration of the medieval world – the most beguiling history book of the year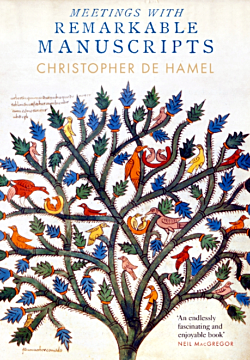 This is a book about why medieval manuscripts matter. Coming face to face with an important illuminated manuscript in the original is like meeting a very famous person. We may all pretend that a well-known celebrity is no different from anyone else, and yet there is an undeniable thrill in actually meeting and talking to a person of world stature.
The idea for the book, which is entirely new, is to invite the reader into intimate conversations with twelve of the most famous manuscripts in existence and to explore with the author what they tell us about nearly a thousand years of medieval history – and sometimes about the modern world too. Christopher de Hamel introduces us to kings, queens, saints, scribes, artists, librarians, thieves, dealers, collectors and the international community of manuscript scholars, showing us how he and his fellows piece together evidence to reach unexpected conclusions. He traces the elaborate journeys which these exceptionally precious artefacts have made through time and space, shows us how they have been copied, who has owned them or lusted after them (and how we can tell), how they have been embroiled in politics and scholarly disputes, how they have been regarded as objects of supreme beauty and luxury and as symbols of national identity. The book touches on religion, art, literature, music, science and the history of taste.
Part travel book, part detective story, part conversation with the reader, Meetings with Remarkable Manuscripts conveys the fascination and excitement of encountering some of the greatest works of art in our culture which, in the originals, are to most people completely inaccessible. At the end, we have a slightly different perspective on history and how we come by knowledge. It is a most unusual book.
Biography: In the course of a long career at Sotheby's Christopher de Hamel has probably handled and catalogued more illuminated manuscripts and over a wider range than any person alive. Since 2000, he has been Fellow and Librarian of Corpus Christi College, Cambridge. The Parker Library, in his care, includes many of the earliest manuscripts in English language and history. He is a Fellow of the Society of Antiquaries and the Royal Historical Society.
♦'Endlessly fascinating and enjoyable' Neil MacGregor
♦'A marvellous book' David Attenborough
♦'Full of delights' Tom Stoppard
Christopher de Hamel
Meetings with Remarkable Manuscripts
Winner of the Wolfson History Prize 2017
Winner of the Duff Cooper Prize for Non-Fiction
Shortlisted for the Waterstones Book of the Year 2016
Published 5th April 2018
Publisher: Penguin Books Ltd
ISBN: 9780141977492
Number of pages: 656
Weight: 461 g
Dimensions: 198 x 129 x 28 mm
Paperback – £12.99
new books
fleursdumal.nl magazine
More in: - Book Lovers, - Book News, - Book Stories, Archive G-H, Ex Libris, Libraries in Literature
---
Hinter der Zeitenwende von 1968 steckt mehr als nur eine politische Revolte: Männer ließen sich die Haare lang wachsen, Frauen wollten endlich die Pille nehmen dürfen, Drogen wurden konsumiert, Musikfestivals, Kommunen und neue Zeitschriften stellten das vorhandene Weltbild auf den Kopf.

So unterschiedliche Heldenfiguren wie Twiggy, Rudi Dutschke, Che Guevara, Jimi Hendrix und Mao Tse-Tung traten auf den Plan, während die deutsche Politik noch mit dem Vermächtnis der NS-Zeit zu kämpfen hatte.
Es wäre jedoch ein Irrtum zu glauben, alles habe erst 1968 begonnen. Detlef Siegfried zeigt, welche gesellschaftlichen Veränderungen und politischen Ereignisse schon im Vorfeld nötig waren, damit die Revolte der Schüler, Studenten und Lehrlinge Fahrt aufnehmen konnte. Dabei lässt er nicht nur die Gegenkultur in Großstädten wie Berlin oder Frankfurt am Main wieder aufleben, sondern rückt auch Schauplätze aus der bundesrepublikanischen Provinz ins Rampenlicht. Doch wie viel revolutionäre Dynamik ließ sich in die »roten« Siebzigerjahre hinüberretten? Und was wurde eigentlich aus all den Linken?
Detlef Siegfried, geb. 1958, ist Professor für neuere deutsche und europäische Geschichte an der Universität Kopenhagen. Er hat mehrere Bücher zu Alltagskultur, Pop und Linksradikalismus in der Bundesrepublik veröffentlicht, darunter Time is on my side. Konsum und Politik in der westdeutschen Jugendkultur der 60er Jahre (2006) und Sound der Revolte. Studien zur Kulturrevolution um 1968 (2008).
Siegfried, Detlef:
1968
Protest, Revolte, Gegenkultur
Originalausgabe Reclam
Geb. Format: 16 x 24 cm
299 Seiten
60 farb. Abb.
ISBN: 978-3-15-011149-9
€ 28,00
new books
fleursdumal.nl magazine
More in: - Book News, - Book Stories, Archive S-T, Art & Literature News, Protests of MAY 1968
---
Iemand belt aan.
`Willen jullie touw?'
Mels herkent de zigeuner die soms in het dorp komt venten. Hij heeft een karretje met rollen touw.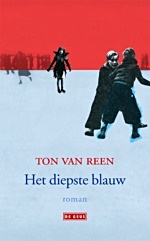 `Echt goed henneptouw.'
`Wij gebruiken geen touw.'
Dan pas ziet hij de jongen die naast het karretje staat. Een smalle jongen, met een bleke huid.
`Hebben jullie feest?' vraagt de man.
`Nee', zegt Mels verbaasd.
`Wij spelen op feesten. Jacob speelt heel goed.' De man knikt in de richting van de jongen. `Mijn zoon heeft talent. Jacob, laat iets horen.'
Jacob pakt een viool uit een kist en speelt de muziek van het lied `Daar waren eens twee koningskinderen en ze hadden elkander zo lief'. Mels zingt het liedje in zijn hoofd mee.
Een paar deuren gaan open. Mensen luisteren.
`Zo is het genoeg', zegt Jacob na het spelen van het lied. Hij stopt de viool terug in de kist.
Mels sluit de deur.
`Wie was daar?' roept zijn moeder uit het achterhuis.
`Twee koningskinderen', zegt Mels.
`Ik dacht dat ik muziek hoorde.'
`Hoorde je ook. Zigeuners op straat.'
`Heb je ze een dubbeltje gegeven?'
`Had ik niet. Volgende keer.'
`Was het die jongen?'
`Ja, Jacob.'
`Die schopt het nog ver. Ik weet zeker dat hij ooit voor de koningin zal spelen.'
`Weet je ook zeker of hij dat wil?'
`Waarom niet?'
`Ik denk het niet.'
`Waarom?'
`Daarom.'
Ton van Reen: Het diepste blauw (041)
wordt vervolgd
fleursdumal.nl magazine
More in: - Book Stories, - Het diepste blauw, Archive Q-R, Reen, Ton van
---
Set in Cuba's Sierra Maestra in the 1950s, in the days leading up to the Revolution–Manchette's unfinished masterpiece with a fearless female protagonist.
Out of the wreckage of World War II swaggers Ivory Pearl, so named (rhymes with girl) by some British soldiers who made her their mascot, a mere kid, orphaned, survivor of God knows what, but fluent in French, English, smoking, and drinking. In Berlin, Ivy meets Samuel Farakhan, a rich closeted intelligence officer. Farakhan proposes to adopt her and help her to become the photographer she wants to be; his relationship to her will provide a certain cover for him. And she is an asset. The deal is struck…
1956: Ivy has seen every conflict the postwar world has on offer, from Vietnam to East Berlin, and has published her photographs in slick periodicals, but she is sick to death of death and bored with life and love. It's time for a break. Ivy heads to Cuba, the Sierra Maestra.
History, however, doesn't take vacations.
Ivory Pearl was Jean-Patrick Manchette's last book, representing a new turn in his writing. It was to be the first of a series of ambitious historical thrillers about the "wrong times" we live in. Though left unfinished when Manchette died, the book, whose full plot has been filled in here from the author's notes, is a masterpiece of bold suspense and black comedy: chilling, caustic, and perfectly choreographed.
Jean-Patrick Manchette (1942–1995) was a genre-redefining French crime novelist, screenwriter, critic, and translator. Born in Marseille to a family of relatively modest means, Manchette grew up in a southwestern suburb of Paris, where he wrote from an early age. While a student of English literature at the Sorbonne, he contributed articles to the newspaper La Voie communiste and became active in the national students' union.
In 1961 he married, and with his wife Mélissa began translating American crime fiction—he would go on to translate the works of such writers as Donald Westlake, Ross Thomas, and Margaret Millar, often for Gallimard's Série noire.  Throughout the 1960s Manchette supported himself with various jobs writing television scripts, screenplays, young-adult books, and film novelizations. In 1971 he published his first novel, a collaboration with Jean-Pierre Bastid, and embarked on his literary career in earnest, producing ten subsequent works over the course of the next two decades and establishing a new genre of French novel, the néo-polar (distinguished from traditional detective novel, or polar, by its political engagement and social radicalism). During the 1980s, Manchette published celebrated translations of Alan Moore's Watchmen graphic novels for a bande-dessinée publishing house co-founded by his son, Doug Headline. In addition to Fatale (also available as an NYRB Classic), Manchette's novels Three to Kill and The Prone Gunman, as well as Jacques Tardi's graphic-novel adaptations of them (titled West Coast Blues and Like a Sniper Lining Up His Shot, respectively), are available in English.
Ivory Pearl
by Jean-Patrick Manchette,
translated from the French by Donald Nicholson-Smith,
introduction by Doug Headline,
with an afterword by Gary Indiana
Paperback – $14.95
Published by NYRB
An NYRB Classics Original
Publication Date: May 1, 2018
208 Pages
ISBN 9781681372105
French Literature
Literary Fiction
new translations
fleursdumal.nl magazine
More in: - Book News, - Book Stories, Archive M-N, TRANSLATION ARCHIVE
---
Hij bladert door de mappen met foto's. In tien mappen heeft hij de foto's van de molen en de meelfabriek verzameld.
Ook foto's van de mensen in het dorp, want iedereen werkte bij de fabriek. Een eeuw lang heeft de fabriek het leven in het dorp beheerst.
Elke dag werkt hij een paar uur aan de bijschriften. Het is een hels karwei om de namen op te sporen van vergeten mensen. Hoe verder terug in de tijd, hoe meer het lijkt of de mensen van dag tot dag hebben geleefd. Ze schreven weinig op. De boekhouding van de weduwe Hubben-Houba was niet meer dan een aantekenboekje. De tien werknemers hadden alleen voornamen. Hoe wist de weduwe het onderscheid tussen de drie Jannen en de twee Jozefs?
Vervelend is dat hij in zijn roes weer een map door elkaar gehusseld heeft. Te veel pillen geslikt voor verwijding van de bloedvaten, om meer bloed naar zijn hersenen te sturen. Het gevolg is dat hij alleen maar een vage herinnering aan de voorgaande dagen heeft. Dagen dat hij niet buiten is geweest. Niet eens beneden. Niet is aangekleed. Gelukkig hebben de medicijnen geholpen en is hij weer helder. Hij moet in zijn archief gezocht hebben naar foto's die er niet zijn. Hij weet het nog vaag.
Soms is hij op zoek naar foto's van Jacob.
Als hij helder is weet hij dat er geen foto's van Jacob zijn.
Ton van Reen: Het diepste blauw (040)
wordt vervolgd
fleursdumal.nl magazine
More in: - Book Stories, - Het diepste blauw, Archive Q-R, Reen, Ton van
---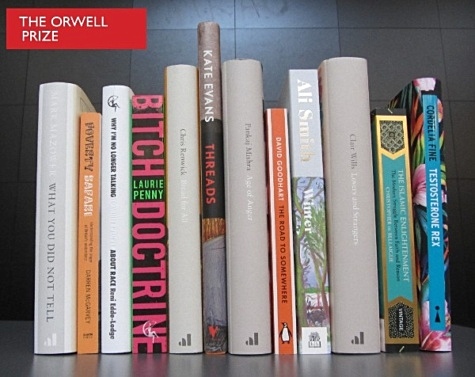 The longlist of The Orwell Prize for Books 2018 features historical writing, fiction and for the first time a graphic novel.
The Islamic Enlightenment: The Modern Struggle Between Faith and Reason, Christopher de Bellaigue (Bodley Head). An absorbing account of the political and social reformations that transformed the lands of Islam in the nineteenth and early twentieth centuries)
Why I'm No Longer Talking to White People about Race, Reni Eddo-Lodge (Bloomsbury). A book on racial inequalities, exploring issues from eradicated black history to the political purpose of white dominance, whitewashed feminism to the inextricable link between class and race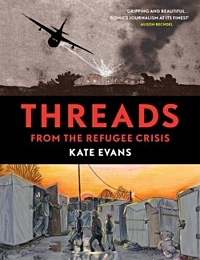 Threads from the Refugee Crisis, Kate Evans (Verso). Combining the techniques of eyewitness reportage with the medium of comic-book storytelling, Evans has produced a compelling view into the life of asylum seekers living in Calais's 'Jungle'.
Testosterone Rex, Cordelia Fine (Icon Books). A book explaining why past and present sex roles are only serving suggestions for the future. It reveals a much more dynamic situation through an entertaining and well-documented exploration of the latest research that draws on evolutionary science, psychology, neuroscience, endocrinology, and philosophy.
The Road to Somewhere – The Populist Revolt and the Future of Politics, David Goodhart (Hurst Publishers). An exposition of how the political elites have failed their societies. This investigation into the new global politics reveals how the Somewhere backlash is a democratic response to the dominance of Anywhere interests, in everything from mass higher education to mass immigration.
What You Did Not Tell, Mark Mazower (Allen Lane). In the centenary of the Russian Revolution, What You Did Not Tell recounts a brand of socialism erased from memory – humanistic, impassioned, and broad-ranging in its sympathies. But it also explores the unexpected happiness that may await history's losers, the power of friendship, and the love of place.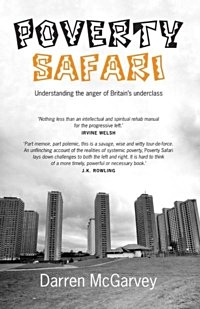 Poverty Safari, Darren McGarvey (Luath Press). People from deprived communities all across Britain feel misunderstood and unheard. Darren McGarvey, aka Loki, gives voice to their feelings and concerns, and anger that is spilling over.
Age of Anger: A History of the Present, Pankaj Mishra (Allen Lane). How can we explain the origins of the great wave of paranoid hatreds that seem inescapable in our close-knit world – from American 'shooters' and ISIS to Trump? Pankaj Mishra answers our bewilderment by casting his gaze back to the eighteenth century, before leading us to the present.
Bitch Doctrine, Laurie Penny (Bloomsbury) Bread for All:The Origins of the Welfare State, Chris Renwick (Allen Lane). This collection of Laurie Penny's writing covers everything from the shock of Donald Trump's election and the victories of the far right, to online harassment and the transgender rights movement. These darkly humorous articles provoke challenging conversations about the definitive social issues of today.
Winter, Ali Smith (Hamish Hamilton). In the second novel in her Seasonal cycle, Smith's shape-shifting quartet of novels casts a merry eye over a bleak post-truth era with a story rooted in history, memory and warmth, its taproot deep in the evergreens: art, love, laughter.
Lovers and Strangers: An Immigrant History of Post-War Britain, Clair Wills (Allen Lane). Clair Wills' book brings to life the incredible diversity and strangeness of the migrant experience. She introduces us to lovers, scroungers, dancers, homeowners, teaches, drinkers, carers and many more to show the opportunities and excitement as much as the humiliation and poverty that could be part of the new arrivals' experience.
The judges for the Orwell Prize for Books are politician, academic and journalist Andrew Adonis (Chair), Literary Journalist and Artistic Director of Words and Literature of the Bath Festival, Alex Clark, author Kit de Waal, and Lorien Kite, Deputy Life & Arts Editor for the Financial Times.
The shortlist for The Orwell Prize for Books will be announced at The Bath Festival on 18th May. The winner of the £3000 prize will be unveiled on 25th June 2018 at The RSA, together with the winner of The Orwell Prize for Journalismand The Orwell Prize for Exposing Britain's Social Evils.
Previous winners of the Orwell Prize for Books include John Bew for his biography of Clement Attlee (2017), Raja Shehadeh (2008), Alan Johnson (2014), and Andrea GiThe judges for the Orwell Prize for Booksllies (2010).
The Orwell Prize 2018 is for work published in the calendar year 2018. For more details and rules of entry please visit www.orwellfoundation.com
orwell-prize 2018
fleursdumal.nl magazine
More in: - Book Lovers, - Book News, Art & Literature News, Awards & Prizes, George Orwell, PRESS & PUBLISHING
---
Al vroeg in de ochtend vertrekt zijn vader in de zwarte Ford naar de boeren, om graan in te kopen voor de meelfabriek.
Zijn werk kost zweet, bloed en tranen. Directeur Frits schrijft zijn vader voor hoeveel hij uit mag geven en daar mag hij geen cent bovenop doen.
`Onderhandelen met boeren over een prijs is bijna onmogelijk', zegt vader. `Ze willen het onderste uit de kan. De room is voor de boeren en toch voelen ze zich altijd bestolen.'
Wat vader over de boeren vertelt, is precies het tegenovergestelde van wat grootvader Bernhard erover vertelt. Die zegt altijd dat de boeren te weinig krijgen.
Vader zwerft door het hele land. Bijna elke week brengt hij handdoeken mee waarop de namen van de hotels zijn geborduurd. Moeder is daar kwaad over, omdat hij ze pikt, maar hij zegt dat hij erom vraagt en ze krijgt als souvenirs. Ze hebben er een kast vol van, maar moeder gebruikt ze nooit.
Vader is alleen op zondag thuis, maar ook dan heeft hij geen tijd voor Mels. Dan gaat hij naar de hoogmis en daarna kaarten in het café. Daar is dan ook de jonge directeur Frans-Joseph, die een kwade dronk heeft. In het café gaat hij net zo tekeer tegen zijn kaartvrienden als door de week tegen de arbeiders. Niemand durft tegen hem te zeggen dat ze liever zonder hem kaarten. Zeker Mels' vader niet.
`Rot maar op', hoeft Frans-Joseph maar te zeggen. `Rot jij maar op.' Zoals hij dat soms tegen mensen zegt als hun gezicht hem niet aanstaat of hun werk hem niet bevalt. Ze moeten altijd oppassen voor de directeuren.
Het kaarten eindigt meestal met ruzie. Vaak gaat Frans-Joseph met herrie naar huis. Als vader na zo'n kaartpartij thuiskomt, zegt hij geen stom woord en heeft hij hoofdpijn.
Soms zoekt Mels zijn vader op in het café. Dan krijgt hij limonade. Maar daar is het hem niet om te doen. Hij wil hem alleen maar vragen om naar huis te komen, omdat moeder op hem zit te wachten. Vader blijft altijd net zo lang in het café als de directeur en vaak is dat tot aan het avondeten.
Slechts op een enkele zondag, als Frans-Joseph op reis is of gewoon op vakantie, gaan ze met het gezin een stukje rijden. Na het middagdutje van vader. Nooit ver. Vader rijdt niet graag op zondag. Mels vindt die korte ritjes niet erg. Later haalt hij de schade wel in. Dan koopt hij zelf een Ford of een Borgward Isabella. Net zo'n grote zwarte bak als directeur Frits heeft.
Ton van Reen: Het diepste blauw (039)
wordt vervolgd
fleursdumal.nl magazine
More in: - Book Stories, - Het diepste blauw, Archive Q-R, Reen, Ton van
---
Hij hoort ritselen, boven het plafond. Om muizen stil te krijgen, hoef je alleen maar aan ze te denken. Ze lezen je gedachten. Ze hebben er iets voor in hun hersenen, een zintuig dat hun zegt: pas op voor mensen, mensen zijn moordenaars.
Hij kijkt weer in de spiegel. Het weinige, overgebleven haar. Hij is heel anders dan hoe hij zichzelf zou willen zien. Ouder. Moe. Pafferig. Hij wendt de blik af. Als hij al niet zonder afkeer naar zichzelf kan kijken, hoe kan hij dan van anderen verlangen dat ze hem wél liefdevol tegemoet treden? Waarom is de buitenkant van zijn hoofd zo anders dan wat er in de binnenkant leeft? In zijn hoofd is hij jong, soms een kind en rent hij rond, onvermoeibaar. Vroeger heeft hij zich nooit kunnen voorstellen dat hij zo oud zou worden als zijn vader, laat staan als zijn grootvader. Maar in jaren heeft hij zijn vader allang overleefd. Zijn grootvader Bernhard heeft hij al bijna ingehaald. Zo oud als grootvader Rudolf wil hij niet eens worden. Het was beter geweest dat hij net zo jong was gestorven als zijn vader, dan had hij deze ellendige tijd niet hoeven mee te maken. Wie vroeg sterft, laat een hoop ellende aan zich voorbijgaan. Als zijn vader oud was geworden, zou hij alleen maar ongelukkig zijn geweest.
Ton van Reen: Het diepste blauw (038)
wordt vervolgd
fleursdumal.nl magazine
More in: - Book Stories, - Het diepste blauw, Archive Q-R, Reen, Ton van
---
Il nous a fait redécouvrir La Fontaine, Rimbaud et Céline.
Il incarne l'esprit et le panache de la langue française. En prose, en vers et même en verlan, il a donné sa voix à d'immenses auteurs, auxquels il sait faire respirer l'air de notre temps – en racontant la fureur du Misanthrope à l'ère du téléphone portable, ou la sensualité de "La Laitière et le pot au lait" sur l'air d'une publicité pour Dim.
Il a quitté l'école à quatorze ans pour devenir apprenti coiffeur. Il est aujourd'hui l'un de nos plus grands comédiens, célébré pour ses lectures-spectacles, couronné par la Mostra de Venise pour son rôle dans son dernier film, L'Hermine.
Dans son autobiographie, Fabrice Luchini livre le récit d'une vie placée sous le signe de la littérature, à la recherche de la note parfaite.
Fabrice Luchini est né à Paris en 1951. Lancé par Philippe Labro et Éric Rohmer alors qu'il est encore apprenti coiffeur, révélé par le film La Discrète, en 1990, il est l'un des plus grands acteurs français. Il donne depuis plus de vingt ans des spectacles, désormais entrés dans la légende, consacrés aux auteurs qu'il aime. Il a été sacré meilleur acteur à la Mostra de Venise pour son rôle dans L'Hermine de Christian Vincent.  Comédie française est son premier livre.
Fabrice Luchini
Comédie française
Ça a débuté comme ça
Paru le 02/03/2016
Genre: Essais littéraires
256 pages
135 x 210 mm
Broché
ISBN-10: 2081379171
ISBN-13: 978-2081379176
€19,00
Ed. Flammarion
new books
fleursdumal.nl magazine
More in: - Book Stories, Archive K-L, Art & Literature News, La Fontaine, Jean de, Louis-Ferdinand Céline, Rimbaud, Arthur, THEATRE
---
In The Mathematics of the Breath and the Way, Charles Bukowski considers the art of writing, and the art of living as writer.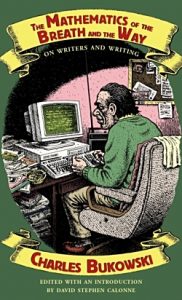 Bringing together a variety of previously uncollected stories, columns, reviews, introductions, and interviews, Mathematics finds him approaching the dynamics of his chosen profession with cynical aplomb, deflating pretentions and tearing down idols armed with only a typewriter and a bottle of beer.
Beginning with the title piece—a serious manifesto disguised as off-handed remarks en route to the racetrack—Mathematics runs through numerous tales following the author's adventures at poetry readings, parties, film sets, and bars, and also features an unprecedented gathering of Bukowski's singular literary criticism.
From classic authors like Hemingway to underground legends like d.a. levy to his own stable of obscure favorites, Bukowski uses each occasion to expound on the larger issues around literary production.
The book closes with a handful of interviews in which he discusses his writing practices and his influences, making Mathematics a perfect guide to the man behind the myth and the disciplined artist behind the boozing brawler.
The method behind the madness, revealing the critical acumen of everyone's favorite Dirty Old Man.
"Genius could be the ability to say a profound thing in a simple way, or even to say a simple thing in a simpler way."—Charles Bukowski
Charles Bukowski was born in Andernach, Germany on August 16, 1920, the only child of an American soldier and a German mother. At the age of three, he came with his family to the United States and grew up in Los Angeles. He attended Los Angeles City College from 1939 to 1941, then left school and moved to New York City to become a writer. His lack of publishing success at this time caused him to give up writing in 1946 and spurred a ten-year stint of heavy drinking. After he developed a bleeding ulcer, he decided to take up writing again. He worked a wide range of jobs to support his writing, including dishwasher, truck driver and loader, mail carrier, guard, gas station attendant, stock boy, warehouse worker, shipping clerk, post office clerk, parking lot attendant, Red Cross orderly, and elevator operator. He also worked in a dog biscuit factory, a slaughterhouse, a cake and cookie factory, and he hung posters in New York City subways.
Bukowski published his first story when he was twenty-four and began writing poetry at the age of thirty-five. His first book of poetry was published in 1959; he went on to publish more than forty-five books of poetry and prose, including Pulp (Black Sparrow, 1994), Screams from the Balcony: Selected Letters 1960-1970 (1993), and The Last Night of the Earth Poems (1992), and the following books with City Lights Publishers: Notes of a Dirty Old Man (1981), The Most Beautiful Woman in Town & Other Stories (1983), Tales of Ordinary Madness (1984), Portions from a Wine-Stained Notebook: Uncollected Stories and Essays, 1944-1990 (2008), Absence of the Hero: Uncollected Stories and Essays, Vol. 2: 1946-1992 (2010), More Notes of a Dirty Old Man: The Uncollected Columns (2011), and The Bell Tolls for No One (2015). He died of leukemia in San Pedro on March 9, 1994.
Title: The Mathematics of the Breath and the Way
Subtitle: On Writers and Writing
Author: Charles Bukowski
Introduction by David Stephen Calonne
Edited by David Stephen Calonne
Publisher: City Lights Publishers
Format Paperback
ISBN-10 0872867595
ISBN-13 9780872867598
250 Pages
List Price $16.95
Publication Date 15 May 2018
new books
fleursdumal.nl magazine
More in: - Book News, Archive A-B, Archive A-B, Art & Literature News, Bukowski, Charles, Opium-Eaters
---
Thija hinkelt altijd. Ze loopt nooit gewoon.
`Kom je?' roept ze door de brievenbus.
Mels vliegt de trap af.
Thija zit op het stoepje, haar benen recht vooruit, in haar hand een witte muis.
`Gekregen', zegt ze. `Witte muizen brengen geluk.'
`Van je vader?'
`Hij was een avond thuis. Hij is weer weg. Vanochtend vroeg al.'
`Nu heb ik hem nog niet gezien.'
`Als hij meer tijd heeft …'
`Hij heeft nooit tijd.'
De muis klimt langs haar jurk omhoog, tot aan haar nek. Hij snuffelt aan de boothals van haar jurk, die veel van haar borst bloot laat. Haar sleutelbeenderen zijn de kapstok waar haar jurk aan hangt.
De muis kruipt onder de jurk.
`Pas op. Hij bijt.'
`Welnee. Hij wil melk.'
`Heksenmelk?'
`Je bent bang, hè, dat ik je betover! Ik wacht nog even. Straks. Dan delen we het snoep dat ik van mijn vader heb gekregen. Ik kan het niet bewaren. Er zitten muizen op zolder. 's Nachts komen ze op mijn kamer.'
`Jij bent toch niet bang van muizen. Je hebt er zelf een.'
`Deze is wit. Die is lief, maar grijze muizen zijn eng.'
Ton van Reen: Het diepste blauw (037)
wordt vervolgd
fleursdumal.nl magazine
More in: - Book Stories, - Het diepste blauw, Archive Q-R, Reen, Ton van
---
"Il fallait bien qu'un jour je croise la route de Lady Chatterley. J'ai fait mieux, je suis tombée amoureuse de celui qui l'imagina, D. H. Lawrence, à cause de sa figure de mauvais coucheur, à cause de l'extraordinaire sensibilité de son "écriture androgyne" dont parlait Anaïs Nin.
Pendant deux ans, je n'ai pas quitté cet amateur des grands espaces qui, lorsqu'il écrivait, ne s'est jamais encombré des barrières du surmoi. J'ai voulu faire redécouvrir cet auteur célèbre qui n'est plus assez lu, contemporain des suffragettes, et qui vécut entouré de femmes libres. Il avait compris qu'au vortex de leur émancipation et de leurs revendications se trouvait le plein accomplissement de leur jouissance sexuelle."  Catherine Millet.
Catherine Millet
Aimer Lawrence
Paru le 20/09/2017
Genre: Essais littéraires
304 pages
138 x 210 mm
Broché
ISBN-10: 2081372614
ISBN-13: 978-2081372610
€21,00
Editeur : Flammarion
Langue : Français
new books
fleursdumal.nl magazine
More in: - Book Stories, Archive K-L, Archive M-N, D.H. Lawrence, Erotic literature, Lawrence, D.H.
---
Older Entries »
Thank you for reading FLEURSDUMAL.NL - magazine for art & literature