Auguste Rodin
·
Katrina Kalda: La mélancolie du monde sauvage
·
VINCENT BERQUEZ: RODIN – CLAUDEL
·
Balzac aan De Dommel
« J'ai appris à connaître toutes les pierres de la rivière. J'ai compris que ces pierres n'ont pas besoin d'apprendre à me connaître ; que la nature n'a pas besoin de moi. Que moi seule ai besoin d'elle. »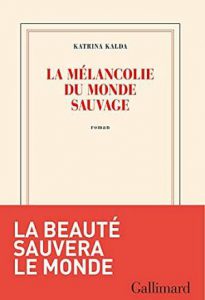 Rien ne destinait Sabrina à une carrière artistique. Élevée par une mère fragile dans un milieu modeste, elle a peu de perspectives d'avenir.

Jusqu'au jour où, lors de la visite scolaire du musée Rodin, elle découvre sa vocation : elle consacrera sa vie à l'art. Dès lors, Sabrina se voue totalement à ce projet. La précarité étudiante est vite compensée par les amitiés fortes et la richesse des recherches artistiques. Mais les soubresauts de sa vie amoureuse et les bouleversements d'un monde dont l'effondrement semble inéluctable ne tardent pas à infléchir sa trajectoire.

À travers le destin d'une artiste contemporaine, Katrina Kalda interroge la place de l'art dans un univers en crise. Son écriture, harmonieuse et assurée, soutient ce roman plein d'émotions.
Katrina Kalda
La mélancolie du monde sauvage
Littérature française
Romans et récits
ISBN : 9782072925344
EAN : 9782072925344
280 pages
Éditeur: Gallimard
06/05/2021
140 x 205 mm
€ 20,00
• fleursdumal.nl magazine
More in: - Book Lovers, - Book Stories, Archive K-L, Auguste Rodin, Camille Claudel, Sculpture
---
Rodin – Claudel
He carves a stone body; each chip removes,
reduces until the whole begins to succumb.
The split in the marble is a slit deep in the grain,
it bleeds crystals for his folly, fighting against him.
His chisel is not a weapon; it does not maim or kill,
it is a tool to improve what can be understood,
it yields to the force of his delicate hand gently.
The female figure becomes a thing of love
 justifying its long term existence as art,
beyond our stupid waste, beyond selfishness.
He penetrates as they communion together.
Vincent Berquez poetry

14.11.13
 fleursdumal.nl magazine
More in: Archive A-B, Auguste Rodin, Berquez, Vincent, Camille Claudel, Vincent Berquez
---
BALZAC AAN DE DOMMEL
Door Jef van Kempen
De Franse schrijver Honoré de Balzac (1799–1850) was de auteur van een omvangrijk oeuvre. Hij schreef naast toneelstukken en verhalen meer dan negentig romans, die werden gebundeld onder de titel La comédie humaine. De temperamentvolle Balzac zou zijn leven lang, behalve door schuldeisers, achtervolgd worden door tragische liefdesgeschiedenissen. Zijn grootste liefde gold voor gravin Eveline Hanska. Balzac reisde haar jaren lang achterna door heel Europa. Pas achttien jaar na hun eerste ontmoeting zou hij met Eveline Hanska trouwen. Enkele maanden later stierf Balzac. Deze turbulente liefdesaffaire maakte hem tot een van de grote tragische literaire helden.
In 1891 kreeg de beeldhouwer Auguste Rodin opdracht van de Société des Gens de Lettres voor het maken van een standbeeld van Balzac. Rodin (1840-1917) had al naam gemaakt met beeldhouwwerken als De Denker, De kus en een standbeeld van Victor Hugo. Rodin ging degelijk te werk. Hij maakte meer dan vijftig voorstudies en verdiepte zich intensief in het werk van de schrijver. Maar zijn ontwerp: Balzac in zijn karakteristieke lange mantel en met getourmenteerde kop, werd weggehoond. Het beeld leek nergens op en zeker niet op Balzac. Nadat de opdracht in 1894 was ingetrokken, zou het tot 1939 duren voor het standbeeld een plaats kreeg in Parijs.
In 1963 kondigde de gemeente Eindhoven aan een kopie van het standbeeld van het Rodin Museum in Parijs te willen kopen. De kosten voor het bronzen beeld bedroegen 150.000 gulden plus nog eens 10.000 voor de betonnen sokkel. In Eindhoven rees een storm van protest op. Voor dat geld konden heel wat modernere beelden van mindere goden worden aangeschaft. B&W zetten toch door en in juli 1965 arriveerde het 1100 kilo wegende en bijna drie meter hoge beeld in Eindhoven. Men had een plaats gedacht bij het Van Abbemuseum. Maar de directie van het museum maakte bezwaar. Het beeld was niet spectaculair genoeg. Na een half jaar strijd werd Balzac alsnog voor het Van Abbe geplaatst. Naast de hoofdingang vlakbij de rivier De Dommel. Een van de mooiste schrijversbeelden die Nederland rijk is.
(Brabants Dagblad, 4 december 2003)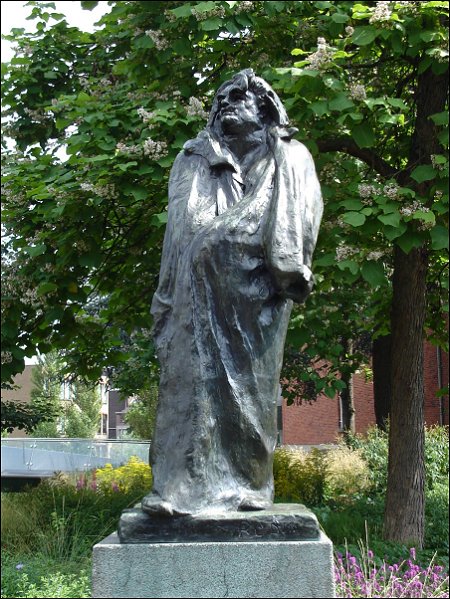 Jef van Kempen: Balzac aan De Dommel
k e m p = m a g  poetry magazine

More in: Auguste Rodin, FDM Art Gallery, Honoré de Balzac, Jef van Kempen, Oude meesters
---
Thank you for reading FLEURSDUMAL.NL - magazine for art & literature