René Daniëls
·
René Daniëls: Fragments from an Unfinished Novel
·
Van Abbemuseum Eindhoven: René Daniëls. Een tentoonstelling is ook altijd een deel van een groter geheel
September at WIELS will be marked by the pictorial work and the poetic imagination of René Daniëls.
Come to discover over 75 paintings – several of which have never been exhibited and have been specially restored for the occasion – in addition to hundred drawings by the artist who has made his mark on the history of painting.
René Daniëls occupies a prominent place in the history of contemporary art from the latter half of the 20th century, despite the fact that his career was abruptly interrupted in 1987 after he suffered a stroke.
Emerging in the late 1970s, when figurative and expressive painting once again became popular, Daniëls soon developed an original, personal language. Although he enjoyed early recognition, Daniëls had no qualms about experimenting with different pictorial styles.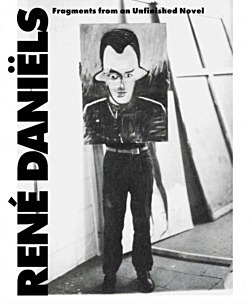 Nevertheless, certain motifs recur under constantly changing forms, following an associative, dream-like logic. Not unlike a composer, Daniëls devises variations on a theme. From 1984 onwards, one motif was to play a dominant role: that of an exhibition room seen in perspective. This form, resembling a bow tie, is reproduced in compositions in which he plays with mirroring effects, overlapping layers, or changes of direction.
Inspired by the title of one of the rare texts written by Daniëls, the exhibition Fragments from an Unfinished Novel explores the phenomenon of déjà vu and the relation between perception and memory, which lie at the heart of his practice.
Including historic paintings and several works never previously exhibited, the exhibition recounts the development of Daniëls' visual language by exploring the effects of repetition and variation inherent in his work. A wide selection of drawings completes the presentation, offering a closer understanding of the evolution of his vocabulary.
René Daniëls:
Fragments from an Unfinished Novel
07.09.2018 – 06.01.2019
WIELS
Kunst · Brussel (stad)
Contemporary Art Centre
Avenue Van Volxemlaan 354
1190 Brussels
# more on exhibition rené daniëls
rené daniëls exhibition
fleursdumal.nl magazine
More in: - Book Stories, Art & Literature News, Exhibition Archive, FDM Art Gallery, René Daniëls
---

Van Abbemuseum Eindhoven
René Daniëls
Een tentoonstelling is ook altijd een deel van een groter geheel
12/05/2012 – 23/09/2012
Met "René Daniëls: Een tentoonstelling is ook altijd een deel van een groter geheel" brengt het museum een hommage aan een bijzonder kunstenaar. De solotentoonstelling biedt een nieuwe blik op zijn veelzijdige oeuvre dat nog steeds van grote invloed is op het werk van jongere generaties kunstenaars.
De presentatie omvat een ruime selectie schilderijen, tekeningen en gouaches uit de periode 1976 tot en met 1987. 1987 was het jaar waarin Daniëls getroffen werd door een hersenbloeding die hem het werken lange tijd onmogelijk maakte. In 2006, na twintig jaar vrijwel zonder artistieke activiteit, begint Daniëls weer te schilderen. Ditmaal op kleiner formaat en voornamelijk met viltstift en spuitbus. Een aantal van deze nieuwe werken is te zien in de tentoonstelling. De vorm is veranderd, mede doordat Daniëls met fysieke beperkingen kampt en alleen met zijn linkerhand kan werken. Zijn nieuwe beeldtaal is fris en kan gezien worden als een terugkeer naar de directere stijl van zijn vroege werken. De invloeden komen meer uit zijn directe omgeving, maar de werken blijven raadselachtig en gelaagd in betekenis.
Ook maakt Daniëls speciaal voor deze tentoonstelling een wandtekening. Voor het eerst is een groot aantal schetsen en notities uit zijn archieven te zien, welke inzicht geven in het ontstaansproces van zijn werk.
René Daniëls en de alternatieve muziekscene
In de centrale zaal wordt de presentatie Eindhoven niet Eindhoven. René Daniëls kunst en tegencultuur getoond, die met foto's, posters, Super-8-films en geluidsfragmenten het werk in de context plaatst van de undergroundcultuur van de jaren zeventig en tachtig. Muziekstromingen zoals punk, new wave en no wave waren in die tijd een belangrijke inspiratiebron voor Daniëls.
Vele bands, zoals Sex Pistols, Talking Heads, Lou Reed en Plus Instruments traden op in kunst- en muziekinstellingen als de Effenaar, de Fabriek, het Apollohuis en het Van Abbemuseum. Het werk van René Daniëls werd gevoed door de toen nieuwe muziekstromingen. Deze muziek schalde door zijn studio terwijl hij aan het werk was. Ook bezochten Daniëls en zijn vrienden regelmatig concerten en maakten super-8 filmopnames van bands die later vaak legendarisch werden. In de presentatie worden archiefmaterialen, foto's en audiovisuele materialen, waaronder de super-8 films, getoond.
Publicatie
Bij de tentoonstelling verschijnt een publicatie, uitgegeven door NAi Publishers, over het werk van Daniëls tegen de achtergrond van de kunstscene en de undergroundcultuur van de jaren zeventig en tachtig getiteld De woorden staan niet op hun juiste plaats. Dit rijk geïllustreerde boek geeft een chronologisch overzicht van zijn werk, aangevuld met installatiefoto's, foto's van zijn persoonlijke geschiedenis en nieuwe en eerder gepubliceerde teksten.
Cursus: De terugkeer van René Daniëls
Tijdens Een tentoonstelling is ook altijd een deel van een groter geheel kunt u deelnemen aan een korte cursus. Op vier zaterdagen wordt Daniëls' werk telkens vanuit een andere invalshoek belicht.
Luisteravond Ondergronds Verbonden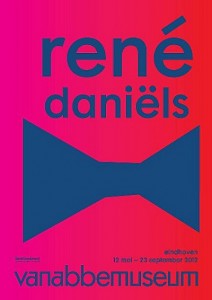 Op donderdag 7 juni is er een luisteravond met Frank de Munnik in relatie tot de René Daniëls tentoonstelling. Er is een hecht verband tussen René Daniëls en de muziek
van zijn tijd, de opkomst van punk en ultra. Veel van de bands kwamen voort uit de kunstacademies. Maar er zijn meer verbanden en soms ondergrondse verbindingen tussen kunstenaars en muziek. In deze lezing, met veel luistervoorbeelden, neemt Frank de Munnik u onder andere mee naar Satie, Picabia en Duchamp in hun 'Entr'acte' of de musicerende Paul Klee. Van een muziekavond bij De Ploeg tot het Parijs uit de jaren '50. Van de jazzgedichten van Jack Kerouac tot het psychedelische hart van Sixties London in de UFO Club en 'huisband' Pink Floyd.
Magazine
Tegelijkertijd met de presentatie Eindhoven niet Eindhoven – René Daniëls, kunst en tegencultuur verschijnt het eerste magazine uit de reeks Betrayal Takes Two. Dit is onder de titel EHV-NY samengesteld door René Daniëls en anderen en laat de bijzondere relatie zien tussen het Eindhoven en New York van de jaren zeventig en tachtig. Deze steden waren in die tijd van groot belang voor de ontwikkeling van het werk en de carrière van René Daniëls.
EHV-NY geeft een beeld van het werk (foto's, tekeningen, schetsen, aantekeningen en stills van Super 8-films) dat René Daniëls in relatie met New York maakte.
Met foto's en korte teksten van Carlos van Hijfte en Ton van Gool en Truus de Groot (Nasmak, Plus Instruments). Het uitgebreide voorwoord is van Remko Scha, geluidskunstenaar en in die jaren mededirecteur van Het Apollohuis. Het magazine omvat 84 pagina's, prijs € 15,00

Betrayal Takes Two is een initiatief van Ton van Gool en Carlos van Hijfte en wordt uitgegeven door See/hear. Distributie loopt via Sea Urchin Editions, Rotterdam.
Documentaire Memoires van een vergeetal
Filmmaker Jan Thijssen realiseerde een documentaire over het leven en werk van Daniëls met de titel Memoires van een vergeetal. Hij volgde het afgelopen jaar René Daniëls op de voet. Hij filmde hem in Eindhoven, nam hem mee naar plekken van vroeger (New York, Parijs, Gent), toont de huidige worsteling van Daniëls met zijn handicap en combineert dit met beelden van Daniëls in zijn jonge jaren. Het resultaat is de documentaire Memoires van een vergeetal, een indringend portret van een groot kunstenaar die na een hersenbloeding en revalidatie een eigen manier heeft gevonden om zijn gedachtes en beelden te delen.
De documentaire wordt op 8 mei uitgezonden in het tv-programma Het Uur van de Wolf op Nederland 2 om 23.00 uur.
De tentoonstelling is georganiseerd in samenwerking met het Museo Nacional Centre de Arte Reina Sofía, Madrid.
Van Abbemuseum Eindhoven – René Daniëls – Een tentoonstelling is ook altijd een deel van een groter geheel – 12/05/2012 tm  23/09/2012
fleursdumal.nl magazine for art & literature

More in: Art & Literature News, Exhibition Archive, FDM Art Gallery, René Daniëls
---
Thank you for reading FLEURSDUMAL.NL - magazine for art & literature