Leo Kogan Drawings
·
Leo Kogan: Last Night a DJ
·
Exposition Leo Kogan in Spinnerei Galerie in Leipzig
·
Leo Kogan completed art-installation
·
Leo Kogan: Open Studio on December 12 & 13th
·
Leo Kogan Wall Paintings
·
Leo Kogan Drawings
Leo Kogan, Last Night a DJ, 2003, 215/160 cm
Leo Kogan will participate in the Berliner Kunstsalon which runs Sept 7-11
fleursdumal.nl magazine
More in: Leo Kogan Drawings
---

Exposition Leo Kogan in the Spinnerei in Leipzig

A large part of the Windows of Opportunity installation is exhibited at the

Spinnerei in Leipzig, Germany
from September 10 until September 24th. 2010

The Spinnerei is a studio/gallery/art complexand the creative factory of

the Leipzig School artists
Leo Kogan: Windows of opportunity
Spinnerei
Spinnereistraße 7
Hall 18, 2nd floor
Leipzig
Websites:
► liap
►spinnerei
►leo kogan

fleurdeumal.nl magazine – magazine for art & literature
More in: Leo Kogan Drawings
---
Leo Kogan News
Leo Kogan has finished the installation he has has been working on for the last 3 years.
Come by and have a look in his Amsterdam studio at the paintings, sculptures, the monorail, the pendulum lamp and so on , on saturday, June 26th 2010, from 15:00 to 20:00
If you can't make it to the opening, the project will be on view until July 26th and can be seen through the venue's large street windows.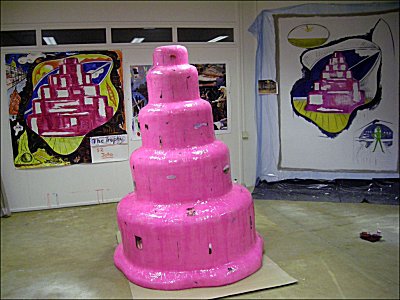 fleurdumal.nl magazine
More in: Exhibition Archive, Leo Kogan Drawings, Sculpture
---

L e o  K o g a n
O p e n   s t u d i o
on December 12 & 13th, 2009
For the first time since 2006 is Leo Kogan opening the doors of his studio in Amsterdam again.
On Saturday, December 12 and Sunday, December 13th you are welcome to visit him at Prins Hendrikkade 33 (right across Amsterdam CS) between 13:00 and 19:00 hrs to have a look at the new works. (There is no doorbell – you'll have to call him on +31624898462 to come and fetch you at the entrance)
Website: http://www.leokogan.com
Email: mail@leokogan.com

fleursdumal.nl magazine
More in: Leo Kogan Drawings
---

L E O K O G A N

W A L L P A I N T I N G S

work in progress
Leo Kogan Wall Paintings
© leo kogan 2008
More in: Leo Kogan Drawings
---
L E O K O G A N
Leo Kogan was born in Moldova (former USSR) in 1974. At a young age he moved with his family to the United States. In the USA he first studied Graphic Design at RIT (Rochester, NY) and then at the Cooper Union (New York City) where he began painting full-time. Having acquired his BFA from the Cooper Union in 1997, Kogan continued his studies at De Ateliers in Amsterdam, Netherlands. Since then Leo Kogan has been living and working in Amsterdam and Los Angeles. He has held a number of solo and group exhibitions and his works are in private and public collections in Europe, USA, and Japan.
Preparatory drawings for the project
W i n d o w s o f O p p o r t u n i t y

Museum Explosion
AS Pushking staging his famous
Washington crossing the De La Where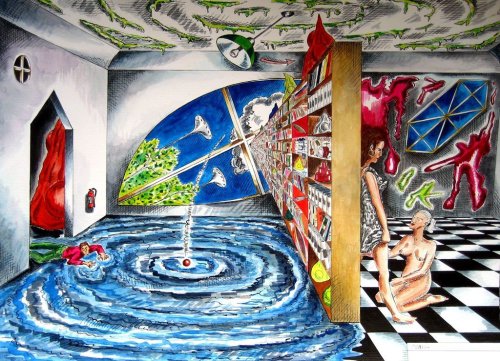 The crawler
Windows of opportunity
Divine Intervention Calendar
© leo kogan
More in: Leo Kogan Drawings
---
Thank you for reading FLEURSDUMAL.NL - magazine for art & literature