Ad Willemen
·
"Ad Fundum", een hommage aan meester-graficus en tekenaar Ad Willemen in Luycks Gallery
·
Jasper Mikkers: In Memoriam Ad Willemen
·
Kunstenaar Ad Willemen overleden
·
ad willemen expositie: controversiële accentueringen in luycks gallery
Van 9 september tot en met 7 oktober organiseert Luycks Gallery in Tilburg: "Ad Fundum", een hommage aan meester-graficus en tekenaar Ad Willemen.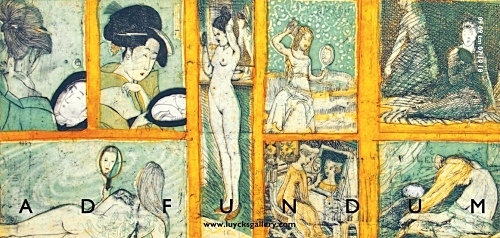 Het is dit jaar vijf jaar geleden dat deze markante kunstenaar overleed. Zowel in Luycks Gallery als in het nabijgelegen voormalig atelier van Willemen wordt een keuze getoond uit zijn artistieke nalatenschap.

Willemens grote muze was het vrouwelijk naakt. In zijn grafisch werk citeerde hij veelvuldig en bevlogen uit de kunstgeschiedenis. Zijn fantasie werd geprikkeld door werk van onder meer Cranach, Rafael, Piero di Cosimo en Harunobu.

Begin jaren '90 kwam hij voor het eerst naar buiten met zijn 'apocriefe' oeuvre: erotische tekeningen naar levend model. Met een 'Lust zu Zeichnen', zette hij tientallen vrouwen op even virtuoze als fijnzinnige wijze op papier. Zijn waarnemingen wist Willemen om te zetten in een eigen idioom, prikkelend, suggestief en provocerend met een subtiel oog voor kleur en detail. Zijn werk geniet grote nationale en internationale bekendheid en is opgenomen in tal van particuliere en overheidscollecties.
Op 21 september is er in Cinecitta bij wijze van hommage een filmavond rondom Willemen. Aanvang 20:00 uur, toegang gratis. Meer informatie www.luycksgallery.com en www.cinecitta.nl
De openingstijden van het atelier zijn gelijk aan die van de galerie. Adres: Bisschop Zwijsenstraat 23, Tilburg.
Luycks Gallery
Nieuwlandstraat 31
5038 SL Tilburg
tel: + 31 6 22 800 638
e-mail: info@luycksgallery.com
Ad Willemen in Luycks Gallery
fleursdumal.nl magazine
More in: Ad Willemen, Art & Literature News, Art Criticism, Exhibition Archive, FDM Art Gallery
---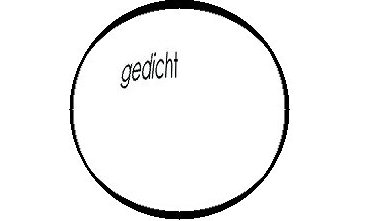 I n  M e m o r i a m  A d  W i l l e m e n
Jasper Mikkers
Teruggebracht Vuur (1)(2)
alle beelden zijn tot rust gekomen
het sneeuwt niet meer, niet in het hoofd, niet achter vensterglas
persen, lijsten, kasten, stiften en penselen
het water in de leiding: alles houdt zich stil
het ontbreekt de wil te zijn nu hij er niet meer is
door de verwildering van vlees is wie hij was
vermenigvuldigd tot een handvol gras
alle beelden zijn tot rust gekomen
de boeren die naar huis toe liepen na het planten van de rijst
de spelerstroep, halfweg een touwbrug over een ravijn
de vlokken die nog vielen, hangen roerloos in de lucht
nu hij is gestopt met dromen
geen naakt zijn netvlies raakt
schoonheid vond hier zwart en rood
geen wit van borsten, bil en dij wordt nog gevangen
in gebogen lijnen: wie stopt nu het verdwijnen
het verdrogen van de jonge vormen in de tijd, wie houdt
het woelen van verlangen ons voor ogen, legt
eeuwig voelen vast
een vuur teruggebracht tot minder dan miniatuur
geen tijd stroomt door zijn vlees, beweegt zijn hand
zijn stem heeft zich verzacht tot minder nog dan hees
zijn bril, een venster dat vergrootte wat zich aan het oog
onttrekken wou, een omgestoten whiskyfles en tekenblok
liggen op tafel, naast zijn broeksriem en een sok
(1) Dit gedicht schreef ik in mijn functie van stadsdichter.
(2) Op 24 september is kunstenaar Ad Willemen overleden. Hij was tekenaar, etser, lithograaf en fotograaf en maakte gouaches. Hij was de leermeester van Reinoud van Vugt en Marc Mulders, exposeerde in binnen- en buitenland en won prijzen. Hij gaf les aan het Koning Willem II College. Met zijn miniaturen van klassieke schilderijen en naakttekeningen (Het geheime oeuvre van Adriaan Willemen) verwierf hij een grote bekendheid.
Jasper Mikkers is stadsdichter van Tilburg
fleursdumal.nl magazine
More in: Ad Willemen, Archive M-N, In Memoriam, Mikkers, Jasper
---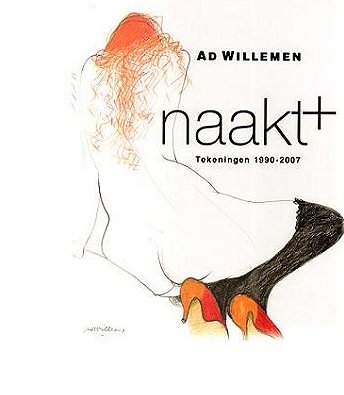 Kunstenaar Ad Willemen overleden
De Tilburgse kunstenaar Ad Willemen is maandagavond (23 september 2013) overleden. Eind vorig jaar werd bekend dat bij Willemen een hersentumor was vastgesteld.
Ad Willemen was internationaal vermaard om zijn grafisch werk, waarvoor hij vele prijzen ontving. In het werk van Ad Willemen stond het vrouwelijk naakt centraal. Willemen was lange tijd docent aan de kunstacdemie St. Joost in Breda. Bekende kunstenaars zoal Marc Mulders en Reinoud van Vught behoorden tot zijn leerlingen.
Ad Willemen (A.C.J.M.) 6 april 1941 – 23 september 2013
Education
A.B.B.K. Tilburg, NL (1957 – 1961)
Academy St. Joost, Breda, NL (1962-1963)
Profession
Drawing, painting and graphic artist
Part time drawingmaster at the Academy St. Joost, Breda, Netherlands
Parttime drawingmaster Willem II-college, Tilburg, Netherlands
Prizes
Biennale-prize, Fredrikstad, Noorwegen, 1986
First prize G.S.E. 25, Eindhoven (NL), 1989
Jury-prize, Fredrikstad, Noorwegen, 1999
Honourable mention: Europese biennale voor Grafische Kunsten, Brugge, 2000
Museums
Museum Scryption Tilburg, NL
Museum Boymans van Beuningen, Rotterdam, NL
Amsterdam Museum, Amsterdam, Nl
Museum for Samtid Grafikk, Fredrikstad, Norway
Kanagawa Prefectural Gallery, Yokohama, Japan
Noordbrabants Museum, 's Hertogenbosch, Nl
# meer informatie is te vinden op de website van Ad Willemen
fleursdumal.nl magazine
More in: Ad Willemen, Art & Literature News, FDM Art Gallery, In Memoriam
---
… hoe Lucretia, door zich een vechthond aan te schaffen, haar aanranding voorkwam; ook genoemd Lucretia Victrix I 2006 I houtskool en potlood 150 x 100
luycks gallery tilburg
ad willemen
8 08 2011  t/m  2 10 2011
controversiële accentueringen
Op 6 april dit jaar bereikte de tussen Tilburg en Saint-Maulvis (Fr) heen en weer pendelende beeldend kunstenaar, graficus en verzamelaar Ad Willemen de respectabele leeftijd van 70 jaar. Dat betekent echter geenszins dat hij op zijn lauweren rust. Integendeel.
  zonder titel I potlood I 65 x 50
…over de droom van Aurelius Augustinus, waarin Hadrianus Cornelis Lucretia belemmerde de hand aan zich zelf te slaan, en Tarquinius vertrapte I 2006 I, potlood en houtskool I 150 x 100
De tentoonstelling die van 28 augustus tot en met 1 oktober in Luycks Gallery te zien is, vormt een apotheose van zijn oeuvre tot dusver. Door hem gekoesterde thema's als het vrouwelijk naakt en de geschiedenis van de beeldende kunsten balt hij samen in een aantal waterverfschilderingen op groot formaat. Hij gaat er de dialoog in aan met grote meesters uit het verleden zoals Piero di Cosimo, Rafael, Goya, Courbet , Picasso en Magritte. Op hoogst originele wijze citeert en approprieert hij om te komen tot een even verrassende als eigenzinnige, kortom typisch willemeneske interpretatie en verbeelding. Al even virtuoos als hij etsnaald en potlood hanteert, bedient hij zich deze keer van het penseel. Spelend met de betekenis van 'papier peint' tast Willemen de grenzen van de kunsten en de kunstgeschiedenis af en herdefinieert hij deze tegelijkertijd.
fleursdumal.nl magazine

More in: Ad Willemen, Art & Literature News, Erotic literature, FDM Art Gallery
---
Thank you for reading FLEURSDUMAL.NL - magazine for art & literature