Tinkebell
·
Peerke Donderslezing 2014 met Tinkebell.
·
TINKEBELL: De Duitsers zijn uitgeschakeld
Hoe redden wij de wereld? Tinkebell. (1979) laat ons er over nadenken in haar langlopende project 'Save the World'.
Bij twee straatarme gezinnen in het Afrikaanse Guinee-Bissau levert ze ongevraagd een IKEA interieur af en stelt zo ontwikkelingshulp ter discussie.
Ze vraagt aandacht voor overbevolking door zich te laten steriliseren.
Ze klaagt seksslavernij op de Filipijnen aan met een eigen naaktkalender en schenkt de opbrengst aan Filipijnse prostituees.
Omdat ze zich stoort aan de hypocrisie waarmee veel dierenliefhebbers leer en bont dragen, maakt ze een handtasje van haar kat Pinkeltje.
Uit de bijna 200 duizend hatemails en doodsbedreigingen die ze vervolgens ontvangt, stelt zij het boek 'Dearest TINKEBELL.' samen.
TINKEBELL. is columniste van Trouw, Kunstbeeld en OneWorld.
Tijdens de Peerke Donderslezing stelt zij haar publiek opnieuw op de proef.
Peerke Donderslezing 2014 met Tinkebell.
Zondagmiddag 2 November
HOE REDDEN WIJ DE WERELD?
De 5e Peerke Donderslezing wordt geopend door Mario Jacobs, wethouder Internationale Samenwerking Tilburg.
In het voorprogramma gesprekken en optredens van de componist van de 'Missa Petrus Donders' Harry Swinkels, Veulpoeper Zjef Naaijkens en de Fanfarette en singer-songwriter Jasper Buiter.
Op de lezing van TINKEBELL. reageert Denis Hendrickx, Abt van Berne.
Door de middag leiden u Linda Mous en Ralf Bodelier.
Zondagmiddag 2 november 2014
Theater de Nwe Vorst
Entree: 7,50 euro in voorverkoop | dagprijs 8,50 euro
Kaartverkoop via theaterkassa van Theater de NWE Vorst of online
Inloop vanaf 14.00, aanvang 15.00 uur
# Website Theater de NWE Vorst
# Website Peerke Donderslezing
fleursdumal.nl magazine
More in: Art & Literature News, DICTIONARY OF IDEAS, MONTAIGNE, Tinkebell
---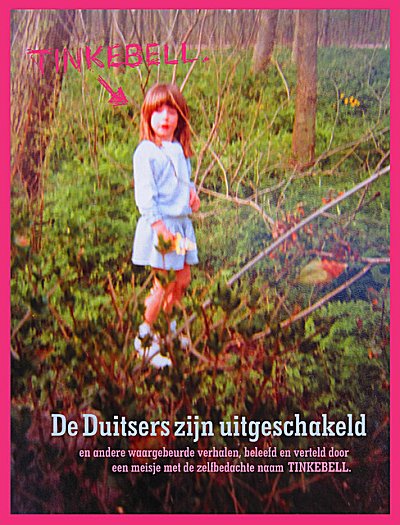 TINKEBELL
De Duitsers zijn uitgeschakeld
Over hoe je aangestaard kunt worden door een muis met een feestmuts. Welke types tegenwoordig kaas maken. Van mannen die vermeden moeten worden vanwege de viezigheid op hun piemel of hoe je aangeklaagd kunt worden door depressieve hondenbezitters. Waarom je een psychiater ook preventief kunt bezoeken. Over Boy. Over niet-opgegeten boterhammen. Over alleen zijn. En ook: wat kunst, politiek en portretschilderkunst met elkaar te maken hebben.
Dit boek is een toegankelijk geschreven verzameling columns, brieven, e-mails en gerechtelijke stukken. Sommige columns zijn hilarisch. De lezer krijgt een kijkje achter de schermen van het leven van Tinkebell. Op momenten is het ook een boek dat je doet nadenken over je eigen blik op bepaalde maatschappelijke kwesties en hoe die blik tot stand komt – vaak zonder dat je erbij nadenkt. Maar dat is misschien iets wat de meer ijverige lezer eruit haalt. Lachen zul je hoe dan ook.
Uitvoering: paperback – Afmetingen: 21 x 26 cm – Pagina's: 224 – NUR: 302 – ISBN: 9789045022260 – Auteur(s): TINKEBELL – 2013 –  Prijs: € 16,95
≡ website: portfolio tinkebell
fleursdumal.nl magazine
More in: The talk of the town, Tinkebell
---
Thank you for reading FLEURSDUMAL.NL - magazine for art & literature