Eva Hesse
·
EVA HESSE – Documentary film "Eva Hesse" about the German-American 1960's artist and the art world of the 1960s
·
Kröller-Müller Museum Otterlo: Het Museum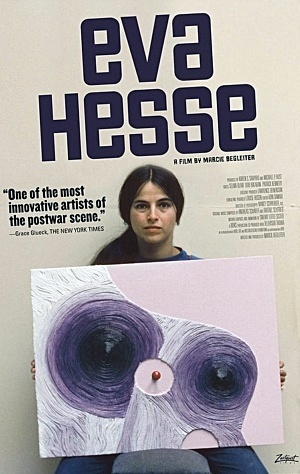 From the beginning, Eva Hesse's life was marked by drama and social challenges. Born in Hamburg in 1936 to a German-Jewish family, the artist's fierce work ethic may have developed from a complex psychology that was formed, in part, as a Jew born in Nazi Germany.
Having escaped the fate of her extended family, Eva and her older sister Helen were sent out on one of the last Kindertransports (trains that carried Jewish children to safety) and was eventually reunited with their parents in Holland. They made their way to New York but her family struggled to make a new home and her mother, after many years of depression and a failed marriage, committed suicide when Eva was 9 years old.
The artist graduated from Cooper Union and Yale School of Art, then returned home to Manhattan in late 1959 and began to receive attention for her highly original, abstract drawings. In 1961 Hesse met Tom Doyle, an already established sculptor, and in a whirlwind romance married him a scant 6 months after first glimpse. Their relationship was both passionate and competitive. Hesse struggled with the desire to be on equal footing with Doyle in terms of their art making but also wanted to be in a marriage with someone who could offer her the security that life often denied her.
In 1964 Friedrich Arnhard Scheidt, a German industrialist, offered an all-expenses paid artist's residency to Tom Doyle for year of working in an abandoned textile factory near Essen, Germany. It was tough choice – go back to the country that had murdered her family or stay in New York and work menial jobs while trying to make art with any time and energy left over. Ironically, the work on which her reputation was built began to emerge during this extended visit to the homeland she had escaped 25 years earlier.
When the couple arrived for the residency, Doyle was clearly the artist of note. But something happened during those 14 months in the cold factory on the Ruhr River. Eva arrived in Germany a painter. But as she worked in the thin German light, she began to incorporate pieces of metal and string that she found in the corner of her studio into her work. By the time the couple were ready to return to New York in the fall of 1965, Eva had fully incorporated a 3-dimensionality into her work which was now neither painting nor sculpture, but an exciting cross-breed of the two. And people were beginning to take notice. Within months after returning to New York in the fall of 1965, her work was thriving but the marriage failed. Tom moved into his studio just across the Bowery.
For the next 5 years, Eva worked non-stop on an impressive body of work, completing dozens of major sculptural works and hundreds of works on paper. Although she sold little, critical attention was paid and she was showing often and in excellent venues. In 1969 Hesse, who had suffered with headaches for many years, began having debilitating episodes and was eventually diagnosed with a brain tumor. Although the subsequent operation was deemed a success, the tumors reappeared and she died in 1970 at the age of 34.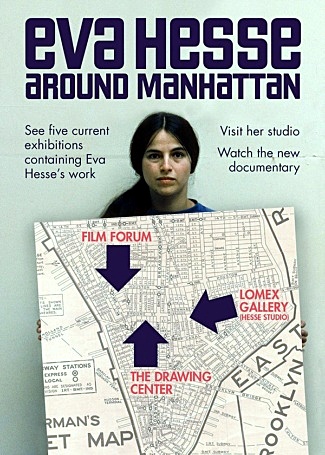 As the wild ride of the 1960's came to a close, Eva Hesse, a 34 year-old German-born American artist was cresting the wave of a swiftly rising career. One of the few women recognized as central to the New York art scene, she had over 20 group shows scheduled for 1970 in addition to being chosen for a cover article in ArtForum Magazine. Her work was finally receiving both the critical and commercial attention it deserved. When she died in May, 1970 from a brain tumor, the life of one of that decades' most passionate and brilliant artists was tragically cut short. As Jonathon Keats wrote in Art and Antiques Magazine "Yet the end of her life proved to be only the beginning of her career. The couple of solo gallery shows she hustled in the 11 years following her graduation from the Yale School of Art have since been eclipsed by multiple posthumous retrospectives at major museums from the Guggenheim to the Hirshhorn to the Tate." Her work is now held by many important museum collections including the Whitney, MoMA, the Hirschhorn, the Pompidou in Paris and London's Tate Modern.
Artists such as Dan Graham, Richard Serra, Nancy Holt, Carl Andre, Robert and Sylvia Plimack Mangold, Eva's husband Tom Doyle and her friend, writer Lucy Lippard speak candidly and with great passion about the 60's, Eva's work and her life. In addition, Sir Nicholas Serota, Director of the Tate Museums and Whitney curator Elisabeth Sussman have added their views on Hesse's work and legacy. Hesse's journals and correspondence provides much of the guiding narration.
Eva Hesse deepens the understanding of this extraordinary artist, not only in terms of her ground-breaking work, but also the life that provided the fertile soil for her achievements. With dozens of new interviews, high quality footage of Hesse's artwork and a wealth of newly discovered archival imagery, the documentary not only traces Eva's path but engages in a lively investigation into the creative community of 1960's New York and Germany.
The Movie-team
– Marcie Begleiter. Director-Producer
– Karen Shapiro. Producer
– Nancy Schreiber. Cinematographer
– Azin Samari. Editor
– Andreas Schäfer & Raffael Seyfried. Composers
– Kia Simon. Motion Graphics Designer
– Michael Aust. Producer
– Louise Rosen. Consulting Producer
"Eva Hesse" is a sponsored project of Fractured Atlas, a non profit arts service organization. ‐
Contributions for the charitable purposes of the documentary must be made payable to "Fractured Atlas" and are tax deductible to the extent permitted ‐ by law.
# For more information about the documentary-project see the website
"This indispensable film will be shining a light on Hesse's work, and her, for a long time to come." Joe Morgenstern, The Wall Street Journal
EVA HESSE – Documentary film "Eva Hesse" about the German-American 1960's artist and the art world of the 1960s.
fleursdumal.nl magazine
More in: Art & Literature News, Art Criticism, AUDIO, CINEMA, RADIO & TV, Eva Hesse, Eva Hesse, FDM in New York, Sculpture
---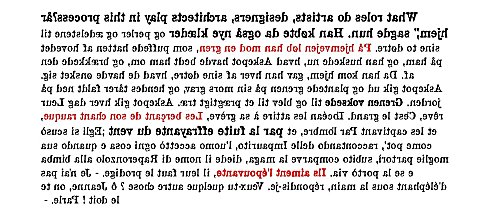 MUSEUM  KRÖLLER-MÜLLER:  HET  MUSEUM

(Nationaal Park De Hoge Veluwe – Otterlo)

De verzameling van het museum is opgebouwd rond de omvangrijke collectie werken van Vincent van Gogh, één van de meest indrukwekkende overzichten van zijn oeuvre. Ook George Seurat, Pablo Picasso, Fernand Léger, Piet Mondriaan en veel andere kunstenaars zijn met belangrijke schilderijen vertegenwoordigd.
Vanaf 1961 neemt ook de beeldentuin een belangrijke plek in. Hier wordt een unieke collectie sculpturen getoond. De beeldentuin geeft een overzicht van de ontwikkelingen in de beeldhouwkunst vanaf de 19e eeuw tot heden. Een wandeling door de beeldentuin van 25 hectare is een ware ontdekkingstocht. Op soms onverwachte plekken staat hier een unieke verzameling met onder andere beelden van Auguste Rodin, Henry Moore, Barbara Hepworth, Richard Serra en Jean Dubuffet. Twee paviljoens uit de jaren '60 van Aldo van Eyck en Gerrit Rietveld sieren de tuin: juweeltjes uit de jaren '60 die hier opnieuw een plaats hebben gekregen. De tuin is het hele jaar open en ademt ieder seizoen een andere sfeer.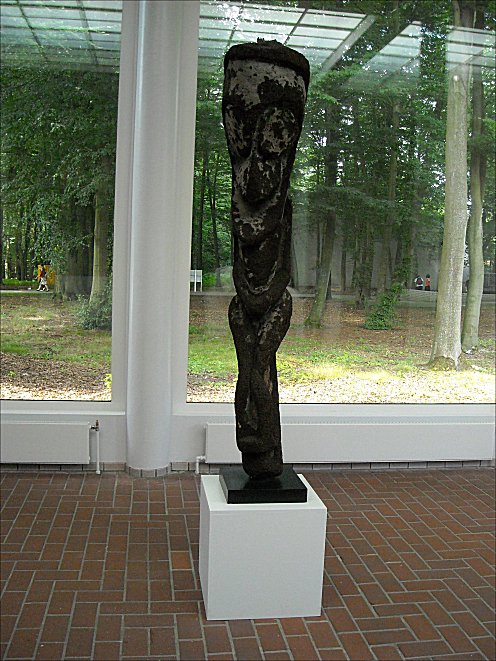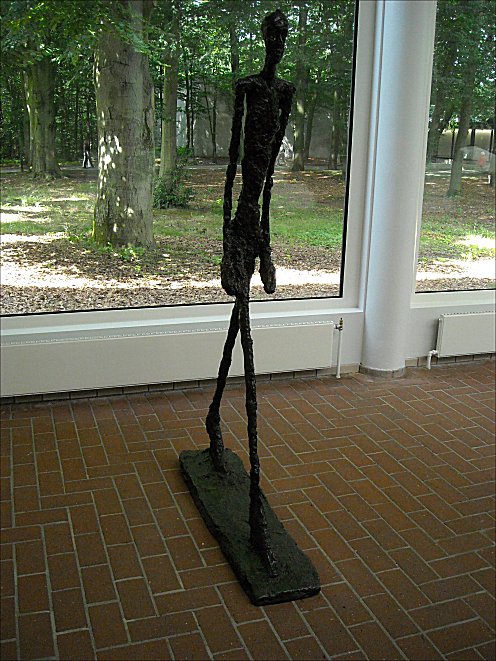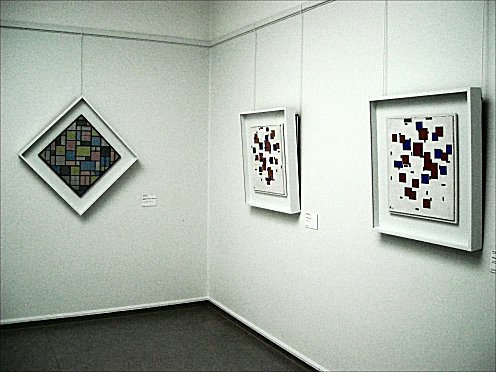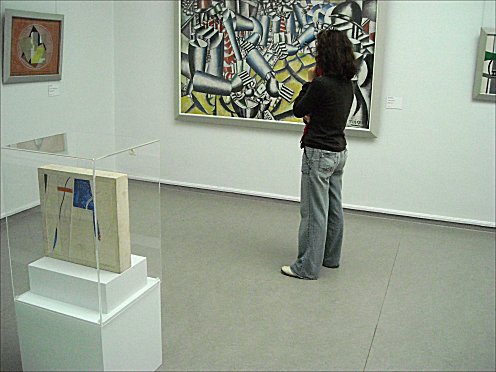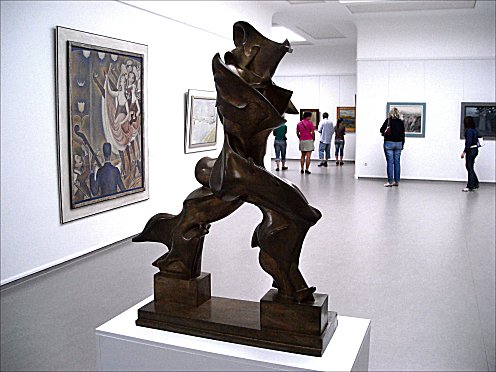 Museumcollectie Museum Kröller-Müller
Het Museum Kröller-Müller herbergt een wereldberoemde collectie schilderijen en tekeningen van Vincent van Gogh. Daarnaast is er een belangrijke collectie moderne en hedendaagse kunst waaronder ruim 400 werken (internationale avantgarde uit de jaren '60 tot heden) uit de voormalige collectie Visser. Waaronder werken van Anselm Kiefer, Richard Long en Ellsworth Kelly.

In 2005 werd een legaat, bestaande uit 28 werken uit de nalatenschap van Rudi van Deventer aanvaard.

Verder zijn er werken van onder meer:Hans Baldung Grien, Rudolf Belling, Joseph Beuys, Constantin Brâncuşi, Lucas Cranach de Oude, Pieter Claesz ,Theo van Doesburg, James Ensor, Juan Gris, Isaac Israëls, Bart van der Leck, Fernand Léger, Marino Marini, Piet Mondriaan, Pablo Picasso, Odilon Redon, Kurt Schwitters, Georges Seurat, Charley Toorop, Jan Toorop en herman de vries.
Kröller-Müller Museum
Houtkampweg 6
6731 AW Otterlo
 • photos fleursdumalmagazine
More in: Architecture, Art Criticism, Design, Eva Hesse, Exhibition Archive, FDM Art Gallery, Gerrit Rietveld, herman de vries, Jan Schoonhoven, Jean Tinguely & Niki de Saint Phalle, Joseph Beuys, Karel Appel, Kurt Schwitters, Land Art, Marcel Broodthaers, Pablo Picasso, Panamarenko, Piet Mondriaan, Richard Long, Theo van Doesburg, Vincent van Gogh, Yves Klein
---
Thank you for reading FLEURSDUMAL.NL - magazine for art & literature