Samuel Herbert
·
Samuel Herbert in Saatchi + Channel 4 London exhibition: THE FUTURE CAN WAIT
·
The art of Samuel Herbert
·
Samuel Herbert paintings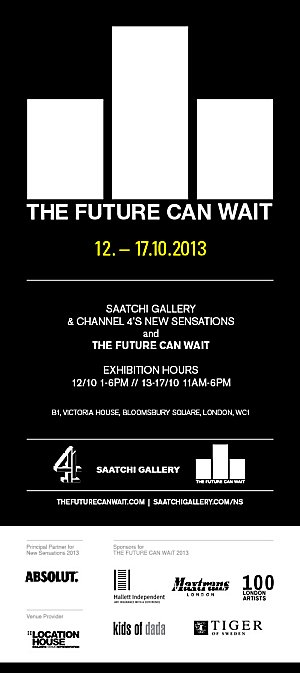 Samuel Herbert in Saatchi + Channel 4 exhibition:
THE FUTURE CAN WAIT
London 2013, 12-17 october
Established in 2007, THE FUTURE CAN WAIT is a direct response to Zavier Ellis' and Simon Rumley's fifteen years' experience of the London art scene. Having discovered, curated and collected many of the most exciting young and progressive artists during this period, both Ellis and Rumley have become known for identifying rising talent early.
THE FUTURE CAN WAIT is a multi-disciplinary museum-scale survey show consisting of London based or educated artists, who work in painting, drawing, video, sculpture, performance and installation. Conceived to compliment and complete London's Frieze week, THE FUTURE CAN WAIT represents an ambitious, privately funded and curated show that offers a much needed alternative experience to the art fair routine.
Located since 2007 in the East End, THE FUTURE CAN WAIT moved to Bloomsbury Square in Central London in 2011 in a new partnership with Saatchi's New Sensations. The Saatchi Gallery & Channel 4's New Sensations and THE FUTURE CAN WAIT continues to be London's biggest curated event during Frieze Week, featuring over 60 artists in a 22,000 sq ft museum quality space.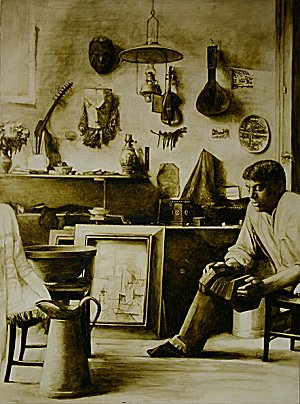 Samuel Herbert: Painter's Painter,  Oil on canvas, 
90cm x 70cm,  2012
fleursdumal.nl magazine
More in: Art & Literature News, Samuel Herbert
---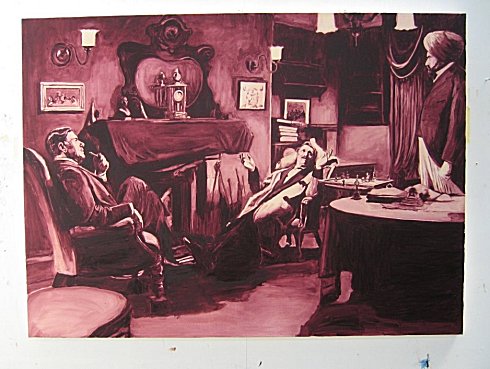 Skulduggery. Oil on canvas, 150cm x 120cm
The art of Samuel Herbert
The art of Samuel Herbert is concerned with exploring what he describes as an 'empathetic moment', whereby the viewer can make a connection with the people or scenes depicted in his paintings. His work confronts topics that have a resonating discomfort in contemporary British society, namely class and the inheritance of colonialism. Herbert has never sought to use these works as a platform for his own feelings on these issues but rather he makes paintings of images that exploit the gap between nostalgic recognition and revulsion at what is being depicted.
The Gallery. Oil on canvas, 210cm x 160cm, 2004
Herbert employs a painterly language that references traditional figurative painting and photographic appropriation. The paintings themselves are executed in a monochrome palette and applied using a variety of implements (including his fingers) on a prepared, uncannily flat, canvas surface. The resulting works are closer to drawing with paint than traditional painting and can resemble academic under paintings.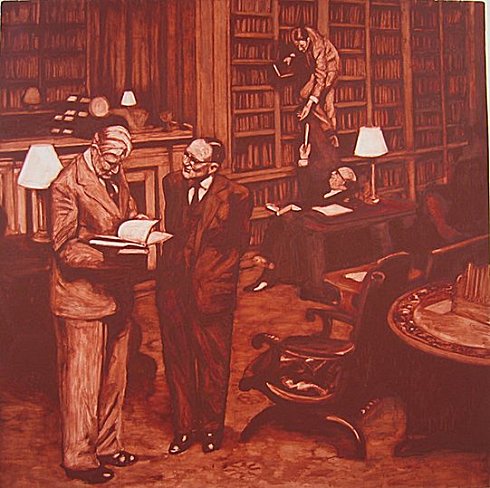 Arm Chair Heroes. Oil on canvas, 130cm x 120cm, 2003
Previous motifs have included fox hunting, private members' clubs and various scenes from the British Empire. More recent work has sought to explore the appropriation of tribal art by early 20th century modernism. In these newer works Herbert has attempted to remove as many of the signifiers revealing the cultural origin of the source imagery as possible so as to raise questions in the audience's mind as to the context and background of the figures depicted in his art. This removal of context is not a strategy for denying or obscuring the value of the cultural source but rather to open up a space for an audience to engage with a broader range of issues regarding identity, appropriation and empathy with the other.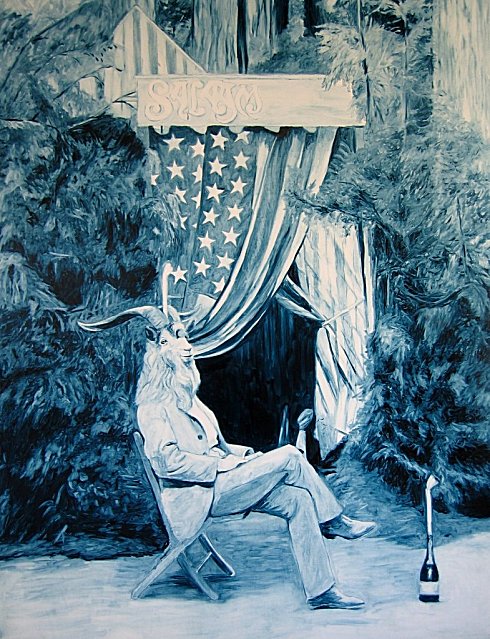 Powerhouse. Oil on canvas, 150cm x 120cm, 2008
© paintings samuel herbert
fleursdumal.nl magazine
More in: FDM in London, Samuel Herbert
---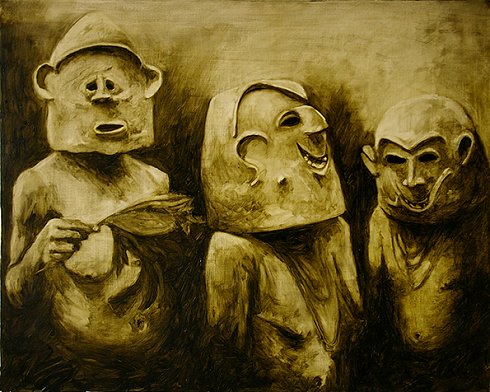 The Awkward Squad, 2012 – Oil on canvas, 76cm x 61cm
SAMUEL HERBERT (1976)
Samuel Herbert was born in London in 1976. He studied painting at Wimbledon School of Art and gained an MA from Goldsmiths college. He has over a decade of exhibiting experience and in that time has had six solo shows and numerous group shows in galleries and museums across Britain and Europe. His work is represented in several important collections of contemporary art, most notably the Saatchi collection, London. Herbert lives and works in London and is programme leader for the foundation degree in fine art practice with K College, University of Kent.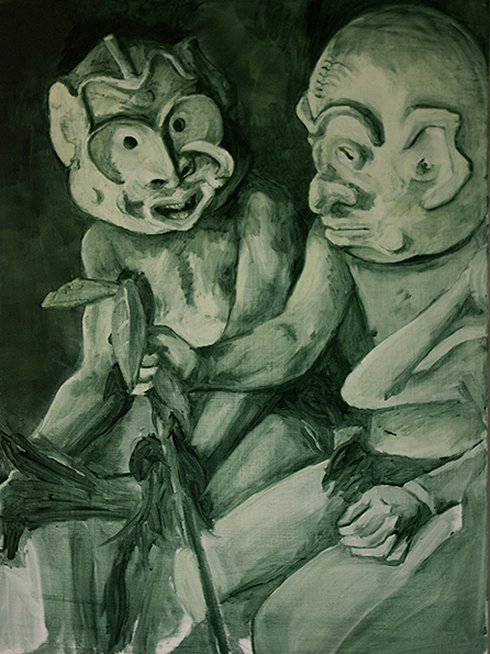 Converse, 2012 – Oil on canvas, 60cm x 40cm
Troll, 2012 – Oil on canvas, 24cm x 30cm
Samuel Herbert (1976)
Contemporary Artist – CV
Born: London, 1976,
lives and works in London
Education
2001-2004 Goldsmiths College, MA Fine Art
1997-2000 Wimbledon School of Art, BA Fine Art, Painting
1995-1997 Newham College, Foundation Diploma in Art and Design
Solo Exhibitions
2008
The Cremation of care
Gone Tomorrow Gallery, London
May-June 2008
2007
The Heritage of Cain
ZINGERpresents, Amsterdam, the Netherlands
September-October 2007
Art Cologne
Vamiali's Gallery at Cologne Art Fair, Germany, April 18-22,  2007
2006
Skulduggery
Gone Tomorrow Gallery, Bethnal Green, London, August 5-28, 2006
Alien Subjects
Vamiali's Gallery, Athens, Greece. March 11 – April 22 2006
2005
Natives and Colonials
ZINGERpresents, The Netherlands, October 19 – November 26, 2005
Unforgiven
Bearspace, Deptford High Street, London SE8, March 31 – April 18 2005
Selected Group Exhibitions
2012
The Perfect Nude
The Gallery, University of the Arts Wimbledon London, UK,  January 12th-February 10th
Charlie Smith Gallery, London, UK, July 6th-July 28th
2011
Connection Point London
The Nunnery Gallery, London, UK, June 17th-July 17th
2010
Dawnbreakers
John Hansard Gallery, Southampton, UK, April 27-June 12
2009
In Their Own Words
End Gallery, Sheffield, UK,  Nov – Dec 2009
The Royal Republic
Master Piper Gallery, London,  May – June 2009
And Now?
Greek State Museum, Thessaloniki, Greece, Dec  17 – Feb  22
2008
Life is Only Half the Story,
Christchurch, Spitalfields, London, February 2008
2007
NADA Miami
ZINGERpresents, Miami, Florida Dec 5 – 9 Dec 2007
Late Night Ficition
Agisilaou 61A, Keramikos, Athens October 2007
Eau Sauvage II
Fieldgate Gallery, London E1,  May  18 – 10 June 2007
Those Quaint Moments of Distress
Montana Space, Berlin. March-April, 2007
Art Rotterdam
ZINGERpresents at Rotterdam art fair, the Netherlands, February 7-11, 2007
Salon Nouveau
Engholm Englehorn Gallery, Vienna, January  25 – March, 2007
2006
Crossing Borders
Museum of Contemporary Art, Thessaloniki, Greece, September – November  2006
Kamikaze Blossom
Fieldgate Gallery, 14 Fieldgate Street, London E1,  April – June 2006
Eau Sauvage
Lucy mackintosh Gallery,  Lausanne, Switzerland,  March – May 2006
2005
Hydrophobia II
ZINGERpresents, The Netherlands, December 14 – January 21, 2005-06
Artissima
Turin Artfair, Italy. Showing with Vamiali's Gallery, 10-14 November 2005
'When I lived in Modern Times':  Archive, artefact, album.
Northern Gallery for Contemporary Art, Sunderland, September 16 – November 12  2005
Gigolo
The Trafalgar Hotel, Trafalgar Square, London SW1, February 11-March 13 2005
Sunset in Athens
Vamiali's Gallery, Athens, Greece, February 5-March 13 2005
Insurgence (Art Projects area, London Art Fair 2005)
Business Design Centre, Islington N1, January  18-23,  2005
2004
Revolution
Mare Street Studios, Hackney, London E8, October 17-24,  2004
Bonequake
16 Upper Wimpole Street, London W1, October 14-19, 2004
Goldsmiths Postgraduate Show 2004
Goldsmiths College, New Cross, London, July  22-26, 2004
Cinderella
Tower Bridge Business Complex, Bermondsey, London, July  16-31, 2004
The Solar Anus
Henry Peacock Gallery, London W1,  May  28 – July 3, 2004
Ready, Steady, GO!
Three Colts Gallery, Bethnal Green, London E2,  April 17 – May  1  2004
2003
Godzilla
2-10 Hertford Road, London N1,  25  October- 9 November 2003
2002
Work, Rest and Play
3-5  Leighton Place, London. 13-17  December 2002
Goldsmiths Postgraduate Show
Goldsmiths College London,  July 2002,  Postgraduate Diploma Show
Media/Collections
Collections
The Saatchi Collection, London
Various private collections in the UK,  Europe,  Asia and  the USA
Media
Audio Visual Interviews
Television
Working Lunch, BBC 2,  Feature on Art Fairs,  Broadcast  22/10/04  12.30-13.30
The Week, ITV1 (LWT), Feature on the Turner Prize, Broadcast 24/10/04 12.45-13.15
Radio
In Business, 'Framed'  BBC Radio 4, Broadcast  3/2/05  20.30-21.00 and  6/2/05  21.30-22.00′
Printed Media
Articles and Reviews
Contemporary, Annual 2007,  p. 118-119
Timeout London (review) Martin Coomer, August 15  2006
De Telegraaf., National newspaper the Netherlands  14/2/06
'When I lived in Modern Times': Archive, artefact, album. 'Essay accompanying the exhibition by Alistair Robinson, Northern Gallery for Contemporary Art,  Sept 2005.
Metro (north East)  Review of Sunderland show,  p.32  12/10/05
Metro (London), 'Metro Life- London for Free' p.25  Thursday 31/3/05
The Art Newspaper (International Edition) Judith Bumpus, Photo of work and discussion p.36 No 156, March 2005
The Independent,'Save and Spend'p.5  Saturday 14/1/05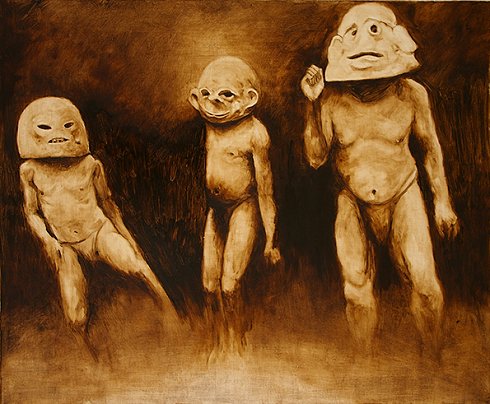 Scratch Band, 2012 – Oil on canvas, 80cm x 60cm
fleursdumal.nl magazine
More in: FDM in London, Samuel Herbert
---
Thank you for reading FLEURSDUMAL.NL - magazine for art & literature