FDM in Paris
·
Festival de la BnF 2018 Paris: La Bibliothèque parlante
·
Bruno Fuligni: Mata Hari. Les vies insolentes de l'agent H 21
·
Guillaume Apollinaire: Le douanier Rousseau
·
Littérature et poésie – Nuit de la Poésie 2017 = 11 – 12 Novembre 2017
·
Festival Paris En Toutes Lettres 2017 du 9 au 20 novembre 2017
·
21e Edition de Paris Photo, du 9 au 12 Novembre 2017 au Grand Palais
·
Camille Laurens: La petite danseuse de quatorze ans
·
Evelyne Bloch-Dano: Une jeunesse de Marcel Proust
·
Peter BROOKS: Flaubert in the Ruins of Paris. The Story of a Friendship, a Novel, and a Terrible Year
·
MICHEL HOUELLEBECQ 'TO STAY ALIVE' IN PALAIS DE TOKYO
·
APOLLINAIRE, THE EYES OF THE POET, IN MUSÉE DE L'ORANGERIE PARIS
·
MARCEL DUCHAMP IN CENTRE POMPIDOU PARIS: LA PEINTURE, MÊME
Festival de la BnF 2018 Paris
Les textes de La Bibliothèque parlante dans les collections de la BnF (samedi 26 et dimanche 27 mai 2018 – François-Mitterrand –  BnF Paris)
# Website La Bibliothèque parlante
fleursdumal.nl magazine
More in: - Book News, Art & Literature News, AUDIO, CINEMA, RADIO & TV, FDM in Paris, Libraries in Literature
---
Peu de noms évoquent autant le mystère, la sensualité et l'intrigue que celui de Mata Hari. Son histoire est vraie, mais elle comporte tous les ingrédients d'un grand film d'aventure : ambition, argent, sexe, pouvoir et mort tragique…
Mère de famille, danseuse nue, espionne et femme fatale, Mata Hari a traversé plusieurs vies avant d'accéder au rang de personnage légendaire. Fusillée en 1917, elle a continué de vivre dans l'imaginaire collectif, devenant un mythe dont se sont emparés le cinéma et la publicité.
Première star mondiale, dont le nom sonne comme une marque, elle a inventé le strip-tease, créé un style vestimentaire et inauguré l'ère du renseignement technologique, puisque ce sont les interceptions de la tour Eiffel qui ont Iivré les secrets de l'«agent H 21». Une histoire folle d'une grande modernité.
À partir des archives de la Défense et d'une abondante documentation, Bruno Fuligni révèle la captivante histoire d'une vie faite d'amour, de mensonges et de subterfuges, la vie d'une femme dont le nom est devenu le symbole de l'espionnage au féminin.
Bruno Fuligni
Mata Hari. Les vies insolentes de l'agent H 21
Albums hors série, Gallimard Loisirs
Parution : 12-10-2017
192 pages, ill.,
sous couverture illustrée,
195 x 255 mm, cartonné
Genre : Albums illustrés Thème : histoire
Sous-thème : Temps présent (1914 – XXe s.)
ISBN : 9782742448012
Gencode : 9782742448012
Prix €35,00
new books
fleursdumal.nl magazine
More in: - Book News, - Book Stories, Archive E-F, Art & Literature News, CRIME & PUNISHMENT, FDM in Paris, Mata Hari, WAR & PEACE
---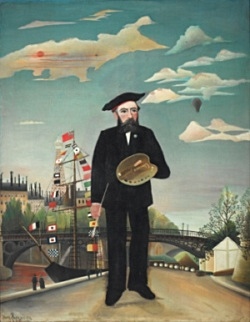 Apollinaire
Le douanier Rousseau
Tu te souviens, Rousseau, du paysage astèque,
Des forêts où poussaient la mangue et l'ananas,
Des singes répandant tout le sang des pastèques
Et du blond empereur qu'on fusilla là-bas.
Les tableaux que tu peins, tu les vis au Mexique,
Un soleil rouge ornait le front des bananiers,
Et valeureux soldat, tu troquas ta tunique,
Contre le dolman bleu des braves douaniers.
Le malheur s'acharna sur ta progéniture
Tu perdis tes enfants et tes femmes aussi
Et te remarias avecque la peinture
Pour faire tes tableaux, enfants de ton esprit.
Nous sommes réunis pour célébrer ta gloire,
Ces vins qu'en ton honneur nous verse Picasso,
Buvons-les donc, puisque c'est l'heure de les boire
En criant tous en chœur : « Vive ! vive Rousseau ! »
O peintre glorieux de l'alme République
Ton nom est le drapeau des fiers Indépendants
Et dans le marbre blanc, issu du Pentélique,
On sculptera ta face, orgueil de notre temps.
Or sus ! que l'on se lève et qu'on choque les verres
Et que renaisse ici la française gaîté ;
Arrière noirs soucis, fuyez ô fronts sévères,
Je bois à mon Rousseau, je bois à sa santé !
Guillaume Apollinaire
(1880 – 1918)
Le douanier Rousseau
fleursdumal.nl magazine

More in: Apollinaire, Guillaume, Archive A-B, FDM in Paris, Guillaume Apollinaire
---
Pour la deuxième année consécutive, l'IMA et la Maison de la Poésie s'unissent pour convoquer, le temps d'une nuit, la poésie et célébrer la beauté du verbe, en mémoire des attentats de Paris en novembre 2015. Cette deuxième édition est aussi celle d'un nouveau partage : la Nuit 2017 résonnera, en même temps, à travers huit villes du monde arabe.
En mémoire des attentats de Paris du 13 novembre 2015, l'initiative a en 2016 rassemblé près d'une cinquantaine d'artistes de disciplines différentes, parlant l'arabe, le français ou l'hébreu. Plus de 3 000 personnes se sont réunies à l'IMA.
Dans la nuit du 11 au 12 novembre 2017, la deuxième édition de la Nuit de la Poésie offrira une nouvelle fois la possibilité de découvrir et d'apprécier la poésie – cette année en arabe, en français et en persan – à travers la lecture, le slam, le rap, le chant ou encore les arts du cirque.
#  la Nuit de la poésie Web IMA

Littérature et poésie
Nuit de la Poésie 2017
11 – 12 Novembre 2017
fleursdumal.nl magazine
More in: Art & Literature News, FDM in Paris, LIGHT VERSE, Literary Events, Maison de la Poésie, MODERN POETRY, MUSIC, Nacht van de Poëzie, THEATRE
---
---
Festival littéraire de la ville de Paris, Paris En Toutes Lettres est fondé sur les hybridations entre les genres littéraires et les formes artistiques, ainsi que sur les résonances entre la géographie parisienne et sa vie littéraire. À partir de la Maison de la Poésie-Scène littéraire, il se déploie dans une quinzaine de lieux alentours.
Revisitant l'actualité littéraire, le festival fait aussi la part belle aux créations mettant en regard littérature et musique. Parmi plus de cinquante lectures, rencontres ou concerts littéraires, on trouve également d'insolites conférences et de curieuses performances. À travers ce foisonnement de lieux et de propositions, c'est à un Paris vivant et traversé de littérature que le festival donne voix.
Festival
Paris En Toutes Lettres 2017
Du 9 au 20 novembre 2017
fleursdumal.nl magazine
More in: Art & Literature News, AUDIO, CINEMA, RADIO & TV, FDM in Paris, LIGHT VERSE, Literary Events, MODERN POETRY, MUSIC, STREET POETRY, THEATRE
---
Paris Photo, première foire internationale dédiée à la photographie, se déroulera du 9 au 12 novembre 2017, au Grand Palais.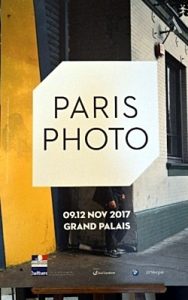 Avec 180 exposants annoncés pour le secteur principal, l'édition 2017 sera marquée par une  programmation ambitieuse et inédite, présentant le meilleur du médium photographique dans toute sa diversité.
Pour cette 21ème édition, Paris Photo dévoile une première sélection de 149 galeries et 31 éditeurs en provenance de 31 pays. 31 nouvelles galeries et 5 éditeurs spécialisés dans le livre photographique rejoignent Paris Photo cette année.
Pour la troisième année consécutive, le secteur PRISMES, dédié aux installations, aux œuvres sérielles et de grands formats dévoilera 14 projets d'envergure, dans le Salon d'Honneur du Grand Palais.
 Paris Photo inaugure cette année une section FILM/VIDÉO, explorant les nouvelles perspectives qu'offre l'image, en partenariat avec le MK2 (Grand Palais).
Invité d'Honneur de cette 21ème édition, Karl Lagerfeld proposera aux visiteurs de Paris Photo un parcours spécial de la foire intitulé
​« Paris Photo vu par Karl Lagerfeld ». Ce parcours fera l'objet d'une publication dédiée.
21e Edition de Paris Photo, du 9 au 12 Novembre 2017 au Grand Palais
fleursdumal.nl magazine
More in: Art & Literature News, AUDIO, CINEMA, RADIO & TV, FDM in Paris, Photography, PRESS & PUBLISHING, The talk of the town
---
Who was the model for Edouard Degas's world renowned sculpture of a ballet dancer? Camille Laurens embarks on a meticulous and sensitive enquiry.
Degas's "Little Ballerina" has always been a presence for Camille Laurens. Here the novelist tells the story of the sculpture which has been exhibited in Paris, London, New York, Washington, Chicago, Copenhage, Dresden… but few know the identity of the model.
She looks into the childhood of Marie Van Goethem, born to Belgian parents, with an older sister who ended up as a courtesan, a younger sister who became a ballet teacher and a mother who died on the very premises of the Paris Opera. Dancing and prostitution. Revolution and the art world. Quite unintentionally, Marie would become one of the most discussed models, and was described as a "monkey" at the 1881 Salon des Indépendants exhibition.
How did Degas dare to make something beautiful of such an ugly child? And what mysterious connection was there between Degas and his subject, given that he kept the wax sculpture in his studio his whole life and never exhibited it? This enquiry ultimately leads Camille Laurens to a more personal quest.
Novelist, essayist and academic Camille Laurens has published some twenty books. In 2000, Dans ces bras-là won the Prix Fémina and the Prix Renaudot des Lycéens, and was translated into thirty languages. Her latest novel Who You Think I Am (Gallimard, 2016 / Other Press 2017) sold 50,000 copies in France.
La petite danseuse de quatorze ans
Camille Laurens
(Degas's little ballerina by Camille Laurens)
Collection: La Bleue
Éditions Stock Paris
Parution: 01/09/2017
176 pages
Format:140 x 216 mm
EAN: 9782234069282
Prix:  €17.50
fleursdumal.nl magazine
More in: - Book News, - Book Stories, Archive K-L, Art & Literature News, DANCE, FDM in Paris, Histoire de France, Sculpture
---
Who hasn't heard of Proust's famous questionnaire? The writer's answers have travelled across time and all around the world, but people have forgotten that they came from an album called Confessions that belonged to Antoinette Faure, daughter of the future French President.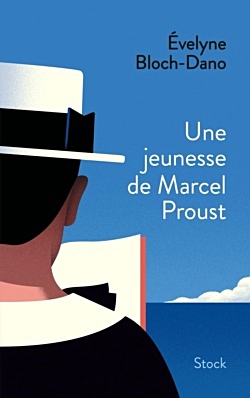 Marcel Proust didn't realize that, by taking part in what was a fashionable parlour game, he would be revealing clues about his teenage self. His answers have elicited commentaries but have never been contextualised or compared, never dated accurately.
Where and when did he answer this questionnaire? What sort of boy was he at the time? And most significantly, how much of that period and those friendships fed into his future work? What traces are left of Gilberte on the Champs-Élysées, Albertine's little group and the "young girls in flower"?
Évelyne Bloch-Dano conducted this enquiry over many years. Using sometimes tiny clues, she managed to identify Antoinette's other friends, some of whom may have known Proust.
A whole world came to life, revolving around the daughters of the late nineteenth-century bourgeoisie, many of them with connections to Le Havre like the Faure family. Some boys appear too. Through their ideas, their books, their customs, what they study and what they dream of, the portrait of a whole generation emerges.
Marcel Proust's generation. Young people born to the defeat at Sedan in 1870, in a vengeful republican France. The generation of General Boulanger, of political scandal and the Dreyfus Affair, but also of schools for girls, electricity, Great Exhibitions and the Belle époque. And later the First World War.
The biographer and essayist Évelyne Bloch-Dano is the author of several prize-winning and widely translated books, including most notably biographies of Madame Zola (1997, Grand Prix of Elle readers), Madame Proust (2004, Prix Renaudot for an essay), Le Dernier Amour de George Sand (2010), but also Jardins de papier (2015), and the more personal La Biographe (2007) and Porte de Champerret (2013).
Evelyne Bloch-Dano: Une jeunesse de Marcel Proust
(Marcel Proust as a young man by Évelyne Bloch-Dano)
Collection: La Bleue
Éditions Stock Paris
Parution: 20/09/2017
304 pages
Format: 135 x 215 mm
EAN: 9782234075696
Prix: €19.50
fleursdumal.nl magazine
More in: Archive A-B, Art & Literature News, BIOGRAPHY, FDM in Paris, Marcel Proust, Proust, Marcel
---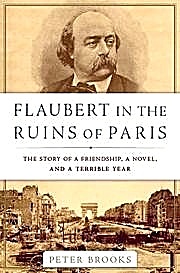 From the summer of 1870 through the spring of 1871, France suffered a humiliating defeat in its war against Prussia and witnessed bloody class warfare that culminated in the crushing of the Paris Commune. In Flaubert in the Ruins of Paris, Peter Brooks examines why Flaubert thought his recently published novel, Sentimental Education, was prophetic of the upheavals in France during this "terrible year," and how Flaubert's life and that of his compatriots were changed forever.
Brooks uses letters between Flaubert and his novelist friend and confidante George Sand to tell the story of Flaubert and his work, exploring his political commitments and his understanding of war, occupation, insurrection, and bloody political repression. Interweaving history, art history, and literary criticism—from Flaubert's magnificent novel of historical despair, to the building of the reactionary monument the Sacré-Coeur on Paris's highest summit, to the emergence of photography as historical witness—Brooks sheds new light on the pivotal moment when France redefined herself for the modern world.
Peter Brooks is Sterling Professor Emeritus of Comparative Literature at Yale University. The author of several award-winning books, Brooks currently teaches at Princeton University and lives in Alexandria, Virginia.
Flaubert in the Ruins of Paris
The Story of a Friendship, a Novel, and a Terrible Year
by Peter Brooks
Basic Books,
hardcover, 288p.,
9780465096022
Publ. date:  April 4th, 2017
Basic Books is an imprint of Perseus Books, a Hachette Book Group company.
fleursdumal.nl magazine
More in: - Book News, FDM in Paris, Gustave Flaubert, Literaire sporen
---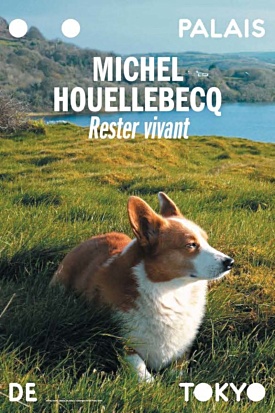 Michel Houellebecq 'Rester vivant' in: Le Palais de Tokyo Paris
This is not a show "about" Michel Houellebecq, but a show "by" Michel Houellebecq, demonstrating how the writer has produced a form that contributes to the reinvention of exhibitions, by mixing up literature and photography, between fact and fiction
Poet, essayist, novelist and filmmaker, Michel Houellebecq has always had close ties with the cinema and the world of the visual arts, which have accompanied and extended his reflexions since the start of his career, as the frequent allusions to them in his novels attest.
This show is a scenario, leading visitors through the writer's obsessions. Made up of sounds, photographs, installations and films he has conceived, as well as the presence of several guest artists (Robert Combas, Raphaël Sohier, Renaud Marchand and Maurice Renoma) it will offer an immersion into the world and mind of the protean creator who is Michel Houellebecq.
Curator : Jean de Loisy
An issue of the magazine PALAIS is entirely dedicated to the exhibition. Copublished with Flammarion.
An associated program will propose extensions to the exhibitions.
Exhibition From 23/06/2016 to 11/09/2016
Open every day except Tuesdays, from noon until midnight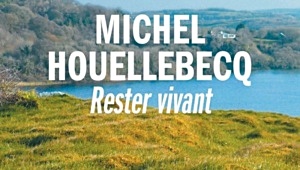 Michel Houellebecq
Michel Houellebecq is, since the 1990s, one of the contemporary authors of French language the most translated and read in the world.
"Michel Thomas was born on the French island Réunion in 1958, his mother was a doctor and his father a mountain guide. His early years were marked by frequent moves (Savoy, Algeria, back to Réunion). His life gained a certain stability after his parents' divorce, when, at the age of six, he went to live with his paternal grandmother (whose maiden name, Houellebecq, he adopted as his penname).
His childhood was spent in Dicy, in the Yonne. Then his teenage years in Villiers-sur-Morin, in Seine-et-Marne.
After a high-school diploma, which he passed at the age of seventeen, he continued his education in Paris where, five years later, he qualified as an agronomist (specialising in vegetal ecology).
There then followed periods of unemployment intercut with periods of work (firstly to do with agronomics; then mostly for IT service providers).
1991 saw him publish his first book, as well become an administrative secretary at the Assemblée Nationale.
There, he had a brief career in the IT department. In 1996 he took unpaid leave for personal reasons, before resigning in 2008."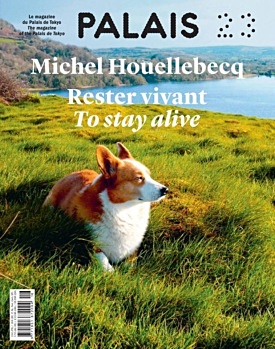 Magazine PALAIS #23
PALAIS magazine is dedicating its issue 23 to Michel Houellebecq's exhibition "Rester vivant", presented at the Palais de Tokyo from 23 June to 12 September 2016. This is an exceptional event, because it is the first large-scale show devoted to Michel Houellebecq as an artist. This is also a special issue of PALAIS magazine with Michel Houellebecq as guest editor-in-chief.
This issue of PALAIS magazine follows the organisation of the exhibition in chapters. Thanks to a series of unpublished interviews with Michel Houellebecq, a selection of his writings (essays, poems, novel extracts) and texts by guest authors, the issue provides a discovery of his visual universe, and its intertwining with the many creative forms which the writer uses (music, cinema, performance…).
Contents of this issue: photographs and a selection of texts by Michel Houellebecq as well as a series of interviews between Michel Houellebecq and Jean de Loisy, Yan Céh, Robert Combas (edited by Richard Leydier), Benoît Delépine, Nelly Kaprièlian, an essay by Stéphanie Moisdon and portfolios by Robert Combas, Marie-Pierre Gauthier and Renaud Marchand.
This issue of PALAIS magazine has been co-published with Flammarion.
About Michel Houellebecq's exhibition "Rester vivant"
Bilingual (French & English)
192 pages in color;
Format : 285 x 225 mm
ISSN 1 951-672X
ISBN 978-2-84711-061-6
15 € (FRANCE)
Palais de Tokyo
13 Avenue du Président Wilson,
75116 Paris, France
# More info on website Palais de Tokyo
fleursdumal.nl magazine
More in: - Book News, FDM in Paris, Histoire de France, Michel Houellebecq, Photography
---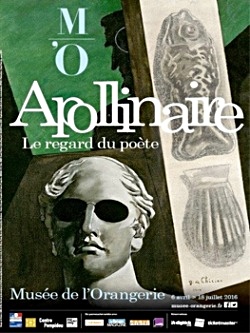 Musée de l'Orangerie, Paris
Apollinaire, the vision of the poet
Until 18 July 2016
The exhibition Apollinaire, the Eyes of the Poet looks at the period between 1902 and 1918 when Guillaume Apollinaire was active as an art critic. This period of fifteen years, seemingly a brief span, would in fact see a prodigious concentration of schools, manifestos, experiments and discoveries flourishing throughout the arts. Apollinaire's character, his artistic sensitivity and his insatiable curiosity, made him a witness, a participant and a privileged intermediary in the turbulent times of the early 20th century. With a keen eye for discovering the art of his time, Apollinaire "defined once and for all the approach of artists like Matisse, Derain, Picasso and Chirico (…) using intellectual surveying techniques not seen since Baudelaire" Breton declared in 1952.
The aim of this exhibition is to recognise the important effect that this poet-critic's discerning eye had on his era, in much the same way as Baudelaire and Mallarmé had on theirs.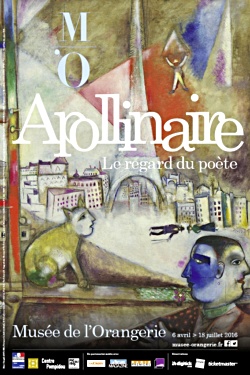 Poet, critic, friend of artists and one of the first to discover African arts, Apollinaire proved to be a key player in the aesthetic revolution that led to the birth of modern art.
This exhibition aims to explore Apollinaire's mental and aesthetic universe through a thematic display: from Douanier Rousseau to Matisse, Picasso, Braque and Delaunay, from Cubism to Orphism and Surrealism, from academic sources to modernity, from tribal arts to popular arts. One section will highlight in particular the poet's links with Picasso.
The exhibition sits quite naturally in the Musée de l'Orangerie alongside the works collected by his friend Paul Guillaume, whom Apollinaire introduced into the avant-garde circles, and whose adviser he became.
Musée de l'Orangerie
Jardin des Tuileries
Place de la Concorde
Paris fr
+33 (0)1 44 77 80 07
+33 (0)1 44 50 43 00
Jours et horaires d'ouverture
Ouvert de 9h à 18h
Dernier accès : 17h15
Fermé le mardi
# Website: Le musée de l'Orangerie
fleursdumal.nl magazine
More in: Apollinaire, Guillaume, Archive A-B, Art & Literature News, Art Criticism, Exhibition Archive, FDM in Paris, SURREALISM
---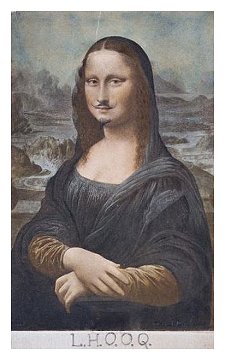 "I think that art is the only form of activity through which man shows himself to be a real individual. Through it alone, he can move beyond the animal stage because art opens onto regions dominated by neither time nor space."
Marcel Duchamp
"And yet I have drawn people's attention to the fact that art is a mirage. A mirage, just like the oasis that appears in the desert. It is very beautiful, until the moment when you die of thirst, obviously. But we do not die  of thirst in the field of art. The mirage has substance."
Marcel Duchamp, 1964
MARCEL DUCHAMP: PAINTING, EVEN
UNTIL 5 JANUARY 2015  CENTRE POMPIDOU PARIS
Through a 100-odd works brought together for the first time, the Centre Pompidou is devoting a monograph exhibition to the painted work of Marcel Duchamp. With a completely new and knowingly paradoxical approach, the exhibition is designed to show the paintings of the man who, in common modernist opinion, killed painting.
At the heart of this pictorial work and the discourse of the exhibition, visitors are invited to take a new look at the paintings and drawings that led Marcel Duchamp to create his masterpiece, known as Le Grand Verre, La mariée mise à nu par ses célibataires, même (The Bride Stripped Bare by her Suitors, Even (The Large Glass)), which was begun in 1910 and declared unfinished by the artist in 1923.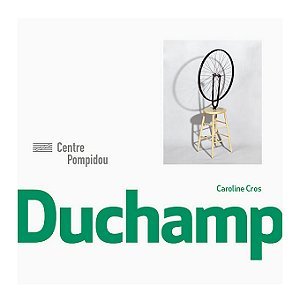 To situate this work in the context of a long and complex creative process, Duchamp conscientiously  gathered his paintings together in the hands of a small circle of collectors, and replicated them in his Boîte-en-Valise (Box in a Suitcase) for posterity and those he called «the viewers».
Little-known in Europe, these paintings (now mostly in the Philadelphia Museum of Art) have been reunited at the Centre Pompidou, surrounded by the pictorial, scientific and technical sources, as well those acquired from books, that Duchamp drew on during those crucial and fertile years. The exhibition thus provides new keys for more clearly interpreting and understanding a programmatic work that is also a manifesto.
From humorous drawings to the Nu descendant l'escalier, from mathematics to the theme of the «Bride», from works on perspective to the films of Etienne-Jules Marey and Georges Méliès, from Impressionism to Cubism, and from Cranach the Elder to Edouard Manet and Odilon Redon, by way of Francis Picabia and František Kupka, the circuit takes the public step by step through the construction of one of modern art's richest and most fascinating works, Le Grand Verre, with the aid of essential and unexpected references. The exhibition reveals Duchamp's pictorial studies, his Fauve period, the influence of Symbolism, his Cubist explorations, and the nonsense and humour that imbued his work, notably through the artist's original notes, now in the Centre Pompidou.
It highlights his interest in literature and words, as well as in the optical, physical and mechanical sciences.
With Marcel Duchamp. La peinture, même., the Centre Pompidou helps to write the history of the art of our times, providing a fresh look at the work of one of the most iconic figures in 20th century art.
MARCEL DUCHAMP
PAINTING, EVEN.
24 SEPTEMBER 2014 – 5 JANUARY 2015
CENTRE POMPIDOU PARIS
GALERIE 2, LEVEL 6
# More informatie website Centre Pompidou
fleursdumal.nl magazine
More in: - Objets Trouvés (Ready-Mades), Art & Literature News, Dada, FDM in Paris, Marcel Duchamp
---
Older Entries »
Thank you for reading FLEURSDUMAL.NL - magazine for art & literature