Samuel Beckett
·
Samuel BECKETT: Kort proza
·
SHAKESPEARE AND COMPANY, PARIS: A HISTORY OF THE RAG & BONE SHOP OF THE HEART
·
beckett in de stadsschouwburg amsterdam: 17 t/m 22 april 2013
·
Ivo van Leeuwen: Portrait of Samuel Beckett
Samuel Beckett kreeg in 1969 de Nobelprijs voor de Literatuur. De in deze uitgave opge­nomen vertalingen van Anneke Brassinga zijn alle geschreven in het decennium rond dit jaartal.
De teksten, die duidelijk minimalistisch van opzet zijn, kunnen het beste worden gesavou­reerd met de stem – dus hardop gelezen. Daarbij komt de muzikale, repetitieve trant ten volle tot haar recht, evenals het poëtische aspect met veel assonantie en elliptische plastiek.
Beckett heeft al deze teksten nadrukkelijk gekarakteriseerd als verhalend proza, we kunnen er een soort bezweringen in horen van een bewustzijn dat aan zichzelf het eigen (voort)bestaan bewijst als een soort grensgebied tussen autonomie en ontlediging.
Samuel Beckett
Samuel Beckett (Dublin, 1906 – Parijs, 1989) was een Ierse (toneel) schrijver en dichter. Hij studeerde Frans, Italiaans en Engels in Dublin, reisde vervolgens door Europa om zich tenslotte permanent te vestigen in Parijs. Het merendeel van zijn werk schreef hij in het Frans, waarna hij het grotendeels ook weer zelf in het Engels vertaalde. Zijn teksten zijn vaak kaal, minimalistisch en diep pessimistisch over de menselijke natuur en de lotsbestemming van de mens. In 1969 ontving hij de Nobelprijs voor de Literatuur.
Samuel Beckett
Kort proza
Vertaling: Anneke Brassinga
48 pagina's
isbn 978 90 78627 33 3
Uitgeverij Vleugels, 2017
€ 20,85
# meer info website uitgeverij vleugels
fleursdumal.nl magazine
More in: - Book News, Archive A-B, Samuel Beckett
---
A Biography of a Bookstore – Shakespeare and Company, Paris: A History of the Rag & Bone Shop of the Heart – by Krista Halverson (Editor) – Sylvia Whitman (Afterword) – Jeannette Winterson (Foreword)
A copiously illustrated account of the famed Paris bookstore on its 65th anniversary.
For almost 70 years, Shakespeare and Company has been a home-away-from-home for celebrated writers—including James Baldwin, Jorge Luis Borges, A. M. Homes, and Dave Eggers—as well as for young, aspiring authors and poets. Visitors are invited to read in the library, share a pot of tea, and sometimes even live in the shop itself, sleeping in beds tucked among the towering shelves of books. Since 1951, more than 30,000 have slept at the "rag and bone shop of the heart."
This first-ever history of the legendary bohemian bookstore in Paris interweaves essays and poetry from dozens of writers associated with the shop–Allen Ginsberg, Anaïs Nin, Ethan Hawke, Robert Stone and Jeanette Winterson, among others–with hundreds of never-before-seen archival pieces, including photographs of James Baldwin, William Burroughs and Langston Hughes, plus a foreword by the celebrated British novelist Jeanette Winterson and an epilogue by Sylvia Whitman, the daughter of the store's founder, George Whitman. The book has been edited by Krista Halverson, director of the newly founded Shakespeare and Company publishing house.
George Whitman opened his bookstore in a tumbledown 16th-century building just across the Seine from Notre-Dame in 1951, a decade after the original Shakespeare and Company had closed. Run by Sylvia Beach, it had been the meeting place for the Lost Generation and the first publisher of James Joyce's Ulysses. (This book includes an illustrated adaptation of Beach's memoir.) Since Whitman picked up the mantle, Shakespeare and Company has served as a home-away-from-home for many celebrated writers, from Jorge Luis Borges to Ray Bradbury, A.M. Homes to Dave Eggers, as well as for young authors and poets. Visitors are invited not only to read the books in the library and to share a pot of tea, but sometimes also to live in the bookstore itself–all for free.
More than 30,000 people have stayed at Shakespeare and Company, fulfilling Whitman's vision of a "socialist utopia masquerading as a bookstore." Through the prism of the shop's history, the book traces the lives of literary expats in Paris from 1951 to the present, touching on the Beat Generation, civil rights, May '68 and the feminist movement–all while pondering that perennial literary question, "What is it about writers and Paris?"
In this first-ever history of the bookstore, photographs and ephemera are woven together with personal essays, diary entries, and poems from writers including Allen Ginsberg, Anaïs Nin, Lawrence Ferlinghetti, Sylvia Beach, Nathan Englander, Dervla Murphy, Jeet Thayil, David Rakoff, Ian Rankin, Kate Tempest, and Ethan Hawke.
With hundreds of images, it features Tumbleweed autobiographies, precious historical documents, and beautiful photographs, including ones of such renowned guests as William Burroughs, Henry Miller, Langston Hughes, Alberto Moravia, Zadie Smith, Jimmy Page, and Marilynne Robinson.
Tracing more than 100 years in the French capital, the book touches on the Lost Generation and the Beats, the Cold War, May '68, and the feminist movement—all while reflecting on the timeless allure of bohemian life in Paris.
Krista Halverson is the director of Shakespeare and Company bookstore's publishing venture. Previously, she was the managing editor of Zoetrope: All-Story, the art and literary quarterly published by Francis Ford Coppola, which has won several National Magazine Awards for Fiction and numerous design prizes. She was responsible for the magazine's art direction, working with guest designers including Lou Reed, Kara Walker, Mikhail Baryshnikov, Zaha Hadid, Wim Wenders and Tom Waits, among others.
Jeanette Winterson's first novel, Oranges Are Not the Only Fruit, was published in 1985. In 1992 she was one of Granta's Best of Young British Novelists. She has won numerous awards and is published around the world. Her memoir, Why Be Happy When You Could Be Normal?, was an international bestseller. Her latest novel, The Gap of Time, is a "cover version" of Shakespeare's The Winter's Tale.
Sylvia Whitman is the owner of Shakespeare and Company bookstore, which her father opened in 1951. She took on management of the shop in 2004, when she was 23, and now co-manages the bookstore with her partner, David Delannet. Together they have opened an adjoining cafe, as well as launched a literary festival, a contest for unpublished novellas, and a publishing arm.
"I created this bookstore like a man would write a novel, building each room like a chapter, and I like people to open the door the way they open a book, a book that leads into a magic world in their imaginations." —George Whitman, founder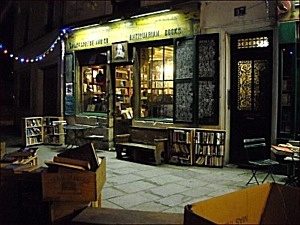 Drawing on a century's worth of never-before-seen archives, this first history of the bookstore features more than 300 images and 70 editorial contributions from shop visitors such as Allen Ginsberg, Anaïs Nin, Kate Tempest, and Ethan Hawke. With a foreword by Jeanette Winterson and an epilogue by Sylvia Whitman, the 400-page book is fully illustrated with color throughout.
Shakespeare and Company, Paris: A History of the Rag & Bone Shop of the Heart by Krista Halverson
Foreword by: Jeanette Winterson
Epilogue by: Sylvia Whitman
Contributions by:
Allen Ginsberg
Anaïs Nin
Lawrence Ferlinghetti
Sylvia Beach
Nathan Englander
Dervla Murphy
Ian Rankin
Kate Tempest
Ethan Hawke
David Rakoff
Publisher: Shakespeare and Company Paris
Publication date: August 2016
Hardback – ISBN: 979-1-09610-100-9
€ 35.00
Publication country:France
Pages:384
Weight: 1501.000g.
# More information on website Shakespeare & Company
Photos: Shakespeare & Comp,  Jef van Kempen FDM
fleursdumal.nl magazine
More in: - Book Lovers, - Book News, - Book Stories, - Bookstores, Art & Literature News, BEAT GENERATION, Borges J.L., Burroughs, William S., Ernest Hemingway, Ginsberg, Allen, J.A. Woolf, Kate Tempest, Samuel Beckett, Shakespeare, William, Tempest, Kate
---

beckett in de stadsschouwburg amsterdam
17 t/m 22 april 2013
TRY. FAIL. TRY HARDER. FAIL BETTER.
Van woensdag 17 tot en met maandag 22 april organiseert de Stadsschouwburg Amsterdam de Beckettweek! Een buitenkans voor Beckettfans maar ook de gelegenheid om het werk van Beckett (een van de belangrijkste toneelschrijvers van de 20ste eeuw) beter te leren kennen.
Twee voorstellingen die u niet had mogen missen! En niet alleen omdat het stukken van Beckett zijn. Toneelgroep Oostpool keert terug met het grote succes uit 2009, Wachten op Godot. En NT Gent komt speciaal voor de Stadsschouwburg Amsterdam terug met Krapps laatste band, een weergaloze solo van Steven van Watermeulen. Acteurscollectief Maatschappij Discordia maakt haar debuut in de Stadsschouwburg met About Beckett. Al meer dan dertig jaar maken zij toneel waarbij u uitgedaagd wordt om mee te denken over het 'waarom' van een voorstelling.
Docent Theaterwetenschap Lucia van Heteren geeft inleidingen bij alle voorstellingen. Op donderdag 18 april verzorgt Arthur Sonnen de inleiding bij Wachten op Godot.
Wo 17 en do 18 april – Wachten op Godot | Toneelgroep Oostpool – 20.30uur
Vrij 19 april – About Beckett | Maatschappij Discordia – 20.30uur
Zat 20 april – Beckett: director's cut | een avond, vijf regisseurs, vijf interpretaties! – 20.30uur
Zon 21 april – Beckett extended | 25 jaar na de Beckett-rel! Theater, muziek, interviews – 16.00
Ma 22 april – Krapp's laatste band | NTGent / Johan Simons – 20.30uur
Toen de Toneelschuur 25 jaar geleden Wachten op Godot wilde opvoeren met enkel vrouwelijke acteurs, probeerde Beckett dat te verbieden. Op zondagmiddag wordt door de betrokkenen teruggekeken op deze veelbesproken uitvoering en de daaropvolgende rechtszaak. Met een optreden van de Kift, muziek waarvan u de tranen in de ogen schieten, en liedteksten vrij vertaald naar Beckett. De bar is geopend!
Beckett kreeg in 1969 de Nobelprijs voor Literatuur en geldt als één van de grootste namen van het literaire modernisme. Wachten op Godot is zijn bekendste toneelstuk. Meer nog, 'Wachten op Godot' is een soort begrip op zichzelf geworden. Generaties theatermakers en literatuurwetenschappers gingen onvermoeibaar op zoek naar de vraag: wie (of wat) is toch die Godot, naar wie het stuk vernoemd is, maar die nooit op het toneel verschijnt?
≡ website stadsschouwburg amsterdam
fleursdumal.nl magazine
More in: Art & Literature News, Samuel Beckett
---
Ivo van Leeuwen:

Portrait of Samuel Beckett

(1906-1989)

fleursdumal.nl magazine – gallery of poets' portraits
lino © ivo van leeuwen
More in: Ivo van Leeuwen, Poets' Portraits, Samuel Beckett
---
Thank you for reading FLEURSDUMAL.NL - magazine for art & literature