EXHIBITION – art, art history, photos, paintings, drawings, sculpture, ready-mades, video, performing arts, collages, gallery, etc.
«« Previous page
·
Hugo Ball: Einer Verdammten
·
Expositie Christian Boltanski in de Oude Kerk Amsterdam
·
Words and the First World War. Language, Memory, Vocabulary, by: Julian Walker
·
Boek 'Brieven aan Kunstenaars' door Philippe Van Cauteren
·
Hugo Ball: O Marietta-Kripistika!
·
Guillaume Apollinaire: Le douanier Rousseau
·
Sophie Heijkoop: Denkdier
·
Tate Modern exhibition: Modigliani
·
Vincent Berquez: Klaus Schmidt's discovery
·
Leonardo da Vinci by Walter Isaacson
·
Gabriële by Anne & Claire Berest: The saga of a surrealist muse, from Montmartre to New York
·
Een nieuwe reeks digitale publicaties van fleursdumal.nl: Fantom Ebooks
Einer Verdammten
Ha, wie sie heuchlerisch entrüstet,
Sich hüllen in die Kutten der Moral
Und wie Papa vertraulich flüstert:
»Mama, dies ist ein offener Skandal«.
Die hohe Gattin nickt verständlich
Und vor »Empörung« brennend rot
Ruft sie: »Von Denen ist es schändlich
Uns schützt vor Kindersegen doch der liebe Gott.«
Hugo Ball
(1886 – 1927)
Erstdruck in:
Der Revoluzzer (Zürich),
1. Jg., Nr. 12, Oktober 1915
fleursdumal.nl magazine
More in: Archive A-B, Ball, Hugo, Dada, DADA, Dadaïsme
---
Christian Boltanski creëert een nieuwe compositie in de Oude Kerk. Boltanski plaatst verschillende monumentale installaties om te speculeren over de vraag wat er gebeurt nadat ons leven ten einde is gekomen (NA).

Op de zerkenvloer ontwierp de kunstenaar een landschap van tombes die vanaf de graven verrijzen. Dit werk creëert een nieuw perspectief en maakt een architectonische laag zichtbaar die onze aandacht op onze voorgangers vestigt. Zelf kun je ook bijdragen aan de tentoonstelling.

In een eigentijdse biechtstoel fluister je een aantal namen van mensen die in de Oude Kerk begraven liggen. Een opname van het gefluister wordt in de weken die volgen afgespeeld in het koor. Na verloop van tijd vormt al het gefluister bij elkaar een uitgebreid muzikaal panorama dat blijft bestaan als een immateriëel onderdeel van de Oude Kerk.

Boltanski is van mening dat zijn werk herhaalbaar is en, net als muzikale composities, keer op keer kan worden uitgevoerd, ook wanneer de componist er niet meer is.
Gefascineerd door collectieve herinneringen, vergankelijkheid en het verstrijken van tijd, ontwikkelde Christian Boltanski (Parijs, 1944) een indrukwekkend oeuvre van sculpturen, films en installaties die deze onderwerpen direct of indirect aan de orde stellen.
NA – Christian Boltanski
Curator: Jacqueline Grandjean
24 november 2017 t/m 29 april 2018
Oude kerk, Oudekerksplein (wallen), Amsterdam
Prijs: 10 euro (museumkaart, vrienden van de oude kerk, icom card, I Amsterdam city card, stadspas vrij entree)
Openingstijden: dagelijks 10 – 18 uur m.u.v. zondag 13 – 17:30 uur
Oude Kerk
Oudekerksplein 23
Amsterdam
020 625 8284
#  Meer  info  op  website  oude  kerk  amsterdam
art exposition
fleursdumal.nl magazine
More in: Art & Literature News, Exhibition Archive, FDM Art Gallery, Spurensicherung
---
"The experiences could be understood only as being of such extremity that they stood beyond written words; it was not a failure of language, but a view that, for the individual, language, particularly written words, and the enormity of the experience were not matched."
First World War expert Julian Walker looks at how the conflict shaped English and its relationship with other languages. He considers language in relation to mediation and authenticity, as well as the limitations and potential of different kinds of verbal communication.
Walker also examines:
– How language changed, and why changed language was used in communications
– Language used at the Front and how the 'language of the war' was commercially exploited on the Home Front
– The relationship between language, soldiers and class
– The idea of the 'indescribability' of the war and the linguistic codes used to convey the experience
'Languages of the front' became linguistic souvenirs of the war, abandoned by soldiers but taken up by academics, memoir writers and commentators, leaving an indelible mark on the words we use even today.
Julian Walker is a writer, researcher, artist and educator. He is an Honorary Research Associate at University College, London, UK. He is the co-author of Languages and the First World War: Communicating in a Transnational War (2016), the author of The Roar of the Crowd (2016) and Trench Talk (2012) among many others.  His website is www.julianwalker.net
Writes: Lexicology, First World War, Sociolinguistics and Linguistic Anthropology, World History, Heritage
Author of : Words and the First World War, Team Talk, Discovering Words in the Kitchen, Discovering Words
"This is a substantial book, dense but always accessible, covering both time and space. Gratifyingly, it sidesteps an all too common error that entraps books on words, of becoming no more than a padded dictionary." – The Daily Telegraph
Words and the First World War
Language, Memory, Vocabulary
By: Julian Walker
Published: 28-12-2017
Format: Paperback
Edition: 1st
Extent: 416
ISBN: 9781350001923
Imprint: Bloomsbury Academic
Illustrations: 50 bw images
Dimensions: 216 x 138 mm
Prize: £14.99
fleursdumal.nl magazine
More in: *War Poetry Archive, - Book News, - Book Stories, Archive W-X, Art & Literature News, Histoire de France, Historia Belgica, History of Britain
---
Lijvig overzicht van sleutelfiguren uit de hedendaagse kunst, geselecteerd en beschreven door Philippe Van Cauteren en uitgegeven door Uitgeverij Hannibal.
Al jarenlang schrijft Philippe Van Cauteren brieven naar kunstenaars van over de hele wereld.
Hij richt zich op een zeer persoonlijke manier tot kunstenaars die hem inspireren en legt hen uit waarom. Vaak zit in de brieven reeds de basis van een nieuwe tentoonstelling vervat.
Van Cauterens brieven zijn literair, maar tegelijk direct en geschreven in een erg toegankelijke stijl.
Ze geven een bijzondere inkijk in de manier waarop een curator kunst beleeft en interpreteert, en zijn bovendien een zeer duidelijke en beknopte introductie tot het werk van de kunstenaars die hij aanschrijft. Ze zijn steeds een opening tot een dialoog en stemmen tot nadenken over de hedendaagse kunst.
Deze publicatie bundelt meer dan honderd brieven. Elke brief wordt geconfronteerd met een sleutelwerk van de kunstenaar aan wie hij is gericht.
In een inleidend manifest tekent Van Cauteren ook de grote lijnen uit van het 'ideale museum van de toekomst'. Als directeur van het S.M.A.K. en opvolger van visionair Jan Hoet heeft hij daarover zeer concrete ideeën.
Dit boek reflecteert over het hedendaagse culturele veld en de plaats die het museum en de kunstenaar hierin innemen en hoe de verschillende partijen op een zo constructief mogelijk manier kunnen samenwerken.
Van Cauteren richt zijn pen onder meer tot Michael Borremans, Berlinde De Bruyckere, Jan Fabre, Guillaume Bijl, Jef Geys, Jan Hoet, Ann Veronica Janssens, Mark Manders, Rinus Van de Velde en Vincent van Gogh.
Brieven aan kunstenaars
Philippe Van Cauteren
19 x 13,5 cm
352 bladzijden
Softcover
Quadrichromie
Nederlandstalige editie
ISBN 978 94 9267 730 3
Uitgeverij Hannibal
Prijs: € 29,50
Het boek is ook te koop in S.M.A.K. Gent.
new books
fleursdumal.nl magazine
More in: - Book News, - Book Stories, Archive C-D, Art & Literature News, Art Criticism, Exhibition Archive, FDM Art Gallery
---
O Marietta-Kripistika!
O Marietta-Kripistika!
Thronkanapee im Serail von Sevilla!
Du bist wertvoller als die juchzende
Säubande von Hosenträgern,
Deren Rüssel
An deinem Bauch
Zu schnuppern
Gewohnt sein pflegt.
Hugo Ball
(1886-1927)
O Marietta-Kripistika!
fleursdumal.nl magazine
More in: Archive A-B, Ball, Hugo, Dada, DADA, Dadaïsme
---
Apollinaire
Le douanier Rousseau
Tu te souviens, Rousseau, du paysage astèque,
Des forêts où poussaient la mangue et l'ananas,
Des singes répandant tout le sang des pastèques
Et du blond empereur qu'on fusilla là-bas.
Les tableaux que tu peins, tu les vis au Mexique,
Un soleil rouge ornait le front des bananiers,
Et valeureux soldat, tu troquas ta tunique,
Contre le dolman bleu des braves douaniers.
Le malheur s'acharna sur ta progéniture
Tu perdis tes enfants et tes femmes aussi
Et te remarias avecque la peinture
Pour faire tes tableaux, enfants de ton esprit.
Nous sommes réunis pour célébrer ta gloire,
Ces vins qu'en ton honneur nous verse Picasso,
Buvons-les donc, puisque c'est l'heure de les boire
En criant tous en chœur : « Vive ! vive Rousseau ! »
O peintre glorieux de l'alme République
Ton nom est le drapeau des fiers Indépendants
Et dans le marbre blanc, issu du Pentélique,
On sculptera ta face, orgueil de notre temps.
Or sus ! que l'on se lève et qu'on choque les verres
Et que renaisse ici la française gaîté ;
Arrière noirs soucis, fuyez ô fronts sévères,
Je bois à mon Rousseau, je bois à sa santé !
Guillaume Apollinaire
(1880 – 1918)
Le douanier Rousseau
fleursdumal.nl magazine

More in: Apollinaire, Guillaume, Archive A-B, FDM in Paris, Guillaume Apollinaire
---
DENKDIER
neemt je mee
in een kleurrijke wereld
van scherpte,leegte,
overpeinzingen en wakker zijn.
Geruisloze processen en gedachten,
betrapt en een beetje blootgelegd.
Een prentenboek voor volwassenen (met tekst),
over hoe mens te zijn tussen
conditionering en individualiteit.
Levenskunst in zakformaat.
Om op te pakken,
weg te leggen en steeds
weer even in te kijken.
Auteur: Sophie Heijkoop
Titel: Denkdier
Hardcover,
3 leeslinten
15,5 x 11 x 2 cm (A6)
128 p.
€ 17,95
ISBN: 9789492373014
Sophie Heijkoop, born 1982, Netherlands.
Lives and works in Tilburg
  #  Meer  informatie  op  website  sophie  heijkoop
fleursdumal.nl magazine
More in: - Book Lovers, - Book News, Art & Literature News, Exhibition Archive, FDM Art Gallery, Sophie Heijkoop
---
During his brief and turbulent life Modigliani (1884 – 1920) developed a unique and instantly recognisable pictorial style.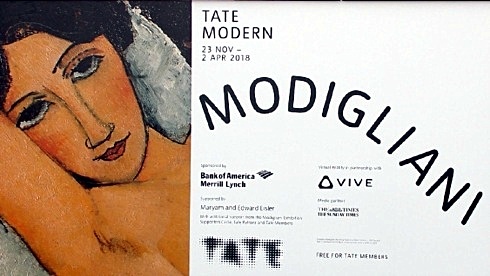 Though meeting little success during their time, his emotionally intense portraits and seductive nudes are now among the best-loved paintings of the 20th century.
Modigliani's nudes are a highlight of the exhibition – with 12 nudes on display, this is the largest group ever reunited in the UK. These sensuous works proved controversial when they were first shown in 1917, leading police to censor his only ever solo exhibition on the grounds of indecency.
You will also discover his lesser-known but radical and thought-provoking sculptures, as well as his portraits of his friends, lovers and supporters, including Pablo Picasso, Constantin Brancusi and his partner Jeanne Hébuterne.
Tate Modern Exhibition
Modigliani
23 Nov 2017 – 2 Apr 2018
Tate Modern
Bankside
London SE1 9TG
  #  more  information  on  Tate  website  

fleursdumal.nl magazine
More in: Art & Literature News, Exhibition Archive, FDM Art Gallery, FDM in London
---
Klaus Schmidt's discovery
 
His lifetime work discovered him in the dust of Turkey,
the lifeline linked his work from now on until his end.
The wedding night of civilisation is his quoted words.
Carvings muted utter silences and revealed themselves.
Why waste time with this profit unto the wasted land
creeping overall the flickering darkness inhabiting us?
Man's noises removed, the sand drenched and camouflaged
taking away in its grains the self-importance of all before.
But in the over awing wonders of politics and time's line
the superstitious crept in niggling fear of what was not know
and gazed at him wrought in stone in the super-natural;
before the ox pulled wood to cut and plough,
before deserts, before we ourselves knew nothing still.
Numbers and letters farmed us as well
and now we have grown tall and proud in ourselves.
The sand spewed over the circles of carvings and settled.
We seek crumbs of proof if proof is needed of ourselves.
20.04.08
Vincent Berquez
Vincent Berquez is a London–based artist and poet
fleursdumal.nl magazine
More in: Archive A-B, Berquez, Vincent, Vincent Berquez
---
The author of the acclaimed bestsellers Steve Jobs, Einstein, and Benjamin Franklin brings Leonardo da Vinci to life in this exciting new biography.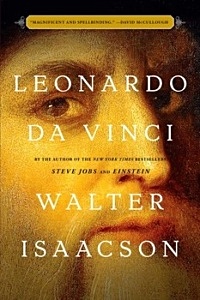 Based on thousands of pages from Leonardo's astonishing notebooks and new discoveries about his life and work, Walter Isaacson weaves a narrative that connects his art to his science. He shows how Leonardo's genius was based on skills we can improve in ourselves, such as passionate curiosity, careful observation, and an imagination so playful that it flirted with fantasy.
He produced the two most famous paintings in history, The Last Supper and the Mona Lisa. But in his own mind, he was just as much a man of science and technology. With a passion that sometimes became obsessive, he pursued innovative studies of anatomy, fossils, birds, the heart, flying machines, botany, geology, and weaponry. His ability to stand at the crossroads of the humanities and the sciences, made iconic by his drawing of Vitruvian Man, made him history's most creative genius.
His creativity, like that of other great innovators, came from having wide-ranging passions. He peeled flesh off the faces of cadavers, drew the muscles that move the lips, and then painted history's most memorable smile. He explored the math of optics, showed how light rays strike the cornea, and produced illusions of changing perspectives in The Last Supper. Isaacson also describes how Leonardo's lifelong enthusiasm for staging theatrical productions informed his paintings and inventions.
Leonardo's delight at combining diverse passions remains the ultimate recipe for creativity. So, too, does his ease at being a bit of a misfit: illegitimate, gay, vegetarian, left-handed, easily distracted, and at times heretical. His life should remind us of the importance of instilling, both in ourselves and our children, not just received knowledge but a willingness to question it—to be imaginative and, like talented misfits and rebels in any era, to think different.
Walter Isaacson, University Professor of History at Tulane, has been CEO of the Aspen Institute, chairman of CNN, and editor of Time magazine. He is the author of Leonardo da Vinci; The Innovators; Steve Jobs; Einstein: His Life and Universe; Benjamin Franklin: An American Life; and Kissinger: A Biography, and the coauthor of The Wise Men: Six Friends and the World They Made.
Walter Isaacson
Leonardo da Vinci
624 pages
ISBN 9781501139154
October 2017
Simon & Schuster
fleursdumal.nl magazine
More in: - Book News, Archive U-V, Art & Literature News, Exhibition Archive, Natural history
---
A "Jules et Jim" style love story set against the background of the Surrealist revolution.
September 1908. 27-year-old Gabriële Buffet – a musician, an free-spirited young woman and a feminist before her time – meets Francis Picabia, a successful young painter with a scandalous reputation.
He needed his art to head in a new direction, she is prepared to break with convention: to inspire, theorise and be thought-provoking. She becomes the "woman with the erotic brain" who has men on their knees, including Marcel Duchamp and Guillaume Apollinaire. Moving from Paris to New York, Berlin, Zurich, Barcelona, Étival and Saint-Tropez, Gabriële guides the precursors of abstract art, the futurists, the Dadaists, always at the cutting edge of artistic innovation. This book transports us to the beginning of the Twentieth Century when the codes of beauty and society were reinvented.
Collaborating intimately in both content and writing, Anne et Claire Berest tell the story of their great-grandmother, Gabriële Picabia, the surrealists' muse.
Anne & Claire Berest
Gabriële
Published: 23/08/2017
450 pages
Format: 140 x 215 mm
EAN: 9782234080324
Prix: €21.50
Collection: a Bleue
Éditions Stock
fleursdumal.nl magazine
More in: - Book News, - Bookstores, Archive A-B, Art & Literature News, Surrealism, Surrealisme
---
In 2017 bestaat 'fleursdumal.nl magazine for art & literature' 10 jaar
Ter gelegenheid van dit jubileum kondigt de redactie met groot genoegen het verschijnen aan van het eerste deel van een nieuwe reeks digitale publicaties: Fantom Ebooks.
Fantom Ebooks nummer 1 is een werk van dichter Bert Bevers, getiteld: OVERVLOED. De e-bundel omvat een reeks van tien verschillende vertalingen van het gedicht 'Overvloed' van Bert Bevers. Vertalingen werden gemaakt door onder meer Frank Decerf (Spaans), John Irons (Deens), Fred Schywek (Duits) en Carina van der Walt (Afrikaans). Het gedicht en de vertalingen werden eerder gepubliceerd op de website.
Bert Bevers (1954) is een Antwerpse dichter en beeldend kunstenaar. Bij Uitgeverij WEL verschenen twee uitgebreide bloemlezingen uit zijn werk: Afglans (Gedichten 1972-1997) en Eigen terrein (Gedichten 1998-2013). Werk van zijn hand werd opgenomen in diverse bloemlezingen en literaire tijdschriften. Voor meer informatie: www.bertbevers.com
Fantom Ebooks is een uitgave van Art Brut Digital Editions en publiceert onregelmatig bijzondere kunst- en literatuurprojecten. Deel 2 verschijnt begin 2018.
BERT BEVERS
OVERVLOED
Tien vertalingen van één gedicht
FANTOM EBOOKS
Art Brut Digital Editions
Series Fantom Ebooks
www.fleursdumal.nl
FANTOM 1
Fantom Ebook 2017
ISBN: 978-90-76326-09-2
NUR 306
1ste PDF-uitgave FANTOM, Augustus 2017
GRATIS te downloaden
via onderstaande LINK
fleursdumal.nl magazine
More in: - Book Lovers, - Book News, Art & Literature News, FDM Art Gallery, Illustrators, Illustration, LITERARY MAGAZINES, Overvloed, PRESS & PUBLISHING
---
Older Entries »
« Newer Entries
Thank you for reading FLEURSDUMAL.NL - magazine for art & literature