EXHIBITION – art, art history, photos, paintings, drawings, sculpture, ready-mades, video, performing arts, collages, gallery, etc.
«« Previous page
·
Jean Cocteau: Metamorphosis. Expositie en boek
·
Nu in Museum De Pont Tilburg te zien: Richard Long
·
Wilfred Owen: Arms and the Boy (Poem)
·
Sophie Albrecht: Im Junius 1783 (Gedicht)
·
The Responsibilities of an Artist: Nexus-lezing door Ai Weiwei
·
Wilfred Owen: A Terre (Poem)
·
Chronicles of a Liquid Society by Umberto Eco
·
Sophie Albrecht: Sehnsucht (Gedicht)
·
David Lynch: Someone is in my House. Retrospectief in Bonnefantenmuseum
·
Martin Rowson: Pastrami Faced Racist
·
Hans Ebeling Koning: Vegetation
·
Gerald Janecek: Everything Has Already Been Written. Moscow Conceptualist Poetry and Performance
Jean Cocteau (1889 – 1963) is een kunstenaar die tot de verbeelding spreekt. Hij uitte zich in bijna alle artistieke media: poëzie, literatuur, beeldende kunst, vormgeving, theater en zijn favoriete medium: film.
Meer nog dan om zijn werk was Cocteau bekend om zijn opmerkelijke leven. Hij omgaf zich met beroemdheden als Sergei Diaghilev, Edith Piaf, Pablo Picasso en Coco Chanel, en raakte geregeld in opspraak vanwege zijn homoseksualiteit en drugsgebruik.
Het oeuvre van Cocteau was een voorbode van de multidisciplinaire praktijken van ontwerpers en kunstenaars van nu. Jean Cocteau | Metamorphosis werpt licht op zijn voortdurende zelftransformatie en zijn zoektocht naar een eigen identiteit. In de hedendaagse maatschappij, waarin het emancipatiedebat weer hoogtij viert en waarin de persoonlijke beeld-en identiteitsvorming in hoge mate beïnvloedbaar is, zijn Cocteau's leven en werk opnieuw actueel.
Zoals jonge mensen zich tegenwoordig digitaal een identiteit aanmeten, had Cocteau de gave om zichzelf via diverse media steeds met andere ogen te bezien en te laten zien. Jean Cocteau | Metamorphosis toont veel van die gezichten, in woord en in beeld.
Jean Cocteau
Metamorphosis
door Ioannis Kontaxopoulos
november 2018
ISBN 978-94-6208-470-4
design: Berry van Gerwen
Nederlands, Frans
paperback
17 x 24 cm
320 pag.
geillustreerd (150 kleur)
in samenwerking met: Design Museum den Bosch
NAi Boekverkopers / Booksellers
€ 34,95
De tentoonstelling over Jean Cocteau in het Design Museum Den Bosch, loopt nog tot en met 10 maart 2019.
# New books
Jean Cocteau
Metamorphosis
• fleursdumal.nl magazine
More in: - Book News, - Bookstores, Archive C-D, Archive C-D, Art & Literature News, DANCE, Design, Exhibition Archive, FDM Art Gallery, Jean Cocteau, Maison de la Poésie, Museum of Literary Treasures, Surrealism, SURREALISM, Surrealisme, THEATRE
---
Aan de basis van Richard Longs werken ligt steeds een eenvoudige geometrische vorm: de cirkel, de lijn, de spiraal of het kruis – minimale vormen die in het landschap opvallen omdat ze door mensenhanden zijn gemaakt.
Long heeft ze tijdens wandelingen overal ter wereld achtergelaten: cirkels van steen en hout in Frankrijk en Alaska of in de mist in Schotland; een kronkelende lijn in een stenige vlakte in de Sahara en een lijn van water uitgegoten op een brugje in de Italiaanse Alpen.
Van al het werk maakt hij foto's, die hij in galeries en musea laat zien. Ook op andere manieren haalt hij zijn werken het museum binnen, door stenen of takken die hij in de natuur heeft verzameld te rangschikken tot strakke banen of cirkels, maar ook door tekeningen en schilderingen te maken met rivierklei.
Richard Long
16 feb – 16 juni 2019
De Pont is vernoemd naar de jurist en zakenman Jan de Pont (1915-1987) uit wiens nalatenschap in 1988 een stichting 'ter stimulering van de hedendaagse kunst' kon worden opgericht.
Het museum is sinds 1992 gevestigd in een voormalige wolspinnerij die is verbouwd tot een ruimte waar hedendaagse kunst optimaal tot haar recht kan komen. De monumentale oude fabriek met de grote, lichte zaal en de intieme 'wolhokken' vormt een prachtige omgeving voor de vele kunstwerken.
Museum De Pont
Wilhelminapark 1
5041 EA Tilburg
Nederland
# Website Museum De Pont Tilburg
• fleursdumal.nl magazine
More in: Archive K-L, Art & Literature News, Exhibition Archive, FDM Art Gallery, Land Art, Richard Long
---
Arms and the Boy
Let the boy try along this bayonet-blade
How cold steel is, and keen with hunger of blood;
Blue with all malice, like a madman's flash;
And thinly drawn with famishing for flesh.
Lend him to stroke these blind, blunt bullet-leads,
Which long to nuzzle in the hearts of lads,
Or give him cartridges of fine zinc teeth
Sharp with the sharpness of grief and death.
For his teeth seem for laughing round an apple.
There lurk no claws behind his fingers supple;
And God will grow no talons at his heels,
Nor antlers through the thickness of his curls.
Wilfred Owen
(1893 – 1918)
Arms and the Boy (Poem)
• fleursdumal.nl magazine
More in: Archive O-P, Archive O-P, Galerie des Morts, Owen, Wilfred, WAR & PEACE
---
Im Junius 1783
Vergebens steigt der Tag in lichten Farben
Vergebens hüllt in Schimmer sich die Nacht
Mein Herz bleibt kalt, seitdem die Wünsche starben
Die schön dich mir, du Tag und Nacht! gemacht
Obs Winter ist, ob Veilchen um mich blühen
Ob Rabe krächzt, ob Lerche um mich schwirrt
Obs Mondennacht, ob Donnerwolken ziehen
Ist der gleichviel, die ohne Wünsche irrt.
Sophie Albrecht
(1757-1840)
Gedicht
Im Junius 1783
• fleursdumal.nl magazine
More in: Archive A-B, Archive A-B, CLASSIC POETRY, Galerie Deutschland
---
Dictatuur, schendingen van mensenrechten, milieuvervuiling, verdronken vluchtelingen: dit zijn niet alleen de urgentste kwesties in de wereldpolitiek, maar ook de thema's in het werk van Ai Weiwei.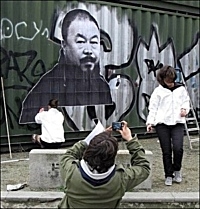 Met zijn enorm veelzijdige creativiteit en maatschappelijke engagement zet hij als een van de beroemdste en grootste kunstenaars van onze tijd vrijwel alles op het spel: hij werd gearresteerd, zijn paspoort werd ingenomen, en afgelopen zomer nog sloopten de Chinese autoriteiten zonder waarschuwing zijn studio in Beijing.
Als geen ander kan Ai Weiwei dus vertellen over de verantwoordelijkheid van de kunstenaar. Wat vermag de kunst in een tijd waarin dissidenten worden opgesloten en journalisten zonder pardon het land uit worden gezet?
Hoe ver mag de kunstenaar gaan?
Hoe ver moét hij gaan?
Hoor het bij de Nexus-lezing 2019, The Responsibilities of an Artist.
The Responsibilities of an Artist
Nexus-lezing Ai Weiwei
25 mei 2019
14.30 – 17.30
Aula VU Amsterdamhttps://nexus-instituut.nl/
# meer informatie op website nexus-instituut
• fleursdumal.nl magazine
More in: Ai Weiwei, Art & Literature News, AUDIO, CINEMA, RADIO & TV, DICTIONARY OF IDEAS, Nexus Instituut
---
A Terre
(Being the philosophy of many Soldiers.)
Sit on the bed; I'm blind, and three parts shell.
Be careful; can't shake hands now; never shall.
Both arms have mutinied against me,—brutes.
My fingers fidget like ten idle brats.
I tried to peg out soldierly,—no use!
One dies of war like any old disease.
This bandage feels like pennies on my eyes.
I have my medals?—Discs to make eyes close.
My glorious ribbons?—Ripped from my own back
In scarlet shreds. (That's for your poetry book.)
A short life and a merry one, my buck!
We used to say we'd hate to live dead-old,—
Yet now … I'd willingly be puffy, bald,
And patriotic. Buffers catch from boys
At least the jokes hurled at them. I suppose
Little I'd ever teach a son, but hitting,
Shooting, war, hunting, all the arts of hurting.
Well, that's what I learnt,—that, and making money.
Your fifty years ahead seem none too many?
Tell me how long I've got? God! For one year
To help myself to nothing more than air!
One Spring! Is one too good to spare, too long?
Spring wind would work its own way to my lung,
And grow me legs as quick as lilac-shoots.
My servant's lamed, but listen how he shouts!
When I'm lugged out, he'll still be good for that.
Here in this mummy-case, you know, I've thought
How well I might have swept his floors for ever.
I'd ask no night off when the bustle's over,
Enjoying so the dirt. Who's prejudiced
Against a grimed hand when his own's quite dust,
Less live than specks that in the sun-shafts turn,
Less warm than dust that mixes with arms' tan?
I'd love to be a sweep, now, black as Town,
Yes, or a muckman. Must I be his load?
O Life, Life, let me breathe,—a dug-out rat!
Not worse than ours the lives rats lead—
Nosing along at night down some safe rut,
They find a shell-proof home before they rot.
Dead men may envy living mites in cheese,
Or good germs even. Microbes have their joys,
And subdivide, and never come to death.
Certainly flowers have the easiest time on earth.
"I shall be one with nature, herb, and stone,"
Shelley would tell me. Shelley would be stunned:
The dullest Tommy hugs that fancy now.
"Pushing up daisies," is their creed, you know.
To grain, then, go my fat, to buds my sap,
For all the usefulness there is in soap.
D'you think the Boche will ever stew man-soup?
Some day, no doubt, if …
Friend, be very sure
I shall be better off with plants that share
More peaceably the meadow and the shower.
Soft rains will touch me,— as they could touch once,
And nothing but the sun shall make me ware.
Your guns may crash around me. I'll not hear;
Or, if I wince, I shall not know I wince.
Don't take my soul's poor comfort for your jest.
Soldiers may grow a soul when turned to fronds,
But here the thing's best left at home with friends.
My soul's a little grief, grappling your chest,
To climb your throat on sobs; easily chased
On other sighs and wiped by fresher winds.
Carry my crying spirit till it's weaned
To do without what blood remained these wounds.
Wilfred Owen
(1893 – 1918)
A Terre (Poem)
• fleursdumal.nl magazine
More in: Archive O-P, Archive O-P, Galerie des Morts, Owen, Wilfred, WAR & PEACE
---
The final book from one of Europe's cultural giants: an entertaining collection of essays about the modern world – from unbridled individualism to mobile phones.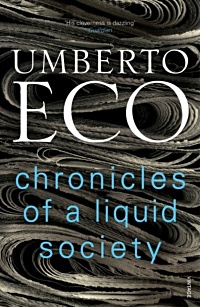 Umberto Eco was an international cultural superstar. A celebrated essayist as well as novelist, in this, his last collection, he explores many aspects of the modern world with irrepressible curiosity and wisdom written in his uniquely ironic voice.
Written by Eco as articles for his regular column in l'Espresso magazine, he brings his dazzling erudition, incisiveness and keen sense of the everyday to bear on topics such as popular culture and politics, unbridled individualism, conspiracies, the old and the young, mobile phones, mass media, racism, good manners and the crisis in ideological values.
It is a final gift to his readers – astute, witty and illuminating.
" A swan song from one of Europe's great intellectuals…Eco entertains with his intellect, humor, and insatiable curiosity…there's much here to enjoy and ponder ".  Tim Parks, Guardian
Chronicles of a Liquid Society
by Umberto Eco
Paperback
ISBN 9781784705206
Hardback
ISNB 9781911215318
2017/2018
Harvill Secker / Vintage
320 pages
Language & Literary Studies
# New books
Chronicles of a Liquid Society
by Umberto Eco
• fleursdumal.nl magazine
More in: - Book News, - Bookstores, Archive E-F, Art & Literature News, AUDIO, CINEMA, RADIO & TV, DICTIONARY OF IDEAS, MONTAIGNE, Museum of Literary Treasures, NONFICTION: ESSAYS & STORIES, Umberto Eco
---
Sehnsucht
Entfernter Freund!
Um den auf immer
Im stillen Zimmer
Mein Auge weint;
Dann, wenn die Sterne
Am Himmel blinken,
Und Liebe winken,
Denk ich der Ferne
In der du, ach!
Jetzt um mich leidest,
Und Freuden meidest,
Mit Thränen nach.
Und wenn mein Freund
Im Stralenkleide,
Zu meinem Leide
Mitleidig scheint;
Da werf ich mich,
Mit stummen Sehnen
Und tausend Thränen –
O! sähst du mich!
An jene Flüsse
Zur Erde nieder,
Die unsre Lieder
Und unsere Küsse
Beym Sternenschein
So oft belauschten,
und sanfter rauschten
Durch diesen Hayn –
Ach! keine Lieder
Und keine Küsse,
Ihr – Hayn – und Flüsse!
Belauscht ihr wieder –
Und denk an dich,
An jene Zeiten,
So voller Freuden
Für mich und dich;
Dann ruf ich dich
Durch alle Wälder,
Durch Thal und Felder
Als hört'st du mich.
Und wüst und schaurig
Ist Hayn – und Trifte,
Wie Todtengrüfte,
So bang und traurig.
O! Mond und Sterne,
Blickt tausend Küsse
Und tausend Grüsse
Dem in der Ferne,
Ihr könnt' ihn finden!
So ruf und weine
Ich oft alleine
In öden Gründen.
So lächelt dir
Der Mond oft Küsse
So traurig süsse
Mein Freund von mir.
Sophie Albrecht
(1757-1840)
Gedicht
Im Junius 1783
• fleursdumal.nl magazine
More in: Archive A-B, Archive A-B, CLASSIC POETRY, Galerie Deutschland
---
Vanaf 30 november 2018 tot 28 april 2019 presenteert het Bonnefantenmuseum het omvangrijke retrospectief Someone is in my House van de Amerikaanse kunstenaar David Lynch.
Hoewel David Lynch onmiskenbaar een spilfiguur is in de internationale film- en tv-wereld, is zijn werk als beeldend kunstenaar veel minder bekend. Dat is op zijn minst vreemd, aangezien Lynch zelf altijd heeft bena­drukt dat hij zichzelf vóór alles ziet als beeldend kunste­naar.
Een beeldend kunstenaar die tijdens zijn studie aan de kunstacademie toevallig in aanraking kwam met het medium film, waarmee de basis gelegd werd voor zijn carrière als filmregisseur.
Naast zijn werk als regisseur is Lynch altijd actief gebleven als beeldend kunstenaar en heeft hij in de afgelopen decennia een grenzeloos oeuvre gecreëerd van onder andere schilderijen, tekeningen, litho's, foto's, lampsculpturen, muziek en installaties.
Een oeuvre dat tot nu toe nog maar zelden is belicht en in musea werd getoond. Met ruim 500 werken brengt het Bonnefantenmuseum niet alleen de eerste Nederlandse museumpresentatie van Lynch' beeldend oeuvre, maar ook de grootste overzichtstentoonstelling ooit.
David Lynch: Someone is in my House
30.11.2018 – 28.04.2019
David Lynch, beeldend kunstenaar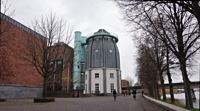 Anders dan het werk van Lynch (1946, Missoula, Montana, VS), vol duister geweld en seksua­liteit, doet vermoeden, is de kindertijd van de kunstenaar en filmmaker ge­lukkig en liefdevol.
Lynch groeit op met reislustige ouders en leidt op jonge leeftijd een nomadenbestaan, een voor hem idyllische en veilige omgeving. Van jongs af aan aangemoedigd om zich creatief te ontplooien – kleurboeken waren uit den boze, eigen verbeelding gebruiken was het credo – komt hij uiteindelijk op de Pennsylvania Academy of the Fine Arts in Philadelphia terecht om schilderkunst te studeren.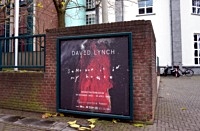 Hier ontwikkelt Lynch zijn artistieke vocabulaire en thema's die blijvend aanwezig zullen zijn in zijn werk. En hier ligt de voedingsbodem voor zijn eerste mixed-media installatie met stop-motion film Six Men Getting Sick (Six Times) (1967), die een opmaat vormde naar zijn eerste speelfilm, Eraserhead (1977). De rest is (film)geschiedenis en inmiddels zijn Lynch' films moderne klassiekers.
Lynch' kunstenaarschap loopt als een rode draad door zijn leven en films. Hij is gedurende zijn vijftigjarige carrière altijd blijven tekenen en schilde­ren, ook als er vanwege zijn werk als filmregisseur weinig tijd was om in het atelier door te brengen.
"I miss painting when I'm not painting", zegt Lynch zelf in de recente biografie Room to Dream. * David Lynch en Kristine McKenna. Room to Dream. Edinburgh, Canongate Books, 2018, p. 301
In samenwerking met David Lynch toont het Bonnefanten een indrukwekkend artistiek overzicht van het veelzijdige kunstenaarschap van Lynch.
De tentoonstelling omvat schilderijen, foto's, tekeningen, litho's en aquarellen uit de jaren 60 tot heden, unieke tekeningen op luciferboekjes uit de jaren 70, schetsboektekeningen uit de jaren 60/70/80, zwart-wit foto's uit verschillende periodes, waaronder de befaamde Snow Men-fotoserie (1993), cartoons uit de serie The Angriest Dog in the World (1982-1993), audiowerken én een aantal kortfilms uit 1968-2015.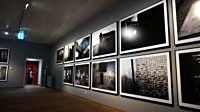 Voor het eerst sinds het ontstaan in 1967, zal ook het allesbepalende academiewerk Six Men Getting Sick (Six Times) in een museumtentoonstelling te zien zijn.
Publicatie
Bij de tentoonstelling verschijnt een rijk geïllustreerde monografie met tekstbijdragen van curator Stijn Huijts (artistiek directeur Bonnefantenmuseum), Kristine McKenna (journalist en curator, Verenigde Staten), Petra Giloy-Hirtz (schrijver en curator, Duitsland) en Michael Chabon (schrijver, Verenigde Staten). De publicatie is verkrijgbaar in het Nederlands, Engels en Frans en wordt uitgegeven door Uitgeverij Hannibal in samenwerking met Prestel.
Tentoonstellingsteaser
In aanloop naar zijn omvangrijke retrospectief Someone is in my House, maakte Lynch speciaal voor het Bonnefanten een unieke tentoonstellingsteaser. In deze typisch Lynchiaanse kortfilm, met in de hoofdrol naast Lynch zelf de 'White Monkey' – een personage dat eerder opdook in Lynch' Weird daily weather report – nodigt hij de kijker uit om naar het Bonnefanten te komen.
Flankerend programma
Parallel aan de tentoonstelling is er in samenwerking met Lumière Cinema in Maastricht een compleet filmretrospectief gewijd aan de films en het leven van David Lynch met filmvertoningen, documentaires en lezingen over de filmmaker.
Daarnaast brengt EYE filmmuseum drie digitaal gerestaureerde films opnieuw uit in de filmtheaters in heel het land. Voor meer informatie: https://www.eyefilm.nl/themas/gerestaureerde-david-lynch-klassiekers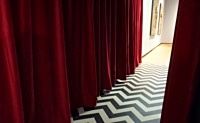 De philharmonie zuidnederland werkte met de Poolse componist Marek Zebrowski aan een compositie en uitvoering van Music for David, een strijkkwartet dat Zebrowski in 2015 componeerde als een hommage aan Lynch, die op zijn beurt de korte animatie film Pożar (Fire) maakte bij Zebrowski's compositie. Het muziekstuk zal een aantal keren live (op zaal) bij de film ten gehore worden gebracht.
# meer informatie op website Bonnefantenmuseum
# Expositie & publicatie
David Lynch: Someone is in my House
30.11.2018 – 28.04.2019

• photos: jef van kempen
• fleursdumal.nl magazine
More in: #Archive A-Z Sound Poetry, *Concrete + Visual Poetry K-O, - Book News, - Bookstores, Archive K-L, Art & Literature News, AUDIO, CINEMA, RADIO & TV, David Lynch, Exhibition Archive, FDM Art Gallery, Jef van Kempen Photos & Drawings, Museum of Literary Treasures, Photography, Tales of Mystery & Imagination, THEATRE
---
Undeterred by the embarrassing success of his ridiculous four-volume verse epic The Limerickiad, award-winning cartoonist Martin Rowson continues to lower the tone with a series of metrical rants and cautionary tales about contemporary political and literary life.
Accompanied by the ghosts of Chesterton, Shelley, Burns and Browning, Rowson casts his gaze across the satirical spectrum from governments, gammon-faced racists, class war, nationalism and the harsh realities of child rearing to the world of literary festivals, international book fairs, best-sellers, book-launches, holiday reading lists, bottom lines, liggers, bloggers, blaggers, book-signings and book-burnings.
Martin Rowson is an award-winning cartoonist whose work appears regularly in The Guardian, The Independent on Sunday, The Daily Mirror, The Morning Star and many other publications.
His books include graphic adaptations of The Waste Land, Tristram Shandy and Gulliver's Travels. Among his other books are Snatches, The Dog Allusion, Fuck, Stuff (long-listed for the Samuel Johnson Prize) and four volumes of The Limerickiad. His most recent book is The Communist Manifesto: A Graphic Novel.
Martin Rowson
Pastrami Faced Racist
Published by Smokestack Books
Release date: 01 Nov. 2018
Language: English
Paperback
84 pages
ISBN-10: 1999827686
ISBN-13: 978-1999827687
£8.99
# new books
Martin Rowson
Pastrami Faced Racist
• fleursdumal.nl magazine
More in: - Book News, - Book Stories, Archive Q-R, Archive Q-R, Art & Literature News, Illustrators, Illustration
---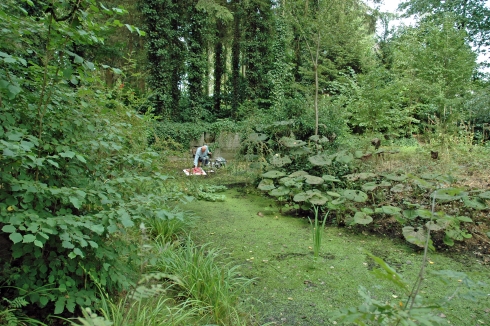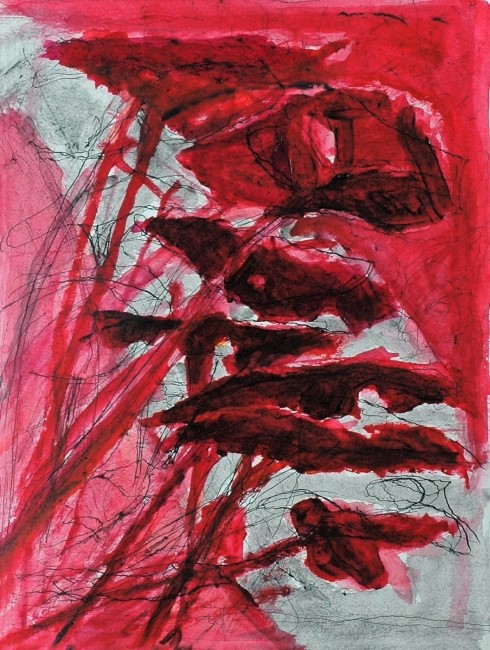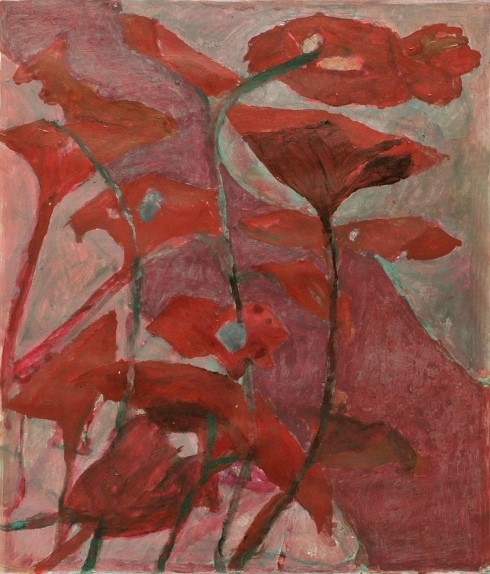 Hans Ebeling Koning
Vegetation  (I)
Hans Ebeling Koning (1931) received his education at AKI in Enschede where he later became a teacher in drawing and painting. His work is represented in many public and private collections including Museum Henriette Polak in Zutphen, Rijksmuseum Twente and the Museum of Modern Art in Arnhem.
# More work of Hans Ebeling Koning on website http://www.hansebelingkoningklooit.today/
Hans Ebeling Koning ©
• fleursdumal.nl magazine
More in: Art & Literature News, Dutch Landscapes, FDM Art Gallery, Hans Ebeling Koning, Natural history
---
In this book, Gerald Janecek provides a comprehensive account of Moscow Conceptualist poetry and performance, arguably the most important development in the arts of the late Soviet period and yet one underappreciated in the West.
Such innovative poets as Vsevolod Nekrasov, Lev Rubinstein, and Dmitry Prigov are among the most prominent literary figures of Russia in the 1980s and 1990s, yet they are virtually unknown outside Russia. The same is true of the numerous active Russian performance art groups, especially the pioneering Collective Actions group, led by the brilliantly inventive Andrey Monastyrsky.
Everything Has Already Been Written strives to make Moscow Conceptualism more accessible, to break the language barrier and to foster understanding among an international readership by thoroughly discussing a broad range of specific works and theories.
Janecek's study is the first comprehensive analysis of Moscow Conceptualist poetry and theory, vital for an understanding of Russian culture in the post-Conceptualist era.
Gerald Janecek: is a professor emeritus of Russian at the University of Kentucky. He is the author of The Look of Russian Literature: Avant-Garde Visual Experiments, 1900–1930; ZAUM: The Transrational Poetry of Russian Futurism; and Sight and Sound Entwined: Studies of the New Russian Poetry; and the editor of Staging the Image: Dmitry Prigov as Artist and Writer.
Everything Has Already Been Written.
Moscow Conceptualist Poetry and Performance
Gerald Janecek (Author)
Publication Date: December 2018
Studies in Russian Literature and Theory
312 pages
Northwestern University Press
-Paper Text – $39.95
ISBN 978-0-8101-3901-5
-Cloth Text – $120.00
ISBN 978-0-8101-3902-2
# new books
Moscow Conceptualist Poetry and Performance
Gerald Janecek
fleursdumal.nl magazine
More in: #Archive A-Z Sound Poetry, #Archive Concrete & Visual Poetry, #Editors Choice Archiv, - Book News, Archive I-J, Art & Literature News, Chlebnikov, Velimir, Conceptual writing, FDM Art Gallery, Kharms (Charms), Daniil, Majakovsky, Vladimir, Performing arts, REPRESSION OF WRITERS, JOURNALISTS & ARTISTS, Visual & Concrete Poetry
---
Older Entries »
« Newer Entries
Thank you for reading FLEURSDUMAL.NL - magazine for art & literature