EXHIBITION – art, art history, photos, paintings, drawings, sculpture, ready-mades, video, performing arts, collages, gallery, etc.
«« Previous page
·
Clementine Beauvais: Piglettes
·
Hugo Ball: Verse ohne Worte
·
10 years www.fleursdumal.nl – magazine for art & literature
·
Alex Dimitrov: Together and By Ourselves
·
Johannes Theodor Baargeld: Venus beim Spiel der Könige
·
UITMARKT 2017 van 25 tm 27 augustus Oosterdok Amsterdam
·
10 years Magazine for Art & Literature: www.fleursdumal.nl
·
Vincent Berquez: Mr. V. Van Gogh last painting
·
Zwaartekracht, nieuwe dichtbundel van Joris Denoo
·
Symphonie Diagonale (1921) by Viking Eggeling
·
"Ich gehöre nirgends mehr hin" – Stefan Zweigs Schachnovelle, Ausstellung Berlin
·
Ton van Reen gedicht: God zij geloofd is er Pepsi
A wickedly funny and life-affirming coming-of-age roadtrip story – winner of France's biggest prize for teen and YA fiction Mireille, Astrid and Hakima have just been voted the three ugliest girls in school by their classmates on Facebook. But does that mean they're going to sit around crying about it? . . .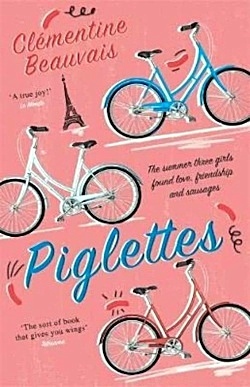 Well, maybe a little, but not for long! Climbing onto their bikes, the friends set off on a summer roadtrip to Paris. The girls will find fame, friendship and happiness on their journey, and still have time to eat a mountain of food (and drink the odd glass of wine) along the way.
But will they really be able to leave all their troubles behind? Piglettes is a hilarious, beautiful and uplifting story of three girls who are determined not to let online bullying get them down.
Clémentine Beauvais (born 1989) is a French children's author living in the UK. She started reading children's books early, and somehow never stopped. Now she writes her own, in both French and English, for a variety of ages, and is a lecturer in English and Education at the University of York.
Piglettes won four prizes in France, including the biggest children's book prize, the Prix Sorcières. Film and stage versions are also in production. Now Clémentine has translated her book into English!
Clementine Beauvais
Piglettes
Publisher: Pushkin Children'S Books
Engelsh
288 pages
paperback
ISBN 9781782691204
june 2017
Reading age: 12 years and older
fleursdumal.nl magazine
More in: - Book News, - Book Stories, Archive A-B, Art & Literature News, Illustrators, Illustration
---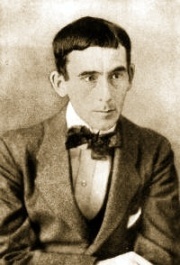 Verse ohne Worte
gadji beri bimba glandridi laula lonni cadori
gadjama gramma berida bimbala glandri galassassa laulitalomini
gadji beri bin blassa glassala laula lonni cadorsu sassala bim
gadjama tuffm i zimzalla binban gligla wowolimai bin beri ban
o katalominai rhinozerossola hopsamen laulitalomini hoooo
gadjama rhinozerossola hopsamen
bluku terullala blaulala loooo
zimzim urullala zimzim urullala zimzim zanzibar zimzalla zam
elifantolim brussala bulomen brussala bulomen tromtata
velo da bang bang affalo purzamai affalo purzamai lengado tor
gadjama bimbalo glandridi glassala zingtata pimpalo ögrögöööö
viola laxato viola zimbrabim viola uli paluji malooo
tuffm im zimbrabim negramai bumbalo negramai bumbalo tuffm i zim
gadjama bimbala oo beri gadjama gaga di gadjama affalo pinx
gaga di bumbalo bumbalo gadjamen
gaga di bling blong
gaga blung
Hugo Ball
(1886-1927)
Verse ohne Worte
fleursdumal.nl magazine
More in: Archive A-B, Ball, Hugo, Dada, DADA, Dadaïsme
---

More in: Art & Literature News, CINEMA, RADIO & TV, FDM Art Gallery, LITERARY MAGAZINES, POETRY ARCHIVE, PRESS & PUBLISHING, THEATRE
---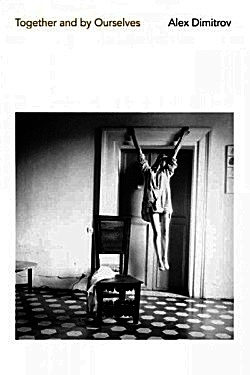 Together and by Ourselves, Alex Dimitrov's second book of poems, takes on broad existential questions and the reality of our current moment: being seemingly connected to one another, yet emotionally alone. Through a collage aesthetic and a multiplicity of voices, these poems take us from coast to coast, New York to LA, and toward uneasy questions about intimacy, love death, and the human spirit.
Dimitrov critiques America's long-lasting obsessions with money, celebrity, and escapism — whether in our personal or professional lives. What defines a life? Is love ever enough? Who are we when together and who are we by ourselves? These questions echo throughout the poems, which resist easy answers. The voice is both heartfelt and skeptical, bruised yet playful, and always deeply introspective.
Cocaine
People disappear.
And go looking for a place to be looked at.
All the way down Wilshire and above us: like a sheet of indigo tile.
As we waited, our nicotine glowed in the distance like flies
to some heaven, some high road.
"Who sat on mountaintops in cars reading books aloud to the canyons?"
Like gods and at home being extras at best.
I almost believed love then someone new called me
and time's been repeating. Time's on like a show.
(. . .)
When the car you steer best is not yours; or the body.
The house and the job. Rooms of white lines. Gold lobbies.
We cringe at these lists but without them, who's counting?
From the book: Together and By Ourselves
by: Alex Dimitrov
Alex Dimitrov
Together and By Ourselves
Publisher: Copper Canyon Press
$16.00, paperback, 2017
isbn 978-1-55659-510-3
cover-photo: Francesca Woodman
fleursdumal.nl magazine
More in: - Book News, Archive C-D, Art & Literature News, Francesca Woodman
---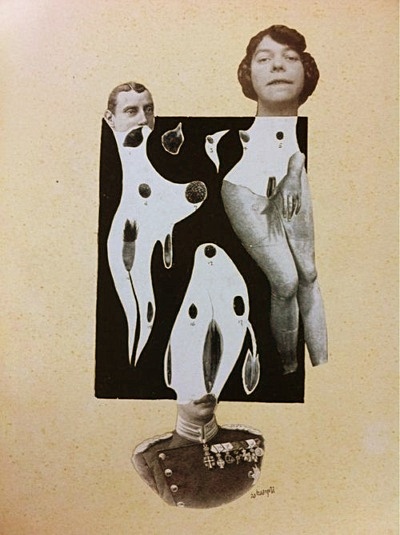 Johannes Theodor Baargeld (1892-1927)
Venus beim Spiel der Könige, 1920, photomontage
fleursdumal.nl magazine
More in: Baargeld, Johannes Theodor, Dada, DADA, Dadaïsme, Galerie Deutschland
---
More in: - Book Lovers, - Book News, - Bookstores, Art & Literature News, CINEMA, RADIO & TV, DANCE, Exhibition Archive, Literary Events, LITERARY MAGAZINES, MUSIC, Performing arts, Photography, POETRY ARCHIVE, PRESS & PUBLISHING, Street Art, STREET POETRY, The talk of the town, THEATRE, Urban Art
---

More in: Art & Literature News, CINEMA, RADIO & TV, DICTIONARY OF IDEAS, FDM Art Gallery, LITERARY MAGAZINES, POETRY ARCHIVE, PRESS & PUBLISHING
---
Mr. V. Van Gogh last painting
He was super ill, the paint slivered and writhed
bad blood worms on rough canvas slicing
his brain out of deflecting eyes, nail-bitten fingers.
From in the curly mind, out of black chemistry
and dodgy pharmacy, a loaded sharp tongue
despaired, slammed a miserable self-realization
of the road's inadequacy, of the dissatisfaction,
of skittish skills, the ongoing failure with women.
From loathing, the dust of crumbling charcoal
and blunting pencil, the mass rank alcohol drank,
the acrid cigarettes, bad behaviour with friends,
family, his failure, the verdict of good judgement
just left him with an empty chair far from home.
The analysis of the doctors, the screech of trees,
the tar-coloured crows beating their deathly wings.
He could no longer see the actual investment
away from a loaded pistol. The experiment of death
won battles over him and followed too closely.
The canvas could not fill life when the sun shone hard,
the colours chattered, which was unbelievable but true.
He often left his charnel house lamenting with flowers
with pity, with the irony of the age to come, with freedom
he never had, the love he could not sustain.
The hue turned darker, blacker and then he was no more.
07.10.08
Vincent Berquez
 Vincent Berquez is a London–based artist and poet
fleursdumal.nl magazine
More in: Archive A-B, Berquez, Vincent, Vincent Berquez, Vincent van Gogh
---
Met uitzondering van Torhout, vers aan huis, een bundel gedichten over zijn geboortestad die hij in 2010 op uitnodiging publiceerde, is het inmiddels al tien jaar geleden dat Joris Denoo nog iets van zich liet horen in poëtische boekvorm.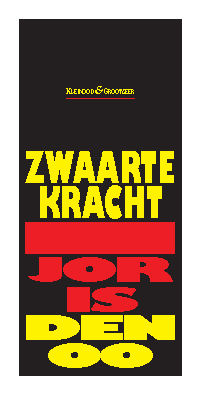 Zwaartekracht bundelt poëzie met een specifiek thema, gebaseerd op persoonlijke ervaringen. De goede lezer zal tussen de regels wel degelijk ontdekken waar het over gaat. Overigens behandelde de auteur deze thematiek ook al in enkele jeugdboeken (Vallen en opstaan, Een blauwe plek).
Diverse gedichten verschenen in de loop der jaren in literaire bladen (o.a. een cyclus in het Nieuw Wereld Tijdschrift) of werden met een nominatie of bekroning onderscheiden.
Joris Denoo (°1953, Torhout) publiceerde naast poëzie ook columns, verhalen, essays, theater-teksten en jeugdboeken. Hij won voor die genres o.a. de Guido Gezelle Poëzie Prijs Brugge, de Toneel Schrijf Prijs van de Koninklijke Academie voor Nederlandse Taal- en letterkunde, Gent en van de provincie West-Vlaanderen, een Essay Prijs van diezelfde Koninklijke Academie, de Jeugdboeken Prijs van de Stad Tielt en diverse prijzen en nominaties voor verhalen, voornamelijk in Nederland.
Denoo schreef ook het scenario voor de volksfilm Tine, een mokkel van haar sokkel en werkte intens mee aan Kameleon, Verrekijker en Kweetet.
In 2017 verscheen Verlichte gedichten, een leerboek voor jongeren en hun opleiders over omgaan met poëzie.
De eerste druk van de dichtbundel verschijnt in een oplage van 100 genummerde en door de auteur gesigneerde exemplaren en is te bestellen voor €16,- + €2,- verpakkings- en verzendkosten.
De nieuwe dichtbundel:
Zwaartekracht van Joris Denoo
Juli 2017
36 pagina's,
gelijmd 21 x 10,5 cm.
ISBN/EAN 978-90-76644-83-7
€16,-
# Te bestellen via website uitgever Kleinood & Grootzeer
fleursdumal.nl magazine
More in: - Book Lovers, - Book News, Archive C-D, Art & Literature News, Historia Belgica
---
Symphonie Diagonale (1921)
Viking Eggeling (1880-1925)
fleursdumal.nl magazine
More in: CINEMA, RADIO & TV, Dada, DADA, Dadaïsme, MUSIC, Viking Eggeling
---
Acht Jahre verbrachte der österreichische Schriftsteller Stefan Zweig (geb. 1881) im Exil. Einen Tag nach der demütigenden Durchsuchung seiner Villa am Salzburger Kapuzinerberg hatte er am 20. Februar 1934 Österreich verlassen und lebte zunächst in London, ab Sommer 1939 zusammen mit seiner zweiten Frau Lotte Altmann (geb. 1908) im englischen Kurort Bath.
Das Provisorium befristeter Certificates of identity endete für beide erst im Frühjahr 1940, als sie Britische Staatsbürger wurden – ihre Pässe enthielten jedoch den Stempel »alien enemy«, was deutlich auf die Herkunft aus einem verfeindeten Staat verwies. Als die Zweigs schließlich Ende Juni 1940 nach New York und weiter nach Rio de Janeiro aufbrachen, hielten deutsche Truppen schon seit 10 Tagen Paris besetzt. Auch für Großbritannien war die Lage bedrohlich geworden: Wegen eines Luftalarms mussten Lotte und Stefan Zweig in der Nacht ihrer Abfahrt zeitweise den Schutzkeller ihres Hotels in Liverpool aufsuchen.
Im Herbst und Winter 1940 bereisten die Zweigs Brasilien. Schon im Sommer 1936 war Zweig dort wie ein Star gefeiert worden und hatte seine Eindrücke voller Dankbarkeit geschildert. Doch seine neue Hommage, »Brasilien. Ein Land der Zukunft«, zog nunmehr kritische Stimmen auf sich: Zweig hatte ausgeblendet, dass der Brasilianische Präsident mittlerweile diktatorisch regierte, Parteien und Gewerkschaften verboten waren, missliebige Journalisten im Gefängnis saßen und die Einwanderung von Juden künftig verhindert werden sollte.
Wenige Wochen vor seinem 60. Geburtstag bezog Zweig zusammen mit seiner Frau ein bescheidenes Haus in der brasilianischen Stadt Petrópolis, landeinwärts von Rio de Janeiro, »ein kleiner Semmering, nur primitiver, so wie anno 1900 das Salzkammergut«. Im provinziellen Abseits überarbeitete Zweig seine Erinnerungen »Die Welt von Gestern« und schrieb »etwas Neues«, die »Schachnovelle«. Als er am 21. Februar 1942 auf dem Postamt von Petrópolis drei Typoskripte der Novelle abschickte, hatte Brasilien die diplomatischen Beziehungen zu Deutschland bereits abgebrochen. Deutsch galt fortan als Feindsprache und durfte in der Öffentlichkeit nicht mehr gesprochen werden, auch das Mitführen deutscher Drucksachen war verboten.
In der Nacht zum 23. Februar nahmen Lotte und Stefan Zweig eine Überdosis Veronal. Entgegen ihrem letzten Willen, auf dem jüdischen Friedhof in Rio de Janeiro beerdigt zu werden, erhielten sie am 24. Februar 1942 ein Staatsbegräbnis in Petrópolis.
Entkräftet vom heimatlosen Wandern im Exil, nimmt Zweig in seinen beiden zuletzt entstandenen Werken Abschied von seiner geistigen Heimat. In seinen autobiographischen Erinnerungen, »Die Welt von Gestern«, beschwört er das alte Europa, die Weltoffenheit und kulturelle Sphäre seiner Heimatstadt Wien. In der »Schachnovelle« hingegen gestaltet er die grauenvollen Geschehnisse jener Barbarei, die den Traum von einem geeinten, zivilisierten Europa radikal zerstörte. Dem Protagonisten der Novelle, dem Anwalt Dr. B., ist zwar die rettende Flucht ins Exil gelungen. Doch bei der Überfahrt von New York nach Argentinien ist von einer Ankunft in einem sicheren Hafen nicht die Rede. Vielmehr wird Dr. B. von seinen traumatischen Wiener Erlebnissen überwältigt.
»Die Welt von Gestern« und die »Schachnovelle« stehen als exemplarische Werke des Exil-Autors Stefan Zweig im Zentrum der Ausstellung, für die zahlreiche Manuskripte, Typoskripte und persönliche Dokumente Zweigs aus amerikanischen und israelischen Archiven einbezogen werden konnten. Auch Teile der Autographensammlung, die Zweig Ende 1937 der Österreichischen Nationalbibliothek übereignete, sind hier erstmals zu sehen. Dankbarkeit Österreichs hat Zweig für seine Großzügigkeit nie erfahren – im Gegenteil: Seine Bücher wurden am 30. April 1938 auf dem Salzburger Residenzplatz vom nationalsozialistischen Mob verbrannt. In der Ausstellung ist dazu ein nach dem Krieg aufgenommenes Radiogespräch mit Zweigs erster Ehefrau Friderike, die später in den USA lebte, zu hören.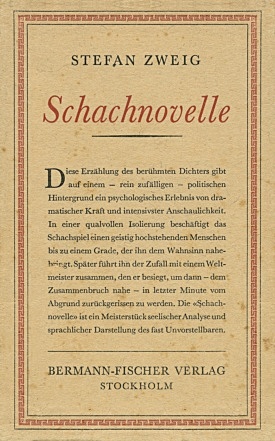 Die »Schachnovelle« ist die einzige Erzählung Zweigs, in der er zeitgenössische politische Verhältnisse darstellt. Mit den Szenen, die im ehemaligen Wiener Grand-Hotel »Métropole« spielen, hat Zweig den Opfern des Nationalsozialismus ein Denkmal gesetzt – in diesem beschlagnahmten Hotel hatte seit Ende März 1938 die Gestapo-Leitstelle Wien ihren Sitz. Ein großes Modell des »Métropole« wird in der Ausstellung gezeigt, und in Film- und Tonausschnitten berichten Rosa Grossmann und Bruno Kreisky stellvertretend für viele andere, die dort gefoltert und gedemütigt wurden, von ihren Erlebnissen.
Neben Ausschnitten aus dem 1960 produzierten Film »Schachnovelle« (mit Curd Jürgens und Mario Adorf) sind auch von Zweig benutzte Schachbücher, Teile der handschriftlich bearbeiteten Typoskripte und die ersten Buchausgaben der Erzählung zu sehen. In einem bewegenden brasilianischen Dokumentarfilm kommen noch Zeitzeugen Zweigs, darunter sein Verleger Abrahão Koogan, zu Wort.
Auch Zweigs Freundschaft mit Sigmund Freud, sein Engagement für die Gründung des europäischen PEN-Clubs in den USA, seine Hilfsbereitschaft für jüdische Flüchtlinge werden in der Ausstellung eindrucksvoll dokumentiert, die anlässlich des 75. Todestages Stefan Zweigs neu konzipiert wurde.
Im Begleitprogramm werden im August und Anfang September dienstags und donnerstags abends besondere Verfilmungen von Werken Stefan Zweigs in den Ausstellungsräumen gezeigt. Ab Mitte September wird das Programm mit Lesungen und Vorträgen fortgesetzt.
Eine Ausstellung des Theatermuseums Wien und des Stefan Zweig Zentrums Salzburg im Literaturhaus Berlin
27.7. bis 24.9.2017
Di – Fr: 14 – 19 Uhr
Sa, So: 11 – 19 Uhr
Kurator: Dr. Klemens Renoldner, Stefan Zweig Zentrum Salzburg
Gestaltung: Peter Karlhuber, Wien
In der Ausstellung erhältlich:
"Ich gehöre nirgends mehr hin" Stefan Zweigs Schachnovelle, 2017
Hardcover, 19×24 cm, 80 S.
ISBN 978-3-900088-80-4
Zahlr. Abb., 17.- Euro
Literaturhaus Berlin
Fasanenstraße 23
10719 Berlin
Tel. 030/887286-0,
e-mail: literaturhaus@literaturhaus-berlin.de
website: http://www.literaturhaus-berlin.de/
fleursdumal.nl magazine
More in: - Book News, - Book Stories, Archive Y-Z, Art & Literature News, DEAD POETS CORNER, FDM in Berlin, Museum of Literary Treasures, Stefan Zweig, Zweig, Stefan
---
God zij geloofd is er Pepsi
Welkom in St. Mery Hotel
we hebben pepsi: drie birr
we hebben brood met pepsi: vijf birr
daarom kent iedereen ons in Konso
soms hebben we mirinda
dan kunnen we u brood met mirinda aanbieden
kom terug als we mirinda hebben
maar we hebben altijd pepsi
's ochtends, 's middags en 's avonds
kunnen we u brood met pepsi aanbieden
want we hebben altijd pepsi
kijk maar naar de blauwe letters
op het witte pepsireclamebord
met de rode pepsivlag
en de rood-wit-blauwe pepsibal
iedereen in Konso weet het
iedereen is welkom in St. Mery hotel
voor een maaltijd met pepsi: vijf birr
god zij dank is er pepsi
anders at u bij ons alleen droog brood
maar gelukkig hebben wij brood met pepsi
pepsi is echt een uitkomst voor u
wij zijn er trots op, heel trots
dat wij altijd pepsi in huis hebben
jammer dat we juist vandaag geen pepsi hebben
en gisteren was er ook geen pepsi
en morgen misschien ook niet,
maar volgende week of zeker over twee weken
hebben wij pepsi in huis, heel zeker
kom over een paar weken terug in St. Mery Hotel
want we hebben altijd pepsi
Ton van Reen
Ton van Reen: De naam van het mes. Afrikaanse gedichten. In 2007 verschenen onder de titel: De straat is van de mannen bij BnM Uitgevers in De Contrabas reeks. ISBN 9789077907993 – 56 pagina's – paperback
fleursdumal.nl magazine
More in: Archive Q-R, FDM in Africa, Reen, Ton van, Reen, Ton van, Ton van Reen
---
Older Entries »
« Newer Entries
Thank you for reading FLEURSDUMAL.NL - magazine for art & literature