EXHIBITION – art, art history, photos, paintings, drawings, sculpture, ready-mades, video, performing arts, collages, gallery, etc.
«« Previous page
·
Hans Ebeling Koning: De Kast
·
Nachtleven, nieuwe dichtbundel van Jasper Mikkers
·
Vincent BERQUEZ: Cat in dusk
·
Roswitha Mair: Käthe Kollwitz. Ein Leben gegen jede Konvention
·
Glam Jail: Franco-Brazilian tale by Pol Kurucz
·
Vincent Berquez: Fishermen
·
Hugo Ball: Früh, eh der Tag
·
Expositie Charlotte Salomon in Joods Historisch Museum Amsterdam
·
Mondriaan en Steiner door Jacqueline van Paaschen
·
Hugo Ball: Ick bin in Tempelhof jebore
·
Dražen Grubiic & Olinka Vitica: Das Museum der zerbrochenen Beziehungen
·
Stedelijk Museum Amsterdam en Van Abbemuseum lanceren STUDIO-i : een platform voor inclusieve cultuur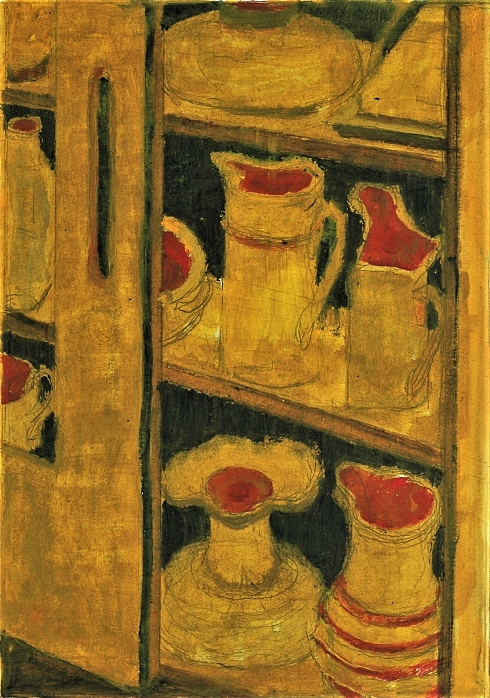 Hans Ebeling Koning
De Kast
Hans Ebeling Koning (1931) received his education at AKI in Enschede where he later became a teacher in drawing and painting. His work is represented in many public and private collections including Museum Henriette Polak in Zutphen, Rijksmuseum Twente and the Museum of Modern Art in Arnhem.
Hans Ebeling Koning ©
fleursdumal.nl magazine
More in: Art & Literature News, Exhibition Archive, FDM Art Gallery, Hans Ebeling Koning
---
Op zondag 11 maart is de première van de documentaire Dichter tegen de tijd, een portret van Jasper Mikkers, te zien in de Nieuwe Vorst, Willem II-straat, Tilburg. Aanvang 16.00 uur. Na de vertoning vindt aldaar ook de presentatie plaats van zijn nieuwe bundel Nachtleven, met illustraties van Daisy Karthaus.
Jasper Mikkers (Oerle, 1948) debuteerde in 1974 onder het pseudoniem Tymen Trolsky bij de Bezige Bij met de roman Hyacinta en Pasceline. Bij dezelfde uitgeverij verschenen later datzelfde jaar maar liefst drie dichtbundels .Na de onthulling van zijn pseudoniem in 1976 volgden nog vele publicaties, zowel onder de naam Tymen Trolsky als zijn echte naam. Naast dichtbundels onder meer het reisboek De weg van de regen (1990), de verhalenbundel De kleine jongen en de rivier (1994), en de romans Het einde van de eeuwigheid (2000) en Karl Marx Universiteit (2009).
In de periode 2013-2015 was hij stadsdichter van Tilburg; hierover schreef hij de bundel Gespiegelde stad (2015).
Nachtleven is de derde dichtbundel die hij publiceert bij de bibliofiele uitgeverij Brandon Pers, eerder verschenen Kwatrijnen (1979) en De landmeters van de keizer (2002).
Nachtleven is in meer dan een opzicht een opvallende bundel. Zoals de dichter zelf in het voorwoord schrijft: 'Aanzet tot het schrijven van deze bundel lag in het idee dromen die regelmatig terugkwamen vast te leggen'. En wat deze uitgave zeker zo bijzonder maakt zijn de erin opgenomen tien prachtige aquarellen van Daisy Karthaus die aansluiten bij de thematiek van de tweeëntwintig sonnetten.
Nachtleven is een dichtbundel van Jasper Mikkers met tien aquarellen van Daisy Karthaus. Wilt u verzekerd zijn van een exemplaar van Nachtleven dan kunt u reserveren bij de secretaris van de Brandon Pers (via cvanraak@online.nl )
De prijs bedraagt euro 17,50 (excl. Porto) en de oplage is 140 exemplaren.
fleursdumal.nl magazine
More in: - Book Lovers, - Book News, Archive K-L, Archive M-N, Art & Literature News, Illustrators, Illustration, Jasper Mikkers, Mikkers, Jasper
---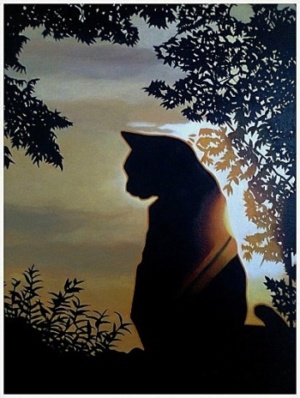 Vincent Berquez©: Cat in dusk
Vincent Berquez is a London–based artist and poet. He has published in Britain, Europe, America and New Zealand. His work is in many anthologies, collections and magazine worldwide. Vincent Berquez was requested to write a Tribute as part of 'Poems to the American People' for the Hastings International Poetry Festival for 9/11, read by the mayor of New York at the podium. He has also been commissioned to write a eulogy by the son of Chief Albert Nwanzi Okoluko, the Ogimma Obi of Ogwashi-Uku to commemorate the death of his father. Berquez has been a judge many times, including for Manifold Magazine and had work read as part of Manifold Voices at Waltham Abbey. He has recited many times, including at The Troubadour and the Pitshanger Poets, in London. In 2006 his name was put forward with the Forward Prize for Literature. He recently was awarded a prize with Decanto Magazine. Berquez is now a member of London Voices who meet monthly in London, United Kingdom.
Vincent Berquez has also been collaborating in 07/08 with a Scottish composer and US film maker to produce a song-cycle of seven of his poems for mezzo-soprano and solo piano. These are being recorded at the Royal College of Music under the directorship of the concert pianist, Julian Jacobson. In 2009 he will be contributing 5 poems for the latest edition of A Generation Defining Itself, as well as 3 poems for Eleftheria Lialios's forthcoming book on wax dolls published in Chicago. He also made poetry films that have been shown at various venues, including a Polish/British festival in London, Jan 07.
As an artist Vincent Berquez has exhibited world wide, winning prizes, such as at the Novum Comum 88' Competition in Como, Italy. He has worked with an art's group, called Eins von Hundert, from Cologne, Germany for over 16 years. He has shown his work at the Institute of Art in Chicago, US, as well as many galleries and institutions worldwide. Berquez recently showed his paintings at the Lambs Conduit Festival, took part in a group show called Gazing on Salvation, reciting his poetry for Lent and exhibiting paintings/collages. In October he had a one-man show at Sacred Spaces Gallery with his Christian collages in 2007. In 2008 Vincent Berquez had a solo show of paintings at The Foundlings Museum and in 2011 an exposition with new work in Langham Gallery London.
fleursdumal.nl magazine for art & literature
More in: Berquez, Vincent, FDM Art Gallery, Natural history, Vincent Berquez
---
Sie gilt als Künstlerin des sozialen Elends und der schmerzlichen Tragik des Krieges – Käthe Kollwitz.
Fröhlich, unkonventionell, sinnlich, neugierig – all das ist sie Zeit ihres Lebens. Immer wieder bricht Kollwitz mit gängigen Konventionen. So reist die Mutter von zwei Kindern etwa 1904 alleine nach Paris – eigentlich undenkbar zu dieser Zeit -, um die Kunst des plastischen Gestaltens zu lernen. Dort trifft sie u.a. auf Rodin.
Als zu Beginn des Ersten Weltkrieges ihr Sohn ums Leben kommt, beherrscht dieses Trauma über viele Jahre ihr Leben wie auch ihre Kunst.1919 wird sie als erste Frau Professorin an der Preußischen Akademie der Künste, bis nach Hitlers Machtergreifung ein dunkler Schatten über das Land zieht und sich auch auf ihr Leben legt.
Eine tiefgründige Romanbiografie, die das außergewöhnliche Leben dieser beeindruckenden Künstlerin facettenreich einfängt.
Roswitha Mair, Dr. phil., ist Kunsthistorikerin und lebt in Innsbruck. Zahlreiche Veröffentlichungen und Beiträge zur Kunst des 20. Jahrhunderts sowie Organisation und Konzeption von Kunstausstellungen.
Roswitha Mair :
Käthe Kollwitz.
Ein Leben gegen jede Konvention.
Romanbiografie
'Herder Spektrum Taschenbücher'
Herder Verlag GmbH
Juni 2017
231 Seiten
Kartoniert – Broschiert
Sprache: Deutsch
€16,00
EAN: 9783451069734
ISBN: 3451069733
new books
fleursdumal.nl magazine
More in: - Book News, Archive K-L, Archive M-N, Art & Literature News, Galerie Deutschland, Käthe Kollwitz, Sculpture, WAR & PEACE
---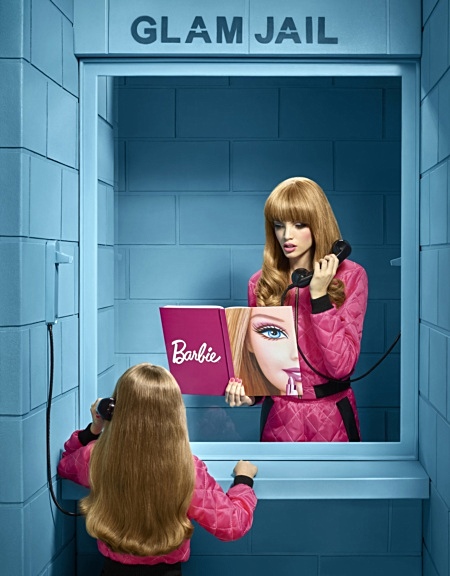 Glam Jail is a Franco-Brazilian tale by photographer Pol Kurucz about 11 eccentric inmates transforming a prison visitor's booth into a colorful fashion haven.
Through visual allegories and pop aesthetics the photographer challenges social and racial norms symbolized by the carceral universe. The shootings took place in the Offen Studio in Sao Paulo in August 2017. The series features local models, celebrities and dresses exclusively from local fashion brands.
Pol Kurucz was born with two different names to a French mother in a Hungarian hospital. His childhood hyperactivity was treated with theater, and theater was later treated with finance. By 27 he was a CEO by day and a stage director by night.
He then went on consecutive journeys to Bahrain and Brazil, to corporate islands and favelas. He has sailed on the shores of the adult industry and of militant feminism and launched a mainstream moneymaking restaurant loss making in its absurdity.
Pol was reborn in 2015 and merged his two names and his contradictory lives into one where absurdity makes sense. Today he works on eccentric fashion and fine art projects from his Sao Paulo studio.
His photos have been featured in over a hundred publications including: Vogue, ELLE, Glamour, The Guardian (Arts), Adobe Create, Hunger TV, Sleek and Nylon.
Credits
Photography and Art Direction: Pol Kurucz
Styling: Carolyna Mello
Set design: Nina Simao
Lighting and Tech.: Guilherme Griebler
Assistants: Lara Ferro, Mary Cruz, Claus Pinheiros, Monica Rodrigues
# Look for more photos & information on website pol kurucz
Glam Jail: a Franco-Brazilian tale by Pol Kurucz
fleursdumal.nl magazine
More in: CINEMA, RADIO & TV, Exhibition Archive, Magazines, Photography, Pol Kurucz, THEATRE
---
     Vincent Berquez©: Fishermen
   Vincent Berquez is a London–based artist and poet
   fleursdumal.nl magazine for art & literature
More in: Berquez, Vincent, FDM Art Gallery, Vincent Berquez
---
Früh, eh der Tag
Früh, eh der Tag seine Schwingen noch regt,
Alles noch schlummert und träumet und ruht,
Blümchen noch nickt in der Winde Hut,
Eh noch im Forste ein Vogel anschlägt,
Schreitet ein Engel
Durchs tauweiße Land
Streut ans den Segen
Mit schimmernder Hand.
Und es erwachet die Au und der Wald.
Blumen bunt reiben die Äuglein sich klar,
Staunen und flüstern in seliger Schar.
Aufstrahlt die Sonne, ein Amselruf schallt.
Aber der Engel
Zog längst schon landaus.
Flog wieder heim
In sein Vaterhaus.
Hugo Ball
(1886-1927)
Gedicht: Früh, eh der Tag
fleursdumal.nl magazine
More in: Archive A-B, Ball, Hugo, Dada, DADA, Dadaïsme
---
Het Joods Historisch Museum markeert het honderdste geboortejaar van kunstenares Charlotte Salomon (1917-1943) met een bijzondere tentoonstelling gewijd aan haar artistieke nalatenschap: het kunstwerk Leven? of Theater?
Charlotte Salomon was 22 jaar toen ze in december 1938 vanuit Berlijn als vluchteling bij haar grootouders in Zuid-Frankrijk aankwam. Toen bij het uitbreken van de Tweede Wereldoorlog haar grootmoeder zelfmoord pleegde, begon Charlotte aan een 'totaal waanzinnig project' om mentaal te overleven. In vele honderden gouaches herschiep ze haar leven als een geschilderd theaterstuk. Charlotte Salomon werd in 1943 in Auschwitz vermoord.
Na de Tweede Wereldoorlog vonden haar vader en zijn vrouw Leven? of Theater? in Zuid-Frankrijk. Zij schonken het in 1971 aan het Joods Historisch Museum. De afgelopen decennia reisden delen van het werk langs musea wereldwijd. Salomons levenswerk heeft altijd intense reacties opgeroepen bij het publiek en inspireerde kunstenaars, filmers, schrijvers en choreografen tot eigen creaties. Het Joods Historisch Museum toont nu voor het eerst het werk in zijn totaal – ruim 800 gouaches.
Charlotte Salomon;
Leven? of theater?
Nog t/m 25 maart 2018
Joods Historisch Museum en JHM Kindermuseum
Nieuwe Amstelstraat 1
1011 PL Amsterdam
# meer info op website joods historisch museum
fleursdumal.nl magazine
More in: - Book Stories, Art & Literature News, Charlotte Salomon, FDM Art Gallery, Galerie des Morts, Holocaust, REPRESSION OF WRITERS, JOURNALISTS & ARTISTS
---
In Mondriaan en Steiner – wegen naar Nieuwe Beelding – wordt het werk van Piet Mondriaan bekeken vanuit het gedachtegoed van Rudolf Steiner.
Deze esoterische bron is tot op heden vrijwel veronachtzaamd in kunsthistorische publicaties over Mondriaan. Voor deze publicatie is gebruik gemaakt van Mondriaans bundel transcripties van de voordrachten die Steiner in 1908 in Nederland hield en deel uitmaakte van de nalatenschap van Mondriaan. Van belang is dat Mondriaan Steiners voordrachten niet alleen koesterde maar ook van potloodmarkeringen voorzag.
In het onderzoek zijn deze voordrachten verbonden aan Mondriaans creatieve zoektocht naar abstractie. Dit levert verrassend nieuwe inzichten op. Gaandeweg wordt zichtbaar gemaakt hoe hij aan dat universele proces individueel uitdrukking gaf.
Titel: Mondriaan en Steiner
Author: Jacqueline van Paaschen
Year: 2017
Language: nederlands
Size: 20 x 27 cm
Pages: 192
Edition: Hardcover
ISBN10 9491525646
ISBN13 9789491525643
Illustrations
Publ.: Komma, Uitgeverij
€ 34,00
new books
fleursdumal.nl magazine
More in: - Book News, Archive O-P, Art & Literature News, De Stijl, FDM Art Gallery, MONTAIGNE, Piet Mondriaan, Piet Mondriaan
---
Ick bin in Tempelhof jebore
Ick bin in Tempelhof jeboren
Der Flieder wächst mich aus die Ohren.
In meinem Maule grast die Kuh.
Ick geh zuweilen sehr und schwanger
Auf einem Blumen-i-o-anger
Mein Vater, was sagst Du dazu?
Wir gleichen sehr den Baletteusen,
Pleureusen – Dösen – Schnösen – lösen.
Gewollt zu haben – selig sein.
Verehrte Herrn, verehrte Damen,
Die um mich hören herzu kamen
Dies widmet der Gesangverein.
Und Jungfraun kamen wunderbar
Geschmeide scheidegelb im Haar
Mit schlankgestielten Lilien.
Der Kakagei und Papadu
Die sahen auch dabei dazu
Und kamen aus Brasilien.
(Klarinetta Klaball)
Hugo Ball
(1886-1927)
Ick bin in Tempelhof jebore
fleursdumal.nl magazine
More in: Archive A-B, Ball, Hugo, Dada, DADA, Dadaïsme
---
Das Museum der zerbrochenen Beziehungen: Was von der Liebe übrig bleibt – Geschichten und Bilder.
Olinka und Dražen waren mal ein Paar. Irgendwann waren sie es aber nicht mehr. Zum Liebeskummer gesellte sich bei ihnen eine unangenehme Frage: Wer kriegt was?
Es gab Sachen, die eine Art Souvenir ihrer Beziehung waren, und da wurde es schwierig. Man will ja nichts im Regal haben, das einen jeden Tag an das Scheitern erinnert. Wegschmeißen? Geht nicht. Behalten? Würde das nicht immer wieder wehtun?
Die beiden fanden eine Lösung: Sie machten ein Museum auf.
Das Museum of Broken Relationships in Zagreb ist inzwischen weltbekannt. Mittlerweile zeigt es auch in einer Wanderausstellung rund um den Globus und einer Filiale in Los Angeles Relikte vergangenen Glücks und erzählt die dazugehörigen Geschichten.
Unter den Exponaten sind keine getrockneten Rosen, kaum Briefe. Kein Ring. Was von einer Beziehung übrig Draen Grubiic, Olinka Vitica blieb, ist beispielsweise ein türkisblauer Aschenbecher voller Zigarettenstummel.
Dazu schreibt die Person aus Köln, die ihn abgegeben hat: «Häufig wurde ich nachts wach und er lag nicht neben mir. Mein Ex-Freund fand oft keinen Schlaf, saß er stundenlang im Dunkeln auf dem Balkon, hörte Musik und rauchte. Nach unserer Trennung habe ich es nie geschafft, den Aschenbecher ein letztes Mal zu leeren, geschweige denn, ihn vom Balkon zu verbannen. Ich rauche nicht.» Die Geschichten zu den Exponaten liest man mit dem Gefühl, heimlich in fremden Tagebüchern zu blättern, doch man spürt, wie sich Neugier in Mitgefühl verwandelt. – Ein Geschenkbuch und Coffee-Table-Book der nie dagewesenen Art, mit vierfarbigen Fotos und ganz viel Herz.
Olinka Vištica und Dražen Grubišić, beide geboren im Jahr 1972, sind heute mit neuen Partnern glücklich. Vištica ist Unternehmerin. Sie hat eine eigene Produktionsfirma für Dokumentar- und Animationsfilme. Grubišić ist Grafiker und Produktionsdesigner.
Olinka Vištica, Dražen Grubišic:
Das Museum der zerbrochenen Beziehungen
Was von der Liebe übrig bleibt –
Geschichten und Bilder
Verlag: Rowohlt
Erscheinungstermin: 24.01.2018
128 Seiten
ISBN: 978-3-498-07068-7
Aus dem Englischen von Marcus Gärtner
Die Originalausgabe erschien 2017 unter dem Titel
«The Museum of Broken Relationships» bei
Grand Central Publ. Book/Hachette Book Group Inc., New York.
Deutsche Erstausgabe
1. Auflage Februar 2018
Copyright © 2018 by Rowohlt Verlag GmbH,
Reinbek bei Hamburg
Copyright © 2017 by Olinka Vištica & Dražen Grubišicc
Innengestaltung Daniel Sauthoff
Satz Abril OTF (InDesign) im Verlag und bei
Pinkuin Satz und Datentechnik, Berlin
Lithografie Cleeves Reprotechnik, Hamburg
Druck und Bindung CPI books GmbH, Leck, Germany
Hardcover €15,00
new books
fleursdumal.nl magazine
More in: - Book News, - Book Stories, - Objets Trouvés (Ready-Mades), Archive G-H, Archive U-V, Exhibition Archive, FDM Art Gallery, Spurensicherung
---
Op 8 januari 2018 lanceerden het Stedelijk Museum en het Van Abbemuseum een nieuw initiatief: STUDIO i – platform voor inclusieve cultuur.
Met STUDIO i – waarbij de i staat voor inclusie – willen de twee musea een duurzame impuls geven aan de toegankelijkheid en inclusie binnen het culturele veld. Projectleiders Anouk Heesbeen van het Stedelijk Museum en Marleen Hartjes van het Van Abbemuseum: 'Musea moeten toegankelijk zijn voor iedereen, ongeacht leeftijd, culturele of maatschappelijke achtergrond, gender of beperking, in welke vorm dan ook. Daarom ontwikkelen wij in onze musea al een aantal jaar programma's voor mensen voor wie museumbezoek niet vanzelfsprekend is. We zijn blij en trots dat we met STUDIO i op grotere schaal de museumsector toegankelijk en inclusief kunnen maken voor iedereen die nieuwsgierig is naar kunst.'
STUDIO i wordt gelanceerd in het CODA Museum in Apeldoorn met uiteenlopende presentaties, voorafgaand aan de jaarlijkse nieuwjaarsreceptie van de Museumvereniging.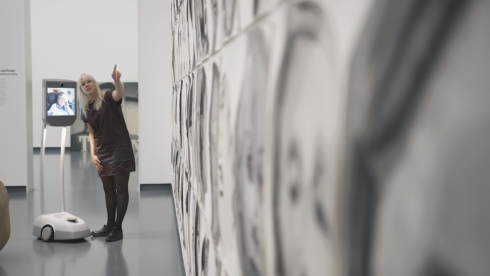 Toegankelijk voor iedereen
Bij veel musea bestaat de wens om de thema's toegankelijkheid en inclusie op te pakken, maar vaak ontbreekt de kennis en ervaring om concrete aanpassingen door te voeren. Met STUDIO i brengen het Stedelijk en het Van Abbe hier verandering in. Deze musea hebben de afgelopen jaren innovatieve programma's ontwikkeld voor mensen voor wie museumbezoek niet vanzelfsprekend is. Een voorbeeld hiervan is het Onvergetelijk-programma voor mensen met dementie en hun dierbaren, dat in 2013 geïnitieerd werd door beide musea. Deze rondleidingen zijn intussen bij twaalf musea in Nederland geïmplementeerd. Daarnaast vormt het Special Guests-programma van het Van Abbemuseum – waarmee het museum toegankelijk wordt voor blinden en slechtzienden, doven en slechthorenden, mensen met afasie en mensen met beperkte mobiliteit – de basis voor STUDIO i.
Ondersteuning op maat
Musea die concrete stappen willen zetten om hun instellingen toegankelijk en inclusief te maken, kunnen bij STUDIO i terecht voor inspiratie, kennis en advies. Via een digitaal platform (www.studio-inclusie.nl), kenniscafés, symposia en adviestrajecten op maat wordt informatie over toegankelijkheid, inclusie, representatie en diversiteit verzameld en gedeeld. Denk hierbij aan toepasbare best practices, noodzakelijke voorzieningen, geschikte methodieken en concepten, interessante communicatiestrategieën, mogelijkheden voor financiering en fondsenwerving, aanbevelingen voor interessante literatuur en relevante netwerken en contacten. Om musea te ondersteunen bij het ontwikkelen van inclusieve programma's en voorzieningen, biedt STUDIO i bovendien trainingen aan voor museumpersoneel, rondleiders en vrijwilligers. Daarnaast worden de komende jaren andere toonaangevende initiatieven en partners uit het veld bijeengebracht, zodat er een netwerk rondom inclusie in de culturele sector ontstaat. Tot slot worden er vanuit het Stedelijk en het Van Abbe innovatieve projecten en onderzoekstrajecten omtrent inclusie opgestart, waarvan de resultaten direct terugvloeien naar de sector.
Maatschappelijke relevantie
Aangewakkerd door maatschappelijk activisme, technologische ontwikkelingen en de (her)introductie van thema's als mensenrechten, burgerschap en sociale verantwoordelijkheid in musea, is de afgelopen jaren het bewustzijn over toegankelijkheid, diversiteit en inclusie toegenomen. Bovendien zijn er eerste concrete stappen in de goede richting gezet om de inclusie van de sector te verbeteren. Het Van Abbe en het Stedelijk willen met STUDIO i op een actieve manier dit proces mede vormgeven en toonaangevend blijven als het over soortgelijke vraagstukken gaat.
VN Verdrag
In Nederland werd in 2016 het VN Verdrag van de Rechten van Personen met een Handicap geratificeerd. Met dit verdrag erkent Nederland dat mensen met een beperking volwaardig onderdeel zijn van de samenleving. Centrale begrippen hierbij zijn inclusie, persoonlijke autonomie en volledige participatie. Musea en andere culturele instellingen moeten in lijn hiermee op korte termijn hun gebouwen, aanbod en programmering proactief aanpakken. STUDIO i wil instellingen die minder ervaring hiermee hebben proactief ondersteunen.
Culturele Diversiteit
Ook op het gebied van diversiteit wordt meer verwacht van musea. In 2011 werd de Code Culturele Diversiteit (CCD) gelanceerd. De Nederlandse bevolking bestaat voor ruim 1,9 miljoen uit mensen van niet-westerse afkomst. Daarnaast is "queering the collection" een onderwerp waar steeds meer musea zich mee bezighouden. Dit betekent dat de perspectieven van mensen van verschillende seksuele en genderidentiteiten worden toegevoegd aan de verhalen die in het museum worden verteld. De CCD biedt een kapstok om diversiteitsbeleid te ontwikkelen op de terreinen personeel, publiek, programma en partners. De instellingen zijn zelf verantwoordelijkheid om de Code al dan niet toe te passen. In de praktijk gebeurt dat nog relatief weinig. Hier kan STUDIO i door het delen van kennis en ervaring op dit gebied van toegevoegde waarde zijn.
Van Abbe Museum Eindhoven
Stedelijk Museum Amsterdam
 #  meer  informatie  website  studio-inclusie

Foto: Van Abbe robot
fleursdumal.nl magazine
More in: Art & Literature News, Exhibition Archive, FDM Art Gallery, MONTAIGNE
---
Older Entries »
« Newer Entries
Thank you for reading FLEURSDUMAL.NL - magazine for art & literature