EXHIBITION – art, art history, photos, paintings, drawings, sculpture, ready-mades, video, performing arts, collages, gallery, etc.
·
Vincent Berquez: Rosa Parks
·
Chris Beekman, de afvallige van De Stijl
·
37ste editie Kunstenfestival Watou 2017: 'Over alleenigheid en ondraaglijke eenzaamheid'
·
Vincent BERQUEZ: Drawing nr. 11
·
Hans HERMANS photos: Zeeland
·
Leigh HUNT: Deaths of Little Children
·
DISRUPTION – Remapping Nature – Lustwarande Tilburg
·
Yves KLEIN in BOZAR: Theater van de leegte
·
Vincent BERQUEZ: Vera Rich
·
Museum De Fundatie: BOB DYLAN – Face value
·
POESIEFESTIVAL BERLIN: Ach, Europa
·
Marcel BROODTHAERS: Eine Retrospektive
Rosa Parks
She told a big white man
a big no right in his face.
Nose to nose and quite scary
as if a lynching could result.
She didn't flinch and said
she could've
and should've
be able to do this
one easy thing that day.
There she sat, little and grand,
and although she was the first
to sit on a bus in the white seats
she was bayed at as if this symbol
was like rejecting the public stocks.
This small piece of America
became everything,
a wave began and was unstoppable.
I don't know much else about all this
but I am interested in my liberty.
She could have said it like that.
21.03.04
Vincent Berquez
Vincent Berquez is a London–based artist and poet
fleursdumal.nl magazine
More in: Archive A-B, Berquez, Vincent, Vincent Berquez
---
Tentoonstelling Stedelijk Museum Amsterdam
Chris Beekman, de afvallige van De Stijl
8 apr – 17 september 2017
Het Stedelijk Museum presenteert de vergeten De Stijl-kunstenaar Chris Beekman (Den Haag 1887-Blaricum 1964), als anarchist één van de meest politiek actieve kunstenaars verbonden aan deze beweging. Hij was vanaf 1917 betrokken bij De Stijl, keerde zich in 1919 van de groep af maar bleef tot 1922 abstract schilderen.  Voor het eerst is het oeuvre van Beekman te zien, in een tentoonstelling van circa 80 werken, uit de collecties van het Stedelijk Museum Amsterdam, Museum Kröller Müller en het Amsterdam Museum.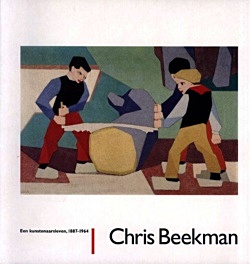 Schilder en communist Chris Beekman was bevriend met links-radicalen als Bart van der Leck, Peter Alma en Robert van 't Hoff. Zijn werken uit de beginjaren van De Stijl laten een grote vrijheid zien in geometrische vorm en kleur. Nadat Beekman een tijdlang een actieve rol binnen De Stijl speelde, kreeg hij in 1919 ruzie met De Stijl-voorman Theo van Doesburg. Aanleiding is een politieke actie: een petitie van kunstenaars gericht aan de Nederlandse regering om de communicatie met Russische geestverwanten weer mogelijk te maken. Van Doesburg verwijt Beekman De Stijl te willen politiseren en het komt tot een breuk. Beekman blijft aanvankelijk abstract werken, maar komt tot de conclusie dat abstractie een doodlopende weg is: de revolutie is meer gebaat bij figuratieve kunst met een sterk sociale inslag.
Trait-d'union tussen De Stijl en de Russische Revolutie
In de tentoonstelling is de breuk met De Stijl goed te volgen: waar Mondriaan zijn meest efemere zwart-wit werken schildert, zoekt Beekman gedesillusioneerd een weg terug naar het volk. Hiermee vormt hij een trait-d'union tussen De Stijl en de Russische Revolutie: ook daar keerde menig kunstenaar, waaronder Malevich, terug naar de figuratie.
De tentoonstelling brengt, naast zijn werk van direct voor, tijdens en na de De Stijl-periode, ook de directe context waarin Beekman werkte in beeld. Zo zijn er banden met onder meer Bart van der Leck en Piet Mondriaan, met wie hij in Laren bevriend raakte, en is ook werk te zien van Jacob Bendien, Johan van Hell en Ferdinand Erfmann, en vroeg, verrassend abstract werk van Carel Willink.
Vanaf eind mei 2017 wordt er een epiloog aan de tentoonstelling toegevoegd, waarin duidelijk wordt dat Beekman nummers van De Stijl, met foto's van abstract werk en De Stijl architectuur, opstuurde naar Malevich. Onderzoek suggereert dat een trapontwerp van Van 't Hoff wellicht van invloed is geweest op de ontwikkeling van de laatste fase van Malevich' suprematisme: de Architektons.
De tentoonstellingen omtrent 100 Jaar De Stijl zijn onderdeel van een nieuw, langlopend onderzoeksprogramma van het Stedelijk. Daarin wordt de collectie van het museum, zonder onderscheid tussen beeldende kunst en vormgeving, op een experimentele manier benaderd, geïnterpreteerd en gepresenteerd. Ook de rijke geschiedenis van het instituut en de archieven worden daarbij betrokken.
Stedelijk Museum Amsterdam
Chris Beekman, de afvallige van De Stijl
Nog te zien t.m. 17 sep 2017
# Meer informatie op website Stedelijk Museum Amsterdam
fleursdumal.nl magazine
More in: Art & Literature News, Constuctivisme, De Stijl, Exhibition Archive, Theo van Doesburg, Theo van Doesburg
---
37ste editie Kunstenfestival Watou 2017
'Over alleenigheid en ondraaglijke eenzaamheid'
1 juli – 3 september 2017
Van 1 juli tot en met 3 september kan je in het grensdorp Watou terecht voor de 37ste editie van Kunstenfestival Watou. Met als overkoepelend thema 'over alleenigheid en ondraaglijke eenzaamheid' brengen we opnieuw verzamelde verhalen van kunstenaars en dichters samen. De bezoekers volgen een parcours langsheen elf locaties en treffen er een symbiose van beeldende kunst en poëzie in onder andere een graanschuur, de kelder van een brouwerij, de stalletjes van een hoeve en een park. Voor het campagnebeeld van dit jaar kozen we een fragment uit het werk 'personne n'appartient a personne' van Rogerio Reis dat deze zomer in het Festivalhuis te zien zal zijn.
Elke zomer opnieuw slaat het Kunstenfestival van Watou haar tenten op in het gelijknamige kunstdorpje aan de Franse grens. Dichters en beeldend kunstenaars, aanstormend talent en gevestigde waarden, kunstwerken uit binnen- en uit buitenland strijken er neer en vormen een bijzonder kunstenparcours. Het dorp is de setting en biedt een tiental karakteristieke locaties als tentoonstellingsruimte: een voormalig klooster, een oude boerderij of de kelder van een brouwerij. De wisselwerking tussen die verrassende, nostalgische ruimtes met hedendaagse beeldende kunst en poëzie zorgt telkens weer voor een unieke kunstbeleving. Zomeren in Watou is dan ook prikkelen en onthaasten tegelijk. Kleine momenten van gelukzaligheid.
Iedere editie van het Kunstenfestival kadert in een ander thema, waarrond intendant Jan Moeyaert en poëziecurator Willy Tibergien beeld en taal samenbrengen. Schrijvers, dichters en kunstenaars palmen gedurende een zomer het dorp in en bieden de bezoekers een caleidoscoop aan inzichten en perspectieven rond een bepaald onderwerp.
In het verleden organiseerden we onder meer tentoonstellingen over de liefde in al haar facetten, over toevallige ontmoetingen, blijvende herinneringen en het geluk in overvloedige tijden. Verhalen verzamelen, noemen we het. Van harte welkom om ze te komen lezen!
Festivalhuis
Watouplein 12
8978 Watou
Poperinge (BE)
# Meer info op www.kunstenfestivalwatou.be
fleursdumal.nl magazine
More in: Art & Literature News, Exhibition Archive, Historia Belgica, Museum of Literary Treasures, THEATRE, Watou Kunstenfestival
---
Vincent Berquez©: Drawing Nr. 11
Vincent Berquez is a London–based artist and poet. He has published in Britain, Europe, America and New Zealand. His work is in many anthologies, collections and magazine worldwide. Vincent Berquez was requested to write a Tribute as part of 'Poems to the American People' for the Hastings International Poetry Festival for 9/11, read by the mayor of New York at the podium. He has also been commissioned to write a eulogy by the son of Chief Albert Nwanzi Okoluko, the Ogimma Obi of Ogwashi-Uku to commemorate the death of his father. Berquez has been a judge many times, including for Manifold Magazine and had work read as part of Manifold Voices at Waltham Abbey. He has recited many times, including at The Troubadour and the Pitshanger Poets, in London. In 2006 his name was put forward with the Forward Prize for Literature. He recently was awarded a prize with Decanto Magazine. Berquez is now a member of London Voices who meet monthly in London, United Kingdom.
Vincent Berquez has also been collaborating in 07/08 with a Scottish composer and US film maker to produce a song-cycle of seven of his poems for mezzo-soprano and solo piano. These are being recorded at the Royal College of Music under the directorship of the concert pianist, Julian Jacobson. In 2009 he will be contributing 5 poems for the latest edition of A Generation Defining Itself, as well as 3 poems for Eleftheria Lialios's forthcoming book on wax dolls published in Chicago. He also made poetry films that have been shown at various venues, including a Polish/British festival in London, Jan 07.
As an artist Vincent Berquez has exhibited world wide, winning prizes, such as at the Novum Comum 88' Competition in Como, Italy. He has worked with an art's group, called Eins von Hundert, from Cologne, Germany for over 16 years. He has shown his work at the Institute of Art in Chicago, US, as well as many galleries and institutions worldwide. Berquez recently showed his paintings at the Lambs Conduit Festival, took part in a group show called Gazing on Salvation, reciting his poetry for Lent and exhibiting paintings/collages. In October he had a one-man show at Sacred Spaces Gallery with his Christian collages in 2007. In 2008 Vincent Berquez had a solo show of paintings at The Foundlings Museum and in 2011 an exposition with new work in Langham Gallery London.
fleursdumal.nl magazine for art & literature
More in: Berquez, Vincent, FDM Art Gallery, Vincent Berquez
---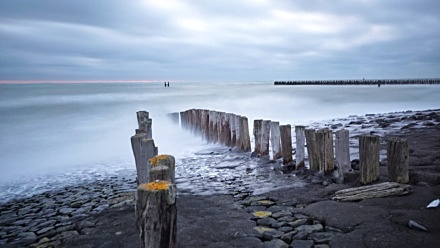 Hans Hermans© photos: Zeeland
# more on website hans hermans
fleursdumal.nl magazine
More in: Dutch Landscapes, Hans Hermans Photos, Photography
---
Deaths of Little Children
by Leigh Hunt
A Grecian philosopher being asked why he wept for the death of his son, since the sorrow was in vain, replied, "I weep on that account." And his answer became his wisdom. It is only for sophists to contend that we, whose eyes contain the fountains of tears, need never give way to them. It would be unwise not to do so on some occasions. Sorrow unlocks them in her balmy moods. The first bursts may be bitter and overwhelming; but the soil on which they pour would be worse without them. They refresh the fever of the soul—the dry misery which parches the countenance into furrows, and renders us liable to our most terrible "flesh-quakes."
There are sorrows, it is true, so great, that to give them some of the ordinary vents is to run a hazard of being overthrown. These we must rather strengthen ourselves to resist, or bow quietly and drily down, in order to let them pass over us, as the traveller does the wind of the desert. But where we feel that tears would relieve us, it is false philosophy to deny ourselves at least that first refreshment; and it is always false consolation to tell people that because they cannot help a thing, they are not to mind it. The true way is, to let them grapple with the unavoidable sorrow, and try to win it into gentleness by a reasonable yielding. There are griefs so gentle in their very nature that it would be worse than false heroism to refuse them a tear. Of this kind are the deaths of infants. Particular circumstances may render it more or less advisable to indulge in grief for the loss of a little child; but, in general, parents should be no more advised to repress their first tears on such an occasion, than to repress their smiles towards a child surviving, or to indulge in any other sympathy. It is an appeal to the same gentle tenderness; and such appeals are never made in vain. The end of them is an acquittal from the harsher bonds of affliction—from the typing down of the spirit to one melancholy idea.
It is the nature of tears of this kind, however strongly they may gush forth, to run into quiet waters at last. We cannot easily, for the whole course of our lives, think with pain of any good and kind person whom we have lost. It is the divine nature of their qualities to conquer pain and death itself; to turn the memory of them into pleasure; to survive with a placid aspect in our imaginations. We are writing at this moment just opposite a spot which contains the grave of one inexpressibly dear to us. We see from our window the trees about it, and the church spire. The green fields lie around. The clouds are travelling overhead, alternately taking away the sunshine and restoring it. The vernal winds, piping of the flowery summer-time, are nevertheless calling to mind the far-distant and dangerous ocean, which the heart that lies in that grave had many reasons to think of. And yet the sight of this spot does not give us pain. So far from it, it is the existence of that grave which doubles every charm of the spot; which links the pleasures of our childhood and manhood together; which puts a hushing tenderness in the winds, and a patient joy upon the landscape; which seems to unite heaven and earth, mortality and immortality, the grass of the tomb and the grass of the green field; and gives a more maternal aspect to the whole kindness of nature. It does not hinder gaiety itself. Happiness was what its tenant, through all her troubles, would have diffused. To diffuse happiness, and to enjoy it, is not only carrying on her wishes, but realising her hopes; and gaiety, freed from its only pollutions, malignity and want of sympathy, is but a child playing about the knees of its mother.
The remembered innocence and endearments of a child stand us instead of virtues that have died older. Children have not exercised the voluntary offices of friendship; they have not chosen to be kind and good to us; nor stood by us, from conscious will, in the hour of adversity. But they have shared their pleasures and pains with us as well as they could; the interchange of good offices between us has, of necessity, been less mingled with the troubles of the world; the sorrow arising from their death is the only one which we can associate with their memories. These are happy thoughts that cannot die. Our loss may always render them pensive; but they will not always be painful. It is a part of the benignity of Nature that pain does not survive like pleasure, at any time, much less where the cause of it is an innocent one. The smile will remain reflected by memory, as the moon reflects the light upon us when the sun has gone into heaven.
When writers like ourselves quarrel with earthly pain (we mean writers of the same intentions, without implying, of course, anything about abilities or otherwise), they are misunderstood if they are supposed to quarrel with pains of every sort. This would be idle and effeminate. They do not pretend, indeed, that humanity might not wish, if it could, to be entirely free from pain; for it endeavours, at all times, to turn pain into pleasure: or at least to set off the one with the other, to make the former a zest and the latter a refreshment. The most unaffected dignity of suffering does this, and, if wise, acknowledges it. The greatest benevolence towards others, the most unselfish relish of their pleasures, even at its own expense, does but look to increasing the general stock of happiness, though content, if it could, to have its identity swallowed up in that splendid contemplation. We are far from meaning that this is to be called selfishness. We are far, indeed, from thinking so, or of so confounding words. But neither is it to be called pain when most unselfish, if disinterestedness by truly understood. The pain that is in it softens into pleasure, as the darker hue of the rainbow melts into the brighter. Yet even if a harsher line is to be drawn between the pain and pleasure of the most unselfish mind (and ill-health, for instance, may draw it), we should not quarrel with it if it contributed to the general mass of comfort, and were of a nature which general kindliness could not avoid. Made as we are, there are certain pains without which it would be difficult to conceive certain great and overbalancing pleasures. We may conceive it possible for beings to be made entirely happy; but in our composition something of pain seems to be a necessary ingredient, in order that the materials may turn to as fine account as possible, though our clay, in the course of ages and experience, may be refined more and more. We may get rid of the worst earth, though not of earth itself.
Now the liability to the loss of children—or rather what renders us sensible of it, the occasional loss itself—seems to be one of these necessary bitters thrown into the cup of humanity. We do not mean that every one must lose one of his children in order to enjoy the rest; or that every individual loss afflicts us in the same proportion. We allude to the deaths of infants in general. These might be as few as we could render them. But if none at all ever took place, we should regard every little child as a man or woman secured; and it will easily be conceived what a world of endearing cares and hopes this security would endanger. The very idea of infancy would lose its continuity with us. Girls and boys would be future men and women, not present children. They would have attained their full growth in our imaginations, and might as well have been men and women at once. On the other hand, those who have lost an infant, are never, as it were, without an infant child. They are the only persons who, in one sense, retain it always, and they furnish their neighbours with the same idea. The other children grow up to manhood and womanhood, and suffer all the changes of mortality. This one alone is rendered an immortal child. Death has arrested it with his kindly harshness, and blessed it into an eternal image of youth and innocence.
Of such as these are the pleasantest shapes that visit our fancy and our hopes. They are the ever-smiling emblems of joy; the prettiest pages that wait upon imagination. Lastly, "Of these are the kingdom of heaven." Wherever there is a province of that benevolent and all-accessible empire, whether on earth or elsewhere, such are the gentle spirits that must inhabit it. To such simplicity, or the resemblance of it, must they come. Such must be the ready confidence of their hearts and creativeness of their fancy. And so ignorant must they be of the "knowledge of good and evil," losing their discernment of that self-created trouble, by enjoying the garden before them, and not being ashamed of what is kindly and innocent.
Deaths of Little Children
by Leigh Hunt (1784 – 1859)
fleursdumal.nl magazine
More in: Archive G-H, Archive G-H, Galerie des Morts, Hunt, Leigh
---
Groepsexpositie Disruption – Remapping Nature
24 juni – 24 september 2017 – Lustwarande Tilburg
De plotselinge, hernieuwde belangstelling de laatste paar jaar voor expliciet op de natuur gerichte 'stromingen' als Land Art, Eco Art en Bio Art, als ook voor de relatie tussen kunst en natuur in het algemeen, is opmerkelijk te noemen maar komt beslist niet uit de lucht vallen. Deze hernieuwde belangstelling kan oppervlakkig gezien verklaard worden in het licht van de terugkeer naar het kleinschalige en het lokale, de herontdekking van wat 'oer' is en het streven naar duurzaamheid. Het gaat om een pas op de plaats, een herbezinning op onze ethische waarden vanuit het besef dat de aarde niet onuitputtelijk is.
Vanuit het filosofisch-sociologischgedachtegoed van Bruno Latour kan er een specifiekere verklaring geformuleerd worden. Latour breekt met de denkkaders van de Verlichting en de Moderniteit, waarin de mens centraal staat en de wereld door de mens beschouwd, bestudeerd, geanalyseerd, kortom verklaard wordt. Volgens Latour is er geen objectieve wereld maar slechts een geconstrueerde werkelijkheid, waarin mens en aarde niet twee gescheiden entiteiten zijn maar eenheden die in complexe relaties en systemen met elkaar verbonden zijn. Het menselijk handelen heeft invloed op de gesteldheid van de aarde en, omgekeerd, laat de veranderende aarde zijn sporen na op het wezen van de mens. Sinds het nieuwe millennium is er dan ook een nieuw tijdperk voorgesteld, waarin gedachtegoed als dat van Latour expliciet erkend wordt, het zogeheten Antropoceen. Het Antropocene denken wint steeds meer aan terrein, zodanig dat er inmiddels gesproken kan worden van een "Generation Antropocene" (Robert Macfarlane, The Guardian, 1 april 2016).
Met de erkenning van dergelijke nieuwe inzichten werken steeds meer onderzoekers, waaronder kunstenaars, vanuit diverse invalshoeken aan een herdefiniëring van het begrip natuur, waar mens en techniek gezamenlijk deel van uit maken. Dit heeft tot gevolg dat de tegenstelling cultuur versus natuur niet langer opgaat. Dit besef leidt de ontwikkeling van nieuwe vormen van kennis, waaruit geleidelijk een nieuw wereldbeeld voortvloeit. De samenwerking tussen natuur- en geesteswetenschappen, waaronder de kunsten, staat in het centrum van deze ontwikkeling.
Disruption – Remapping Nature focust op een groep Europese kunstenaars, die het begrip natuur ieder op geheel eigen wijze in hun oeuvre centraal stellen. Vanuit de Antropocene denkkaders bezien laten deze in eerste instantie zo verschillende artistieke praktijken afzonderlijk hun licht schijnen op de wijze waarop de hedendaagse mens de natuur waarneemt, definieert en er zich toe verhoudt.
De uitdaging in deze expositie is niet alleen gelegen in het samenbrengen van nieuwe werken van een specifieke groep kunstenaars over een uiterst actueel thema maar vooral ook in het presenteren van deze reflecties op kunst en natuur in de "natuurlijke" context van De Oude Warande. Waar houdt het begrip natuur op en begint de notie cultuur? In het Antropocene perspectief zijn er geen begrenzingen. Een en ander zijn één entiteit.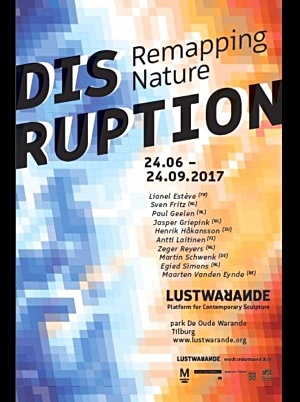 Lionel Estève (FR)
Sven Fritz (NL)
Paul Geelen (NL)
Jasper Griepink (NL)
Henrik Håkansson (SU)
Antti Laitinen (FI)
Zeger Reyers (NL)
Martin Schwenk (DE)
Egied Simons (NL)
Maarten Vanden Eynde (BE)
Groepsexpositie
DISRUPTION – Remapping Nature
Lustwarande Tilburg
24 juni – 24 september 2017
Lustwarande – Platform for Contemporary Sculpture
park De Oude Warande Tilburg
Hoofdingang: Bredaseweg 441 (parkeerplaats Auberge du Bonheur)
www.lustwarande.org
fleursdumal.nl magazine
More in: Art & Literature News, Dutch Landscapes, Exhibition Archive, FDM Art Gallery, Fundament - Lustwarande
---
Na Tate Liverpool reist de tentoonstelling van de Franse kunstenaar Yves Klein in de lente van 2017 naar BOZAR. Klein werd bekend met zijn ultramarijnblauwe monochromen. Als geen ander vertolken ze zijn ideeën over spirituele oneindigheid en zijn zoektocht naar het immateriële. Yves Klein werd met zijn beeldende kunst en spectaculaire performances de voorloper van de happening en de body art. In deze expo maak je kennis met zijn grensverleggende oeuvre via ongeziene meesterwerken en nauwelijks vertoond beeldmateriaal.  (Curator: Darren Pih)
Tijdens de expo Yves Klein. Theater van de Leegte pakt BOZAR uit met performances van gevierde Belgische en internationale artiesten als Marvin Gaye Chetwynd, Jan Fabre, Alexandra Pirici & Manuel Pelmus, Miet Warlop, Nick Steur, Andros Zins-Browne, Ian Whittlesea,…
Vóór performancekunst vaste vormen aannam in de gevestigde kunstwereld zette BOZAR de deuren van het Paleis voor Schone Kunsten wagenwijd open voor de voorvechters van de 'immateriële' kunst. Samen met de Hallen van Schaarbeek (Trouble) en het Kaaitheater (Performatik) bracht BOZAR al kunstenaars als Robert Pacitti, Lloyd Newson, Laurie Anderson, Germaine Kruip en Orla Barry naar België.
Ontdek op de website welke namen er dit jaar op het programma staan.
#  Website BOZAR / Paleis van de schone kunsten

Yves Klein
Theater van de leegte
Nog te zien t/m 20 augustus 2017
BOZAR
Paleis voor Schone Kunsten
Ravensteinstraat 23
1000 Brussel – BE
fleursdumal.nl magazine
More in: Art & Literature News, Exhibition Archive, Performing arts, Yves Klein, ZERO art
---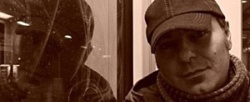 Vera Rich
She smelt of time
walking slowly
like a mountain.
She railed
heavily
and flowed internally
and cared profoundly
but slowly,
at her own pace.
She smelt the energy
of her people,
of their language
on her lips.
Like a mother river
she carried many
with her on a raft
towards themselves.
01.03.10
Vincent Berquez
Vincent Berquez is a London–based artist and poet
fleursdumal.nl magazine
More in: Archive A-B, Berquez, Vincent, Vincent Berquez
---
From 24 May 2017, Museum de Fundatie in Zwolle will show 12 pastels by Bob Dylan (1941). The 2012 portrait series Face Value, on loan from The Bob and Jenny Ramsey Collection, is the first visual art by Dylan ever to be displayed in the Netherlands.
The drawings are as direct and unpolished as his music. The 'character studies', as Dylan describes them, are portraits of three women and nine men. They look directly at the viewer with a certain impertinence. Dylan uses sharp lines to pin down the personalities, that are an amalgam of characteristics taken from his environment, and memories and interests in people both real and imaginary. The titles of the works combine what Dylan wishes to express (Losing Face, Face Down or In Your Face), followed by the first and family name of the person. There are no clear indications whether he really refers to pianist Sylvia Renard or author Nigel Julian.
Dylan selected the Face Value series for a show in London's National Portrait Gallery in 2013. After London, the works were exhibited in Denmark, the United States and Germany, and can now be enjoyed in the Netherlands. The portraits have a unique place in his oeuvre. Ever since his youth, Dylan has made many sketches and drawings. He started working with oil paint in the sixties, but never before has he created such a comprehensive series of portraits. His use of colours in these pastels is also different: where he usually prefers a lot of expression and contrast, here he opts for four or five soft hues for the faces. Dylan works in layers; he starts by drawing the portraits in thin pencil lines, adds a soft pink or cream layer which he smooths out with his fingers and continues to develop the portrait with black or a dark brown. The drawings, like his songs, are expressions of an inventive imagination.
Dylan introduced his drawing talent to the public with something of a splash with his self-designed 1973 book Writings and Drawings, in which he combines lyrics with full-page ink drawings. He later published Drawn Blank (1989 and 1991-1992), to which he added a series of gouaches and watercolours 10 years ago.
In contrast to Dylan's art, the museum also presents a portrait series of the Craeyvanger family, created more than 350 years earlier. Gerard ter Borch, Zwolle's most internationally recognised artist, portrayed Willem Craeyvanger, Christine van der Wart and their eight children between 1651 and 1658. This comprehensive 17th century series of painted portraits of a single family is unique. Face Value is a continuation of previous exhibitions at Museum de Fundatie that focus on portraiture. The popularity of photo exhibition Dutch Identity (2016) and Look at Man! (finished January 2017) – displaying portraits by Bacon, Brancusi, Dumas and Richter – has proven that the 'old' genre of portraiture is certainly alive and well in the 21st century.
Bob Dylan was born in 1941 as Robert Allen Zimmerman. He signed his first record contract in 1961 and went on to become one of the most original and influential voices in the history of American folk and pop music. The 1963 release of his second album, The Freewheelin' Bob Dylan, ensured his international artistic breakthrough. Subsequent years brought many classic songs such as Blowing In The Wind, The Times They Are A-Changin', Subterranean Homesick Blues, Like A Rolling Stone, Knockin' On Heaven's Door and Hurricane. With an impressive back catalogue and a career spanning more than fifty years, Dylan still regularly tours the world. He was awarded the Nobel Prize for Literature on 13 October 2016, for "having created new poetic expressions within the great American song tradition". He is the first lyricist to be awarded the coveted prize. Bob Dylan will be playing live in AFAS Live in Amsterdam on 16, 17 and 18 April. For more information on this: www.mojo.nl/bobdylan
Bob Dylan: Face Value
Published by National Portrait Gallery
Introduction by John Elderfield
With over 500 songs, 46 albums and an astonishing 110 million record sales to his name, Bob Dylan (born 1941), now in his early seventies, is turning increasingly to another mode of artistic expression; one that has occupied him throughout his life, but for which he is much less well known. Although Dylan has sketched and drawn since childhood and painted since the late 1960s, only relatively recently has he begun to exhibit his artworks. The 12 works collected in this beautifully produced volume represent his latest foray into portraiture. In an illuminating essay and a rare Q&A with Dylan, curator and art historian John Elderfield explores the story behind these works. For Elderfield, Dylan's paintings, like his songs, are "products of the same extraordinary, inventive imagination, the same mind and eye, by the same story-telling artist, for whom showing and telling … are not easily separated."
BOB DYLAN – Face value
From 24 may until 20 august 2017
Museum de Fundatie
Blijmarkt 20
8011 NE Zwolle
  # Meer information on website De Fundatie  

fleursdumal.nl magazine
More in: - Book News, Art & Literature News, Bob Dylan, DICTIONARY OF IDEAS, Dylan, Bob, FDM Art Gallery
---
Das 18. poesiefestival berlin: Europa: Fata Morgana startet am 16. Juni 2017. Das Haus für Poesie erwartet rund 170 Dichterinnen und Dichter sowie Künstlerinnen und Künstler aus 42 Ländern. Wunsch, Fata Morgana oder Realität – die Europäische Union ist ins Wanken geraten und mit ihr europäische Werte wie Meinungs- und Kunstfreiheit, Vielfalt und Demokratie. Das neuntägige Festival präsentiert Innen- und Außenansichten auf die EU und Europa in poetischer Auseinandersetzung – in Lesungen, Konzerten, Performances und Ausstellungen in der Akademie der Künste. Zu den Höhepunkten gehören der große Auftakt mit Weltklang, einem Konzert aus Stimmen und Sprachen, drei D poesie mit mehreren Produktionen zwischen Text, Musik und Tanz sowie Auf ein Wort, Europa, das 22 internationale Dichterstimmen zu einer vielsprachigen Installation versammelt.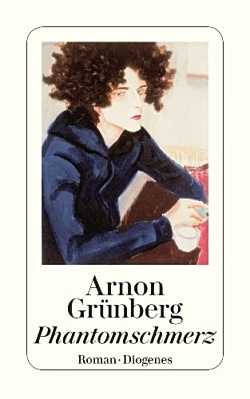 Weltklang – Nacht der Poesie
Freitag, 16.6., 19 Uhr
Das 18. poesiefestival berlin eröffnet mit Weltklang – Nacht der Poesie. Dichterinnen und Dichter aus verschiedenen Teilen der Welt lesen, performen und singen in ihrer Muttersprache. Eigens für diesen Abend erscheint eine Anthologie mit den deutschen Fassungen der Texte zum Mitlesen.
M. NourbeSe Philip aus Kanada, die ihre Wurzeln im karibischen Trinidad hat, trägt aus Zong! vor. Dem konzeptionellen Werk liegt ein juristischer Bericht über den Tod von 150 Afrikanern auf einem Sklavenschiff zugrunde. Die Gedichte des schottischen Autors John Burnside fangen "das Andersleben der Dinge ein". Die deutsche Lyrikerin Dagmara Kraus schöpft an diesem Abend aus dem Fundus antiker Trauerkultur und moderner Plansprachen. Yasuki Fukushima ist einer der expressivsten Gegenwartslyriker Japans. Seine "zekkyō tanka" (geschriene Tankas) trägt er zu Musik vor. Jan Wagner, der 2015 als erster Lyriker den Preis der Leipziger Buchmesse erhielt, verbindet höchste Formbeherrschung mit überraschenden Wendungen, ohne traditionalistisch zu sein.
Zudem lesen Arnon Grünberg (Niederlande), James Noël (Haiti), Mila Haugová (Slowakei), Sergio Raimondi (Argentinien) und Charlotte Van den Broeck (Belgien) beim diesjährigen Weltklang.
drei D poesie
Samstag, 17. Juni, 20 Uhr, Wiederholung: Sonntag, 18. Juni, 15 Uhr
Zwischen Musik, Tanz und Poesie bewegt sich drei D poesie. Auf dem 18. poesiefestival berlin spielen Künstlerinnen und Künstler mit den Möglichkeiten der drei Genres, loten die Grenzen aus und suchen nach Berührungspunkten. In der Performance Ingesture von
Lyriker Christian Hawkey, Komponist und Musiker Roy Carroll und Choreografin und Tänzerin Maya Matilda Carroll dreht es sich um die Schriften von Charlotte Wolff, eine jüdische, deutsch-britische Ärztin, Sexologin und Schriftstellerin des frühen 20. Jahrhunderts. Für n/achtfüssig verwenden die Choreografin und Tänzerin Anna Huber und der Komponist und Musiker Hubert Machnik unveröffentlichte, aus Printmedien ausgeschnittene und auf Postkarten arrangierte Gedichte von Herta Müller. In der dritten Produktion Schulter von α und anderen, fernen Ländern entwickeln der Komponist Markus Pesonen und der Choreograf und Tänzer Shang-Chi Sun zusammen mit dem KNM Quartett ihr Werk aus dem Text "die menschen von einst liebten den tanz" von Daniel Falb.
Auf ein Wort, Europa
Sonntag, 18.6., 20 Uhr
22 Dichterinnen und Dichter aus den Anrainerstaaten der Europäischen Union treffen auf dem 18. poesiefestival berlin für eine poetische Installation aufeinander; unter ihnen ist Abbas Beydoun (Libanon), ein Mitbegründer der zweiten arabischen Moderne, Monzer Masri (Syrien), der mit seiner "Gegendichtung" jenseits von formalen und inhaltlichen Erwartungen Debatten auslöst, und Sjón (Island), der für seine Texte für Björk in Lars von Triers "Dancer in the Dark" bekannt ist. Wie zeigt sich derzeit die europäische Idee außerhalb der europäischen Gemeinschaft? Die Lyrikerinnen und Lyriker präsentieren ihre poetischen Antworten auf das ins Wanken geratene Europa. Ihre Texte über Realitäten, Träume und Ängste zur EU tragen sie als polyglotte Soundcollage vor.
"Auf ein Wort, Europa" findet in Kooperation mit dem Forum Berlin der Friedrich-Ebert-Stiftung statt und wird gefördert vom Auswärtigen Amt.
VERSschmuggel kurdisch-deutsch
Dienstag, 20.6., 19.30 Uhr
Erstmals kommt kurdische Dichtung in Deutschland auf eine Festivalbühne. Mit ihrer langen mündlichen Tradition gehört das Kurdische trotz aller Repression zu den ältesten Sprachen der Welt. Die reiche kurdische Geschichte und Kultur spiegelt sich in vielen Dialekten und verschiedenen Schriftsystemen wider. Der kurdisch-deutsche VERSschmuggel bietet sechs kurdischen und sechs deutschen Dichterinnen und Dichtern Freiraum für ein Experiment: Paarweise übersetzen sie sich an drei Workshop-Tagen gegenseitig. Interlinearübersetzungen der Gedichte des jeweils anderen sind ihr Ausgangsmaterial, Dolmetscher übersetzen die Arbeitsgespräche. Die Ergebnisse dieser Zusammenarbeit werden auf dem 18. poesiefestival berlin präsentiert.
Es lesen Eskerê Boyîk (Armenien), Yildiz Çakar (Türkei), Kerîm Kurmanc (Iran), Fatma Savci (Türkei/Schweden), Anahîta Şêxê (Syrien) und Mueyed Teyîb (Irak) mit den deutschen Autorinnen und Autoren Mirko Bonné, Carolin Callies, Simone Kornappel, José Oliver, Ilma Rakusa und Tobias Roth.
"VERSschmuggel kurdisch-deutsch" wird gefördert vom Auswärtigen Amt und der Stiftung Preußische Seehandlung und findet statt in Kooperation mit Literature Across Frontiers/Literary Europe Live, gefördert durch das Programm Creativ Europe der Europäischen Union. Mit Dank an Övgü Gökçe Yaşa, Programmkoordinatorin bei Diyarbakır Sanat Merkezi.
Poesie und Propaganda
Freitag, 23.6., 19.30 Uhr
Was passiert heute in den analogen und digitalen Medien mit unserer Sprache? Wie wird Meinung gemacht, wie wird mit Worten politische Wirklichkeit hergestellt, und welche Rolle spielt dabei deren ästhetische Funktion, die verführt, verdammt und erfindet? Eine interdisziplinär besetzte Gesprächsrunde diskutiert auf dem 18. poesiefestival berlin das komplexe Wechselspiel von Lyrik, Rhetorik und Politik. Geformte Sprache als Mittel unterschiedlicher politischer Gruppierungen wird diskutiert, und die Dichtung im Dienste radikaler politischer Programme in der Literaturgeschichte und heute in den Blick genommen – mit aktuellen Beispielen wie den Propagandagedichten des IS und der sprachlichen Selbstinszenierung der neuen "Populisten".
Es diskutieren Paula Diehl, Politikwissenschaftlerin (Bielefeld), Ursula Krechel, Autorin (Berlin), Philippe Joseph Salazar, Philosoph und Professor für Rhetorik (Kapstadt) und Joseph Vogl, Kultur- und Literaturwissenschaftler (Berlin), moderiert von Eva Geulen, Zentrum für Literaturforschung (Berlin).
"Poesie und Propaganda" wird gefördert vom Zentrum für Literatur- und Kulturforschung Berlin.
18. poesiefestival berlin: Europa_ Fata Morgana
16.-24. Juni 2017
Akademie der Künste, Hanseatenweg 10, 10557 Berlin
Das poesiefestival berlin ist ein Projekt des Hauses für Poesie in Kooperation mit der Akademie der Künste. Es wird gefördert durch den Hauptstadtkulturfonds und das Auswärtige Amt.
  # website poesiefestival berlin  
fleursdumal.nl magazine
More in: Arnon Grunberg, Art & Literature News, FDM in Berlin, Literary Events, MODERN POETRY, POETRY ARCHIVE
---
Marcel Broodthaers. Eine Retrospektive ist eine große Überblicksschau über das facettenreiche Werk des belgischen Künstlers Marcel Broodthaers (1924 –1976), der im Umfeld von Pop, Minimal und Konzeptkunst eine eigenwillige, kritische Position formuliert. Broodthaers wandte sich im Alter von vierzig Jahren von der Dichtung kommend der bildenden Kunst zu und fand mit seinen installativen, kinematografischen und institutionskritischen Arbeiten innerhalb kürzester Zeit großen Anklang in der avantgardistischen Kunstszene Europas.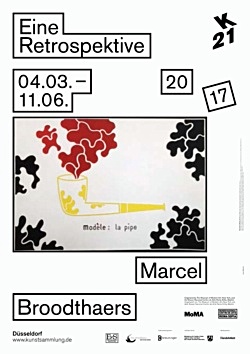 Die über vier Jahre am Museum of Modern Art, New York, und am Museo Nacional Centro de Arte Reina Sofia, Madrid, sorgfältig entwickelte Ausstellung von über 400 Werken unterschiedlichster Medien und Gattungen findet mit der Düsseldorfer Station ihren Abschluss an dem Ort, der Broodthaers' kurze, aber höchst produktive künstlerische Karriere weitgehend befördert hat. In Düsseldorf hat Broodthaers nicht nur gelebt (von 1970 bis 1972) und entscheidende Impulse der lokalen, international bestens vernetzten Kunstszene aufgenommen, verarbeitet und zurückgegeben.
In Düsseldorf wurden auch etliche Arbeiten und Ausstellungen realisiert, darunter die zu Broodthaers' Hauptwerk "Musée d'Art Moderne, Département des Aigles" (Museum Moderner Kunst, Abteilung Adler), 1968 – 72, gehörende legendäre Schau "Section des Figures" (Sektion der Figuren), 1972, in der Städtischen Kunsthalle Düsseldorf.
Die lange erwartete Retrospektive von Marcel Broodthaers führt in ein faszinierendes Werk ein, das mit seinem Verständnis von Poesie als "Störung von Weltordnung", von "Poesie als indirekter politischer Frage" für eine radikal offene und prozessuale Lesart von Kunst plädierte und damit maßgeblich zu einem bis heute gültigen Verständnis von Kunst beigetragen hat.
Marcel Broodthaers. Eine Retrospektive wurde kuratiert von Christophe Cherix, The Robert Lehman Foundation Chief Curator of Drawings and Prints at MoMA, und Manuel J. Borja-Villel, Direktor Museo Nacional Centro de Arte Reina Sofía, zusammen mit Francesca Wilmott, kuratorische Assistenz am Department of Drawing and Prints, MoMA. In der Kunstsammlung Nordrhein-Westfalen, Düsseldorf, wird die Ausstellung von der Kuratorin Doris Krystof betreut.
Die Ausstellung
Marcel Broodthaers.
Eine Retrospektive
04.03 – 11.06.2017
K21 Ständehaus
Ständehausstraße 1
40217 Düsseldorf
fleursdumal.nl magazine
More in: Art & Literature News, Concrete + Visual Poetry A-E, FDM Art Gallery, Marcel Broodthaers
---
Older Entries »
Thank you for reading FLEURSDUMAL.NL - magazine for art & literature