EXHIBITION – art, art history, photos, paintings, drawings, sculpture, ready-mades, video, performing arts, collages, gallery, etc.
·
Exhibition Rasheed Araeen = A Retrospective (02/12/2017 – 25/03/2018)
·
Nieuwe Meesters in Outsider Art Museum Amsterdam
·
Vincent Berquez: Sunset Beach
·
Litz Pisk: The Actor and His Body
·
Hugo Ball: From Cabaret Voltaire – Issue 1
·
Cristina García: Here in Berlin. A Novel
·
Littérature et poésie – Nuit de la Poésie 2017 = 11 – 12 Novembre 2017
·
Festival Paris En Toutes Lettres 2017 du 9 au 20 novembre 2017
·
21e Edition de Paris Photo, du 9 au 12 Novembre 2017 au Grand Palais
·
Magritte, Broodthaers & de hedendaagse kunst – Tentoonstelling KMSKB
·
Gaëlle Nohant: Légende d'un dormeur éveillé ( Histoire du poète Robert Desnos)
·
Ton van Reen – Katapult. Oproer in Amsterdam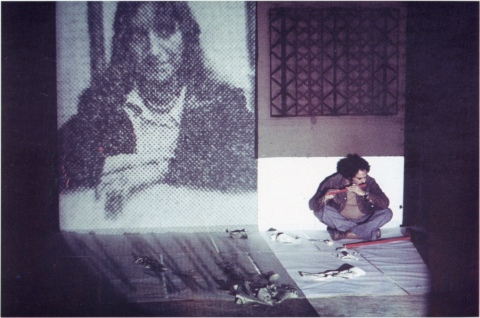 # Rasheed Araeen, Paki Bastard (Portrait of an Artist as a Black Person), 1977, courtesy the artist
The Van Abbemuseum will stage Rasheed Araeen: A Retrospective, the first comprehensive survey of the artist. The exhibition, spanning 60 years of work, presents a body of work that has had a profound influence on generations of artists, writers and thinkers.
Rasheed Araeen: A Retrospective is structured across five chapters: from his early experiments in painting in Karachi in the 1950s and early 60s, his pioneering minimalist sculptures carried out after his arrival in London in 1964, key pieces from the 70s and 80s following Araeen's political awakening, his nine panel cruciform works from the 80s and 90s and a selection of his new geometric paintings and wall structures. Alongside this, material relating to Araeen's writing, editorial and curatorial projects will be presented as part of an expanded artistic practice that in its scope and ambition continues to challenge the formal, ideological and political assumptions of Eurocentric modernism.
Publication:A monograph, edited by Nick Aikens and published by JRP Ringier in collaboration with Van Abbemuseum, MAMCO, BALTIC and Garage includes new essays by Aikens, Kate Fowle, Courtney Martin, Michael Newman, Gene Ray, Dominic Rhatz, John Roberts, Marcus du Sautoy, Zoe Sutherland and Kaelen Wilson-Goldie and an extensive conversation between Aikens and Araeen.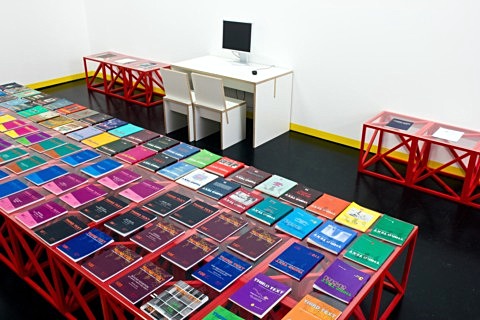 # Rasheed Araeen, The Reading Room, 2017, steel and glass tables, wooden stools, and copies of Third Text journal, courtesy the artist
Following the Van Abbemuseum Rasheed Araeen: A Retrospective will travel to MAMCO, Geneva, BALTIC Centre for Contemporary Art, Gateshead and Garage Centre for Contemporary Art, Moscow.
The exhibition is supported by Mondriaan Fund and Stichting Promotors van het Van Abbemuseum. The publication is generously supported by Aicon Gallery, New York, Grosvenor Gallery, London and Rossi Rossi, Hong Kong
exhibition
Rasheed Araeen
A Retrospective
02/12/2017 – 25/03/2018
spanning 60 years' work
Curators: Nick Aikens
van abbemuseum eindhoven
#  van abbemuseum eindhoven web
fleursdumal.nl magazine
More in: - Book News, Archive A-B, Art & Literature News, CINEMA, RADIO & TV, DICTIONARY OF IDEAS, Exhibition Archive, FDM Art Gallery, MONTAIGNE, Photography, Sculpture
---
In de tentoonstelling 'Nieuwe Meesters' laat het Outsider Art Museum ruim 70 werken zien van 30 hedendaagse, getalenteerde Outsider-kunstenaars. In een serie intieme, indringende portretten geeft fotograaf Sander Troelstra deze fascinerende wereld een gezicht.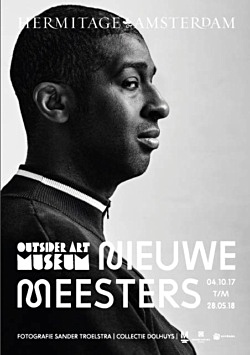 Troelstra heeft diverse keren de Zilveren Camera gewonnen en was in 2015 winnaar van de prestigieuze Nationale Portretprijs.
Gedreven door het onalledaagse heeft Troelstra zich toegelegd op het portretteren van mensen met een rafelrandje; ze vinden soms moeilijk aansluiting in de maatschappij. In 'Nieuwe Meesters' sta je oog in oog met deze onconventionele kunstenaars en maak je kennis met hun hyper-gevoeligheid en buitengewone creativiteit.
Wie zijn deze Nieuwe Meesters? Wat zijn hun drijfveren? Waar komt die bijna maniakale werkwijze vandaan?
Enkele decennia geleden zouden de carrières van deze kunstenaars onzichtbaar zijn gebleven door hun sociale isolement en een leven achter gesloten deuren. Want de kunstwereld is lange tijd huiverig geweest om autodidacten een plaats toe te kennen in het kunstcircuit. Met de komst van het Outsider Art Museum is daar verandering in gekomen.
Ter gelegenheid van de expositie is een fotoboek met portretten van Sander Troelstra en het werk van de deelnemende kunstenaars verschenen. Deze is verkrijgbaar in de museumwinkel van de Hermitage Amsterdam.
Te zien van 4 oktober t/m 28 mei 2018
De tentoonstelling 'Nieuwe Meesters' loopt parallel aan de expositie 'Hollandse Meesters uit de Hermitage'. Voor het eerst wordt een groot overzicht getoond van Hollandse meesterwerken uit de Gouden Eeuw, afkomstig uit de collectie van de Hermitage in St-Petersburg.
De 'Nieuwe Meesters' zijn vanaf 26 oktober t/m 30 januari 2018 ook te zien in het Modern Art Museum in Shanghai. Een aantal Outsider-kunstenaars zullen met een selectie van hun werk deelnemen aan de expositie City Life.
De tentoonstelling in het Outsider Art Museum in Amsterdam wordt op 3 oktober geopend door fotograaf Koos Breukel en is te zien tot en met 28 mei 2018. Ook verschijnt er ter gelegenheid van de expositie een fotoboek met portretten van Sander Troelstra en het werk van de deelnemende kunstenaars.
#  meer  info  op  website  outsiderartmuseum  

Outsider Art Museum (gevestigd in Hermitage Amsterdam)
Amstel 51 – 1018 DR Amsterdam
Tentoonstelling Nieuwe Meesters
Outsider Art Museum Amsterdam
van 4 oktober 2017 t/m 28 mei 2018
fleursdumal.nl magazine
More in: Art & Literature News, Art Brut, Outsider Art, The talk of the town
---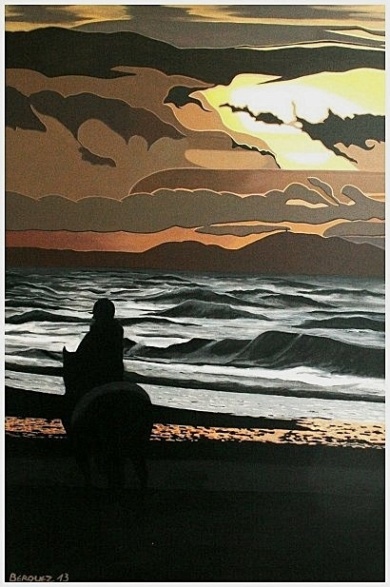 Vincent Berquez©: Sunset Beach
  Vincent Berquez is a London–based artist and poet
   fleursdumal.nl magazine for art & literature
More in: Berquez, Vincent, FDM Art Gallery, Vincent Berquez
---
Litz Pisk was widely regarded as the finest and most influential teacher of modern theatre movement.

She was a director of movement at the Old Vic, National Theatre, Royal Shakespeare Company, English National Opera, and in television and films, including directing the movement for Vanessa Redgrave's film role in Isadora. She was director of Vienna's School of Art and Movement and a teacher at the Old Vic School, Bath Academy of Art, RADA and the Central School of Speech and Drama. The Actor and His Body, her seminal work, was first published in 1975.
'Once you start working with someone like Litz you don't ever want to stop if you can help it' – Vanessa Redgrave
Pisk's quest was to find expression for the inner impulse that motivated actors to move. Her teachings, as outlined in this book, offer insight on the specific craft of the actor, and the relationship between movement, imagination and the 'need' to move.
The Actor and His Body is also a practical manual for keeping the actor's body physically and expressively responsive. In addition, there are a range of movement exercises, illuminated by her exquisite line drawings, and complete weekly programme which concentrates on movement practice within different timescales.
This fourth edition features the original foreword by Michael Elliot as well as a new introduction by Ayse Tashkiran, contemporary movement director and Senior Lecturer at the Royal Central School of Speech and Drama, which contextualises Pisk's work.
The Actor and His Body
By: Litz Pisk
Introduction: Ayse Tashkiran
Published: 30-11-2017
Format: Paperback
Edition: 4th
ISBN: 9781474269742
Imprint: Methuen Drama
Series: Theatre Makers
Dimensions: 234 x 156 mm
RRP: $36.99
Bloomsbury Publishing
Litz Pisk: The Actor and His Body
fleursdumal.nl magazine
More in: - Book News, - Bookstores, Archive O-P, Art & Literature News, CINEMA, RADIO & TV, DANCE, MUSIC, Performing arts, THEATRE
---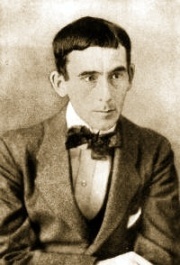 When I founded the Cabaret Voltaire, I was sure that there must be a few young people in Switzerland who like me were interested not only in enjoying their independence but also in giving proof of it.
I went to Herr Ephraim, the owner of the Meierei, and said, "Herr Ephraim, please let me have your room. I want to start a night-club." Herr Ephraim agreed and gave me the room. And I went to some people I knew and said, "Please give me a picture, or a drawing, or an engraving. I should like to put on an exhibition in my night-club." I went to the friendly Zürich press and said, "Put in some announcements. There is going to be an international cabaret. We shall do great things." And they gave me pictures and they put in my annoucements. So on 5th February we had a cabaret. Mademoiselle Hennings and Mademoiselle Leconte sang French and Danish chansons. Herr Tristan Tzara recited Rumanian poetry. A balalaika orchestra played delightful folk-songs and dances.
I received much support and encouragement from Herr M. Slodki, who designed the poster, and from Herr Hans Arp, who supplied some Picassos, as well as works of his own, and obtained for me pictures by his friends O. van Rees and Artur Segall. Much support also from Messrs. Tristan Tzara, Marcel Janco and Max Oppenheimer, who readily agreed to take part in the cabaret.
We organized a Russian evening and, a little later, a French one (works by Apollinaire, Max Jacob, André Salmon, A. Jarry, Laforgue and Rimbaud). On 26th February Richard Huelsenbeck arrived from Berlin and on 30th March we performed some stupendous Negro music (toujours avec la grosse caisse: boum boum boum boum – drabatja mo gere drabatja mo bonooooooooo -). Monsieur Laban was present at the performance and was very enthusiastic. Herr Tristan Tzara was the initiator of a performance by Messrs. Tzara, Huelsenbeck and Janco (the first in Zürich and in the world) of simultaneist verse by Messrs. Henri Barzun and Fernand Divoire, as well as a poème simultané of his own composition, which is reproduced on pages six and seven.
The persent booklet is published by us with the support of our friends in France, Italy and Russia. It is intended to present to the Public the activities and interests of the Cabaret Voltaire, which has as its sole purpose to draw attention, across the barriers of war and nationalism, to the few independent spirits who live for other ideals. The next objective of the artists who are assembled here is the publication of a revue internationale. La revue paraîtra à Zurich et portera le nom "Dada" ("Dada"). Dada Dada Dada Dada.
Zürich, 15th May 1916
Hugo Ball
(1886-1927)
From Cabaret Voltaire – Issue 1
fleursdumal.nl magazine
More in: Archive A-B, Archive A-B, Ball, Hugo, Dada, DADA, Dadaïsme, LITERARY MAGAZINES
---
Here in Berlin is a portrait of a city through snapshots, an excavation of the stories and ghosts of contemporary Berlin—its complex, troubled past still pulsing in the air as it was during World War II. Critically acclaimed novelist Cristina García brings the people of this famed city to life, their stories bristling with regret, desire, and longing.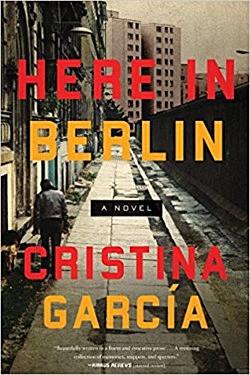 An unnamed Visitor travels to Berlin with a camera looking for reckonings of her own. The city itself is a character—vibrant and postapocalyptic, flat and featureless except for its rivers, its lakes, its legions of bicyclists. Here in Berlin she encounters a people's history: the Cuban teen taken as a POW on a German submarine, only to return home to a family who doesn't believe him; the young Jewish scholar hidden in a sarcophagus until safe passage to England is found; the female lawyer haunted by a childhood of deprivation in the bombed-out suburbs of Berlin who still defends those accused of war crimes; a young nurse with a checkered past who joins the Reich at a medical facility more intent to dispense with the wounded than to heal them; and the son of a zookeeper at the Berlin Zoo, fighting to keep the animals safe from both war and an increasingly starving populace.
A meditation on war and mystery, this is an exciting new work by one of our most gifted novelists, one that seeks to align the stories of the past with the stories of the future.
Cristina Garcia is the author of seven novels, including Dreaming in Cuban, a finalist for the National Book Award that just celebrated its twenty-fifth anniversary; The Agüero Sisters, Monkey Hunting, A Handbook to Luck, The Lady Matador's Hotel, and King of Cuba. Her work has been translated into fourteen languages. García has edited anthologies, written children's books, published poetry, and taught at universities nationwide. She lives in the San Francisco Bay area.
Title: Here in Berlin
Subtitle: A Novel
Author: Cristina García
Publisher: Counterpoint
Format Hardcover
ISBN-10 1619029596
ISBN-13 9781619029590
Publication October 2017
Main content pages 224
fleursdumal.nl magazine
More in: - Book News, - Bookstores, Archive G-H, Art & Literature News, FDM in Berlin, Photography
---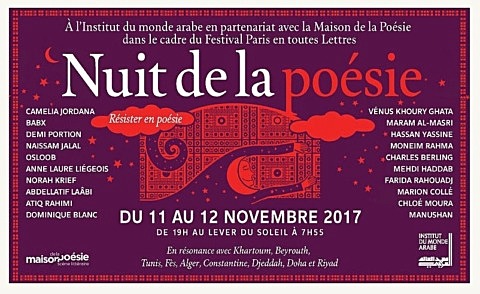 Pour la deuxième année consécutive, l'IMA et la Maison de la Poésie s'unissent pour convoquer, le temps d'une nuit, la poésie et célébrer la beauté du verbe, en mémoire des attentats de Paris en novembre 2015. Cette deuxième édition est aussi celle d'un nouveau partage : la Nuit 2017 résonnera, en même temps, à travers huit villes du monde arabe.
En mémoire des attentats de Paris du 13 novembre 2015, l'initiative a en 2016 rassemblé près d'une cinquantaine d'artistes de disciplines différentes, parlant l'arabe, le français ou l'hébreu. Plus de 3 000 personnes se sont réunies à l'IMA.
Dans la nuit du 11 au 12 novembre 2017, la deuxième édition de la Nuit de la Poésie offrira une nouvelle fois la possibilité de découvrir et d'apprécier la poésie – cette année en arabe, en français et en persan – à travers la lecture, le slam, le rap, le chant ou encore les arts du cirque.
#  la Nuit de la poésie Web IMA

Littérature et poésie
Nuit de la Poésie 2017
11 – 12 Novembre 2017
fleursdumal.nl magazine
More in: Art & Literature News, FDM in Paris, LIGHT VERSE, Literary Events, MODERN POETRY, MUSIC, Nacht van de Poëzie, THEATRE
---
---
Festival littéraire de la ville de Paris, Paris En Toutes Lettres est fondé sur les hybridations entre les genres littéraires et les formes artistiques, ainsi que sur les résonances entre la géographie parisienne et sa vie littéraire. À partir de la Maison de la Poésie-Scène littéraire, il se déploie dans une quinzaine de lieux alentours.
Revisitant l'actualité littéraire, le festival fait aussi la part belle aux créations mettant en regard littérature et musique. Parmi plus de cinquante lectures, rencontres ou concerts littéraires, on trouve également d'insolites conférences et de curieuses performances. À travers ce foisonnement de lieux et de propositions, c'est à un Paris vivant et traversé de littérature que le festival donne voix.
Festival
Paris En Toutes Lettres 2017
Du 9 au 20 novembre 2017
fleursdumal.nl magazine
More in: Art & Literature News, CINEMA, RADIO & TV, FDM in Paris, LIGHT VERSE, Literary Events, MODERN POETRY, MUSIC, STREET POETRY, THEATRE
---
Paris Photo, première foire internationale dédiée à la photographie, se déroulera du 9 au 12 novembre 2017, au Grand Palais.
Avec 180 exposants annoncés pour le secteur principal, l'édition 2017 sera marquée par une  programmation ambitieuse et inédite, présentant le meilleur du médium photographique dans toute sa diversité.
Pour cette 21ème édition, Paris Photo dévoile une première sélection de 149 galeries et 31 éditeurs en provenance de 31 pays. 31 nouvelles galeries et 5 éditeurs spécialisés dans le livre photographique rejoignent Paris Photo cette année.
Pour la troisième année consécutive, le secteur PRISMES, dédié aux installations, aux œuvres sérielles et de grands formats dévoilera 14 projets d'envergure, dans le Salon d'Honneur du Grand Palais.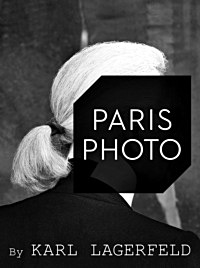 Paris Photo inaugure cette année une section FILM/VIDÉO, explorant les nouvelles perspectives qu'offre l'image, en partenariat avec le MK2 (Grand Palais).
Invité d'Honneur de cette 21ème édition, Karl Lagerfeld proposera aux visiteurs de Paris Photo un parcours spécial de la foire intitulé
​« Paris Photo vu par Karl Lagerfeld ». Ce parcours fera l'objet d'une publication dédiée.
21e Edition de Paris Photo, du 9 au 12 Novembre 2017 au Grand Palais
fleursdumal.nl magazine
More in: Art & Literature News, CINEMA, RADIO & TV, FDM in Paris, Photography, PRESS & PUBLISHING, The talk of the town
---
50 jaar na zijn overlijden, boeit René Magritte nog steeds. Hij stelt onze kijk en geest in vraag en brengt onze zekerheden voortdurend aan het wankelen.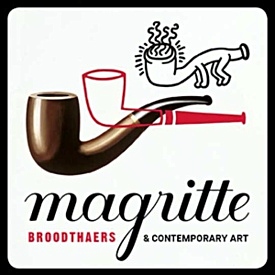 Magrittes mysterieus en uitdagend werk blijft de generaties na hem beïnvloeden, van pop art en conceptuele kunst tot de meest hedendaagse kunstcreaties. De tentoonstelling creëert een dialoog tussen de originele werken van Magritte en hun moderne en hedendaagse interpretaties.
Marcel Broodthaers belichaamt deze artistieke verwantschap zonder twijfel het best: hij bevraagt zowel het statuut van het object als dat van de taal. Andere kunstenaars zoals Andy Warhol, Jasper Johns, Robert Rauschenberg, Ed Ruscha, César, Sean Landers, David Altmejd, George Condo en Gavin Turk herdefiniëren onze verhouding tot Belgiës grootste surrealist.
Meer dan 150 schilderijen, beeldhouwwerken, installaties, tekeningen, films en archiefmateriaal komen samen in deze unieke tentoonstelling. De ervaring zet zich voort in het Musée Magritte Museum, waar huidige creaties interageren met de grootste Magritte collectie ter wereld.
De tentoonstelling is uitzonderlijk 7 dagen op 7 open. Voor de gelegenheid zal ook het Magritte Museum elke dag open zijn, van 13.10.2017 tot 18.02.2018.
Niet te missen: binnen de tentoonstelling is een creatief atelier vrij toegankelijk voor elke bezoeker. Eenmaal per maand vinden er ook animaties plaats: weekends in de namiddag van: 4 & 5 november – 2 & 3 december – 13 & 14 januari – 3 & 4 februari
Magritte, Broodthaers & de hedendaagse kunst
Tentoonstelling KMSKB
13.10.2017 tm 18.02.2018
KMSKB
Koninklijke Musea voor Schone Kunsten van België
Regentschapsstraat 3
1000 Brussel
#  meer  info  op  website  kmskb
Musée Magritte Museum
Koningsplein 1
1000 Brussel
fleursdumal.nl magazine
More in: Andy Warhol, Art & Literature News, Marcel Broodthaers, Marcel Broodthaers, René Magritte, Surrealism, SURREALISM, Surrealisme
---
Robert Desnos a vécu mille vies – écrivain, critique de cinéma, chroniqueur radio, résistant de la première heure –, sans jamais se départir de sa soif de liberté.
Pour raconter l'histoire extraordinaire de ce dormeur éveillé, Gaëlle Nohant épouse ses pas ; comme si elle avait écouté les battements de son cœur, s'était assise aux terrasses des cafés en compagnie d'Éluard ou de García Lorca, avait tressailli aux anathèmes d'André Breton, fumé l'opium avec Yvonne George, et dansé sur des rythmes endiablés au Bal Blomet aux côtés de Kiki et de Jean-Louis Barrault. S'identifiant à Youki, son grand amour, la romancière accompagne Desnos jusqu'au bout de la nuit.
Légende d'un dormeur éveillé révèle le héros irrésistible derrière le poète et ressuscite une époque incandescente et tumultueuse, des années folles à l'Occupation.
Gaëlle Nohant: Née à Paris en 1973, Gaëlle Nohant vit aujourd'hui à Lyon. Légende d'un dormeur éveillé est son troisième roman après L'Ancre des rêves (prix Encre Marine, 2007) et La Part des flammes (prix France Bleu/Page des libraires, 2015 et prix du Livre de Poche, 2016).
Gaëlle Nohant
Légende d'un dormeur éveillé
Roman
544 pages
23€
Paru le 17 août 2017
Illustration de couverture © Letizia Goffi
Éditions Héloïse d'Ormesson
ISBN : 978-2-35087-419-7
fleursdumal.nl magazine
More in: - Book News, - Book Stories, Archive C-D, Archive M-N, Art & Literature News, Desnos, Robert, Surrealism, Surrealisme
---
In de tijd waarin de roman Katapult, Oproer in Amsterdam speelt, de jaren zeventig van de vorige eeuw, was er nog hoop, ook al toont het verhaal niet het Amsterdam van de glamour maar het Amsterdam dat aan de rand staat van de verloedering.
Het is het verhaal van een dag uit het leven van een kleine groep mensen, een familie en hun vrienden, die in een grote stad toch in een uiterst kleine kring blijken te leven. Het lijkt dat ze ver staan van de boze en wonderlijke rampen die zich in de stad voltrekken en die ze niet kunnen benoemen, maar feitelijk ondervinden ze alle gebeurtenissen aan hun lijf.
Wat er in Katapult gebeurt, speelt zich alleen af in zwarte sprookjes, maar vaak hebben sprookjes meer met de werkelijkheid gemeen dan de exacte verslagen van gebeurtenissen. Wie denkt dat het onmogelijk is om met een katapult een brandende scherf van de zon te schieten, om zo hotel-restaurant Americain in de fik te zetten, moet dit boek maar niet lezen.
Katapult is vijfenveertig jaar geleden geschreven. Veel in Amsterdam lijkt nu nog hetzelfde, maar dat is schijn. Wie met dit boek door de stad loopt en de sporen zoekt van het Amsterdam van toen, ziet dat de mooie gevels er nog zijn en worden gefotografeerd door hordes toeristen uit de hele wereld, maar ook dat achter de fraaie gevels heel veel is weggehaald.
Nu zijn er supermarkten gevestigd en kantoren van advocaten, multinationals en brievenbusmaatschappijen die de stad en Nederland misbruiken om belasting te ontduiken. De gezinnen zoals die van Albert Meyer zijn grotendeels verdreven naar de Bijlmer, Purmerend en Almere.
Ook café De Engelbewaarder, aan de Kloveniersburgwal is er niet meer. Kastelein Bas, in wie de toenmalige uitbater en boekenliefhebber Bas Lubberhuizen herkend kan worden, leeft nog, maar de redacteuren van Vrij Nederland die er dagelijks hun kelkjes leeg dronken, zoals Martin van Amerongen en Joop van Tijn, zijn al jaren heen.
Net als Ischa Meier die er vaak kwam met zijn vrouwen, minnaressen en favoriete hoertjes en een zak vol boeken waarvan hij de flapteksten las. Ook stamklant Robert Jasper Grootveld, die model stond voor Crazy Horse is er niet meer, net als Simon Vinkenoog, de magiër van het vrije woord. Wel zijn gelijkgestemde filosofen als Roel van Duijn en Luud Schimmelpennink nog onder ons, maar hun ideeën worden nauwelijks nog begrepen.
In de gevoelswereld van schrijver Ton van Reen spelen de zelfgenoegzame leden van de georganiseerde samenleving een uiterst sinistere rol. Wreedheid, vreemdelingenhaat en bloeddorst liggen achter hun oppervlakkige en zo fatsoenlijk lijkende gedrag voortdurend op de loer.
De helden van Ton van Reen behoren zonder uitzondering tot de kwetsbaren en de slachtoffers: eenzame kinderen, hoeren, landlopers, kermisgasten en zonderlingen, mensen die echter een warmer hart hebben dan de directeuren van de Rabobank en de Tweede Kamerleden van de VVD.
Over de boeken van Ton van Reen schreef Aad Nuis in de Haagse Post: 'Hij schrijft eigenlijk steeds sprookjes, waarbij de toon onverhoeds kan omslaan van Andersen op zijn charmantst in Grimm op zijn gruwelijkst.' Reinjan Mulder schreef in NRC-Handelsblad: 'Het proza van Ton van Reen is mooi als poëzie.' En Gerrit Krol schreef in dezelfde krant: 'Ton van Reen schrijft leerboeken voor schrijvers.'
Ton van Reen
Katapult
Oproer in Amsterdam
Roman
Gebrocheerd in omslag met flappen,
148 blz., € 14,50
ISBN 978 90 6265 978 4
oktober 2017
Uitgeverij In de Knipscheer
#  Meer  info  op  website  Uitgeverij  In  de  Knipscheer

fleursdumal.nl magazine
More in: - Book News, - Bookstores, - Katapult, de ondergang van Amsterdam, Archive Q-R, Art & Literature News, David van Reen, David van Reen Photos, PRESS & PUBLISHING, Reen, Ton van, Reen, Ton van
---
Older Entries »
Thank you for reading FLEURSDUMAL.NL - magazine for art & literature