EXHIBITION – art, art history, photos, paintings, drawings, sculpture, ready-mades, video, performing arts, collages, gallery, etc.
·
Hans Ebeling Koning: Appelboom
·
DADA Poëziebal in Schouwburg De Lawei in Drachten met o.a. K. Schippers
·
Correspondence Pablo Picasso and Gertrude Stein
·
"Ad Fundum", een hommage aan meester-graficus en tekenaar Ad Willemen in Luycks Gallery
·
Forum of Live Art Amsterdam 2018 in Arti et Amicitiae
·
Hybrids 2018 – Lustwarande Tilburg
·
Curt Moreck: Das deutsche Babylon 1931. Ein Führer durch das lasterhafte Berlin
·
Frankenstein: Annotated for Scientists, Engineers, and Creators of All Kinds
·
R. Crumb's Dream Diary
·
Kunstenfestival Watou 2018 nog t/m 2 september
·
Paul Kempers: 'Het gaat om heel eenvoudige dingen'. Jean Leering en de kunst
·
Chinese Authorities Razing Ai Weiwei's Studio Part of Larger Attack on Artistic Expression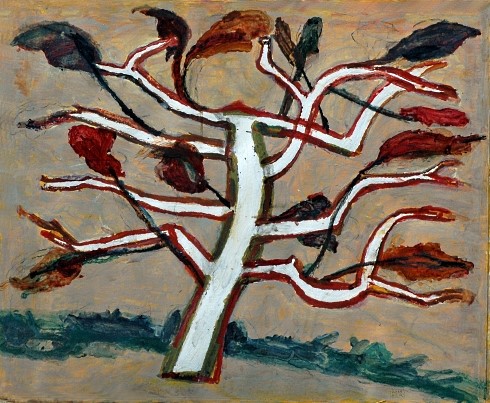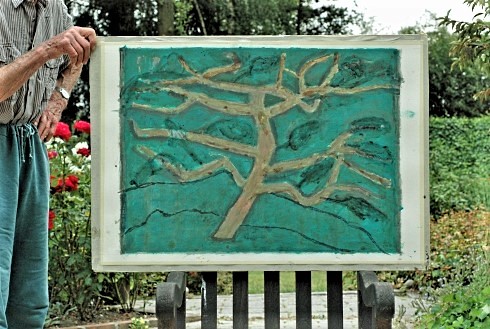 Hans Ebeling Koning
Appelboom (Apple tree)

Hans Ebeling Koning (1931) received his education at AKI in Enschede where he later became a teacher in drawing and painting. His work is represented in many public and private collections including Museum Henriette Polak in Zutphen, Rijksmuseum Twente and the Museum of Modern Art in Arnhem.
Hans Ebeling Koning © 2018

fleursdumal.nl magazine
More in: Art & Literature News, Exhibition Archive, FDM Art Gallery, Hans Ebeling Koning
---
Op zaterdag 6 oktober organiseert Museum Dr8888 (Drachten) het Dada Poëziebal in Schouwburg De Lawei.
Vanaf 19.30 uur presenteert het museum in de Kleine Zaal een verrassend en onvoorspelbaar programma met poëzie, performances, muziek, beeld en dans.
Optredens worden verzorgd door o.a. K. Schippers, Astrid Lampe, Nyk de Vries, Jan Ketelaar, Meindert Talma en Andries de Jong. Het Poëziebal is onderdeel van het buitenprogramma van Museum Dr8888 en vindt plaats in het kader van Leeuwarden-Friesland 2018.
De avond wordt een beleving op zich en laat zich het best omschrijven als extravagant, intiem, verrassend en een tikkeltje rebels. Het Dada Poëziebal begint om 19.30 uur en vindt plaats in de Kleine Zaal van De Lawei. Het wordt een avondvullend programma met een divers palet aan multidisciplinaire performances waarin tegelijkertijd en op meerdere plekken tegelijk wordt geprogrammeerd. Optredens worden verzorgd door K. Schippers, Astrid Lampe, Jan Ketelaar, Alison Isadora, Jaap Blonk, Tim Schouten, Felicity Provan en Laura Polence, studenten Beeld en Taal van de Gerrit Rietveld Academie, Meindert Talma, Tijdelijke Toon, Bram Zielman, Andries de Jong, Leendert Vooijce, Nyk de Vries, Redactielokaal met Jamila Faber en Arjan Hut, Natasja Hoekstra en dansers en Willie Darktrousers.
Presentator van de avond: Karel Hermans. Regie van de avond is in handen van Janneke de Haan i.s.m. Sanne van Balen.
# Kaarten zijn verkrijgbaar via: www.lawei.nl
Dada Poëziebal met o.a. Jan Ketelaar, K. Schippers en Astrid Lampe in Schouwburg De Lawei in Drachten op zaterdag 6 oktober 2018
more dada
fleursdumal.nl magazine
More in: Antony Kok, Art & Literature News, Dada, DADA, Dadaïsme, De Stijl, Doesburg, Theo van, Evert en Thijs Rinsema, K. Schippers, Kok, Antony, Kurt Schwitters, Kurt Schwitters, Performing arts, Schippers, K., Schwitters, Kurt, THEATRE, Theo van Doesburg, Tzara, Tristan, Visual & Concrete Poetry, Werkman, Hendrik Nicolaas
---
Pablo Picasso and Gertrude Stein. Few can be said to have had as broad an impact on European art in the twentieth century as these two cultural giants.
Pablo Picasso, a pioneering visual artist, created a prolific and widely influential body of work.
Gertrude Stein, an intellectual tastemaker, hosted the leading salon for artists and writers between the wars in her Paris apartment, welcoming Henri Matisse, Ernest Hemingway, and Ezra Pound to weekly events at her home to discuss art and literature.
It comes as no surprise, then, that Picasso and Stein were fast friends and frequent confidantes. Through Picasso and Stein's casual notes and reflective letters, this volume of correspondence between the two captures Paris both in the golden age of the early twentieth century and in one of its darkest hours, the Nazi occupation through mentions of dinner parties, lovers, work, and the crises of the two world wars. Illustrated with photographs and postcards, as well as drawings and paintings by Picasso, this collection captures an exhilarating period in European culture through the minds of two artistic greats.
Correspondence
Pablo Picasso and Gertrude Stein
Paper $27.50
ISBN: 9780857425850
Published September 2018
Cloth $29.95
ISBN: 9781905422913
Published November 2008
Distributed for Seagull Books
Edited by Laurence Madeline.
Translated by Lorna Scott Fox.
390 pages
Biography and Letters
Illustrations
new books
Pablo Picasso and Gertrude Stein
fleursdumal.nl magazine
More in: - Book News, - Bookstores, Archive O-P, Archive S-T, Art & Literature News, Gertrude Stein, Pablo Picasso, Stein, Gertrude
---
Van 9 september tot en met 7 oktober organiseert Luycks Gallery in Tilburg: "Ad Fundum", een hommage aan meester-graficus en tekenaar Ad Willemen.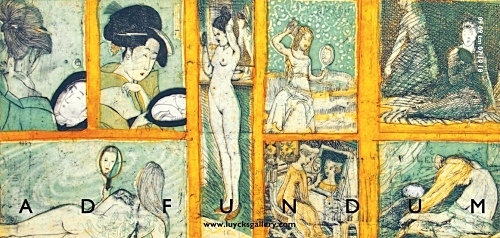 Het is dit jaar vijf jaar geleden dat deze markante kunstenaar overleed. Zowel in Luycks Gallery als in het nabijgelegen voormalig atelier van Willemen wordt een keuze getoond uit zijn artistieke nalatenschap.

Willemens grote muze was het vrouwelijk naakt. In zijn grafisch werk citeerde hij veelvuldig en bevlogen uit de kunstgeschiedenis. Zijn fantasie werd geprikkeld door werk van onder meer Cranach, Rafael, Piero di Cosimo en Harunobu.

Begin jaren '90 kwam hij voor het eerst naar buiten met zijn 'apocriefe' oeuvre: erotische tekeningen naar levend model. Met een 'Lust zu Zeichnen', zette hij tientallen vrouwen op even virtuoze als fijnzinnige wijze op papier. Zijn waarnemingen wist Willemen om te zetten in een eigen idioom, prikkelend, suggestief en provocerend met een subtiel oog voor kleur en detail. Zijn werk geniet grote nationale en internationale bekendheid en is opgenomen in tal van particuliere en overheidscollecties.
Op 21 september is er in Cinecitta bij wijze van hommage een filmavond rondom Willemen. Aanvang 20:00 uur, toegang gratis. Meer informatie www.luycksgallery.com en www.cinecitta.nl
De openingstijden van het atelier zijn gelijk aan die van de galerie. Adres: Bisschop Zwijsenstraat 23, Tilburg.
Luycks Gallery
Nieuwlandstraat 31
5038 SL Tilburg
tel: + 31 6 22 800 638
e-mail: info@luycksgallery.com
Ad Willemen in Luycks Gallery
fleursdumal.nl magazine
More in: Ad Willemen, Art & Literature News, Art Criticism, Exhibition Archive, FDM Art Gallery
---
FLAM (Forum of Live Art Amsterdam) 2018 is een jaarlijks terugkerende tentoonstelling in Arti et Amicitiae, waarin de grote verscheidenheid aan uitingen binnen de hedendaagse performancekunst ruimte krijgt.
FLAM VIII
Look at me, then look at me again
FLAM LIVE: 4 – 7 SEPTEMBER
FLAM ENCOUNTER: 12 – 30 SEPTEMBER

De achtste editie vangt aan met FLAM Live: een intensieve week van live-kunst, waarin het lichaam met diens vele betekenissen het medium is. Deze editie wordt uitgebreid met FLAM Encounter: een tentoonstelling met installaties die op verschillende manieren hun oorsprong vinden in een performance. Middels deze transformatie biedt FLAM VIII een podium voor zowel de efemere als de materiële kant van diverse artistieke praktijken.
Om verschillende perspectieven op de werken te activeren hanteert FLAM VIII een metaforisch kader. De performances in de live-week worden opgevat als elementen van een wilde tuin; de toeschouwers worden uitgenodigd door de wilde tuin te dwalen, en samen met anderen de live-ervaring te delen.
De tentoonstelling wordt opgevat als een cruise-tuin, waarin objecten een beweging aansporen. FLAM Encounter nodigt het publiek uit om met een cruisende attitude de tentoonstellingszalen te betrekken, verschillende gezichtspunten in te nemen en een persoonlijke relatie aan te gaan met de objecten en andere lichamen in de ruimte. Het programma is ontworpen om onverwachte kruisbestuivingen te genereren tussen de kunstenaars, hun werk en het publiek.
Richard John Jones, Matthew Day, Richard John Jones, Maison JaJa, Dionisios Argyropoulos Ioannou, Sara Giannini, Pauline Jardin Curnier, Clementine Edwards, Tirza Kater, Wilfried Tomescu, Giorgos Tsiongas, Rabea Ridlhammer, Lukas Hoffmann, Clara Saito – Christopher Tym, Kurt Dickriot, Lady Dada, Natasha Papadopoulou, keyon gaskin, Rose Akras, Titus Nouwens, Olivia Reschofsky, Alice Pons, Emilia Thorin, Alina Lupu, Jan-Pieter 't Hart, Bea Correa, Katja Vercouteren, Alex Bailey, Roland Rauschmeier, Rebecca Chaillon, Tomislav Feller, Andrea Folache Zavala, Astrit Ismaili, Mami Kang, Maria Metsalu, Dora Longo Bahia, Harold Offeh, Marijn Ottenhof, Vincent Riebeek, Nicolas Roses, Mathias Ringgenberg, Antonia Steffens, Julian Weber, Philipp Gufler, Maria Metsalu, Hannah Perry, Sarah van Lamsweerde, Erin Hill
FLAM
Forum of Live Art
dinsdag 4 september 2018 t/m zondag 30 september 2018
Arti et Amicitiae
Rokin 112, 1012 LB Amsterdam
E-mailadres: arti@arti.nl
Telefoonnummer: 020-6245134
 # meer info op website Arti et Amicitiae 
Forum of Live Art Amsterdam 2018 in Arti et Amicitiae
fleursdumal.nl magazine
More in: # Music Archive, AUDIO, CINEMA, RADIO & TV, Dada, Dadaïsme, DANCE, Exhibition Archive, Performing arts, STREET POETRY, THEATRE
---
Hybrids borduurt voort op de thematiek van de exposities Luster en Disruption, die Lustwarande in 2016 en 2017 presenteerde, het Antropocene perspectief. De expositie sluit de triptiek af maar benadert de thematiek vanuit een geheel ander uitgangspunt, dat van de zogeheten post-internet generatie. Post-internet verwijst naar de generatie die van kinds af aan met digitalisering en internet is opgegroeid.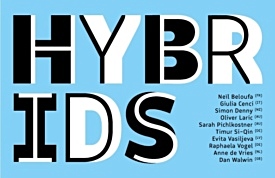 Hybrids focust op een generatie jonge kunstenaars, vaak aangeduid als post-internet, die de allesomvattende, digitale en beeldverzadigde wereld als uitgangspunt voor hun werk nemen. Deze generatie kunstenaars wordt gekenmerkt door een onderzoekende houding ten opzichte van de hedendaagse wereld. Voortschrijdende technologische ontwikkelingen en ecologische, economische en sociaal-culturele ontwikkelingen zijn belangrijke thema's in hun werk. Maar vooral het idee dat we in een hyperrealiteit leven, waarbij media-beelden steeds meer de realiteit vervangen, staat centraal. In feite is er geen onderscheid meer tussen deze hyperrealiteit en de fysieke werkelijkheid. Deze samensmelting wordt aangeduid de term mixed realities. Post-internet kunstenaars erkennen deze mixed realities en negeren elke vermeende hiërarchie tussen beelden, of die nu plat 0f 3D zijn. Alle media, stijlen, technieken, vormen en materialen worden grenzeloos gecombineerd, wat resulteert in een erg hybride beeldtaal.
Daarbij bevragen ze veelvuldig de authenticiteit van het kunstwerk, een kwestie die Walter Benjamin in 1935 al aan de orde stelde in zijn invloedrijke essay Das Kunstwerk im Zeitalter seiner technischen Reproduzierbarkeit. Met de intrede van het digitale tijdperk is deze reproduceerbaarheid eindeloos geworden. Kopieën van kopieën behoren aan niemand meer toe en het origineel is niet meer aanwijsbaar of bestaat eenvoudigweg niet meer. Distributie van deze veelvoudig gekopieerde beelden gaat razendsnel via internet en wordt geleidelijk onderdeel van de wereldwijde share en like-cultuur.
Hybrids vindt plaats in de parkomgeving van Lustwarande, waarbij verwacht werd dat het contrast tussen de 'natuurlijke elementen' en de kunstwerken bijna niet groter leek te kunnen zijn. Ondanks hybride productieprocessen, waarbij digitale en analoge technieken in allerlei combinaties vermengd zijn, en het gebruik van sterk contrasterende materialen en vormen, waarbij industrieel tegenover organisch geplaatst wordt, vakmanschap tegenover DIY, lijkt de openbare ruimte van de parkomgeving de beschouwing en duiding van de werken te dwingen in de richting van klassieke sculptuur. De sculpturen en installaties zijn fysieke entiteiten, die wonderwel samengaan met de context waarin ze gepresenteerd worden. Tegelijkertijd wordt de relatie die de werken met deze omgeving hebben benadrukt: de Antropocene wereld, waarin natuur en cultuur, organisch en industrieel, digitaal en analoog één entiteit vormen. Locatie en werken verlenen elkaar hierdoor uiteindelijk extra zeggingskracht.
Hybrids – Lustwarande Tilburg
nog t/m 23 september 2018
Hybrids
23 juni – 23 september
tien post-internet kunstenaars
Neïl Beloufa (FR)
Giulia Cenci (IT)
Simon Denny (NZ)
Oliver Laric (AU)
Sarah Pichlkostner (AU)
Timur Si-Qin (DE)
Evita Vasiljeva (LV)
Raphaela Vogel (DE)
Anne de Vries (NL)
Dan Walwin (GB)
Brief Encounters '18
16 september
drie event sculptures op één dag
Davide Balula (FR)
Thorsten Brinkmann (DL)
Lilibeth Cuenca Rasmussen (PH)
Educatie
Lustwarande brengt met zijn educatieve producten hedendaagse kunst op een aantrekkelijke manier onder de aandacht van leerlingen in het voortgezet onderwijs en primair onderwijs. De beeldende kunstprojecten van Lustwarande spelen in op de tijdsgeest. Het didactische concept van de educatieve producten wordt hierop afgestemd.
# Meer info op website fundament foundations
Hybrids – Lustwarande Tilburg
fleursdumal.nl magazine
More in: Art & Literature News, Dutch Landscapes, Exhibition Archive, Fundament - Lustwarande
---
Dieser Bestseller aus dem Jahr 1931 führt den Leser mitten hinein in die pulsierende Metropole Berlin auf dem Höhepunkt der »Goldenen Zwanziger«.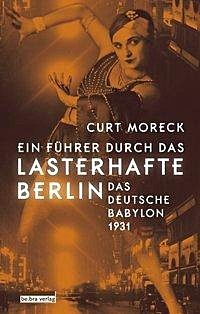 Folgen Sie dem Autor bei seinen Ausflügen zu den Hotspots des damaligen Nachtlebens – in sagenumwobene Varietés und Tanzpaläste, in Vergnügungsparks und Kaffeehäuser, in angesagte Bars und Schwulenkneipen, aber auch an die Orte der Prostitution und des Verbrechens.
Erweitere Neuausgabe des Klassikers – mit Glossar, Register und vielen historischen Fotos.
»Wer Erlebnisse sucht, Abenteuer verlangt, Sensationen sich erhofft, der wird im Schatten gehen müssen.« Curt Moreck
Curt Moreck, 1888 als Konrad Haemmerling in Köln geboren, war ein Schriftsteller und Journalist, der in den 1920er Jahren seinen Schwerpunkt auf Kultur- und Sittengeschichte legte. Während der Zeit des Nationalsozialismus war das Werk Curt Morecks verboten, nach 1945 konnte er nicht mehr an seine früheren Erfolge anknüpfen. Er starb 1957 in Berlin.
Das deutsche Babylon 1931
Curt Moreck
Ein Führer durch das lasterhafte Berlin
30 Schwarz-Weiß- Abbildungen – 2 Ktn
EAN: 9783898091497
ISBN: 389809149X
Libri: 4858158
Bebra Verlag
März 2018
208 Seiten
gebunden
€22,00
new books
fleursdumal.nl magazine
More in: - Book Lovers, - Book Stories, Archive M-N, Art & Literature News, Berber, Anita, FDM in Berlin
---
Mary Shelley's Frankenstein has endured in the popular imagination for two hundred years.
Begun as a ghost story by an intellectually and socially precocious eighteen-year-old author during a cold and rainy summer on the shores of Lake Geneva, the dramatic tale of Victor Frankenstein and his stitched-together creature can be read as the ultimate parable of scientific hubris. Victor, "the modern Prometheus," tried to do what he perhaps should have left to Nature: create life.
Although the novel is most often discussed in literary-historical terms―as a seminal example of romanticism or as a groundbreaking early work of science fiction―Mary Shelley was keenly aware of contemporary scientific developments and incorporated them into her story. In our era of synthetic biology, artificial intelligence, robotics, and climate engineering, this edition of Frankenstein will resonate forcefully for readers with a background or interest in science and engineering, and anyone intrigued by the fundamental questions of creativity and responsibility.
This edition of Frankenstein pairs the original 1818 version of the manuscript―meticulously line-edited and amended by Charles E. Robinson, one of the world's preeminent authorities on the text―with annotations and essays by leading scholars exploring the social and ethical aspects of scientific creativity raised by this remarkable story.
The result is a unique and accessible edition of one of the most thought-provoking and influential novels ever written.
Essays by Elizabeth Bear, Cory Doctorow, Heather E. Douglas, Josephine Johnston, Kate MacCord, Jane Maienschein, Anne K. Mellor, Alfred Nordmann
Frankenstein: Annotated for Scientists, Engineers, and Creators of All Kinds
by Mary Shelley (Author), David H. Guston (Editor), Ed Finn (Editor), Jason Scott Robert (Editor), & Charles E. Robinson (Introduction)
Paperback
320 pages
Publisher: The MIT Press;
Annotated edition
2017
Language: English
ISBN-10: 0262533286
ISBN-13: 978-0262533287
new books
fleursdumal.nl magazine
More in: - Book Lovers, - Book Stories, Archive S-T, Art & Literature News, Mary Shelley, Museum of Literary Treasures, Shelley, Mary, Tales of Mystery & Imagination
---
For more than 40 years, legendary American artist Robert Crumb has documented his nightly dreams in a meticulously kept private journal.
This material has stood as a guarded secret in a career defined by an impish compulsion to publically self-disclose. All of the artist's well-documented preoccupations are present and accounted for—rampant egomania, insatiable lust, profound self-disgust, the sad beauty of old America, the moral bankruptcy of new America and the fool's errand quest for spiritual enlightenment—but here they are entirely untamed, springing forth from forces beyond even his control.
Published for the first time, the complete Dream Diaries offer readers a deep, dark look under the hood of one of America's most aggressively dynamic comedic voices.
Widely considered the greatest cartoonist of the 20th century, Robert Crumb (born 1943) drew comics from a very young age. After a brief career in greeting-card design in Cleveland, in 1965 the young artist discovered LSD, and headed for San Francisco, where he published Zap Comix 1, reinventing the comics medium. In 1994 he was the subject of an acclaimed documentary film by Terry Zwigoff. His adaptation of The Book of Genesis was published in 2009 and the original art for the project was exhibited internationally, most notably at the Hammer Museum, Los Angeles, in 2009, and as part of the 55th Venice Biennale in 2013. His most recent books include Bible of Filth, Art & Beauty Magazine and (with Aline Kominsky-Crumb) Drawn Together. Crumb lives and works in Southern France.
R. Crumb's
Dream Diary
Edited by Ronald Bronstein & Sammy Harkham
Elara Press
Compiles forty years of never-before-published somnambulant mindspray from one of the most unique thinkers in comics.
The first and only book on Crumb's writings
containing 15 illustrations.
US $25.00
Hardcover
500 pgs
Publication: Sep 25 2018
Language: English
ISBN-10: 1942884338
ISBN-13: 978-1942884330
new books
fleursdumal.nl magazine
More in: #Biography Archives, - Book News, - Bookstores, Archive C-D, Art & Literature News, Illustrators, Illustration
---
Elke zomer opnieuw slaat het Kunstenfestival van Watou haar tenten op in het gelijknamige kunstdorpje aan de Franse grens.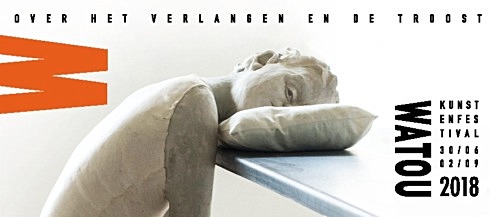 Dichters en beeldend kunstenaars, aanstormend talent en gevestigde waarden, kunstwerken uit binnen- en uit buitenland strijken er neer en vormen een bijzonder kunstenparcours. Het dorp is de setting en biedt een tiental karakteristieke locaties als tentoonstellingsruimte: een voormalig klooster, een oude boerderij of de kelder van een brouwerij. De wisselwerking tussen die verrassende, nostalgische ruimtes met hedendaagse beeldende kunst en poëzie zorgt telkens weer voor een unieke kunstbeleving. Zomeren in Watou is dan ook prikkelen en onthaasten tegelijk. Kleine momenten van gelukzaligheid.
Iedere editie van het Kunstenfestival kadert in een ander thema, waarrond intendant Jan Moeyaert en poëziecurator Willy Tibergien beeld en taal samenbrengen. Schrijvers, dichters en kunstenaars palmen gedurende een zomer het dorp in en bieden de bezoekers een caleidoscoop aan inzichten en perspectieven rond een bepaald onderwerp.
De afgelopen edities van Kunstenfestival Watou groeide er gestaag een nieuwe poëtische lijn in het dorp. Ook dit jaar selecteerde poëziecurator Willy Tibergien gedichten van gevestigde waarden in het Nederlandstalig poëzielandschap om hen een permanente plaats te geven in Watou.
Aan het werk van Eddy van Vliet, Paul Snoek, Remco Campert, Hugues C. Pernath, Jean-Claude Pirotte, Leo Vroman, Miriam Van hee, Stefan Hertmans, Gerrit Kouwenaar en Marc Insingel, Leonard Nolens, Christine D'Haen, Joost Zwagerman, Jotie T'Hooft, Charles Ducal en Luuk Gruwez worden dit jaar gedichten van Anna Enquist, Eva Gerlach en Frans Deschoemaeker toegevoegd.
STRING CARPET – GIDEON KIEFER – KUNSTENAARSGESPREK – ZONZO COMPAGNIE – ELS DEJONGHE – HET VLIEGEND TAPIJT – VRIJDAG VIERT FEEST – KRISTIN VERELLEN – POSTKANTOOR 00/00/00 – LIZE PEDE – BERNARD DEWULF – ALICJA GESCINSKA – DE TROOSTWINKEL – DOWN TIGER DOWN – SIEL EN LARISSA – NELLY AGASSI – IK ZIE MENSEN – POËZIE POËZIE POËZIE – DEREK & RENAUD – WIM CHIELENS – DE PLUIZENTUIN – WALLY DEDONCKER – ANT AND … – IK BEN WEER VELEN – STEPHANIE STRUIJK –  BERNARD DEWULF – MENNO WIGMAN – GRAHAM FAGEN – GERRIT KOUWENAAR – FRANS DESCHOEMAEKER – ANNA ENQUIST – EVA GERLACH – FRAUKE WILKEN – SAM DURANT – SIGRID VON LINTIG – PAUL SNOEK – MAUD BEKAERT -PETER VERHELST- DENIS VERCRUYSSE – MOHAMED EL BAZ – PARSE/ERROR – KATRIN DEKONINCK – ARPAÏS DU BOIS – GRZEGORZ GWIAZDA – SHIMABUKU – PETER DE MEYER – ROBINE CLIGNETT – ELS LESAGE – RADNA FABIAS – RY ROCKLEN – CHAIM VAN LUIT – SYLVIA EVERS – TORI WRÅNES – RONNY DELRUE – PETER MORRENS – HERVÉ MARTIJN – THÉ VANBERGEN – HANNE VAN ROMPAEY – STEFAN HERTMANS – TOM VAN DEEL – DANIELLE VAN ZADELHOFF – ANTON COTTELEER – SU-MEI TSE – POLIEN BOONS – JONAS VANSTEENKISTE – GURT SWANENBERG – ARANTHELL – GEERTJE VANGENECHTEN – MAARTEN VANDEN EYNDE – DOMINIQUE DE GROEN – JANI LEINONEN – JOSÉ COBO – TATJANA GERHARD – NADIA NAVEAU – HESTER KNIBBE – LUK VAN SOOM – JEROEN VAN KAN – CAROL ANN DUFFY – IRINA RATUSHINSKAYA – YEHUDA AMICHAI – NIDAA KHOURY – ZIYA MOHAVED – HANS OP DE BEECK- MASSIMO UBERTI -VAJIKO CHACHKHIANI – MOYA DE FEYTER – SHEILA HICKSEMMA VAN ROEY – BERNARDÍ ROIG -PETER THEUNYNCK – GIDEON KIEFER – EDITH DEKYNDT – THOMAS LEROOY – RANDALL CASAER- CHRISTINA MIGNOLET – GERD KANZ- GREET DESAL – HANNAH VAN BINSBERGEN – MELIK OHANIAN – JOHAN CLARYSSE – SOPHIE BOUVIER AUSLÄNDER – HANS DEFER- LUDOVIC LAFFINEUR – ARNE QUINZE – MARIJE LANGELAAR – TANYA SCHULTZ – ERLEND VAN LANDEGHEM – ROLAND JOORIS – LUKA FINEISEN – MEKHITAR GARABEDIAN – FRANZ SCHMIDT – CLARISSE BRUYNBROECK – FRANCIS PONGE – DAVID DE POOTER – RUTGER KOPLAND – JAN VANRIET – HUGO CLAUS – NELLY AGASSI – K. MICHEL – MICHAL MARTYCHOWIEC – PAUL DEMETS – STEPHAN MUIS – SAMMY BALOJI – TANG NANNAN – ADEL ABDESSEMED – LAURENS HAM – TODD ROBINSON – PANAMARENKO – GILLES BARBIER – HELEN DUNMORE – CASPER BRAAT – SYLVIE MARIE – CHANTAL POLLIER – EZRA VELDHUIS – HARLINDE DE MOL – ELEANOR CROOK – ANNO DIJKSTRA

Kunstenfestival Watou 2018 loopt nog tot en met 2 september
Open: woensdag tot zondag van 11u tot 19u – maandag en dinsdag gesloten, behalve op feestdagen
Adres:
Watouplein 12
8978 Watou
Poperinge (België)
De start van het Kunstenfestival is te vinden in het Festivalhuis (Watouplein 12), op het marktplein naast de Spar. Opg  elet! Voor alle weekend-events zijn de plaatsen beperkt. Een plaats reserveren kan enkel de dag zelf aan de kassa, bij aankoop van uw ticket.
# meer informatie op website kunstenfestival Watou
Kunstenfestival Watou 2018
fleursdumal.nl magazine
More in: # Music Archive, #Editors Choice Archiv, #More Poetry Archives, - Book Lovers, - Book Stories, Art & Literature News, Exhibition Archive, FDM Art Gallery, LITERARY MAGAZINES, PRESS & PUBLISHING, STREET POETRY, THEATRE, Watou Kunstenfestival
---
Amper dertig jaar was Jean Leering (1934-2005) toen hij benoemd werd tot directeur van het Van Abbemuseum. De opvolger van Edy de Wilde maakte van het Van Abbe een spraakmakend museum, waar de erfenis van Theo van Doesburg, László Moholy-Nagy en El Lissitzky werd verknoopt met de nieuwste kunst van de jaren zestig en zeventig.
Als eerste haalde Leering kunstenaars als Robert Morris, Donald Judd, Christo, Bruce Nauman en Joseph Beuys naar Nederland. Hij organiseerde exposities over minimal art, seriële kunst en lichtkunst die internationaal de aandacht trokken.
De bewonderde tentoonstellingmaker – opgeleid als bouwkundig ingenieur – schrok niet terug voor ferme uitspraken. Het museum? Dat was onderdeel van de preventieve geestelijke gezondheidszorg, een instrument voor emancipatie, een kritisch beeldinstituut dat kon bijdragen aan de vorming van de publieke opinie. Met geëngageerde tentoonstellingen als 'De Straat', 'Cityplan Eindhoven' en 'Bouwen '20-'40' zou het van Abbe de toon zetten voor een generatie jonge curatoren in de eenentwintigste eeuw.
Leering was een activist van de geest wiens ideeën soms op felle tegenstand stuitten. Met zijn vaste vormgever Jan van Toorn zette hij vraagtekens bij de status van het museum als onbetwiste autoriteit. De vraagtekens werden uitroeptekens toen Leering ontslag nam om leiding te geven aan de nieuwe koers van het Tropenmuseum (1973-1975) in Amsterdam.
Tentoonstellingen, vond Leering, dienden inzicht te geven in hoe de wereld in elkaar stak. Hoe de wereld verkeerd in elkaar stak, soms. En wat daar aan gedaan kon worden. Want een museum dat zijn werkzaamheid alleen tot het netvlies wilde beperken, was een half museum.
Over hoe dat museum eruit had kunnen zien, gaat dit boek. Over de kijker tegenover het kunstwerk en de band tussen kunst en samenleving. Met Heidegger, Merleau-Ponty en Foucault waakzaam in de coulissen.
Biografie Jean Leering
'Het gaat om heel eenvoudige dingen':
Jean Leering en de kunst
Auteur: Paul Kempers
Ontwerp: Sam de Groot
Serie: vis-à-vis
2018, Valiz
paperback
336 blz.
23,5 x 16,5 cm (staand)
Nederlands
ISBN 978-94-92095-07-7
new books
fleursdumal.nl magazine
More in: - Book News, - Bookstores, Antony Kok, Archive K-L, Art & Literature News, Art Criticism, César Domela, De Stijl, Exhibition Archive, Gerrit Rietveld, Piet Mondriaan, Theo van Doesburg
---
_____________________________________________________________________________
August 7, 2018
NEW YORK – The unannounced demolition of Chinese artist Ai Weiwei's studio in Beijing is symptomatic of a larger attack on human rights and artistic expression in China, said PEN America today.
On August 6, Artist and activist Ai Weiwei announced on social media that authorities had demolished his Beijing artist studio. Ai stated that he had received no advance notice prior to the demolition. Although several of his works were damaged in the studio's demolition, the artist explained that he is more preoccupied with the effects of China's "urban development" projects on artists and migrant populations, saying: "Since last year, a policy was enacted to clear out migrant workers from Beijing . . . Those who do not belong to the establishment, including artists, are always the first to be discriminated against and sacrificed."
Within the past few years, artist colonies including Songzhuang and Caochangdi—the latter an arts district that Ai helped develop—have been targeted for eviction and demolition. Artists have cited both runaway economic development and political disfavor as rationales for authorities' hostile attitudes. More broadly, an urban development policy conceived last year to push migrant workers out of Beijing has empowered local authorities to take unannounced action to demolish property, a policy that has led to thousands of migrant workers losing their homes.
"Regardless of the government's motives, the unannounced demolition of an artist's studio is a demonstration of a lack of appreciation or even acknowledgment for the role of the artist in society," said Julie Trébault, Director of PEN America's Artists at Risk Connection. "Around the world, artist studios and communes are spaces to be cherished, not discarded."
PEN America leads the Artists at Risk Connection (ARC), a program dedicated to assisting imperiled artists and strengthening the network of organizations that support them. If you or someone you know is an artist at risk, contact ARC here.
PEN America stands at the intersection of literature and human rights to protect open expression in the United States and worldwide. They champion the freedom to write, recognizing the power of the word to transform the world. Their mission is to unite writers and their allies to celebrate creative expression and defend the liberties that make it possible.
www.pen.org
the freedom to write
fleursdumal.nl magazine
More in: Ai Weiwei, Art & Literature News, AUDIO, CINEMA, RADIO & TV, Exhibition Archive, FDM Art Gallery, MUSEUM OF PUBLIC PROTEST, REPRESSION OF WRITERS, JOURNALISTS & ARTISTS
---
Older Entries »
Thank you for reading FLEURSDUMAL.NL - magazine for art & literature