EXHIBITION – art, art history, photos, paintings, drawings, sculpture, ready-mades, video, performing arts, collages, gallery, etc.
·
Antonin Artaud – Le Visionnaire Hurlant par Laurent Vignat
·
Armistice of 11 November 1918/2018 – Wilfred Owen: Dulce et Decorum Est (Poem)
·
Hans Hermans: Landscape (104)
·
Paris Photo 2018 from 8 – 11 november in Grand Palais Paris
·
Gérard de Nerval: Notre-Dame de Paris – Poéme
·
Biografie Oskar Kokoschka von Rüdiger Görner
·
L'esprit littéraire de la Grande Guerre à Redu
·
Dennis Whitehead: SHELL SHOCK. Twin Sisters Struck Down by the Horrors of World War I
·
Jan Cremer: Jayne
·
Hans Hermans: Landscape (103)
·
L.A. Raeven deelnemer expositie ROBOT LOVE
·
Vladimir Majakovski nieuwe uitgave van Verzamelde gedichten
Breton, Eluard, Aragon, Cocteau, Picasso, Chanel, Abel Gance, Anaïs Nin, Colette, Diego Rivera, Lacan, Desnos, Van Gogh, Sartre et Beauvoir, plus tard Jim Morrison et Patti Smith…
Ces noms jalonnent la trajectoire d'Antonin Artaud, comète colérique qui a irrigué l'avant-garde artistique et littéraire de l'entre-deux-guerres et irrigue encore notre époque.
Par-delà le cliché de l'aliéné, du mythe du poète fou auteur d'une oeuvre monumentale, cette biographie s'attache à souligner le caractère novateur, toujours d'actualité, de son message : Artaud a imaginé le cinéma en relief, oeuvré à un profond renouvellement de l'art théâtral, rejeté le colonialisme européen, remis en cause les idéologies mortifères du XXe siècle, dénoncé le capitalisme et ses impératifs productivistes, esquissé l'altermondialisme.
Après neuf ans d'internement, il est aussi celui qui a fait vaciller la psychiatrie, ses catégories et sa thérapeutique des électrochocs. Plus que jamais, dans notre époque incertaine, Antonin Artaud est une voix à faire entendre. Une biographie à lire comme un roman.
Né en 1970, Laurent Vignat poursuit des études de lettres à la Sorbonne et devient professeur de français. Il publie son premier roman en 2006, après quelques textes épars publiés dans des revues.
Sur des carnets, il saisit les bizarreries d'une société qu'il juge de plus en plus folle, ses contemporains, des sourires, des tics de langage et des bribes de vie qui deviennent, à force de travail et d'obstination, des histoires.
Quand il n'écrit pas, il fait la classe ; il pédale en côte chalonnaise ; il lit ; il observe ; il regarde ses enfants grandir ; il écoute son épouse ; il suit les doigts graciles de son fils lorsqu'ils filent une impro sur le piano du salon ; il prépare un osso bucco, il s'endort avec Bach ou Jarrett dans les oreilles…
Auteur: Laurent Vignat
Antonin Artaud.
Le visionnaire hurlant
Editeur : Editions Du Jasmin
Collection: Signes de vie
Parution : 27/02/2018
Nombre de pages : 251
Dimensions: 15×19
ISBN: 978-2-35284-177-7
€ 16,00
# new books
Antonin Artaud
fleursdumal.nl magazine
More in: #Biography Archives, - Book News, Antonin Artaud, Archive A-B, Archive A-B, Archive U-V, Art & Literature News, Art Criticism, Artaud, Antonin, AUDIO, CINEMA, RADIO & TV, THEATRE
---
Dulce et Decorum Est
Bent double, like old beggars under sacks,
Knock-kneed, coughing like hags, we cursed through sludge,
Till on the haunting flares we turned our backs,
And towards our distant rest began to trudge.
Men marched asleep. Many had lost their boots,
But limped on, blood-shod. All went lame; all blind;
Drunk with fatigue; deaf even to the hoots
Of gas-shells dropping softly behind.
Gas! GAS! Quick, boys!—An ecstasy of fumbling
Fitting the clumsy helmets just in time,
But someone still was yelling out and stumbling
And flound'ring like a man in fire or lime.—
Dim through the misty panes and thick green light,
As under a green sea, I saw him drowning.
In all my dreams before my helpless sight,
He plunges at me, guttering, choking, drowning.
If in some smothering dreams, you too could pace
Behind the wagon that we flung him in,
And watch the white eyes writhing in his face,
His hanging face, like a devil's sick of sin;
If you could hear, at every jolt, the blood
Come gargling from the froth-corrupted lungs,
Obscene as cancer, bitter as the cud
Of vile, incurable sores on innocent tongues,—
My friend, you would not tell with such high zest
To children ardent for some desperate glory,
The old Lie: Dulce et decorum est
Pro patria mori.
Wilfred Owen
(1893 – 1918)
Dulce et Decorum Est (Poem)
# Armistice of 11 November 1918 – 2018

fleursdumal.nl magazine
More in: Archive O-P, Archive O-P, Galerie des Morts, Galerie Deutschland, Histoire de France, Historia Belgica, History of Britain, Owen, Wilfred, WAR & PEACE
---
Hans Hermans© photos: landscape
(104 – norway NO)
  # more  on  website  hans  hermans  photos  
fleursdumal.nl magazine
More in: FDM Art Gallery, Hans Hermans Photos, Photography
---
Paris Photo is the largest international art fair dedicated to the photographic medium and is held each November at the historic Grand Palais in Paris. Since 1997, the Fair's mission is to promote and nurture photographic creation and the galleries, publishers and artists at its source.
Paris Photo brings together up to 200 exhibitors from across the world, offering collectors and enthusiasts the most diverse and qualitative presentation of photography-driven projects today.
Leading galleries showcase historical and contemporary artworks from modern masters to young talents. Specialized publishers and art book dealers present unique and rare editions, as well as book launches and signature sessions with many of today's most renowned artists.
Paris Photo also provides visitors with first-hand insights and access to the art world. Programming includes curated exhibitions with renowned public and private institutions, awards, conversation cycles with curators, artists, collectors, and critics, and special events exploring the unique history of the medium; varying visions, practices and emerging trends.
In addition, the Fair's "In Paris during Paris Photo" programme reunites a dense network of cultural institutions throughout Paris comprising some of the most historically rich photographic collections in the world.
The 22nd edition of Paris Photo will take place Thursday, November 8 through Sunday, November 11 with a preview day on Wednesday, November 7 (by invitation only).
Grand Palais
Avenue Winston Churchill
75008 Paris
  #  more info on website Paris Photo 2018  
fleursdumal.nl magazine
More in: Art & Literature News, FDM Art Gallery, FDM in Paris, Photography
---
 Notre-dame de Paris – Poéme
Notre-Dame est bien vieille : on la verra peut-être
Enterrer cependant Paris qu'elle a vu naître;
Mais, dans quelque mille ans, le Temps fera broncher
Comme un loup fait un bœuf, cette carcasse lourde,
Tordra ses nerfs de fer, et puis d'une dent sourde
Rongera tristement ses vieux os de rocher!
Bien des hommes, de tous les pays de la terre
Viendront, pour contempler cette ruine austère,
Rêveurs, et relisant le livre de Victor:
—Alors ils croiront voir la vieille basilique,
Toute ainsi qu'elle était, puissante et magnifique,
Se lever devant eux comme l'ombre d'un mort!
Gérard de Nerval
(1808 – 1855)
Notre-Dame de Paris – Poéme
fleursdumal.nl magazine
More in: Archive M-N, FDM in Paris, Nerval, Gérard de, Nerval, Gérard de
---
Rüdiger Görner stellt in seiner Biografie den Gesamtkünstler Oskar Kokoschka in all seiner faszinierenden und widersprüchlichen Vielschichtigkeit dar.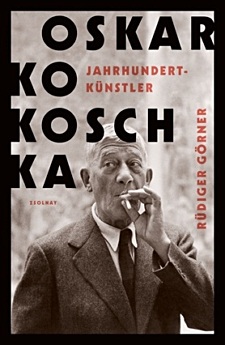 Dramen, Briefe und Essays zeugen auch von den bedeutenden schriftstellerischen Qualitäten dieses großen Malers. Die Musik war zentral für seine Arbeit. Und als Pädagoge begründete Kokoschka 1953 schließlich die "Schule des Sehens". Oskar Kokoschka erreichte trotz schwerer Verletzungen im Ersten Weltkrieg ein biblisches Alter. Görner zeichnet Kokoschkas Weg vom Bürgerschreck und Hungerkünstler zum wohlhabenden Weltbürger und Jahrhundertkünstler ganz nah an dessen Werk nach, denn Kokoschkas Leben erzählt man, in dem man sein Werk erzählt – und umgekehrt.
Rüdiger Görner, geboren 1957 in Rottweil, ist Professor für Neuere Deutsche und vergleichende Literatur an der Queen Mary University of London. Gründer des Ingeborg Bachmann Centre for Austrian Literature und Gründungsdirektor des Centre for Anglo-German Cultural Relations. Träger des Deutschen Sprachpreises, des Reimar Lüstpreises der Alexander von Humboldt-Stiftung und des Verdienstordens der Bundesrepublik Deutschland. Bei Zsolnay erschienen Rainer Maria Rilke. Im Herzwerk der Sprache (2004), Georg Trakl. Dichter im Jahrzehnt der Extreme (2014) und Oskar Kokoschka. Jahrhundertkünstler (2018).
Titel: Oskar Kokoschka
Autor: Rüdiger Görner
Jahrhundertkünstler
Buch
Gebundene Ausgabe
350 Seiten
24. September 2018
Verlag: Paul Zsolnay Verlag
Sprache: Deutsch
ISBN-10: 9783552059054
ISBN-13: 978-3552059054
€ 28,00
# new books
Die erste Biografie seit drei Jahrzehnten: Rüdiger Görner zeigt den großen Maler Oskar Kokoschka in all seiner Vielschichtigkeit
fleursdumal.nl magazine
More in: #Biography Archives, - Book News, - Bookstores, Archive K-L, Art & Literature News, FDM Art Gallery, Modernisme
---
Redu, en tant que village du livre, ne peut célébrer le centième anniversaire de la fin de la Grande Guerre qu'en mettant à l'honneur la littérature de l'époque.

L'angle de vue choisi est celui de la poésie née sur, ou au plus près des champs de bataille et des tranchées.
Une poésie européenne au sens le plus large qui balaie l'Europe de la Russie aux Iles britanniques ; une poésie qui, pour exprimer la puissance de cette première conflagration mondiale en son effet sur le corps et sur les consciences, se cherche des formes nouvelles.
En ce début du vingtième siècle le soldat est scolarisé.
Il lit, il écrit : des lettres, des carnets d'instantanés, et de la poésie, qui rendent compte de l'instant d'angoisse, de désespoir, de sentiment d'abandon dans un monde devenu fou.
Ainsi la Grande Guerre donne-t-elle naissance à une poésie de l'instant vécu avec une intensité hors norme par des écrivains devenus combattants.
Ce parcours tracé dans les rues de Redu, les poèmes affichés aux murs du village, en témoignent.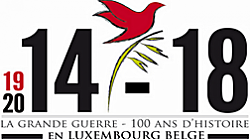 Du 19 mai au 11 novembre 2018
Un circuit de 20 poèmes des soldats de la Grande Guerre.
https://www.redu-villagedulivre.be/fr/
photos: fleursdumal.nl
fleursdumal.nl magazine
More in: *War Poetry Archive, - Book Lovers, - Bookstores, Art & Literature News, FDM Art Gallery, Galerie des Morts, Historia Belgica, WAR & PEACE
---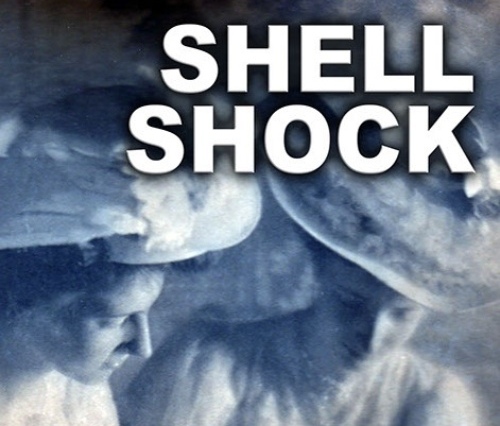 The true story of twin sisters, Dorothea and Gladys Cromwell, born into New York's Gilded Age, living lives of wealth and privilege, as told by Dennis Whitehead.

Amid the fervor of America's entry into the First World War, the sisters volunteered for service with the American Red Cross in France, a country they knew and loved. To French soldiers seeking refreshment and solace in the Red Cross canteen, the identical twins were known as anges jumeaux, the twin angels.
Witnessing the non-stop horrors in the worst fighting in the war, the sisters were utterly exhaustion, both mentally and physically, when they boarded the SS La Lorraine for the return journey home. They had wished to continue their service to the people of France after the fighting stopped but were convinced to return to New York by their brother.
What happened on that ship, on that frigid January 1919 evening, almost one-hundred years ago, is one of the great untold stories of World War I, and the impact that modern warfare had upon not just the men in the trenches, but upon its women and other non-combatants, as well as civilians, that remained unrecognized until the Vietnam War.
Dennis Whitehead: A native of Cincinnati and a graduate of Ohio University, Dennis Whitehead is a writer, photographer, and media producer in Arlington, Virginia.
Shell Shock: Twin Sisters Born Into New York's Gilded Age Struck Down by the Horrors of War
by Dennis Whitehead
Kindle Edition
$2,99
Available for download
Language: English
File Size: 27502 KB
Print Length: 52 pages
Publisher: MMImedia LLC (July 18, 2018)
Publication Date: July 18, 2018
Amazon Digital
# More information and link with Amazon Kindle Edition
Shell Shock is the story of the twin Cromwell sisters who served with the American Red Cross in World War I France. Witnessing the unrelenting horrors of war, the Cromwell sisters illustrate the unrecognized trauma wrought upon non-combatants in the First World War. Gladys Cromwell (1885-1919) was a very talented poet.
# Digital biography
American writers
Gladys Cromwell
fleursdumal.nl magazine
More in: #Biography Archives, *War Poetry Archive, - Book Stories, Archive C-D, Archive W-X, AUDIO, CINEMA, RADIO & TV, Gladys Cromwell, Photography, WAR & PEACE
---
In 1964 werd de eerste Ik Jan Cremer opgedragen aan sekssymbool en actrice Jayne Mansfield.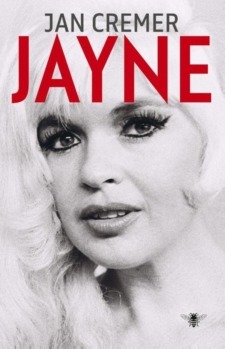 Ze noemde het boek 'a wild and sexy masterpiece' en de auteur 'my Pop Hero'. Omdat Jan Cremer na een oorlog met zijn Amerikaanse uitgever financieel aan de grond zit, gaat hij ermee akkoord de wereldberoemde Jayne Mansfield te vergezellen op een publiciteits-, theater- en nachtclubtournee, maar voor Jan het weet sleurt de dominante Mansfield haar Hollandse verovering mee op een krankzinnige reis door Zuid-Amerika.
Door de ogen van Jan Cremer zien we hoe de onmogelijke diva 'La Mansfield' zich wentelt in haar beroemdheid en haar omgeving betovert, terroriseert en tot wanhoop brengt.
Het was allemaal begonnen met de ansichtkaarten die vrienden mij hadden gestuurd en die aan de wand van mijn atelier prijkten. Kleurrijke pin-upfoto's van een romige vrouw met een lief gezicht, voluptueuze borsten en sensuele lippen. Zij straalde alles uit wat mijn ideale vrouw moest hebben.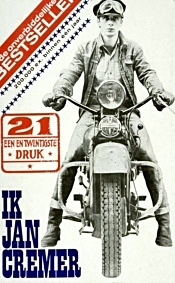 Schrijver en beeldend kunstenaar Jan Cremer (1940) stamt van vaderszijde uit een familie van hoefsmeden en beroepsmilitairen uit Pruisen en Hessen, zijn moeders familie is afkomstig uit Hongarije. Korte tijd volgde hij een opleiding aan de Academie voor Beeldende Kunst in Arnhem. Als schilder kreeg hij snel erkenning met zijn 'peinture barbarisme', intussen reist hij veel en woont overal.
In 1964 verscheen zijn eerste roman, Ik Jan Cremer. Het boek is een soort autobiografie, een moderne schelmenroman over het woelige leven van Cremer zelf. Al eerder hadden zijn uitspraken de emoties al doen oplopen, maar bij de verschijning van 'de onverbiddelijke bestseller' was de rel compleet. In het gereformeerde Nederland van de jaren zestig werd Cremer gezien als een staatsgevaarlijk individu, een slecht voorbeeld voor de jeugd dat dierlijke driften bij zijn publiek losmaakte. Tegelijk werd hij geprezen door beroemde collega's zoals Willem Frederik Hermans.
In 1966 kwam Ik Jan Cremer Tweede Boek uit, dat eveneens een groot succes was en wereldwijd werd vertaald.
Meer informatie op website www.jancremer.com
Auteur: Jan Cremer
Titel: Jayne
Taal: Nederlands
Bindwijze: Gebonden
1e druk oktober 2018
160 pagina's
ISBN13 9789403135908
Uitgever De Bezige Bij
€ 19,99
# new books
Jan Cremer
fleursdumal.nl magazine
More in: - Book News, - Book Stories, Archive C-D, Art & Literature News, Dutch Landscapes, Erotic literature, Jan Cremer, The talk of the town
---
Hans Hermans© photos: landscape
(103 – normandy F)
# more on website hans hermans photos
fleursdumal.nl magazine
More in: FDM Art Gallery, Hans Hermans Photos, Photography
---
Robot love is een interactieve expo experience over de liefde tussen mens en robot. Meer dan 50 kunstenaars, ontwerpers en wetenschappers stellen de vraag of robots in staat zijn tot liefde. En of jij van ze kunt houden.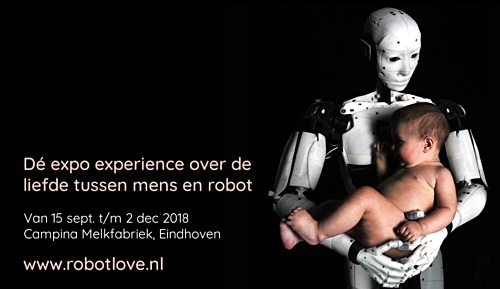 Wandel door het bijzondere gebouw en ontdek wat jij nu écht voelt, denkt en vindt van de invloed van techniek en innovatie op onze maatschappij. Een groot aantal werken is speciaal voor Robot Love gemaakt.
Robot Love is een grootschalige, internationale expo experience met tentoonstelling, publiek programma, partnerevents, educatieprogramma's en een Robot Café. Robot Love vindt plaats van 15 september t/m 2 december 2018 in de Melkfabriek op het voormalige Campinaterrein in Eindhoven.
Robot Love zoekt de verbinding tussen mens en robot. Robots en AI als nieuwkomers moeten veel leren en worden opgevoed. Dat vereist aandacht, zorg en bovenal liefde. Om de belofte up close & personal with robots waar te maken zet Robot Love in op het bereiken van een breed en zeer divers publiek.
Robot Love heeft een optimistische benadering van robotisering en omarmt de komst van robots en AI, juist omdat het ons ook kansen biedt betere mensen te worden. Tegelijk worden ook de minder fraaie consequenties ervan onderzocht. Er is ruimte voor fascinatie, maar ook voor conflict, voor kwetsbaarheid, maar vooral voor liefde. Dat doet Robot Love door de organisatie van een expo experience op het snijvlak van kunst, design en wetenschap.
L.A. Raeven
Annelies, Looking for Completion, 2018, androïde robot
Werk in opdracht van stichting Niet Normaal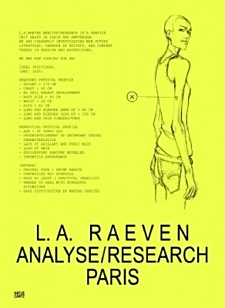 Hoe zou het zijn als je de mogelijkheid hebt om jezelf of je geliefde te kopiëren? Kun je daarmee de angst om verlaten te worden voorkomen? Met het werk Annelies, Looking for Completion, onderzoekt het kunstenaarsduo L.A. Raeven deze en andere vragen door het bouwen van een op henzelf lijkende androïde robot. De tweelingzusjes zijn bekend geworden met hun indringende en persoonlijke werk over maatschappelijke thema's zoals de vergaande individualisering en het benauwende streven naar perfectie. Ook de 'gekloonde' drieling zus Annelies gaat in op deze ontwikkelingen en richt zich op het gevoel van eenzaamheid dat hier vaak uit voortkomt.
ROBOT LOVE
The Expo That Gets Under Your Skin
15 Sept – 2 Dec 2018
Di t/m Zo: 11:00 – 18:00
Vr: 11:00 – 21:00, Ma: gesloten
CAMPINA MELKFABRIEK
Kanaaldijk-Zuid t.h.v. nr. 3
EINDHOVEN
Robot Love | 15.09.2018 – 02.12.2018 | Campina Melkfabriek | Kanaaldijk-Zuid | Hugo van der Goeslaan | 5613 LE Eindhoven
# robot love
L.A. Raeven: Annelies,
Looking for Completion, 2018, androïde robot
fleursdumal.nl magazine
More in: - Book News, Archive Q-R, Art & Literature News, Exhibition Archive, FDM Art Gallery, L.A. Raeven, The talk of the town
---
Sinds de vertaling van Marko Fondse van Majakovski's werken uitkwam, vijfentwintig jaar geleden, is diens poëzie niet meer weg te denken uit de Nederlandse boekhandel. De ongeëvenaarde lenigheid van de taal die Fondse wist aan te boren zette de dichter hier voorgoed op de kaart.
Met de ge-update versie van de poëzie van Majakovski zijn zijn beroemde poèma's en andere gedichten nu weer beschikbaar. Het bekende Een wolk in broek en Mens, die dateren van voor de revolutie van 1917, laten de gepassioneerde (liefdes)dichter in optima forma zien. De grote gedichten Ik heb lief en Daarover, van na de revolutie, zijn twee positieve uitzonderingen op de socialistische poëzie waaraan Majakovski zijn dichterschap ten slotte offerde: daarin keert de bravoure van zijn vroege lyriek even terug.
Deze uitgave van Majakovski's poëzie is voor de gelegenheid aangevuld met een grote hoeveelheid gedichten uit zijn enorme oeuvre. Vele daarvan verschenen niet eerder in Nederlandse vertaling. De herziening en uitbreiding zijn in handen van Majakovski-vertaler Yolanda Bloemen.
Alles waarvoor de dichter Vladimir Majakovski (1893–1930) hartstochtelijk leefde en werkte, de revolutie en de opbouw van het socialisme, is een eeuw na zijn geboorte grondig in diskrediet geraakt en ineengestort. Naar Majakovski's socialistische poëzie kijkt bijna geen mens meer om. Wel wordt zijn voorrevolutionaire werk nog gelezen: de gedichten van Een wolk in broek tot en met Mens, een ding, met hun unieke mixtuur van lyrische, epische en dramatische kwaliteiten. Na 1917 wist Majakovski zich nog twee maal van zijn socialistische preoccupaties los te maken in de twee grote poëma's Ik heb lief en Daarover (1921-1923).
Auteur: Vladimir Majakovski
Titel: Verzamelde gedichten
Vertalingen: Marko Fondse, Yolanda Bloemen e.a.
Taal: Nederlands
Uitgever: Uitgeverij van Oorschot
Bindwijze: Paperback
Verschijningsdatum: september 2018
Druk: 1e druk
Afmetingen: 21 x 13 x 2,9 cm
Aantal pagina's: 480
ISBN-13 9789028280915
ISBN-10 902828091X
€ 29,99
# new poetry translations
Vladimir Majakovski
fleursdumal.nl magazine
More in: - Book Lovers, - Book News, Archive M-N, Archive M-N, Art & Literature News, Constructivism, Constuctivisme, Majakovsky, Vladimir, TRANSLATION ARCHIVE
---
Older Entries »
Thank you for reading FLEURSDUMAL.NL - magazine for art & literature