Photography
«« Previous page
·
Fiona TAN in Museum Depont Tilburg: Ascent
·
NACHT van de kunsten – Fontys Hogeschool voor de Kunsten Tilburg
·
JEF VAN KEMPEN: A CASE OF IDENTITY (LOLITA)
·
FOAM MAGAZINE #43: AIWEIWEI – FREEDOM OF EXPRESSION UNDER SURVEILLANCE
·
AI WEIWEI IN FOAM: #SAFEPASSAGE
·
FOTOWEEK BENOEMT FOTOGRAAF DES VADERLANDS 2016: ROBIN DE PUY
·
FESTIVAL NEU NOW 2016 IN WESTERGASFABRIEK AMSTERDAM
·
EXPOSITIE DAVID CLAERBOUT: FUTURE IN MUSEUM DE PONT
·
BEAUTY OVERDOSE – BEAUTY WITHOUT IRONY – IN KASTEEL STERCKSHOF ANWERPEN
·
JEF VAN KEMPEN: A CASE OF IDENTITY (YOKO)
·
IN ALMOST EVERY PICTURE #7 – UPDATED – PHOTOS RIA VAN DIJK
·
MICHEL HOUELLEBECQ 'TO STAY ALIVE' IN PALAIS DE TOKYO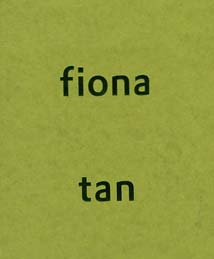 De internationaal bekroonde kunstenaar Fiona Tan (Indonesia, 1966) is een goede bekende van museum De Pont, waar ze in 2003 haar eerste grote tentoonstelling in Nederland kreeg en ook ruim vertegenwoordigd is in de collectie.
Haar tweede tentoonstelling in Tilburg, in de onlangs geopende nieuwe vleugel van het museum, biedt de bezoeker een meeslepende audiovisuele ervaring. Hier is de tweedelige installatie Ascent te zien die Tan maakte in opdracht van het Izu Photo Museum in Shizuoka, Japan. Ascent is samengesteld als een montage van meer dan 4000 foto's van de berg Fuji die werden aangeleverd door het publiek of geselecteerd uit de collectie van het Izu Photo Museum.
Geen berg is zo vaak gefotografeerd als de Fuji: van alle kanten, van dichtbij, van veraf en van boven, op elk moment van de dag en in elk jaargetijde. Vereerd als een god en ingezet als symbool van Japan als natiestaat heeft de vulkaan mythische betekenis. Mount Fuji is icoon én cliché, zoiets als molens en klompen voor Nederland.
Ascent is een bespiegeling over deze voor de Japanners zo bijzondere berg, maar ook een studie van de beeldcultuur en een eerbetoon aan de geschiedenis van zowel fotografie als film.
Tan combineerde de beelden met een fictief verhaal, waarmee de grens tussen stilstaand en bewegend beeld wordt verlegd en zij een uniek gebied blootlegt waar fotografie en film elkaar ontmoeten en een verbinding aangaan. Het verhaal, waarin de klim naar de top van de berg weerklinkt, zigzagt tussen vertelling en geschiedenis, van westers imperialisme tot hedendaags toerisme, van de beginjaren van de fotografie tot de huidige tijd. Behalve de film omvat de tentoonstelling in De Pont ook twee andere video installaties en daarmee verbonden werken op papier. The Changeling (2006) en Depot (2015) balanceren eveneens op de grens tussen stilstaande en bewegende beelden.
Fiona Tan:
Ascent
tot en met 11 juni 2017
Museum De Pont Tilburg
Wilhelminapark 1
5041 EA Tilburg
T 013 – 543 8300
# Meer informatie op website Museum De Pont Tilburg
february 2017
fleursdumal.nl magazine
More in: Art & Literature News, CINEMA, RADIO & TV, DICTIONARY OF IDEAS, Exhibition Archive, FDM Art Gallery, Photography, Spurensicherung
---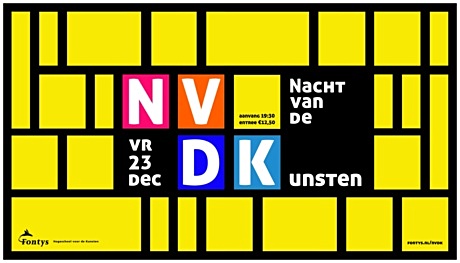 Nacht van de kunsten van Fontys Hogeschool voor de Kunsten in Tilburg op 23 december 2016
De grote artiesten, dansers en musicalsterren van de toekomst? Die lopen nu al rond bij de Fontys Hogeschool voor de Kunsten (FHK). Op de vrijdag voor Kerst staan traditiegetrouw de deuren van FHK open voor de Nacht van de Kunsten. De Nacht laat je verwonderen tijdens een complete avond uit met spetterende performances en intieme concerten van talentvolle studenten.
Dit jaar staan er weer meer dan veertig optredens geprogrammeerd. Waaronder een aantal projecten met een spectaculaire mix van circus, muziek, dans en theater! Met grote trots presenteren we oa optredens van Fontys Jazz Choir, Fontys Kamerkoor, Exposities en (geluids)installaties door studenten Art, Communication and Design en het interdisciplinair performance event Fremdkörper. Uiteraard kunt je de hele avond optredens bezoeken van studenten Conservatorium, klassiek en ensembles lichte muziek Dance Academy, Muziektheater (Klassiek) en Rockacademie.
Na het succes van vorige edities zijn er ook dit jaar weer voorstellingen in de prachtige Concertzaal van Theaters Tilburg. De avond start om 19.30 uur (om 19 uur is de deur open) en eindigt in de kleine uurtjes.
Je kaartje geeft toegang tot ruim veertig voorstellingen!
Enkele voorstellingen van vorige editie (2015) uitgelicht:  Fontys Jazz Choir – Fontys Kamerkoor – Academy for Circus and Performance Art – Exposities en installaties – De Academie voor Beeldende Vorming (ABV) en Academy for Art, Communication and Design (ArtCoDe) – Musicaltheater – Theater – Fremdkörper – Muziektheater, Muziektheater Klassiek – Optredens Conservatorium, Rockacademie.

Vrijdag 23 december 2016
Fontys Hogeschool voor de Kunsten
Ingang: Concertzaal Theaters Tilburg, Schouwburgring Tilburg
Voorverkoop via Theaters Tilburg à
€ 12,50 (incl. reserveringskosten)
Aanvang programma 19.30 uur
Koop snel je kaartje, vorige edities waren uitverkocht!
# Meer informatie via website Fontys
fleursdumal.nl magazine
More in: Art & Literature News, CINEMA, RADIO & TV, DANCE, Design, Exhibition Archive, Fashion, FDM Art Gallery, Illustrators, Illustration, MUSIC, Performing arts, Photography, THEATRE, Urban Art
---
A case of identity:

Lolita

jef van kempen 2010
fleursdumal.nl magazine
More in: Jef van Kempen Photos & Drawings, Photography
---
Foam Magazine #43: Ai Weiwei – Freedom of Expression under Surveillance
Foam is proud to launch the brand new and unique Foam Magazine, which was made in close collaboration with world-renowned Chinese contemporary artist and activist Ai Weiwei (1957, Beijing). Weiwei is guest editor for this issue that is entirely dedicated to the theme 'Freedom of Expression under Surveillance'. Ai Weiwei himself is the central point of the magazine, as an artist under constant surveillance by the Chinese government. The magazine contains images he made while documenting his life by using Instagram and webcams, but also pays attention to Ai Weiwei's constant endeavour to keep a sharp eye on the ones surveilling him.
Freedom of Expression under Surveillance
Containing an interview with, and quotes by the artist Foam Magazine #43 is divided into four parts: 'Sousveillance", 'Self Surveillance', 'Urban Surveillance' and 'Art and Surveillance'. It reports on the way the artist worked the last few years. Instagram and Twitter became the means by which Ai Weiwei shared virtually every aspect of his life with a steadily growing multitude of followers all over the world. Part of the issue shows a selection of the endless stream of images posted on Instagram by Ai Weiwei. In another part Weiwei shares stills from the 'Weiweicam' he directed at himself 24/7. Foam Magazine #43 documents crucial and highly eventful period in the life of one of the most important artists of our age.
About Ai Weiwei
Ai Weiwei is an influential Chinese contemporary artist and activist. As a political activist, he has been openly criticizing the Chinese Government's stance on democracy and human rights. In 2011, following his arrest at Beijing Capital International Airport he was held for 81 days without any official charges being filed. Recently he had his passport returned to him and was given the opportunity to travel abroad. Among art works by Ai Weiwei are Fairytale (2007), produced for Documenta 12, and Sunflower Seeds, an installation in London's Tate Modern in 2010. A major solo exhibition of his work is currently on show at the Royal Academy of Arts, London.
ISBN 9789491727825
Published December 2015
288 pages + 4 cover pages front + back
Printed on selected specialized paper
Swiss bound
300x230x25 mm
€22,50
# More information: www.foam.org
Photo Anton K. (FdM): Protest in Berlin, Linienstrasse, 2011
fleursdumal.nl magazine
More in: - Book News, Ai Weiwei, Art & Literature News, Art Criticism, MUSEUM OF PUBLIC PROTEST- photos, texts, videos, street poetry, 1968, Photography, REPRESSION OF WRITERS, JOURNALISTS & ARTISTS, HOLOCAUST, WAR
---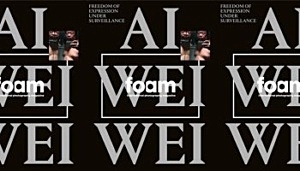 Ai Weiwei – #SafePassage
16 september – 7 december 2016
Dit najaar presenteert Foam #SafePassage, een tentoonstelling van het werk van de Chinese kunstenaar en activist Ai Weiwei (1957, Beijing). Omdat de kunstenaar zelf lange tijd constant in de gaten werd gehouden door de Chinese overheid, ervaart hij een persoonlijke verbondenheid met de groeiende stroom vluchtelingen die Europa probeert binnen te komen.
Sinds zijn eerste bezoek aan het Griekse eiland Lesbos, in december 2015, bezocht Ai Weiwei met zijn team tal van vluchtelingenkampen rond de Middellandse Zee, onder andere in Syrië, Turkije, Israël en Frankrijk. De tentoonstelling gaat over de strijd tussen het individu en de machtsstructuren die de samenleving domineren. Centraal staan zowel de ervaringen die Ai Weiwei ertoe hebben gebracht zijn vaderland te verlaten, als die van honderdduizenden vluchtelingen en migranten die hun leven blijven riskeren om Europa te bereiken, vaak met als enige resultaat dat zij voor gesloten grenzen komen te staan.
Ai Weiwei
Ai Weiwei, die als belangrijkste Chinese kunstenaar, ontwerper en curator van dit moment wordt beschouwd, is een vooraanstaand sociaal en cultureel commentator. Hij is een voorvechter van mensenrechten en democratie en levert onvermoeibaar en ongezouten kritiek op het politieke stelsel in China. Hij heeft herhaaldelijk onderzoek gedaan naar overheidscorruptie en doofpot affaires, waardoor hij een voortdurende doorn in het oog is van de Chinese autoriteiten. Na zijn arrestatie op de internationale luchthaven van Beijing in 2011 werd hij 81 dagen lang in het geheim gevangen gehouden, zonder dat er ooit officieel een aanklacht tegen hem was ingediend. Tijdens zijn gevangenschap werd hij continu verhoord en 24 uur per dag geobserveerd. Hij verkeerde in het gezelschap van twee bewakers die nooit van zijn zijde weken, zelfs niet als hij naar het toilet ging of sliep. Na zijn vrijlating werd zijn paspoort in beslag genomen en werd hij gedwongen om in te China blijven, waar de autoriteiten hem nauwlettend in de gaten bleven houden.
Tijdens de continue bewaking trachtte Ai Weiwei de situatie zoveel mogelijk in eigen hand te houden en zich op allerlei manieren te onttrekken aan de onophoudelijke inbreuken op zijn privacy. Hij startte een reeks experimenten, variërend van een livestream van zijn dagelijks leven via vier webcams in zijn atelier die wereldwijd kon worden bekeken op de website weiweicam.com, tot het bijhouden van een blog – totdat de overheid ingreep en hem beide mogelijkheden ontnam. Foam Magazine #43, dat in december 2015 verscheen, was volledig gewijd aan het thema 'Freedom of Expression under Surveillance' ('vrijheid van expressie onder toezicht'). Ai Weiwei, die zelf als gastredacteur fungeerde en centraal stond in dit nummer, deed daarin uitgebreid verslag van deze belangrijke en donkere periode in zijn leven.
Tentoonstelling
De tentoonstelling begint met werken die een afspiegeling vormen van de persoonlijke ervaringen van de kunstenaar terwijl hij onder voortdurend toezicht stond, zoals is beschreven in Foam Magazine #43. In 2015 kreeg Ai uiteindelijk zijn paspoort terug. Kort daarna vertrok hij naar Europa en vestigde zich in Berlijn, waar hij nu zijn atelier heeft. Nog altijd hanteert hij de strategie van ultieme zelfbewaking, in de vorm van een vrijwel continue stroom beelden die hij op Instagram plaatst. Zo kan iedereen met een internetverbinding hem van dag tot dag volgen. Sinds zijn eerste bezoek aan het Griekse eiland Lesbos, in december 2015, fungeren zijn Instagram-beelden als een soort realtime nieuwsblog van de reizen van zijn team langs de vluchtelingenkampen in het Middellandse Zeegebied. Als tweede deel van de tentoonstelling worden de wanden van Foam vol gehangen met duizenden foto's die hij met zijn mobieltje heeft gemaakt. Het zijn overwegend spontane kiekjes die een goede indruk geven van de leefomstandigheden in de kampen. Deze immense collage geeft uitdrukking aan de talloze persoonlijke ontmoetingen die de kunstenaar had met mensen in de vluchtelingenkampen, waardoor de omvang van de crisis nog eens pijnlijk wordt benadrukt. Ai Weiwei's beelden gaan vergezeld van een selectie uit zijn inmiddels legendarische serie marmeren beelden en een aantal van zijn video's, waaronder: Chang'an Boulevard (2004), dat een beeld schetst van de weg die Beijing langs een oost-west as in tweeën deelt en On the Boat (2016), waarin we de kunstenaar zien op een achtergelaten boot midden op de oceaan.
Ai Weiwei is vooral bekend om zijn sculpturen en omvangrijke installaties, waarmee hij conceptueel een verbinding legt tussen traditionele cultuurgebonden ambachten en hedendaagse politieke boodschappen. Daarbij brengt hij een relatie tot stand tussen historische wortels, materialen en paradigma's, en actuele vraagstukken in onze moderne maatschappij. Ai heeft overal ter wereld grote tentoonstellingen en paviljoens ingericht, maar daarnaast is hij ook architect, schrijver, cineast, filosoof en politiek activist. Weiwei's activiteiten zijn onlosmakelijk verbonden met de staat van de hedendaagse Chinese kunst en maatschappij – of het nu gaat om samenwerking met het Zwitserse architectenbureau Herzog & de Meuron, dat hij met artistieke adviezen terzijde stond bij de bouw van het nationale stadion van Beijing voor de Olympische Spelen van 2008, of om zijn onderzoek naar corruptie bij de Chinese overheid.
De tentoonstelling wordt geopend op donderdag 15 september, vanaf half 6, in het bijzijn van de kunstenaar.
Foam
Keizersgracht 609
1017 DS Amsterdam
+31 20 5516500
foam.org
# Meer informatie: www.foam.org
Photo Anton K. (FdM): Protest in Berlin, Linienstrasse, 2011
fleursdumal.nl magazine
More in: Ai Weiwei, Anton K. Photos & Observations, Art & Literature News, Exhibition Archive, MUSEUM OF PUBLIC PROTEST- photos, texts, videos, street poetry, 1968, Photography, REPRESSION OF WRITERS, JOURNALISTS & ARTISTS, HOLOCAUST, WAR, Sculpture
---
Fotoweek benoemt Robin de Puy (1986) tot vierde Fotograaf des Vaderlands, als opvolger van Ahmet Polat.
De Fotograaf des Vaderlands is een jaar lang de ambassadeur van Fotoweek en het gezicht van de Nederlandse professionele fotografie. Rond het thema van Fotoweek 2016 'Kijk! Dit ben ik' maakt de Fotograaf des Vaderlands, speciaal voor Fotoweek, een bijzondere fotoserie die wordt getoond tijdens het tweejaarlijkse internationale fotofestival BredaPhoto dat dit jaar plaatsvindt van 15 september tot 30 oktober.
De foto's van de Nederlandse portretfotograaf Robin de Puy zijn altijd intiem en vol leven. Haar stijl is karakteristiek: zwart-wit, en balancerend op de rand van documentairefotografie. Haar werk is vaak een combinatie van fotografie en film, want; taal en beweging zijn voor de Puy een essentieel onderdeel van identiteit.
Fotoweek is trots Robin de Puy te presenteren als vierde Fotograaf des Vaderlands. Ze is een fotograaf met een succesvolle carrière, een perfect boegbeeld voor het vak fotografie. Vanwege de Puy's aansprekende talent om karakters bloot te leggen, kijkt Fotoweek uit naar haar nieuwe serie in het thema van 2016 'Kijk! Dit ben ik'.
Voor Fotoweek maakt de Puy een intiem portret van de oom van haar vader, Jan Mallan, een 81-jarige man met Alzheimer. Ze heeft een warme band met deze man, die begin jaren zestig met zijn Deense vrouw naar Denemarken verhuisde. Ze was naar eigen zeggen bang om hem te verliezen, bang dat zijn uniciteit verloren zou gaan door de ziekte. Maar wat neemt de ziekte precies weg van zijn identiteit? Wat komt ervoor in de plaats?
Op 15 september worden de fotoserie en film onthuld in een tentoonstelling op het internationale fotofestival BredaPhoto. Het thema van BredaPhoto 2016 is 'YOU'. Een interessante combinatie met het thema van de Fotoweek, want wat is een 'ík', zonder een 'jij'?
Biografie Robin de Puy
Robin de Puy (1986) studeerde in 2009 af aan de Fotoacademie Rotterdam. Vanaf deze periode nam haar carrière een spurt en won zij met haar serie 'Meisjes in de prostitutie' in 2009 de Photo Academy Award. Vervolgens won zij In 2013 de Nationale Portretprijs en was haar eerste solotentoonstelling in het Fotomuseum Den Haag. Haar werk is gepubliceerd in nationale en internationale bladen, waaronder New York Magazine, Bloomberg Businessweek, ELLE, L'Officiel, de Volkskrant en LINDA.
Thema Fotoweek 2016: 'Kijk: Dit ben ik'
Met het thema van dit jaar, 'Kijk! Dit ben ik', wordt de nadruk gelegd op portretfotografie. En op de wisselwerking tussen de geportretteerde en de fotograaf. Wie ben jij? Hoe kijk je naar jezelf? Wat wil je van jezelf laten zien? Weerspiegelt jouw portret je ware ik, of is dat slechts het beeld dat de fotograaf van je heeft? Hoeveel van zichzelf kan de fotograaf overbrengen in het portret van een ander? Fotoweek legt de focus op het individu: zowel voor als achter de lens.
Tijdens de Fotoweek zullen verschillende instellingen pop-up studio's organiseren waar bezoekers hun portret kunnen laten maken door bekende en onbekende portretfotografen. Verder zijn er activiteiten en programma's in verschillende musea en culturele instellingen, zoals het Groninger Museum, het Joods Historisch Museum, de Kunsthal Rotterdam, het Nationaal Archief in Den Haag en het Nieuwe Instituut. Bezoek deze zomer onze website www.defotoweek.nl voor een overzicht van de diverse activiteiten.
Fotograaf des Vaderlands: een traditie
In 2013 benoemde Fotoweek Ilvy Njiokiktjien tot de eerste Fotograaf des Vaderlands. Zij maakte voor het thema 'Kijk! Mijn Familie' een fotoserie over Hollandse verjaardagen. In 2014 werd Njiokiktjien opgevolgd door Koen Hauser. Voor Fotoweek 2014 maakte Hauser een fotoserie passend bij het thema 'Kijk! Mijn Geluk' die tijdens Fotoweek 2014 onthuld werd en te zien was bij het internationale fotografiefestival BredaPhoto. De huidige Fotograaf des Vaderlands, Ahmet Polat, zal op woensdag 7 september 2016 opgevolgd worden door een nieuwe Fotograaf des Vaderlands.
Van vrijdag 9 t/m zondag 18 september 2016, vindt de vierde editie van Fotoweek plaats. Tien dagen lang zet Fotoweek de schijnwerpers op fotografie. De start van Fotoweek wordt gemarkeerd door de bekendmaking van de nieuwe Fotograaf des Vaderlands op 7 september. Het thema dit jaar is 'Kijk! Dit ben ik'.
fleursdumal.nl magazine
More in: - Book News, Art & Literature News, FDM Art Gallery, Photography, PRESS & PUBLISHING, Robin de Puy
---
Over the past seven years, NEU NOW has established an innovative international festival that features a curated selection of emerging artists entering international art arenas. For the eighth edition, NEU NOW returns to the spaces of the Westergasfabriek to present a multidisciplinary programme that aims to highlight cultural exchange and the fluid character of the artistic disciplines.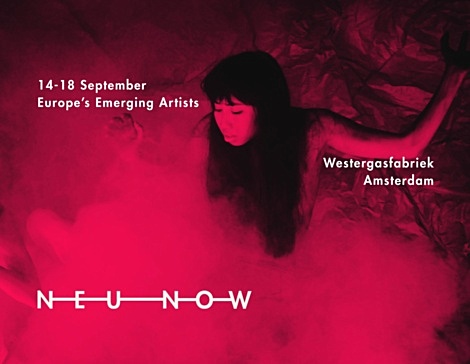 NEU NOW 2016 is a five-day celebration of arts in Amsterdam that welcomes 60 artists from 18 countries. From the 14th to the 18th of September, NEU NOW brings together a generation of rising artists from across Europe and beyond to share their works, practices and cultural perspectives in ways that encourage future collaborations.
NEU NOW exhibition
At the heart of the festival is the NEU NOW exhibition. Located in the Machinegebouw at the Westergasfabriek, NEU NOW exhibition houses 12 artworks from a broad range of disciplines including design, architecture, visual art and more. On Sunday the 18th of September, each exhibiting artist will present and explain their work in an interactive artist talk that explores their unique artistic practice and perspective. The exhibition is open every day and free of charge.
Artists on view at NEU NOW exhibition are:
Design/Architecture
Emilia Strzempek-Plasun (PL), Emma Dahlqvist (SE), Katalin Júlia Herter (HU), Stine Aas (NO)
Visual Arts
Alberto Condotta (UK), Alicja Symela (PL), Massimiliano Di Franca (BE), Jaeyong Choi (DE), Jonas Böttern and Emily Mennerdahl (SE), Lana Ruellan (FR), Lea Schiess (NL), Yi-Ting Tsai (TW), Viktorija Eksta (LV), Vladimir Novak (CR), Eva Giolo (BE)
NEU NOW performance
This year NEU NOW performance will take place in the Westergastheater and its surrounding area, with two or more exciting performances occurring daily. From theatre and dance, to music and sound, the performances offer a variety of themes and styles. After each performance visitors are invited to join the NEU NOW artist talks.
Performing artists are:
Theatre/Dance
Destiny's Children (CH), Hsu Chen Wei Production Dance Company (TW), Nína Sigridur Hjalmarsdottir (IS), Theodore Livesey & Jacob Storer (BE), Zapia Company (SP)
Music/Sound
Jimmi Hueting (NL) , Teresa Doblinger (CH), Topos Kolektiv (CZ)
NEU NOW film
The 90 minute NEU NOW film programme at Ketelhuis will feature screenings of a variety of genres.
Film/Animation
Andrea Alessi (IT), HXZ (BE), Marek Jasan (SK), Sophie Dros (NL), Yaron Cohen (NL)
NEU NOW next
In addition to the core programme, NEU NOW invites visitors to delve deeper into their understanding of the presented artworks and artistic practices by getting involved in a variety of artist talks offered onsite at the Westergasfabriek. NEU NOW is also proud to present its very first speaker's programme, during which a variety of influencers from the art world will talk about the ever-pressing issue of (Making a) Living in the Arts.
The speaker's programme is free of charge and open to the public.
NEU NOW nacht
On the evening of Saturday the 17th of September, NEU NOW, in collaboration with Warsteiner, invites visitors to enjoy a festive late-night programme, with music, drinks, and much more. Music of the night will be provided by deadHYPE and Jimmie Hueting's avant-garde pop band Jo Goes Hunting.
View the timetable for the exact dates and times.
NEU NOW 2016 will be held at Amsterdam's Westergasfabriek from the 14th to the 18th of September 2016.
Locations Amsterdam NL
NEU NOW exhibition – Machinegebouw, Pazzanistraat 8
NEU NOW performance – Westergastheater, Pazzanistraat 15
NEU NOW film – Het Ketelhuis, Pazzanistraat 4
# More information on website NEU NOW 2016
fleursdumal.nl magazine
More in: Art & Literature News, CINEMA, RADIO & TV, DANCE, Design, Exhibition Archive, Fashion, Literary Events, MUSIC, Photography, THEATRE
---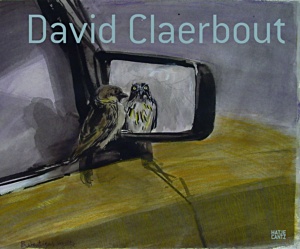 David Claerbout
FUTURE
3 sept 2016 – 29 jan 2017
Zeven jaar geleden exposeerde David Claerbout (Kortrijk, 1969) voor het eerst in De Pont. De tentoonstelling The Shape of Time met een tiental video-installaties liet een onuitwisbare indruk achter. Een magische schemerwereld van oude zwart witfoto's die op een subtiele manier tot leven worden gewekt en vertraagde filmopnames van een vrouw die koffie inschenkt op het terras van een achttiende-eeuws Frans landhuis en vervolgens bij de ondergaande zon zwaaiend afscheid neemt van de toeschouwer. Het zichtbaar verstrijken van de tijd riep een gevoel van verwondering en vervreemding op. De nieuwe tentoonstelling van Claerbout, de eerste in de nieuwbouw van het museum, is getiteld FUTURE.
FUTURE lijkt bij de feestelijke gelegenheid een toepasselijke titel, maar blijkt bij nader inzien nogal dubbelzinnig. Een van de meest recente videowerken op de tentoonstelling, Olympia (The real time disintegration into ruins of the Berlin Olympic stadium over the course of a thousand years), brengt het verval in beeld van het historisch beladen gebouw waar in 1936 de Olympische Spelen werden gehouden. Het werk verwijst naar een duistere periode, toen Hitler aan de macht was en hij samen met zijn huisarchitect Albert Speer megalomane bouwprojecten ontwikkelde. Bij hun plannen hielden beide heren al rekening met de 'ruïnewaarde' van een gebouw over duizend jaar. De overblijfselen van het Derde Rijk moesten dan minstens zo imposant zijn als het Colosseum in Rome nu.
Sinds de laatste tentoonstelling in De Pont heeft Claerbout zijn werkwijze radicaal veranderd. Hij volgde een opleiding 3D animatie en werkt niet langer met acteurs en filmopnames. Alles gebeurt nu in zijn studio waar hij samen met negen medewerkers elk beeld stap voor stap digitaal opbouwt. Zo creëren zij een niet-reëel bestaande werkelijkheid. Een virtuele wereld waarin elk detail moet kloppen anders verliezen de videobeelden direct hun geloofwaardigheid. Bij het maken van een foto liggen keuzes over details zoals plek, seizoen en tijdstip van de dag automatisch vast – bij een digitaal beeld moet de kunstenaar zelf steeds voor 'god' spelen.
De bezoeker van de tentoonstelling zal van deze technische vernieuwingen echter nauwelijks iets merken. De hand van de meester blijkt vrijwel onveranderd. Je herkent dezelfde fenomenen als licht, schaduw en wind die het oppervlak van water, bomen en architectuur zachtjes, zonder geluid, in beweging brengen. De transformaties voltrekken zich in slow motion: 'Ik beeldhouw met duur,' zegt Claerbout. Duur is volgens hem iets anders dan tijd: 'duur is geen onafhankelijk verschijnsel zoals tijd, maar bevindt zich altijd ergens tussenin.'
Voor het eerst in Europa toont Claerbout zijn video-installaties in combinatie met de tekeningen die het maanden- of soms zelfs jarenlange proces van de totstandkoming van de videofilms begeleiden en ondersteunen. De Pont bezit naast videowerken ook een mooie serie tekeningen van hem. Hij is een begenadigd tekenaar die zijn gedachten snel op papier kan zetten. Zo houdt hij greep op het ingewikkelde ontstaansproces waarbij talloze medewerkers betrokken zijn. Deze functie van het tekenen verschilt in wezen niet van de schets of voorstudie die een traditionele schilder gebruikt om zijn ideeën vast te leggen. Voor 3D-animatie moet je naast moderne computertechnologie ook traditionele vakken als tekenen, schilderen, beeldhouwen en cinematografie beheersen. Met als resultaat, tot Claerbouts eigen verbazing, een 'conservatief' schilderkunstig realisme. Maar de tekeningen vormen voor hem ook een soort uitlaatklep gezien de uitvoerige en soms heftige teksten die hij soms in de marge schrijft. De recent verschenen tekeningencatalogus ontlokte Claerbout de opmerking dat het wel eens tijd werd om zijn recepten en keukengeheimen prijs te geven.
David Claerbout
FUTURE
3 sept 2016 – 29 jan 2017
Op 3 september tevens opening nieuwe vleugel Museum De Pont
Museum De Pont
Wilhelminapark 1
5041 EA Tilburg
# Meer info op website Museum De Pont
fleursdumal.nl magazine
More in: CINEMA, RADIO & TV, Exhibition Archive, Photography
---
We need to Talk, Dream, See, Listen, Create, Upcycle, Eat & Drink, Dance, Love, Enjoy . . .
In augustus en september neemt creatief platform voor sociale verandering Beauty without Irony de eerste verdieping en de kasteeltuinen van Kasteel Sterckshof over en presenteert er een groot aantal kunstenaars die u zullen verrassen met workshops, expos, installaties optredens en ander moois, waarbij u ook zelf desgewenst de handen uit de mouwen kunt steken, om zo uw eigen bijdrage te leveren aan het maken van een mooiere wereld. BWI wil focussen op wat ons verbindt (met de nadruk op pure schoonheid), niet op dat wat ons nog wat verder uiteen drijft. Samen zijn we zoveel sterker dan alleen.
Beauty Overdose
Kasteel Sterckshof – Antwerpen
30 juli- 25 september 2016

Beauty Overdose by BWI
Met werken over pure schoonheid van oude en nieuwe liefhebbers van het BWI concept, uit zowel binnen- als buitenland. De volgende kunstenaars nemen deel aan Beauty Overdose: Mick Traen, Faryda Moumouh (fotografie), Emerald Rose Whipple (schilderijen), Dino Dinco (foto), Little Sun by Olafur Eliasson (installatie), Anne-Mie van Kerckhoven (schilderijen), Felix Richter (fotografie), Mark Titchner (banner), Jarno Kettunen (tekeningen), Dominik Gigler (fotografie), Javier Barcala (fotografie), Thomas Vanhaute (fotografie), Jef Paepen (fotografies), Chris Plytas (fotografie), Ben Deckers (schilderijen), Serge Vereecken (etsen), Oskar Lindholm (fotografie), Christopher Lee Sauvé (grafiek), Valérie Servant (fotografie), Hannah Rouffa (fotografie), Pascal Heymans (fotografie), Thierry Van Biesen (fotografie), Adam Munro (fotografie), Charlie De Keersmaecker (fotografie), Jean Claude Wouters (fotografie), Layla Aerts (fotografie), Anina Net (fashion, LED dresses, workshop), Jan Van Santvliet (fotografie), Mariët Hylkema (schilderijen), Jessica Antola (fotografie), Ben Van Alboom (fotografie), Kristof Van Heeschvelde (schilderijen), Vincent Gagliostro (fotografie), WallDog (fotografie & video) …
Binnen Beauty Overdose vinden er ook verschillende deelprojecten, workshops en concerten plaats in Sterckshof. Hier een overzicht.
BWI Art Vlaggen
Met: Javier Barcala, Nick Hannes, Felix Richter, Titus Simoens, Mick Traen, Thierry Van Biesen …
Wall of Beauty
Voor deze wall wordt vertrokken vanuit de allermooiste beelden uit het eerste BWI-boek en daarna wordt het alleen maar beter – neem je prachtigste foto's (op A4-formaat) mee en maak het geheel zelf nog mooier!
Met: Antonio Paladino & Serkan Sarier, Christopher Lee Sauvé, OKAR (Oskar Lindholm), Elke Boon, Lars Stephan, Filip Van Roe, Diego Franssens, Filip Naudts, Tom Tosseyn, Jimmy Kets, Peggy Sirota, Glenn Glasser, Ellie Van Den Brande, Valérie Servant…
Robotic Dress & Motion Dress by 360Fash Tech Kits (30/7 – 4/8)
Anina Net is CEO van 360Fashion Technology Network en experte in smart clothing en accessories gemaakt met behulp van haar 360 Fash Tech Kits, speciaal gemaakt voor ontwerpers en andere creatievelingen die niet zo handig zijn met coding en met de LED Ribbon, een flexibele band van satijn met micro led-lampjes en geconnecteerde bedrading dat vrijwel onzichtbaar in bijvoorbeeld kleding en handtassen verwerkt kan worden
Op 'Beauty Overdose' zal Anina Net haar 'Robotic Dress' tonen, die werd ontworpen door Michal Starost en de 'Motion Dress', gemaakt door modelabel R Factory. Daarnaast toont Anina ook enkel ehandtassen van LIBET waarin de LED Ribbon werd verwerkt.
Sociaal-artistiek project met foto's van Adam Munro en interviews door Ninette Murk, waarbij bewoners van de Grapheusstraat in Deurne–Dorp (300 meter van kasteel Sterckshof gelegen) vertellen wat zij het allermooiste vinden in hun straat.
Workshops en optredens
Art-Tea high teas & dinners
Repair Café
Tai chi workshops & fotografie expo (Jan Van Santvliet)
Role Play Group
Burlesque group (Ayke)
Hip hop workshops (Kris Strybos / Scale)
Voice coaching
Morning dew walks
Plus wekelijks gratis live muziek optredens in Bar Stark (bij goed weer buiten).
Op www.beautywithoutirony.com vindt u een overzicht van het programma.
Over Beauty without Irony
Creatief platform voor sociale verandering Beauty without Irony (BWI-2001), isvooral bekend is geworden met hun eerste project Designers against AIDS (DAA- 2004), waarvoor werd samengewerkt met zowat alle Belgische en veel internationale ontwerpers en bedrijven zoals H&M, Marc Jacobs, Playboy Design, Delvaux, Eastpak, Essentiel en JBC. BWI is ook de motor van het 'Youth For A Better World Center' in Deurne (2010) waar het team samen met Belgische en internationale studenten uit creative disciplines werkt aan nieuwe campagnes rond sociale themas die interessant en belangrijk zijn voor jongeren. Zowel BWI als DAA gebruiken elementen uit de pop cultuur om te werken rond thema's zoals HIV preventie, echte schoonheid, zelfvertrouwen bij jonge vrouwen en ecologie en zij doen dat voornamelijk online, met af en toe een event of project IRL, zoals momenteel de expositie Beauty Overdose.
Concept: Ninette Murk, Kim Kindermans, Peter Gubbels
www.beautywithoutirony.com
Beauty Overdose is vanaf 30 juli tot en met 25 september elke zaterdag en zondag tussen 14 en 18 u gratis te bezichtigen.
Adres: Kasteel Sterckshof, Hooftvunderlei 160 (ingang via Cornelissenlaan 10), 2100 Deurne (Nabij Antwerpen BE).
fleursdumal.nl magazine
More in: Art & Literature News, CINEMA, RADIO & TV, DANCE, DICTIONARY OF IDEAS, Exhibition Archive, Photography, THEATRE
---
A case of identity:
Yoko
jef van kempen 2011
fleursdumal.nl magazine
More in: Jef van Kempen Photos & Drawings, Photography
---
Collected & edited
by Erik Kessels
and Joep Eijkens
Thanks to Ria van Dijk
For 80 years Ria has been bang on target. To mark this impressive milestone 'in almost every picture #7' is being re-released this year in the form of a special anniversary edition with eight new shots and an exhibition in Tilburg.
Ria van Dijk shot her first photo at the Tilburg fair in 1936 when she was 16 years old. It started at in Ria's hometown of Tilburg, but throughout the years she followed the fair from town to town. It became a tradition and Ria continued shooting (guns and photos) year after year. And the bullseye is that Ria kept every single photo as if they were her trophies.
In 2008 Erik Kessels and Joep Eijkens collected Ria's photographs in the book 'in almost every picture #7'. In 2016 Ria returns to the fair, she will shoot on July 22nd her 80th photo at the opening of the Tilburgse Kermis. For the occasion, KesselsKramer and City Marketing Tilburg publish this celebratory updated edition of In almost every picture #7.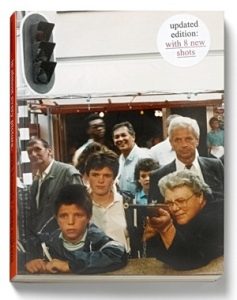 Colour / black & white,
155 x 200 mm, 136 pages,
soft cover.
ISBN 978-90-704784-5-2
KesselsKramer Publishing,  24,95 Euro

# Website KesselsKramer Publishing
# Website Brabants Licht met foto's en artikel van Joep Eijkens
fleursdumal.nl magazine
More in: - Objets Trouvés (Ready-Mades), Art & Literature News, Joep Eijkens, Joep Eijkens Photos, Photography, PRESS & PUBLISHING, Spurensicherung
---
Michel Houellebecq 'Rester vivant' in: Le Palais de Tokyo Paris
This is not a show "about" Michel Houellebecq, but a show "by" Michel Houellebecq, demonstrating how the writer has produced a form that contributes to the reinvention of exhibitions, by mixing up literature and photography, between fact and fiction
Poet, essayist, novelist and filmmaker, Michel Houellebecq has always had close ties with the cinema and the world of the visual arts, which have accompanied and extended his reflexions since the start of his career, as the frequent allusions to them in his novels attest.
This show is a scenario, leading visitors through the writer's obsessions. Made up of sounds, photographs, installations and films he has conceived, as well as the presence of several guest artists (Robert Combas, Raphaël Sohier, Renaud Marchand and Maurice Renoma) it will offer an immersion into the world and mind of the protean creator who is Michel Houellebecq.
Curator : Jean de Loisy
An issue of the magazine PALAIS is entirely dedicated to the exhibition. Copublished with Flammarion.
An associated program will propose extensions to the exhibitions.
Exhibition From 23/06/2016 to 11/09/2016
Open every day except Tuesdays, from noon until midnight
Michel Houellebecq
Michel Houellebecq is, since the 1990s, one of the contemporary authors of French language the most translated and read in the world.
"Michel Thomas was born on the French island Réunion in 1958, his mother was a doctor and his father a mountain guide. His early years were marked by frequent moves (Savoy, Algeria, back to Réunion). His life gained a certain stability after his parents' divorce, when, at the age of six, he went to live with his paternal grandmother (whose maiden name, Houellebecq, he adopted as his penname).
His childhood was spent in Dicy, in the Yonne. Then his teenage years in Villiers-sur-Morin, in Seine-et-Marne.
After a high-school diploma, which he passed at the age of seventeen, he continued his education in Paris where, five years later, he qualified as an agronomist (specialising in vegetal ecology).
There then followed periods of unemployment intercut with periods of work (firstly to do with agronomics; then mostly for IT service providers).
1991 saw him publish his first book, as well become an administrative secretary at the Assemblée Nationale.
There, he had a brief career in the IT department. In 1996 he took unpaid leave for personal reasons, before resigning in 2008."
Magazine PALAIS #23
PALAIS magazine is dedicating its issue 23 to Michel Houellebecq's exhibition "Rester vivant", presented at the Palais de Tokyo from 23 June to 12 September 2016. This is an exceptional event, because it is the first large-scale show devoted to Michel Houellebecq as an artist. This is also a special issue of PALAIS magazine with Michel Houellebecq as guest editor-in-chief.
This issue of PALAIS magazine follows the organisation of the exhibition in chapters. Thanks to a series of unpublished interviews with Michel Houellebecq, a selection of his writings (essays, poems, novel extracts) and texts by guest authors, the issue provides a discovery of his visual universe, and its intertwining with the many creative forms which the writer uses (music, cinema, performance…).
Contents of this issue: photographs and a selection of texts by Michel Houellebecq as well as a series of interviews between Michel Houellebecq and Jean de Loisy, Yan Céh, Robert Combas (edited by Richard Leydier), Benoît Delépine, Nelly Kaprièlian, an essay by Stéphanie Moisdon and portfolios by Robert Combas, Marie-Pierre Gauthier and Renaud Marchand.
This issue of PALAIS magazine has been co-published with Flammarion.
About Michel Houellebecq's exhibition "Rester vivant"
Bilingual (French & English)
192 pages in color;
Format : 285 x 225 mm
ISSN 1 951-672X
ISBN 978-2-84711-061-6
15 € (FRANCE)
Palais de Tokyo
13 Avenue du Président Wilson,
75116 Paris, France
# More info on website Palais de Tokyo
fleursdumal.nl magazine
More in: - Book News, FDM in Paris, Histoire de France, Michel Houellebecq, Photography
---
Older Entries »
« Newer Entries
Thank you for reading FLEURSDUMAL.NL - magazine for art & literature