FDM in London
·
Tate Modern exhibition: Modigliani
·
Christine L. Corton: London Fog. The Biography
·
BLOOMSBURY FESTIVAL 2016 LONDON (19 – 23 OCTOBER)
·
UNDRESSED: A BRIEF HISTORY OF UNDERWEAR
·
22 – 25 OCTOBER 2015 BLOOMSBURY FESTIVAL LONDON
·
VINCENT BERQUEZ: ANGEL OF BUGLOZE
·
HANS HERMANS PHOTOS: LONDON
·
HANS HERMANS PHOTOS: LONDON
·
SHERLOCK HOLMES, THE MAN WHO NEVER LIVED AND WILL NEVER DIE
·
JORIS LUYENDIJK IN VPRO BOEKEN
·
HANS HERMANS PHOTOS: LONDON
·
Amy Winehouse: A Family Portrait
During his brief and turbulent life Modigliani (1884 – 1920) developed a unique and instantly recognisable pictorial style.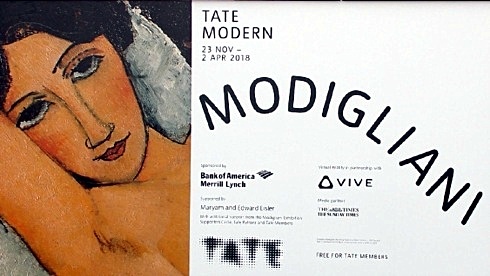 Though meeting little success during their time, his emotionally intense portraits and seductive nudes are now among the best-loved paintings of the 20th century.
Modigliani's nudes are a highlight of the exhibition – with 12 nudes on display, this is the largest group ever reunited in the UK. These sensuous works proved controversial when they were first shown in 1917, leading police to censor his only ever solo exhibition on the grounds of indecency.
You will also discover his lesser-known but radical and thought-provoking sculptures, as well as his portraits of his friends, lovers and supporters, including Pablo Picasso, Constantin Brancusi and his partner Jeanne Hébuterne.
Tate Modern Exhibition
Modigliani
23 Nov 2017 – 2 Apr 2018
Tate Modern
Bankside
London SE1 9TG
  #  more  information  on  Tate  website  

fleursdumal.nl magazine
More in: Art & Literature News, Exhibition Archive, FDM Art Gallery, FDM in London
---
In popular imagination, London is a city of fog. The classic London fogs, the thick yellow "pea-soupers," were born in the industrial age of the early nineteenth century.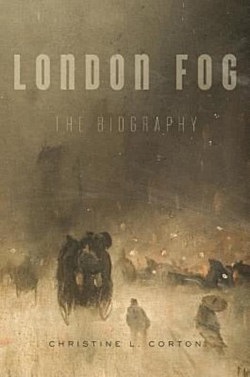 The first globally notorious instance of air pollution, they remained a constant feature of cold, windless winter days until clean air legislation in the 1960s brought about their demise. Christine L. Corton tells the story of these epic London fogs, their dangers and beauty, and their lasting effects on our culture and imagination.
As the city grew, smoke from millions of domestic fires, combined with industrial emissions and naturally occurring mists, seeped into homes, shops, and public buildings in dark yellow clouds of water droplets, soot, and sulphur dioxide. The fogs were sometimes so thick that people could not see their own feet.
By the time London's fogs lifted in the second half of the twentieth century, they had changed urban life. Fogs had created worlds of anonymity that shaped social relations, providing a cover for crime, and blurring moral and social boundaries.
They had been a gift to writers, appearing famously in the works of Charles Dickens, Henry James, Oscar Wilde, Robert Louis Stevenson, Joseph Conrad, and T. S. Eliot. Whistler and Monet painted London fogs with a fascination other artists reserved for the clear light of the Mediterranean.
Corton combines historical and literary sensitivity with an eye for visual drama—generously illustrated here—to reveal London fog as one of the great urban spectacles of the industrial age.
Christine L. Corton is a Senior Member of Wolfson College, Cambridge, and a freelance writer. She worked for many years at publishing houses in London.
London Fog
The Biography
Christine L. Corton
Paperback – 2017
408 pages
28 color illustrations, 63 halftones
Belknap Press / Harvard University Press
ISBN 9780674979819
fleursdumal.nl magazine
More in: - Book News, - Book Stories, Archive C-D, Art & Literature News, Arthur Conan Doyle, Charles Dickens, Eliot, T. S., FDM in London, Natural history, Tales of Mystery & Imagination
---
Bloomsbury Festival 2016 London October 19 to 23 october
For hundreds of years, Bloomsbury has been catalyst for ideas that have had impact across the world. Bloomsbury Festival celebrates contemporary Bloomsbury; a hotbed of creativity and pioneering development which has one of the youngest and most diverse populations in the country.
For five days in October, Bloomsbury will be full to the brim with artistic, scientific and literary events for all ages and tastes, from breakfast until late in the evenings taking place in the streets, parks, museums, galleries, laboratories and public and (normally) private buildings of this vibrant cultural quarter. There will be over 150 events created with over 100 partners.
Inspired by the centenary of SOAS and with Bloomsbury residents reflecting one of highest levels of diversity in the UK, the theme selected for this year's festival is Language. Language comes in many forms; speech, symbols, non-verbal communication, performance language, dance notation, morse code, sign language, computer code. Language will be explored throughout all the events; from the cuneiform inscriptions on tablets of clay at the British Museum inspiring a collaboration by an artist and historian, to investigations of Legal and medical 'languages' that are used in many firms and laboratories and hospitals in Bloomsbury.
Baroness Valerie Amos, Director of SOAS says: 'As we celebrate 100 years of SOAS teaching and research, we are delighted that the Bloomsbury Festival's theme this year is dedicated to language. SOAS is a special place with its unique blend of languages, regional and discipline expertise. We are proud of our Bloomsbury location and, with the addition of Senate House North Block, the growth of our Bloomsbury Campus. As we look forward to the next 100 years, we will continue to play a central role in the cultural and creative life of the area.'
Kate Anderson, Bloomsbury Festival director says 'Bloomsbury Festival is unique, as is the area of Bloomsbury in which leading institutions and world-class creative organisations rub shoulders with primary schools and lawyers. We make the Festival with over 100 Bloomsbury partners, providing opportunities for unusual collaborations and development opportunities for all. The result is a very distinctive festival indeed! And with over 150 events including all art forms, science, architecture, walks, technology, outdoor music, debating and hubs focusing on families, I think we can safely say there is something for everyone at Bloomsbury Festival.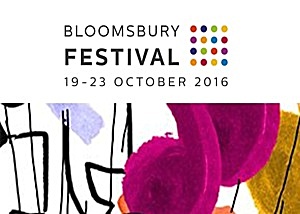 A few of this year's headline events include Coram's Songs, a promenade performance set in the known and secret spaces around the Foundling Hospital. 2016 marks the 275th anniversary of the Foundling Hospital and the 80th anniversary of Coram's Fields. Created by director Emma Bernard in partnership with renowned composers including Jocelyn Pook, Orlando Gough, Michael Henry and Melanie Pappenheim, Coram's Songs is inspired by this unique seven acre, greenfield site in central London that has been preserved as a sanctuary for children for circa 300 years.
Step Out Store Street will be a night-time street party with a twist: the street will be transformed by an array of artists and dancers, showcasing and teaching different dance disciplines from around the world, from Bollywood to B­Boy and Swing to Line dancing. Pa-BOOM's fiery pyrotechnic art installations will make a welcome return and the event will also feature a premiere of a new street dance commission from acclaimed dancer Tony Adigun's Avant Garde Youth Dance Company. The street's eclectic mix of boutiques, shops and restaurants will each house a different art, music and dance experience and an abundance of street food and bars will be available.
Other headline events will include The Last Whisperers at the British Museum, Calling Tree in St George's Gardens, a specially curated programme at The Wellcome Trust, Goodensemble and ENO at Goodenough College, and SOAS' World Music Stage inside the newly opened north block of Senate House.
The festival centres around three main hub venues Goodenough college, UCL, and Conway Hall with activities also taking place at a further 20+ satellite venues including the Wellcome Trust, the British Museum, the British Library, Pushkin House, Charles Dickens Museum, Coram's Fields, the Music Room, Bloomsbury Hotel, the Curzon Bloomsbury, and Store Street. There will be lunchtime events Wed 19 – Fri 21 for locals and workers to attend and breakfast events and talks in local cafes.
Every year the Festival runs a competition for BA (Hons) Graphic Communication Design, Central Saint Martin's students to design the festival logo. This year's winning entry is by Wies van der Wal which the judges felt illustrated the theme of language, the coming together of ideas and joy of the Festival perfectly.
Key Dates and Times:
Festival Dates: Wednesday 19 October to Sunday 23 October, throughout the day, everyday
Coram's Songs: Wednesday 19 October, evening and repeated during the Festival, Coram's Fields, 93 Guilford Street, London, WC1N 1DN
Step Out Store Street: Friday October 21 2016, 6.30pm to 9.30pm, Store Street, Bloomsbury, WC1E 7DH, Free outdoor event, just turn up
Key Locations:
Coram's Fields, 93 Guilford St, London WC1N 1DN, Camden
Foundling Museum, 40 Brunswick Square, London WC1N 1AZ, Camden
Goodenough College, Mecklenburgh Square, London WC1N 2AB, Camden
Conway Hall, 25 Red Lion Square, London WC1R 4RL
Store Street WC1E 7DB, Camden
UCL Gower St, London WC1E 6BT
Bloomsbury is an area of the London Borough of Camden, in central London, between Euston Road and Holborn, developed by the Russell family in the 17th and 18th centuries into a fashionable residential area. It is notable for its array of garden squares, literary connections (exemplified by the Bloomsbury Group), and numerous cultural, educational and health-care institutions.
Established in 2006, Bloomsbury Festival is a creative explosion of arts, science, literature, culture and fun throughout the streets, parks, museums, galleries, laboratories and public and (normally) private buildings of this vibrant cultural quarter. For hundreds of years Bloomsbury has been a catalyst for ideas that have had impact across the world.
Bloomsbury Festival celebrates contemporary Bloomsbury; a hotbed of creativity and pioneering development which has one of the youngest and most diverse populations in the country. Created with its extraordinary community including more libraries, museums, and educational establishments than any other part of the city, the Festival acts as catalyst bringing together its diverse population, and as a spur to develop new projects and new ideas. Each year, the Festival attracts an audience of around 50,000 people.
# The final programme will be online on Bloomsbury festival website
fleursdumal.nl magazine
More in: Art & Literature News, AUDIO, CINEMA, RADIO & TV, DANCE, FDM in London, Literary Events, MUSIC, Street Art, STREET POETRY, THEATRE, Virginia Woolf
---
V&A Museum exhibition until Sunday, 12 March 2017
Undressed: A Brief History of Underwear
Discover the fascinating and sometimes controversial story of underwear design from the 18th century to the present day
"Hold tight: the lingerie show that will take your breath away "
Anna Murphy, The Times
This exhibition explores the intimate relationship between underwear and fashion and its role in moulding the body to a fashionable ideal, with cut, fit, fabric and decoration revealing issues of gender, sex and morality.
Undressed: 350 Years of Underwear in Fashion
Underwear is fashion's foundation. The majestic shapes of 18th century court dress, the distorted hourglass shapes of the Victorian and Edwardian eras, and Dior's cinched 'New Look' were all dependent upon elaborate corsetry, technologically complex petticoats, hoops, and padded underpinnings. This exhibition will look at the history of private and intimate clothing – from corsets to court mantuas and boudoir wear to bustles – exploring underwear's function in decorating and manipulating the body. Featuring highlights from the V&A's extensive collection of underwear, the objects will be displayed thematically, and shown alongside contextual images from the V&A's archives.
Both culturally emblematic and the most everyday of objects, underwear attracts interest, debate, and sometimes controversy.
Undressed: A Brief History of Underwear
will display more than 200 examples of men's and women's underwear from about 1750 to the present day. In particular, it will investigate how underwear design combines the practical and personal with the sensory and fashionable, in the process both protecting and enhancing the body. The exhibition will map developments in underwear design and explore the ways in which fashion designers have transformed underwear into outerwear.
Curating an exhibition is a process built on collaboration, between conservators, researchers, designers and other specialists. Our blog will allow you to experience some of their work through their own words. Our posts will also give us the chance to delve a little deeper into some of the themes, objects and personalities of Undressed.
The exhibition, Undressed: A Brief History of Underwear, will be on display at the V&A from 16th April 2016 to 12th March 2017.
Victoria and Albert Museum
Cromwell Road,
London, SW7 2RL
# more info on website Victoria & Albert Museum
fleursdumal.nl magazine
More in: Art & Literature News, Exhibition Archive, Fashion, FDM in London, The Ideal Woman
---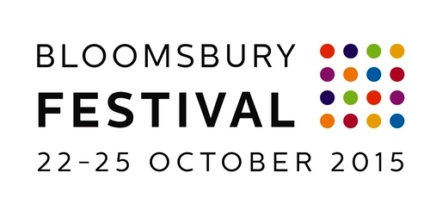 Bloomsbury Festival London
22 – 25 october 2015
Bloomsbury has long been an area associated with stories. Writers such as Charles Dickens, Virginia Woolf, J. M. Barrie and Dorothy L. Sayers all lived in the surrounding streets, often using them as settings for their novels.
Established in 2006, Bloomsbury Festival is a creative explosion of performance, arts, music and heritage events held in the streets, parks, museums, galleries, laboratories and public and private buildings of one of London's most vibrant cultural quarters.
This area has a unique blend of academic institutions, businesses, cultural organisations and diverse communities. The Festival celebrates the best of Bloomsbury and its pioneering attitude. We're not just a showcase for the area – we act as a catalyst to bring together artists and academics, scientists and dancers, or musicians and publishers, to make new projects and to inspire and learn from each other.
Bloomsbury Festival works with many large and small partners to create and deliver the annual Festival programme. Each year, it attracts an audience of around 50,000 people.
The Festival also delivers community engagement projects which give a voice and new skills to young people, older people and disabled people. Outside of the Festival period, the festival delivers projects such as the 'Festival in a Box' into care homes.
Above all, the festival aims to be enlivening, engaging, entertaining, and fun!
Museum By Candlelight at Charles Dickens Museum
Symphonic Illuminations – Goodensemble at Goodenough College
Phos at Various Locations
Light Up Store Street at Store Street
Living, Thinking, Looking – An Evening with Siri Hustvedt at Mary Ward House
John Hegley – Animal Alphaboat at Grant Museum of Zoology
Nostalgia for the light at Curzon Bloomsbury
The Tempest for Children with Autism and Their Families at Bloomsbury Theatre
ENO Know The Show Workshop: The Force of Destiny at Goodenough College
26 Pairs of Eyes – a Torchlit performance at Foundling Museum
Public Address: The Soap Box Tour at Bloomsbury Theatre
fleursdumal.nl magazine
More in: Art & Literature News, FDM in London, MUSIC, THEATRE
---
Vincent Berquez: Angel of Bugloze
Vincent Berquez is a London–based artist and poet. He has published in Britain, Europe, America and New Zealand. His work is in many anthologies, collections and magazine worldwide. Vincent Berquez was requested to write a Tribute as part of 'Poems to the American People' for the Hastings International Poetry Festival for 9/11, read by the mayor of New York at the podium. He has also been commissioned to write a eulogy by the son of Chief Albert Nwanzi Okoluko, the Ogimma Obi of Ogwashi-Uku to commemorate the death of his father. Berquez has been a judge many times, including for Manifold Magazine and had work read as part of Manifold Voices at Waltham Abbey. He has recited many times, including at The Troubadour and the Pitshanger Poets, in London. In 2006 his name was put forward with the Forward Prize for Literature. He recently was awarded a prize with Decanto Magazine. Berquez is now a member of London Voices who meet monthly in London, United Kingdom.
Vincent Berquez has also been collaborating in 07/08 with a Scottish composer and US film maker to produce a song-cycle of seven of his poems for mezzo-soprano and solo piano. These are being recorded at the Royal College of Music under the directorship of the concert pianist, Julian Jacobson. In 2009 he will be contributing 5 poems for the latest edition of A Generation Defining Itself, as well as 3 poems for Eleftheria Lialios's forthcoming book on wax dolls published in Chicago. He also made poetry films that have been shown at various venues, including a Polish/British festival in London, Jan 07.
As an artist Vincent Berquez has exhibited world wide, winning prizes, such as at the Novum Comum 88' Competition in Como, Italy. He has worked with an art's group, called Eins von Hundert, from Cologne, Germany for over 16 years. He has shown his work at the Institute of Art in Chicago, US, as well as many galleries and institutions worldwide. Berquez recently showed his paintings at the Lambs Conduit Festival, took part in a group show called Gazing on Salvation, reciting his poetry for Lent and exhibiting paintings/collages. In October he had a one-man show at Sacred Spaces Gallery with his Christian collages in 2007. In 2008 Vincent Berquez had a solo show of paintings at The Foundlings Museum and in 2011 an exposition with new work in Langham Gallery London.
fleursdumal.nl magazine
More in: Berquez, Vincent, FDM in London, Vincent Berquez
---
Hans Hermans © photos: London 2013 (3)
fleursdumal.nl magazine
More in: FDM in London, Hans Hermans Photos, Photography
---
Hans Hermans © photos: London 2013 (2)

fleursdumal.nl magazine
More in: FDM in London, Hans Hermans Photos, Photography
---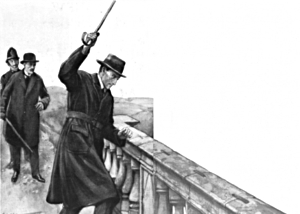 This year the Museum of London welcomes an exciting new exhibition, delving into the mind of the world's most famous fictional detective; Arthur Conan Doyle's Sherlock Holmes
 Asking searching questions such as who is Sherlock Holmes, and why does he still conjure up such enduring fascination, this major exhibition – London's first on the detective since 1951 – will explore how Sherlock Holmes has transcended literature onto stage and screen and continues to attract huge audiences to this day.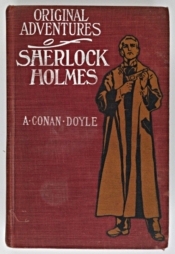 Going beyond film and fiction, visitors to the museum will be transported to the real Victorian London – the backdrop for many of Conan Doyle's stories. Through early film, photography, paintings and original artefacts, the exhibition will recreate the atmosphere of Sherlock's London, with visitors able to envisage the places that the detective visited and imagine they are standing on the pavement of the Strand watching the horse drawn traffic pass by.
Sherlock Holmes, the man who never lived and will never die, Museum of London

We look at the roots of Arthur Conan Doyle's famous fictional detective, explore depictions of Victorian London and delve into the enduringly popular characteristics of Sherlock Holmes.
Transcending literature onto stage and screen, Sherlock Holmes continues to fascinate audiences to this day. In this exhibition, London's first on the detective since 1951, we use early film, photography and paintings plus original Victorian era artefacts to recreate the atmosphere of Sherlock's London, and to re-imagine the places featured in Conan Doyle's famous stories.
Objects and artworks include:
• Sir Arthur Conan Doyle's 1886 'A Study in Scarlet' notebook, containing the first ever lines of a Sherlock Holmes story
• 'The Murders in the Rue Morgue' manuscript by Edgar Allan Poe
• Claude Monet's painting 'Pont de Londres' (Charing Cross Bridge, London) 1902
• Belstaff coat used in the BBC's Sherlock series, featuring Benedict Cumberbatch

Until 12 April 2015
# More on website museum of london
fleursdumal.nl magazine
More in: Art & Literature News, Doyle, Arthur Conan, FDM in London, Sherlock Holmes Theatre
---
Joris Luyendijk (1971) is te gast in VPRO BOEKEN over zijn nieuwste boek 'Dit kan niet waar zijn'. Twee jaar geleden ging Luyendijk met zijn gezin in Londen wonen. Hij ging werken voor The Guardian, die hem de opdracht gaf om vanuit antropologisch perspectief te schrijven over The City, het financiële hart van Groot-Brittannië. De conclusie van het boek is even stevig als pijnlijk: de instellingen die ervoor moeten zorgen dat de economie functioneert, kunnen de wereld in de afgrond doen storten.
 Joris Luyendijk
VPRO Boeken
zondag 22 februari 2015
NPO 1, 11.20 uur
fleursdumal.nl magazine
More in: - Book News, Archive K-L, Art & Literature News, FDM in London, MONTAIGNE
---
Hans Hermans © photos: London 2013
# More on website Hans Hermans
fleursdumal.nl magazine
More in: FDM in London, Hans Hermans Photos, Photography
---
Amy Winehouse: A Family Portrait
until 15 September 2013
The Jewish Museum is staging an original exhibition about Amy Winehouse, co-curated with her brother Alex and sister-in-law Riva. It is an intimate and moving exhibition about a much loved sister.
The family have given the Jewish Museum unprecedented access to Amy's personal belongings that celebrate her passion for music, fashion, sudoku, Snoopy, London and her family.
Amy was close to her family and had a strong sense of her Jewish roots and heritage. Among the various objects on display, the exhibition will show many unseen photographs of Amy's family life – Friday night dinners, Alex's Barmitzvah and vintage photographs of their beloved grandmother Cynthia.
Located in Amy's Camden Town, the Jewish Museum is the perfect place to find out about the woman behind the music and beyond the hype.
≡ website jewish museum london
fleursdumal.nl magazine
More in: Amy Winehouse, Amy Winehouse, FDM in London
---
Older Entries »
Thank you for reading FLEURSDUMAL.NL - magazine for art & literature