Romeo & Juliet
·
Our Minds Are Married, But We Are Too Young by George Orwell
·
WILLIAM SHAKESPEARE: ROMEO & JULIET
·
FREDA KAMPHUIS: THE GHOST OF ROMEO AND JULIET
Our Minds Are Married,
But We are Too Young
Our minds are married, but we are too young
For wedlock by the customs of this age
When parent homes pen each in separate cage
And only supper-earning songs are sung.
Times past, when medieval woods were green,
Babes were betrothed, and that betrothal brief.
Remember Romeo in love and grief—
Those star-crossed lovers—Juliet was fourteen.
Times past, the caveman by his new-found fire
Rested beside his mate in woodsmoke's scent.
By our own fireside we shall rest content
Fifty years hence keep troth with hearts desire.
We shall remember, when our hair is white,
These clouded days revealed in radiant light.
George Orwell
(1903 – 1950)
Our Minds Are Married, But We are Too Young
• fleursdumal.nl magazine
More in: Archive O-P, Archive O-P, George Orwell, Orwell, George, Romeo & Juliet
---
William Shakespeare
(1564-1616)
Romeo & Juliet
"Romeo:
If I profane with my unworthiest hand
This holy shrine, the gentle fine is this:
My lips, two blushing pilgrims, ready stand
To smooth that rough touch with a tender kiss.
Juliet:
Good pilgrim, you do wrong your hand too much,
Which mannerly devotion shows in this;
For saints have hands that pilgrims' hands do touch,
And palm to palm is holy palmers' kiss.
Romeo:
Have not saints lips, and holy palmers too?
Juliet:
Ay, pilgrim, lips that they must use in prayer.
Romeo:
O, then, dear saint, let lips do what hands do;
They pray, grant thou, lest faith turn to despair.
Juliet:
Saints do not move, though grant for prayers' sake.
Romeo:
Then move not, while my prayer's effect I take.
Thus from my lips, by yours, my sin is purged.
Juliet:
Then have my lips the sin that they have took.
Romeo:
Sin from thy lips? O trespass sweetly urged!
Give me my sin again.
Juliet:
You kiss by the book."
William Shakespeare, Romeo and Juliet
Shakespeare 400 (1616 – 2016)
fleursdumal.nl magazine
More in: Archive S-T, Romeo & Juliet, Shakespeare, William
---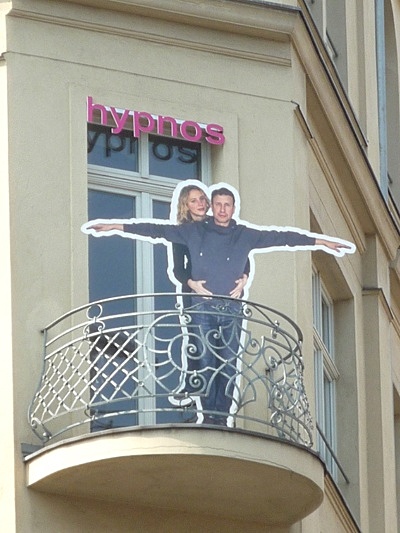 Freda Kamphuis: The ghost of Romeo and Juliet
fleursdumal.nl magazine
More in: Freda Kamphuis, Kamphuis, Freda, Romeo & Juliet, THEATRE
---
Thank you for reading FLEURSDUMAL.NL - magazine for art & literature