Mandelstam, Osip
·
Earthly Signs. Moscow Diaries, 1917-1922 by Marina Tsvetaeva
·
OSIP MANDELSTAM: I DETEST THE LIGHT
·
Osip Mandelstam: Sisters heaviness and tenderness…
A moving collection of autobiographical essays from a Russian poet and refugee of the Bolshevik Revolution.
Marina Tsvetaeva ranks with Anna Akhmatova, Osip Mandelstam, and Boris Pasternak as one of Russia's greatest twentieth-century poets. Her suicide at the age of forty-eight was the tragic culmination of a life buffeted by political upheaval.
The essays collected in this volume are based on diaries she kept during the turbulent years of the Revolution and Civil War.
In them she records conversations of women in the markets, soldiers and peasants on the train traveling from the Crimea to Moscow in October 1917, fighting in the streets of Moscow, a frantic scramble with co-workers to dig frozen potatoes out of a cellar, and poetry readings organized by a newly minted Soviet bohemia.
Alone in Moscow with two small children, no income, and a missing husband, Tsvetaeva struggled to feed her daughters (one of whom died of malnutrition in an orphanage), find employment in the Soviet bureaucracy, and keep writing poetry. Her keen and ruthless eye observes with compassion and humor—bringing the social, economic, and cultural chaos of the period to life. These autobiographical writings not only give a vivid eyewitness account of Russian history but provide vital insights into the workings of Tsvetaeva's unique poetics.
Includes black and white photographs.
Earthly Signs
Moscow Diaries, 1917-1922
By Marina Tsvetaeva
Translated by Jamey Gambrell
Poetry
Paperback
Dec 05, 2017
288 Pages
Paperback
$17.95
Published by NYRB Classics
ISBN 9781681371627
new books
fleursdumal.nl magazine
More in: - Book News, Achmatova, Anna, Archive S-T, Archive S-T, Art & Literature News, Mandelstam, Osip, Pasternak, Boris, REPRESSION OF WRITERS, JOURNALISTS & ARTISTS, Tsvetaeva, Marina
---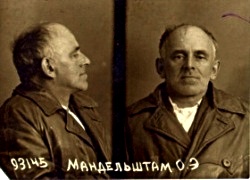 Osip Mandelstam
(1891-1938)
I detest the light…
I detest the light
Of tedious stars.
Hello, my old delirium,
The tower's crenellated pinnacle!
Stone, turn to lace
Become a spider's web,
With your thin needle, wound
The empty breast of the sky.
My own turn will come,
I feel the stretching of my wings.
But where will the arrow
Of living thought fly?
Perhaps having used up my path,
And my time, I will come back:
– There I could not love,
– Here I fear to love . . .
1912
Osip Mandelstam poetry
Transl. J.A. Woolf
fleursdumal.nl magazine

More in: Archive M-N, J.A. Woolf, Mandelstam, Osip, REPRESSION OF WRITERS, JOURNALISTS & ARTISTS, Woolf, J.A.
---
Osip Mandelstam
(1891-1938)
Сестры – тяжесть и нежность…

Сестры – тяжесть и нежность – одинаковы ваши приметы.
Медуницы и осы тяжелую розу сосут.
Человек умирает. Песок остывает согретый,
И вчерашнее солнце на черных носилках несут.
Ах, тяжелые соты и нежные сети,
Легче камень поднять, чем имя твое повторить!
У меня остается одна забота на свете:
Золотая забота, как времени бремя избыть.
Словно темную воду, я пью помутившийся воздух.
Время вспахано плугом, и роза землею была.
В медленном водовороте тяжелые нежные розы,
Розы тяжесть и нежность в двойные венки заплела!
Sisters heaviness and tenderness…
Sisters heaviness and tenderness, your traits are one.
Bees and wasps suck the heavy rose.
Man dies. The heated sand cools,
And a black stretcher bears away yesterday's sun.
Ah, heavy honeycombs and tender seines,
One may sooner lift a stone than say your name!
For me a sole concern remains on earth:
A golden concern, to flee the burden of time.
I drink the clouded air like a dark stream.
Time's tilled by a plow, and a rose was the earth.
In the slow whirlpool are heavy, tender roses,
Weaving heaviness and tenderness into twin wreaths.
1920

Osip Mandelstam poetry
fleursdumal.nl magazine

More in: Archive M-N, Mandelstam, Osip
---
Thank you for reading FLEURSDUMAL.NL - magazine for art & literature