Matea Bakula & Ruta Butkute: A WHEEL A STONE A ROPE A WING (exhibition)
A WHEEL  A STONE  A ROPE  A WING
exhibition
04.03 – 08.04 2023
Matea Bakula (BA/NL)
Ruta Butkute (LT/NL)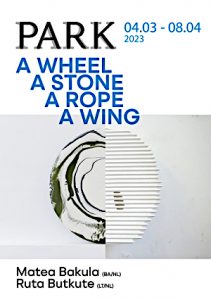 How do you show movement in a static object? And how would you place this object in alarge exhibition space? How would you want the audience to perceive this, and how do you combine all of this into a playing field for a professional dancer?
These are the questions Matea Bakula (1990) and Ruta Butkute (1984) have been working on recently at PARK. The answers to these questions were the inspiration of this exhibition focusing on movement, dynamics and interaction between people, objects and space.
The visitor is invited to experience rather than view this presentation. Realize that the works are made in dialogue with the space in which they are presented and explore your own role as spectator within this interplay.
The exhibition can be visited during normal opening hours. These are additional activities with the artists:
Saturday 4 March 16:00 | Opening
With the performance Collide, a choreography by Ruta Butkute and performed by Yurie Umamoto
Saturday 11 March 16.00 | Guided tour
Experience the exhibition together with the artists, Matea Bakula and Ruta Butkute
Saturday 8 April 16.00 | Finnisage
With the performance Collide, a choreography by Ruta Butkute and performed by Yurie Umamoto
A WHEEL  A STONE  A ROPE  A WING
PARK is an art initiative founded by Rob Moonen in cooperation with six other artists living in Tilburg. At this moment the PARK staff consists of Linda Arts, René Korten, Rob Moonen and Lieve van den Bijgaart.
PARK is a platform for contemporary visual arts positioning itself between Kunstpodium T and Museum De Pont. PARK organizes an exhibition program in the former Goretti Chapel at the Wilhelminapark in Tilburg.
PARK
Wilhelminapark 53, NL-5041 ED Tilburg
park(at)park013.nl
Twitter.com/ParkTilburg
Facebook.com/Park013
Instagram.com/platform_for_visual_arts
Opening hours during exhibitions:
Friday 1-5 pm
Saturday 1-5 pm
Sunday 1-5 pm
Free admission
PARK is on 10 minutes walking distance from Tilburg-Central-Station in the direct neighborhood of Museum De Pont. There is limited parking space in front of the building.
• fleursdumal.nl magazine
More in: Art & Literature News, DANCE & PERFORMANCE, Exhibition Archive, FDM Art Gallery, Linda Arts, Park, Sculpture