Wordsworth, William
·
William WORDSWORTH: London 1802
·
William WORDSWORTH: Lines Composed a Few Miles above Tintern Abbey
·
WILLIAM WORDSWORTH: THE DAFFODILS
·
William Wordsworth: Composed upon Westminster Bridge (vertaling Cornelis W. Schoneveld)
·
William Wordsworth: Foresight
·
William Wordsworth: Power of Music
·
William Wordsworth: A Complaint
·
William Wordsworth: Gipsies
·
William Wordsworth: Among all lovely things my Love had been
·
William Wordsworth: She was a Phantom of delight
·
William Wordsworth: Adress to the sons of Burns
·
William Wordsworth: I travell'd among unknown Men
William Wordsworth
London 1802
Milton! thou should'st be living at this hour:
England hath need of thee: she is a fen
Of stagnant waters: altar, sword, and pen,
Fireside, the heroic wealth of hall and bower,
Have forfeited their ancient English dower
Of inward happiness. We are selfish men;
Oh! raise us up, return to us again;
And give us manners, virtue, freedom, power.
Thy soul was like a Star, and dwelt apart:
Thou hadst a voice whose sound was like the sea:
Pure as the naked heavens, majestic, free,
So didst thou travel on life's common way,
In cheerful godliness; and yet thy heart
The lowliest duties on herself did lay.
William Wordsworth (1770 – 1850)
Poem: London 1802
fleursdumal.nl magazine
More in: Archive W-X, Milton, John, Wordsworth, Wordsworth, William
---
William Wordsworth
Lines Composed a Few Miles above Tintern Abbey
Five years have passed; five summers, with the length
Of five long winters! and again I hear
These waters, rolling from their mountain-springs
With a soft inland murmur.Once again
Do I behold these steep and lofty cliffs,
That on a wild secluded scene impress
Thoughts of more deep seclusion; and connect
The landscape with the quiet of the sky.
The day is come when I again repose
Here, under this dark sycamore, and view
These plots of cottage-ground, these orchard-tufts,
Which at this season, with their unripe fruits,
Are clad in one green hue, and lose themselves
'Mid groves and copses. Once again I see
These hedgerows, hardly hedgerows, little lines
Of sportive wood run wild; these pastoral farms,
Green to the very door; and wreaths of smoke
Sent up, in silence, from among the trees!
With some uncertain notice, as might seem
Of vagrant dwellers in the houseless woods,
Or of some Hermit's cave, where by his fire
The Hermit sits alone.
These beauteous forms,
Through a long absence, have not been to me
As is a landscape to a blind man's eye;
But oft, in lonely rooms, and 'mid the din
Of towns and cities, I have owed to them,
In hours of weariness, sensations sweet,
Felt in the blood, and felt along the heart;
And passing even into my purer mind
With tranquil restoration feelings too
Of unremembered pleasure; such, perhaps,
As have no slight or trivial influence
On that best portion of a good man's life,
His little, nameless, unremembered, acts
Of kindness and of love.Nor less, I trust,
To them I may have owed another gift,
Of aspect more sublime; that blessed mood,
In which the burthen of the mystery,
In which the heavy and the weary weight
Of all this unintelligible world,
Is lightened that serene and blessed mood,
In which the affections gently lead us on
Until, the breath of this corporeal frame
And even the motion of our human blood
Almost suspended, we are laid asleep
In body, and become a living soul;
While with an eye made quiet by the power
Of harmony, and the deep power of joy,
We see into the life of things.
If this
Be but a vain belief, yet, oh! how oft
In darkness and amid the many shapes
Of joyless daylight; when the fretful stir
Unprofitable, and the fever of the world,
Have hung upon the beatings of my heart
How oft, in spirit, have I turned to thee,
O sylvan Wye! thou wanderer through the woods,
How often has my spirit turned to thee!
And now, with gleams of half-extinguished thought,
With many recognitions dim and faint,
And somewhat of a sad perplexity,
The picture of the mind revives again;
While here I stand, not only with the sense
Of present pleasure, but with pleasing thoughts
That in this moment there is life and food
For future years.And so I dare to hope,
Though changed, no doubt, from what I was when first
I came among these hills; when like a roe
I bounded o'er the mountains, by the sides
Of the deep rivers, and the lonely streams,
Wherever nature led more like a man
Flying from something that he dreads than one
Who sought the thing he loved.For nature then
(The coarser pleasures of my boyish days
And their glad animal movements all gone by)
To me was all in all. I cannot paint
What then I was. The sounding cataract
Haunted me like a passion; the tall rock,
The mountain, and the deep and gloomy wood,
Their colors and their forms, were then to me
An appetite; a feeling and a love,
That had no need of a remoter charm,
By thought supplied, not any interest
Unborrowed from the eye. That time is past,
And all its aching joys are now no more,
And all its dizzy raptures. Not for this
Faint I, nor mourn nor murmur; other gifts
Have followed; for such loss, I would believe,
Abundant recompense.For I have learned
To look on nature, not as in the hour
Of thoughtless youth; but hearing oftentimes
The still sad music of humanity,
Nor harsh nor grating, though of ample power
To chasten and subdue.And I have felt
A presence that disturbs me with the joy
Of elevated thoughts; a sense sublime
Of something far more deeply interfused,
Whose dwelling is the light of setting suns,
And the round ocean and the living air,
And the blue sky, and in the mind of man:
A motion and a spirit, that impels
All thinking things, all objects of all thought,
And rolls through all things. Therefore am I still
A lover of the meadows and the woods,
And mountains; and of all that we behold
From this green earth; of all the mighty world
Of eye, and ear both what they half create,
And what perceive; well pleased to recognize
In nature and the language of the sense
The anchor of my purest thoughts, the nurse,
The guide, the guardian of my heart, and soul
Of all my moral being.
Nor perchance,
If I were not thus taught, should I the more
Suffer my genial spirits to decay:
For thou art with me here upon the banks
Of this fair river; thou my dearest Friend,
My dear, dear Friend; and in thy voice I catch
The language of my former heart, and read
My former pleasures in the shooting lights
Of thy wild eyes.Oh! yet a little while
May I behold in thee what I was once,
My dear, dear Sister! and this prayer I make,
Knowing that Nature never did betray
The heart that loved her; 'tis her privilege,
Through all the years of this our life, to lead
From joy to joy: for she can so inform
The mind that is within us, so impress
With quietness and beauty, and so feed
With lofty thoughts, that neither evil tongues,
Rash judgments, nor the sneers of selfish men,
Nor greetings where no kindness is, nor all
The dreary intercourse of daily life,
Shall e'er prevail against us, or disturb
Our cheerful faith, that all which we behold
Is full of blessings.Therefore let the moon
Shine on thee in thy solitary walk;
And let the misty mountain winds be free
To blow against thee: and, in after years,
When these wild ecstasies shall be matured
Into a sober pleasure; when thy mind
Shall be a mansion for all lovely forms,
Thy memory be as a dwelling place
For all sweet sounds and harmonies; oh! then,
If solitude, or fear, or pain, or grief,
Should be thy portion, with what healing thoughts
Of tender joy wilt thou remember me,
And these my exhortations! Nor, perchance
If I should be where I no more can hear
Thy voice, nor catch from thy wild eyes these gleams
Of past existence wilt thou then forget
That on the banks of this delightful stream
We stood together; and that I, so long
A worshipper of Nature, hither came
Unwearied in that service; rather say
With warmer love oh! with far deeper zeal
Of holier love.Nor wilt thou then forget,
That after many wanderings, many years
Of absence, these steep woods and lofty cliffs,
And this green pastoral landscape, were to me
More dear, both for themselves and for thy sake!
William Wordsworth (1770 – 1850)
Lines Composed a Few Miles above Tintern Abbey
fleursdumal.nl magazine
More in: Archive W-X, Wordsworth, Wordsworth, William
---
William Wordsworth
(1770-1850)
The Daffodils
I wandered lonely as a cloud
That floats on high o'er vales and hills,
When all at once I saw a crowd,
A host, of golden daffodils,
Beside the lake, beneath the trees,
Fluttering and dancing in the breeze.
Continuous as the stars that shine
And twinkle on the milky way,
They stretched in never-ending line
Along the margin of a bay:
Ten thousand saw I at a glance
Tossing their heads in sprightly dance.
The waves beside them danced, but they
Out-did the sparkling waves in glee:
A Poet could not be but gay
In such a jocund company!
I gazed – and gazed – but little thought
What wealth the show to me had brought:
For oft, when on my couch I lie
In vacant or in pensive mood,
They flash upon that inward eye
Which is the bliss of solitude;
And then my heart with pleasure fills,
And dances with the daffodils.
William Wordsworth poetry
fleursdumal.nl magazine
More in: Archive W-X, Wordsworth, William
---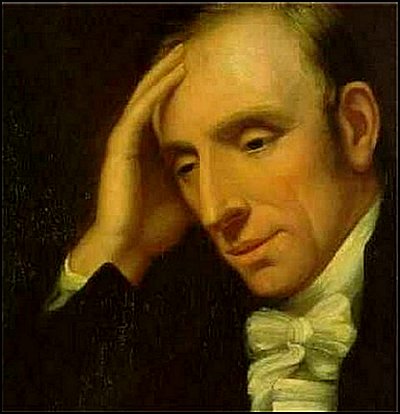 William Wordsworth
(1770-1850)
Composed upon Westminster Bridge
Earth has not anything to show more fair:
Dull would he be of soul who could pass by
A sight so touching in its majesty:
This City now doth, like a garment, wear
The beauty of the morning; silent, bare,
Ships, towers, domes, theatres, and temples lie
Open unto the fields, and to the sky;
All bright and glittering in the smokeless air.
Never did sun more beautifully steep
In his first splendour, valley, rock, or hill;
Ne'er saw I, never felt, a calm so deep!
The river glideth at his own sweet will:
Dear God! the very houses seem asleep;
And all that mighty heart is lying still!
1802
Gedicht op de Westminster brug
De wereld kan niets tonen van meer pracht:
Dom zou de ziel zijn die geen aandacht wijdt
Aan zoiets roerendst in zijn majesteit:
De Stad vertoont nu, als in klederdracht,
De schoonheid van de morgen; stil en zacht
Ligt menig schip, theater, kerk verspreid,
Door zicht op veld en luchten begeleid,
Waar rookloos fris de hemel stralend lacht.
Nooit heeft de zon zo liefdevol gekust
In eerste luister heuvel, rots, vallei;
Nooit zag, nooit voelde ik kalmte zo bewust!
De Theems glijdt verder speels en vrij;
O God, zelfs huizen schijnen diep in rust!
En 't machtig hart ligt er heel vredig bij!
Canaletto: Westminster Bridge 1746
Uit: Bestorm mijn hart, de beste Engelse gedichten uit de 16e-19e eeuw gekozen en vertaald door Cornelis W. Schoneveld, tweetalige editie. Rainbow Essentials no. 55, Uitgeverij Maarten Muntinga, Amsterdam, 2008, 296 pp, € 9,95 ISBN: 9789041740588
Bestorm mijn hart bevat een dwarsdoorsnede van vier eeuwen lyrische Engelse dichtkunst. Dichters uit de zestiende tot en met de negentiende eeuw dichter onder andere over liefde, natuur, dood en religie. Niet alleen de Nederlandse vertaling is in deze bundel te vinden, maar ook de originele Engelse versie. Deze prachtige bloemlezing, met gedichten van onder anderen Shakespeare, Milton, Pope en Wordsworth, is samengesteld en vertaald door Cornelis W. Schoneveld. Hij is vele jaren docent historische Engelse letterkunde en vertaalwetenschapper aan de Universiteit van Leiden geweest.
kempis.nl poetry magazine
More in: London Poems, Wordsworth, Wordsworth, William
---

W i l l i a m W o r d s w o r t h
(1770-1850)
F o r e s i g h t
Or the Charge of a Child to his younger Companion.
That is work which I am rueing–
Do as Charles and I are doing!
Strawberry-blossoms, one and all,
We must spare them–here are many:
Look at it–the Flower is small,
Small and low, though fair as any:
Do not touch it! summers two
I am older, Anne, than you.
Pull the Primrose, Sister Anne!
Pull as many as you can.
–Here are Daisies, take your fill;
Pansies, and the Cuckow-flower:
Of the lofty Daffodil
Make your bed, and make your bower;
Fill your lap, and fill your bosom;
Only spare the Strawberry-blossom!
Primroses, the Spring may love them–
Summer knows but little of them:
Violets, do what they will,
Wither'd on the ground must lie;
Daisies will be daisies still;
Daisies they must live and die:
Fill your lap, and fill your bosom,
Only spare the Strawberry-blossom!
William Wordsworth poetry
kempis poetry magazine
More in: Wordsworth, William
---

W i l l i a m W o r d s w o r t h
(1770-1850)
P o w e r o f M u s i c
An Orpheus! An Orpheus!–yes, Faith may grow bold,
And take to herself all the wonders of old;–
Near the stately Pantheon you'll meet with the same,
In the street that from Oxford hath borrowed its name.
His station is there;–and he works on the crowd,
He sways them with harmony merry and loud;
He fills with his power all their hearts to the brim–
Was aught ever heard like his fiddle and him!
What an eager assembly! what an empire is this!
The weary have life and the hungry have bliss;
The mourner is cheared, and the anxious have rest;
And the guilt-burthened Soul is no longer opprest.
As the Moon brightens round her the clouds of the night,
So he where he stands is a center of light;
It gleams on the face, there, of dusky-faced Jack,
And the pale-visaged Baker's, with basket on back.
That errand-bound 'Prentice was passing in haste–
What matter! he's caught–and his time runs to waste–
The News-man is stopped, though he stops on the fret,
And the half-breathless Lamp-lighter he's in the net!
The Porter sits down on the weight which he bore;
The Lass with her barrow wheels hither her store;–
If a Thief could be here he might pilfer at ease;
She sees the Musician, 'tis all that she sees!
He stands, back'd by the Wall;–he abates not his din;
His hat gives him vigour, with boons dropping in,
From the Old and the Young, from the Poorest; and there!
The one-pennied Boy has his penny to spare.
O blest are the Hearers and proud be the Hand
Of the pleasure it spreads through so thankful a Band;
I am glad for him, blind as he is!–all the while
If they speak 'tis to praise, and they praise with a smile.
That tall Man, a Giant in bulk and in height,
Not an inch of his body is free from delight;
Can he keep himself still, if he would? oh, not he!
The music stirs in him like wind through a tree.
There's a Cripple who leans on his Crutch; like a Tower
That long has lean'd forward, leans hour after hour!–
Mother, whose Spirit in fetters is bound,
While she dandles the babe in her arms to the sound.
Now, Coaches and Chariots, roar on like a stream;
Here are twenty souls happy as Souls in a dream:
They are deaf to your murmurs–they care not for you,
Nor what ye are flying, or what ye pursue!
William Wordsworth poetry
kempis poetry magazine
More in: Wordsworth, William
---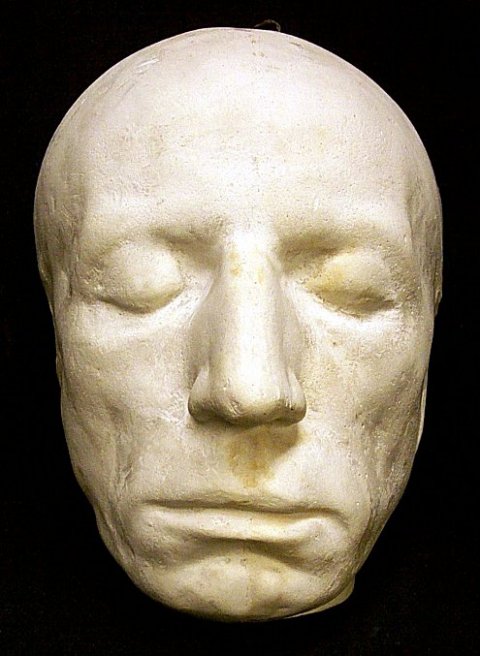 W i l l i a m W o r d s w o r t h
(1770-1850)
A C o m p l a i n t
There is a change–and I am poor;
Your Love hath been, nor long ago,
A Fountain at my fond Heart's door,
Whose only business was to flow;
And flow it did; not taking heed
Of its own bounty, or my need.
What happy moments did I count!
Bless'd was I then all bliss above!
Now, for this consecrated Fount
Of murmuring, sparkling, living love,
What have I? shall I dare to tell?
A comfortless, and hidden WELL.
A Well of love–it may be deep–
I trust it is, and never dry:
What matter? if the Waters sleep
In silence and obscurity.
–Such change, and at the very door
Of my fond Heart, hath made me poor.
William Wordsworth poetry
kempis poetry magazine
More in: Wordsworth, William
---
W i l l i a m W o r d s w o r t h
(1770-1850)
G i p s i e s
Yet are they here?–the same unbroken knot
Of human Beings, in the self-same spot!
Men, Women, Children, yea the frame
Of the whole Spectacle the same!
Only their fire seems bolder, yielding light:
Now deep and red, the colouring of night;
That on their Gipsy-faces falls,
Their bed of straw and blanket-walls.
–Twelve hours, twelve bounteous hours, are gone while I
Have been a Traveller under open sky,
Much witnessing of change and chear,
Yet as I left I find them here!
The weary Sun betook himself to rest.
–Then issued Vesper from the fulgent West,
Outshining like a visible God
The glorious path in which he trod.
And now, ascending, after one dark hour,
And one night's diminution of her power,
Behold the mighty Moon! this way
She looks as if at them–but they
Regard not her:–oh better wrong and strife,
Better vain deeds or evil than such life!
The silent Heavens have goings on;
The stars have tasks–but these have none.
William Wordsworth poetry
kempis poetry magazine
More in: Wordsworth, William
---
William Wordsworth
(1770-1850)
Among all lovely things my Love had been
Among all lovely things my Love had been;
Had noted well the stars, all flowers that grew
About her home; but she had never seen
A Glow-worm, never one, and this I knew.
While riding near her home one stormy night
A single Glow-worm did I chance to espy;
I gave a fervent welcome to the sight,
And from my Horse I leapt; great joy had I.
Upon a leaf the Glow-worm did I lay,
To bear it with me through the stormy night:
And, as before, it shone without dismay;
Albeit putting forth a fainter light.
When to the Dwelling of my Love I came,
I went into the Orchard quietly;
And left the Glow-worm, blessing it by name,
Laid safely by itself, beneath a Tree.
The whole next day, I hoped, and hoped with fear;
At night the Glow-worm shone beneath the Tree:
I led my Lucy to the spot, "Look here!"
Oh! joy it was for her, and joy for me!
William Wordsworth poetry
kempis poetry magazine
More in: Wordsworth, William
---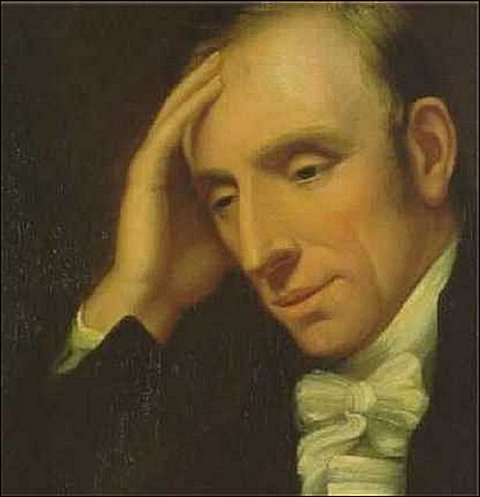 William Wordsworth
(1770-1850)
She was a Phantom of delight
She was a Phantom of delight
When first she gleam'd upon my sight;
A lovely Apparition, sent
To be a moment's ornament;
Her eyes as stars of Twilight fair;
Like Twilight's, too, her dusky hair;
But all things else about her drawn
From May-time and the chearful Dawn;
A dancing Shape, an Image gay,
To haunt, to startle, and way-lay.
I saw her upon nearer view,
A Spirit, yet a Woman too!
Her household motions light and free,
And steps of virgin liberty;
A countenance in which did meet
Sweet records, promises as sweet;
A Creature not too bright or good
For human nature's daily food;
For transient sorrows, simple wiles,
Praise, blame, love, kisses, tears, and smiles.
And now I see with eye serene
The very pulse of the machine;
A Being breathing thoughtful breath;
A Traveller betwixt life and death;
The reason firm, the temperate will,
Endurance, foresight, strength and skill;
A perfect Woman; nobly plann'd,
To warn, to comfort, and command;
And yet a Spirit still, and bright
With something of an angel light.
William Wordsworth poetry
kempis poetry magazine
More in: Wordsworth, William
---
W i l l i a m W o r d s w o r t h
(1770-1850)
ADDRESS TO THE SONS OF BURNS
after visiting their Father's Grave (August 14th, 1803.)

Ye now are panting up life's hill!
'Tis twilight time of good and ill,
And more than common strength and skill
Must ye display
If ye would give the better will
Its lawful sway.
Strong bodied if ye be to bear
Intemperance with less harm, beware!
But if your Father's wit ye share,
Then, then indeed,
Ye Sons of Burns! for watchful care
There will be need.
For honest men delight will take
To shew you favor for his sake,
Will flatter you; and Fool and Rake
Your steps pursue:
And of your Father's name will make
A snare for you.
Let no mean hope your souls enslave;
Be independent, generous, brave!
Your Father such example gave,
And such revere!
But be admonish'd by his Grave,
And think, and fear!
William Wordsworth poetry
kempis poetry magazine
More in: Wordsworth, William
---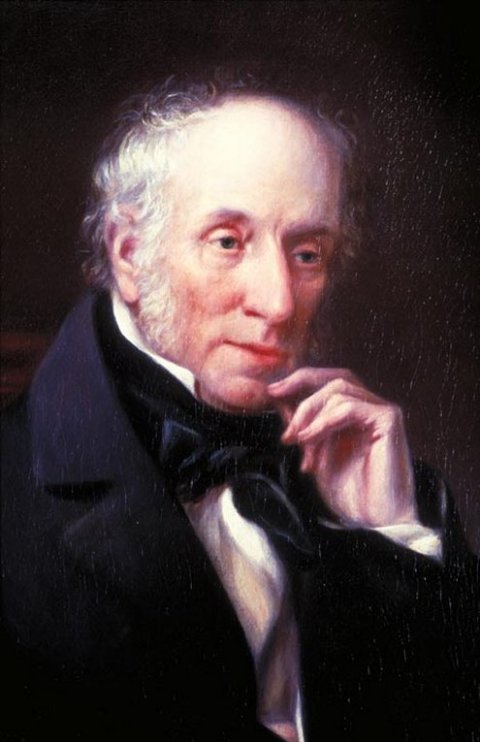 W i l l i a m   W o r d s w o r t h
(1770-1850)
I travell'd among unknown Men
I travell'd among unknown Men,
In Lands beyond the Sea;
Nor England! did I know till then
What love I bore to thee.
'Tis past, that melancholy dream!
Nor will I quit thy shore
A second time; for still I seem
To love thee more and more.
Among thy mountains did I feel
The joy of my desire;
And She I cherish'd turn'd her wheel
Beside an English fire.
Thy mornings shew'd–thy nights conceal'd
The bowers where Lucy play'd;
And thine is, too, the last green field
Which Lucy's eyes survey'd!
William Wordsworth poetry

kempis poetry magazine
More in: Archive W-X, Wordsworth, William
---
Older Entries »
Thank you for reading FLEURSDUMAL.NL - magazine for art & literature