– Bookstores
«« Previous page
·
Christian Kunda Mutoki: Guy de Maupassant. Une certaine idée de l'homme dans Le Horla
·
Chronicles of a Liquid Society by Umberto Eco
·
Michel Houellebecq: Sérotonine. Roman
·
David Lynch: Someone is in my House. Retrospectief in Bonnefantenmuseum
·
Unwritten: Caribbean Poems After the First World War edited by Karen McCarthy Woolf
·
This is Not the End of the Book by Umberto Eco & Jean-Claude Carrière
·
Winternachten festival van 17 tot en met 20 januari 2019 in Den Haag
·
Monument: Poems New and Selected by Natasha Trethewey
·
Jacques Vaché: Lettres de guerre (1914-1918)
·
Kafka and Noise. The Discovery of Cinematic Sound in Literary Modernism by Kata Gellen
·
Best of Delphine Lecompte. Poëzie
·
Pierre-Brice-Edition "Über Nacht war ich Winnetou!" von Hella Brice
Christian Kunda Mutoki porte un nouveau regard sur Le Horla de Guy de Maupassant.
Il est précédé d'une préface et suivi d'une postface.
Il vient rafraîchir les problématiques qui touchent à la morale, à l'athéisme, à des amours tumultueuses et infidèles. . .
Le monde d'aujourd'hui diffère-t-il de celui décrit au XIXe siècle par l'écrivain français ? La science a-t-elle amélioré la condition existentielle de l'homme ?
Voici quelques questions majeures qui trouvent ici un regard neuf.
Christian Kunda Mutoki a préparé sa thèse de doctorat à l'Université Paul Verlaine, actuelle Université de la Lorraine (Metz, France). Il est écrivain et professeur de Littérature et civilisation françaises à l'Université de Lubumbashi, en RDC.
GUY DE MAUPASSANT
Une certaine idée de l'homme dans Le Horla
Christian Kunda Mutoki
Cahiers des sciences du langage
Langue Linguistique Littérature
Broché
Format : 15,5 x 24 cm
ISBN : 978-2-8066-3665-2
14 décembre 2018
70 pages
€ 11,5
# New books
Une certaine idée de l'homme dans Le Horla
de Guy de Maupassant
Christian Kunda Mutoki
• fleursdumal.nl magazine
More in: - Book News, - Bookstores, Archive M-N, Archive M-N, Art & Literature News, Guy de Maupassant, Maupassant, Guy de, Maupassant, Guy de
---
The final book from one of Europe's cultural giants: an entertaining collection of essays about the modern world – from unbridled individualism to mobile phones.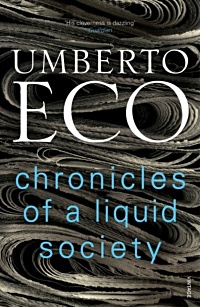 Umberto Eco was an international cultural superstar. A celebrated essayist as well as novelist, in this, his last collection, he explores many aspects of the modern world with irrepressible curiosity and wisdom written in his uniquely ironic voice.
Written by Eco as articles for his regular column in l'Espresso magazine, he brings his dazzling erudition, incisiveness and keen sense of the everyday to bear on topics such as popular culture and politics, unbridled individualism, conspiracies, the old and the young, mobile phones, mass media, racism, good manners and the crisis in ideological values.
It is a final gift to his readers – astute, witty and illuminating.
" A swan song from one of Europe's great intellectuals…Eco entertains with his intellect, humor, and insatiable curiosity…there's much here to enjoy and ponder ".  Tim Parks, Guardian
Chronicles of a Liquid Society
by Umberto Eco
Paperback
ISBN 9781784705206
Hardback
ISNB 9781911215318
2017/2018
Harvill Secker / Vintage
320 pages
Language & Literary Studies
# New books
Chronicles of a Liquid Society
by Umberto Eco
• fleursdumal.nl magazine
More in: - Book News, - Bookstores, Archive E-F, Art & Literature News, AUDIO, CINEMA, RADIO & TV, DICTIONARY OF IDEAS, MONTAIGNE, Museum of Literary Treasures, NONFICTION: ESSAYS & STORIES, Umberto Eco
---
«Mes croyances sont limitées, mais elles sont violentes. Je crois à la possibilité du royaume restreint. Je crois à l'amour» écrivait récemment Michel Houellebecq.
Le narrateur de Sérotonine approuverait sans réserve. Son récit traverse une France qui piétine ses traditions, banalise ses villes, détruit ses campagnes au bord de la révolte. Il raconte sa vie d'ingénieur agronome, son amitié pour un aristocrate agriculteur (un inoubliable personnage de roman – son double inversé), l'échec des idéaux de leur jeunesse, l'espoir peut-être insensé de retrouver une femme perdue.
Ce roman sur les ravages d'un monde sans bonté, sans solidarité, aux mutations devenues incontrôlables, est aussi un roman sur le remords et le regret.
Michel Houellebecq
Sérotonine
Littérature française
Flammarion
À paraître le 04/01/2019
352 pages
139 x 210 mm
Broché
EAN : 9782081471757
ISBN : 9782081471757
€ 22,00
# Nouveau roman
Michel Houellebecq
Sérotonine
•fleursdumal.nl magazine
More in: - Book News, - Bookstores, Archive G-H, Art & Literature News, Michel Houellebecq
---
Vanaf 30 november 2018 tot 28 april 2019 presenteert het Bonnefantenmuseum het omvangrijke retrospectief Someone is in my House van de Amerikaanse kunstenaar David Lynch.
Hoewel David Lynch onmiskenbaar een spilfiguur is in de internationale film- en tv-wereld, is zijn werk als beeldend kunstenaar veel minder bekend. Dat is op zijn minst vreemd, aangezien Lynch zelf altijd heeft bena­drukt dat hij zichzelf vóór alles ziet als beeldend kunste­naar.
Een beeldend kunstenaar die tijdens zijn studie aan de kunstacademie toevallig in aanraking kwam met het medium film, waarmee de basis gelegd werd voor zijn carrière als filmregisseur.
Naast zijn werk als regisseur is Lynch altijd actief gebleven als beeldend kunstenaar en heeft hij in de afgelopen decennia een grenzeloos oeuvre gecreëerd van onder andere schilderijen, tekeningen, litho's, foto's, lampsculpturen, muziek en installaties.
Een oeuvre dat tot nu toe nog maar zelden is belicht en in musea werd getoond. Met ruim 500 werken brengt het Bonnefantenmuseum niet alleen de eerste Nederlandse museumpresentatie van Lynch' beeldend oeuvre, maar ook de grootste overzichtstentoonstelling ooit.
David Lynch: Someone is in my House
30.11.2018 – 28.04.2019
David Lynch, beeldend kunstenaar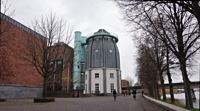 Anders dan het werk van Lynch (1946, Missoula, Montana, VS), vol duister geweld en seksua­liteit, doet vermoeden, is de kindertijd van de kunstenaar en filmmaker ge­lukkig en liefdevol.
Lynch groeit op met reislustige ouders en leidt op jonge leeftijd een nomadenbestaan, een voor hem idyllische en veilige omgeving. Van jongs af aan aangemoedigd om zich creatief te ontplooien – kleurboeken waren uit den boze, eigen verbeelding gebruiken was het credo – komt hij uiteindelijk op de Pennsylvania Academy of the Fine Arts in Philadelphia terecht om schilderkunst te studeren.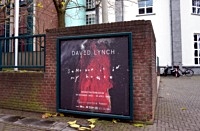 Hier ontwikkelt Lynch zijn artistieke vocabulaire en thema's die blijvend aanwezig zullen zijn in zijn werk. En hier ligt de voedingsbodem voor zijn eerste mixed-media installatie met stop-motion film Six Men Getting Sick (Six Times) (1967), die een opmaat vormde naar zijn eerste speelfilm, Eraserhead (1977). De rest is (film)geschiedenis en inmiddels zijn Lynch' films moderne klassiekers.
Lynch' kunstenaarschap loopt als een rode draad door zijn leven en films. Hij is gedurende zijn vijftigjarige carrière altijd blijven tekenen en schilde­ren, ook als er vanwege zijn werk als filmregisseur weinig tijd was om in het atelier door te brengen.
"I miss painting when I'm not painting", zegt Lynch zelf in de recente biografie Room to Dream. * David Lynch en Kristine McKenna. Room to Dream. Edinburgh, Canongate Books, 2018, p. 301
In samenwerking met David Lynch toont het Bonnefanten een indrukwekkend artistiek overzicht van het veelzijdige kunstenaarschap van Lynch.
De tentoonstelling omvat schilderijen, foto's, tekeningen, litho's en aquarellen uit de jaren 60 tot heden, unieke tekeningen op luciferboekjes uit de jaren 70, schetsboektekeningen uit de jaren 60/70/80, zwart-wit foto's uit verschillende periodes, waaronder de befaamde Snow Men-fotoserie (1993), cartoons uit de serie The Angriest Dog in the World (1982-1993), audiowerken én een aantal kortfilms uit 1968-2015.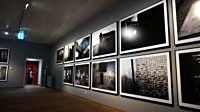 Voor het eerst sinds het ontstaan in 1967, zal ook het allesbepalende academiewerk Six Men Getting Sick (Six Times) in een museumtentoonstelling te zien zijn.
Publicatie
Bij de tentoonstelling verschijnt een rijk geïllustreerde monografie met tekstbijdragen van curator Stijn Huijts (artistiek directeur Bonnefantenmuseum), Kristine McKenna (journalist en curator, Verenigde Staten), Petra Giloy-Hirtz (schrijver en curator, Duitsland) en Michael Chabon (schrijver, Verenigde Staten). De publicatie is verkrijgbaar in het Nederlands, Engels en Frans en wordt uitgegeven door Uitgeverij Hannibal in samenwerking met Prestel.
Tentoonstellingsteaser
In aanloop naar zijn omvangrijke retrospectief Someone is in my House, maakte Lynch speciaal voor het Bonnefanten een unieke tentoonstellingsteaser. In deze typisch Lynchiaanse kortfilm, met in de hoofdrol naast Lynch zelf de 'White Monkey' – een personage dat eerder opdook in Lynch' Weird daily weather report – nodigt hij de kijker uit om naar het Bonnefanten te komen.
Flankerend programma
Parallel aan de tentoonstelling is er in samenwerking met Lumière Cinema in Maastricht een compleet filmretrospectief gewijd aan de films en het leven van David Lynch met filmvertoningen, documentaires en lezingen over de filmmaker.
Daarnaast brengt EYE filmmuseum drie digitaal gerestaureerde films opnieuw uit in de filmtheaters in heel het land. Voor meer informatie: https://www.eyefilm.nl/themas/gerestaureerde-david-lynch-klassiekers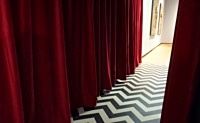 De philharmonie zuidnederland werkte met de Poolse componist Marek Zebrowski aan een compositie en uitvoering van Music for David, een strijkkwartet dat Zebrowski in 2015 componeerde als een hommage aan Lynch, die op zijn beurt de korte animatie film Pożar (Fire) maakte bij Zebrowski's compositie. Het muziekstuk zal een aantal keren live (op zaal) bij de film ten gehore worden gebracht.
# meer informatie op website Bonnefantenmuseum
# Expositie & publicatie
David Lynch: Someone is in my House
30.11.2018 – 28.04.2019

• photos: jef van kempen
• fleursdumal.nl magazine
More in: #Archive A-Z Sound Poetry, *Concrete + Visual Poetry K-O, - Book News, - Bookstores, Archive K-L, Art & Literature News, AUDIO, CINEMA, RADIO & TV, David Lynch, Exhibition Archive, FDM Art Gallery, Jef van Kempen Photos & Drawings, Museum of Literary Treasures, Photography, Tales of Mystery & Imagination, THEATRE
---
What does it mean to fight for a 'mother country' that refuses to accept you as one of its own?
Britain's First World War poets changed the way we view military conflict and had a deep impact on the national psyche. Yet the stories of the 15,600 volunteers who signed up to the British West Indian Regiment remain largely unknown. Sadly, these citizens of empire were not embraced as compatriots on an equal footing. Instead they faced prejudice, injustice and discrimination while being confined to menial and auxiliary work, regardless of rank or status.
As a collaborative project, co-commissioned by 14-18 NOW, BBC Contains Strong Language and the British Council, Unwritten Poems invited contemporary Caribbean and Caribbean diaspora poets to write into that vexed space, and explore the nature of war and humanity – as it exists now, and at a time when Britain's colonial ambitions were still at a peak. Unwritten: Caribbean Poems After the First World War is a result of that provocation and also includes new material written for broadcast and live performance.
Unwritten:
Caribbean Poems After the First World War
by Karen McCarthy Woolf (Author, Editor)
With contributions from Jay Bernard, Malika Booker, Kat Francois, Jay T. John, Anthony Joseph, Ishion Hutchinson, Charnell Lucien, Vladimir Lucien, Rachel Manley, Tanya Shirley and Karen McCarthy Woolf.
Paperback
Publisher: Nine Arches Press
4 Oct. 2018
Poetry
Language: English
ISBN-10: 1911027298
ISBN-13: 978-1911027294
Product Dimensions: 16.3 x 1 x 23 cm
160 pages
Price: £14.99
# new book
Caribbean Poems After the First World War
• fleursdumal.nl magazine
More in: #Editors Choice Archiv, #More Poetry Archives, - Book News, - Bookstores, Archive W-X, Art & Literature News
---
The perfect gift for book lovers: a beautifully designed hardcover in which two of the world's great men have a delightfully rambling conversation about the future of the book in the digital era, and decide it is here to stay.
'The book is like the spoon: once invented, it cannot be bettered.' Umberto Eco These days it is almost impossible to get away from discussions of whether the 'book' will survive the digital revolution.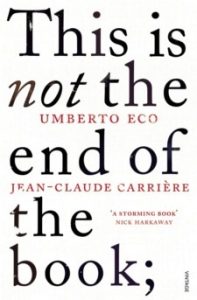 Blogs, tweets and newspaper articles on the subject appear daily, many of them repetitive, most of them admitting they don't know what will happen. Amidst the twittering, the thoughts of Jean-Claude Carrière and Umberto Eco come as a breath of fresh air. There are few people better placed to discuss the past, present and future of the book. Both avid book collectors with a deep understanding of history, they have explored through their work the many and varied ways ideas have been represented through the ages.
This thought-provoking book takes the form of a long conversation in which Carrière and Eco discuss everything from what can be defined as the first book to what is happening to knowledge now that infinite amounts of information are available at the click of a mouse. En route there are delightful digressions into personal anecdote. We find out about Eco's first computer and the book Carrière is most sad to have sold.
Readers will close this entertaining book feeling they have had the privilege of eavesdropping on an intimate discussion between two great minds. And while, as Carrière says, the one certain thing about the future is that it is unpredictable, it is clear from this conversation that, in some form or other, the book will survive.
Umberto Eco (1932–2016) wrote fiction, literary criticism and philosophy. His first novel, The Name of the Rose, was a major international bestseller. His other works include Foucault's Pendulum, The Island of the Day Before, Baudolino, The Mysterious Flame of Queen Loana, The Prague Cemetery and Numero Zero along with many brilliant collections of essays.
Jean-Claude Carrière is a writer, playwright and screenwriter. He is notably the co-author of Conversations About the End of Time (with Stephen Jay Gould, Umberto Eco, etc.) He has also worked with Peter Brook, Milos Forman, Buñuel, Godard and the Dalaï Lama.
This is Not the End of the Book
A conversation curated by Jean-Philippe de Tonnac
By Umberto Eco, Jean-Claude Carrière
Language & Literary Studies
Paperback
ISBN 9780099552451
2012
Vintage Publ.
352 pages
$24.99
# new books
This is Not the End of the Book
Umberto Eco & Jean-Claude Carrière
fleursdumal.nl magazine
More in: - Book Lovers, - Book News, - Book Stories, - Bookstores, Archive C-D, Archive E-F, Art & Literature News, The Art of Reading, Umberto Eco
---
Winternachten festival geeft het woord aan schrijvers en dichters over brandende kwesties van nu.
Van 17 tot en met 20 januari 2019 presenteert het internationale literatuurfestival gesprekken, proza, poëzie, spoken word en films op twaalf Haagse podia. Ruim 80 binnen- en buitenlandse auteurs komen naar Den Haag. De 24e festivaleditie staat onder het motto Who Wants to Live Forever? in het teken van onze toekomst.
Winternachten internationaal literatuurfestival Den Haag inspireert met vertellen, lezen, luisteren en denken. Tijdens vier sfeervolle winterse dagen nodigen gesprekken, voordrachten en films uit tot nadenken over de grote vragen van onze tijd.
Sinds de start in 1995 is het festival uitgegroeid tot het belangrijkste internationale literaire evenement van Nederland waar schrijvers en dichters zich uitspreken over actuele thema's. Ook bezoekers – onder hen veel wijkbewoners, studenten en scholieren – dragen actief bij met eigen verhalen of gedichten.
'Who Wants to Live Forever?'
Ieder Winternachten festival krijgt een actueel thema mee. Deze 24e editie staat in het teken van het oeroude verlangen van de mens naar eeuwig leven in het licht van de technologie van nu. Onder het motto Who Wants to Live Forever? spreken auteurs onder meer over de relatie tussen mens en robot, over de impact van technologische innovatie en over hoop en vrees rond de politieke toekomst.
De 24e editie van het festival Winternachten staat met het motto 'Who Wants to Live Forever' in het teken van onze toekomst.
Gesprekken, voordachten, muziek en film over de verhouding tussen mens en robot, over nieuwe maakbaarheid door technologische innovatie, over hoop en vrees voor de politieke toekomst en over het terugkerend verlangen naar eeuwig leven.
Het festival verwelkomt uit het buitenland onder anderen schrijvers Jennifer Nansubuga Makumbi uit Oeganda, Leni Zumas uit de VS, Basma Abdelaziz uit Egypte, Jennifer Clement uit Mexico, Ayelet Gundar-Goshen uit Israël, Mark O'Connell uit Ierland, David Van Reybrouck uit België, Ramayana-expert Arshia Sattar uit India en de Zuid-Afrikaanse rapper, spoken word-artiest en schrijver HemelBesem, Adam Zagajewski (Polen), Jennifer Nansubuga Makumbi (Oeganda), Mark O'Connell (Ierland), Leni Zumas (VS) en Basma Abdelaziz (Egypte).
Uit Nederland nemen tientallen schrijvers, dichters, denkers en performers deel, zoals Akwasi, Elfie Tromp, Youp van 't Hek, Ian Buruma, Nelleke Noordervliet, Radna Fabias, Dimitri Verhulst, Aafke Romeijn, Damiaan Denys, Derek Otte, Luuk van Middelaar, Auke Hulst, Hanna Bervoets, Simone van Saarloos, Rodaan Al Galidi, ASKO/Schönberg, Lounar en Vamba Sherif.
De grote festivalavonden Friday Night Unlimited (vrijdag 18 januari) en Saturday Night Unlimited (zaterdag 19 januari) vormen de kern van het festival. De bezoeker kiest per avond uit vijfentwintig programma's op zes podia in Theater aan het Spui en Filmhuis Den Haag. Dit jaar is in samenwerking met Filmhuis Den Haag het filmprogramma uitgebreid.
Nieuw is ook de Winternachten-editie van het spoken-word programma 'Woorden worden Zinnen' in het popcentrum Paard. Daarnaast zijn er festivalprogramma's in Theater Dakota, de Speakers' Corner in de Haagse Hogeschool, de bibliotheken Schilderswijk en Nieuw Waldeck en het International Institute of Social Studies.
Graag tot ziens in Theater aan het Spui, Filmhuis Den Haag, Paard, Theater Dakota, International Institute of Social Studies en de andere festivallocaties van dit jaar!
   #  more informatie op website writersunlimited.nl   

Winternachten festival
17 tot en met 20 januari 2019
Den Haag
# fleursdumal.nl magazine
More in: # Music Archive, #Biography Archives, #More Poetry Archives, - Book Lovers, - Bookstores, Art & Literature News, AUDIO, CINEMA, RADIO & TV, LITERARY MAGAZINES, PRESS & PUBLISHING, STREET POETRY, THEATRE, Winternachten
---
Layering joy and urgent defiance—against physical and cultural erasure, against white supremacy whether intangible or graven in stone—Trethewey's work gives pedestal and witness to unsung icons.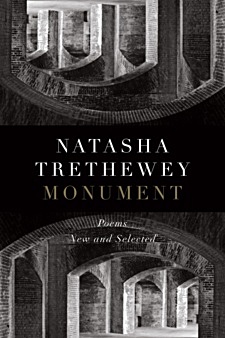 Monument, Trethewey's first retrospective, draws together verse that delineates the stories of working class African American women, a mixed-race prostitute, one of the first black Civil War regiments, mestizo and mulatto figures in Casta paintings, Gulf coast victims of Katrina. Through the collection, inlaid and inextricable, winds the poet's own family history of trauma and loss, resilience and love.
In this setting, each section, each poem drawn from an "opus of classics both elegant and necessary,"* weaves and interlocks with those that come before and those that follow.
As a whole, Monument casts new light on the trauma of our national wounds, our shared history. This is a poet's remarkable labor to source evidence, persistence, and strength from the past in order to change the very foundation of the vocabulary we use to speak about race, gender, and our collective future.
*Academy of American Poets' chancellor Marilyn Nelson
Natasha Trethewey, two term U.S. Poet Laureate, Pulitzer Prize winner, and 2017 Heinz Award recipient, has written five collections of poetry and one book of nonfiction. An American Academy of Arts and Sciences fellow, she is currently Board of Trustees professor of English at Northwestern University. She lives in Evanston, Illinois.
Monument: Poems New and Selected
by Natasha Trethewey
Poetry
Houghton Mifflin Harcourt
Format: Hardcover
ISBN-13/EAN: 9781328507846
ISBN-10: 132850784X
Pages: 208
Price: $26.00
November 6, 2018
# new books
Natasha Trethewey
Monument: Poems New and Selected
fleursdumal.nl magazine
More in: - Book News, - Bookstores, Archive S-T, Art & Literature News
---
Mort d'une surdose d'opium en 1919 à l'âge de vingt-trois ans, alors qu'il est encore sous l'uniforme, Jacques Vaché est reconnu comme celui par qui le surréalisme est arrivé.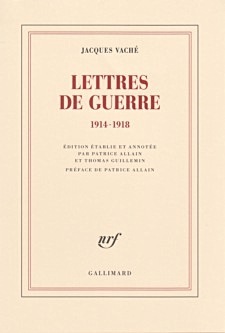 Du premier Manifeste à ses derniers Entretiens, André Breton aura toujours célébré celui qu'il appelait «l'homme que j'ai le plus aimé au monde».
Et quinze Lettres de guerre, envoyées depuis le front à son ami poète ainsi qu'à Théodore Fraenkel et Louis Aragon, auront suffi pour que Vaché devienne l'arme secrète de plusieurs générations.
Breton révélait en 1919 son «Umour» sans H, surgi au milieu des combats, l'expression poétique la plus pure de l'humour noir et de la «désertion intérieure».
Présenter pour la première fois l'intégralité des lettres écrites par Jacques Vaché à sa famille et à ses amis pendant la guerre (158 dont 23 totalement inédites) permet de marquer le point de départ d'une aventure moderne et de mettre en lumière le soldat en action, la vocation prometteuse du dessinateur et la singularité du «dandy des tranchées».
Jacques Vaché:
Lettres de guerre (1914-1918)
Édition de Patrice Allain et Thomas Guillemin.
Préface de Patrice Allain
Collection Blanche, Gallimard
Parution: 08-11-2018
480 pages,
ill.,
140 x 205 mm
Achevé d'imprimer: 01-10-2018
Genre : Correspondances
Prix: 24,00 €
# new books
Jacques Vaché:
Lettres de guerre (1914-1918)
fleursdumal.nl magazine
More in: #Biography Archives, *War Poetry Archive, - Book News, - Bookstores, Archive U-V, Archive U-V, Art & Literature News, Jacques Vaché, Opium-Eaters, Vaché, Jacques
---
A series of disruptive, unnerving sounds haunts the fictional writings of Franz Kafka.
These include the painful squeak in Gregor Samsa's voice, the indeterminate whistling of Josefine the singer, the relentless noise in "The Burrow," and telephonic disturbances in The Castle.
In Kafka and Noise, Kata Gellen applies concepts and vocabulary from film theory to Kafka's works in order to account for these unsettling sounds. Rather than try to decode these noises, Gellen explores the complex role they play in Kafka's larger project.
Kafka and Noise offers a method for pursuing intermedial research in the humanities—namely, via the productive "misapplication" of theoretical tools, which exposes the contours, conditions, and expressive possibilities of the media in question. This book will be of interest to scholars of modernism, literature, cinema, and sound, as well as to anyone wishing to explore how artistic and technological media shape our experience of the world and the possibilities for representing it.
Kata Gellen is an assistant professor in the Department of Germanic Languages and Literature at Duke University.
Kata Gellen (Author)
Kafka and Noise.
The Discovery of Cinematic Sound in Literary Modernism
272 pages
Northwestern University Press
Literary Criticism
Cloth Text – $99.95
ISBN 978-0-8101-3894-0
Paper Text – $34.95
ISBN 978-0-8101-3893-3
Publication Date: January 2019
# new books
The Discovery of Cinematic Sound in Literary Modernism
fleursdumal.nl magazine
More in: # Music Archive, #Archive A-Z Sound Poetry, #Archive Concrete & Visual Poetry, *Concrete + Visual Poetry K-O, - Book News, - Bookstores, Archive G-H, Archive K-L, Art & Literature News, Franz Kafka, Kafka, Franz, Kafka, Franz, Modernisme
---
Delphine Lecompte (1978) debuteerde in 2004 in het Engels met de roman Kittens in the Boiler, daarna schakelde ze over naar gedichten in haar moedertaal.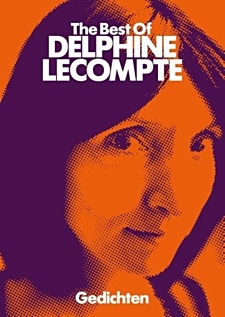 Voor haar debuutbundel De dieren in mij kreeg ze de C. Buddingh'-prijs 2010 en de Prijs Letterkunde 2011 van de Provincie West-Vlaanderen. Haar vorige bundel Dichter, bokser, koningsdochter werd genomineerd voor de VSB Poëzieprijs.
Het oeuvre van Delphine Lecompte vormt een ontembaar en onvoorspelbaar universum. In inmiddels zeven bundels bevraagt ze volstrekt genadeloos en vol branie zichzelf, de wereld en de poëzie.
Nu is het tijd voor een Best Of, waarin alle incestueuze imkers, gekwelde touwslagers, pedofiele tuinmannen, norse walvisjagers, morose windhondenfokkers, verwaarloosde hoefdieren, onbereikbare moeders en de geliefde oude kruisboogschutter een nieuw verband met elkaar aangaan. Ze bevolken een wereld die vol is van woede en gekte, maar ook van bezinning, verliefdheid en troost.
Best of Delphine Lecompte
Auteur: Delphine Lecompte
Taal: Nederlands
Poëzie
Uitgever: De Bezige Bij
Druk 1e druk
Omslagontwerp Moker Ontwerp
Foto auteur Koen Broos
Vormgeving binnenwerk Aard Bakker
Druk Bariet Ten Brink, Meppel
isbn 978 94 031 3720 9
nur 306
Afmetingen 24 x 17 x 1,2 cm
128 pagina's
Paperback
November 2018
€ 19,99
# new books
Best of Delphine Lecompte
Poëzie
fleursdumal.nl magazine
More in: #Editors Choice Archiv, - Book News, - Bookstores, Archive K-L, Art & Literature News
---
"Über Nacht war ich Winnetou!" ist für alle Filmfans ein wahrer Schatz: Drei Jahre nach dem Tod ihres Mannes Pierre Brice zeigt seine Frau Hella das über 50 Jahre lang behütete und zum Großteil unveröffentlichte private Fotomaterial des Winnetou-Schauspielers, entstanden am Rande der Dreharbeiten zu den Winnetou-Filmen.
Ergänzt werden diese Aufnahmen neben zahlreichen weiteren Fotos aus den Winnetou-Filmen unter anderem durch persönliche Briefe, Postkarten, Verträge und Vereinbarungen.
Persönliche Dokumente Pierre Brice' runden diese einzigartige Sammlung von Memorabilia über einen der beliebtesten und populärsten Schauspieler der letzten 55 Jahre ab.
 Pierre-Brice-Edition "Über Nacht war ich Winnetou!"
von Hella Brice
1960er Jahre – Dreharbeiten der Karl-May-Filme. 'Pierre Brice-Edition'.
Fans von Pierre Brice, Karl May oder Filmen allgemein
Buch (gebunden)
223 Seiten
ISBN: 3780231018
EAN: 9783780231017
21, 4 cm / 30, 2 cm / 2, 0 cm ( B/H/T ).
Karl-May-Verlag
12. Oktober 2018
€ 39,00
# new books
Karl-May-Filme
Pierre Brice-Edition
fleursdumal.nl magazine
More in: * Cowboys and Indians, - Book News, - Bookstores, Archive A-B, Archive M-N, Art & Literature News, AUDIO, CINEMA, RADIO & TV, Karl May
---
Older Entries »
« Newer Entries
Thank you for reading FLEURSDUMAL.NL - magazine for art & literature