DICTIONARY OF IDEAS
«« Previous page
·
Hugo Ball: Bagatelle
·
Viking Eggeling: Four frames from "Diagonal-Symphonie"
·
Hugo Ball: Eröffnungs-Manifest, 1. Dada-Abend
·
Hugo Ball: Die Sonne
·
Hugo Ball: Früh, eh der Tag
·
Robert Desnos: Faire part
·
Hugo Ball: Ick bin in Tempelhof jebore
·
INSEL, the only novel by Mina Loy
·
Hugo Ball: Einer Verdammten
·
Hugo Ball: O Marietta-Kripistika!
·
Hugo Ball: brulba dori
·
Exhibition Rasheed Araeen = A Retrospective (02/12/2017 – 25/03/2018)
Bagatelle
Vor meinem Fenster,
Im Sonnenschein
Sitzen Engelein.
Eins, zwei, drei Engelein
Und äugeln herein.
Sie hauchen an die Scheiben
Und kichern sich an,
Und schreiben
Deinen Namen hin.
Und kichern sich an
Und verwischen ihn.
Und blinzeln gar boshaft
Und neckisch herein,
Und flattern fort
Die drei Engelein.
Hugo Ball
(1886-1927)
Bagatelle
fleursdumal.nl magazine
More in: Archive A-B, Ball, Hugo, Dada, DADA, Dadaïsme
---
Four frames from "Diagonal-Symphonie"
Film still of "Diagonal Symphonie"
by Viking Eggeling (1880-1925)
fleursdumal.nl magazine
More in: AUDIO, CINEMA, RADIO & TV, Dada, DADA, Dadaïsme, MUSIC, Viking Eggeling
---
Dada ist eine neue Kunstrichtung. Das kann man daran erkennen, daß bisher niemand etwas davon wußte und morgen ganz Zürich davon reden wird. Dada stammt aus dem Lexicon. Es ist furchtbar einfach. Im Französischen bedeutets Steckenpferd. Im Deutschen: Addio, steigt mir bitte den Rücken runter, auf Wiedersehen ein ander Mal! Im Rumänischen: 'Ja wahrhaftig, Sie haben Recht, so ist es. Jawohl, wirklich. Machen wir'. Und so weiter.
Ein internationales Wort. Nur ein Wort und das Wort als Bewegung. Es ist einfach furchtbar. Wenn man eine Kunstrichtung daraus macht, muß das bedeuten, man will Komplikationen wegnehmen. Dada Psychologie, Dada Literatur, Dada Bourgeoisie und ihr, verehrteste Dichter, die ihr immer mit Worten, nie aber das Wort selber gedichtet habt. Dada Weltkrieg und kein Ende, Dada Revolution und kein Anfang. Dada ihr Freunde und Auchdichter, allerwerteste Evangelisten. Dada Tzara, Dada Huelsenbeck, Dada m'dada, Dada mhm' dada, Dada Hue, Dada Tza.
Wie erlangt man die ewige Seligkeit? Indem man Dada sagt. Wie wird man berühmt? Indem man Dada sagt. Mit edlem Gestus und mit feinem Anstand. Bis zum Irrsinn, bis zur Bewußtlosigkeit. Wie kann man alles Aalige und Journalige, alles Nette und Adrette, alles Vermoralisierte, Vertierte, Gezierte abtun? Indem man Dada sagt. Dada ist die Weltseele, Dada ist der Clou, Dada ist die beste Lilienmilchseife der Welt. Dada Herr Rubiner, Dada Herr Korrodi, Dada Herr Anastasius Lilienstein.
Das heißt auf Deutsch: die Gastfreundschaft der Schweiz ist über alles zu schätzen, und im Ästhetischen kommt's auf die Norm an. Ich lese Verse, die nichts weniger vorhaben als: auf die Sprache zu verzichten. Dada Johann Fuchsgang Goethe. Dada Stendhal. Dada Buddha, Dalai Lama, Dada m'dada, Dada m'dada, Dada mhm' dada. Auf die Verbindung kommt es an, und daß sie vorher ein bißchen unterbrochen wird. Ich will keine Worte, die andere erfunden haben. Alle Worte haben andere erfunden. Ich will meinen eigenen Unfug, und Vokale und Konsonanten dazu, die ihm entsprechen. Wenn eine Schwingung sieben Ellen lang ist, will ich füglich Worte dazu, die sieben Ellen lang sind. Die Worte des Herrn Schulze haben nur zwei ein halb Zentimeter.
Da kann man nun so recht sehen, wie die artikulierte Sprache entsteht. Ich lasse die Laute ganz einfach fallen. Worte tauchen auf, Schultern von Worten; Beine, Arme, Hände von Worten. Au, oi, u. Man soll nicht zuviel Worte aufkommen lassen. Ein vers ist die Gelegenheit, möglichst ohne Worte und ohne die Sprache auszukommen. Diese vermaledeite Sprache, an der Schmutz klebt wie von Maklerhänden, die die Münzen abgegriffen haben. Das Wort will ich haben, wo es aufhört und wo es anfängt.
Jede Sache hat ihr Wort; da ist das Wort selber zur Sache geworden. Warum kann der Baum nicht Pluplusch heißen, und Pluplubasch, wenn es geregnet hat? Und warum muß er überhaupt etwas heißen? Müssen wir denn überall unseren Mund dran hängen? Das Wort, das Wort, das Weh gerade an diesem Ort, das Wort, meine Herren, ist eine öffentliche Angelegenheit ersten Ranges.
Hugo Ball
(1886-1927)
Eröffnungs-Manifest, 1. Dada-Abend
(Opening-Manifest of the 1st Dada-Evening)
Zürich, 14. Juli 1916
fleursdumal.nl magazine
More in: Archive A-B, Archive A-B, Ball, Hugo, Dada, DADA, Dadaïsme
---
Die Sonne
Zwischen meinen Augenlidern fährt ein Kinderwagen.
Zwischen meinen Augenlidern geht ein Mann mit einem Pudel.
Eine Baumgruppe wird zum Schlangenbündel und zischt in den Himmel.
Ein Stein hält eine Rede. Bäume in Grünbrand. Fliehende Inseln.
Schwanken und Muschelgeklingel und Fischkopf wie auf dem Meeresboden.
Meine Beine strecken sich aus bis zum Horizont. Eine Hofkutsche knackt
Drüber weg. Meine Stiefel ragen am Horizont empor wie die Türme einer
Versinkenden Stadt. Ich bin der Riese Goliath. Ich verdaue Ziegenkäse.
Ich bin ein Mammuthkälbchen. Grüne Grasigel schnüffeln an mir.
Gras spannt grüne Säbel und Brücken und Regenbögen über meinen Bauch.
Meine Ohren sind rosa Riesenmuscheln, ganz offen. Mein Körper schwillt an
Von Geräuschen, die sich gefangen haben darin.
Ich höre das Meckern
Des großen Pan. Ich höre die zinnoberrote Musik der Sonne. Sie steht
Links oben. Zinnoberrot sprühen die Fetzen hinaus in die Weltnacht.
Wenn sie herunterfällt, zerquetscht sie die Stadt und die Kirchtürme
Und alle Vorgärten voll Krokus und Hyazinthen, und wird einen Schall geben
Wie Blech von Kindertrompeten.
Aber es ist in der Luft ein Gegeneinanderwehen von Purpur und Eigelb
Und Flaschengrün: Schaukeln, die eine orangene Faust festhält an langen Fäden,
Und ist ein Singen von Vogelhälsen, die über die Zweige hüpfen.
Ein sehr zartes Gestänge von Kinderfahnen.
Morgen wird man die Sonne auf einen großrädrigen Wagen laden
Und in die Kunsthandlung Caspari fahren. Ein viehköpfiger Neger
Mit wulstigein Nacken, Blähnase und breitem Schritt wird fünfzig weiß-
Juckende Esel halten, die vor den Wagen gespannt sind beim Pyramidenbau.
Eine Menge blutbunten Volks wird sich stauen:
Kindsbetterinnen und Ammen,
Kranke im Fahrstuhl, ein stelzender Kranich, zwei Veitstänzerinnen.
Ein Herr mit einer Ripsschleifenkrawatte und ein rotduftender Schutzmann.
Ich kann mich nicht halten: Ich bin voller Seligkeit. Die Fensterkreuze
Zerplatzen. Ein Kinderfräulein hängt bis zum Nabel aus einem Fenster heraus.
Ich kann mir nicht helfen: Die Dome zerplatzen mit Orgelfugen. Ich will
Eine neue Sonne schaffen. Ich will zwei gegeneinanderschlagen
Wie Zymbeln, und meiner Dame die Hand hinreichen. Wir werden entschweben
In einer violetten Sänfte über die Dächer euerer
Hellgelben Stadt wie Lampenschirme aus Seidenpapier im Zugwind.
Hugo Ball
(1886 – 1927)
Erstdruck in:
Die Aktion (Berlin),
4. Jg., Nr. 22, Mai 1914
fleursdumal.nl magazine
More in: Archive A-B, Ball, Hugo, Dada, DADA, Dadaïsme
---
Früh, eh der Tag
Früh, eh der Tag seine Schwingen noch regt,
Alles noch schlummert und träumet und ruht,
Blümchen noch nickt in der Winde Hut,
Eh noch im Forste ein Vogel anschlägt,
Schreitet ein Engel
Durchs tauweiße Land
Streut ans den Segen
Mit schimmernder Hand.
Und es erwachet die Au und der Wald.
Blumen bunt reiben die Äuglein sich klar,
Staunen und flüstern in seliger Schar.
Aufstrahlt die Sonne, ein Amselruf schallt.
Aber der Engel
Zog längst schon landaus.
Flog wieder heim
In sein Vaterhaus.
Hugo Ball
(1886-1927)
Gedicht: Früh, eh der Tag
fleursdumal.nl magazine
More in: Archive A-B, Ball, Hugo, Dada, DADA, Dadaïsme
---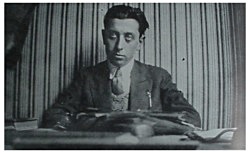 Faire part
Sur le pont du navire la couturière fait le point
couturière taille-moi un grand paon de mercure
je fais ce soir ma dernière communion
La dernière hirondelle fait l'automne
D'entre les becs de gaz blêmes
Se lève une figure sans signification.
Statues de verre flacon simulacre de l'amour
Vient la fameuse dame
Facteur de soustraction
avec une lettre pour moi
Mon cher Desnos Mon cher Desnos
Je vous donne rendez-vous
dans quelques jours
On vous préviendra
Vous mettrez votre habit d'outre monde
Et tout le monde sera bien content.
Robert Desnos
(1900 – 1945)
Faire part
fleursdumal.nl magazine
More in: Archive C-D, Archive C-D, Desnos, Robert, Holocaust, REPRESSION OF WRITERS, JOURNALISTS & ARTISTS, SURREALISM
---
Ick bin in Tempelhof jebore
Ick bin in Tempelhof jeboren
Der Flieder wächst mich aus die Ohren.
In meinem Maule grast die Kuh.
Ick geh zuweilen sehr und schwanger
Auf einem Blumen-i-o-anger
Mein Vater, was sagst Du dazu?
Wir gleichen sehr den Baletteusen,
Pleureusen – Dösen – Schnösen – lösen.
Gewollt zu haben – selig sein.
Verehrte Herrn, verehrte Damen,
Die um mich hören herzu kamen
Dies widmet der Gesangverein.
Und Jungfraun kamen wunderbar
Geschmeide scheidegelb im Haar
Mit schlankgestielten Lilien.
Der Kakagei und Papadu
Die sahen auch dabei dazu
Und kamen aus Brasilien.
(Klarinetta Klaball)
Hugo Ball
(1886-1927)
Ick bin in Tempelhof jebore
fleursdumal.nl magazine
More in: Archive A-B, Ball, Hugo, Dada, DADA, Dadaïsme
---
Insel, the only novel by the surrealist master Mina Loy, is a book like no other—about an impossible friendship amid the glamorous artistic bohemia of 1930s Paris.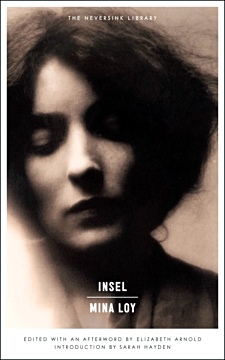 German painter Insel is a perpetual sponger and outsider—prone to writing elegant notes with messages like "Am starving to death except for a miracle—three o'clock Tuesday afternoon will be the end"—but somehow writer and art dealer Mrs. Jones likes him.
Together, they sit in cafés, hatch grand plans, and share their artistic aspirations and disappointments. And they become friends. But as they grow ever closer, Mrs. Jones begins to realize just how powerful Insel's hold over her is.
Unpublished during Loy's lifetime, Insel—which is loosely based on her friendship with the painter Richard Oelze—is a supremely surrealist, deliberately excessive creation: baroque in style, yet full of deft comedy and sympathy. Now, with an alternate ending only recently unearthed in the Loy archives, Insel is finally back in print, and Loy's extraordinary achievement can be appreciated by a new generation of readers.
Mina Loy was born in London in 1882 and began her artistic career as painter; she was influenced by Impressionism and achieved success in the Parisian art world before turning to poetry and other forms of visual art, including lampshades and "junk collages." She was at the heart of the modernist movement (as well as Dada, Futurism, and Surrealism) and had close friendships with Djuna Barnes and Gertrude Stein, among many others. Her frank and rigorously experimental writing earned her both praise and censure, as did her unconventional life: she spent many years living in Greenwich Village and on the Bowery, befriending bums, drunks, and other down-and-outs. Her work has recently been collected inThe Lost Lunar Baedeker (FSG) and Stories and Essays of Mina Loy (Dalkey Archive). She died in 1966 in Aspen, Colorado.
Elizabeth Arnold, a scholar and poet, is the author of Effacement and two other collections.
Sarah Hayden is a postdoctoral fellow at the University of Cork, where her focus is on Mina Loy and avant-garde artistic movements.
Insel
Mina Loy
Edited by Elizabeth Arnold,
with an Introduction by Sarah Hayden
Trade Paperback
Novel, 2014
180 pages
ISBN 9781612193533
Publisher Melville House
Part of The Neversink Library
"Is there anyone in America except you, Bill [William Carlos Williams,] and Mina Loy who can write anything of interest in verse?" — Ezra Pound, letter to Marianne Moore
fleursdumal.nl magazine
More in: - Book Lovers, Archive K-L, Archive K-L, Art & Literature News, Loy, Mina, SURREALISM
---
Einer Verdammten
Ha, wie sie heuchlerisch entrüstet,
Sich hüllen in die Kutten der Moral
Und wie Papa vertraulich flüstert:
»Mama, dies ist ein offener Skandal«.
Die hohe Gattin nickt verständlich
Und vor »Empörung« brennend rot
Ruft sie: »Von Denen ist es schändlich
Uns schützt vor Kindersegen doch der liebe Gott.«
Hugo Ball
(1886 – 1927)
Erstdruck in:
Der Revoluzzer (Zürich),
1. Jg., Nr. 12, Oktober 1915
fleursdumal.nl magazine
More in: Archive A-B, Ball, Hugo, Dada, DADA, Dadaïsme
---
O Marietta-Kripistika!
O Marietta-Kripistika!
Thronkanapee im Serail von Sevilla!
Du bist wertvoller als die juchzende
Säubande von Hosenträgern,
Deren Rüssel
An deinem Bauch
Zu schnuppern
Gewohnt sein pflegt.
Hugo Ball
(1886-1927)
O Marietta-Kripistika!
fleursdumal.nl magazine
More in: Archive A-B, Ball, Hugo, Dada, DADA, Dadaïsme
---
brulba dori
brulba dori daula dalla
sula lori wauga malla
lori damma fusmalu
Dasche mame came rilla
schursche saga moll vasvilla
suri pauge fuzmalu
Dolli gamba bokamufti
sabel ize spogagufti
palazuma polja gei
mula dampe dori villa
alles virds schavi drestilla
offi lima dozapau
pozadau
Hugo Ball
(1886-1927)
gedicht: brulba dori
fleursdumal.nl magazine
More in: Archive A-B, Ball, Hugo, Dada, DADA, Dadaïsme
---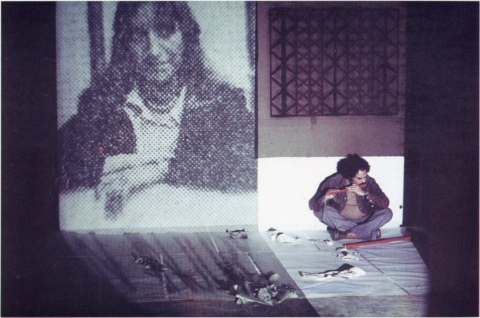 # Rasheed Araeen, Paki Bastard (Portrait of an Artist as a Black Person), 1977, courtesy the artist
The Van Abbemuseum will stage Rasheed Araeen: A Retrospective, the first comprehensive survey of the artist. The exhibition, spanning 60 years of work, presents a body of work that has had a profound influence on generations of artists, writers and thinkers.
Rasheed Araeen: A Retrospective is structured across five chapters: from his early experiments in painting in Karachi in the 1950s and early 60s, his pioneering minimalist sculptures carried out after his arrival in London in 1964, key pieces from the 70s and 80s following Araeen's political awakening, his nine panel cruciform works from the 80s and 90s and a selection of his new geometric paintings and wall structures. Alongside this, material relating to Araeen's writing, editorial and curatorial projects will be presented as part of an expanded artistic practice that in its scope and ambition continues to challenge the formal, ideological and political assumptions of Eurocentric modernism.
Publication:A monograph, edited by Nick Aikens and published by JRP Ringier in collaboration with Van Abbemuseum, MAMCO, BALTIC and Garage includes new essays by Aikens, Kate Fowle, Courtney Martin, Michael Newman, Gene Ray, Dominic Rhatz, John Roberts, Marcus du Sautoy, Zoe Sutherland and Kaelen Wilson-Goldie and an extensive conversation between Aikens and Araeen.
# Rasheed Araeen, The Reading Room, 2017, steel and glass tables, wooden stools, and copies of Third Text journal, courtesy the artist
Following the Van Abbemuseum Rasheed Araeen: A Retrospective will travel to MAMCO, Geneva, BALTIC Centre for Contemporary Art, Gateshead and Garage Centre for Contemporary Art, Moscow.
The exhibition is supported by Mondriaan Fund and Stichting Promotors van het Van Abbemuseum. The publication is generously supported by Aicon Gallery, New York, Grosvenor Gallery, London and Rossi Rossi, Hong Kong
exhibition
Rasheed Araeen
A Retrospective
02/12/2017 – 25/03/2018
spanning 60 years' work
Curators: Nick Aikens
van abbemuseum eindhoven
#  van abbemuseum eindhoven web
fleursdumal.nl magazine
More in: - Book News, Archive A-B, Art & Literature News, AUDIO, CINEMA, RADIO & TV, DICTIONARY OF IDEAS, Exhibition Archive, FDM Art Gallery, MONTAIGNE, Photography, Sculpture
---
Older Entries »
« Newer Entries
Thank you for reading FLEURSDUMAL.NL - magazine for art & literature