FILMAVOND BOER OF DUTY: film Dick Verdult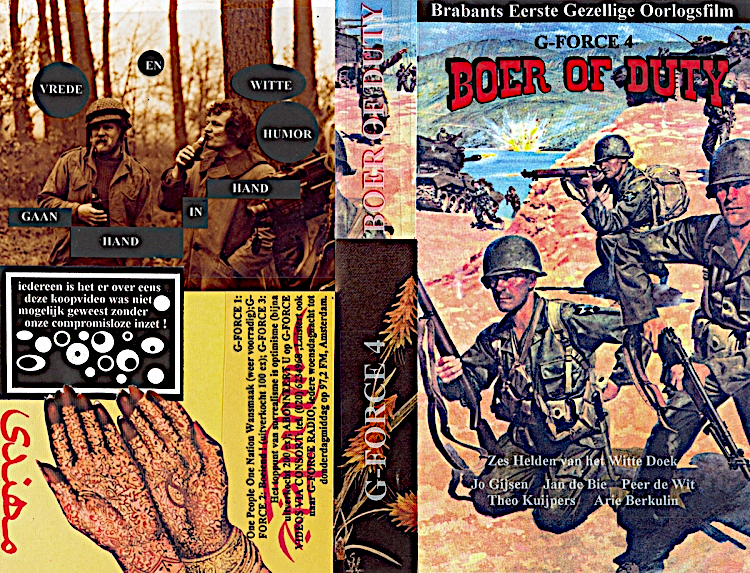 FILMAVOND BOER OF DUTY
film Dick Verdult
02.02 2023
In het kader van de tentoonstelling van Vincent Dams wordt op deze avond de film 'Boer of Duty' van Dick Verdult vertoond. Dams zegt:
'Het toppunt van surrealisme is optimisme!
Twee zomers geleden hielp ik in de lockdown mee op een filmset van goede vriend en collega Dick Verdult. Dus toen de vraag vanuit PARK kwam om een filmavond te organiseren gingen mijn gedachten gelijk daar naartoe. Maar aangezien die film, 'Als uw gat maar lacht', 29 januari aanstaande pas in première gaat op het Rotterdams filmfestival was het zeer begrijpelijk niet echt mogelijk die enkele dagen later te tonen in PARK.
"Je kan misschien wel 'Boer of Duty' laten zien", zei Dick, waarop ik na wat peinzen reageerde, "dat is eigenlijk best een goed idee".
Op het ontwerp van de oude VHS hoes las ik de zin 'Het toppunt van surrealisme is optimisme' waarmee het mooi direct aansluiting vindt bij mijn tentoonstelling over optimisme in rare tijden bij PARK. En terwijl ik als negenjarig jongetje scènes uit Tour of Duty, de welbekende serie over de Vietnamoorlog na speelde in de bosjes en struiken van Veldhoven, deed in 1993 Dick dus hetzelfde, 10 km verderop in de bossen en landerijen van Nederwetten, alleen dan mét camera.
Deze 'eerste gezellige Brabantse oorlogsfilm', die we gerust een cultklassieker kunnen noemen, wiens cast bijna volledig uit oude gerenommeerde Brabantse kunstenaars bestaat zoals Jo Gijsen, Jan de Bie, Peer de Wit, Theo Kuijpers en Arie Berkulin, beleeft dus 30 jaar later eindelijk zijn Tilburgse première.'
Vincent Dams verricht op deze avond ook de introductie.
Credits van de film: Dick Verdult / Ibw / G-Force Videos.
Donderdag 2 februari 2023
Zaal open 19.30 uur
Aanvang 20.00 uur
De film duurt 60 minuten, na afloop is er gelegenheid voor een drankje
Toegang € 5,-
ParkTilburg
Wilhelminapark 53, 5041 ED Tilburg
park(at)park013.nl
Twitter.com/ParkTilburg
Facebook.com/Park013
https://www.instagram.com/park_tilburg/
PARK ligt op 10 minuten loopafstand van het Centraal Station Tilburg in de nabijheid van Museum De Pont. Er is beperkt parkeergelegenheid voor de deur.
Brabants eerste gezellige oorlogsfilm
• fleursdumal.nl magazine
More in: Art & Literature News, AUDIO, CINEMA, RADIO & TV, Exhibition Archive, Literary Events, Park, SURREALISM