Art & Literature News
·
Lecture & rencontre: Kate Tempest à Paris – Écoute la ville tomber
·
Gouden Ganzenveerlaureaat 2018: Antjie Krog
·
Annemarie Slobbe: "To live is to let go."
·
Dichter und Kunstfigur, Provokateur und Visionär: Julia Encke über den französischen Literatur-Star Michel Houellebecq
·
Bruno Fuligni: Mata Hari. Les vies insolentes de l'agent H 21
·
Voyage of the Sable Venus and Other Poems by Robin Coste Lewis
·
Schubert's Winter Journey. Anatomy of an Obsession by Ian Bostridge
·
Paul Bezembinder: Styxoтворение
·
30+30 Dichtersmarathon 2018 – PERDU Amsterdam op 25 januari 2018
·
Gaël Octavia: La fin de Mame Baby
·
Earthly Signs. Moscow Diaries, 1917-1922 by Marina Tsvetaeva
·
Expositie Christian Boltanski in de Oude Kerk Amsterdam

Mercr. 17/01-2018 – 20h
Lecture & rencontre
Kate Tempest
Écoute la ville tomber
Rencontre animée par Clémentine Goldszal
Interprète : Marguerite Capelle
tarif : 5 € / adhérent : 0 € RÉSERVER
Maison de la Poésie
Passage Molière
157 rue Saint-Martin
75003 Paris
www.maisondelapoesieparis.com
Becky, Harry, Leon, Pete. Quatre jeunes gens dans le Londres d'aujourd'hui. Ils ont des rêves, des aspirations, que la ville nourrit puis feint d'encourager pour mieux les broyer. Écoute la ville tomber est le roman d'une génération abîmée par le cynisme mais qui refuse d'abandonner l'utopie. Kate Tempest attrape le lecteur à chaque phrase, avec la furieuse envie de montrer le monde tel qu'il est. Sorti en 2016 en Angleterre, le roman est resté plusieurs semaines dans la liste des best-sellers du Sunday Times, atteignant les 100 000 exemplaires.
Poétesse, musicienne et performeuse mêlant rap, slam, rock & spoken word, Kate Tempest est, à 30 ans à peine, une artiste majeure du temps présent. Comparée à Zadie Smith ou à Virginie Despentes, cette jeune prodige surprend et impressionne, elle cristallise toutes les révoltes qui animent nos temps troubles.
À lire – Kate Tempest, Écoute la ville tomber, traduit de l'anglais par Madeleine Nasalik, Rivages, 2018. Les Nouveaux anciens, trad. de l'anglais par D' de Kabal et Louise Bartlett, L'Arche, 2017.
À écouter – Kate Tempest, Let Them Eat Chaos, Fiction Records, 2016.
Les nouveaux anciens
Kate Tempest 
Paru le 18 octobre 2017
Poésie, broché
Editeur Arche
Nombre de pages 72
Traduit de l'anglais par D' de Kabal et Louise Bartlett
ISBN : 978-2-85181-928-4 – €12
Dans ce poème épique urbain, Kate Tempest revisite par les mythes nos vies modernes désenchantées. Selon elle, les dieux de l'Antiquité resurgissent dans le monde contemporain à travers nos actes quotidiens de violence, de bravoure, de sacrifice ou d'amour. Nous sommes toujours mythiques, nous sommes toujours divins. Elle dépeint ainsi une traversée des âges, de la naissance à la mort de l'être humain, sans occulter ses failles, ses erreurs ni ses regrets. Célébrant l'humain trop humain des supermarchés, des rues, des bars et des open-space, elle s'inscrit dans la tradition d'un hip hop old-school, entre poésie, rap et poésie parlée. Une écriture dramatique puissamment cadencée, avec une rythmique très musicale et un « flow » à couper le souffle.
Ecoute la ville tomber
Kate Tempest
Madeleine Nasalik (Traducteur)
Traduit de l'anglais
Collection: Littérature étrangère Rivages
ISBN: 978-2-7436-4199-3
EAN: 9782743641993
Parution: janvier, 2018
400 pages
Format : 14.0 x 20.5
Prix: €22,50
Becky, Harry, Leon. Ils sont jeunes, hésitent entre le cynisme et le besoin éperdu d'utopie. Chacun a des rêves, des aspirations, que la ville nourrit et feint d'encourager pour mieux les broyer. Ce roman résonne des bruits et du rythme de notre époque, dans la prose incandescente de Kate Tempest, star du hip-hop, poétesse et artiste déjà légendaire à 30 ans à peine, admirée par Virginie Despentes, Lola Lafon ou Don DeLillo. Best-seller international, ce livre impose la jeune Anglaise comme une voix majeure de la scène littéraire d'aujourd'hui.
Kate Tempest
Lecture & rencontre
Mercr. 17/01-2018 – 20h
Maison de la Poésie
75003 Paris
fleursdumal.nl magazine
More in: Archive S-T, Archive S-T, Art & Literature News, Kate Tempest, Literary Events, Tempest, Kate, TRANSLATION ARCHIVE
---
De Academie De Gouden Ganzenveer kent de Gouden Ganzenveer 2018 toe aan de Zuid-Afrikaanse dichteres Antjie Krog.
Gerdi Verbeet, Academievoorzitter De Gouden Ganzenveer maakte afgelopen zaterdag de laureaat bekend in het radioprogramma De Taalstaat. De Academie De Gouden Ganzenveer eert Krog als een bijzondere en veelzijdige dichteres, als een uitzonderlijk integer schrijfster en journaliste, en als een begenadigd performer van haar eigen werk.
De prijsuitreiking vindt plaats op donderdag 19 april a.s. in Amsterdam. Een weerslag van deze bijeenkomst wordt vastgelegd in een speciale uitgave, die in de loop van het jaar zal verschijnen.
De Academie, een initiatief van het bestuur van stichting De Gouden Ganzenveer, kent jaarlijks deze culturele prijs toe. De leden zijn afkomstig uit de wereld van cultuur, wetenschap, politiek en het bedrijfsleven. Met deze onderscheiding wil de Academie het geschreven en gedrukte woord in het Nederlands taalgebied onder de aandacht brengen.
Voorgaande laureaten zijn Arnon Grunberg, Xandra Schutte, Geert Mak, David Van Reybrouck, Ramsey Nasr, Annejet van der Zijl, Remco Campert, Joke van Leeuwen, Adriaan van Dis, Joost Zwagerman, Tom Lanoye, Peter van Straaten, Maria Goos, Kees van Kooten, Jan Blokker en Michaël Zeeman.
Uitgebreide informatie is te vinden op www.goudenganzenveer.nl
De Zuid-Afrikaanse Antjie Krog (1952) is een gelauwerd dichter, schrijver en academicus. Krog debuteerde in 1970 op achttienjarige leeftijd met de dichtbundel Dogter van Jefta. Inmiddels is ze uitgegroeid tot een van de belangrijkste dichters van Zuid-Afrika.
Haar poëzie is persoonlijk, zintuiglijk en sterk geëngageerd: Krog dicht over het moederschap en het ouder worden, maar ook over de diepe verbondenheid en de worsteling met de ongelijkheid en het racisme in haar land. Krog kreeg bekendheid in Nederland door haar vele optredens bij Poetry International, de Nacht van de Poëzie en het festival Winternachten. Talrijke poëzieliefhebbers raakten in de ban van haar ongewone, ontroerende en klankrijke poëzie.
In 1999 publiceerde uitgeverij Atlas een bloemlezing uit haar werk onder de titel Om te kan asemhaal. Daarna zijn haar dichtbundels bij uitgeverij Podium verschenen. Zij schreef ook proza, bijvoorbeeld Country of my Skull (in het Nederlands: De kleur van je hart, 1998/2000), toneelstukken en non-fictie. De roman Mond vol glas van Henk van Woerden en het toneelstuk Mamma Medea van Tom Lanoye vertaalde zij van het Nederlands naar het Afrikaans.
Antjie Krog is buitengewoon hoogleraar Letteren en Filosofie aan de Universiteit van de Westkaap. Haar werk is veelvuldig bekroond, onder andere met de prestigieuze Hertzogprijs, de Reina Prinsen Geerligsprijs, de Pringle Award, de Alan Paton Award. Op donderdag 19 april a.s. neemt zij de Gouden Ganzenveer 2018 in ontvangst.
Laureaat Gouden Ganzenveer 2018: Antjie Krog
foto: Karina Turok
fleursdumal.nl magazine
More in: Antjie Krog, Archive K-L, Archive K-L, Art & Literature News, Awards & Prizes, Literary Events
---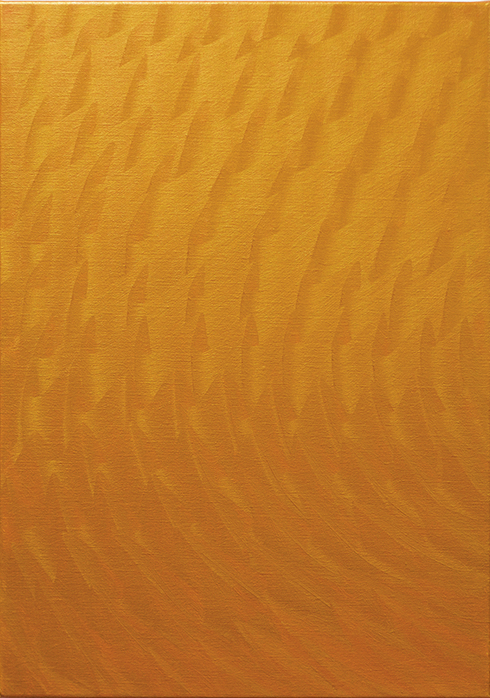 Annemarie Slobbe: "To live is to let go."
In her work, Anne​marie Slobbe (1990) embraces an abstract visual language​ to reflect​ ​the​ ​​nullity​ ​of the ​human condition​.​ The passage of time is a central component in her paintings and drawings, which consist of rhythmic and repetitive patterns.​
​
To emphasize everything's state of impermanence she manipulates her materials to create compositions which are receptive of the changing light of day. The transitory characteristics of the work are also experienced by the spectator when one's viewpoint is altered.
By using these elements she adds a layer of uncontrollability to the work​, as a visual reference to the fact that in our own lives many things lay beyond our control​. She questions the human struggle against the current of life since it brings more inner rest when one decides to find acceptance of their situation and learns to let go.
Annemarie graduated in 2014 at AKV St. Joost Breda. ​At the moment h​er work is represented by Patty Morgan and SBK Amsterdam.
 #  website www.annemarieslobbe.com 
fleursdumal.nl magazine
More in: Anne​marie Slobbe, Art & Literature News, Exhibition Archive, FDM Art Gallery
---
Michel Houellebecq ist nicht nur einer der erfolgreichsten Schriftsteller der Gegenwart, er ist vor allem und mit großer Lust eines: ein Provokateur, der regelmäßig Debatten auslöst, die weit über das Literarische hinausgehen.
Mal nennt er den Islam die «bescheuertste Religion der Welt», dann preist er die Prostitution als eheerhaltende Maßnahme – und man kann sich nicht sicher sein, ob er das wirklich so meint.
Julia Encke, Literaturchefin der «Frankfurter Allgemeinen Sonntagszeitung», ist ihm immer wieder begegnet und macht sich nun daran, das Leben und Werk dieses großen Dichters zu entschlüsseln. «Wer ist Michel Houellebecq?» fragt nach der Spannung zwischen dem Menschen Houellebecq und dem öffentlichen Bild des Mannes, der mit seinen Romanen «Elementarteilchen» und «Unterwerfung» wütende Anfeindungen wie begeisterte Zustimmung erntete.
Sie beschreibt die vielen Facetten – den Visionär, den Romantiker, den Künstler – und zeigt, dass kaum jemand die Stimmung unserer Zeit so gut erfasst wie Michel Houellebecq. Er zielt mit seinen Texten mitten ins Herz unserer Gesellschaft – weshalb auch kaum jemand eine so große Gemeinde von Fans und erbitterten Gegnern hat. Pünktlich zum 60. Geburtstag erscheint nun das Porträt, das dem Rätsel Houellebecq auf die Spur zu kommen versucht.
Julia Encke, geboren 1971, studierte Literaturwissenschaft in Freiburg, Toulouse und München und promovierte mit einer vielbeachteten Arbeit über den Ersten Weltkrieg. Von 2001 bis 2005 arbeitete sie im Feuilleton der «Süddeutschen Zeitung» und gehört seit Sommer 2005 dem Feuilleton der «Frankfurter Allgemeinen Sonntagszeitung» in Berlin an. Seit 2015 verantwortet sie dort das Literaturressort. 2005 erschien «Augenblicke der Gefahr. Der Krieg und die Sinne 1914–1934», 2014 «Charisma und Politik. Warum unsere Demokratie mehr Leidenschaft braucht».
Julia Encke:
Wer ist Michel Houellebecq?
Porträt eines Provokateurs
Dec. 2017
256 Seiten
€19,95
Hardcover
ISBN: 978-3-7371-0017-5
Verlag: Rowohlt Berlin
new books
fleursdumal.nl magazine
More in: - Book Lovers, - Book Stories, Archive E-F, Archive G-H, Art & Literature News, Michel Houellebecq, NONFICTION: ESSAYS & STORIES
---
Peu de noms évoquent autant le mystère, la sensualité et l'intrigue que celui de Mata Hari. Son histoire est vraie, mais elle comporte tous les ingrédients d'un grand film d'aventure : ambition, argent, sexe, pouvoir et mort tragique…
Mère de famille, danseuse nue, espionne et femme fatale, Mata Hari a traversé plusieurs vies avant d'accéder au rang de personnage légendaire. Fusillée en 1917, elle a continué de vivre dans l'imaginaire collectif, devenant un mythe dont se sont emparés le cinéma et la publicité.
Première star mondiale, dont le nom sonne comme une marque, elle a inventé le strip-tease, créé un style vestimentaire et inauguré l'ère du renseignement technologique, puisque ce sont les interceptions de la tour Eiffel qui ont Iivré les secrets de l'«agent H 21». Une histoire folle d'une grande modernité.
À partir des archives de la Défense et d'une abondante documentation, Bruno Fuligni révèle la captivante histoire d'une vie faite d'amour, de mensonges et de subterfuges, la vie d'une femme dont le nom est devenu le symbole de l'espionnage au féminin.
Bruno Fuligni
Mata Hari. Les vies insolentes de l'agent H 21
Albums hors série, Gallimard Loisirs
Parution : 12-10-2017
192 pages, ill.,
sous couverture illustrée,
195 x 255 mm, cartonné
Genre : Albums illustrés Thème : histoire
Sous-thème : Temps présent (1914 – XXe s.)
ISBN : 9782742448012
Gencode : 9782742448012
Prix €35,00
new books
fleursdumal.nl magazine
More in: - Book News, - Book Stories, Archive E-F, Art & Literature News, CRIME & PUNISHMENT, FDM in Paris, Mata Hari, WAR & PEACE
---
Now in paperback, this National Book Award-winning debut poetry collection is a meditation on the black female figure through time.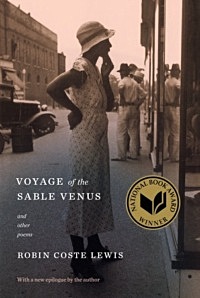 Robin Coste Lewis's electrifying collection is a triptych that begins and ends with lyric poems meditating on the roles desire and race play in the construction of the self.
In the center of the collection is the title poem, "Voyage of the Sable Venus," an amazing narrative made up entirely of titles of artworks from ancient times to the present–titles that feature or in some way comment on the black female figure in Western art.
Bracketed by Lewis's own autobiographical poems, "Voyage" is a tender and shocking meditation on the fragmentary mysteries of stereotype, juxtaposing our names for things with what we actually see and know. A new understanding of biography and the self, this collection questions just where, historically, do ideas about the black female figure truly begin–five hundred years ago, five thousand, or even longer? And what role did art play in this ancient, often heinous story?
Here we meet a poet who adores her culture and the beauty to be found within it. Yet she is also a cultural critic alert to the nuances of race and desire–how they define us all, including her own sometimes painful history.
Lewis's book is a thrilling aesthetic anthem to the complexity of race–a full embrace of its pleasure and horror, in equal parts.
Robin Coste Lewis, the winner of the National Book Award for Voyage of the Sable Venus, is the poet laureate of Los Angeles. She is writer-in-residence at the University of Southern California, as well as a Cave Canem fellow and a fellow of the Los Angeles Institute for the Humanities. She received her BA from Hampshire College, her MFA in poetry from New York University, an MTS in Sanskrit and comparative religious literature from the Divinity School at Harvard University, and a PhD in poetry and visual studies from the University of Southern California. Lewis was born in Compton, California; her family is from New Orleans.
Voyage of the Sable Venus
and Other Poems
By Robin Coste Lewis
Paperback
$19.95
Published by Knopf
Nov. 2017
176 Page
ISBN 9781101911204
new books
fleursdumal.nl magazine
More in: - Book News, - Book Stories, Archive K-L, Archive K-L, Art & Literature News
---
An exploration of the world's most famous and challenging song cycle, Schubert's Winter Journey (Winterreise), by a leading interpreter of the work, who teases out the themes—literary, historical, psychological—that weave through the twenty-four songs that make up this legendary masterpiece.
Completed in the last months of the young Schubert's life, Winterreise has come to be considered the single greatest piece of music in the history of Lieder. Deceptively laconic—these twenty-four short poems set to music for voice and piano are performed uninterrupted in little more than an hour—it nonetheless has an emotional depth and power that no music of its kind has ever equaled.
A young man, rejected by his beloved, leaves the house where he has been living and walks out into snow and darkness. As he wanders away from the village and into the empty countryside, he experiences a cascade of emotions—loss, grief, anger, and acute loneliness, shot through with only fleeting moments of hope—until the landscape he inhabits becomes one of alienation and despair.
Originally intended to be sung to an intimate gathering, performances of Winterreise now pack the greatest concert halls around the world.
Drawing equally on his vast experience performing this work (he has sung it more than one hundred times), on his musical knowledge, and on his training as a scholar, Bostridge teases out the enigmas and subtle meanings of each of the twenty-four lyrics to explore for us the world
Schubert inhabited, his biography and psychological makeup, the historical and political pressures within which he became one of the world's greatest composers, and the continuing resonances and affinities that our ears still detect today, making Schubert's wanderer our mirror.
Ian Bostridge performs regularly throughout Europe, North America and the Far East to outstanding critical acclaim. He read Modern History at Oxford and received a D.Phil in 1990. He is the author of Witchcraft and Its Transformations c.1650-c.1750 and A Singer's Notebook. He is Humanitas Professor of Music at the University of Oxford and a regular contributor to The Guardian and the TLS. He is married to the writer and critic Lucasta Miller. They live in London with their two children.
Schubert's Winter Journey
Anatomy of an Obsession
By Ian Bostridge
Paperback
Published on Jan 02, 2018
Published by Vintage
528 Pages
$22.00
ISBN 9780525431800
new books
fleursdumal.nl magazine
More in: # Music Archive, - Book Lovers, - Book News, Archive A-B, Art & Literature News
---
Styxoтворение
Het was een wat desolate zondagmiddag.
Wij bezochten de dierentuin van Overloon.
Bij het gouden kooitje van het vogelverblijf
beseften wij: poetry, that rare bird, had flown.
Ooit had zij hier haar hoogste vorm gevonden
in een vogellijfje ingepakt in kleurenpracht –
тихотворенье in rumoerig gezelschap
en шумасшествие in de stilte van de nacht.
Zou zij gevlucht zijn of zou zij zijn gevlogen?
Vond het zorgteam haar met haar pootjes omhoog?
Of was ze toch maar paradijsvogel geworden?
Eentje die krijsend naar de onderwereld vloog?
Paul Bezembinder
gedicht: Styxoтворение
Paul Bezembinder studeerde theoretische natuurkunde in Nijmegen. In zijn poëzie zoekt hij in vooral klassieke versvormen en thema's naar de balans tussen serieuze poëzie, pastiche en smartlap. Zijn gedichten (Nederlands) en vertalingen (Russisch-Nederlands) verschenen in verschillende (online) literaire tijdschriften. Voor­beelden van zijn werk zijn te vinden op zijn website, www.paulbezembinder.nl
fleursdumal.nl magazine
More in: Archive A-B, Archive A-B, Art & Literature News, Bezembinder, Paul, POETRY IN TRANSLATION: BEZEMBINDER
---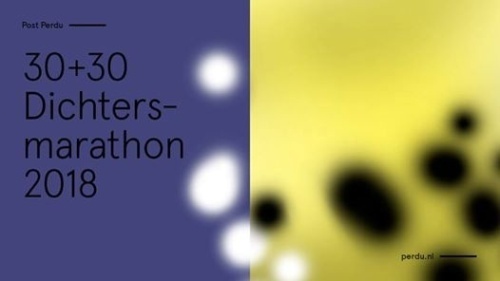 Dat poëzie niet moeilijk hoeft te zijn, bewijst Perdu jaarlijks op Gedichtendag. Niet door zich op die dag te beperken tot de eenvoudigste poëzie, maar juist door de poëzie in al haar diversiteit aan te bieden op een manier die vooral de nieuwsgierigheid prikkelt.
Podiumbeesten en prevelaars, anekdotici en hermetici, vaklui en avonturiers, groentjes en grijsaards: ze staan naast elkaar en door elkaar op deze nieuwe editie van de 30 + 30 Dichtersmarathon. Zestig zeer uiteenlopende dichters komen in ongeveer tweeënhalf uur voorbij.
Het concept is uitermate eenvoudig: dertig Nederlandse dichters lezen elk drie gedichten voor: twee van henzelf en één van een zelfverkozen collega uit het buitenland. Bij het voorlezen wordt de poëzie niet onderbroken door aan- of afkondigingen, bio- of bibliografische informatie of entr'actes en intermezzo's.
Zo kan de aandacht van de luisteraar zich volledig op de poëzie zelf richten, die zich aan hem presenteert als een constante stroom in een onverbiddelijk ritme van ruim tweeënhalf uur.
Wiens aandacht toch even verslapt, haakt zo weer aan bij de eerstvolgende dichter. Een uitstekende gelegenheid om je onder te dompelen in poëzie uit Nederland en de rest van de wereld.
Met Radna Fabias, Peggy Verzett, Samuel Vriezen, Arno van Vlierberghe, Yi Fong Au, Martje Wijers, Peter Prins, Maarten van der Graaff, Kira Wuck, Jonathan Griffioen, Marc van der Holst, Lucie Berjoan, Isabel Verhulst, Roos Vlogman, Mathijs Tratsaert, Esmé van den Boom, Asha Karami, Meliza de Vries, Edna Azulay, Nguyễn Nam Chi, Shida Boukhizou, Michael Tedja, Zaii, Omar El Allali, Flora Woudstra, Raj Mohan, Divya Nadkarni, Mariana Hirschfeld & Anne-Fleur van der Heijden
donderdag 25 jan 2018 19:45
30+30 Dichtersmarathon 2018
Aanvang: 19:45 uur
Deuren open: 19:15 uur
Entree: 10 / 7 euro (korting)
Vanwege verwachte drukte s.v.p. uw ticket(s) tijdig kopen.
#  meer  info  op  website  perdu.nl
dichtersmarathon
fleursdumal.nl magazine
More in: - Book Lovers, Art & Literature News, Literary Events, LITERARY MAGAZINES, MODERN POETRY, POETRY ARCHIVE
---
Le Quartier est une petite ville de banlieue où se croisent les destins de quatre femmes. Mariette, recluse dans son appartement, qui ressasse sa vie gâchée en buvant du vin rouge.

Aline, l'infirmière à domicile, qui la soigne et l'écoute. Suzanne, la petite Blanche, amante éplorée d'un caïd assassiné. Mame Baby, idole des femmes du Quartier, dont la mort est auréolée de mystère.
À travers la voix d'Aline, de retour dans le Quartier qu'elle a fui sept ans auparavant, les liens secrets qui unissent les quatre héroïnes se dessinent…
La fin de Mame Baby raconte avant tout, avec finesse, grâce et passion, l'art qu'ont les femmes de prendre soin les unes des autres, de se haïr et de s'aimer.
Gaël Octavia
La fin de Mame Baby
Collection Continents Noirs, Gallimard
Parution : 31-08-2017
176 pages
140 x 205 mm
Genre : Romans
Pays : Martinique
Époque : XXIe siècle
ISBN : 9782072737015
Gencode : 9782072737015
Prix € 16,00
new books
fleursdumal.nl magazine
More in: - Book News, Archive O-P, Art & Literature News
---
A moving collection of autobiographical essays from a Russian poet and refugee of the Bolshevik Revolution.
Marina Tsvetaeva ranks with Anna Akhmatova, Osip Mandelstam, and Boris Pasternak as one of Russia's greatest twentieth-century poets. Her suicide at the age of forty-eight was the tragic culmination of a life buffeted by political upheaval.
The essays collected in this volume are based on diaries she kept during the turbulent years of the Revolution and Civil War.
In them she records conversations of women in the markets, soldiers and peasants on the train traveling from the Crimea to Moscow in October 1917, fighting in the streets of Moscow, a frantic scramble with co-workers to dig frozen potatoes out of a cellar, and poetry readings organized by a newly minted Soviet bohemia.
Alone in Moscow with two small children, no income, and a missing husband, Tsvetaeva struggled to feed her daughters (one of whom died of malnutrition in an orphanage), find employment in the Soviet bureaucracy, and keep writing poetry. Her keen and ruthless eye observes with compassion and humor—bringing the social, economic, and cultural chaos of the period to life. These autobiographical writings not only give a vivid eyewitness account of Russian history but provide vital insights into the workings of Tsvetaeva's unique poetics.
Includes black and white photographs.
Earthly Signs
Moscow Diaries, 1917-1922
By Marina Tsvetaeva
Translated by Jamey Gambrell
Poetry
Paperback
Dec 05, 2017
288 Pages
Paperback
$17.95
Published by NYRB Classics
ISBN 9781681371627
new books
fleursdumal.nl magazine
More in: - Book News, Achmatova, Anna, Archive S-T, Archive S-T, Art & Literature News, Mandelstam, Osip, Pasternak, Boris, REPRESSION OF WRITERS, JOURNALISTS & ARTISTS, Tsvetaeva, Marina
---
Christian Boltanski creëert een nieuwe compositie in de Oude Kerk. Boltanski plaatst verschillende monumentale installaties om te speculeren over de vraag wat er gebeurt nadat ons leven ten einde is gekomen (NA).

Op de zerkenvloer ontwierp de kunstenaar een landschap van tombes die vanaf de graven verrijzen. Dit werk creëert een nieuw perspectief en maakt een architectonische laag zichtbaar die onze aandacht op onze voorgangers vestigt. Zelf kun je ook bijdragen aan de tentoonstelling.

In een eigentijdse biechtstoel fluister je een aantal namen van mensen die in de Oude Kerk begraven liggen. Een opname van het gefluister wordt in de weken die volgen afgespeeld in het koor. Na verloop van tijd vormt al het gefluister bij elkaar een uitgebreid muzikaal panorama dat blijft bestaan als een immateriëel onderdeel van de Oude Kerk.

Boltanski is van mening dat zijn werk herhaalbaar is en, net als muzikale composities, keer op keer kan worden uitgevoerd, ook wanneer de componist er niet meer is.
Gefascineerd door collectieve herinneringen, vergankelijkheid en het verstrijken van tijd, ontwikkelde Christian Boltanski (Parijs, 1944) een indrukwekkend oeuvre van sculpturen, films en installaties die deze onderwerpen direct of indirect aan de orde stellen.
NA – Christian Boltanski
Curator: Jacqueline Grandjean
24 november 2017 t/m 29 april 2018
Oude kerk, Oudekerksplein (wallen), Amsterdam
Prijs: 10 euro (museumkaart, vrienden van de oude kerk, icom card, I Amsterdam city card, stadspas vrij entree)
Openingstijden: dagelijks 10 – 18 uur m.u.v. zondag 13 – 17:30 uur
Oude Kerk
Oudekerksplein 23
Amsterdam
020 625 8284
#  Meer  info  op  website  oude  kerk  amsterdam
art exposition
fleursdumal.nl magazine
More in: Art & Literature News, Exhibition Archive, FDM Art Gallery, Spurensicherung
---
Older Entries »
Thank you for reading FLEURSDUMAL.NL - magazine for art & literature