Art & Literature News
«« Previous page
·
Nieuwe bundel van Paul Bezembinder: GEDICHTEN (100 pagina's weemoed en verlangen!)
·
Poëzieweek & Gedichtendag 2019 (31 januari t.m. 6 februari)
·
'Fantoommerrie' nieuwe dichtbundel van Marieke Lucas Rijneveld
·
Poëziepaleis zoekt talent!
·
Three Poems by Hannah Sullivan – Winner of the T.S. Eliot Prize 2018
·
Franz Kafka, the Eternal Son. A Biography by Peter-André Alt
·
Gouden Ganzenveer-laureaat 2019: Ian Buruma
·
The Responsibilities of an Artist: Nexus-lezing door Ai Weiwei
·
Christian Metz: Poetisch denken. Die Lyrik der Gegenwart
·
Koos Meinderts: De schelmenstreken van Reinaert de Vos
·
Christian Kunda Mutoki: Guy de Maupassant. Une certaine idée de l'homme dans Le Horla
·
Chronicles of a Liquid Society by Umberto Eco
Onlangs verscheen de dichtbundel Gedichten van Paul Bezembinder, bij Uitg. Pittige Pixels Amsterdam, 2018, Eerste druk, 104 pag., ISBN 978-90-829774-0-0.
Bezembinder (1961) studeerde theoretische natuurkunde in Nijmegen. In zijn poëzie zoekt hij in vooral klassieke versvormen en thema's naar de balans tussen serieuze poëzie, pastiche en smartlap.
Zijn gedichten (Nederlands) en vertalingen (Russisch – Nederlands) verschenen in verschillende (online) literaire tijdschriften, waaronder in het bijzonder op fleursdumal.nl. De bundel Gedichten is zijn tweede bundel.
Bezembinders eerste bundel, Kwatrijnen. Filosofische Verkenningen, verscheen in de reeks digitale publicaties van fleursdumal.nl: Fantom Ebooks.
De reeks is een uitgave van Art Brut Digital Editions, die onregelmatig bijzondere kunst- en literatuurprojecten publiceert. Deze bundel is als pdf op de site van fleursdumal.nl te vinden.
Meer voorbeelden van Bezembinders werk zijn te vinden op de website van de auteur, paulbezembinder.nl
Paul Bezembinder
Kwatrijnen
Uitgeverij. Pittige Pixels Amsterdam,
2018 Eerste druk,
104 pag.,
ISBN 978-90-829774-0-0
De bundel is per e-mail te bestellen.
Prijs: €17.50.
www.paulbezembinder.nl
• fleursdumal.nl magazine
More in: - Book Lovers, - Book News, Archive A-B, Archive A-B, Art & Literature News, Bezembinder, Paul, PRESS & PUBLISHING
---
Het thema van de Poëzieweek 2019 is Vrijheid, met als motto: Zonder handen, zonder tanden.
De week opent op donderdag 31 januari met Gedichtendag en wordt woensdagavond 6 februari feestelijk afgesloten met De Grote Poëzieprijs, de Awater Poëzieprijs en de Turing Gedichtenwedstrijd. Tom Lanoye schrijft het Poëziegeschenk Vrij – Wij?, cadeau van de boekwinkel bij aankoop van € 12,50 aan poëzie.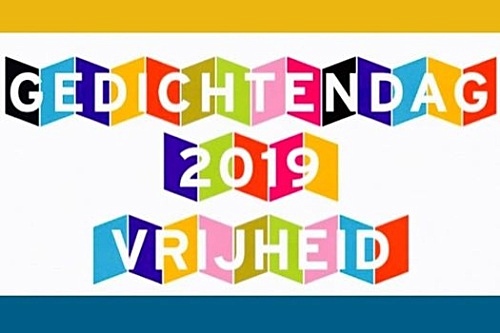 Met Gedichtendag (31 januari 2019) gaat op de laatste donderdag van januari traditiegetrouw de Poëzieweek van start. Gedichtendag, sinds 2000 georganiseerd door Poetry International Rotterdam, is hét poëziefeest van Nederland en Vlaanderen.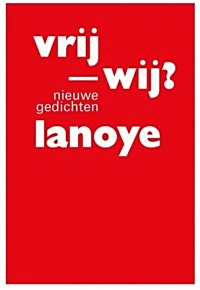 Poëzieliefhebbers in Nederland en Vlaanderen organiseren die dag een grote diversiteit aan eigen poëzieactiviteiten en ook de media klinken die dag een stuk poëtischer.
 Voor de enorme hoeveelheid optredens, publicaties, poëzieprijzen, -programma's en -activiteiten is één dag simpelweg veel te kort!
De Poëzieweek wil een zo groot mogelijk bereik voor poëzie creëren en bundelt tal van activiteiten van organisatoren in Nederland en Vlaanderen.
De Poëzieweek is een samenwerking van Stichting CPNB, Poëziecentrum, Stichting Poetry International, Vlaams Fonds voor de Letteren, Nederlands Letterenfonds, Stichting Lezen Nederland, Iedereen Leest Vlaanderen, De Schrijverscentrale, Boek.be, Taalunie, Stichting Van Beuningen/Peterich-fonds, Turing Foundation, Awater, Het Literatuurhuis, Poëzieclub, SLAG, School der Poëzie en De Nieuwe Oost | Wintertuin.
# Voor een overzicht van alle activiteiten zie de website POËZIEWEEK
• fleursdumal.nl magazine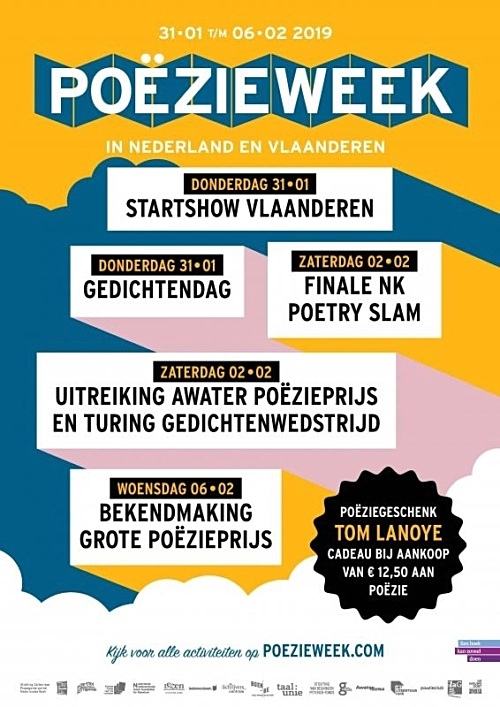 More in: #Archive A-Z Sound Poetry, #Archive Concrete & Visual Poetry, #More Poetry Archives, *War Poetry Archive, - Book Lovers, - Bookstores, Art & Literature News, LIGHT VERSE, Literary Events, MODERN POETRY, Poetry International, Poetry Slam, Poëziepaleis, Poëzieweek, STREET POETRY, THEATRE, Tilt Festival Tilburg, Tom Lanoye
---
Op 24 januari 2019 verscheen 'Fantoommerrie' de nieuwe dichtbundel van Marieke Lucas Rijneveld, een van de grootste nieuwe talenten van de Nederlandse letteren.
Je zou kunnen zeggen dat deze bundel verder gaat waar haar vorige bundel,'Kalfsvlies', was opgehouden, maar dat suggereert dat we met een vervolg te maken hebben, en dat is niet zo.
Deze bundel is een nieuwe verkenning in het universum van Rijneveld, dat paradoxaal genoeg aan de ene kant compleet onnavolgbaar is, maar aan de andere kant ook onmiddellijk herkenbaar en altijd eigen. Over een oma die onsterfelijk had moeten zijn, het noodlottig einde van een onvoorzichtige kat, over dromen natuurlijk: mooie en lelijke, over bidden om speelgoed, de zithouding van de schrijver – en over voorleesvaders, die lastige vragen krijgen: 'waar komen kinderen vandaan als ouders nooit kussen?
'Fantoommerrie' is een dichtbundel om in te verdwalen, en dan te besluiten om er te blijven.
Marieke Lucas Rijneveld
Fantoommerrie
Gedichten
Gepubliceerd 24 januari 2019
Uitgeverij Atlas Contact
Pagina's 64
Type Paperback / softback
ISBN 9789025453459
€ 19,99
• fleursdumal.nl magazine
More in: - Book News, Archive Q-R, Archive Q-R, Art & Literature News, Marieke Lucas Rijneveld, Rijneveld, Marieke Lucas
---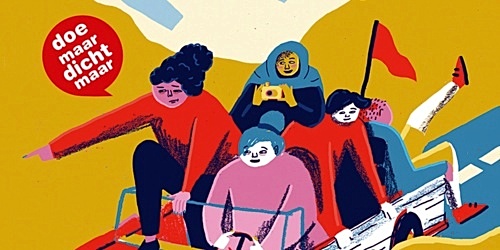 Kun jij goed schrijven? Ben jij creatief met woorden en heb je gevoel voor dichten, rappen of songteksten schrijven? Doe dan gauw mee met de dichtwedstrijd Doe Maar Dicht Maar. De honderd beste gedichten winnen een plekje in een mooie dichtbundel!
De deadline van de editie Doe Maar Dicht Maar 2018-2019 is 5 februari 2019. Stuur nu maximaal 3 gedichten in via het wedstrijdformulier. Vanzelfsprekend schrijf jij deze gedichten zelf; plagiaat is verboden! Omdat er duizenden gedichten worden ingestuurd, krijgen alleen de honderd winnaars begin mei 2019 bericht. De uitslag komt half mei op de website te staan.
Wanneer mag je meedoen?
– Je bent 12 t/m 18 jaar;
– Je spreekt en schrijft Nederlands;
– Je zit op het VMBO/ Havo/ VWO/ ROC of MBO;
– Je zit op de eerste t/m de derde graad van het secundair onderwijs in België.
Wat kun je winnen?
Van de duizenden inzendingen worden 100 gedichten gekozen die een plekje in de dichtbundel Doe Maar Dicht Maar 2018 krijgen.
De tien allerbeste dichters, vijf winnaars uit de leeftijdscategorie 12 t/m 14 jaar en vijf winnaars uit de leeftijdscategorie 15 t/m 18 jaar, krijgen een uniek cadeau met hun gedicht erop. De winnaars uit deze categorieën, gekozen door de jury, winnen een hoofdprijs!
Bovendien organiseert Het Poëziepaleis ieder jaar de dichtwedstrijd Kinderen & Poëzie voor basisschoolleerlingen uit groep 3 t/m 8. Alle kinderen van 6 t/m 12 jaar uit Nederland en België mogen meedoen.
Schrijf een gedicht over wat jij leuk, spannend, mooi of grappig vindt. Het gedicht mag rijmen, maar dat hoeft zeker niet. Je kunt dichten over jezelf, gebeurtenissen, dromen, verzinsels, mensen, dieren, gevoelens… je kunt het zo gek niet bedenken! Alles mag, zolang het gedicht maar door jou is verzonnen en geschreven.
# meer informtie op website Poëziepaleis
• fleursdumal.nl magazine
More in: #More Poetry Archives, Art & Literature News, Children's Poetry, Kinderstadsdichters / Children City Poets, MODERN POETRY, Poëziepaleis
---
Hannah Sullivan's debut collection is a revelation – three long poems of fresh ambition, intensity, and substance.
Though each poem stands apart, their inventive and looping encounters make for a compelling unity.
"You, Very Young in New York" captures a great American city, in all its alluring detail. It is a wry and tender study of romantic possibility, disappointment, and the obduracy of innocence.
"Repeat until Time" begins with a move to California and unfolds into an essay on repetition and returning home, at once personal and philosophical.
"The Sandpit after Rain" explores the birth of a child and the loss of a father with exacting clarity.
In Three Poems, readers will experience Sullivan's work with the same exhilaration as they might the great modernizing poems of Eliot and Pound, but with the unique perspective of a brilliant new female voice.
Hannah Sullivan lives in London with her husband and two sons and is an Associate Professor of English at New College, Oxford. She received her PhD from Harvard in 2008 and taught in California for four years.
She is currently associate professor of English at New College, Oxford. Her study of modernist writing, The Work of Revision, was published in 2013 and awarded the Rose Mary Crawshay Prize by the British Academy. Her debut poetry collection, Three Poems, was published by Faber in 2018 and was awarded the prestigious TS Eliot Prize.
Three Poems
by Hannah Sullivan
Paperback: 80 pages
Publisher: Faber & Faber; Main edition (18 Jan. 2018)
Language: English
ISBN-10: 9780571337675
ISBN-13: 978-0571337675
ASIN: 0571337678
Product Dimensions: 15.9 x 1.3 x 21 cm
# new poetry
Three Poems
by Hannah Sullivan
• fleursdumal.nl magazine
More in: - Book News, - Bookstores, Archive S-T, Archive S-T, Art & Literature News, Awards & Prizes
---
Franz Kafka remains one of the most influential writers of the twentieth century.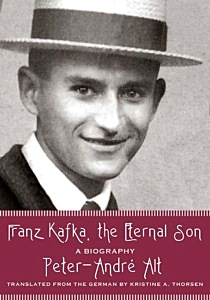 His novels, stories, and letters are still regarded today as the epitome of the dark, fascinating, and uncanny, a model of the modernist aesthetic.
Peter-André Alt's landmark biography, Franz Kafka, the Eternal Son, recounts and explores Kafka's life and literary work throughout the cultural and political upheavals of central Europe.
Alt's biography explores Franz Kafka's own view of life and writing as a unity that shaped his identity. He locates links and echoes among the author's work, life, and surroundings, situating him within the traditions of Prague's German literature, modernity, psychoanalysis, and philosophy as well as within its Jewish culture, arts, theater, and intellectual tradition.
In this biographical tour de force, Kafka emerges as an observant flaneur and wistful loner, an anxious ascetic, an ecstatic and skeptic, a specialist in terror, and a master of irony. Alt masterfully illuminates Kafka's life not as source material but as a mirror of his literary genius. Readers begin to see Kafka's unforgettable novels and stories as shards reflecting the life of their creator.
About the Author
Peter-André André Alt is a German literary scholar and the president of the Free University in Berlin.
Kristine A, Thorsen is a lecturer emeritus of German at Northwestern University.
Franz Kafka, the Eternal Son
A Biography
Contributors
Peter-André Alt (Author)
Kristine Thorsen (Translator)
Publication Date September 2018
Categories Biography
704 pages
Trim Size 7 x 10
ISBN 0-8101-2607-9
Northwestern University Press
-Cloth Text
– $120.00
ISBN 978-0-8101-6243-3
-Paper Text
– $45.00
ISBN 978-0-8101-2607-7
# new books
Franz Kafka
A Biography
• fleursdumal.nl magazine
More in: - Book News, - Book Stories, Archive A-B, Archive K-L, Archive K-L, Art & Literature News, Franz Kafka, Kafka, Franz, Kafka, Franz, MONTAIGNE
---
Ian Buruma, (Den Haag, 1951) is een internationaal befaamd essayist, historicus en Azië-deskundige. Hij schrijft regelmatig voor The New Yorker, The New York Review of Books en in ons eigen land voor NRC Handelsblad, en werkte mee aan documentaires voor de BBC en CNN.

Momenteel is hij hoogleraar Democracy, Human Rights and Journalism aan het Bard College in New York.
In 2008 ontving Buruma de Erasmusprijs voor zijn buitengewone bijdrage aan de Nederlandse cultuur.
Tot zijn bekendste boeken horen Occidentalisme, De spiegel van de zonnegodin, Dood van een gezonde roker, Het loon van de schuld en 1945. Biografie van een jaar en Hun beloofde land. Mijn grootouders in tijden van liefde en oorlog. In 2018 verscheen Tokio mon amour. Japanse avonturen, het portret van een jonge schrijver en van de stad die hem mede vormde.
Op donderdag 25 april a.s. ontvangt Ian Buruma de Gouden Ganzenveer 2019.
• fleursdumal.nl magazine
More in: - Book Lovers, - Book News, Archive A-B, Art & Literature News, Awards & Prizes, PRESS & PUBLISHING
---
Dictatuur, schendingen van mensenrechten, milieuvervuiling, verdronken vluchtelingen: dit zijn niet alleen de urgentste kwesties in de wereldpolitiek, maar ook de thema's in het werk van Ai Weiwei.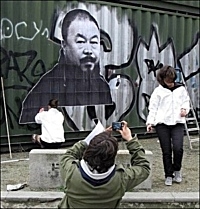 Met zijn enorm veelzijdige creativiteit en maatschappelijke engagement zet hij als een van de beroemdste en grootste kunstenaars van onze tijd vrijwel alles op het spel: hij werd gearresteerd, zijn paspoort werd ingenomen, en afgelopen zomer nog sloopten de Chinese autoriteiten zonder waarschuwing zijn studio in Beijing.
Als geen ander kan Ai Weiwei dus vertellen over de verantwoordelijkheid van de kunstenaar. Wat vermag de kunst in een tijd waarin dissidenten worden opgesloten en journalisten zonder pardon het land uit worden gezet?
Hoe ver mag de kunstenaar gaan?
Hoe ver moét hij gaan?
Hoor het bij de Nexus-lezing 2019, The Responsibilities of an Artist.
The Responsibilities of an Artist
Nexus-lezing Ai Weiwei
25 mei 2019
14.30 – 17.30
Aula VU Amsterdamhttps://nexus-instituut.nl/
# meer informatie op website nexus-instituut
• fleursdumal.nl magazine
More in: Ai Weiwei, Art & Literature News, AUDIO, CINEMA, RADIO & TV, DICTIONARY OF IDEAS, Nexus Instituut
---
Wir leben im Zeitalter des Gedichts.
Die Poesie ist auf Erfolgskurs, schließlich sind einige der begabtesten Autoren einer ganzen Generation in der Lyrikszene zu finden. Warum das so ist und was die Lyrik der Gegenwart auszeichnet, erzählt Christian Metz in seinem grundlegenden Essay.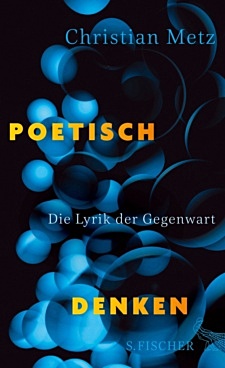 Angetrieben von den epochalen Veränderungen unserer Zeit forciert die Lyrik der Gegenwart ein poetisches Denken. Es ist ein Denken mit poetischen Mitteln, das der sinnlichen Erfahrung, der Leidenschaft und dem Spiel Raum gibt. In dieses poetische Denken führt Metz systematisch ein. Ausgehend von ihren Gemeinsamkeiten folgt Metz einigen der wichtigsten Autorinnen und Autoren der neuen Lyrik – wie Monika Rinck und Jan Wagner, Ann Cotten und Steffen Popp – in ihr poetisches Universum.
Christian Metz, geboren 1975, nach seiner Rückkehr von der Cornell University Stipendiat der Alexander von Humboldt-Stiftung an der LMU in München. Jahrelang wissenschaftlicher Mitarbeiter am Institut für deutsche Literatur und ihre Didaktik an der Goethe-Universität Frankfurt und Literaturkritiker für die »Frankfurter Allgemeine Zeitung«. Promotion mit einer Arbeit zur »Narratologie der Liebe«. Habilitation zum Thema: »Kitzel. Studien zur Kultur einer menschlichen Empfindung«, deren Monographie bei S. Fischer Wissenschaft im Herbst 2019 erscheint. Lehraufträge an der Humboldt-Universität zu Berlin und der Universität Tromsø (Norwegen). Schwerpunkte in Forschung und Lehre: Literatur vom 17. Jahrhundert bis zur Gegenwart, Literaturtheorie, Anthropologie und Literatur. Gemeinsam mit Ina Hartwig und Oliver Vogel Herausgeber der »Neuen Rundschau. Gegenwartsliteratur!« (Heft 2015/1).
Christian Metz
Poetisch denken
Die Lyrik der Gegenwart
Erscheinungstermin: 04.10.2018
Umfang: 432 Seiten
Paperback
ISBN-10: 3100024400
ISBN-13: 978-3100024404
Verlag: S. FISCHER
Lyrik
Sprache: Deutsch
Nr. 473 in Literaturkritik
Nr. 14136 in Film, Kunst & Kultur
432 Seiten
13,4 x 3,2 x 21,5 cm
Paperback Preis € 20,00
# new books
Christian Metz
Poetisch denken
• fleursdumal.nl magazine
More in: - Book News, - Bookstores, Archive M-N, Archive M-N, Art & Literature News, MODERN POETRY, STREET POETRY
---
Terwijl Reinaert de Vos tijdens het monopoly-spelen met zijn kinderen stiekem een briefje van duizend uit de bank jatte en zich te goed deed aan een kipkluifje, verklaarde Koning Nobel in de paleistuin de jaarlijkse Hofdag voor geopend.
Met de opening van de Hofdag opent ook de fonkelende bewerking die Koos Meinderts maakte van het bekendste epos uit de Middelnederlandse literatuur: Van den Vos Reynaerde.
In achttien hoofdstukken verhaalt Meinderts over de belevenissen van de geslepen vos Reinaert en zijn beklagenswaardige tegenspelers, waaronder Tibeert de Kater, Bruun de Beer en Cuwaert de Haas. Elk hoofdstuk werd geïllustreerd door een vooraanstaand kinderboekillustrator.
Koos Meinderts:
De schelmenstreken van Reinaert de Vos
1e druk
EAN: 978 90 8967 273 5
NUR: 274
Verschenen 12-11-2018
Formaat: 23,5 x 27 cm
48 bladzijden
Gebondend
Bindwijze Hardcover
Genre Kinderboeken
Uitgever Hoogland & Van Klaveren, Uitgeverij
Taal Nederlands
Illustraties Charlotte Dematons e.a.
Prijs: € 17,50
# New books
Koos Meinderts
Reinaert de Vos
• fleursdumal.nl magazine
More in: - Book News, - Book Stories, Archive M-N, Archive Q-R, Archive Q-R, Art & Literature News, Grimm, Andersen e.o.: Fables, Fairy Tales & Stories
---
Christian Kunda Mutoki porte un nouveau regard sur Le Horla de Guy de Maupassant.
Il est précédé d'une préface et suivi d'une postface.
Il vient rafraîchir les problématiques qui touchent à la morale, à l'athéisme, à des amours tumultueuses et infidèles. . .
Le monde d'aujourd'hui diffère-t-il de celui décrit au XIXe siècle par l'écrivain français ? La science a-t-elle amélioré la condition existentielle de l'homme ?
Voici quelques questions majeures qui trouvent ici un regard neuf.
Christian Kunda Mutoki a préparé sa thèse de doctorat à l'Université Paul Verlaine, actuelle Université de la Lorraine (Metz, France). Il est écrivain et professeur de Littérature et civilisation françaises à l'Université de Lubumbashi, en RDC.
GUY DE MAUPASSANT
Une certaine idée de l'homme dans Le Horla
Christian Kunda Mutoki
Cahiers des sciences du langage
Langue Linguistique Littérature
Broché
Format : 15,5 x 24 cm
ISBN : 978-2-8066-3665-2
14 décembre 2018
70 pages
€ 11,5
# New books
Une certaine idée de l'homme dans Le Horla
de Guy de Maupassant
Christian Kunda Mutoki
• fleursdumal.nl magazine
More in: - Book News, - Bookstores, Archive M-N, Archive M-N, Art & Literature News, Guy de Maupassant, Maupassant, Guy de, Maupassant, Guy de
---
The final book from one of Europe's cultural giants: an entertaining collection of essays about the modern world – from unbridled individualism to mobile phones.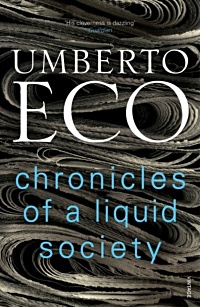 Umberto Eco was an international cultural superstar. A celebrated essayist as well as novelist, in this, his last collection, he explores many aspects of the modern world with irrepressible curiosity and wisdom written in his uniquely ironic voice.
Written by Eco as articles for his regular column in l'Espresso magazine, he brings his dazzling erudition, incisiveness and keen sense of the everyday to bear on topics such as popular culture and politics, unbridled individualism, conspiracies, the old and the young, mobile phones, mass media, racism, good manners and the crisis in ideological values.
It is a final gift to his readers – astute, witty and illuminating.
" A swan song from one of Europe's great intellectuals…Eco entertains with his intellect, humor, and insatiable curiosity…there's much here to enjoy and ponder ".  Tim Parks, Guardian
Chronicles of a Liquid Society
by Umberto Eco
Paperback
ISBN 9781784705206
Hardback
ISNB 9781911215318
2017/2018
Harvill Secker / Vintage
320 pages
Language & Literary Studies
# New books
Chronicles of a Liquid Society
by Umberto Eco
• fleursdumal.nl magazine
More in: - Book News, - Bookstores, Archive E-F, Art & Literature News, AUDIO, CINEMA, RADIO & TV, DICTIONARY OF IDEAS, MONTAIGNE, Museum of Literary Treasures, NONFICTION: ESSAYS & STORIES, Umberto Eco
---
Older Entries »
« Newer Entries
Thank you for reading FLEURSDUMAL.NL - magazine for art & literature