Art & Literature News
«« Previous page
·
Weird Westerns. Race, Gender, Genre
·
Brooklyn Book Festival Announces: 15th Anniversary Will Be An All-Virtual Festival
·
BENEFIT FOR BRABANT – Kunst in tijden van Corona
·
Roger Robinson: A Portable Paradise (Poetry)
·
Aria Aber: Hard Damage. Poetry
·
Cécile Coulon: Noir volcan. Poésie
·
Amy Woolard: Neck of the Woods
·
'Small Days and Nights' a novel by Tishani Doshi
·
The Beautiful Poetry of Donald Trump by Rob Sears
·
Zaina Alsous, winner of the Norma Farber First Book Award
·
TENTOONSTELLING: 'TUIN DER TEDERHEID'
·
Laat jouw stem voor cultuur horen!
Weird Westerns is an exploration of the hybrid western genre—an increasingly popular and visible form that mixes western themes, iconography, settings, and conventions with elements drawn from other genres, such as science fiction, horror, and fantasy.
Despite frequent declarations of the western's death, the genre is now defined in part by its zombie-like ability to survive in American popular culture in weird, reanimated, and reassembled forms.
The essays in Weird Westerns analyze a wide range of texts, including those by Native American authors Stephen Graham Jones (Blackfeet) and William Sanders (Cherokee); the cult television series Firefly and The Walking Dead; the mainstream feature films Suicide Squad and Django Unchained; the avant-garde and bizarre fiction of Joe R. Lansdale; the tabletop roleplaying game Deadlands: The Weird West; and the comic book series Wynonna Earp.
The essays explore how these weird westerns challenge conventional representations by destabilizing or subverting the centrality of the heterosexual, white, male hero but also often surprisingly reinforce existing paradigms in their inability to imagine an existence outside of colonial frameworks.
Author Bio:
Kerry Fine is an instructor in the Department of English at Arizona State University. Michael K. Johnson is a professor of English at the University of Maine–Farmington. Rebecca M. Lush is an associate professor at California State University, San Marcos. Sara L. Spurgeon is a professor of American literature at Texas Tech University.
Postwestern Horizons:
Postwestern Horizons encourages scholarship which rethinks and reimagines traditional western scholarship by challenging predominant paradigms, including revisionist ones, and dislocating our sense of region. By moving past the West as a national place, process, and idea to more methodologically innovative, transnationally daring, and theoretically fertile horizons of scholarship, this series encourages new ways of conceiving cultural production and reception. Postwestern Horizons encompasses studies of visual culture, environmental studies, literature, history, film studies, and much more.
Weird Westerns
Race, Gender, Genre
Edited by Kerry Fine, Michael K. Johnson, Rebecca M. Lush, and Sara L. Spurgeon
Postwestern Horizons Series
468 pages
Index
Paperback
August 2020
978-1-4962-2178-0
$35.00
Hardcover
August 2020
978-1-4962-2116-2
$70.00
# new books
Weird Westerns.
Race, Gender, Genre
• fleursdumal.nl magazine
More in: - Book News, - Bookstores, Art & Literature News, AUDIO, CINEMA, RADIO & TV, NONFICTION: ESSAYS & STORIES, Western Non-Fiction
---
The 2020 Virtual Brooklyn Book Festival will be the 15th anniversary of free literary programming!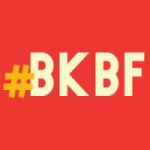 This fall an array of national and international literary stars and emerging authors will participate as part of a Virtual Festival including Sigrid Nunez, Lee Child, Salman Rushdie, Mia Couto, Ngũgĩ wa Thiong'o, Joyce Carol Oates, Adrian Tomine, Emily St. John Mandel, Claudia Rankine, Edmund White, Marie Lu, Colson Whitehead, and more.
Plus independent publishers, literary magazines, and literary organizations will be showcased in our Virtual Literary Marketplace starting August 15.
Each year the Festival also includes a week of Bookend events — see them virtually this year from locations all over the city. This year we celebrate the 10th anniversary of Bookends!
At Children's Day, more than 50 authors will participate in a full day of author readings and performances, workshops, activities, and book signings — all virtual.
Some of the children's authors in 2020 are Max Brallier, Tami Charles, Ben Clanton, Chris Grabenstein, Carlos Hernandez, Oliver Jeffers, Varian Johnson, Meg Medina, and R.L. Stine.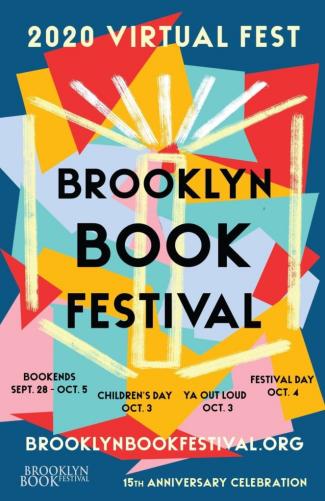 About the Brooklyn Book Festival: The Brooklyn Book Festival was launched in 2006 to address the need for a major literary event that embraced the diverse constituencies of New York City. The Festival's mission is to celebrate published literature and support the literary community through programming that connects New York City readers with local, national, and international authors, publishers, and booksellers. To this end the festival develops original programs that are hip, smart, and diverse and collaborates to present free and low-cost programming including the Festival Day, Bookend Events, YA Outloud, and the BKBF Children's Day. BKBF is presented by the non-profit Brooklyn Book Festival, Inc. and the Brooklyn Book Festival Literary Council.
The Festival is proud of its roster of supporters including the Amazon Literary Partnership, the Baillie Gifford Non Fiction Prize, the Brooklyn Borough President's Office, Brookfield Properties and J.P. Morgan Chase, Con Edison, Disney, Downtown Brooklyn Partnership, Kirby Family Foundation, Little A, the Mayor's Office of Media & Entertainment, New York City Department of Cultural Affairs, New York City Council Speaker Corey Johnson and Council Members Brad Lander, Stephen Levin and Carlos Menchaca, NYC COVID-19 Response and Impact Fund in New York Community Trust, New York State Council on the Arts, Lit Tap, NYU. The Festival's media sponsors include C-SPAN, Book TV, the New York Review of Books, and WNYC.
Be sure to visit www.old.brooklynbookfestival.org or check out the official Facebook page, follow the Festival on Instagram (@bkbookfest), on Twitter (@BKBF), and past Festival photos on Flickr.
2020 Brooklyn Book Festival
Sunday, October 4 = 10am — 8pm
Virtual Festival Day
Saturday, October 3 = 10am — 4pm
Virtual Children's Day
Saturday, October 3 = 1pm — 6pm
Y.A. Out Loud
September 28 — October 5
Virtual Bookend Events
Confirmed Authors Festival 2020: Salar Abdohbv – Aria Aber – Ayad Akhtar – Becky Albertalli – Rochelle Alers – A. Andrews – Diannely Antigua – Zaina Arafat – Will Arbery – Derf Backderf – Brit Bennett – Carl Bergman – Marie-Helene Bertino – Mark Bibbins – Chelsea Bieker – Betsy Bird – Eula Biss – Max Brallier – Libba Bray – Bill Buford – Susannah Cahalan – Patrice Caldwell – Ada Calhoun – Kacen Callender – Maisy Card – Veronica Chambers – Ruth Chan – Tami Charles – Lee Child – Dave Chisholm – Ben Clanton – Brandy Colbert – Zoraida Córdova – Eduardo C. Corral – Mia Couto – Mike Curato – Angela Dominguez – Sophie Escabasse – Debbi Michiko Florence – Nick Flynn – Curdella Forbes – Carolyn Forché – Gilbert Ford – Kelli Jo Ford – Lauren Francis-Sharma – Marcial Gala – Matt Gallagher – Camryn Garrett – Sasha Geffen – Nelson George – Hafizah Geter – Julia Gfrörer – Paolo Giordano – Chris Grabenstein – Isabel Greenberg – Chris Grine – Kristen Gudsnuk – Romesh Gunesekera – Shawn Harris – Mike Hawthorne – Carlos Hernandez – Amy Herzog – Cathy Park Hong – Mark Honigsbaum – Kiku Hughes – Michael R. Jackson – Victoria James – Oliver Jeffers – N.K. Jemisin – Beverly Jenkins – Kim Johnson – Leah Johnson – Varian Johnson – Tayari Jones – Wayne Jordan – Stephanie Kelton – Jessica Kim – Lily King – Peter Kispert – Yusef Komunyakaa – Andrew Krivak – Ryan La Sala – Stephan Lee – Attica Locke – Marie Lu – Alain Mabanckou – Deborah Madison – Maureen Mahon – Kevin Noble Maillard – Ricardo Alberto Maldonado – Emily St. John Mandel – Ilana Masad – Janae Marks – Bernice L. McFadden – Karen McManus – Juana Medina – Meg Medina – Fernanda Melchor – Colin Meloy – Maaza Mengiste – Kate Messner – Adrienne Miller – Lydia Millet – Jonah Mixon-Webster – Marcus J. Moore – John Murillo – Daniel Nayeri – Emily Nemens – Andrés Neuman – Kevin Nguyen – Lynn Nottage – Sigrid Nunez – Joyce Carol Oates – Tracy O'Neill – Tochi Onyebuchi – Claribel Ortega – Carey Pietsch – Rory Power – Claudia Rankine – Raúl the Third – Calvin Reid – Kiley Reid – Jared Reinmuth – Justin A. Reynolds – Hallie Rubenhold – Salman Rushdie – Kate Elizabeth Russell – Joe Sacco – Aisha Saeed – Jerry Saltz – Maria Scrivan – Tariq Shah – Kevin Sherry – Adania Shibli – Curtis Sittenfeld – Bishakh Som – Mika Song – Leslie Stein – R.L. Stine – Emma Straub – Brandon Taylor – Emily Temple – Ngũgĩ wa Thiong'o – Héctor Tobar -Adrian Tomine – Laura van den Berg – Juan Pablo Villalobos – Ivan Vladislavić – Karolina Waclawiak – Kawai Strong Washburn – Jesse Wegman – Edmund White – Colson Whitehead – Rick Wilson – Alexis Wright – Shannon Wright – Yao Xiao – Bianca Xunise – Gene Luen Yang – Brigit Young – Lidia Yuknavitch – Kate Zambreno –
Brooklyn Book Festival Announces: 15th Anniversary Will Be An All-Virtual Festival
• https://brooklynbookfestival.org/
• fleursdumal.nl magazine
More in: - Book Lovers, - Book News, Art & Literature News, AUDIO, CINEMA, RADIO & TV, Berg, Carl, FICTION & NONFICTION ARCHIVE, LITERARY MAGAZINES, Magazines
---
Het coronavirus en een nieuw provinciebestuur. Het zijn onzekere tijden in het algemeen en voor 'Ons Brabant' in het bijzonder.
Wat ons te wachten staat kunnen we nog niet overzien, wel is duidelijk dat de crisis op vele vlakken in de samenlevingen grote impact heeft. Corona heeft de culturele sector grotendeels verlamd. Als het nieuwe provinciebestuur van Noord-Brabant haar ambities met 'Ons Brabant' op het gebied van cultuur kan realiseren dan zal de verschraling die door corona is ingezet, afgerond worden met het einde van een provinciaal cultuurbeleid.

Veel Brabantse culturele instellingen zullen hun deur moeten sluiten, het vestigingsklimaat zal verarmen en Brabantse kunstenaars zullen een groot deel van hun opdrachtgevers en podia verliezen en daarmee een zeer onzekere toekomst ingaan.
Om specifiek Brabantse kunstenaars een hart onder de riem te steken in deze moeilijke tijd organiseert PARK de benefiet tentoonstelling BENEFIT FOR BRABANT. Uit meer dan 200 inzendingen is een selectie gemaakt van 138 beeldend kunstenaars die ieder twee werken kunnen tonen. De werken zijn te koop, de opbrengst gaat voor de volle 100% naar de kunstenaar.
In verband met covid-19 vindt er geen officiële opening plaats. We rekenen op uw begrip.
De tentoonstelling is vanaf zaterdag 8 augustus tot en met zondag 30 augustus te bezoeken. PARK is geopend op vrijdag, zaterdag en zondag van 13-17 uur
BENEFIT FOR BRABANT
Kunst in tijden van Corona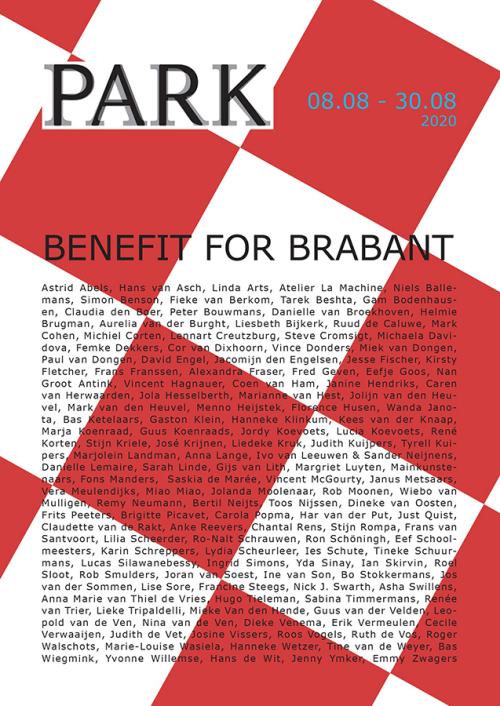 Wilhelminapark 53
5041 ED Tilburg NL
air@park013.nl
www.park013.nl
PARK is een initiatief van
Rob Moonen, Linda Arts, René Korten, Liza Voetman
• fleursdumal.nl magazine
More in: Art & Literature News, Exhibition Archive, Linda Arts, Park
---
Winner of the T.S. Eliot Prize 2020 and the RSL Ondaatje Prize!
These are finely crafted poems that reveal Roger Robinson's capacity to tell involving stories and capture the essence of a character in a few words, to move the emotions with the force of verbal expression, and engage our thoughts, as in the sequence of poems that reflect on just what paradise might be. A Portable Paradise is a feast to be carried by lovers of poetry wherever they go.
Roger Robinson's range is wide: the joys and pains of family life; the ubiquitous presence of racism, both subtle and unsubtle; observations on the threatening edge of violence below the surface energies of Black British territories in London; emblematic poems on the beauty and often bizarre strangeness of the world of animals; quizzical responses to the strange, the heartening, and the appalling in incidents or accounts of incidents encountered in daily life; reflections on the purposes and costs of making art, as in fine poems on a George Stubbs' painting, John Coltrane's Ascension and cocaine. Not least, in the sequence of poems that reflect on the meanings of the Grenfell Tower fire, Roger Robinson finds ways to move beyond a just indignation to uncover the undertones of experience that bring us nearer to the human reality of that event.
The collection's title points to the underlying philosophy expressed in these poems: that earthly joy is, or ought to be, just within, but is often just beyond our reach, denied by racism, misogyny, physical cruelty and those with the class power to deny others their share of worldly goods and pleasures. A Portable Paradise is not the emptiness of material accumulation, but joy in an openness to people, places, the sensual pleasures of food and the rewards to be had from the arts of word, sound and visual enticement – in short an "insatiable hunger" for life. The poems express a fierce anger against injustice, but also convey the irrepressible sense that Roger Robinson cannot help but love people for their humour, oddity and generosity of spirit.
These are finely crafted poems, that reveal Roger Robinson's capacity to tell involving stories and capture the essence of a character in a few words, to move the emotions with the force of verbal expression, and engage our thoughts, as in the sequence of poems that reflect on just what paradise might be. A Portable Paradise is a feast to be carried by lovers of poetry wherever they go.
• Roger Robinson is a writer and performer who lives between London and Trinidad. His first full poetry collection, The Butterfly Hotel, was shortlisted for The OCM Bocas Poetry Prize. He has toured extensively with the British Council and is a co-founder of both Spoke Lab and the international writing collective Malika's Kitchen.
• Review by Bernardine Evaristo for the New Statesman on Wednesday, November 13, 2019: "A Portable Paradise (Peepal Tree Press) is the fourth poetry collection by Trinidadian-British poet Roger Robinson. It's also his finest, ranging from the most breath-taking poems about the Grenfell Tower fire to the most exquisitely moving poems about the premature birth of his son, who had to fight for his life in an incubator. His poems are deep, mature, moving and inventive."
A Portable Paradise
Roger Robinson (author)
Publisher: Peepal Tree Press Ltd
ISBN: 9781845234331
Number of pages: 144
Dimensions: 206 x 135 mm
Paperback
Published: 08/07/2019
£9.99
# new poetry
Roger Robinson:
A Portable Paradise
• fleursdumal.nl magazine
More in: #Editors Choice Archiv, - Book News, - Bookstores, Archive Q-R, Archive Q-R, Art & Literature News, Awards & Prizes, Black Lives Matter
---
Hard Damage works to relentlessly interrogate the self and its shortcomings. In lyric and documentary poems and essayistic fragments, Aria Aber explores the historical and personal implications of Afghan American relations.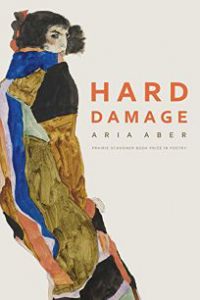 Drawing on material dating back to the 1950s, she considers the consequences of these relations—in particular the funding of the Afghan mujahedeen, which led to the Taliban and modern-day Islamic terrorism—for her family and the world at large.
Invested in and suspicious of the pain of family and the shame of selfhood, the speakers of these richly evocative and musical poems mourn the magnitude of citizenship as a state of place and a state of mind. While Hard Damage is framed by free-verse poetry, the middle sections comprise a lyric essay in fragments and a long documentary poem. Aber explores Rilke in the original German, the urban melancholia of city life, inherited trauma, and displacement on both linguistic and environmental levels, while employing surrealist and eerily domestic imagery.
  One hears everything here, where the landscape
  is a clean knife, slicing the mute—just a cat
  wiping its face, roofs with snow for weeks, ice
  falling from fir trees like books pushed off a shelf.
"The book is an academic asset. It is fine literature, from beyond the borders of the English-speaking sensibilities. Students of literature, political science, sociology, foreign affairs, and many other disciplines can benefit from Hard Damage…" – NY Journal of Books
Aria Aber was raised in Germany, where she was born to Afghan refugees. Her debut book Hard Damage won the Prairie Schooner Book Prize in Poetry and will be published in September 2019. Her poems are forthcoming or have appeared in The New Yorker, New Republic, Kenyon Review, The Yale Review, Poem-A-Day, Narrative, Muzzle Magazine, Wasafiri and others. A graduate from the NYU MFA in Creative Writing, where she was the Writers in Public Schools Fellow, she holds awards and fellowships from Kundiman and Dickinson House and was the 2018-2019 Ron Wallace Poetry Fellow at the Wisconsin Institute of Creative Writing. She's currently based in Berlin and is at work on her second book.
Aria Aber (Author)
Hard Damage
Poetry
Series: Prairie Schooner Book Prize in Poetry
Paperback
126 pages
Publisher: University of Nebraska Press
2019
Language: English
ISBN-10: 1496215702
ISBN-13: 978-1496215703
Product Dimensions:
6 x 0.3 x 9 inches
$17.95
# new books
Aria Aber:
Hard Damage
Poetry
• fleursdumal.nl magazine
More in: #Editors Choice Archiv, - Book News, - Bookstores, Archive A-B, Archive A-B, Art & Literature News
---
En 2018 s'est produit un phénomène que personne n'avait vu venir et qui restera dans l'histoire de la poésie française : un recueil a rencontré à la fois un succès critique et public.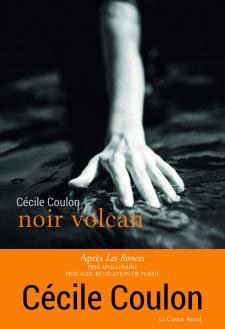 Cécile Coulon avait alors 27 ans, elle était connue comme romancière depuis déjà plusieurs années, et son premier recueil, Les Ronces, suscita un intérêt et un engouement dépassant de loin le cercle « habituel » des lecteurs de poésie.
Son second recueil, Noir volcan, est tout aussi éruptif, celui d'une poésie affranchie, libératrice, terrienne. Il fait partie d'un étonnant renouveau de la poésie constaté par les libraires dont Alexandre Bord : « Des poétesses comme Cécile Coulon et Rupi Kaur, dont les textes ont pu être lus au préalable sur les réseaux sociaux, attirent en librairie des lecteurs qui n'avaient jamais acheté un recueil de poésie. » Il est évident à la lire, que Cécile Coulon ne peut vivre sans poésie.
Cécile Coulon est née en 1990 à Clermont-Ferrand. En quelques années, elle a fait une ascension fulgurante. Elle a publié sept romans dont Trois saisons d'orage (Viviane Hamy), prix des Libraires, et Une bête au paradis (L'Iconoclaste), prix littéraire du Monde. Son premier recueil de poésie, Les Ronces (Le Castor Astral), a reçu le prestigieux prix Apollinaire.
Noir volcan
de Cécile Coulon (Auteur)
Alexandre Bord (Préface)
Broché : 160 pages
Editeur : Le castor astral
6 février 2020
Collection : Poésie
Langue : Français
ISBN-13 : 979-1027802449
ASIN : B07Z76LM7B
Dimensions du produit:
14,1 x 1,5 x 20,5 cm
15,00 EUR
# new books
Cécile Coulon:
Noir volcan
Poésie
• fleursdumal.nl magazine
More in: #Editors Choice Archiv, - Book News, - Bookstores, Archive C-D, Archive C-D, Art & Literature News
---
If two girls are two halves of a deep, lifelong friendship, what does one girl wholly become when the other is gone?
Amy Woolard's debut collection, Neck Of The Woods, sets this question as a hero-quest deep inside the mythos of the American South, wandering through childhood stories in which a girl alone must work to save herself.
These poems take on what happens when you wake up the morning after something happens, and find yourself in a different world, knowing there isn't truly a way back home.
Part-elegy, part-survivor's testimony, Neck Of The Woods maps a path divided into a before and an ever after.
Amy Woolard is a legal aid attorney working on civil rights policy and legislation in Virginia. Her first collection, Neck of the Woods, received the 2018 Alice James Award from Alice James Books. Her poems have appeared in The New Yorker, The Paris Review, Poetry, Boston Review, Ploughshares, and elsewhere, while her essays and reporting have been featured in publications such as Slate, The Guardian, and Virginia Quarterly Review. She has received fellowships from the National Endowment for the Arts, the Vermont Studio Center, and the Breadloaf Writers' Conference. She lives in Charlottesville, Virginia.
Neck of the Woods (Poetry)
Amy Woolard (Author)
Publisher: Alice James Books
Publish Date: April 07, 2020
Pages 100
Dimensions: 5.9 X 0.4 X 8.9 inches
Language: English
Type: Paperback
ISBN: 9781948579070
Price: $16.95
# new poetry
Amy Woolard:
Neck of the Woods
• fleursdumal.nl magazine
More in: #Editors Choice Archiv, - Book News, - Bookstores, Archive W-X, Art & Literature News
---
Poet, writer, and dancer Tishani Doshi was born in Madras, India, to Welsh and Gujarati parents. She earned a BA from Queens College in North Carolina and an MA from the Writing Seminars from the Johns Hopkins University. After working in the fashion magazine industry in London, Doshi returned to India.
An unexpected meeting with one of Indian dance's leading choreographers, Chandralekha, led Doshi to a career in dance. She currently performs internationally with the Chandralekha group. She is a freelance journalist, and her work has appeared in newspapers and journals such as the Guardian, the National, and the Hindu. She writes a regular column for New Indian Express and was a finalist in the Outlook/Picador India Non-Fiction Competition.
Doshi is widely acclaimed as a creative writer; her first book of poetry, Countries of the Body (2006), won a Forward Prize for Best First Collection. Her other collections include Everything Begins Elsewhere (2013), Dolce Marcescenza (Sweet Decay) (2015), and Girls Are Coming Out of the Woods (2018).
Doshi's first novel, The Pleasure Seekers (2010), was shortlisted for the Hindu Best Fiction Award and has been translated into several languages. She is also the author of Fountainville: New Stories from the Mabinogion (2013), a retelling of the Mabinogion myth, as well as two books about place and home, Madras Then Chennai Now (2013) and The Adulterous Citizen (2015). Her latest novel is Small Days and Nights (W. W. Norton, 2020).
From "The River of Girls" by Tishani Doshi the poem:
i.m. India's missing girls
This is not really myth or secret.
This murmur in the mouth
of the mountain where the sound
of rain is born.
  ( . . . . . )
This is the sound of ten million girls
singing of a time in the universe
when they were born with tigers
breathing between their thighs;
when they set out for battle
with all three eyes on fire,
their golden breasts held high
like weapons to the sky.
Tishani Doshi, "The River of Girls". Copyright © 2013 by Tishani Doshi.
Source: Everything Begins Elsewhere (Copper Canyon Press, 2013)
Her honors and awards include an Eric Gregory Award and an All-India Poetry Prize. She lives in Tamil Nadu, India.
Small Days and Nights
A Novel
by Tishani Doshi (Author)
Hardcover
$25.95
272 pages
Publisher: W. W. Norton & Company
January 21, 2020
Language: English
ISBN-10: 1324005238
ISBN-13: 978-1324005230
# fleursdumal.nl magazine
More in: - Book News, - Book Stories, Archive C-D, Archive C-D, Art & Literature News, REPRESSION OF WRITERS, JOURNALISTS & ARTISTS
---
Does a poet's heart beat under Donald Trump's brash exterior? This bestseller rearranges his quotes and tweets into hilarious poetry. It's a new word order and a perfect stocking filler.
What if there's a hidden dimension to Donald Trump; a sensitive, poetic side? Driven by this question, Rob Sears began combing Trump's words for signs of poetry.
What he found was a revelation. By simply taking the 45th President of the United States' tweets and transcripts, cutting them up and reordering them, Sears unearthed a trove of beautiful verse that was just waiting to be discovered.
This groundbreaking collection gives readers a glimpse of Trump's innermost thoughts and feelings on everything from the nature of truth, to what he hates about Lord Sugar. And it will reveal a hitherto hidden Donald, who may surprise and delight both students and critics alike.
Now with seventeen all-new poems! As we lurch deeper into the Trump presidency, this timely publication also includes Sears' scholarly footnotes and introduction, in which he excavates new critical angles and insights into the President's poetry which the casual reader might initially overlook.
"I'm very highly educated.
I know words,
I know the best words"
– Donald Trump,
Campaign Rally, 30 Dec 2015
Rob Sears is a creative director at McCann Erickson advertising agency, has written comedy and fiction for McSweeney's and (with his brother) wrote a sitcom for Audible starring Kevin Eldon, Felicity Montagu and Mitch Benn. He lives in Finsbury Park with his wife.
The Beautiful Poetry of Donald Trump
by Robert Sears (Author)
Subtitel: Newly Updated Edition
Including 12 Recently Discovered Poems
Hardcover: 144 pages
Publisher: Canongate Books Ltd; Main edition
August 31, 2017
Language: English
ISBN-10: 9781786892270
ISBN-13: 978-1786892270
ASIN: 1786892278
Product Dimensions: 14.4 x 1.8 x 22 cm
NUR code 754
$12.99
# new books
The Beautiful Poetry
of Donald Trump
• fleursdumal.nl magazine
More in: #Editors Choice Archiv, - Book News, Archive S-T, Archive S-T, Art & Literature News, Invisible poetry, The talk of the town
---
Announcing the 2020 Norma Farber Award winner, Zaina Alsous with A Theory of Birds (Poems)
Aina Alsous is the 2020 recipient of the Poetry Society of America's Norma Farber Book Award for her book A Theory of Birds (University of Arkansas Press). The Norma Farber Book Award honors a first book of original poetry written by a living author.
The Judge was Matthew Shenoda. Matthew Shenoda's Citation: In Zaina Alsous' A Theory of Birds we are ushered into a re-calibration of the world, one intent on the eradication of that which has been oppressive and divisive. In these poems history unravels us in fragments, causing us to fold ourselves into a new definition of "self" and an unabashed rejection of our positions as "subjects." The poems found here are an honest and open exploration of how we come into a sense of our own understanding in a postcolonial world. Alsous' poems are driven by the asking, often posing sentient questions like "who translated kings and not birds?"; questions that cause us to think of redefinition. And while her poems are searing in their critiques of political, racial, and gendered domination, like all good artists she is poignant in her ability to implicate herself at every turn and help us break through the binaries we often use to define ourselves. Hers is an aesthetic of fragmentation as a collective piecing together. A Theory of Birds teaches us that the interior narratives, the often quiet things that make each of us whole, are the most essential.
Zaina Alsous is a prison abolitionist, a daughter of the Palestinian diaspora, and a movement worker in South Florida. Her poetry, reviews, and essays have been published in POETRY Magazine, The Kenyon Review, the New Inquiry, Adroit, and elsewhere. She edits for Scalawag Magazine, a publication dedicated to unsettling dominant narratives of the U.S. South. Her chapbook Lemon Effigies won the Rick Campbell Chapbook Prize and was published by Anhinga Press. Her first full-length collection A Theory of Birds won the Etel Adnan Poetry Prize, and was published by the University of Arkansas Press in the fall of 2019.
Every year the University of Arkansas Press, together with the Radius of Arab American Writers, awards the Etel Adnan Poetry Prize for a first or second book of poetry in English by a writer of Arab heritage. The series is edited by Hayan Charara and Fady Joudah and supported by the King Fahd Center for Middle East Studies at the University of Arkansas.
A Theory of Birds
Poems by Zaina Alsous
978-1-68226-104-0 (paper)
$16.95
70 pages
September 2019
University of Arkansas Press
"Inside the dodo bird is a forest, Inside the forest
a peach analog, Inside the peach analog a woman, Inside
the woman a lake of funerals"
• fleursdumal.nl magazine
More in: - Book News, - Book Stories, - Bookstores, Archive A-B, Archive A-B, Art & Literature News, Awards & Prizes, Literary Events
---
'Jardin de Tendresse' (Tuin der Tederheid) in het 'Metropolitan Museum Tilburg'
De raamtentoonstellingen aan de Stedekestraat ('Metropolitan Museum Tilburg') laten deze zomer een 'tuin der tederheid' zien, waarmee het museum wederom reageert op deze donkere tijden van corona. Te zien vanaf vrijdagavond 12 juni 2020, Stedekestraat 15 te Tilburg.
De 'anderhalvemetersamenleving', ze is er dan toch van gekomen. Afstand als nieuwe normaal. Wie had dat ooit kunnen denken? Geen hand meer reiken om de ander vriendelijk te begroeten? Geen spontane omhelzingen meer met vrienden en vriendinnen? Geen knuffels meer aan kinderen en kleinkinderen? Niet meer zoenen op het zebrapad? Nooit meer vrijen op het strand? Waar leven we nog voor? Veiligheid voor alles? Echt waar? Gelamineerd door het leven en virtuele gemeenschap?
"Alles van waarde is weerloos," schreef de dichter Lucebert, meteen gevolgd door de magistrale regel: "wordt van aanraakbaarheid rijk en aan alles gelijk!" Aanraking, hoe lang kan een mens zonder? Zonder af te glijden naar een troosteloos robottenbestaan? Waar gaan we heen?
Vandaar een tentoonstelling. Heeft kunst tenminste nog enige zin in deze donkere dagen. En dus nodigen wij u met alle plezier uit voor de expositie 'Jardin de Tendresse' ('Tuin der Tederheid') van Sjon Brands. Een speelse 'exposition dansante', uitgevoerd in bewegende assemblages van alledaagse gebruiksvoorwerpen en speelgoed. Een onbevangen feest van aanraking, tederheid en kwetsbaarheid, te zien in het 'Metropolitan Museum Tilburg'. Welkom! Komt dat zien! Dag en nacht, zeven dagen in de week! Reserveren niet nodig.
◊  Dorith van der Lee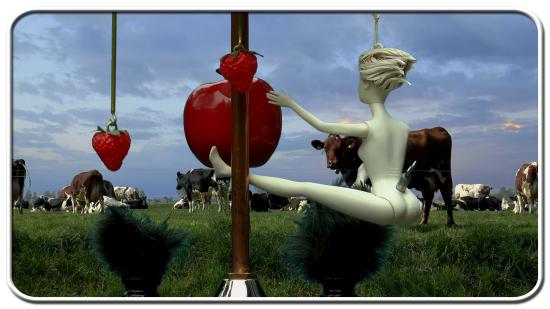 Raamtentoonstelling Sjon Brands:
  'Jardin de Tendresse' ('Tuin der Tederheid')
  vrijdag 12 juni t/m 15 september 2020
  dagelijks, dag en nacht, toegang vrij
  'Metropolitan Museum Tilburg'
  Stedekestraat 15, 5041DM Tilburg
  website: www.metropolitanmuseum.nl
  • fleursdumal.nl magazine
More in: - Objets Trouvés (Ready-Mades), Art & Literature News, Brands, Sjon, Exhibition Archive, Metropolitan Museum Tilburg, Sculpture, Sjon Brands, Surrealism, SURREALISM, Surrealisme, Theater van de Verloren Tijd
---
Laat hier jouw stem voor cultuur horen!
• fleursdumal.nl magazine

More in: - Book Lovers, Art & Literature News, AUDIO, CINEMA, RADIO & TV, DANCE, Design, Fashion, Graffity, Illustrators, Illustration, LITERARY MAGAZINES, MUSIC, THEATRE
---
Older Entries »
« Newer Entries
Thank you for reading FLEURSDUMAL.NL - magazine for art & literature