Art & Literature News
«« Previous page
·
The Hatred of Literature by William Marx
·
Best of Delphine Lecompte. Poëzie
·
Pierre-Brice-Edition "Über Nacht war ich Winnetou!" von Hella Brice
·
Russian Absurd. Selected Writings of Daniil Kharms
·
We Begin in Gladness. How Poets Progress by Craig Morgan Teicher
·
Frankenstein: The 1818 Text by Mary Shelley
·
Music, stories, absinthe and more during 'The Green Hour' with Oscar Wilde
·
Nieuwe dichtbundel Marieke Lucas Rijneveld: Fantoommerrie
·
Wintertuinfestival Nijmegen van 20-25 november 2018
·
Maudits mots. La fabrique des insultes racistes par Marie Treps
·
Rüdiger Görner: Georg Trakl. Dichter im Jahrzehnt der Extreme
·
Mauro Libertella – Mijn begraven boek
For the last 2,500 years literature has been attacked, booed, and condemned, often for the wrong reasons and occasionally for very good ones. The Hatred of Literature examines the evolving idea of literature as seen through the eyes of its adversaries: philosophers, theologians, scientists, pedagogues, and even leaders of modern liberal democracies.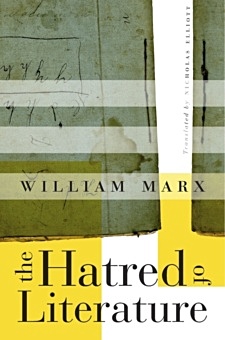 From Plato to C. P. Snow to Nicolas Sarkozy, literature's haters have questioned the value of literature—its truthfulness, virtue, and usefulness—and have attempted to demonstrate its harmfulness.
Literature does not start with Homer or Gilgamesh, William Marx says, but with Plato driving the poets out of the city, like God casting Adam and Eve out of Paradise. That is its genesis. From Plato the poets learned for the first time that they served not truth but merely the Muses. It is no mere coincidence that the love of wisdom (philosophia) coincided with the hatred of poetry. Literature was born of scandal, and scandal has defined it ever since.
In the long rhetorical war against literature, Marx identifies four indictments—in the name of authority, truth, morality, and society. This typology allows him to move in an associative way through the centuries. In describing the misplaced ambitions, corruptible powers, and abysmal failures of literature, anti-literary discourses make explicit what a given society came to expect from literature. In this way, anti-literature paradoxically asserts the validity of what it wishes to deny. The only threat to literature's continued existence, Marx writes, is not hatred but indifference.
William Marx is Professor of Comparative Literature at the University of Paris Nanterre.
The Hatred of Literature
William Marx
Translated by Nicholas Elliott
Belknap Press
Harvard University Press
ISBN 9780674976122
Publ.: January 2018
Hardcover
240 pages
€27.00
# new books
William Marx – The Hatred of Literature
fleursdumal.nl magazine
More in: - Book News, - Book Stories, Archive M-N, Art & Literature News, MONTAIGNE, The Art of Reading, The talk of the town
---
Delphine Lecompte (1978) debuteerde in 2004 in het Engels met de roman Kittens in the Boiler, daarna schakelde ze over naar gedichten in haar moedertaal.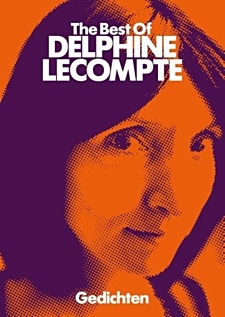 Voor haar debuutbundel De dieren in mij kreeg ze de C. Buddingh'-prijs 2010 en de Prijs Letterkunde 2011 van de Provincie West-Vlaanderen. Haar vorige bundel Dichter, bokser, koningsdochter werd genomineerd voor de VSB Poëzieprijs.
Het oeuvre van Delphine Lecompte vormt een ontembaar en onvoorspelbaar universum. In inmiddels zeven bundels bevraagt ze volstrekt genadeloos en vol branie zichzelf, de wereld en de poëzie.
Nu is het tijd voor een Best Of, waarin alle incestueuze imkers, gekwelde touwslagers, pedofiele tuinmannen, norse walvisjagers, morose windhondenfokkers, verwaarloosde hoefdieren, onbereikbare moeders en de geliefde oude kruisboogschutter een nieuw verband met elkaar aangaan. Ze bevolken een wereld die vol is van woede en gekte, maar ook van bezinning, verliefdheid en troost.
Best of Delphine Lecompte
Auteur: Delphine Lecompte
Taal: Nederlands
Poëzie
Uitgever: De Bezige Bij
Druk 1e druk
Omslagontwerp Moker Ontwerp
Foto auteur Koen Broos
Vormgeving binnenwerk Aard Bakker
Druk Bariet Ten Brink, Meppel
isbn 978 94 031 3720 9
nur 306
Afmetingen 24 x 17 x 1,2 cm
128 pagina's
Paperback
November 2018
€ 19,99
# new books
Best of Delphine Lecompte
Poëzie
fleursdumal.nl magazine
More in: #Editors Choice Archiv, - Book News, - Bookstores, Archive K-L, Art & Literature News
---
"Über Nacht war ich Winnetou!" ist für alle Filmfans ein wahrer Schatz: Drei Jahre nach dem Tod ihres Mannes Pierre Brice zeigt seine Frau Hella das über 50 Jahre lang behütete und zum Großteil unveröffentlichte private Fotomaterial des Winnetou-Schauspielers, entstanden am Rande der Dreharbeiten zu den Winnetou-Filmen.
Ergänzt werden diese Aufnahmen neben zahlreichen weiteren Fotos aus den Winnetou-Filmen unter anderem durch persönliche Briefe, Postkarten, Verträge und Vereinbarungen.
Persönliche Dokumente Pierre Brice' runden diese einzigartige Sammlung von Memorabilia über einen der beliebtesten und populärsten Schauspieler der letzten 55 Jahre ab.
 Pierre-Brice-Edition "Über Nacht war ich Winnetou!"
von Hella Brice
1960er Jahre – Dreharbeiten der Karl-May-Filme. 'Pierre Brice-Edition'.
Fans von Pierre Brice, Karl May oder Filmen allgemein
Buch (gebunden)
223 Seiten
ISBN: 3780231018
EAN: 9783780231017
21, 4 cm / 30, 2 cm / 2, 0 cm ( B/H/T ).
Karl-May-Verlag
12. Oktober 2018
€ 39,00
# new books
Karl-May-Filme
Pierre Brice-Edition
fleursdumal.nl magazine
More in: * Cowboys and Indians, - Book News, - Bookstores, Archive A-B, Archive M-N, Art & Literature News, AUDIO, CINEMA, RADIO & TV, Karl May
---
A writer who defies categorization, Daniil Kharms has come to be regarded as an essential artist of the modernist avant-garde.
His writing, which partakes of performance, narrative, poetry, and visual elements, was largely suppressed during his lifetime, which ended in a psychiatric ward where he starved to death during the siege of Leningrad.
His work, which survived mostly in notebooks, can now be seen as one of the pillars of absurdist literature, most explicitly manifested in the 1920s and '30s Soviet Union by the OBERIU group, which inherited the mantle of Russian futurism from such poets as Vladimir Mayakovsky and Velimir Khlebnikov.
This selection of prose and poetry provides the most comprehensive portrait of the writer in English translation to date, revealing the arc of his career and including a particularly generous selection of his later work.
DANIIL KHARMS (1905–1942) was a major figure in twentieth-century Russian and Soviet literature. An enigmatic and genre-bending artist, he was among the most significant voices in what came to be known as the literature of Russian absurdism.
ALEX CIGALE was awarded an NEA Literary Translation Fellowship in 2015. His translations from Russian and his original poetry in English have appeared in such journals as the New England Review, PEN America, TriQuarterly, and World Literature Today.
"…lively and funny… a profound and subtle testament to Kharms." —Times Literary Supplement
Daniil Kharms:
Russian Absurd.
Selected Writings
Translated from the Russian by Alex Cigale
Northwestern World Classics
Poetry
February 2017
ISBN 978-0-8101-3457-7
280 pages
Trade Paper
$24.95
# new books
Russian Absurd
Selected Writings
Daniil Kharms;
Translated from the Russian by Alex Cigale
fleursdumal.nl magazine
More in: #Biography Archives, - Book News, Archive K-L, Archive K-L, Art & Literature News, Constructivism, Futurisme, Kharms (Charms), Daniil
---
"The staggering thing about a life's work is it takes a lifetime to complete," Craig Morgan Teicher writes in these luminous essays.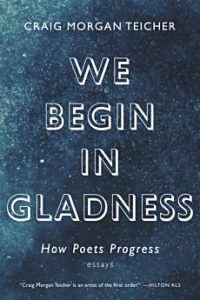 We Begin in Gladness considers how poets start out, how they learn to hear themselves, and how some offer us that rare, glittering thing: lasting work. Teicher traces the poetic development of the works of Sylvia Plath, John Ashbery, Louise Glück, and Francine J. Harris, among others, to illuminate the paths they forged—by dramatic breakthroughs or by slow increments, and always by perseverance.
We Begin in Gladness is indispensable for readers curious about the artistic life and for writers wondering how they might light out—or even scale the peak of the mountain.
Though it seems, at first, like an art of speaking, poetry is an art of listening. The poet trains to hear clearly and, as much as possible, without interruption, the voice of the mind, the voice that gathers, packs with meaning, and unpacks the language the poet knows.
It can take a long time to learn to let this voice speak without getting in its way. This slow learning, the growth of this habit of inner attentiveness, is poetic development, and it is the substance of the poet's art. Of course, this growth is rarely steady, never linear, and is sometimes not actually growth but diminishment—that's all part of the compelling story of a poet's way forward. —from the Introduction
Craig Morgan Teicher is an acclaimed poet and critic. He is the author of We Begin in Gladness: How Poets Progress, and three books of poetry, including The Trembling Answers, winner of the Lenore Marshall Poetry Prize, and he regularly writes reviews for Los Angeles Times, NPR, and the New York Times Book Review. He lives in New Jersey.
We Begin in Gladness.
How Poets Progress
by Craig Morgan Teicher
Publication Date 11/6/18
Format: Paperback
ISBN 978-1-55597-821-1
Subject: Literary Criticism
Pages 176
Graywolf Press
$16.00
# new books
more info: http://craigmorganteicher.com/
How Poets Progress
fleursdumal.nl magazine
More in: - Book Lovers, - Book Stories, Archive S-T, Archive S-T, Art & Literature News, The Art of Reading
---
For the bicentennial of its first publication, Mary Shelley's original 1818 text, introduced by National Book Critics Circle award-winner Charlotte Gordon. Nominated as one of America's best-loved novels by PBS's The Great American Read.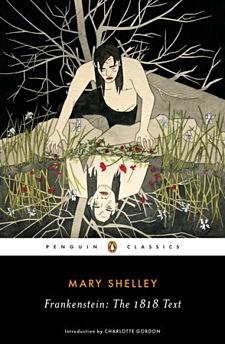 2018 marks the bicentennial of Mary Shelley's seminal novel. For the first time, Penguin Classics will publish the original 1818 text, which preserves the hard-hitting and politically-charged aspects of Shelley's original writing, as well as her unflinching wit and strong female voice. This edition also emphasizes Shelley's relationship with her mother—trailblazing feminist Mary Wollstonecraft, who penned A Vindication of the Rights of Woman—and demonstrates her commitment to carrying forward her mother's ideals, placing her in the context of a feminist legacy rather than the sole female in the company of male poets, including Percy Shelley and Lord Byron.
This edition includes a new introduction and suggestions for further reading by National Book Critics Circle award-winner and Shelley expert Charlotte Gordon, literary excerpts and reviews selected by Gordon, and a chronology and essay by preeminent Shelley scholar Charles E. Robinson.
Mary Shelley: The daughter of Mary Wollestonecraft, the ardent feminist and author of A Vindication on the Right of Women, and William Godwin, the radical-anarchist philosopher and author of Lives of the Necromancers, Mary Goodwin was born into a freethinking, revolutionary household in London on August 30,1797. Educated mainly by her intellectual surroundings, she had little formal schooling and at 16 eloped with the young poet Percy Bysshe Shelley; they eventually married in 1816. Mary Shelley's life had many tragic elements. Her mother died giving birth to Mary; her half-sister committed suicide; Harriet Shelley (Percy's wife) drowned herself and her unborn child after he ran off with Mary. William Godwin disowned Mary and Shelley after their elopement, but—heavily in debt—recanted and came to them for money; Mary's first child died soon after its birth; and in 1822 Percy Shelley drowned in the Gulf of La Spezia—when Mary was not quite 25. Mary Shelley recalled that her husband was "forever inciting" her to "obtain literary reputation." But she did not begin to write seriously until the summer of 1816, when she and Shelley were in Switzerland, neighbor to Lord Byron. One night following a contest to compose ghost stories, Mary conceived her masterpiece, Frankenstein. After Shelley's death she continued to write Valperga (1823), The Last Man (1826), Ladore (1835), and Faulkner (1837), in addition to editing her husband's works. In 1838 she began to work on his biography, but owing to poor health she completed only a fragment. Although she received marriage proposals from Trelawney, John Howard Payne, and perhaps Washington Irving, Mary Shelley never remarried. "I want to be Mary Shelley on my tombstone," she is reported to have said. She died on February 1, 1851, survived by her son, Percy Florence.
For more than seventy years, Penguin has been the leading publisher of classic literature in the English-speaking world. With more than 1,800 titles, Penguin Classics represents a global bookshelf of the best works throughout history and across genres and disciplines. Readers trust the series to provide authoritative texts enhanced by introductions and notes by distinguished scholars and contemporary authors, as well as up-to-date translations by award-winning translators.
Frankenstein: The 1818 Text
By Mary Shelley
Introduction by Charlotte Gordon
Contribution by Charlotte Gordon
Fiction Classics
Paperback
Penguin Random House
Published by Penguin Classics
Jan 16, 2018
288 Pages
ISBN 9780143131847
$10.00
# new books
Frankenstein – Mary Shelley
fleursdumal.nl magazine
More in: - Book Lovers, - Book News, Archive S-T, Art & Literature News, Mary Shelley, Shelley, Mary, Tales of Mystery & Imagination
---
Literary and music group Feest der Poëzie brings a theatrical lecture on the life and work of Oscar Wilde and one of his favorite beverages – absinthe. This Saturday at the Pianola Museum, 8.30 PM.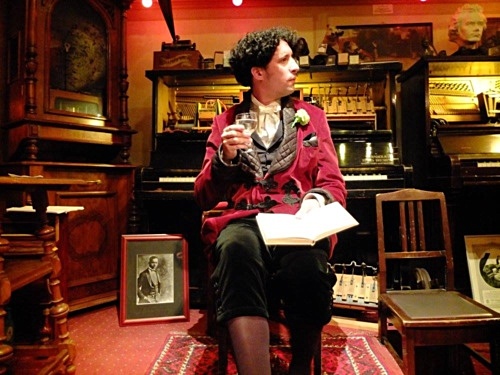 Immerse yourself in the story of one of the best-loved writers in the English language with prose, poetry, songs and drama by Oscar Wilde and his contemporaries, on a journey through his rise and fall.
Poet and absintheur David Kwa will demonstrate the absinthe ritual and read manifold roles, such as that of the dreaded Marquess of Queensberry.
Daan van de Velde (piano) and Susanne Winkler (soprano) will perform Irish and English art songs, as performing poet Simon Mulder takes on the roles of narrator and Oscar Wilde (indeed, wearing a contemporary pair of silk breeches) in the fascinating story of his life.
Also, Van de Velde and Mulder will bring the very special performance of a long lost work for piano and voice on Wilde's 'Ballad of Reading Gaol' by early 20th century composer Henri Zagwijn.
The Poetry Bar will bring you carefully prepared absinthe, along with a decadent sonnet.
Saturday the 24th of November 2018
venue open: 8 PM
start: 8.30PM
(English spoken)
venue:
Pianola Museum
Westerstraat 116
Amsterdam
Tickets: € 15/12.50
www.feestderpoezie.nl
trailer: www.youtube.com/watch?v=-V6yx3X8rwg
Music, stories, absinthe and more during 'The Green Hour' with Oscar Wilde
fleursdumal.nl magazine
More in: # Music Archive, Archive M-N, Archive W-X, Art & Literature News, Literary Events, THEATRE, Wilde, Oscar, Wilde, Oscar
---
Je zou kunnen zeggen dat Fantoommerrie verder gaat waar Kalfsvlies was opgehouden, maar dat suggereert dat we met een vervolg te maken hebben, en dat is niet zo.
Deze bundel is een nieuwe verkenning in het universum van Rijneveld, dat paradoxaal genoeg aan de ene kant compleet onnavolgbaar is, maar aan de andere kant ook onmiddellijk herkenbaar en altijd eigen.
Over een oma die onsterfelijk had moeten zijn, het noodlottig einde van een onvoorzichtige kat, over dromen natuurlijk: mooie en lelijke, over bidden om speelgoed, de zithouding van de schrijver – en over voorleesvaders, die lastige vragen krijgen: 'waar komen kinderen vandaan als ouders nooit kussen?'
Fantoommerrie is een dichtbundel om in te verdwalen, en dan te besluiten om er te blijven.
Marieke Lucas Rijneveld (1991) geldt als een van de grootste talenten van de Nederlandse letteren. In 2015 debuteerde ze met de meermaals herdrukte dichtbundel 'Kalfsvlies', die werd bekroond met de C. Buddingh' Prijs voor het beste poëziedebuut. In 'de Volkskrant' werd ze vervolgens uitgeroepen tot literair talent van het jaar.
Haar indrukwekkende voordracht was veelvuldig te horen op literaire podia als Crossing Border, De Jonge Schrijversavond en de Nacht van de Poëzie, en haar gedichten en verhalen verschenen in een groot aantal literaire tijdschriften, waaronder 'Hollands Maandblad', 'VPRO Gids' en 'De Revisor'.
Rijneveld groeide op in een gereformeerd boerengezin in Noord-Brabant en woont tegenwoordig in Utrecht, de stad die haar in 2015 het C.C.S. Cronestipendium toekende. Naast haar bestaan als schrijver werkt ze op een melkveebedrijf. Haar debuutroman 'De avond is ongemak' verscheen in 2018 en in januari 2019 verschijnt haar tweede dichtbundel 'Fantoommerrie'.
Marieke Lucas Rijneveld:
Fantoommerrie
Gedichten
Fantoommerrie is de Tweede dichtbundel
van Marieke Lucas Rijneveld.
Wordt verwacht op 24 januari 2019
Bundel is te reserveren bij de boekhandel
Uitgeverij Atlas Contact.
ISBN 9789025453459
Pagina's 64
Type Paperback / softback
€ 19,99
# new books
Marieke Lucas Rijneveld:
Fantoommerrie. Gedichten
fleursdumal.nl magazine
More in: - Book News, - Bookstores, Archive Q-R, Archive Q-R, Art & Literature News, Marieke Lucas Rijneveld, Rijneveld, Marieke Lucas
---
Het Wintertuinfestival, dat van 20 tot en met 25 november 2018 plaatsvindt in Nijmegen, gaat dit jaar over de vraag: Wat horen we als we luisteren? Tientallen schrijvers, dichters, wetenschappers, muzikanten en kunstenaars gaan in op dit thema. Zowel grote literaire namen als aanstormende talenten reizen af naar Nijmegen.
20 t/m 25 november: Wintertuinfestival Nijmegen
  # meer info wintertuinfestival  

fleursdumal.nl magazine
More in: # Music Archive, #More Poetry Archives, - Book Lovers, - Bookstores, Art & Literature News, THEATRE, Wintertuin Festival
---
La linguiste Marie Treps retrace l'histoire des insultes racistes dans Maudits mots.

La linguiste effectue un inventaire des insultes racistes au fil du temps, à partir de citations issues de textes anciens ou contemporains. Elle retrace les circonstances historiques dans lesquelles elles ont été imaginées ainsi que les motivations.
"Maudits" mots fournit un inventaire détaillé des termes et des expressions produits, au cours de notre histoire, par la xénophobie ordinaire ou par le racisme exacerbé.
Marie Treps dissèque les multiples insultes adressées aux Allemands, aux Arabes, aux Asiatiques, aux Espagnols, aux Italiens, aux Juifs, et à bien d'autres groupes ainsi réduits à l'état de stéréotypes, voire déshumanisés.

En linguiste et en sémiologue, Marie Treps ausculte tout un lexique qui vise à dégrader, à stigmatiser, à outrager, qui est parfois naïf, faussement affectueux, ou qui se donne une apparence scientifique. L'analyse s'appuie sur des textes anciens et contemporains, dont beaucoup appartiennent à la littérature.
Linguiste et sémiologue, Marie TREPS a publié une quinzaine d'ouvrages consacrés à la langue française, notamment, Les Mots voyageurs, Seuil, 2003 ; Les Mots migrateurs, Seuil, 2009 ; Les Mots-caresses, CNRS Editions, 2011 ; Oh là là, ces Français ! La Librairie Vuibert, 2015.
Marie Treps:
Maudits mots. La fabrique des insultes racistes
Broché: 327 pages
Editeur: Tohu-Bohu éditions
Collection: TOHU BOHU
Langue: Français
2017
ISBN : 978-2-37622-012-1
Dimensions: 15 x 20 cm
€ 20,00
# new books
Maudits mots.
La fabrique des insultes racistes
fleursdumal.nl magazine
More in: - Book News, - Book Stories, Archive S-T, Art & Literature News, CRIME & PUNISHMENT, MONTAIGNE
---
Auch hundert Jahre nach seinem Tod ein Geheimnis: Georg Trakl.  Rüdiger Görner geht dem Mythos nach.
Kurz nach Ausbruch des Ersten Weltkriegs starb Georg Trakl in einem Militärspital an einer Überdosis Kokain. Ob der im Krieg traumatisierte Dichter Selbstmord beging, ist eines der Rätsel, die sein Leben und Werk umgeben.
Rüdiger Görner gelingt es, sich den biographischen Brüchen und Details über das Werk anzunähern. Er geht in der Auseinandersetzung mit den Gedichten der Todessehnsucht Trakls, der mehr als innigen Beziehung zu Schwester Margarethe und dem Aufwachsen in Salzburg nach. Und kommt zu faszinierenden Schlüssen: Dass sich die Extreme der Zeit – die Beschleunigung der Lebensverhältnisse, ihre rücksichtslose Technisierung – im Werk des Dichters nur bedingt spiegeln. Und dass die Gedichte – Trakls Ruhelosigkeit zum Trotz – oft geradezu ausgeruht klingen.
Rüdiger Görner, geboren 1957 in Rottweil, ist Professor für Neuere Deutsche und vergleichende Literatur an der Queen Mary University of London. Gründer des Ingeborg Bachmann Centre for Austrian Literature und Gründungsdirektor des Centre for Anglo-German Cultural Relations. Träger des Deutschen Sprachpreises, des Reimar Lüstpreises der Alexander von Humboldt-Stiftung und des Verdienstordens der Bundesrepublik Deutschland. Bei Zsolnay erschienen Rainer Maria Rilke. Im Herzwerk der Sprache (2004), Georg Trakl. Dichter im Jahrzehnt der Extreme (2014) und Oskar Kokoschka. Jahrhundertkünstler (2018).
Rüdiger Görner:
Georg Trakl.
Dichter im Jahrzehnt der Extreme
Deutscher Sprache
Fester Einband
352 Seiten
Zsolnay / Deuticke
Carl Hanser Verlag, München
ISBN 978-3-552-05697-8
2014
€ 24,90
# new books
Georg Trakl
fleursdumal.nl magazine
More in: - Book News, - Book Stories, Archive G-H, Archive S-T, Art & Literature News, Opium-Eaters, Trakl, Georg
---
Iedereen krijgt er vroeg of laat mee te maken: het moment dat we beseffen dat onze ouders niet het eeuwige leven hebben.
"Mijn begraven boek' is precies dat verhaal, geschreven in de meest precieze en mooiste van alle talen van de rouw. De geschiedenis van twee schrijvers en een gedeelde passie – de literatuur – die, voorbij de dood, hen in het leven met elkaar verbindt.
"Mijn begraven boek' is het ontroerende verhaal over het leven en de dood van Mauro's vader, Héctor Libertella, een van de vroegere cultschrijvers van Argentinië, en over de band die vader en zoon voorbij het sterfbed hebben.
Mauro Libertella
Mijn begraven boek
Literaire roman
Vertaald door Merijn Verhulst
Met een voorwoord van Carlos Fonseca
Taal Nederlands
Paperback met flappen
Verschijningsdatum augustus 2018
Karaat, Uitgeverij
1e druk
20,1 x 12,5 x 0,8 cm
ISBN 9789079770342
€ 17,95
W: www.uitgeverijkaraat.nl
# new novel
Mauro Libertella
fleursdumal.nl magazine


More in: - Book News, - Book Stories, Archive K-L, Art & Literature News
---
Older Entries »
« Newer Entries
Thank you for reading FLEURSDUMAL.NL - magazine for art & literature