– Bookstores
«« Previous page
·
Barbara Zoeke: Die Stunde der Spezialisten
·
Franklin Foer: World Without Mind. The Existential Threat of Big Tech
·
Everyman's Library edition of The Remains of the Day by Kazuo Ishiguro
·
Selected Poems of Malcolm Lowry
·
A Secret Sisterhood: The Literary Friendships of Jane Austen, Charlotte Bronte, George Eliot, and Virginia Woolf by Emily Midorikawa
·
Ton van Reen – Katapult. Oproer in Amsterdam
·
Presentatie boek 'Dochters' van Ton van Reen in Wereldpaviljoen Steyl
·
Peace Prize 2017 of the German Book Trade to Canadian author, essayist and poet Margaret Atwood
·
"Lincoln in the Bardo" by George Saunders wins 2017 Man Booker Prize
·
Tom Hanks: Uncommon Type. Some Stories
·
Irene Dische: Schwarz auf Weiß
·
Frankfurter Buchmesse: 11 – 15 Oktober 2017
Deutschland 1940: Max Koenig ist Professor für Altertumsforschung. Ein vererbtes Nervenleiden reißt ihn aus seinem beruflichen Leben und fort von seiner Familie.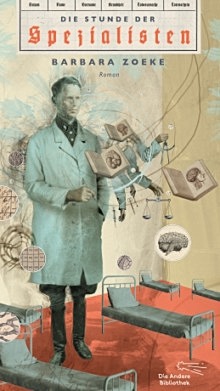 Er kommt in die Wittenauer Heilstätten und trifft dort auf Schwester Rosemarie, die versucht zu helfen, wo sie kann. Trotz seiner Hinfälligkeit wird Koenig zum Mittelpunkt einer kleinen Gruppe: dem Studienrat Dr. Carl Hohein, der eine Litanei auf die Farbe »Schwarz« komponiert, der jungen Pianistin Elfie, deren Hände zittern und die »Traumdeutsch« spricht, und schließlich Oscar, einem Jungen mit Trisomie 21.
Der Alltag auf der Station, die mangelhaften Essensrationen und die rassenhygienischen Kommentare der medizinischen »Spezialisten« werden nur durch die gegenseitige Unterstützung und kleine Freuden, wie die Besuche von Frau und Schwägerin, erträglich. Sie hoffen darauf, sich nach dem Krieg im Traumland Italien wiederzufinden. Doch Max Koenig und Oscar werden verlegt und ihren Angehörigen entzogen.
Töten wird sie Dr. Friedel Lerbe, ein Arzt, SS-Mann und fanatischer Verfechter der Rassenhygiene. Als Leiter einer Tötungsanstalt führt er das NS-»Euthanasie«-Programm mit bürokratischer Präzision aus – jedes Detail des Ablaufs wird von ihm kontrolliert. Ein ganzer Stab von »Pflegern«, Sekretärinnen, Technikern und Leichenbrennern steht diesem »Spezialisten« bei seinem Handwerk zur Seite.
Barbara Zoeke schildert das Geschehen aus unterschiedlichen Perspektiven – empathisch und erschütternd klar. Es gelingt ihr, dieses Verbrechen der Nationalsozialisten zu vergegenwärtigen und den Opfern, Angehörigen und Tätern eine literarische Stimme zu geben.
Barbara Zoeke erhält für ihren Roman "Die Stunde der Spezialisten" den Brüder-Grimm-Preis 2017 der Stadt Hanau!
Die Preisverleihung findet am 17. November in der Hanauer Stadtbibliothek/Kulturforum Hanau statt. Die Laudatio auf die Preisträgerin wird der Literatur-Chef der Frankfurter Allgemeinen Zeitung Andreas Platthaus halten. Die Auszeichnung ist mit 10.000 Euro dotiert.
Die Jury mit Literaturkritikerin Dr. Insa Wilke, Literaturprofessor Professor Dr. Heiner Boehncke und dem ehemaligen Vorsitzenden des hessischen Bibliotheksverbandes Aloys Lenz MdL a.D. votierte nach eingehender Diskussion der eingereichten Veröffentlichungen einstimmig für das kürzlich im Verlag "Die Andere Bibliothek" erschienene Buch. Der Magistrat der Stadt Hanau schloss sich einmütig dem Votum der Jury an.
Aus der Jury-Entscheidung:
"Barbara Zoekes Roman "Die Stunde der Spezialisten" widmet sich einem in der deutschsprachigen Literatur immer noch auffällig selten erzählten Verbrechen der Nationalsozialisten: der Ermordung von Psychiatriepatienten und Behinderten, allgemein unter dem Euphemismus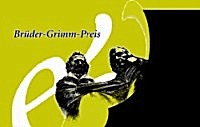 "Euthanasie" bekannt. Autorinnen wie Olga Martynova und entfernt auch Angela Steidele haben sich zuletzt mit diesem Stoff auseinandergesetzt; Barbara Zoeke ist jedoch die erste Autorin, die wohl auch aufgrund ihrer psychiatrischen Praxis die besondere Sprache der Patienten in eine literarische verwandelt und ihnen so auf besondere Weise ein Denkmal setzt. Virtuos komponiert sie auf diese Weise aus den Stimmen der Opfer wie auch der Täter in je spezifischen Sprechweisen ein beklemmendes Kunstwerk in humanistischen Traditionen, das bei seinen Leserinnen und Lesern für einen inneren Aufruhr sorgt, wie ihn nur hervorragende literarische Werke hervorzubringen imstande sind. Die Jury sieht in der meisterlichen Sprache des Romans und dem sensiblen Umgang mit den unterschiedlichen Stimmen überdies eine Nähe zu dem Werk der Brüder Grimm, das sich auf der Grenze zwischen Archiv, Sprachforschung und Erzählen bewegt."
Dr. Barbara Zoeke verbrachte ihre Kindheit im thüringischen Vogtland und studierte in Köln und Münster. Sie ist habilitierte Psychologin, forschte in den USA und war über mehrere Jahre im Vorstand der "International Society of Comparative Psychology". Sie lehrte und forschte an den Universitäten von Münster, Frankfurt, Würzburg und München. Neben wissenschaftlichen Arbeiten zur Wahrnehmung und zum Gedächtnis veröffentlichte sie erzählende Prosa, Lyrik und Sachbuchtexte. Die Autorin lebt seit 2008 in Berlin.
Barbara Zoeke
Die Stunde der Spezialisten
Seitenanzahl: 300
Originalausgaben
Bandnummer: 393
Originalausgabe,
nummeriert und limitiert
Gestaltung: Lars Henkel.
Kunstvolle Collagen für Cover,
Bezug, Vor- und Nachsatzpapier.
Fadenheftung, Lesebändchen.
ISBN: 9783847703938
2017 – 42,00 EUR
Die Andere Bibliothek
10969 Berlin
#  website  die  andere  bibliothek     

fleursdumal.nl magazine
More in: - Book News, - Bookstores, Archive Y-Z, Art & Literature News, DRUGS & MEDICINE & LITERATURE, Grimm, Andersen e.o.: Fables, Fairy Tales & Stories, WAR & PEACE
---
Over the past few decades there has been a revolution in terms of who controls knowledge and information.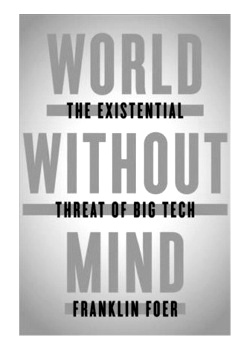 This rapid change has imperiled the way we think. Without pausing to consider the cost, the world has rushed to embrace the products and services of four titanic corporations. We shop with Amazon; socialize on Facebook; turn to Apple for entertainment; and rely on Google for information. These firms sell their efficiency and purport to make the world a better place, but what they have done instead is to enable an intoxicating level of daily convenience.

As these companies have expanded, marketing themselves as champions of individuality and pluralism, their algorithms have pressed us into conformity and laid waste to privacy. They have produced an unstable and narrow culture of misinformation, and put us on a path to a world without private contemplation, autonomous thought, or solitary introspection–a world without mind. In order to restore our inner lives, we must avoid being coopted by these gigantic companies, and understand the ideas that underpin their success.
Elegantly tracing the intellectual history of computer science–from Descartes and the enlightenment to Alan Turing to Stuart Brand and the hippie origins of today's Silicon Valley–Foer exposes the dark underpinnings of our most idealistic dreams for technology. The corporate ambitions of Google, Facebook, Apple, and Amazon, he argues, are trampling longstanding liberal values, especially intellectual property and privacy. This is a nascent stage in the total automation and homogenization of social, political, and intellectual life. By reclaiming our private authority over how we intellectually engage with the world, we have the power to stem the tide.
At stake is nothing less than who we are, and what we will become. There have been monopolists in the past but today's corporate giants have far more nefarious aims. They're monopolists who want access to every facet of our identities and influence over every corner of our decision-making. Until now few have grasped the sheer scale of the threat. Foer explains not just the looming existential crisis but the imperative of resistance.
Franklin Foer is a national correspondent for The Atlantic and a fellow at the New America Foundation. He is the author of How Soccer Explains the World, which has been translated into 27 languages and a winner of a National Jewish Book Award. For seven years, he edited The New Republic magazin
Franklin Foer:
World Without Mind.
The Existential Threat of Big Tech
Hardcover
272 pages
Published September 2017
Penguin Press
ISBN 1101981113
ISBN13: 9781101981115
World Without Mind: The Existential Threat of Big Tech by Franklin Foer . Franklin Foer reveals the existential threat posed by big tech, and in his brilliant polemic gives us the toolkit to fight their pervasive influence.
fleursdumal.nl magazine
More in: - Book Stories, - Bookstores, Archive E-F, Art & Literature News, CINEMA, RADIO & TV, DICTIONARY OF IDEAS, MONTAIGNE, The Art of Reading, The talk of the town
---
An elegant Everyman's Library hardcover edition of the universally acclaimed novel—winner of the Booker Prize, a bestseller and a perpetually strong backlist title, and the basis for an award-winning film—with full-cloth binding, a silk ribbon marker, a chronology, and an introduction by Salman Rushdie.
Here is Kazuo Ishiguro's profoundly compelling portrait of Stevens, the perfect butler, and of his fading, insular world in post-World War II England. Stevens, at the end of three decades of service at Darlington Hall, spending a day on a country drive, embarks as well on a journey through the past in an effort to reassure himself that he has served humanity by serving the "great gentleman," Lord Darlington.
But lurking in his memory are doubts about the true nature of Lord Darlington's "greatness," and much graver doubts about the nature of his own life.
Kazuo Ishiguro's books have won him wide renown and numerous honors. His work has been translated into more than 40 languages.
Both The Remains of the Day and Never Let Me Go have sold more than 1 million copies, and both were adapted into highly acclaimed films. Ishiguro's other work includes Nocturnes, A Pale View of the Hills, and An Artist of the Floating World.
Kazuo Ishiguro is awarded the Nobel Prize in Literature for 2017.
Kazuo Ishiguro
The Remains of the Day
Introduction by Salman Rushdie
Everyman's Library
Contemporary Classics Series
Hardcover, Deckle Edge,
2012, 248 Pages
978 1 84159 349 4
£ 10.99
# website everymanslibrary    
Kazuo Ishiguro:
The Remains of the Day
fleursdumal.nl magazine
More in: - Book News, - Bookstores, Archive I-J, Art & Literature News, Kazuo Ishiguro, Salman Rushdie, The Art of Reading
---
First published by City Lights in 1962 and long out of print, Selected Poems of Malcolm Lowry is the only comprehensive selection of his poetry to be published in the U.S., and it remains the perfect introduction to his extensive poetic canon.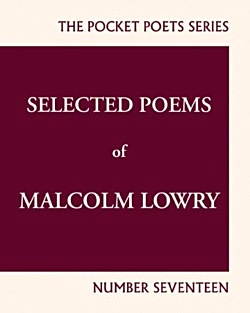 Edited by Lowry's good friend, renowned Canadian poet Earle Birney, with the assistance of his widow, Margerie Lowry, the selection includes extraordinary poems written during Lowry's stay in Mexico, many of which are closely related to his landmark novel.
"These poems would be worth keeping in print, if for no other reason, for their illuminations of Under the Volcano: 'See mind's petal / torn from a good tree, but where shall it settle / But in the last darkness and at the end?' Sometimes, as the images of "For Under the Volcano," they become 'palm-of-the-hand' versions of that masterpiece. Lowry is a poet of struggle—with life, and with the creative process. Here are his struggle's fruits: guilt, alcoholism, hopeless, self-deriding quest for salvation, which seems to be love, and, above all, self-destruction—but always accomplished with self-knowledge, enriched (in order to further torment itself) with compassion for all the beings that the poet, and us with him, are failing. His words are always sad and often beautiful." –– William T. Vollmann
Malcolm Lowry (1909–1957) was a British novelist and poet whose masterpiece Under the Volcano is widely hailed as one of the greatest novels of the twentieth century. Born near Liverpool, England, Lowry grew up in a prominent, wealthy family and chafed under the expectations placed upon him by parents and boarding school. He wrote passionately on the themes of exile and despair, and his own wanderlust and erratic lifestyle made him an icon to later generations of writers.
Title Selected Poems of Malcolm Lowry
Subtitle Pocket Poets Series Number 17
Author Malcolm Lowry
Preface by Lawrence Ferlinghetti
Introduction by Earle A. Birney
Edited by Earle A. Birney
Collection City Lights Pocket Poets
Publisher City Lights Publishers
Paperback – $13.95
118 pages
ISBN-10 0872867293
ISBN-13 9780872867291
Publication in March 2017
fleursduma.nl magazine
More in: - Book News, - Bookstores, Archive K-L, Archive K-L, Art & Literature News, Malcolm Lowry
---
Male literary friendships are the stuff of legend; think Byron and Shelley, Fitzgerald and Hemingway.
But the world's best-loved female authors are usually mythologized as solitary eccentrics or isolated geniuses.
Coauthors and real-life friends Emily Midorikawa and Emma Claire Sweeney prove this wrong, thanks to their discovery of a wealth of surprising collaborations: the friendship between Jane Austen and one of the family servants, playwright Anne Sharp; the daring feminist author Mary Taylor, who shaped the work of Charlotte Bronte; the transatlantic friendship of the seemingly aloof George Eliot and Harriet Beecher Stowe; and Virginia Woolf and Katherine Mansfield, most often portrayed as bitter foes, but who, in fact, enjoyed a complex friendship fired by an underlying erotic charge.
Through letters and diaries that have never been published before, A Secret Sisterhood resurrects these forgotten stories of female friendships. They were sometimes scandalous and volatile, sometimes supportive and inspiring, but always–until now–tantalizingly consigned to the shadows.
Emily Midorikawa's work has been published in the Daily Telegraph, the Independent on Sunday, and the Times. She is a winner of the Lucy Cavendish Fiction Prize and was a runner-up in the SI Leeds Literary Prize (judged by Margaret Busby) and the Yeovil Literary Prize (judged by Tracy Chevalier). She has a history degree from University College London, and is a graduate of the University of East Anglia's creative writing masters program. She now teaches at New York University–London.
A Secret Sisterhood:
The Literary Friendships of Jane Austen, Charlotte Brontë, George Eliot, and Virginia Woolf
by Emily Midorikawa (Author), Emma Claire Sweeney (Author), Margaret Atwood (Foreword)
Hardcover, 352 pages
Publication: October 2017
by Houghton Mifflin Harcourt
ISBN 054488373X
(ISBN13: 9780544883734)
fleursdumal.nl magazine
More in: - Book News, - Bookstores, Archive M-N, Art & Literature News, Austen, Jane, Austen, Jane, Brontë, Anne, Emily & Charlotte, Eliot, George, Mansfield, Katherine, Mansfield, Katherine, Virginia Woolf, Woolf, Virginia
---
In de tijd waarin de roman Katapult, Oproer in Amsterdam speelt, de jaren zeventig van de vorige eeuw, was er nog hoop, ook al toont het verhaal niet het Amsterdam van de glamour maar het Amsterdam dat aan de rand staat van de verloedering.
Het is het verhaal van een dag uit het leven van een kleine groep mensen, een familie en hun vrienden, die in een grote stad toch in een uiterst kleine kring blijken te leven. Het lijkt dat ze ver staan van de boze en wonderlijke rampen die zich in de stad voltrekken en die ze niet kunnen benoemen, maar feitelijk ondervinden ze alle gebeurtenissen aan hun lijf.
Wat er in Katapult gebeurt, speelt zich alleen af in zwarte sprookjes, maar vaak hebben sprookjes meer met de werkelijkheid gemeen dan de exacte verslagen van gebeurtenissen. Wie denkt dat het onmogelijk is om met een katapult een brandende scherf van de zon te schieten, om zo hotel-restaurant Americain in de fik te zetten, moet dit boek maar niet lezen.
Katapult is vijfenveertig jaar geleden geschreven. Veel in Amsterdam lijkt nu nog hetzelfde, maar dat is schijn. Wie met dit boek door de stad loopt en de sporen zoekt van het Amsterdam van toen, ziet dat de mooie gevels er nog zijn en worden gefotografeerd door hordes toeristen uit de hele wereld, maar ook dat achter de fraaie gevels heel veel is weggehaald.
Nu zijn er supermarkten gevestigd en kantoren van advocaten, multinationals en brievenbusmaatschappijen die de stad en Nederland misbruiken om belasting te ontduiken. De gezinnen zoals die van Albert Meyer zijn grotendeels verdreven naar de Bijlmer, Purmerend en Almere.
Ook café De Engelbewaarder, aan de Kloveniersburgwal is er niet meer. Kastelein Bas, in wie de toenmalige uitbater en boekenliefhebber Bas Lubberhuizen herkend kan worden, leeft nog, maar de redacteuren van Vrij Nederland die er dagelijks hun kelkjes leeg dronken, zoals Martin van Amerongen en Joop van Tijn, zijn al jaren heen.
Net als Ischa Meier die er vaak kwam met zijn vrouwen, minnaressen en favoriete hoertjes en een zak vol boeken waarvan hij de flapteksten las. Ook stamklant Robert Jasper Grootveld, die model stond voor Crazy Horse is er niet meer, net als Simon Vinkenoog, de magiër van het vrije woord. Wel zijn gelijkgestemde filosofen als Roel van Duijn en Luud Schimmelpennink nog onder ons, maar hun ideeën worden nauwelijks nog begrepen.
In de gevoelswereld van schrijver Ton van Reen spelen de zelfgenoegzame leden van de georganiseerde samenleving een uiterst sinistere rol. Wreedheid, vreemdelingenhaat en bloeddorst liggen achter hun oppervlakkige en zo fatsoenlijk lijkende gedrag voortdurend op de loer.
De helden van Ton van Reen behoren zonder uitzondering tot de kwetsbaren en de slachtoffers: eenzame kinderen, hoeren, landlopers, kermisgasten en zonderlingen, mensen die echter een warmer hart hebben dan de directeuren van de Rabobank en de Tweede Kamerleden van de VVD.
Over de boeken van Ton van Reen schreef Aad Nuis in de Haagse Post: 'Hij schrijft eigenlijk steeds sprookjes, waarbij de toon onverhoeds kan omslaan van Andersen op zijn charmantst in Grimm op zijn gruwelijkst.' Reinjan Mulder schreef in NRC-Handelsblad: 'Het proza van Ton van Reen is mooi als poëzie.' En Gerrit Krol schreef in dezelfde krant: 'Ton van Reen schrijft leerboeken voor schrijvers.'
Ton van Reen
Katapult
Oproer in Amsterdam
Roman
Gebrocheerd in omslag met flappen,
148 blz., € 14,50
ISBN 978 90 6265 978 4
oktober 2017
Uitgeverij In de Knipscheer
#  Meer  info  op  website  Uitgeverij  In  de  Knipscheer

fleursdumal.nl magazine
More in: - Book News, - Bookstores, - Katapult, de ondergang van Amsterdam, Archive Q-R, Art & Literature News, David van Reen, David van Reen Photos, PRESS & PUBLISHING, Reen, Ton van, Reen, Ton van
---
Ton van Reen lanceert zijn nieuwste roman Dochters op vrijdag 3 november 2017 in het Wereldpaviljoen te Steyl
Het boek speelt grotendeels in Nederland, Duitsland en Zwitserland, maar het gaat vooral over Afrika.
Op de vlucht voor zijn verleden is de hoofdpersoon er gaan werken als correspondent voor De Volkskrant. Op de reis naar de bruiloft van zijn dochter in Zwitserland raakt hij in gesprek met een jonge vrouw. Voor beiden wordt het een louterende ontmoeting.
Peter Winkels zal Ton van Reen interviewen over zijn nieuwe boek en zijn levenslange band met Afrika. Al in de jaren zeventig was Ton initiatiefnemer en uitgever van de Afrikaanse Bibliotheek. Ook schreef hij talloze artikelen over Afrika in kranten als De Volkskrant. Het boek is ter plekke te koop.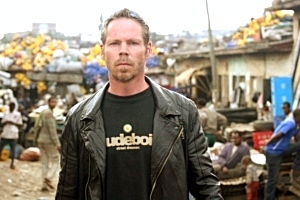 Het boek wordt gepresenteerd op vrijdag 3 november, tijdens een gevarieerde avond van de Stichting Lalibela in het Wereldpaviljoen te Steyl-Tegelen. Tijdens de avond is er aandacht voor de stichting die tal van sociale projecten uitvoert in de gelijknamige plaats. De Stichting Lalibela is negentien jaar geleden opgericht door Ton van Reen en zijn twee jaar geleden overleden zoon David. (David van Reen 1969 – 2015)

Bestuurslid Marc van der Sterren zal vertellen over zijn projecten rond kleinschalige landbouw in Afrika.
De film over het leven en het werk van David in Ethiopië, gemaakt door Marijn Poels voor L1-tv voor het programma Limburg helpt, zal worden vertoond. De presentaties worden omlijst door de muzikale inbreng van de Syrische groep AROA AND FRIENDS.
Vrijdag 3 november 2017
Tijd: 20.00 tot 22.30
Inloop vanaf 19.30. Gratis entree
Wereldpaviljoen
Sint Michaëlstraat 6a
5935 BL Steyl
D O C H T E R S
Lennert Rosenberg, 59 jaar, journalist in Afrika voor de Volkskrant, reist met de nachttrein naar Zwitserland voor de bruiloft van zijn dochter Miriam. Aan het begin van de reis ontmoet hij Nena, een jonge vrouw, op weg naar haar ouders in Zwitserland.
Al vlug blijkt dat ze belangstelling hebben voor dezelfde dingen. Ondanks het grote leeftijdsverschil begrijpen ze elkaar.
Door urenlang oponthoud, er is iemand onder de trein gelopen, verkennen ze het nachtelijke Keulen. Als de trein na middernacht vertrekt, komt hij niet meer op tijd aan in Freiburg voor de aansluitende trein naar Bazel. Omdat ze lang moeten wachten, besluiten ze een dag in Freiburg te blijven, de stad waar de roots van Nena's familie liggen.
Speelde Lennert even met het idee dat een verhouding met haar mogelijk zou zijn, nog net op tijd begrijpt hij dat zij geen minnaar zoekt, maar iemand die haar begrijpt. Doordat hij na zijn scheiding van zijn dochter Miriam is vervreemd, lijkt hij in Nena de dochter te vinden die hij heeft gemist. En zij vindt de vertrouwdheid van de vader die ze kwijt is.
Langzaam ontvouwt zich het levensverhaal van haar familie die in de oorlog naar Zwitserland is gevlucht. En het verhaal van haar vader die zijn best doet zijn Joodse verleden te verhullen en probeert een authentieke Zwitser te zijn.
Door haar verhalen gaan zijn ogen open voor zijn eigen geschiedenis die hij is ontvlucht door zich in Afrika te vestigen.
Hij viel in slaap en droomde dat hij een jongen was die samen met een man een lange weg afliep. Beiden waren ze naakt, maar de man droeg een rugzak.
'Wat zit er in die rugzak?' vroeg hij.
'Mijn herinneringen,' zei de man. 'Later zijn ze voor jou.'
'Kan ik dat dan allemaal onthouden?'
'Je moet wel, zeker als je wilt weten wie je zelf bent. Je weet toch dat ik je vader ben?'
Toen pas herkende hij de man die hij zo vaak op foto's had gezien.
Plotseling liep zijn vader naar de rand van een ravijn, gooide hem de rugzak toe en sprong naar beneden.
'Ik wil hem niet!' riep hij. 'Kom terug!'
Hij durfde de zak niet op te rapen. Er kwam een spelend kind aan. Het opende de zak.
Ton van Reen schreef onder meer romans, kinder- en jeugdboeken en journalistiek werk, vaak over Afrika, in kranten zoals de Volkskrant, de GPD-kranten, en in tijdschriften.
Een aantal verhalen over de cultuurshock in Afrika werden gebundeld in WEENSE WALSEN IN MOMBASA. Ook schreef hij de novelle EEN OCHTEND IN CAIRO, een inleiding bij het werk van de Egyptische Nobelprijswinnaar Naguib Mahfoez.
Presentatie 3 november 2017
Wereldpaviljoen Steyl
Ton van Reen
Dochters
Nederland – Afrika
Roman
Gebrocheerd in omslag met flappen,
340 blz.
€ 19,50
Uitgeverij In de Knipscheer
ISBN 978 90 6265 963 0
#  Meer  info  op  website  Uitgeverij  In  de  Knipscheer

fleursdumal.nl magazine
More in: - Book News, - Bookstores, Archive Q-R, Art & Literature News, David van Reen, David van Reen Photos, PRESS & PUBLISHING, Reen, Ton van, Reen, Ton van, Ton van Reen
---
The Board of Trustees of the Peace Prize of the German Book Trade has chosen the Canadian author, essayist and poet Margaret Atwood to be the recipient of this year's Peace Prize.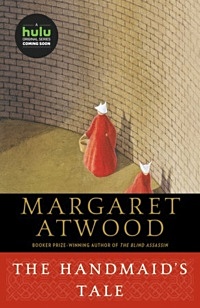 The award ceremony will take place on Sunday, October 15, 2017, the final day of the Frankfurt Book Fair, at the Church of St. Paul in Frankfurt am Main. The ceremony will be broadcast live on German public television. The Peace Prize has been awarded since 1950 and is endowed with a sum of €25,000.
In her wide range of novels, essays and volumes of poetry, Canadian author Margaret Atwood has demonstrated a keen political intuition and a deeply perceptive ability to detect dangerous and underlying developments and tendencies.
Margaret Eleanor Atwood was born in Ottawa on November 18, 1939 and spent the first part of her childhood in the forests of northern Quebec, where her father conducted research as an entomologist. During this time, she and her older brother and younger sister were taught at home by their mother. In 1946, when her father took up a position at the University of Toronto, Atwood began attending regular school for the first time. From 1957 to 1962, she studied English and literature at universities in Toronto and Cambridge, Massachusetts. In 1963, she got her professional life underway at a market research company, and in 1964, she began working as a professor of literature at various universities.
Atwood started publishing her first poems (see »The Circle Game«) in the early 1960s in what she referred to as a »private printing press«. She then continued to make an increasingly respected name for herself throughout the 1970s with a number of further volumes of poetry. It was at this time in her career that she began to focus on writing novels. Today, she is considered the most important and most successful author in Canada. Her work, which comprises novels, short stories, essays, poetry, stage plays, screenplays and children's books, has been translated into more than 30 languages.
Atwood achieved far-reaching national and international recognition with the publication of her first work of literary criticism, »Survival: A Thematic Guide to Canadian Literature« (1972), in which she examined the role of Canadian literature and literary history with tremendous wit and concision. She followed that up with her first two novels, »The Edible Woman« (1969) and »Surfacing« (1972), in which she explored the perception of women's role in modern Canada.
In 1985, Atwood published »The Handmaid's Tale«, a dystopian novel in the tradition of George Orwell. The novel depicts a totalitarian society in which women are meticulously oppressed and used as birth machines. By taking up certain social tendencies of her day and following their logic to its latent conclusion, Atwood was able to create a novel of timeless relevance. The Handmaid's Tale brought her to the peak of her already impressive literary career, and in 1989, German director Volker Schlöndorff even directed a film version. Today, precisely due to its enduring topicality, the novel is back on bestseller lists and experiencing a renaissance in American society under Donald Trump.
After »Cat's Eye« (1988), which explores the childhood and friendship of two women in post-war Canada, and »The Robber Bride« (1993), in which she examines women's darker side, Atwood published »Alias Grace« (1996), a historical fiction about a mysterious girl sentenced to life in prison for murder in the mid 19th century. After »The Blind Assassin« (2000), a broad portrait of Canadian society in the 20th century that garnered her the Booker Prize for Fiction, she shifted her focus to themes of ecological devastation and dangerous social tendencies in the post-apocalyptic worlds of her end-of-times trilogy »Oryx und Crake« (2003), »The Year of the Flood« (2009) and »MaddAddam« (2013). Known today for being an author and an environmental activist, Atwood coined the term »speculative fiction« to describe her work, although nothing she describes in her novels is pure invention. She takes a similar approach in her socially critical work »Payback. Debt and the Shadow Side of Wealth« (2008), a collection of lectures in which she examines the preconditions and consequences of the global financial crisis. Drawing on facts from cultural history, literature and linguistics, she spotlights the concept of economic and moral guilt found in the economic disaster.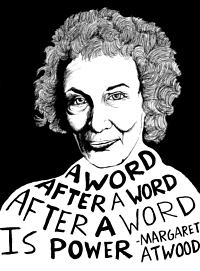 In the past several years, Atwood had rounded out her literary oeuvre with a number of works, including »Scribbler Moon«, a novel that will be published no sooner than 2114 as part of the Future Library Project. She also published »The Tent« (2006) and »Stone Mattress« (2014), as well as the novels »The Heart Goes Last« (2015) and »Hag-Seed« (2016). In addition to writing, Atwood continues to be active both politically and socially. In Germany, the latest product of her efforts is a volume of collected essays translated into German and set for publication in November 2017; »Aus Neugier und Leidenschaft« presents the cosmos of Margaret Atwood, including reviews, travel reports, writings on ecological themes and short stories. In May 2017, Atwood joined Salman Rushdie at the head of a campaign to garner support and higher levels of attention for authors suffering persecution and censorship. The campaign involves more than 200 writers and artists belonging to PEN International.
Margaret Atwood lives in Toronto with her second husband, the writer Graeme Gibson. Toronto is also the home of the Margaret Atwood Society, an organization dedicated to international scholarship and discourse on her work, for which she has received several honorary doctor titles.
# More  info  on  website  'Friedenspreis  des  Deutschen  Buchhandels'
fleursdumal.nl magazine
More in: - Bookstores, Archive A-B, Archive A-B, Art & Literature News, Awards & Prizes, Margaret Atwood, PRESS & PUBLISHING, REPRESSION OF WRITERS, JOURNALISTS & ARTISTS, WAR & PEACE
---
On 22 February 1862, two days after his death, Willie Lincoln is laid to rest in a marble crypt in a Georgetown cemetery. That very night, shattered by grief, his father Abraham arrives at the cemetery, alone, under cover of darkness.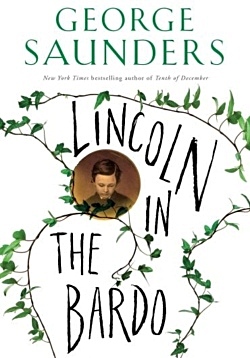 Over the course of that evening, Abraham Lincoln paces the graveyard unsettled by the death of his beloved boy, and by the grim shadow of a war that feels as though it is without end. Meanwhile Willie is trapped in a state of limbo between the dead and the living – drawn to his father with whom he can no longer communicate, existing in a ghostly world populated by the recently passed and the long dead.
Unfolding in the graveyard over a single night, narrated by a dazzling chorus of voices, Lincoln in the Bardo is a thrilling exploration of death, grief and the deeper meaning and possibilities of life.
Lincoln in the Bardo by George Saunders is named winner of the 2017 Man Booker Prize for Fiction. Lincoln in the Bardo is the first full-length novel from George Saunders, internationally renowned short story writer.
Lola, Baroness Young, 2017 Chair of judges, comments: 'The form and style of this utterly original novel, reveals a witty, intelligent, and deeply moving narrative. This tale of the haunting and haunted souls in the afterlife of Abraham Lincoln's young son paradoxically creates a vivid and lively evocation of the characters that populate this other world. Lincoln in the Bardo is both rooted in, and plays with history, and explores the meaning and experience of empathy.'
George Saunders the 58-year-old New York resident, born in Texas, is the second American author to win the prize in its 49-year history. He was in contention for the prize with two British, one British-Pakistani and two American writers.
Lincoln in the Bardo is published by Bloomsbury, making it the third consecutive year the prize has been won by an independent publisher, following Oneworld Publications' success in 2015 with Marlon James and 2016 with Paul Beatty. Bloomsbury has won the prize three times before, with Howard Jacobson (2010), Margaret Atwood (2000) and Michael Ondaatje (1992).
Saunders' win comes in the month that 1989 Booker Prize-winning author Kazuo Ishiguro was named as this year's Nobel Prize in Literature recipient. Ishiguro follows in the footsteps of other Booker Prize-recognised authors who have gone on to win the award including: V. S. Naipaul, Nadine Gordimer, William Golding, J. M. Coetzee and Doris Lessing.
George Saunders is the author of eight books, including the story collections Pastoralia and Tenth of December, which was a finalist for the National Book Award. He has received fellowships from the Lannan Foundation, the American Academy of Arts and Letters, and the Guggenheim Foundation. In 2006 he was awarded a MacArthur Fellowship. In 2013 he was awarded the PEN/Malamud Award for Excellence in Short Fiction and was included in Time's list of the one hundred most influential people in the world. He teaches in the creative writing program at Syracuse University.
Lincoln in the Bardo
By George Saunders
ISBN: 9780812995343
368pp.
Publication Date: February 2017
(Hardcover)
Publisher: Penguin Random House
Pages: 368
#  more  information  on website  themanbookerprize

fleursdumal.nl magazine
More in: - Book News, - Bookstores, Archive S-T, Art & Literature News, Awards & Prizes, Literary Events, The talk of the town
---
A collection of seventeen wonderful short stories showing that two-time Oscar winner Tom Hanks is as talented a writer as he is an actor.
A gentle Eastern European immigrant arrives in New York City after his family and his life have been torn apart by his country's civil war.

A man who loves to bowl rolls a perfect game – and then another and then another and then many more in a row until he winds up ESPN's newest celebrity, and he must decide if the combination of perfection and celebrity has ruined the thing he loves.

An eccentric billionaire and his faithful executive assistant venture into America looking for acquisitions and discover a down and out motel, romance and a bit of real life.
These are just some of the tales Tom Hanks tells in this first collection of his short stories. They are surprising, intelligent, heart-warming, and, for the millions and millions of Tom Hanks fans, an absolute must-have.
Tom Hanks has been an actor, screenwriter, director and through Playtone, a producer. His writing has appeared in The New York Times, Vanity Fair and The New Yorker. This is his first collection of fiction.
Publisher: Cornerstone
ISBN: 9781785151514
Number of pages: 416
Weight: 620 g
Dimensions: 222 x 144 x 38 mm
October 2017
Hardback
£13.99
fleursdumal.nl magazine
More in: - Book News, - Bookstores, -Short Stories Archive, Archive G-H, Art & Literature News, CINEMA, RADIO & TV
---
Manche Geheimnisse sind so groß, dass wir sie nicht nur vor der Welt, sondern auch vor uns selbst verstecken müssen. Es beginnt als Liebesgeschichte.

Im New York der frühen 70er Jahre werden Lili und Duke ein Paar: Sie, die Tochter einer weißen Intellektuellen-Familie, mit allen Möglichkeiten aufgewachsen, die sich jedoch für die Arbeit als Krankenschwester entschieden hat und er, der schwarze junge Mann aus dem Süden. Sie leben eine Liebe, die verheerende Zerstörung in Kauf nimmt und doch alles zu verzeihen scheint. Während Duke zu einem gefeierten Weinexperten avanciert, wird die verträumte Lili als Model entdeckt. Ihr gemeinsames Leben entwickelt sich schnell zu einem rasanten Auf und Ab, voller Möglichkeiten, Verführungen, Rückschläge. Ihre Liebe scheint jedoch unzerbrechlich. Erkennt Duke jede noch so kleine Facette eines besonderen Weines, so entgehen ihm meist die Hintergedanken und Manipulationen der Menschen.
Ganz anders Lili, die wie gemacht scheint für das Spiel mit der Oberfläche, das die Mode- und Werbewelt beherrscht. Beide verlassen sich aufeinander, doch hinter Lilis Schönheit, ihrem Charme, ihrer Klugheit und Raffinesse, verbirgt sich nicht zuletzt eine mörderische Wut, die alles und jeden zu verschlingen droht.
Mit Schwarz und Weiß durchschreitet Irene Dische die letzten drei Jahrzehnte des letzten Jahrtausends, um nichts weniger als unsere Gegenwart auszuleuchten. Was als großartiger, scharfsinniger wie auch scharfzüngiger New York-Roman beginnt, entwickelt sich nach und nach zu einer brillanten Auseinandersetzung mit Projektionen und Heilsversprechen, mit individuellen Träumen und sozialen Realitäten. Ein Roman, der große Fragen stellt, ohne sich der Illusion auf Antworten hinzugeben.
Irene Dische wurde in New York geboren. Heute lebt sie in Berlin und Rhinebeck. Bei Hoffmann und Campe erschienen unter anderem der Romanerfolg Großmama packt aus (2005), der Erzählungsband Lieben (2006) sowie die Neuausgaben ihres gefeierten Debüts Fromme Lügen (2007) und Veränderungen über einen Deutschen oder Ein fremdes Gefühl (2008). 2017 erscheinen ihre sämtlichen Erzählungen in dem Sammelband Zum Lügen ist es nie zu spät und der lang erwartete neue Roman Schwarz auf Weiß.
Irene Dische
Schwarz auf Weiß
EAN: 9783455404777
ISBN: 3455404774
Übersetzt von Elisabeth Plessen
Hoffmann u Campe Vlg GmbH
Oktober 2017
496 Seiten
Buch gebunden
€26,00
fleursdumal.nl magazine
More in: - Book News, - Bookstores, Archive C-D, Art & Literature News
---
Die Buchmesse ist wichtigster internationaler Handelsplatz für Inhalte, das Zentrum der internationalen Medienwelt und kulturelles Großereignis.

An keinem Ort der Welt zeigt sich die Publishing- und Medienbranche vielfältiger, innovativer und internationaler als an diesen fünf Tagen im Oktober. Auf der Buchmesse können Sie neue Bücher und die innovativsten Produkte des "digital publishing" für sich entdecken.
Hier kommen Sie mit Ihren Idolen aus der Literaturwelt in direkten Kontakt – bei unzähligen Autorenlesungen, Diskussionen oder an der Showküche der "Gourmet Gallery". Lernen Sie die Verlagsbranche von ihrer lebendigsten Seite kennen.
69. Frankfurter Buchmesse
11. – 15. Oktober 2017
über 7.150 Aussteller
aus 106 Ländern
140.000 Fachbesucher
mehr als 1.000 Autoren
rund 278.000 Besucher
# website Frankfurter Buchmesse
fleursdumal.nl magazine
More in: - Book Lovers, - Book News, - Bookstores, Art & Literature News, Literary Events, PRESS & PUBLISHING
---
Older Entries »
« Newer Entries
Thank you for reading FLEURSDUMAL.NL - magazine for art & literature