– Bookstores
«« Previous page
·
Irene Dische: Zum Lügen ist es nie zu spät. Gesammelte Erzählungen.
·
Masha Gessen: The Future is History = winner of the 2017 National Book Award for Nonfiction
·
Gabriële by Anne & Claire Berest: The saga of a surrealist muse, from Montmartre to New York
·
Frank Behrendt: Die Winnetou-Strategie Werde zum Häuptling deines Lebens
·
Staging Beckett in Great Britain & Ireland by David Tucker and Trish McTighe
·
Ficciones by Jorge Luis Borges
·
Clovis Goux: La Disparition de Karen Carpenter
·
Frank Bidart: Half-light. Collected Poems 1965-2016 # Wins 2017 National Book Award
·
Oliver Sacks: On The Move. A Life
·
The Nobel Lecture Hardcover by Bob Dylan
·
Mario Vargas Llosa: Voor uw liefde
·
Marguerite Duras: The Lover, Wartime Notebooks, Practicalities
Der legendäre Erzählband "Fromme Lügen" machte Irene Dische mit einem Schlag zur Bestsellerautorin. Jetzt sind endlich alle ihre wunderbaren und wundersamen Erzählungen in einem Band versammelt – ergänzt um zwei neue, bislang unveröffentlichte Texte.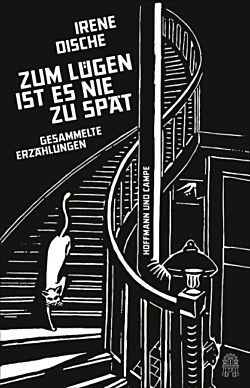 Verlorene Muttersöhnchen, allzu selbstbewusste Versager, Außenseiter, Gestrandete, Emigranten, Juden, lebenstüchtige Frauen und männliche Weicheier, liebenswürdige Schmarotzer, schlitzohrige Verwirrte und anderes buntes Personal bevölkern Irene Disches Erzählungen, die mit haarsträubenden Schicksalen und unerhörten Wendungen aufwarten.
Ein erzählerischer Kosmos – zwischen Berlin und New York – voller Familien-, Liebes-, Emigranten-, Lebens- und Lügengeschichten, erzählt in Irene Disches unverwechselbarem Stil – "von graziöser Leichtigkeit, sparsam und genau in den Mitteln, heiter und trocken im Ton, dabei verstohlen zärtlich" ("Der Spiegel").
Irene Dische wurde in New York geboren. Heute lebt sie in Berlin und Rhinebeck. Bei Hoffmann und Campe erschienen unter anderem der Romanerfolg Großmama packt aus (2005), der Erzählungsband Lieben (2006) sowie die Neuausgaben ihres gefeierten Debüts Fromme Lügen (2007) und Veränderungen über einen Deutschen oder Ein fremdes Gefühl (2008). 2017 erscheinen ihre sämtlichen Erzählungen in dem Sammelband Zum Lügen ist es nie zu spät und der lang erwartete neue Roman Schwarz auf Weiß.
Autor: Irene Dische
Titel: Zum Lügen ist es nie zu spät
Gesammelte Erzählungen
ISBN: 978-3-455-00005-4
Verlagsbereich: HoCa – Belletristik
Einband: Schutzumschlag
Produktart: Buch
Seiten: 704
Erscheinungsdatum: 14.03.2018
Gebunden
€25,00
fleursdumal.nl magazine
More in: - Book News, - Bookstores, Archive C-D, Art & Literature News
---
The visionary journalist and bestselling biographer of Vladimir Putin reveals how, in the space of a generation, Russia surrendered to a more virulent and invincible new strain of autocracy.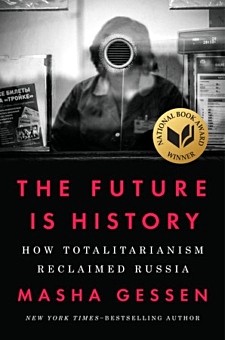 Hailed for her "fearless indictment of the most powerful man in Russia" (The Wall Street Journal), award-winning journalist Masha Gessen is unparalleled in her understanding of the events and forces that have wracked her native country in recent times.
In The Future Is History, she follows the lives of four people born at what promised to be the dawn of democracy. Each of them came of age with unprecedented expectations, some as the children and grandchildren of the very architects of the new Russia, each with newfound aspirations of their own—as entrepreneurs, activists, thinkers, and writers, sexual and social beings.
Gessen charts their paths against the machinations of the regime that would crush them all, and against the war it waged on understanding itself, which ensured the unobstructed reemergence of the old Soviet order in the form of today's terrifying and seemingly unstoppable mafia state. Powerful and urgent, The Future Is History is a cautionary tale for our time and for all time.
Masha Gessen's previous books include The Brothers: The Road to an American Tragedy and the national best seller The Man Without a Face: The Unlikely Rise of Vladimir Putin. She has immigrated to the United States twice—once, as a teenager, from the Soviet Union and again, more than thirty years later, from Putin's Russia. She lives in New York City.
Masha Gessen
The Future Is History
How Totalitarianism Reclaimed Russia
Hardcover
October 2017
528 Pages
ISBN 9781594634536
Published by Riverhead Books
fleursdumal.nl magazine
More in: - Book News, - Bookstores, Archive G-H, Art & Literature News, Awards & Prizes, PRESS & PUBLISHING, REPRESSION OF WRITERS, JOURNALISTS & ARTISTS, WAR & PEACE
---
A "Jules et Jim" style love story set against the background of the Surrealist revolution.
September 1908. 27-year-old Gabriële Buffet – a musician, an free-spirited young woman and a feminist before her time – meets Francis Picabia, a successful young painter with a scandalous reputation.
He needed his art to head in a new direction, she is prepared to break with convention: to inspire, theorise and be thought-provoking. She becomes the "woman with the erotic brain" who has men on their knees, including Marcel Duchamp and Guillaume Apollinaire. Moving from Paris to New York, Berlin, Zurich, Barcelona, Étival and Saint-Tropez, Gabriële guides the precursors of abstract art, the futurists, the Dadaists, always at the cutting edge of artistic innovation. This book transports us to the beginning of the Twentieth Century when the codes of beauty and society were reinvented.
Collaborating intimately in both content and writing, Anne et Claire Berest tell the story of their great-grandmother, Gabriële Picabia, the surrealists' muse.
Anne & Claire Berest
Gabriële
Published: 23/08/2017
450 pages
Format: 140 x 215 mm
EAN: 9782234080324
Prix: €21.50
Collection: a Bleue
Éditions Stock
fleursdumal.nl magazine
More in: - Book News, - Bookstores, Archive A-B, Art & Literature News, Surrealism, Surrealisme
---
"Führe dich selbst in eine gute Zukunft. Wie ein guter Häuptling seinen Stamm." (Frank Behrendt)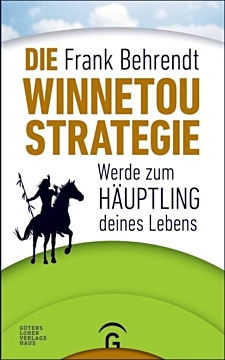 Frank Behrendt ist seit seiner Jugend leidenschaftlicher Winnetou-Fan – der »Guru der Gelassenheit« hat sich in vielen Lebenslagen von dem stolzen Apachen-Häuptling und anderen Figuren des Schriftstellers Karl May inspirieren lassen.
Auch von anderen Persönlichkeiten im echten Leben hat Frank Behrendt viel gelernt. Ihre Haltung, Klugheit und Weisheit hat er übernommen und für seinen eigenen Weg erfolgreich adaptiert. Selbstbestimmt und selbst-entschieden zu leben, tatsächlich Häuptling des eigenen Lebens zu sein, war immer sein Ziel.
In unterhaltsamen Geschichten erzählt Frank Behrendt an konkreten Beispielen, wie ihn die Helden seiner Kindheit nachhaltig beeinflusst haben. Eine Inspiration für jeden und ein flammender Appell an alle, Ausschau zu halten nach den Helden am Wegesrand – den fiktionalen und den realen.
Frank Behrendt, geb. 1963, ist seit gut 20 Jahren ausgewiesener PR- und Kommunikationsfachmann mit intensiven Kontakten zu Medien, Wirtschaft und Politik. Nach Stationen bei BILD, Dornier, Henkel, RTL Television und Universal Music war der Absolvent der Deutschen Journalistenschule in München Deutschland-Chef bei KetchumPleon, bevor er 2011 als Vorstand zur fischerAppelt AG wechselte. Seit Februar 2017 ist er in der Serviceplan-Gruppe tätig. Im März 2017 wurde er von der Deutschen Public Relations Gesellschaft (DPRG) als "PR-Kopf des Jahres" ausgezeichnet. Frank Behrendt lebt mit seiner Frau und seinen drei Kindern in Köln.
Frank Behrendt
Die Winnetou-Strategie Werde zum Häuptling deines Lebens
Seitenzahl: 221
Oktober 2017
Deutsch
Abmessung: 218mm x 139mm x 25mm
Gebundenes Buch mit Schutzumschlag
ISBN-13: 9783579086811
ISBN-10: 3579086812
Verlag: Gütersloher Verlagshaus
fleursdumal.nl magazine
More in: * Cowboys and Indians, - Book News, - Bookstores, Archive A-B, Archive M-N, Archive W-X, Art & Literature News, Karl May
---
Beckett's relationship with British theatre is complex and underexplored, yet his impact has been immense. Uniquely placing performance history at the centre of its analysis, this volume examines Samuel Beckett's drama as it has been staged in Great Britain, bringing to light a wide range of untold histories and in turn illuminating six decades of drama in Britain.
Staging Samuel Beckett in Great Britain by Trish McTighe and David Tucker

Ranging from studies of the first English tour of Waiting for Godot in 1955 to Talawa's 2012 all-black co-production of the same play, Staging Samuel Beckett in Great Britain excavates a host of archival resources in order to historicize how Beckett's drama has interacted with specific theatres, directors and theatre cultures in the UK. It traces production histories of plays such as Krapp's Last Tape; presents Beckett's working relationships with the Royal Court, Riverside and West Yorkshire Playhouse, as well as with directors such as Peter Hall; looks at the history of Beckett's drama in Scotland and how the plays have been staged in London's West End. Production analyses are mapped onto political, economic and cultural contexts of Great Britain so that Beckett's drama resonates in new ways, through theatre practice, against the complex contexts of Great Britain's regions.
With contributions from experts in the fields of both Beckett studies and UK drama, including S.E. Gontarski, David Pattie, Mark Taylor-Batty and Sos Eltis, the volume offers an exceptional and unique understanding of Beckett's reception on the UK stage and the impact of his drama within UK theatre practices. Together with its sister volume, Staging Samuel Beckett in Ireland and Northern Ireland it will prove a terrific resource for students, scholars and theatre practitioners.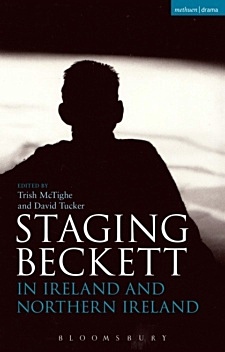 Staging Beckett in Ireland and Northern Ireland by Trish McTighe and David Tucker
This is the first full-length study to focus on Samuel Beckett's drama as it has been staged in Ireland and Northern Ireland.
While Beckett's relationship with his native land was a complex one, the importance of his drama as a creative force both historically and in contemporary practice in those regions cannot be underestimated. The volume brings to light unexamined and little-known productions, for example Beckett's drama in the Irish language, Druid Theatre Company's productions, and Beckett at Dublin's Focus Theatre, as well as previously unpublished archival materials. Leading scholars, such as Anna McMullan and Anthony Roche, and renowned dramatic interpreters of Beckett's work, such as Barry McGovern, explore Beckett's drama within the context of Irish creative theatrical practice and heritage, and point towards the theatrical and performance legacies that follow in its wake.
Production analyses are mapped on to the political, economic and cultural contexts of Ireland and the North so that readers are invited to experience Beckett's drama as resonating in new ways, through theatre practice, against the complex and connected histories of these lands.
David Tucker is a Visiting Research Fellow at the University of Sussex and currently teaches at the University of Oxford, UK. He is the editor of British Social Realism in the Arts since 1940 (Palgrave, 2011).
Trish McTighe is Lecturer in Theatre at the University of Birmingham. Previously, she lectured at Queen's University, Belfast and was an AHRC post-doctoral researcher on the Staging Beckett Project at the University of Reading (2012-2015).
Staging Beckett in Great Britain
Editors: David Tucker, Trish McTighe
Published: 19-10-2017
Format: Paperback
Edition: 1st
Extent: 288
ISBN: 9781474240161
Imprint: Methuen Drama
Bloomsbury Publishing
Staging Beckett in Ireland and Northern Ireland
Volume editor: Trish McTighe, David Tucker
Published: 19-10-2017
Format: Paperback
Edition: 1st
Extent: 288
ISBN: 9781474240543
Imprint: Methuen Drama
Bloomsbury Publishing
More titles on Beckett to be published soon:
∗ The Making of Samuel Beckett's 'Malone Dies'/'Malone meurt' by: Dirk Van Hulle, Pim Verhulst
∗ Beckett's Creatures. Art of Failure after the Holocaust by: Joseph Anderton
fleursdumal.nl magazine
More in: - Book News, - Bookstores, Archive A-B, Art & Literature News, CINEMA, RADIO & TV, Samuel Beckett, THEATRE
---
Jorge Luis Borges was one of those very rare creators who changed the face of an art form—in his case, the short story. His work has been paid the ultimate honor of being appropriated and imitated by innumerable writers on every continent of the world.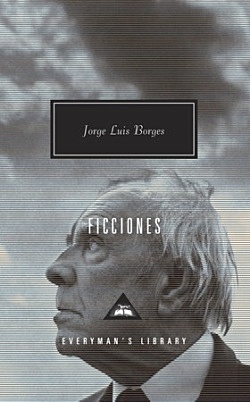 The seventeen brief masterpieces of FICCIONES explode the boundaries of genre, offering up labyrinthine libraries, a fictional encyclopedia entry that spawns an entire world, a review of a nonexistent writer's attempt to re-create Don Quixote word for word, a man with the disabling inability to forget anything he has ever experienced, and other metaphysical puzzles.
But the true measure of Borges's greatness lies in the fact that his fictions—elaborately paradoxical, postmodern, and intellectually delicious as they are—managed to return the short story to the realm of the fabulous and the uncanny from which, as parable and fairy tale, it originally came.
Jorge Luis Borges (1899–1986) was an Argentine poet, essayist, and author of short stories. His most notable works as a key literary Spanish-language figure of the twentieth century include Ficciones (Fictions) and El Aleph (The Aleph). He received a BA from the College of Geneva. He was also appointed the director of the National Public Library and professor of English literature at the University of Buenos Aries in 1955. During his lifetime, Borges received the first Prix International Formentor Prize which he shared alongside Samuel Beckett in 1961. He also received the Jerusalem Prize for the Freedom of the Individual in Society in 1971.
Ficciones
By Jorge Luis Borges
Introduction by John Sturrock
Part of Everyman's Library Contemporary Classics Series
Category: Literary Fiction | Fiction Classics
Hardcover
(1993)- 192 Pages
ISBN 9780679422990
(Book Jacket Status: Jacketed)
fleursdumal.nl magazine
More in: - Book News, - Bookstores, Archive A-B, Art & Literature News, Borges J.L.
---
Durant les années 1970, The Carpenters est le groupe le plus populaire aux États-Unis.
Un immense succès (100 millions de disques vendus) qui s'explique par l'alchimie unique entre ses deux membres fondateurs, Richard et Karen Carpenter, un frère et une sœur. Ces deux enfants de la classe moyenne imposent un retour à l'ordre musical après la révolution psychédélique, avec des hits aussi romantiques que réactionnaires, tels Close to you, We've Only Just Begun ou Rainy Days and Mondays. Mais derrière cette success story se cache une tragédie.
La Disparition de Karen Carpenter raconte cette histoire, nous amenant à porter un regard de côté sur les grands phénomènes socio-culturels qui marquèrent l'Amérique de l'époque.
Clovis Goux est journaliste indépendant et cofondateur du label Dirty.
Clovis Goux
La Disparition de Karen Carpenter
Simon Liberati – Préfacier
Actes Sud Rocks
Septembre, 2017
132 pages
ISBN 978-2-330-08129-4
prix indicatif: €15,00
Genre: Essais, Documents
---
Clovis Goux: La Disparition de Karen Carpenter
fleursdumal.nl magazine
More in: - Book News, - Bookstores, Archive G-H, Art & Literature News, BIOGRAPHY, Karen Carpenter, Karen Carpenter
---
Gathered together, the poems of Frank Bidart perform one of the most remarkable transmutations of the body into language in contemporary literature.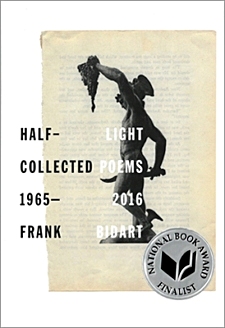 His pages represent the human voice in all its extreme registers, whether it's that of the child murderer Herbert White, the obsessive anorexic Ellen West, the tormented genius Vaslav Nijinsky, or the poet's own. And in that embodiment is a transgressive empathy, one that recognizes our wild appetites, the monsters, the misfits, the misunderstood among us, and inside of us.
Few writers have so willingly ventured to the dark places of the human psyche, and allowed themselves to be stripped bare on the page with such candor and vulnerability. Over the past half century, Bidart has done nothing less than invent a poetics commensurate with the chaos and hunger of our experience.
Frank Bidart is the author of Metaphysical Dog, Watching the Spring Festival, Star Dust, Desire, and In the Western Night: Collected Poems 1965-90. He has won many prizes, including the Wallace Stevens Award, the 2007 Bollingen Prize for American Poetry, and the National Book Critics Circle Award. He teaches at Wellesley College and lives in Cambridge, Massachusetts.
Frank Bidart
Half-light:
Collected Poems 1965-2016
(Farrar, Straus and Giroux –
Macmillan Publishers)
ISBN: 9780374125950
Frank Bidart Wins 2017 National Book Award for Poetry
fleursdumal.nl magazine
More in: - Book News, - Bookstores, Archive A-B, Art & Literature News, Awards & Prizes
---
When Oliver Sacks was twelve years old, a perceptive schoolmaster wrote in his report: "Sacks will go far, if he does not go too far."
It is now abundantly clear that Sacks has never stopped going. From its opening pages on his youthful obsession with motorcycles and speed, On the Move is infused with his restless energy.
As he recounts his experiences as a young neurologist in the early 1960s, first in California, where he struggled with drug addiction, and then in New York, where he discovered a long-forgotten illness in the back wards of a chronic hospital, we see how his engagement with patients comes to define his life.
With unbridled honesty and humor, Sacks shows us that the same energy that drives his physical passions—weight lifting and swimming—also drives his cerebral passions.
He writes about his love affairs, both romantic and intellectual; his guilt over leaving his family to come to America; his bond with his schizophrenic brother; and the writers and scientists—Thom Gunn, A. R. Luria, W. H. Auden, Gerald M. Edelman, Francis Crick—who influenced him.
On the Move is the story of a brilliantly unconventional physician and writer—and of the man who has illuminated the many ways that the brain makes us human.
English:
On The Move:
A Life
Author: Oliver Sacks
Publisher: Alfred A. Knopf
Published: 2015
ISBN-10: 0385352549
ISBN-13: 9780385352543
Format: Hardcover
In Dutch:
Oliver Sacks:
Onderweg
Nederlands
Uitg. De Bezige Bij
Vertaald door
Otto Biersma & Luud Dorresteijn
432 pagina's
Verschijningsjaar 2016
ISBN10 9023499484
ISBN13 9789023499480
fleursdumal.nl magazine
More in: - Book News, - Bookstores, Archive S-T, DRUGS & MEDICINE & LITERATURE, Oliver Sacks
---
Published for the first time in a beautiful collectible edition, the essential lecture delivered by the 2016 recipient of the Nobel Prize in Literature, Bob Dylan.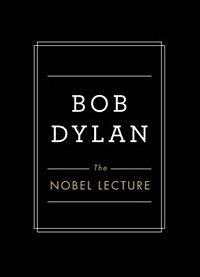 On October 13, 2016, Bob Dylan was awarded the Nobel Prize in Literature, recognizing his countless contributions to music and letters over the last fifty years. Some months later, he delivered an acceptance lecture that is now memorialized in book form for generations to come.
In The Nobel Lecture, Dylan reflects on his life and experience with literature, providing both a rare artistic statement and an intimate look at a uniquely American icon.
From finding inspiration in the music of Buddy Holly and Leadbelly to the works of literature that helped shape his own approach to writing—The Odyssey, Moby-Dick, and All Quiet on the Western Front—this is Dylan like you've never seen him before.
Bob Dylan
The Nobel Lecture Hardcover
32 pages
Hardcover
October 31, 2017
Language: English
ISBN-10: 1501189409
ISBN-13: 978-1501189401
$10.73
Publisher: Simon & Schuster
fleursdumal.nl magazine
More in: - Book News, - Bookstores, Archive C-D, Art & Literature News, Awards & Prizes, Bob Dylan, Dylan, Bob
---
De nieuwe roman van grootmeester Mario Vargas Llosa, de Nobelprijswinnaar op zijn best
Spanning, humor en erotiek strijden om voorrang in dit weergaloze verhaal over de Peruviaanse bovenklasse
Enrique Cárdenas, een rijke zakenman, wordt door de befaamde redacteur van een boulevardblad ­af­geperst. Als hij diens eisen niet inwilligt worden er foto's gepubliceerd van Cárdenas die zich tijdens een orgie verlustigt aan prostituees en drugs. Dit schandaal zou zijn ondergang betekenen.
Cárdenas' situatie wordt nog nijpender als hij wordt beschuldigd van een moord die gepleegd werd in Cinco Esquinas, een van de armste wijken van Lima. In heel Peru is er slechts een vrouw die de echte dader kan vinden: een cynische journaliste met twijfelachtige moraal, die haar carrière heeft gewijd aan het verwoesten van de reputaties van de tegenstanders van Fujimori's regering. Nu krijgt ze de kans om haar vak eer aan te doen door de waarheid aan het licht te brengen.
Deze nieuwe, spannende roman van Mario Vargas Llosa schildert een levendig portret van de Peruviaanse samenleving tijdens de jaren van de Fujimori-dictatuur en schetst een ontluisterend beeld van de dubbele moraal van de journalistiek. Verluchtigd met een vleugje humor en erotiek leest Voor uw liefde als een ware pageturner.
'Alles is meesterlijk in deze roman. De ervaren Vargas Llosa blaast ons wederom omver met zijn venijnige ­wijsheid en zijn onuitputtelijke creativiteit.' El País
Mario Vargas Llosa (Peru, 1936) is een van de belangrijkste Zuid-Amerikaanse schrijvers van deze tijd. Zijn romans staan bekend om hun politieke en gewelddadige sfeer en hun aandacht voor het morele verval van de maatschappij. Via kranten mengt Vargas Llosa zich geregeld in het maatschappelijk debat en in 1987 was hij kandidaat voor het presidentschap in Peru. In 2010 werd Mario Vargas Llosa bekroond met de Nobelprijs voor de Literatuur.
Mario Vargas Llosa
Voor uw liefde
Gebonden met stofomslag
Vertaling: Arie van der Wal
Publ. datum: 10-10-2017
Pagina's: 240
ISBN: 9789029092050
Uitgever J.M. Meulenhoff
Taal Nederlands
Genre Literaire fictie
---
Mario Vargas Llosa: Voor uw liefde
fleursdumal.nl magazine
More in: - Book News, - Bookstores, Archive M-N, Art & Literature News, Mario Vargas Llosa
---
A hardcover omnibus edition of the French writer's most famous novel alongside her fascinating wartime writings and a collection of searingly honest and intimate autobiographical essays.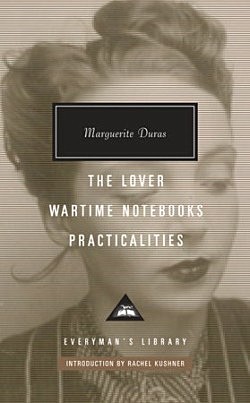 Marguerite Duras was one of the leading intellectuals and novelists of post-war France, but her wartime writings were not published in full until after her death. The Wartime Notebooks trace Duras's formative experiences–including her difficult childhood in Indochina and her harrowing wait for her husband's return from Nazi internment–revealing the personal history behind her bestselling novels.
The Lover is the best known of these; set in prewar Indochina, its haunting tale of a tumultuous affair between an adolescent French girl and her wealthy Chinese lover is based on her own life. In spare and luminous prose, Duras evokes life on the margins in the waning days of France's colonial empire, and the passionate relationship between two unforgettable outcasts.
Practicalities is a collection of small and intensely personal pieces Duras dictated near the end of her life. These deceptively simple meditations on motherhood, domesticity, sex, love, alcohol, writing, and more are witty, earthy, outspoken, and surprisingly fresh and relevant today.
Marguerite Duras is the author of many acclaimed novels and screenplays, including The Lover, The Ravishing of Lol Stein, and the film script for Hiroshima, Mon Amour. One of France's most important literary figures, Duras died in Paris in 1996.
The Lover, Wartime Notebooks, Practicalities
By Marguerite Duras
Introduction by Rachel Kushner
Part of Everyman's Library Contemporary Classics Series
Category: Historical- Literary- Fiction
Hardcover,
Nov 14, 2017,
504 Pages
fleursdumal.nl magazine
More in: - Book News, - Bookstores, Archive C-D, Art & Literature News, Marguerite Duras
---
Older Entries »
« Newer Entries
Thank you for reading FLEURSDUMAL.NL - magazine for art & literature